Just like other RV owners, you may dread the day when you can no longer delay waxing RV, which is usually around every three weeks or so. Waxing an RV is not very similar to waxing a car, as it requires a ladder, and buffing by hand is not so feasible.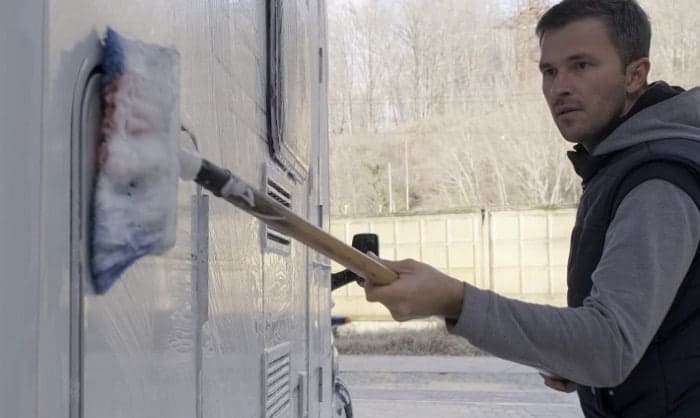 But waxing an RV should not be overly laborious. You should be able to finish the task in just a couple of hours, instead of an entire day, when you have the right product on your side.
This article will teach you how to find the top-tier RV wax that you can safely use on your RV. Also, you can gather additional information on how to use this wax effectively.
Best RV Wax Reviews
1. Meguiar's M5001 RV Cleaner Wax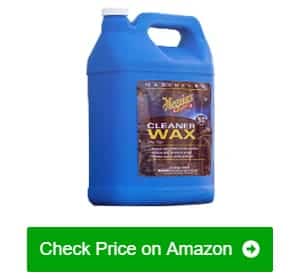 I have always trusted Meguiar's when it comes to cleaning and detailing products, and this one-step cleaner and wax certainly did not disappoint. With this product, you can clean and wax simultaneously, saving a lot of time.
This product excels at fixing light oxidation and scratches. Honestly, I did not expect it to perform this well. In truth, the agent completely removed light oxidation damage on the clear coat without requiring much scrubbing. The product's straightforward use is true to its name as a one-step cleaner wax.
This one-step product also contains additives that restore and rejuvenate the paint underneath the clear coat. It has polishing oils that make my RV paint brighter than before, like almost brand new. Also, I figured out that repeated use could prevent the finish of the RV from deteriorating.
Besides making the finish of the RV prettier, it also protects the clear coat and the paint underneath from further damage. It provides a wax coat that prevents damage caused by sea air and the sun's UV rays.
The only thing about this product that I somewhat do not like is its shine. The model does not offer the same glossy look like other Meguiar's products I have tried.
What We Like
Convenient with one-step use formulation
Excels at removing light oxidation and scratches
Rejuvenates and revitalizes the clear coat and the underlying paint
Protects against sea air and UV rays
What We Don't Like
Not offer as deep shine as the other products of the brand
Even though this product may not give your RV that showroom shine, it does provide above-average results reliably. Moreover, it requires minimal effort to use and apply, making it an excellent option for motorhomes' best wax.
2. Walbernize 32-oz. RV Super Seal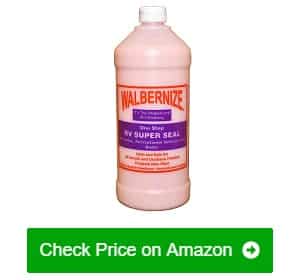 I am always on the lookout for easy and quick products while still providing exemplary results. Then I stumbled on the Walbernize, which comes in a liquid formulation that can afford a super easy application and buffing.
Another quality that I look for in an RV wax is versatility. In other words, I prefer using a product that works well on all surfaces, and the Walbernize Super Seal met all my expectations. I did not need to worry about getting wax over different surfaces of my RV and damaging them. It saves a lot of time because I only needed one product for the whole vehicle.
Another thing about this wax product that I consider a pleasant surprise is that it can effectively polish the clear coat. Before, I had to see all the micro-scratches left behind by automated car washes.
I first thought that the product is only wax and sealant, but it turns out to be excellent at cleaning deep-seated road grime and tar spots. More than that, it can even polish away light oxidation damage. It makes the surface of my RV look many years younger after just one application. All subsequent ones just made it look better.
However, even though this product performed beyond my expectations, I still hope that some things about it were better. The primary issue is that there is little information about its UV-rating on its label. I can't also find details on when it needs reapplication.
What We Like
Easy to apply and buff
Highly versatile as you can use it on many different kinds of surfaces
Can clean and remove dirt and road grime
Can polish away light oxidation damage
Provides a long lasting shine and protection
What We Don't Like
Lack of information and detailed instructions
The issue that I have with this choice for the best RV polish and wax is nothing more than just a minor inconvenience. If you have had experience using other wax products, you will see that this product from Walbernize is one of the easiest to use.
3. 3M 09006 Marine Restorer & Wax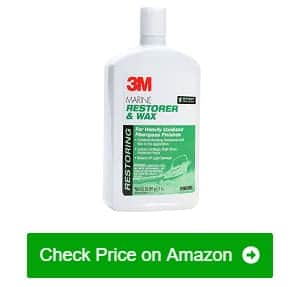 The primary role of the 3M Marine Restorer & Wax is to restore the shine and color of the clear coat and the underlying paint. It also eliminates the heavy oxidation damage on the fiberglass surface of your RV.
Besides, this product even leaves a high-gloss finish that better than my expectation from a restoration product. The shine is not as deep as the one provided by a pure carnauba, but you will exert significantly less amount of effort to make it shine.
Although nice-looking, the wax coating is not just for the show. The great thing about 3M products is that regardless if those are for vehicles or not, they still provide exceptional UV protection. As our RVs are often exposed to harmful sun rays, we need to use a wax with a high UV protection rating. Fortunately, this agent can keep the clear coat of my RV from drying up and the color underneath from fading.
Aside from incredible protecting capability, the wax coating is also extremely hydrophobic. It means that it can repel water like nobody's business. If no water can transfer dirt and grime on the RV's surface, it stays clean longer, so you do not have to wash it quite as often.
However, it is not advisable to do another coating of this product as it also contains abrasives. Note that too much use might cause a clear coating to get cloudy.
What We Like
Can remove heavy oxidation
Leaves a high-quality glossy finish
Provides ample UV protection
Protects against further dirt and stains
Does not require washing quite as often
What We Don't Like
The coating might get cloudy after a while
As mentioned, this item is not a dedicated wax product, so the shine will not be quite as good and long lasting as wax carnauba. However, if you do not have a lot of free time to do complete detailing work, this marine restorer will be enough for your needs.
4. MEGUIAR'S M6332 Marine Wax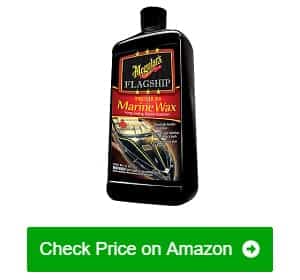 I am undoubtedly a big fan of Meguiar products, and the Premium Marine wax is not an exception. This model is easy to use and produces excellent results. Because this Meguiar's RV wax is in liquid form, the manual application is almost effortless. Buffing by hand is also not as difficult as I thought it would be.
The shiny finish is not just for the decorating purpose. Such deep and beautiful shine also serves as a protective layer. It prevents the harmful UV rays from penetrating and causing all sorts of damage to the RV surface. Without this protective wax coating, the clear coat will crack and peel.
Another reason why I like this product is its function as a surface polish. I had a problem with a couple of spots on my RV, where there was a bit of oxidation damage. Luckily, I can rely on the polishing compound in this product as it is abrasive enough to scrub away any light and moderate surface oxidation without any problem. It does so while still being gentle enough to not leave a haze over the clear coat.
Aside from providing protection, this product also has other benefits: it comes with a kind of paint replenisher and revitalizer. Hence, it makes the existing paint and clear coat more radiant and brighter than before. To my surprise, it almost looks like the product took away a decade or so away from my RV's actual age.
This product will be the perfect RV wax if the deep and glossy shine lasts a bit longer.
What We Like
Comes in the liquid form for effortless application
Offers protection from the UV rays to protect the clear coat
Can polish away light to medium oxidation and light scratches
Enriches and brightens existing colors
Provides a long lasting wax coating
What We Don't Like
The shine does not last as long as expected
All in all, I vouch for this liquid RV wax for its breezy use and excellent protection feature. You can trust this one to offer your RV a new shiny coat that shields it from surrounding hazards.
5. PRO Car Beauty Products RV Wax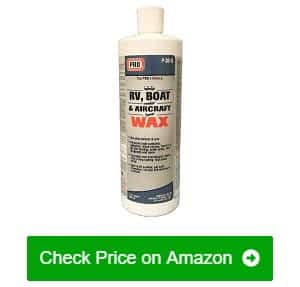 Here is what I like the most about the PRO Car Beauty wax: it is ideal for aircraft use.
Whatever kind of dirt and grime I have to deal with on my RV pales compared to the stuff that aircraft maintenance technicians have to deal with. For instance, black streaks, tree sap, and other kinds of usual dirt and grime that RVs tend to get stuck on their surfaces are not even a challenge to this cleaner wax.
Aside from thoroughly cleaning the RV's surface, this product also leaves behind a high-gloss and deep shine finish. It contains pure carnauba wax and synthetic polymers that bind onto the existing wax coating, fortifying it and polishing it to make it shine again.
Best of all, the coat also plays a huge part in protecting the surface of the RV. First, the wax coating ultimately reflects the UV rays, thereby preventing the paint from fading and the clear coat from getting dull. Moreover, this wax coating is extremely hydrophobic, meaning it will repel rainwater. In doing so, it prevents dirt deposits on the surface.
I also like that I do not need to be mindful of applying this wax, as it is compatible with most RV materials and surfaces. It is not like other wax products that cause nasty reactions on surfaces that they are not compatible with, like haze, blistering, and other severe damage.
It also helps me save a lot of time as I can wax and shine whole panels at the same time. Yet, for me, it is a bit hard to buff to a mirror shine by hand. So I resort to using an electric automotive buffer with this product to achieve the best result quickly.
What We Like
Formulated for aircraft use, therefore incredibly powerful
Contains carnauba wax and synthetic polymer sealers
Completely blocks out UV rays
Versatile for use on different surfaces
Cleans the surface and provides a protective coating
What We Don't Like
A bit hard to buff with your hands
Although it will require quite a bit more elbow grease to get a deep, high-gloss shine, the results will be more than worth it. You will get a showroom-quality shine that will last quite a long time.
6. Gel-Gloss RV Wash and Wax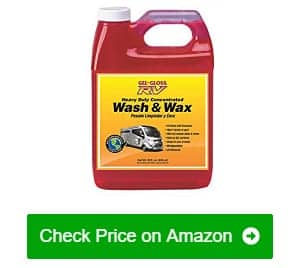 The Gel-Gloss 128-oz. RV Wash and Wax is a maintenance product that will help keep your RV looking clean and proper. You will be proud to have your RV parked beside the others in the camping ground parking lots.
It is also an ideal product for people who do not want to spend an entire day to clean their vehicle exterior. Notably, the detergent can rid of difficult dirt and stains from the surface. Yet, the soap in this wash and wax product is not too strong, so the wax coating from the last time will still be intact after you rinse.
Besides, the product contains carnauba wax additives deposited on the surface during the cleaning process. Hence, this product will leave the surface noticeably shinier than before.
I make it a point to only use nature-friendly products for cleaning my vehicles. Suppose that is also the case for you. In that case, this product does not disappoint because it is completely and readily biodegradable. That means it will have a minimal to negligible effect on the environment.
Moreover, this product does not contain petroleum distillates. It is non-toxic, so you do not have to worry about animals accidentally drinking the run-off from when you wash your RV.
On the other hand, since Gel-gloss RV wash and wax is a one-step wash and wax product, you still need to scrub lightly to achieve a better shine.
What We Like
Saves time and energy as it washes and waxes at the same time
Does not strip away the previous wax coating
Provides a somewhat hydrophobic finish
Completely biodegradable and non-toxic
What We Don't Like
Might require scrubbing to achieve more shine
This item is a great maintenance product. That means if you just want to keep your RV clean and tidy, you will surely be happy using it.
7. CorrosionX 61002 Rejex Bottle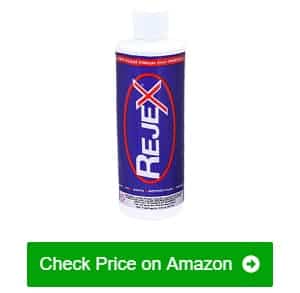 This product is a high gloss finish that brings superior waxing and protecting effects. The one thing that I notice is that it lasts significantly longer than most wax brands, meaning I do not need to wash my RV as frequently as I used to do.
Using the product is as breezy as I expect it to be. I always just need to do a good hosing down using plain water, and my RV is completely clean.
The coating that Rejex leaves behind is also water-resistant. Once this coating has got enough time to dry and cure properly, water will not bead on the surface. Since water will not bead on your RV exterior, nothing will carry dirt and deposit it.
Aside from being hydrophobic, the coating left behind by Rejex is nearly non-stick. When you apply Rejex, you do not need to worry about bug carcasses getting stuck on your RV due to such slickness.
Aside from preventing bugs splatter from sticking onto my RV, Rejex also did an excellent job of blocking the damaging UV rays from doing a number on the clear coat of my RV. I have been using this product for a solid couple of months, and the clear coat still does not have any signs of deterioration or any damage.
However, you need to know that this is not a regular wax product; this is a polymer coating. It means that you need to strip the existing wax on the surface of your RV for this product to stick properly.
What We Like
Lasts longer than most other wax brands
Breezy and simple to use
Provides a nearly non-stick coating
Protects effectively against UV rays
Creates a hydrophobic film layer on the surface
What We Don't Like
May require you to strip the existing wax for it to stick
Although there are some differences between this product and carnauba waxes, it has its own set of benefits. With it, waxing your RV is a breeze.
8. Glidecoat RV Wax Replacement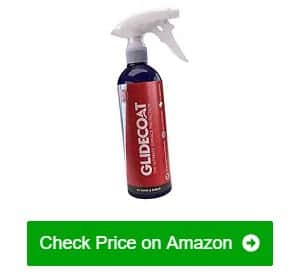 Next up, the Glidecoat 16-oz. RV Wax Replacement is a product that promises excellent results. It certainly has its own set of advantages – one of which is that it is easy to apply and buff. I can spray it on the surface and buff with a microfiber towel or machine.
Another advantage that this product has over most other automotive waxes is that it lasts up to eight months without any need for a retouch. It means that your entire RV will receive complete protection when the wax replacement is on the surface.
Regarding its protection function, this product creates a non-stick surface that will keep moisture containing dirt away from your RV. Even better, it can prevent mud, grime, tree sap, bird droppings, and other common and tough stains from penetrating. You will no longer need to wash your RV quite as extensively and as often when you use this product instead of wax.
Aside from dirt and stains, this non-wax coating can also block the extremely damaging UV-rays. It will prevent the paint from fading and the clear coat from drying up and cracking. It can even protect vinyl decals from discoloration. In my case, it did an amazing job of rejuvenating and preserving your RV's best condition, so it can stay that way for many years.
However, it requires protection for at least 24 hours for the Glidecoat to dry and cure properly. It means you need to wash your RV at a clean place to protect it from the dirt within this period.
What We Like
Easy to use with microfiber towel spraying and wiping for a deep shine
Lasts up to eight months
Eliminates the need for auto wax products
Protects against the usual causes of stains
Protects from the UV rays effectively
What We Don't Like
Requires complete protection while it dries and cures
Although you will need to compromise a bit to get the full benefits of this product, you will see that all the additional efforts when waxing your RV with it will pay out in dividends.
9. Meguiar's M5616 RV Pure Wax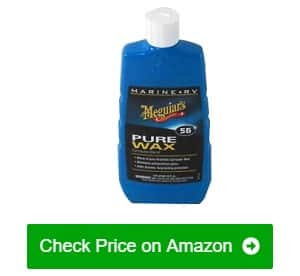 If you like the look and feel of a vehicle detailed using carnauba wax but do not have the time or energy to apply regular paste car wax manually, this product is a perfect choice. This liquid wax contains pure Brazilian carnauba, which undergoes pre-softening into a thick liquid that you can easily apply on your RV and buff to a deep shine.
Because it contains carnauba, it is perfectly safe to apply on any surface you want to on your vehicle. Regardless if you will be shining fiberglass, painted surfaces, and even bare aluminum siding, you can expect all of them to get an exceptionally glossy surface treatment that will surely turn heads.
I cannot state enough how intensely deep the shine this product leaves behind. Undoubtedly, it is the same product that car show regulars use to make their vehicles exceptionally pretty.
Besides making your RV look pretty, this wax product also acts as a protective layer against the different kinds of damage that Mother Nature can throw at it. Bird droppings gave me headaches after my trips into the woods. Now I no longer have to compromise its stubborn sticking once dried, thanks to this effective agent.
The only issue with this product is that it does not last quite as long as other heavy-duty waxes. The intense shine will only last for a month or so, meaning you will need to re-apply it every three or four months.
What We Like
Contains pure Brazilian carnauba wax
Safe to use on all surfaces and materials
Protects against everything that nature can throw at it
Easy to use and apply as you can choose to apply it by hand or machine
Gives a deep and intensely glossy finish
What We Don't Like
The wax coating does not last quite as long as the other waxes
This meguiar's m5616 is quite easy to apply, so you can do so by hand or machine. Plus, it is the perfect wax for aluminum travel trailer that you can find.
10. Thetford 32522 Premium RV Wax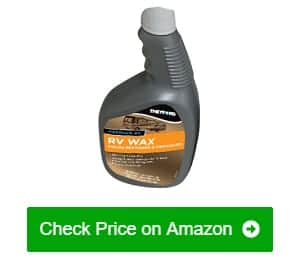 If you desire a versatile and functional product that works well on multiple surfaces, you can go with the Thetford 32522 – the best wax for RV fiberglass and another for painted surfaces.
Thankfully, Thetford Premium Wax is versatile enough to use it on my entire RV without worrying about anything getting damaged. There is no need to find a separate best RV wax for aluminum siding and another for painted surfaces, etc.
As expected, its formula is strong enough to remove light to medium oxidation damage on a clear coat. Furthermore, this product has a polishing agent that gently removes tiny scratches and other damage from the clear coat's surface. And then it treats the surface so that oxidation will be less likely to happen again.
I am thrilled to know that this product also contains restoring oils that penetrate through the clear coat and into the paint, revitalizing it and brightening the color. It also moisturizes the clear coat to make it shine from the inside as well. Your RV paint will look many years younger after using this product.
It can also reflect the UV rays to prevent discoloration and/or fading of the paint, decals, or fiberglass. The hydrophobic layer that it leaves behind will repel water. Without moisture to grip onto, dirt and grime will not be able to stay on the surface.
Still, some heavy oxidation on my RV requires a more powerful solution than this one.
What We Like
Ideal for use on other types of surfaces without damaging them
Can remove light to medium oxidation and prevent them from coming back
Restores the color of the paint and makes it brighter
Protects against the harmful UV rays
Gives the exterior of your RV a deep shine
In my opinion, this Thetford RV wax has visible results that are enough to make you want to deal with slight compromises. This wax for fiberglass is easy to apply, too, making it all the more convenient to use.
11. Meguiar's M5916 RV Quik Wax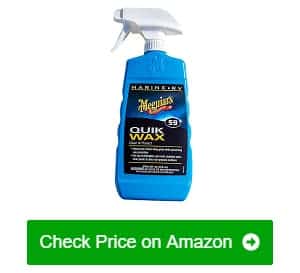 The M5816 Marine Wax is another product that I love from this well-trusted brand. It is a quick wax, which means that it is generally for touching up the wax coating of the RV.
For your information, this one does not act as a replacement for actual wax coating. I use it on a bi-weekly basis to keep my RV shiny and well-protected. It is so easy to use that I do not mind reapplying it every couple of weeks.
I also like that I can use it regardless of whether my RV is wet or dry. I usually use it after I lightly wash my RV to get rid of any dust or dirt that settled on the surface. It saves a lot of time since I do not need to dry the surface.
This product is also safe to use on any surface, so I do not need to be overly careful when aiming the spray. It is safe for any non-porous surface on the RV, which means you can use it on the exterior.
In my opinion, the best thing about this product is how easy it is to use it to provide a high-gloss finish. I did not even need to use an electric buffer to get the kind of results that I like.
On the other hand, the deep shine this product provides does not last quite as long as I hoped it would. It is the reason why I need to reapply it every two to three weeks to maintain the shine and gloss.
What We Like
Comes in an easy-to-use, spray-on formula
Ideal for use on wet or dry surfaces
Safe to use on any non-porous surface
Deep cleans and provides a long lasting layer of protection
Gives a deep, high-gloss finish with minimal effort
What We Don't Like
The shine does not last that long
Although, understandably, the shine coming from this product will not last as long as regular waxes, it is not a huge issue since this Marine RV wax a maintenance product and a good one.
12. Gel-Gloss RV Cleaner and Wax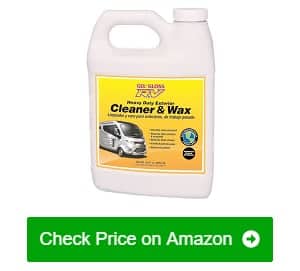 The Gel gloss RV wash and wax is excellent for keeping the shine and brightness of the paint job of your RV. I use it every couple of months to keep the existing wax coating replenished so it can still provide excellent protection. It helps keep my RV looking like it just rolled off the dealership.
I also like how this product easily removes the ugly black streaks caused by the weather. I do not even need to scrub that hard to get rid of the black streaks. Usually, I just let the product settle on top of the offending marks for a couple of minutes to loosen up the stain.
Aside from deep cleaning, this product also contains carnauba wax and synthetic polymers built up onto the existing wax coating to make it shinier. It also gives the area a high-gloss finish. The best thing about it is that you do not need to buff it that much to make the surface shine.
Another feature that made this product endearing is that it is readily biodegradable. It means that it can immediately break down upon contact with the earth. Moreover, this formula is non-toxic, so you do not need to worry if your dog or other animals accidentally drink it.
Here is the catch, though. Suppose you have a severely damaged RV like serious pitting damage, severe oxidation, rust bubbles, and others. In that case, you will need to use a more potent repair compound before applying this product.
What We Like
Non abrasive formula yet cleans thoroughly
Do not damage nor remove the existing wax coating.
Has no problems removing black streaks
Contains carnauba wax and synthetic polymers
Readily biodegradable and non-toxic to plants and animals
Protects against the UV rays and provides a hydrophobic coating
What We Don't Like
Does not work quite as well on old RVs
Overall, if you have a relatively new RV and you would like to keep it looking like new, you will surely love this non abrasive formula product.
Best RV Waxes Buying Guide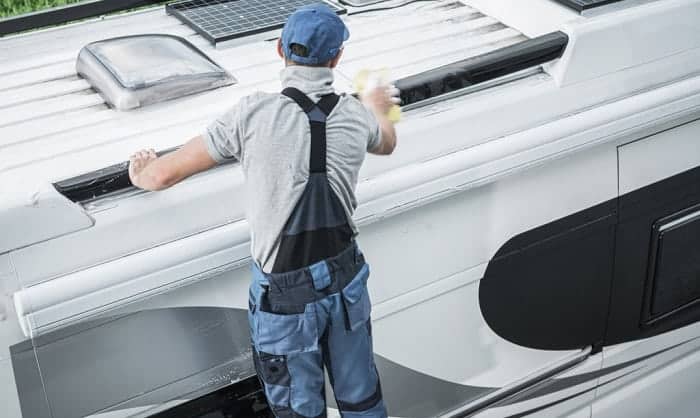 Many different car waxes are available in the market today, so finding the right one for your particular needs can be difficult. However, if you know the qualities you need to keep an eye out for, shopping for an RV wax will be simpler. Here are some key factors that can help you make the wisest buying decision:
RV material and finish – RVs come with different exterior materials. You can see some of these vehicles having exteriors made of fiberglass. Others use gel coating, bare aluminum, and painted surfaces.
Consider these materials when shopping. The wax product that you buy should be compatible with the material of your RV. Note that making the wrong choice here may cause severe damage to the finish.
Many wax products claim they can work on all RV finishes, but to be on the safe side, you should get a wax formulated specifically for the kind of surface your RV has. There are many market choices for top-rated wax for gelcoat RV, the top-rated RV wax for aluminum siding, or the most affordable wax for RV decals. Always check the label thoroughly before making any final decision.
UV protection – A good wax product is not just for making your RV look good but also for protection against the harmful UV rays. Leaving the surface unprotected will lead to various severe problems, like fading of the paint, oxidation damage, drying and cracking of fiberglass, and many more.
Getting the proper RV wax with UV protection will prevent the UV rays from penetrating the exterior of your RV. You need a good wax with uv protection to keep your RV looking like new for longer.
Hydrophobic surface – Ideally, the wax layer left on the surface of your RV should be hydrophobic. In other words, it should repel water efficiently. It means that the wax should not permit the water to form beads on the surface. Instead, the water should form thin sheets that will flow over the edges and leave the surface completely dry.
It is important because there will not be any unsightly watermarks left on the surface once dirty water beads get dry. Moreover, if there is no moisture on the RV surface, dirt and dust will not have any way to stick onto it. It means you will not need to wash your RV quite as often as before.
Anti-static coating – Aside from moisture, another reason why dirt and dust get stuck onto the surface of your RV is static electricity. Even though the exterior of your RV looks slick and shiny, bits of dirt and dust will still manage to attach themselves onto the surface if charged with static electricity.
Look for waxes that promise to provide an anti-static coating. It is particularly crucial if you live in an area where it can get dry and dusty.
Abrasiveness – If a particular brand of wax has a high abrasiveness, it can cause a haze to form on the clear coated paint. Also, you will notice a bunch of micro-scratches on the clear-coated surface. It will be more evident on RVs that have a darker finish.
Waxes can contain an abrasive formula or a non abrasive formula. It is your job to find the one that has the least amount to prevent damaging the paint too much. Manufacturers usually state the abrasiveness score of their wax products on the labels. The lower the number, the higher the abrasiveness.
Polishing properties – Speaking of abrasiveness, certain wax products contain a polishing product, which means that it has a high degree of abrasiveness to scrape away any oxidation damage. These products can also even out scratches and other imperfections on the surface.
Now, the only problem with combination polish and wax products is that they usually do not produce the same deep shine that a dedicated wax product can produce.
Ease of use – Waxing a huge vehicle like an RV is never an easy job, so you should get a wax that can make the task easier even for a bit. However, you will need to make a couple of compromises, usually for ease of use. For instance, there are spray-on waxes that are easy to apply, but you need to compromise on the shine's quality.
Another factor to consider is if it is possible to apply the wax by hand and/or machine. If you can apply the wax by machine, do yourself a favor and use an electric buffer to make the surface shine.
In this context, durability – Durability is the specific length of time that the wax coating will remain shiny while still helping protect the finish of your RV. Some great wax products are so durable that their shine will not dull even after a couple of months.
To figure out how durable a specific type of wax is, check the label, particularly the instructions section. Check out how often you will need to reapply the wax. It is a good indicator of how long that particular product can last. On the other hand, you can also check out online customer reviews to find out how other people find the product.
Size – Consider your RV size to determine if you have enough product to cover its entire surface area. There is nothing worse than noticing that you do not have enough wax when you already finished waxing half of your RV.
You can usually find how much surface area a particular container of wax can sufficiently cover right on the label. However, it is always better to air on the side of caution and just buy more wax than you think you will need. The wax has an incredibly long shelf life and you will surely be using it again once it is time for reapplication.
Price – Just like many vehicle-detailing products, you will get what you paid for. You will stumble across plenty of cheap wax brands while you are out shopping, but they are not usually as effective as name-brand wax products.
However, it also does not mean that you must set aside a stupidly large amount of money for wax. It is highly advisable to go for products that are sort of middle-of-the-road in terms of pricing. You may just find a decent-priced product with the same effects as name-brand waxes.
On the other hand, if you can easily afford to buy the more expensive variants, there is no reason at all as to why you should not get them.
How Many Types of Wax for RV Are There
When you are out shopping for a good deal on an RV wax, you can see different shapes and sizes of containers purportedly containing the same product. It is because several different types of wax are now available to choose from.
Just be extra careful when choosing as all of them do not promise the same quality of results. The following are just some of the types you can choose from:
Liquid wax – This type may be the most common form of RV wax that you will encounter once you start to shop. If you have a fiberglass RV, you will discover that most choices for RV cleaner for fiberglass are in liquid form.
You can often see these products come in large bottles containing more than enough to cover the entire surface area as large as an RV effectively. Another thing to keep in mind is that the liquid wax application is either by hand or machine.
Spray – This wax has a thinner consistency than liquid wax. It is thin enough that you can spray it directly onto a surface for even distribution, and yes, it comes in a spray bottle.
However, this type of wax is not suitable for RVs since it does not usually come in bottles large enough to coat it completely. You will need to buy maybe three or four bottles. Furthermore, water-based spray wax tends to create many oversprays, which is just a huge waste.
Paste – This type encompasses those waxes that usually come in little round tins. Paste wax usually contains pure carnauba wax and is thick. It is also not advisable for use on RVs because of how labor-intensive it is to apply.
Due to the paste wax's thick consistency, you can only apply it by hand, and only a little bit at a time. Although this type of wax produces the deepest, non-greasy, and shiniest coat, it will take you an entire day to apply and buff up the wax coating.
How Do RV Waxes Work
The main role of a wax product is to protect the clear coat and the paint of the recreational vehicles. You are essentially placing a shield between the car and the pollution and dirt floating in the air, the UV rays of the sun, and water.
Water, specifically rainwater, is the biggest problem you need to concern yourself about because it carries all kinds of pollutants that will transfer onto the paint. A good wax will leave a hydrophobic film that will repel water.
Instead of beading and staying stuck onto the clear coat's surface, the water will form sheets and flow down and off the vehicle. Certain waxes are so effective at what they do that you can dry the properly waxed RV just by using clean water from a hose.
Because the wax prevents water from depositing dirt onto the surface of the RV, you no longer need to wash your vehicle as frequently and as intensively as you did before. It provides yet another benefit. Since you will not be scrubbing the surface quite often, the chances of leaving micro-scratch marks on the clear coat are not that high.
Of course, you chose to wax your RV because it leaves a deep and beautiful shine on the surface. A good quality wax will leave the paint's surface looking like it is always slick and wet. The best wax for motorhomes will also rejuvenate and protect the clear coat, which will make the paint look like new even after years have passed.
Who Makes the Best Wax for RV
I have tested quite a few different waxes for vehicles in the past couple of years, and some brands have stood head and shoulders above the rest. Among those that are worth checking out are Meguiar's, Walbernize, 3M, PRO Car Beauty Products, Gel-Gloss, CorrosionX, Glidecoat, and Thetford.
If you stumble upon any of these products, then you can trust with great confidence that you will be getting more than your money's worth.
Should You Wax Your RV
It is not that necessary to apply wax on your RV. You can just use an RV wash and wax cleaner to get an acceptable finish. However, it is advisable to get your RV properly waxed at least once or twice a year using liquid or paste wax to maintain the glossy finish. Not using a suitable wax material will result in the top clear coat finish getting dull and hazy.
How to Polish RV Fiberglass
Polishing an RV fiberglass finish is not the same as waxing. For starters, a polish is different from a fiberglass wax for RV. An RV polish contains tiny particles that act as abrasives that gently remove the topmost part of the clear coat, or in the case of most fiberglass panels, the fiberglass gel coat.
The abrasives are so small that they will only remove material from the topmost layer of the clear coating, polishing out the small scratches and blemishes on the surface. Although you can find RV polish and wax products that effectively combine polishing and waxing into just one task, do not expect the same kind of lasting and deep shine that you will only get from a separate wax product.
What Is the Best Wax for Fiberglass RV
If RV owners are talking about the ease of use, the best wax for fiberglass camper surfaces is the liquid type. The liquid wax pours on and spreads easily over the surface, making it easy to apply and buff by hand.
However, if you are gauging the result (the gloss and the quality of protection provided), the best wax for gel coat RV is the paste wax. Although you must compromise ease of use, the results will be well worth the extra effort.
Can You Wax RV Decals
Yes, decals also need waxing as they will need UV protection to prevent them from fading. However, you need to be careful in choosing the kind of wax product to use on them.
The one thing to remember regarding it is that you should not use anything that contains polish as it can potentially damage the decals instead of protecting them. The best wax for RV decals is usually that which has pure carnauba wax.
How Do You Clean and Polish a Fiberglass RV
First of all, you need to rinse off as much of the loose dirt and dust that settled on the surfaces of your RV. For this task, you can just turn on your garden hose and point it to your RV.
The next step is to apply the RV cleaning soap, use a liberal amount, and work up a thick lather on the surface using a cleaning mop. Work on one panel at a time to prevent the other, just soaped up panels from drying and leaving unsightly marks on the surface. Rinse each panel thoroughly and then dry each one off using a clean, soft rag.
Once all the panels are clean and dry, it is time to apply the polish. Again, it is best to work on one panel at a time to prevent the product from caking onto the surface. Apply a bit of the polish onto a clean and soft rag, then put it on the surface using small circular motions.
Wait for the polish to start looking hazy and then remove the excess polish using a separate, clean, and soft towel to slightly buff the surface. It will also make the abrasives work on removing a bit of material from the surface.
After you finish polishing the entire RV surface, apply a separate wax coat to seal and further protect the paint.
Care and Maintenance
If you have a lot of wax left over, just tighten the lid or cap on the bottle and store it somewhere cool and away from direct sunlight. You can still use that wax for the next time you will need to apply a fresh coat on your recreational vehicle.
However, keep in mind that you need to buy the same type and brand of wax if you do not have enough product for the entire RV.
Other RV Wax We Reviewed
Turtle Wax T-477R 20-oz. ICE Spray Wax
The brand where this product comes from is synonymous with quality for vehicle detailing products. The Turtle Wax T-477R ICE spray wax is worthy of carrying the Turtle Wax branding.
Key Features:
An effective ice spray wax for use regardless of the season
Prevents water from beading on the surface
Offers effective UV protection
Star Brite Premium 32-oz. RV Polish
This one-step polish and shine product is one of the best options you can buy right now. Regardless of the material used on your RV exterior, this product can make it shine.
Key Features:
Prevents UV rays from damaging the paint and causing it to fade
Allows application by hand or buffer
Has synthetic polymers bind onto the surface to repel dirt and grime
Aero Cosmetics Wet or Waterless 144-oz. Car Wash Wax Kit
If you do not have enough free time for a traditional car wash, here is a perfect product for your needs. You can use it as a traditional wash, or if you are in a hurry, you can use it as a waterless and rinse-free car wash, too.
Key Features:
Useful either wet or waterless
Suitable for use anywhere – There is no need for a nearby faucet and hose.
Completely biodegradable
Star Brite Premium Restorer Wax
If you often deal with medium to heavy oxidation damage, you can use this product to bring the finish back to its original condition.
Key Features:
Has enough abrasive compounds that help deal with medium to heavy oxidation damage
Polishes the clear coat to an almost mirror finish
Provides enough UV protection and shield against future stains and
CarGuys Hybrid Wax Sealant
If you want your RV to have that impressive showroom shine, use the same products used by the professional vehicle detailers. In that case, the CarGuys Hybrid Wax Sealant is the thing you have been looking for.
Key Features:
Produces a deep and slick shine that is like that provided by paste waxes
Safe to use on any surface
Easy to apply and even easier to buff to a deep shine
3M Scotchgard Marine Liquid Wax
3M is one of the biggest names you can trust regarding car accessories and vehicle care products. It is mainly for marine RV, meaning it can withstand quite a lot of punishment before it even starts to show any signs of damage.
Key Features
Does not cause any damage on the surface
Provides a coating that protects against the weather
Easy to apply – You can apply and buff it by hand.
Griot's Garage 11097 Spray-On Wax
This spray-on wax can save a lot of time waxing, which is always welcome when it comes to shining up a giant RV.
Key Features:
Easy to apply and shine
Enhances the existing wax coating
No need to wait for your RV to dry when applying the wax
3D Carnauba Wax
It is a pre-softened carnauba wax, making application a lot easier than dealing with it in paste form. Although it is easier to use, it still provides the same results.
Key Features:
Easier to apply compared to regular carnauba wax
Produces a thick protective shell over the clear coat
Appropriate for use on conventional paint surfaces and clear coats
Conclusion
Waxing your RV is not just for the show since it has plenty of practical applications. Wax coatings protect the clear coat from dirt and grime, which means you will not need to wash your RV quite as often. A good wax will also help protect the paint job or fiberglass from the sun's damaging UV rays.
Now that you have reached this point in the article, hopefully, you can find the best RV wax without any problem. Not only will you keep your RV always looking like new, but you can also do so without spending too much money.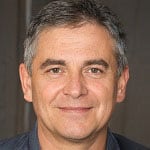 Hi, I am Tom Hank, an RV-er since 2014. Back then, I started without much help. As you can imagine, the struggles are endless. But now, you do not have to begin your adventures knowing next to nothing about RV lives.