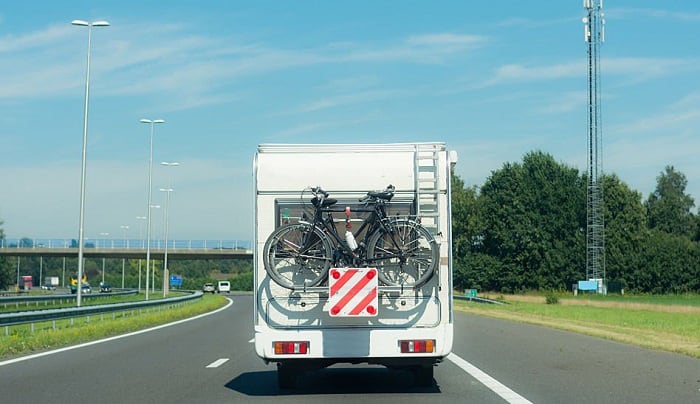 The market offers a host of RV bike storage options. Shoppers can purchase RV bike racks for electric bikes and mounting options for various rigs. But what is the best RV bike rack to use?
It is important to mention that it might not matter if an RV and bicycle owner uses an ebike rack for RV, or any other bike rack for that matter, if the model does not possess top-notch features and traits.
Make sure to think about the different factors involved in shopping for the right bike rack. Some of the elements to consider are:
Mounting type: The market typically sells RV bicycle racks in five different mounting options. These choices are hitch receiver mounts, ladder mounts, front or rear bumper mounts, tire mounts, and A-frame mounts.
Compatibility: Ensure that the bike rack for the motorhome can cater to the different types of bicycle frames. An ideal choice would be to buy and install a rack that can fit different bicycles. For example, an RV bike rack for electric bikes might also fit mountain bikes.
Bike capacity: Shoppers also need to think about the number of bikes they need to bring on their trips. Use that information to purchase a rack that can hold the appropriate number of bicycles to help clear the RV's storage compartments.
Note that the three factors mentioned above are not the only important things to consider when looking for the ideal RV bike rack.
Other criteria regarding the materials used and the security provided are still necessary to ponder ưhen using a rack that will not cause doubt and worry. Check out those details in the buying guide below and see what the best products offer.
Best Bike Rack for RV Reviews
1. Swagman Bicycle Carrier Traveler XC2 RV Bicycle Rack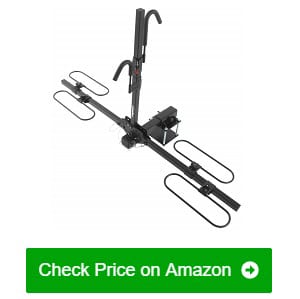 Unlike other bicycle racks with only one mounting style, this Swagman RV bike rack has two. I was able to mount this kit on my RV's bumper or the hitch receiver. Depending on my camping trip's specific demands, I can switch the mounting location.
However, I should mention that the hitch receiver pin is not included in the base kit. This additional accessory is not an expensive purchase. Still, I would prefer it if it came with the product's standard packaging.
It is also fairly easy to assemble and use. The instruction manual was reasonably detailed to help me with each step of the installation process. Once installed, it only takes a few seconds to mount or dismount my bicycles to or from this Swagman bike rack.
But once I place my bike onto this rack, it stays there without giving me any worry. I attribute this benefit to the rack's ratcheting arm and changeable hoop. These components secure my bicycle, giving me peace of mind during road trips. Plus, that hoop is usable on different-sized bicycle wheels.
I can also see that Swagman is a brand of integrity, seeing that this product comes with a limited lifetime warranty. So I can contact the company's customer service hotline to help me with issues that may happen with this rack. It also means I can ask for certain repair and replacement services that might not include service fees.
What We Like
Top-notch versatility for it can act as a bumper or hitch-mounted bike rack
Reasonably easy to assemble and use, with detailed instructions
Secures bicycles with a ratcheting arm and changeable hoop
Manufacturer's limited lifetime warranty
What We Don't Like
Hitch pin is a separate purchase
I often recommend this product to rig owners that are also bicycle enthusiasts. Buy this kit to enjoy first-rate versatility from a bike rack and other useful features.
2. Camco 51492 RV Ladder Mount Bike Rack
This Camco RV ladder mount is a nice surprise for a product of its class, primarily because of its alluring price point. In a sector filled with expensive ladder racks for bicycles, this model possesses a fairly reasonable overhead for budget-conscious folks.
This ladder rack comes with great features. For instance, the installation did not give me any trouble assembling the kit onto my RV's ladder. Also, the set comes with the necessary add-ons and hardware, reducing the frequency of going back and forth to my local hardware store.
The kit also comes with additional straps. That way, I can drive my camper without the constant fear of my bicycles falling off of the mount. The straps also have rubber braces to add to the security they offer.
Still, I want to mention that the straps and their rubber braces slide down slightly. It usually happens when I am driving over rough terrain. The way I handled this slight caveat is that I marked the original area of the security straps. Then, I readjust these components whenever I have the chance.
Also, the maximum 60-pound weight capacity is sufficient to hold two bicycles. Most of the bikes fitted onto the mount weigh about 20 pounds. So at approximately 40 pounds, the rack did not succumb to the fairly heavy load.
What We Like
One of the least expensive bike racks with quality features
Easy to install and comes with the necessary add-ons and hardware
Additional straps for optimal security on mounted bikes
Sufficient 60-pound weight capacity and can fit two bikes
What We Don't Like
The straps and their rubber braces may slide down slightly
Ultimately, I can recommend this bike rack for buyers following strict and tight budgets.
3. Swagman RV Ladder Bike Rack
I applaud the manufacturer for making this RV ladder bike rack as sturdy and as secure as possible. The kit does not budge after installing it onto my camper's ladder. Its dual-arm design allows the mounted bicycles to stay on the rack throughout my road trip.
Adding to the list of this product's safety features are the soft cradles. I can finally say goodbye to using racks that scratch the surface of my bicycles. Plus, the rack also has reflectors to prevent other vehicles on the road from miscalculating their distances when they are close to my RV during night drives.
Next, incompatibility is almost non-existent with this rack. I was able to fit it into most of the motorhomes during my tests. It was also possible to install it onto certain fifth wheels.
However, I noticed that some installations were better than others. Oftentimes, I found that this rack rattles when fitted onto some ladders on certain campers. The downside here is that the extra mounting method that should help reduce the rattling is not in the standard packaging.
Also, this rack can fit a maximum of two bicycles. But each mounting area has a weight limit of 35 pounds for a maximum of 70 pounds. Although most bicycles will not reach that ceiling, it is nice to know that the material will not bend or distort from the carried load.
Finally, this model is an RV-approved rack. I noticed that it has the durability that can withstand different outdoor conditions, ensuring that my bicycles will stay on it throughout my road trip.
What We Like
Secure installation, thanks to its dual-arm design
Soft cradles prevent scratches on mounted bikes
Compatible with many motorhomes and fifth wheel ladders
Above-average 70-pound weight limit
RV-approved construction with a sufficiently rugged construction
What We Don't Like
Hardware that can help reduce rattling is not in the base kit
Overall, secure and sturdy, this one is among the quality RV bike racks available for outdoor excursions.
4. Surco 501BR Ladder-Mounted Bike Rack
While other bicycle racks on the market are heavy loads, this model is satisfyingly lightweight. At only 3 pounds, it did not require me to call for help to mount this rack onto my RV. Additionally, the relatively straightforward design makes it possible to fit this bike rack onto almost any trailer or van.
Furthermore, this RV bike rack has aluminum construction. Electrostatic paint also covers that material. With those combined features, the probability of this product acquiring corrosion and rust over time is almost absent.
Moreover, and like other quality bicycle racks, this model can carry up to two bikes. But one of the main differences found in this unit that is not present in many of its competitors is the pivoting arms. With those moveable parts, I can alter the position of the rack to give me access to my RV's ladder without disassembling the kit.
I would also like to give my appreciation to the manufacturer for packing this rack fully assembled. Doing so cut the installation procedure significantly. The only thing that I needed to do was mount the rack onto the RV ladder then put my bicycles on it.
On the downside, the racks will encounter some fitting issues if I am trying to install them on ladders with over 1-inch diameter rails. I had to modify this product's components to fit it properly on those larger ladders.
What We Like
Lightweight 3-pound RV-approved bike rack
Aluminum construction with electrostatic paint resists corrosion and rust
Pivoting arms that do not require disassembly to access the RV's ladder
The kit comes fully-assembled
What We Don't Like
Some users may encounter fitting issues if their RVs have large ladders
This bike rack for motorhomes can be a suitable fit for buyers looking for an incredibly lightweight model.
5. HYPERAX Volt Hitch-Mounted Rack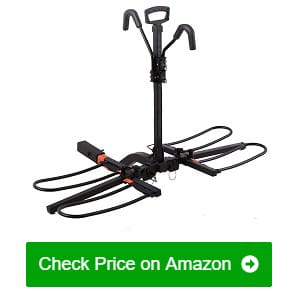 To say that this hitch-mounted bike rack is a beast might be an understatement. It has a 140-pound total weight capacity. Therefore, this hitch mount design can support up to 70-pound loads for each bike placed onto this rack, making it ideal for heavy bicycles.
Additionally, I am happy that this rack can fit up to 5-inch fat-tire bikes. It even has little to no problem fitting wheelbases of up to 58 inches. I did have some trouble fitting some smaller bikes onto the rack. But I solved those concerns by purchasing a reasonably inexpensive bike adapter.
Another great feature of this RV bike rake is its ratcheting hooks. It has a co-injected rubberized construction that helps secure my bicycles onto the rack. But its soft nature prevents the hooks and straps from rubbing fiercely against my bicycle's frame, unlike other hitch-mounted racks I used.
Installation and removal procedures were also incredibly easy for a hitch-mounted rack. Also, the design has a carrying handle, allowing me to easily lift and carry the entire set for storage. The kit's design is also foldable, alleviating some storage space in one of my RV's compartments.
On the downside, it can be quite tough to fit this bike rack onto some trailer hitches. It is because it only fits 2-inch Class 3 hitch receivers. Plus, it only promotes rear-mounted installations. Otherwise, the material might rub against the towing vehicle and/or increase the risks of on-road accidents.
What We Like
Large 140-pound maximum weight limit
This rack can fit up to 5-inch fat tire bikes with wheelbases of up to 58 inches
Co-injected rubberized ratcheting hooks with soft feels to prevent scratches
Easy to install and remove, thanks to the handle and foldable design
What We Don't Like
Only fits 2-inch Class 3 hitch receivers
Some users may not be able to install this rack at the front of their vehicles
Individuals with heavy bicycles may not want to miss out on this product. Its large maximum weight limit might be enough to make some shoppers buy this model.
6. Swagman 80605 Two-Bike Rack
This Swagman 80605 Two-Bike Rack is even lighter than I imagined. It weighs less than a pound, making this kit one of the most lightweight units I encountered for a product of its class.
Despite the lightweight build, it can still comfortably hold up to two bikes, a total of 60 pounds or 30 pounds per bike.
Although this product is stupendously lightweight, the manufacturer was still able to outfit it with heavy-duty steel construction. The kit also possesses a black powder-coated finish to prevent corrosion and rust.
Security is also top-notch for this product. Take note that installing this bike rack onto my RV's bumper is possible through the system's U-bolts. The fit for these components is just right, making the assembly almost rattle-free in many on-road scenarios. Also, the upright bar at the center of the rack helps support the bicycles during towing operations.
The rack's compatibility with different bicycle frames is also quite remarkable. I was able to mount different kinds of bikes onto it without experiencing significant trouble.
On the other hand, the compatibility of this bike rack on campers is another story. This model only fits 4- to 4.5-inch square RV bumpers. So any other camper bumper design means that I have to modify this rack to fit properly.
What We Like
Weigh less than a pound without compromising the maximum weight limit
Stacks 2 bikes weighing 30 pounds each
Sturdy steel construction with black powder-coated finish
Secure U-bolts to help reduce unwanted motions during travel
Compatible with different types of bicycles
What We Don't Like
Might be challenging to install it on some RVs because of its design
RV owners with vehicles that have 4- to 4.5-inch square bumpers and need a quality bicycle rack may want to check out this product.
7. Quick Products QPRBM2R RV Bumper Rack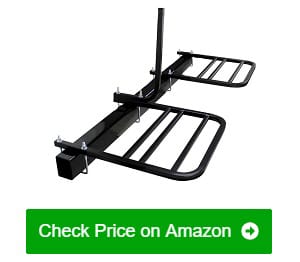 I noticed that many stainless steel RV bike racks are quite expensive. So it is nice to see that this particular model sits at a budget-friendly price point. This reasonably low cost also comes with a powder-coated finish to help resist corrosion and rust.
Also, this particular RV bike rack can work as a bumper- or tire-mounted rack. This improved versatility allows me to move the kit's installation, depending on the requirements presented by my trip.
The two mounts are also adjustable. This flexibility allowed me to fit any bicycle of any length, as long as the bikes do not have fat tires. Plus, the slotted wells for the tires have stabilizers to secure the bicycles and prevent them from falling while driving my RV.
I also appreciate that the weight distribution on this RV bike rack is sufficiently stable. The system stayed as level as possible even when two bikes were loaded onto it. I did not see any significant bends or dents to the unit while it held my bicycles.
Installation is also reasonably easy to accomplish. However, some minor alterations might be necessary for some setups. For example, some of my tests in trying to assemble this kit on some campers required me to move ladders or spare tires to another location.
What We Like
Fits within the budget-friendly price range
Usable as a bumper- or tire-mounted rack
Adjustable mounts for bicycles of relatively any length
Good weight distribution to load up to two bikes without bends or dents
What We Don't Like
May not fit fat bicycle tires
Minor alterations might be necessary to complete the assembly
For the price, I have seen and experienced this product as one of the market's best RV bikes. Interested buyers may find it difficult to pass up buying this model because of its functional features.
8. Tow Tuff TTF-2762KR Rear Bumper Bike Rack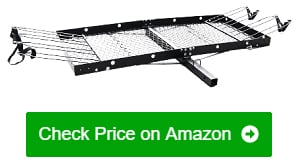 Many bike racks on the market work as intended, but this model offers more than the usual functions. Unlike other frames that can only fit bicycles, this one allows users to use it as an additional storage area for other objects.
Aside from my bikes, I used this RV bike rack to carry different cargo, as long as the overall weight did not exceed the rack's weight limit.
In fact, it can hold loads of up to 500 pounds. With that, the rack's sturdiness can hold up to 25 20-pound bicycles.
Although carrying that many bikes on this kit are not possible, users should get an idea of the durability of this heavy-duty steel rack.
The package also has a tie-down strap, which works as intended. It keeps my bicycle and other carried objects secured to the carrier. Also, I can fit a maximum of four bikes onto this rack, provided that the bicycles possess reasonably thin frames.
I also like that this model comes with a year of the manufacturer's limited warranty. This policy allows me to request parts repairs and replacements if certain components become damaged because of natural causes.
Perhaps my only complaint is this product's weight. It is quite heavy and requires me to ask for assistance to lift it during the installation. But it is a minor shortcoming at best, especially after seeing and experiencing this product's ruggedness and other capabilities first-hand.
What We Like
Usable to carry bicycles and other loads
Maximum weight limit of 500 pounds
Durable, heavy-duty steel RV bike rack
Tie-down strap securely holds objects in place
Manufacturer's one-year limited warranty for parts
What We Don't Like
Heavy bike rack that may require assistance during installation procedures
It is tough to find drawbacks from this bike rack. It is highly versatile, firm, and confidently secures objects to it.
9. Swagman 66684 Dispatch Hitch Mount Bike Rack
I love the fact that this Swagman hitch-mounted bike rack promotes effortless installation. Unlike other models that demanded a comical amount of time to assemble, this product only required me to use a few minutes. After setting it up, mounting my bicycles onto this rack is also quite easy to accomplish.
The next likable trait that I would like to mention is this product's durability. Made with a sturdy metal material, this model held well as I drove through rough roads. It even stood weather tests, and it did not acquire significant damage from those conditions.
Bike security is also top-notch. I traveled in my camper for about 7,000 miles with this rack holding my bicycles. To say that this product carried my bikes well throughout that road trip might even be an understatement.
This bike rack is also compatible with different vehicles. I fit it into automobiles like a Subaru Ascent, a Winnebago Sunstar, and a Nissan Pathfinder. Moreover, I completed each installation procedure without encountering any significant issues.
One shortcoming of this model is its fit with certain bicycle types, particularly with some women's bikes. The small frames made it challenging for the rack to clamp properly, which may introduce some security issues. Thankfully, using a compatible crossbar solves this problem.
What We Like
One of the easiest and fastest installation processes for bike racks
Durable metal material that holds well against rough roads and bad weather
Secures mounted bicycles well during long road trips
Compatible with different vehicles, such as the Subaru Ascent
What We Don't Like
Some bikes may not fit onto this rack securely without some modifications
This product is well-built, easy to set up, and provides top-notch security to compatible bicycles.
10. Let's Go Aero 429756 RV Bike Carrier
This particular bike carrier does not look like many of the other models I see on the market, which is a good thing.
It is a fully patented rack with an innovative frame that promotes utmost security and stability for mounted bicycles. Besides, this RV bike rack has 30 bolt patterns that securely attach to my RV.
I also appreciate that this carrier can hold relatively any bicycle I mount on it. It has a universal mounting system that allows me to fit different bikes, including dirt and mountain bikes.
This product can also hold up to 80 pounds of bicycle weight, and it can securely carry up to two bikes at the same time. That 80-pound weight limit is above average, considering that many competing models on the market can only hold up to 60 pounds.
Furthermore, the package comes with a complete kit with all the necessary parts and hardware to complete the assembly. Many of the components also come from this brand, which assures me that most if not all of the parts use top-quality materials.
The design did not prevent me from looking at the mounted bicycles from my RV's driver seat. One glance at my rearview mirror, and I can see my bikes mounted securely.
On the downside, I wished that the installation manual had clearer instructions. Specifically, the guide is not as clear as I had hoped in giving directions to install the location of the hangers and anti-sway bars. Thankfully, I can forget about those parts after I complete the setup.
What We Like
Innovative and fully-patented frame with 30 bolt patterns to secure the assembly
Universal mounting system can hold and carry relatively any bicycle frame
Can hold up to 80 pounds of bike weight
The base package comes as a complete kit
Promotes quick checkups by looking at the assembly from the rearview mirror
What We Don't Like
Some unclear instructions might make installation jobs more challenging
Overall, this product is a great RV rack for bicycles. It comes with first-rate features that many bike enthusiasts will come to know and love.
11. Swagman Travel Trailer Bike Rack
At first, I was afraid that this bumper bike rack for travel trailers would collide with my RV's spare tire setup. However, the manufacturer seems to have confidently come up with a rack with a design that does not bump into an RV's spare tire.
With this rack, I was able to mount and bring my bicycles without the need to remove that extra tire.
I also adore that this rack has anti-sway cradles for my bicycles. That setup also has dual arms that rotate and slide when needed. My bicycles stay in their positions with these components throughout my road trips.
Also, the cradles have rubber straps that secure the bikes, and the fairly plush material also prevents unwanted scratches.
This stability is one of the best I have experienced in a bicycle rack. With this product, I could carry two bikes for over 7,500 miles.
Additionally, it might be pretty rare for me to see a visually appealing bike rack, but this model fits into that category. The setup fits well with the aesthetics of some camper vehicles.
I should mention that this rack's length is quite long. It sticks out sometimes in some setups, particularly when I install it on small travel trailers. If left unchecked, it might pose a risk wherein the material will break the bumper.
What We Like
Assembly does not collide with an RV's spare tire
Anti-sway cradles with dual arms allow the bicycles to stay in place
Top-notch stability promotes security for mounted bikes during long road trips
Visually appealing design that should fit the aesthetics of many camping vehicles
What We Don't Like
Long rack may promote the risk of breaking the bumper
Rig owners with fairly wide RVs may want to consider buying this product. Buy this model to experience the luxury of using a highly stable RV rack for bicycles.
RV Bike Racks Buying Guide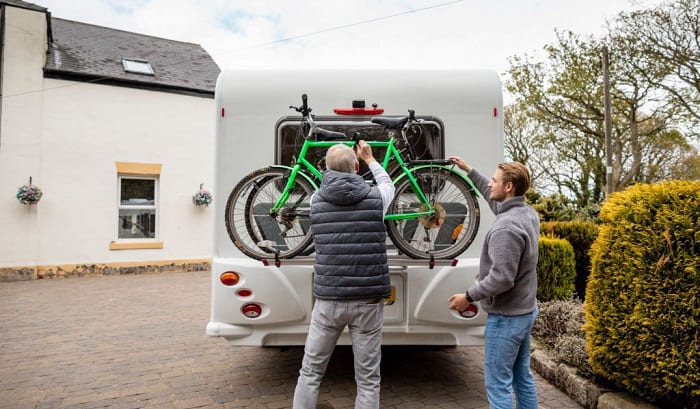 Searching for the best RV bike racks can be quite tough, particularly for beginners in the sector. Buying the wrong bike rack for RV can create compatibility issues with the bicycles of users, along with other problems.
So it is important to think about some essential factors while shopping for the right bike rack for RV. Some of the elements to think about are:
Mounting Type
Generally, interested buyers can find five types of mounting systems for the different bike racks for campers that are available on the market.
Hitch mount: A typical RV hitch bike rack often works with most vehicles, including many travel trailers. Many trailer hitch-mounted racks tend to have the weight capacity to hold up to five bicycles at the same time.
Ladder mount: Ladder-mounted bike racks are often ideal for carrying mountain bicycles. Quality ladder mounts can also help save rig owners some space since these mounts are usually out of the way of other storage items.
Bumper mount: Bumper-mounted racks generally provide optimal visibility for RV drivers. Using a bicycle rack for an RV bumper typically does not obstruct a camper's windshields.
Tire mount: These bike racks for motorhomes typically go on the vehicles' spare tire. Although quite useful, rigs that do not have a spare tire at the back may not be able to take advantage of this type of RV bike mount.
A-frame mount: These camper bike racks are often best for single- and twin-axle rigs. The design of these RV bike racks will not exceed the vehicle's nose-weight ceiling, reducing the risks of weight-related issues for rigs.
Compatibility
Remember that different bike frames exist. So it might still not be possible to install the bikes securely if these two-wheeled vehicles and the bike rack on the tow vehicle are not compatible.
Check for RV bike rack reviews before finalizing any purchasing decision. That way, buyers can check if an electric bike rack for RV can also be used as a carrier for mountain bikes.
Do not forget to think about the overall bike size and bike wheels. A bicycles' dimensions can also adversely or positively affect its fit with the rack.
Bike Capacity
Some of the bike racks on the market can only carry up to two bikes. Make sure to ask how many bikes a particular RV bicycle rack can carry.
Take note that it is possible to find an RV bike rack 4 bikes or a 6-bike rack for RV. Using a bike rack for camper that can carry the right number of bicycles can help many rig owners enhance their rigs' storage space.
Materials
An RV bike carrier should last a long time. Keep in mind the materials used in creating the product. For instance, a bike rack for back of camper may have a heavy-duty steel construction. But it might still be susceptible to corrosion, rust, and weather damage if it does not possess an appropriate finish.
Ease of Installation and Use
A bicycle rack for RV should not create problems for bike and RV owners. The right RV bike rack must be easy to install and use. Remember, a bike rack easily installs if it is compatible with the appropriate RV equipment. Still, certain bike racks provide better convenience than others.
For instance, bike racks for RV ladder are often great choices if bicycle users have friends or family members to help unload the bikes from their vehicles. On the other hand, an RV bike rack hitch mount can be a better option than a ladder-mount bike rack for solo camper or motorhome users.
Security
Many bike owners dread the possibility of their bicycles falling off their racks while driving their rigs. The right bike rack will have features that keep the mounted bicycles secure.
For example, adjustable wheel ratchet straps should be on the mind of buyers when thinking of RV bike rack ideas. Doing so will help interested customers in determining a secure rack for hauling bikes to buy.
Price
Perhaps one of the primary bases for buyers to continue and finalize their purchasing decisions is if their choice of travel trailer bike rack is affordable or not. Keep in mind that it is not ideal to spend an entire budget on buying one bike rack for travel trailer.
Also, it might not be a good idea to skimp on spending money to buy the right bike rack. A particular model with low-quality features and traits may provide more problems than benefits.
FAQs
Do You Need A Special Bike Rack For An RV?
An RV approved bike rack is generally the optimal choice to store and carry bicycles on a camper, motorhome, or travel trailer. Using RV rated bike racks ensures users that these models have the durability to last a long time.
Other qualities of RV-approved bicycle racks include them being tested by the manufacturer and having warranties that promote peace of mind.
What Makes A Bike Rack RV Compatible?
Different elements are involved in thinking about the compatibility of a bike rack with a rig. Buyers should ask themselves probing questions to ensure that the bicycle rack they buy is the correct model. Certain inquiries may include (but are not limited to):
What is the number of bikes to carry for the trip?
Can the camper or motorhome cater to a ladder-mounted rack?
Does the RV have a square bumper adjustable mounting system?
Is it possible to install the chosen RV bike rack over propane tanks?
Can the bike rack fit nearly any length bicycle?
It can also be ideal to consider the brand of the bike rack. Some companies that offer RV accessories already established their credibility in the industry after years of supplying users with quality products and customer service.
Shoppers can also use online search engines to their advantage in searching for these high-quality models. For example, using keywords like 'Thule RV bike rack' or 'Camco RV ladder mount' can supply shoppers with the search results they want to see. Otherwise, it can take more time and effort than intended to shop for the right bike rack.
How Do You Attach A Bike Rack To An RV?
Before proceeding with this task, it can be practical to check the owner's manual that should come with the bike rack. Some models may demand unique steps for a proper installation. For example, a bumper-mounted rack often has a dissimilar installation procedure when compared to a fifth-wheel hitch bike rack.
With that said, here is a quick look at the steps to attach an A-frame bike rack to an RV:
Search for the optimal location to attach the A-frame bicycle rack onto the RV.
Install and secure the base of the mounting bracket onto the RV's A-frame.
Slide the angled posts into the mounting bracket's poles.
Adjust the angle and height of the rack to clear the rig's propane tank container.
Mount and secure the main unit of the bracket onto the angled posts.
Load bikes onto the bicycle rack to check the fit.
How Much Weight Can An RV Bumper Hold?
Generally, installing bumper mounts on a bare RV bumper is not a safe way to store and carry pieces of equipment. Travel trailer bumpers are often flimsy and cannot handle a weight of more than 300 pounds.
On the other hand, it is possible to install bumper-mounted racks using other accessories to hold the setup safely. Still, it can be best to use a camper bumper bike rack setup that is relatively lightweight to avoid adding strain to the component.
Conclusion
Buying and installing the best RV bike rack promotes peace of mind for rig owners that are also bicycle enthusiasts. The right bike-carrying kit should have the ideal features and specifications to promote the most benefits.
With that said, the numerous advantages I found from a bicycle rack is the Tow Tuff TTF-2762KR Rear Bumper Bike Rack. Its 500-pound weight limit and other top-notch features make it difficult to beat within the bike rack sector.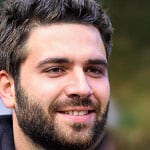 Hi, I am Joseph. Carpe diem! Seize the day! That's always been my life motto. If you haven't seen some of the most beautiful places in the country, you are missing out on incredible adventures.