RVs are known as one of the best camping cars that you can rely on. However, while being tough, they still require extra care as long drives can take a toll on them. Rubbing off dirt and grime with a sponge can scratch the windows. Apart from being unpleasant to the eyes, this could also affect its durability over time.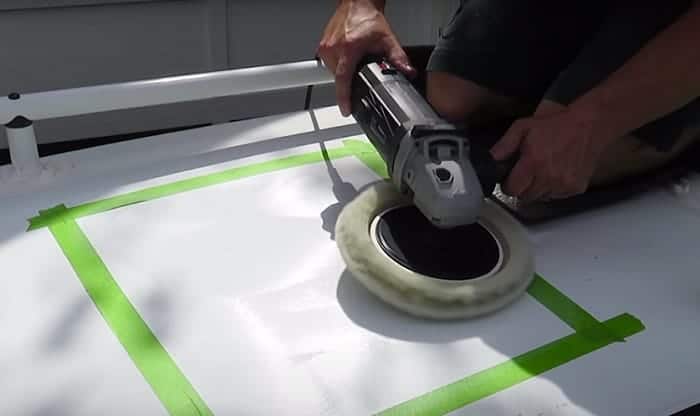 Aside from the added shine, waxing gives a good extra layer of protection against damaging elements that could affect your RV. However, with so many waxes in the market, it can be overwhelming to choose the top-rated RV wax for fiberglass. Here's a quick guide to the leading brands in the market that many car owners trust.
Best RV Wax for Fiberglass Reviews
1. MEGUIAR'S m-4965  Fiberglass Oxidation Removal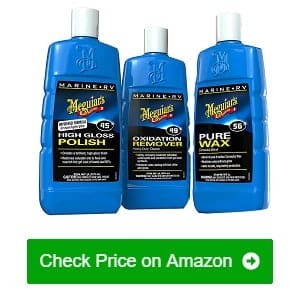 Meguiar's has been in the market for decades. The brand is known for providing car owners good formulations in keeping cars' both interior and exterior well-maintained. One of its products that many love is its MG Fiberglass Oxidation Removal Kit as it stays true to its promise.
This kit can restore your RV in no time with its oxidation remover. This aids in removing rust, discoloration, and scratches, making your RV look good as new. Its fiberglass restoration system, as its name suggests, helps bring back your RV's fiberglass to its original state. With this, you can get to enjoy scratch-free fiberglass windows.
What I also love about this product is its pure wax. Meguiar's RV wax gives a tough coat of protection for the RV, making it easy to clean for a long time. The best part of it is that each of the bottles in this kit is 16 ounce. With this, you're guaranteed that you can get more amount than you paid for compared to other brands.
However, there's one thing that I didn't like about this product. It takes a while to dry completely. This means you have to wait a bit longer before you hit the road again.
What We Like
Oxidation remover effectively gets rid of oxidation stains and scratches
Removes scratches on fiberglass and restores
Pure wax leaves a tough coat to protect the RV longer
Each bottle is more than enough for minor restorations
What We Don't Like
Product takes a while to dry
Overall, this MEGUIAR Kit is worth my purchase. It just requires more time to completely dry, so I recommend making sure that your schedule is clear first before you coat your RV with this.
2. Star Brite One-Step Cleaner Wax
Star Brite is also one of the manufacturers of cleaners, polishes, and oils that have been around for a long time. And because of that, it has also gained the trust of many consumers. One of the best rv cleaner for fiberglass that I've tried from this brand is the One-step Cleaner Wax.
As its name suggests, this product only requires one step to care for your RV. It can help you clean, protect, and shine your vehicle without spending too much effort, as well as money on other products. This can do the job of three products sold on the market, leaving you and your wallet happy.
What makes me love this product more is that you don't have to spend too much effort using it. All you need is this and a clean cotton cloth. And when you need to remove rusts, old paint, and other stains, all you have to do is rub the area well. Plus, you don't have to worry about leaving marks and scratches on your vehicle as this RV fiberglass cleaner doesn't require hard rubbing. Plus, this product is specifically formulated for fiberglass, painted surfaces, as well as metals, proving its versatile use.
When it comes to protecting your RV, this Cleaner Wax comes with PTEF. This is a protective polymer barrier coating that repels water and coats the vehicle, protecting the vehicle longer, and making it easier to clean.
Best of all, this product dries fast. Thus, you don't need to wait long, and you can already plot your next trip right after you apply it.
The only thing that I don't like about this product is that it's not ideal for RVs with major issues.
What We Like
Does the job of three products, which helps save more money
Doesn't require hard scrubbing when cleaning or removing old paint
PTEF barrier repels water and makes the RV easier to clean
The fast-drying feature lessens user's waiting time in using the RV again
What We Don't Like
Not recommended for RVs with extremely heavy oxidation
This product will not just save your RV from minor damages. Because this product does all the job, it will definitely save your wallet too.
3. Gel-Gloss RV Wash and Wax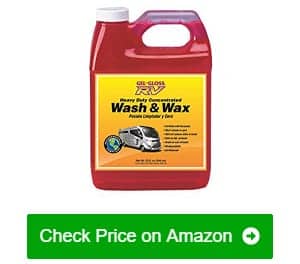 Many may be familiar with Gel-Gloss, by TR Industries, for its home cleaning products. But this brand isn't just about providing the best cleaning products for households. It also has a line dedicated to car owners, offering various products for cleansing and protection.
One of the notable products that it has in this line is the RV Wash and Wax. Many car owners count on this product because of being one of the reliable cleaners and polishers in the market that really does the job.
The Gel-Gloss RV Wash and Wax is one product that can do both cleaning and polishing. This phosphate-free and biodegradable product can clean your vehicle without leaving streaks or water spots. Plus, even if you use it again, it will not remove the previous coating applied.
When it comes to polishing, the product also does a great job as it contains carnauba wax. This type of wax provides quality fiberglass UV protection, as well as dust, bird droppings, and other dirt and grime.
The wax also gives the vehicle a good shine, given it is not heavily oxidized. Carnauba wax is known for its smooth finish too. Thus, you're guaranteed that your vehicle will be incredibly smooth.
However, carnauba wax also comes with a con. While it's easy to apply and can provide good polish, don't expect this coating to last long. Carnauba wax isn't known for its durability. It doesn't last long compared to other synthetic wax, which can last up to a maximum of 12 months.
What We Like
Can do both cleaning and polishing
Phosphate-free and biodegradable formula is safe for the environment
Neither leaves streaks nor water spots
Carnauba wax offers protection against UV, dust, bird droppings, dirt and grime
Gives a smooth and shiny finish
What We Don't Like
Frequent use is required as it's not long-lasting
If frequent cleaning and polishing don't bother you that much, I highly recommend this product as environment-friendly.
4. MEGUIAR's M6332 Wax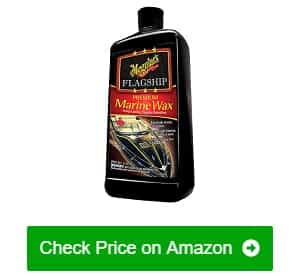 Another reliable product from Meguiar's is the Flagship Premium Marine Wax. While it is mainly marketed for boat users, it is also one of the best wax for fiberglass camper that I've tried.
With this wax, you don't have to buy other products as it does all the job – from cleaning to adding a layer of protection to the vehicle. This is perfect for those who love effortless cleaning and polishing. It's a budget saver too, as you don't have to buy separate products for different tasks.
This product helps a lot in removing scratches and oxidation. I also love how it brings back the vibrance of the RV's color as it restores the surface.
Notably, this product isn't just for cleaning and restoring surfaces, it also offers polymer protection. This kind of wax is known to give an impressive gloss to fiberglass as it protects the vehicle's paint.
Plus, it shields the vehicle from the harmful UV rays that could damage the RV.
However, there are a few things that I didn't like about the product. It is an effective product, but it is not ideal for RVs with heavy oxidation. For medium oxidation stains, you'd have to use it two times the same day to see its effect.
What We Like
An all-in-one product that helps save money and effort
Effectively removes scratches and light oxidation
Restores the vibrance of the RV's color
Provides outstanding gloss
Offers extra paint and UV rays protection
What We Don't Like
Not for heavily oxidized vehicles
Requires multiple application to remove medium oxidation stains
In spite of its cons, it's still a good fiberglass polish and cleaner, especially if your RV only has minor issues.
5. Collinite Fiberglass Cleaner and Wax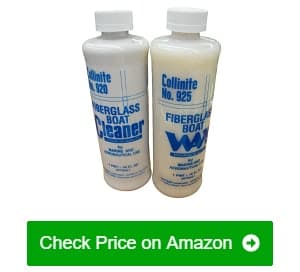 Collinite is also one of the brands that first come into consumers' minds as it has been around since 1936. Since the label started, it has been providing numerous high-quality industrial products.
One of its widely used waxes worth buzzing about is the combo of 920 Fiberglass Boat Cleaner and the 925 Fiberglass Boat Wax that you can buy at a price for one.
I'll discuss the two products in the package. The Collinite 920 is capable of removing film, light, and other tough stains that cover fiberglass boat finishes. It helps restore the original shine of the surface area.
On the other hand, the Collinite 925 is a perfect last touch after using 920. It helps add an extra sheen to the fiberglass while giving it a lasting protection as well. Adding 925 also minimizes drag, making your vehicle move faster and become more fuel efficient.
These two products go hand-in-hand very well. It's good that Collinite has combined them in one solid package.
Aside from its price, I like the cleaner since it effectively removes stains and scratches on the fiberglass, making my RV look good as new. The cleaner also helps prepare the surface of the vehicle well for the wax.
As for the wax, I can say that it is the best wax for fiberglass that I've tried so far. My RV's color was starting to fade but this wax greatly improved the color of my RV. I also love how it added shine that it made it look better than ever. On top of that, it lasted longer than the other wax I tried before.
The only downside I noticed is that the cleaner is not very efficient. You'll most probably have to use it twice on the surface area of your RV before it fully cleans it but once done, the area will be as clear as a mirror.
What We Like
Two good products for the price of one
Removes stains and reinstates the fiberglass well
Works well in preparing the surface for the follow-up wax
Greatly enhances color for RV
Lasts longer than other wax
What We Don't Like
The cleaner requires several coats for best results
The wax for RV fiberglass does a great job and I highly recommend it. As for the cleaner, I don't mind coating my RV with the cleaner numerous times because, for me, it does its job well so I'd still purchase it again.
6. 3M Marine Restorer and Wax
3M is one of the famous brands in the market known for offering countless products from home appliances to materials in the industrial field. And for RV owners, the 3M Marine Restorer and Wax is one of the favorites. It's not quite a surprise, though, because of its quality.
It removes even the toughest oxidation stains, which not all RV cleaners can do. As it cleans, it also aids in restoring scratched surfaces. Light scratches such as those produced by branches that scrape on your RV can be removed with this efficient cleaner.
Plus, it helps in enhancing the color of the RV. It's a perfect coating if your RV is a few years old and has already been exposed for hours on end. While it won't perfectly bring back the original colors, it can still give your RV that much-needed hue to it.
And with its unique formulation, it can coat the RV with an extra layer of protection with its wax in just one application, making it one of the finest cleaner and wax for fiberglass RV in the market.
Best of all, it is a reliable product for fiberglass RV. Plus, this product works well on rubber, metal, and even on hard smooth plastic. It's an all-around cleaner for your RV, top to bottom.
However, as they say, no one can really have it all. This product also comes with a few cons. First is it removes the extra caulk on fiberglass. Thus, you need to be more careful in cleaning the caulked areas in your vehicle. Also, this product doesn't come in smaller packaging sizes.
What We Like
Removes heavy oxidation stains
Restores minor scratches surfaces
Brings back the color vibrance of the vehicle
Polishes well in just one application
Also works on rubber, metal, and hard smooth plastic surfaces
What We Don't Like
Takes off excess caulk from fiberglass
Only available in 1 gallon
All in all, I love how this RV fiberglass restorer and wax works. And although it doesn't come in a smaller packaging size, I'd still buy it as it's worth its price. I'd be glad to use it for years.
7. Star Brite Premium RV Polish & Wax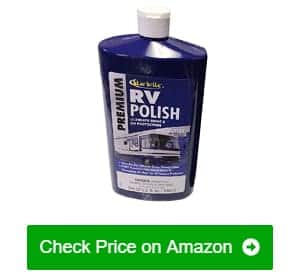 Another best fiberglass wax from Star Brite for maintaining RVs is the Premium RV Polish. What made me like this product is the easy application that it offers. You can use it with a buffer or apply it by hand, which makes the task easier.
Once it sat on your RV, this product ensures users that their vehicle is protected from the damaging rays of the sun. With this, you're guaranteed that your decals will not easily fade.
Apart from keeping the colors of your RV vibrant, this product assures that stains are kept at bay. If your previous polish brands still allow chalk build-up when used on the surface of your RV, then you would probably prefer this product from Star Brite.
It's excellent at maintaining an RV's clean coat. Anything from dir to grease will be repelled by a coat of the Star Brite Premium RV Polish. Once added to the surface, it will also make it easier to clean as well.
What makes me like this product more is that you can apply on any surface. It's great for cars, painted surfaces, gel coats, clear coats, and more. On top of that, it lasts up to a year, a bit longer compared to other products in the market.
However, before you get to see the results, it needs to be applied twice. And because it's just for polish, you'll need to buy a separate cleaner to remove oxidation stains from your RV.
What We Like
Can be applied by hand or with a buffer for easy application
Adds protection against UV rays and other materials
Works on many surfaces so it can be used all over your RV, and other items
For RV clean coat maintenance, making cleaning a breeze
Strong solution allows the coat to last for up to a year
What We Don't Like
Needs to be applied twice to get the best result
Needs a separate cleaner for eliminating stains
For me, this is a
good wax for RV decals
and I would repurchase it. The biggest asset of this product is its lasting effect on the surface. Rarely would you find a polish that lasts for a year on your RV.
8. Better Boat Marine Polish & Wax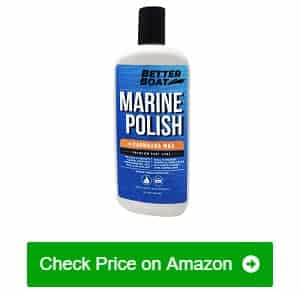 Better Boat may not be as popular as other brands in the market that have been around for decades, but this brand can offer products that can fare well too. One of its best-selling products is the Marine Polish with Carnauba Wax.
This product excels at restoring faded decals, protecting the RV, and giving a high gloss finish for RV fiberglass. Before you apply this, you can use an oxidation remover first so that the Better Boat Marine Polish will work more efficiently.
That being said, applying this on the surface after an oxidation remover makes your RV or boat look as good as new.
When it comes to color restoration, this product does its job well. It has a creamy rich wax texture that helps a lot in bringing back the color of the surface. The consistency also makes the product very easy to spread using a buffer or even your hands.
As it reinstates the look of the vehicle, this product adds a good amount of seal to protect your RV from corrosive elements, such as rust, UV rays, algae, and seawater. If you're a boat owner, the product can also work well in keeping your vehicle squeaky clean.
In addition to that, this product leaves a smooth finish that repels water and damaging elements. If you know that you are traveling to rainy areas, a coat of this polish will be the perfect shield for your RV.
This product also contains carnauba, which is known for the unparalleled shine that it gives, restoring your RV's aesthetics to its pristine state.
But the carnauba wax is also the product's drawback. Carnauba is known for its short-lived shine. Because of this, you might need to polish your RV frequently.
What We Like
Works well on fiberglass RV
Restores color well than other polish
Adds protection against corrosive elements
Repels waters and damaging elements
Leaves a smooth finish, making the surface easier to clean
Comes with carnauba wax that provides deep shine
What We Don't Like
Requires frequent use as the shine only lasts for a couple of weeks
With the kind of results that it brings to the table, I'd still recommend this product despite its short-lived shine.
9. Thetford Protect All 62016 Wax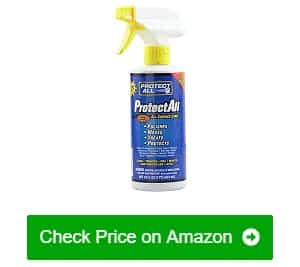 Thetford is one of the brands that's focused on providing quality products for campers. From portable toilets to cleaners, this is a brand that campers can trust. It also offers the right products that can help maintain RVs. One of the must-trys from this brand is the Protect All, an all-in-one product that keeps Rvs flawless.
There are a lot of things to love about this product. It is so versatile that you can use this wax on many surfaces. Other than RVs, it can be used on cars, boats, snowmobiles, and motorcycles. Aside from being an excellent wax for fiberglass, you can also use it on your vehicle's interior.
This product is also formulated with carnauba wax. This wax is known for many benefits, and one of them is the exceptional shine that it gives to surfaces. But apart from that, I am also impressed by its anti-static coating. This helps in keeping dust and other particles from being attracted to the surface. With this, your RV won't require too much cleaning effort.
Another unique thing about it is its packaging. This product comes in a spray bottle, providing an easy application. Such packaging also helps when you just need to spot-treat an area.
However, this kind of bottle also comes as a con. The product's packaging needs a little improvement because the product sometimes leaks from the nozzle.
What We Like
All-in-one product for many surfaces, especially fiberglass RV
Works on RVs, cars, boats, snowmobiles, and motorcycles.
Special formulation gives surface deep shine
Comes with an anti-static coating, which keeps particles away
Packaging aids in easy application
What We Don't Like
Product leaks when sprayed
For me, this is the best cleaner for fiberglass. It's a good polisher, wax, and protector too. I think its packaging could use some enhancements not to waste any drop of this stellar product.
10. PRO Car Beauty Products' Wax
PRO Car is an established brand in the market, providing reliable car care products since the 1930s. It has numerous car care products to offer that are worth talking about, but my favorite is the RV, Boat, and Aircraft Wax.
For your information, it is a multipurpose product that clears out streaks, stains, and scratches on the surface of your vehicle. And as its name suggests, this product works on many surfaces. Aside from RVs, you can also use it on boats, aircraft, fiberglass, gel coat, aluminum surfaces, and more.
Notably, this product comes with carnauba wax that gives it a deep gloss. However, this type of wax is known for the short-lived shine that it gives. Thus, many vehicle owners are hesitant to use it. However, you can make this coat long-lasting if you avoid the rain.
That being said, if you are using this on a boat, you may have to apply it regularly as the waters will affect the gloss. From what I've noticed, if you drive an RV around generally dry areas, you'll have no issues whatsoever with the wax.
Fret not as this is the only wax for gelcoat RV and other surfaces that I know, so far, will last long as it is mixed with polymer sealers. Polymer sealers help the carnauba wax benefits last longer. In fact, it can even make it last up to 10 months, unlike other products that only rely on carnauba wax alone.
The only drawback that I noticed from this product is that it doesn't come off easily. It would be better to use a buffer instead. Even once I did use a buffer, it still took awhile to completely remove the wax so reapplying might be bothersome to say the least.
What We Like
Clears out scratches, stains, and streaks on the surface
Works on fiberglass, gel coat, aluminum surfaces, and more
Carnauba wax gives superior shine to the surface
Formulated with polymer sealers, which helps the polish and the wax last longer
What We Don't Like
A bit tricky to remove, so you might need a buffer
This product provides tougher protection for surfaces than others. If you have the budget for it, buy a high-quality polymer sealer as well as this goes perfectly well with the product.
Best RV Wax for Fiberglass Buyer's Guide
With so many waxes, cleaners, and polish in the market, it's easy to get confused about which product is worth your money. But don't worry much as there are several ways to narrow down your options.
Check How Much Work is Needed
First, I suggest that you check how bad the damage is done to your RV. The products on the market have different formulations – some are only good for light oxidation stains, while some can fight off even the heavy ones. Knowing how much restoration or polishing your vehicle needs can help you with which features to look for in an RV care product.
Know Your Vehicle's Materials
Knowing the kind of materials used in your RV is also essential. There are products in the market that specialize in certain types of surfaces. Some only work for fiberglass but don't in plastics; others are only good for metal, etc. And with the right product suited for your vehicle's surface, you're sure that you get better results.
Get to Know Your Wax
You should take note of the kind of wax used for the product you're eyeing too. Waxes come in different types: liquid wax, paste, and spray. Each type has its pros and cons, which can significantly affect your care-care needs.
Liquid waxes are often useful for cleaning and glossing. It is known for its durability too. However, applying it evenly can be burdensome as it can quickly dry out within just a few seconds.
Paste waxes, on the other hand, gives you more control. However, it's often difficult to remove from its container due to its consistency. It also dries faster than liquid waxes, so it requires users to move swiftly.
Meanwhile, spray waxes give the utmost convenience. And because of its packaging, it's easier to spot wax. This gives you more control, as well. With this, you don't have to worry about the uneven application. Wax on spray bottles sometimes leaks, though, putting drops of the right product to waste.
Do Your Research
Like in any decision that you make, you should do your research too. By that, you can get to know the products more through the feedback from those who have used it. Such a process prevents you from regretting your decision over time.
Can You Use Car Wax on Fiberglass RV?
With the amount of dirt and grime that RVs encounter as we travel from one place to another, it is essential for owners to wax it to prevent harmful elements from building up.
However, you can't just use some random car wax on a fiberglass RV. Fiberglass requires specially formulated wax. If you were to use a type of wax that's not meant for fiberglass, it could make the fiberglass chalky, which is not pleasing to the eyes and could affect your RV's visibility.
How Do You Shine a Fiberglass RV?
The process of shining a fiberglass RV depends on the product that you use. This is because brands have different formulations. Some brands offer multipurpose RV care products. With this, all you have to do is grab a cloth or a buffer, depending on the instructions, and just apply it on your vehicle.
However, some brands offer kits. With kits, you can get a cleaner, polisher, and wax at the price of one. Most of these combo packs come with instructions on which should go first and how to polish RV fiberglass using the products from the kits.
But if you're buying separate products for different tasks, the general rule is to scrub the fiberglass surface with water mixed with a mild detergent using a sponge. This helps remove build-ups. After you rinse it, you'll need to dry it with a towel.
Once dry, you can apply the cleaner, focusing on the oxidized areas. Some products may require users to repeat the step until you're satisfied with the result, depending on its formulation and oxidation level.
After prepping the surface, you can then proceed to wax it. Like some cleaners, there is also wax that may require you to add more coats until you're satisfied with the outcome. You may or may not use a cloth or a buffer based on its formulation for this step.
Will Vinegar Remove Oxidation from Fiberglass?
Vinegar is one of the most powerful natural cleaning agents that many trusts in cleaning their homes. It can effectively eliminate mold and even clean a scorched pan. It is also strong enough to eliminate bad odor in a room. Because of this, it's not quite a surprise if one would think of using it to remove oxidation from fiberglass. Lucky for those who only need to deal with light oxidation problems, vinegar does work, according to experts. However, for severe oxidation, it's not as effective as specially-formulated fiberglass cleaners.
Care and Maintenance
With all the frequent camping and traveling from one place to another, dust and other particles can build up on your RV. This could hurt your vehicle over time, resulting in hefty repairs and other problems. But fortunately, there are plenty of ways to prevent it from happening sooner than expected.
First, it is important that you inspect your RV's for leaks. Water can get into the open seams on your roof, windows, or door. And when it does, this could harm your interior.
Whether you're going on a long drive or not, it is also best to check your tires. Always keep it clean and protected even when you're not using your RV so they will not easily wear out.
Make sure not to forget opening your vents. Extreme temperatures can damage your RV's interior. Opening your RV's vents lets it breathe and levels the temperature.
Of course, don't forget to clean your RV regularly. Dirt and grime build-up don't just affect the vehicle's aesthetics. Believe it or not, this could cause costly damage over time too. Frequent cleaning prevents it from happening, though.
Lastly, remember to wax and polish it. On top of the gloss that wax and polish can give, using waxing and polishing the RV gives it added protection from UV rays and harmful particles. These products also leave a smooth finish, making your RV's surface easier to clean.
Conclusion
It's not enough to depend on automated car washes to maintain your RV. It also needs extra care for it to last long. Using the best RV wax for fiberglass can help you keep your vehicle look and perform its best no matter where you take it.
Numerous brands in the market offer various formulations to help you care for your RV well. They may not come for free, but these products are indeed worth every penny.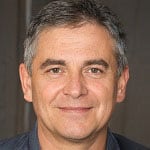 Hi, I am Tom Hank, an RV-er since 2014. Back then, I started without much help. As you can imagine, the struggles are endless. But now, you do not have to begin your adventures knowing next to nothing about RV lives.