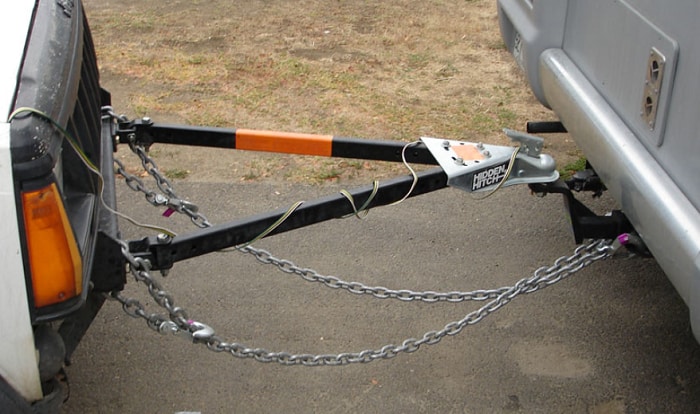 The best RV tow bars can help transport different heavy loads to various locations. This pulling system is usable in transporting objects like cars, caravans, and trailers.
One excellent example of the appropriate use of a trustworthy tow bar is when an automobile breaks down. An appropriately sized camper or motorhome can use a reliable tow bar to pull that vehicle to a nearby garage.
Another scenario wherein the top-rated tow bar for flat towing is used is during boondocking trips. An additional vehicle can help during outdoor excursions to go to nearby locales and their shops to purchase items. Without the extra passenger car, outdoor enthusiasts would most likely walk from and to their campsites.
However, an interested buyer of a quality vehicle tow bar should always bear in mind the different factors to search for the right model. Otherwise, the risks of purchasing an inappropriate pulling system might be high.
Some of the elements to consider are:
Towing capacity: A particular tow bar should have a tow weight capacity that is about 500 to 1,000 pounds higher than the GVWR of the tow vehicle. A slight advantage of 100 pounds might suffice for many operations but peace of mind can be apparent if this pulling weight limit is over 500 pounds.
Type: Different RV tow bars are generally under various categories. However, many options on the market fall under two categories: A-frame and self-aligning. Take note that each tow bar type has its distinct pros and cons.
Compatibility: Tow bars should fit towing setups snuggly and securely. Installing incompatible models will put the pulling assembly of breakdowns and on-road accidents.
Interested customers should take a look at the different options on the market and assess their choices well before finalizing their purchasing decisions. That way, users can gain excellent value and on-road safety from the tow bars they bought.
List of the Best Tow Bar for RV Reviews
1. Smittybilt 87450 Adjustable Tow Bar Kit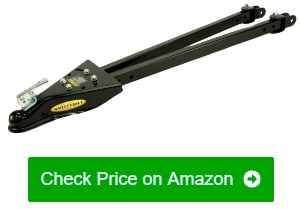 I noticed that this product can be the top-tier tow bar for beginners, thanks to its easy-to-use nature.
After the initial installation, it only takes me about 2 minutes to put on or remove. The included instructions were also clear, removing most of the hassles from other tow bars with complicated setup procedures.
Aside from its fairly convenient installation and use, this unit has a surprisingly good strength despite its relatively inexpensive price. I tested this tow bar kit to pull a 2012 Wrangler Rubicon and took it on a 1,000-mile road trip. The bar exceeded my expectations as the vehicle stayed behind my motorhome most, if not all, the time.
The kit also comes with safety accessories, particularly the chains. These components connect to the coupler securely and do not put the towing setup at risk of encountering unnecessary movements during on-road travels. In turn, it gives me excellent peace of mind, knowing that this flat tow bar does its job well.
Furthermore, this product is indeed well-made. A friend of mine used the same model for his road trip from Florida to Las Vegas, and one tow bar did not falter in providing the ideal performance. Wear and tear were also remarkably minimal throughout the trip.
Despite its mass production, the manufacturer did not provide its customers with aftermarket parts. In turn, it was quite tricky to find replacement parts if I were to encounter problems with this model.
What We Like
Installation and use will not trouble beginners
Good strength for a fairly inexpensive overhead
Comes with safety chains in the kit
Well-made construction with minimal wear and tear from long road trip
What We Don't Like
Replacement parts might be difficult to find
Thanks to its reliability and ease of use, this model can be the only row bar for both beginners and experts in towing heavy loads. It might even be the perfect tow bar for some RVers.
2. Blue Ox BX7420 Class IV Tow Bar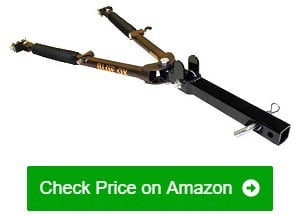 I have heard about Blue Ox tow bars from different towing system users and decided to purchase this model. It is safe to say that this Blue Ox tow bar exceeded my expectations in more ways than one, particularly with its superior 10,000-pound weight capacity.
In comparison, the Blue Ox Alpha BX7365 RV tow bar only has a 6,500-pound weight limit. Other tow bars, like some Demco tow bars, only have 6,000- to 7,500-pound weight capacities. Some shoppers may want to take a look at certain Demco tow bar reviews for a quick weight capacity comparison.
Additionally, that superior strength also comes at a reasonably lightweight frame of approximately 46 pounds. I noticed that some similar systems are heavier than this product, making installation and removal procedures more challenging than intended.
I also like that this model has a 2-inch receiver tube. This component connects to the other parts in the kit, namely the base plate, light cable, and chain coils. With this setup, the vehicle being flat towed stays secure throughout the trip.
Plus, the tow bar arms are foldable, and the assembly also provides sufficient flexibility to prevent unwanted stress or strain to the material.
Speaking of its material, this high-quality tow bar has a durable steel construction. It can handle more than the usual bumps and dings. However, I wish that this material choice has a finish that will help it gain additional resistance against corrosion and rust.
What We Like
Fairly lightweight 46-pound frame
Complete kit with an included 2-inch receiver tube
Prevents unwanted stress and strain to the material with foldable towbar arms
Durable steel construction, resistant to corrosion and rust
What We Don't Like
Might be susceptible to corrosion and rust
Overall, it is tough to find faults from this tow bar. It has a first-rate tow weight capacity handled by reasonably lightweight construction.
3. Roadmaster 520 Falcon 2 RV Tow Bar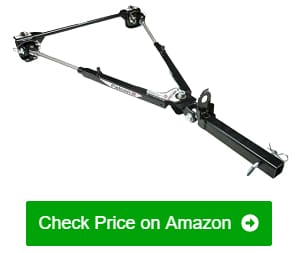 Among the different Roadmaster tow bars I bought and tested, this particular model offered me a top-notch performance in a superbly built package. It also provides the necessary balance, notably better than other tow bars in its price class.
In detail, I towed a load using a 40-foot RV for over 2,700 miles using this tow bar. I encountered some accidents along the way, but this product performed admirably. It took a few emergency DIY repairs, such as duct tape and two metal washers, to put back the pieces. Still, they held the setup with supreme stability.
I also admire that this straightforward towing system has the strength to pull loads of up to 6,000 pounds. In my tests, I used this tow bar for flat towing different vehicles, including cars and small trucks.
The next feature of this product that I also like is its telescopic arms. It provides the load-pulling setup with enhanced maneuverability, the likes of which are not typically present in some low-quality models I tried. Plus, the arms are foldable for easy storage at the back of my rig.
I should also mention that the manufacturer made it possible to develop this product with self-lubricating parts. In turn, this model does not demand significant care and maintenance from me aside from the routine cleaning.
On the downside, this model is one of the heaviest tow bars I have tried. It was slightly tough to set it up on my rig. Thankfully, I do not have to remove it frequently, thanks to its folding parts.
What We Like
Offers superb stability even when it encountered some damages
Reasonably good 6,000-pound weight capacity
Tows different loads, including cars and small trucks
Folding arms for easy storage
Self-lubricating parts reduce the need for significant care
What We Don't Like
Slightly heavier than other models, which might make installation tough
All in all, this model comes with a stable and durable design to provide users with a seamless and safe towing experience.
4. Blue Ox BX7380 Alpha II Tow Bar
This Class 3 tow bar has a non-binding design, pleasantly surprising many of its users like myself with its superb sturdiness. Its steel construction is nothing short of being sturdy. Plus, the material has an extra coating to resist corrosion and rust.
Additionally, this particular model is a universal tow bar, which means it is compatible with many towing assemblies. It also has a maximum weight capacity of 6,500 pounds, which is still sufficiently strong to tow smaller vehicles and other reasonably heavy loads.
Aside from being a universal unit, this product also has a self-aligning design. Installation is rather quick since it hooks up to a compatible towing vehicle's base plate. The kit also comes with pins that are easy to access if I need to detach it from my RV.
This kit also comes with a triple-plug connection connected to the arms. With this component, it provides a stronger attachment to my rig's base plate. On-road safety also becomes a non-issue, thanks to the included cable.
I do not often recommend this product for interested buyers following strict budgets. It is a bit pricey compared to other options. But the premium offerings more than makeup for the bump in costs.
What We Like
Sturdy steel construction with extra corrosion- and rust-resistant coating
Universal tow bar with a sufficient 6,500-pound weight capacity
Self-aligning design provides an easy-to-install experience
Easy-to-access pins for quick removal
Secure attachment to an RV's base
Ultimately, this tow bar offers premium features to comfortably and safely pull different loads.
5. Nighthawk 676 Roadmaster Tow Bar
While other tow bars on the market come with an incomplete set of parts, I appreciate the brand for including the components I need for the assembly. In particular, this model's package comes with a power cord that connects my tow car to the load I want to pull.
This wiring kit and the rest of the setup are also reasonably easy to install. I noticed that this assembly does not demand a significant amount of time and effort to set it up. Operation is also trouble-free for the most part. If I encountered some hiccups, these mishaps would be minor at best.
With this setup, I activated the towed vehicle's warning light or deactivated parking aids from my motorhome. The package also comes with a detailed instruction manual, which should guide many beginners.
Plus, the stainless steel arms have a self-lubricating feature. Therefore, I do not have to worry about the roughly grinding parts. Plus, the kit folds away neatly to promote extra space while in storage.
Albeit the construction has an extra finish for that extra durability, it feels quite flimsy. I did a test by lightly scratching it with my fingernail, and a line formed quickly.
What We Like
Includes a power cord in the package
Easy to install and use wiring kit
Comes with detailed instructions to help beginners
Stainless steel arms are self-lubricating to prevent unwanted grinding
Folds away neatly for optimal storage
What We Don't Like
Flimsy coating might not provide the best in adding extra durability
As a whole, this tow bar is a reliable model. The power cord is a nice addition to the setup, allowing users like me to add extra control with the towing setup without going in and out of the driver's seat.
6. CURT 19745 Universal RV Tow Bar
Perhaps the most likable aspect of this tow bar is not its universal compatibility but its price. It is one of the least expensive models I found on the market. Despite its lower-than-average price tag, it has features differentiating it from subpar models.
For instance, I can use this bar to connect to an RV tow dolly. In turn, it is usable in flat towing a car or other relatively small loads.
Its 5,000-pound tow weight limit is also commendable, albeit other models can do better in this department. Nonetheless, the list is extensive for flat towing vehicles under that maximum weight. Some options include a 2020 Toyota Supra 2, 2020 Subaru Outback, and 2020 Kia Telluride.
Next, its adjustable arms make it relatively easy to switch it to pull different cars. In other words, it does not require me to disassemble the setup before I can use it on other flat towed vehicles or tow dollies.
I also like this model's build quality. It takes advantage of a combination of aluminum and steel added ruggedness and rust resistance. Awkwardly, the manufacturer did not include safety chains in the package. Although aftermarket options are available, I wish this component is included in the package upon purchase of this set.
What We Like
Universal design promotes top-notch compatibility
One of the least expensive models without sacrificing quality features
Usable with a motorhome tow dolly and other towable objects
Adjustable arms supply users with easy switching between towed loads
Aluminum and steel construction offers first-rate durability and rust resistance
What We Don't Like
The lack of safety chains may trouble some interested customers
With its reasonable price, this product can be a must-buy for those who wish to tow different loads without breaking the bank.
7. Blue Ox BX4330 Acclaim Motorhome Tow Bar
The self-aligning design of this RV tow bar is excellent. I can finally say goodbye to cursing behind my steering wheel while backing up my towing vehicle to the load to pull.
The tow bar aligned the two objects for a straightforward assembly. Plus, the solid construction ensured that my vehicle and the load would not pull apart.
Since the kit comes with an included ball mount, the installation procedure was significantly easier than I expected. This component is also easily detachable from the rest of the assembly for convenient storage. All it needed was to remove the ball from the two pins.
On the downside, the rest of the kit does not come with an easy-to-store nature. The arms do not fold, unlike many of its competitors. Therefore, I had to keep the arms extended for every towing excursion, even after reaching my destination.
Furthermore, I like that this kit has an automatic lock feature. Both the towing vehicle and pulled load lock are in place securely without the need for significant human intervention.
This tow bar does reasonably well in securing and pulling heavy loads, provided that the pulled object is no more than 5,000 pounds. But it does what it is supposed to do without any complaints from my end.
What We Like
Self-aligning design does not demand significant time and effort during assembly
Solid construction secures both pulling and pulled objects efficiently
Automatic lock feature does not require human intervention to secure the setup
Does reasonably well in pulling loads no more than 5,000 pounds
What We Don't Like
The arms do not fold, which might be cumbersome during storage
Overall, this product is a reliable, durable, and safe model for different towing scenarios. Interested customers should take note of the non-foldable arms when thinking about storing this kit.
8. NSA RV Products RB-9050 Camper Tow Bar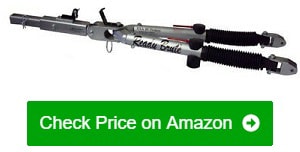 Perhaps this model supplied my flat towing setup with the best safety I can experience. It comes with a Ready-Brake feature that activates the towed vehicle's brake when I apply force to my pulling RV's brake. I saw the brake lights on the towed vehicle light up as soon as I stepped on the brakes on the towing vehicle.
This model is also compatible with different towing vehicles. I installed it on vehicles like a JK Jeep, different motorhomes, and other towing trucks. However, it is pretty heavy at nearly 50 pounds. Still, the installation and removal are relatively easy undertakings as long as I have an assistant to help me.
Still, it can be tough to complain about its fairly heavy weight upon experiencing its build-quality first-hand. Its aluminum build takes up almost half of its weight, and I immediately felt its sturdiness upon taking it out of its packaging. Additionally, it has a powder-coated finish, protecting its construction from standard wear and tear.
Besides, the tow weight limit is also quite admirable on this camper tow bar. It can pull up to 8,000 pounds of load. Plus, it comes with both a non-binding clevis and self-locking arms to help enhance the ease of installation.
On the downside, this product does not come with a mounting clevis. Therefore, I had to search for and buy this component before I could test and use this model on my flat towing setups.
What We Like
Ready-Brake system provides optimal safety during flat tows
Compatible with different towing vehicles, such as motorhomes and tow trucks
Rugged aluminum construction with powder-coated finish
Reasonably high 8,000-pound maximum tow weight
What We Don't Like
The lack of a mounting clevis may make it tough to buy for limited budgets
The safety this tow bar brings is one of the best on the market. Interested buyers who wish to make their towing and flat tow vehicles safer than before should ponder upon using this model.
9. Reese 7014200 Towpower Adjustable Tow Bar
I have had problems with storage from other tow bars, but that is not the case with this model. This product allows to be safely broken down, supplying my vehicle with that much-needed extra storage space. It is also quite compact when assembled, thanks to its 11.25 x 5.25 x 20.25-inch dimensions.
Plus, I would like to thank the manufacturer for including a free-size bracket in the packaging. It might not seem like much, but other tow kits on the market do not come with this component, which demands extra costs.
Installation is also a fairly easy endeavor. Aside from the bracket, the kit comes with a 2-inch ball coupler, a clip, and a pin. These components secure the tow bar into place, allowing the assembly to only move when needed. I tried budging it out of its install location with my bare hands to no avail.
Furthermore, at 32 pounds, this tow bar does not require me to strain my muscles during its transport. I found myself lifting and carrying it to and from my towing setup without breaking a sweat.
However, I should mention that this kit is not complete. On some occasions, the design required me to purchase a base plate. Also, the company did not include a set of safety chains, which can put off some interested buyers.
What We Like
Can be broken down and its compact design promotes extra storage
Includes a free-size bracket in the packaging
Reasonably easy installation, thanks to the coupler, clip, and pin
Lightweight 32-pound construction
What We Don't Like
The lack of safety chains may dishearten some interested customers
Those who wish to use a tow bar that is compact and easy to install may not want to look further than this product.
10. Roadmaster 576 Sterling Tow Bar
Strong and reliable – these are the two best ways that I can describe this product. Its 8,000-pound weight capacity is reasonably tough to beat. In particular, I can only find a few other models that can compete with this towing weight limit.
Additionally, this unit is an all-terrain tow bar, and it is no mere marketing tactic to have this moniker. This model's installation and removal are fairly easy on flat or uneven surfaces. Moreover, it only takes a few seconds to complete these operations.
I also like that the telescoping arms are working independently. It granted me that extra flexibility I needed to fine-tune adjustments for the towing setup. Furthermore, these arms are easy to maneuver since they only require me to pin them into place.
The next feature that I like is this product's material of choice. It uses a stainless steel build, which can resist different hazards, including corrosion and rust. It is also quite surprising to see this sturdy tow bar packed in a suitably lightweight frame of 35 pounds.
But I wish this motorhome-mounted towing bar had the required mounting brackets. It only takes a separate purchase to purchase the extra components. However, this product is not very budget-friendly.
What We Like
Competitive 8,000-pound tow weight capacity
All-terrain design makes installation and removal easy on different surfaces
Telescoping arms work independently for fine adjustments
Stainless steel build is both durable and resistant to corrosion and rust
Suitably lightweight frame of only 35 pounds
What We Don't Like
Lack of mounting brackets
Not budget-friendly
Buyers who are having trouble installing or removing their tow bars should say goodbye to those days with this product. This RV-mounted all-terrain model might be the answer to those prayers.
RV Tow Bars Buying Guide
It can be challenging searching for the right RV tow bar without thinking about certain factors. Going through the different RV tow bars on the market while considering these elements can provide excellent value for money to users.
Some of the factors to consider are:
Towing Capacity
One of the most important factors buyers need to address when selecting motorhome tow bars is the towing vehicle's pulling limit.
RV owners can check the car's manual for the vehicle's Gross Vehicle Weight Rating (GVWR). This measurement is the camper or motorhome's estimated weight reading if it has passengers, additional accessories, the liquids in its tanks, and all of its cargo.
As a general rule of thumb, the vehicle tow bar for RV should have a maximum towing capacity of about 500 to 1,000 pounds higher than the pulling vehicle's GVWR. It is also safe to buy, install, and use an RV car tow bar with an exceedingly higher tow capacity rating than the towing vehicle's GVWR.
Moreover, it is advisable to never use a camper tow bar with a lower tow weight capacity. Otherwise, the material might break or snap while pulling the heavy load while on the road.
Type
It is best to note that not every car tow bar on the market has the same design. However, users can put the different variants into two main types, which are:
A-frame: Often containing fairly inexpensive variants, A-frame tow bars for RV are quite solid for their costs. However, A-frame models are typically more challenging to install than self-aligning models.
Self-aligning: As its name implies, self-aligning tow bars offer features that align the towing and towed vehicles during setup and removal procedures.
Compatibility
Not all tow bars are compatible with every RV and towed load. Purchasing an incompatible RV car tow bar will usually result in little to no value gained from the product.
Still, shoppers may not find it as challenging as intended to select a compatible tow bar for motorhome. Generally, it only requires verifying the transmission of the pulling vehicle.
Interested customers can check online product descriptions or RV tow bar reviews to check if their preferred model is compatible with their towing vehicle's transmission. For example, a front-wheel-drive automobile possessing a manual transmission should be compatible with most tow bars fit for the dolly towing technique.
It might also be prudent for buyers to check if the model they want to install can also fit a tow dolly for RV. With a dolly tow bar, users might be able to pull more types of load, such as certain cars with automatic transmissions.
Mounting Methods
The mounting brackets on different tow bars can either be installed on the RV or the towed vehicle. RV-mounted tow bars stay at the back of the motorhome, which can be ideal for easy storage without the need to disassemble the kit.
On the other hand, tow bars mounted on towed loads or vehicles can be excellent for customers on tight budgets. These models usually have less high prices than their RV-mounted counterparts. However, users might need to disassemble these kits as they might block their vehicles' front bumpers.
Safety Features
RV tow bars safe features should exist in relatively every model. Thankfully, many variants offer safety cables to provide users with peace of mind, especially when towing larger vehicles.
With the safety cables, the towing setup will have a failsafe if something becomes amiss with the hitch receiver. If the unit does not have a single safety cable, the towed load can bounce off of the hitch, which can lead to on-road accidents.
Brand/Retailer
Finally, shoppers looking for the right tow bar for their specific needs should also take note of their preferred products' brands. Otherwise, interested buyers should consider the credibility of the supplier.
Individuals can find reliable tow bar manufacturers and credible retailers online and offline. Those who choose the former option should use the correct keywords to search for specific products. For example, use 'Acar tow bar' or 'Alpha tow bar' to find models made from those brands.
Some search results may also include words like 'tow bar for towing a Jeep Grand Cherokee' or 'tow bar for towing a front wheel drive vehicle.' The list of possible keywords is relatively endless. However, careful consideration of the available choices should still be present.
FAQs
Can I Tow A Motorhome With A Tow Bar?
It is possible to tow a motorhome with a car tow bar for RV. However, users should pay attention to the tow bar's features and specifications to avoid running into issues while towing.
One crucial aspect to keep in mind is the maximum tow capacity. It is generally safe for the tow bar to have a 100 to 150-pound weight capacity than the towing vehicle's GVWR. But this rating should be at least 500 pounds of the towing vehicle's gross weight to ensure optimal safety while on the road.
What Size Tow Bar Do I Need?
The appropriate size of a tow bar, regardless of whether it is a new model or a tow bar rental, can be seen within the trailer hitch ball's dimensions.
Here is a quick look at the standard tow hitch ball sizes and their ideal purposes:
Light-duty: 1-7/8 inches
Medium-duty: 2 inches
Heavy-duty: 2-5/16 inches
Gooseneck: 3 inches
To choose a tow bar that goes well with the hitch ball, interested customers should take note of the following:
The RV car tow hitch ball's diameter should match the coupler's dimensions
The trailer ball's hole should match the shank
The vehicle's weight capacity should be lower than the towing system's weight limit.
Users should also consider the length of their tow bars. A longer model than a shorter unit since the former can provide better resistance against lateral or sideways force. In other words, a long and heavy duty tow bar should be able to prevent unwanted rocks and sways that might otherwise come from the pulled load.
What Is A Class 4 Towbar?
Buyers may notice that they can find different tow bars separated into various classes. Class 2 is the lightest while Class 4 models can typically handle heavy-duty towing operations.
Moreover, the general weight rating of a Class 4 RV car towing equipment is about 3,500 kilograms. Plus, many models in this class use a horizontal hitch. Some variants are also compatible with weight distribution hitch systems. It is also important to mention that most Class 2 and Class 3 tow bars will not fit weight distribution hitches.
How Long Does A Tow Bar Last?
A good tow bar should last about 70,000 miles before users will see significant signs of wear and tear. However, the serviceable life of a reliable tow bar will still depend on its use. For example, flat towing a car on rough terrain frequently might shorten the lifespan of the tow bar.
Another reason that may accelerate wear and tear to the tow bar is if the pulled object is heavier than the towing system's weight capacity. A strong tow bar might not be able to handle the weight of the pulled load if the towing system has a lower weight rating.
Shoppers should take note of the different RV car towing packages while making their selections. Pay attention to the motorhome's GVWR and the pulled load to ensure the tow system will not break down sooner than later.
How Do You Maintain A Tow Bar?
The tow bars often do not demand significant attention for regular maintenance practices. Still, tow bar owners should do the minimum care for these systems to ensure it works as intended.
Some maintenance procedures that should be present during regular tow bar care operations are:
Check the security of the mount. Inspect all locking devices to ensure the system can safely tow heavy loads.
Inspect the tow ball arm and receiver socket. Tighten these parts if they are loose.
Examine the levers for any sign of wiggling. If so, tighten these components to ensure they fit tightly.
Look for rust. Some tow bar materials, particularly steel, may garner corrosion and rust over time. Use the appropriate rust removal solution to prevent further damage.
Clean the tow ball. Remove any dirt and grease buildup to prevent unwanted abrasion.
Conclusion
Remember, the best RV tow bars carry first-rate features that provide their users the most benefits and value. Before finalizing their purchasing decisions, shoppers should pay attention to certain factors, such as the model's size, type, and tow capacity.
Still, I would like to recommend the Smittybilt 87450 Adjustable tow bar kit among the rest. This specific model offers top-notch convenience and peace of mind to its users, thanks to its superior features and traits.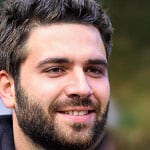 Hi, I am Joseph. Carpe diem! Seize the day! That's always been my life motto. If you haven't seen some of the most beautiful places in the country, you are missing out on incredible adventures.