Before making any purchasing decision, carefully considering your travel trailer's weight is crucial since this determines which kinds of trucks or SUVS will be able to securely tow the camper or how the trailer handles the road, fuel efficiency, and other aspects.
The secret to joyful and worry-free RVing is to keep track of your camping trailer's total weight. However, measuring the vehicle's weight is not as simple as putting it on a scale. Calculating the RV trailer weight is a difficult procedure that requires numerous examination.
Therefore, this discussion is the right place for those looking for a detailed breakdown of "How much does a travel trailer weigh?" In this article, I will deliver a comprehensive explanation on the weight of a camper, as well as approach other categories such as:
Important camper's weight terms to understand
Elements influencing the trailer's weight
Different travel trailers' weights
Moreover, within each part of the discussion, we will include practical examples and tips to manage your camper weights in real situations. So, make sure to follow this post until the end!
Important Camper's Weight Terms to Understand
Before discussing more about a travel trailer's weight, we need to understand some technical terms that are often used to describe the specification related to the weight and performance of each particular camper van. Continue reading to learn more!
UVW (Unloaded Vehicle Weight)
UVW or dry weight relates to the camper weights when it leaves the factory. Any dealer-installed extras, cargo, fluids, or LP gas are not included in the UVW. Before the travel trailer is ready to travel on the road, this is the basic structural weight.
The typical dry weight of a travel trailer ranges from approximately 1,000 to 9,000 pounds, but as a rough guide, the average camper container's dry weight is around 5,200 pounds.
Towed units, as contrasted to self-driving modules, will be lighter but they will need a vehicle with the appropriate towing capacity to commute. Self-driving units are clearly not reliant on an additional towing vehicle, yet they will have a significantly larger dry weight.
Hence, before loading luggage and equipment, you should consider the type of your travel trailer as there are many differences between the dry weight in each kind. Moreover, selecting the right towing vehicle using dry weight is certainly crucial.
GVWR (Gross Vehicle Weight Rating)
Technically, the most relevant response to the issue "How much do campers weigh?" is GVWR. This weight is your trailer's weight when your tanks are entirely full and the luggage container within the trailer is fully loaded.
Depending on extra amenities and the amount of the cargo load, the gross weight of the same travel trailer might vary. This is also the maximum weight your container should carry. Hence, The GVWR is said to be a very important factor to consider when determining the towing weight capabilities of your tow vehicle.
The best method to measure the total motorhome's weight is to fill up all the tanks within your trailer, pack your equipment or supplies, then weigh everything in a truck scale. The ultimate weight should be below this figure to guarantee safety for you and your travel trailer.
CCC (Cargo Carrying Capacity)
This is the cargo's total weight capacity. Don't carry more than the recommended CCC for safety management. Subtract UVW, the weight of water supply, full tank weight, and sleep capacity load rating (154 lbs x number of bedding positions) from the GVWR to get the Cargo Carrying Capacity. Don't forget to deduct any dealer-installed extras.
Tongue Weight
Tongue Weight, also known as Vertical Load Rating, is the maximum vertical weight that your hitch can support the trailer. Make sure you know how much your tongue loads before you start towing. If the weight restriction is exceeded, try relocating the contents to the back of the trailer. Likewise, the inverse is true. Move content ahead if the tongue weight is below the limit.
Sleeping Capacity Weight (SCWR)
This type of weight is supposed to be included in the CCC, however it has been separated recently so that trailer owners can customize their resting area easier. SCWR is calculated by multiplying the number of sleeping positions indicated by the manufacturer by 143 pounds.
Elements Influencing the Travel Trailer's Weight
As we can see, there are many factors that contribute to your travel trailer weights than simply the RV itself. Therefore, it is critical to study these details to manage the weights of travel trailers efficiently and keep them under the GVWR for more secure travelling. Here are some components that add to your total camper weights:
Construction Materials
Lighter materials are used by RV and camper makers, especially in modern vehicles.
However, some latest trailers, such as Airstream motorhomes, weigh more due to its structure and brand, which includes the use of heavier building materials.
RV trailer weight is also affected by fixtures and furniture, and more luxury, residential-style designs may weigh more. Construction materials and interior furnishings are all included in the dry weight of your camper but it's something to consider before you purchase any RV.
If you own a small SUV or towing automobile with less pulling capability, you'll need a lightweight trailer, which means one made of lighter materials.
Slide-Outs
Another heavy item that is often included in dry weight yet still needs to be acknowledged is slide-outs. Although slide-outs provide additional interior space while parking, the heavy-duty structure required for stability will contribute to your trailer's total weight.
A single slide-out may add up to 1,000 pounds to the dry weight of your trailer. On the other hand, slide-out models that come with pop-up tops are good options if you wish for extra interior space yet still want a lighter trailer.
Pop-ups are a great way to add a second level of sleeping space or more headroom to your camper while parked, and they are less heavy compared to slide-outs.
Generators and A/C systems
Although it is common for modern RVS these days to be equipped with air conditioning systems and generators beforehand, not all camper vans in the market come with these kinds of features, especially with second-hand travel trailers.
If your camper originated with a generator and/or air conditioning units, the weight of these devices and their fluids is factored into the dry weight of the camper. However, if you or a former owner installed the system, it isn't included and must be subtracted from your CCC.
A portable generator typically weighs from 300 to 400 pounds, with each A/C unit weighing approximately 100 pounds. The greater the wattage, the heavier the system.
Fuel and Water
Water is a hefty item that does not count in the dry or unloaded weight of your trailer. Fuel and water are both rather heavy, with water weighing almost 8 pounds per gallon.
You might be persuaded to fill up your camper's fresh water tank before a road trip if it holds 100 gallons, but this might add 800 pounds to your luggage weight! Therefore, you should only fill up a few gallons and continue to supply water after you have reached your way stations or destinations.
Meanwhile, even though cooking (and/or heating) fuel is likewise weighty, it is still much lighter than water. As most campsites don't provide propane hookups, it's more important to pack the entire quantity you'll need for the trip.
Different travel trailers' weights
Each kind of trailer serves a different purpose, and as a result, each trailer's weight varies. Trailers come in a wide range of capacities, widths, or construction. Due to those differences, people may get confused while purchasing travel trailers which match their needs in terms of weight.
In the final part of this discussion, we will together go through each type of travel trailer and its weight specification so you can calculate your travel trailer and select the best one for your family.
5th Wheel Camper weight
The average 5th wheel weight of an empty 5th wheel camper is 12,700 pounds. The lowest 5th wheel weight is around 5,000 pounds, while the biggest camper trailer weigh up to 16,000 pounds.
The standard load capacity is 6,000 pounds, giving enough of room for camping equipment, tools, freight, and fluids. Most 5th wheel campers have a GVWR of 17,000 to 20,000 pounds when fully loaded and ready to hit the road.
Toy Hauler weight
When emptied, toy haulers weigh anywhere from 3,600 to 11,400 pounds, with an standard of around 7,600 pounds. Toy haulers include a bigger cargo capacity as they're designed to handle smaller cars. The average weight is around 10,000 pounds.
Toy hauler trailer gross vehicle weight ratings range from 15,000 pounds to over 22,000 pounds.
Jayco Pop up Camper weight
The Jay Sport is one of Jayco's pop-up camper models. Depending on the floor design, it weighs anywhere from 1,570 to 1,895 pounds dry. The Jay Sport's GVWR varies between 2,250 and 2,750 pounds.
A-frame Camper weight
A-frame trailer is a special form of pop up camper. When unloaded, this style of camper often weighs between 1,200 and 2,300 pounds in general and 1,700 pounds in specific. With an average weight of 1,200 pounds, A-frame campers offer a significant amount of cargo space. This trailer's gross vehicle weight rating ranges from 2,500 to 3,600 pounds.
Conclusion
Measuring your camper trailer's weight is definitely not a simple task and the false calculation may lead to excess weight, which takes away the joy of your family during the camping trip. To prevent this from occurring, travel trailer owners will need to have certain knowledge on the camper trailer's weight management.
Therefore, it is essential to understand how travel trailers weigh and manage their cargo capacity effectively. We hope that the above information and suggestions can help you determine your family camper's weight and wipe out the worry of being overloaded.
Did you enjoy the article on how much does a travel trailer weigh? Do you want to add anything else? Please let me know and leave a comment below.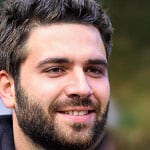 Hi, I am Joseph. Carpe diem! Seize the day! That's always been my life motto. If you haven't seen some of the most beautiful places in the country, you are missing out on incredible adventures.