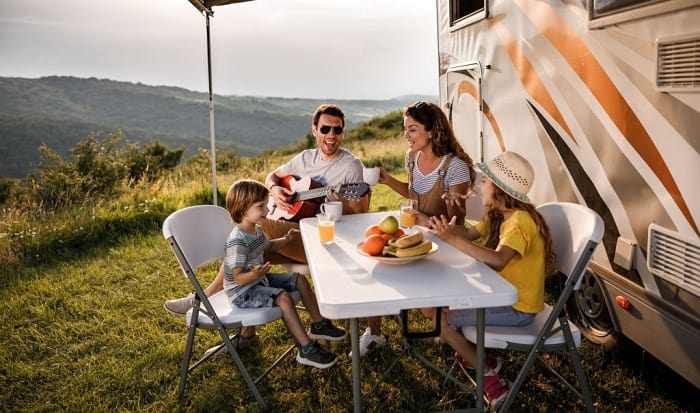 When you're ready to leave the confines of a traditional home and be free from mortgages, then an RV lifestyle is perfect for you. And of course, you are curious as to where can I park my RV to live?
Choosing this lifestyle is a cheaper option, no doubt, And there are many places where you can park until you opt for another spot.
Places to Live in Your RV While Enjoying an RVing Lifestyle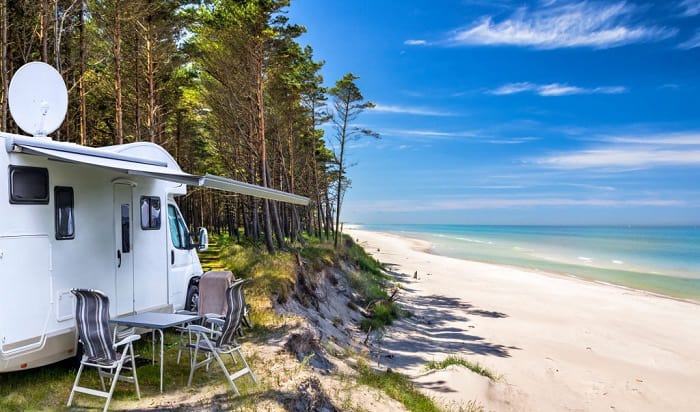 Have you been wondering where to park your RV to live? There are actually many places where you can park your RV and live for a night, a month, or for however long you wish to stay. Or, you can also purchase your own personal lot to stop paying rent and have a place to come to after each adventure.
So, where can I park my camper to live, you ask. Let's find out the best 13 RV spots for you to live in. You can choose one, or try out all of them.
Place #1: Workamping
Workamping is a term used for living in your RV while you work at the same time. To workamp, you simply choose to work on a national park, RV campground, county fairground, resort, dude ranch, event venue, factory, and places that hire seasonal workers.
And one of the conditions for working there is to park your recreational vehicle for the duration of your work and live there.
In this situation, RVers are sometimes exchanging free RV spots for menial work on site. Other times, you could get paid on top of the free parking.
Place #2: RV Spot Rental
There are RV campgrounds that rent out RV spots on a long-term contract, and often with a huge discount. If you choose this route, then you will live with neighbors in a campground designed for RVers.
The beauty of renting a spot is that you can stay there for a long time while you work, and you can leave when it's time to move on. More importantly, it's safe to live in an RV campground, especially when you opt for one with security.
Place #3: Amazon Camperforce
If you are looking for places to park an RV near me, then you should consider the Amazon Camperforce program. This entails that you work for Amazon by delivering packages, and in exchange, you are given a free RV spot to live in.
The Amazon Camperforce program is available for RVers who want to enjoy living in a recreational vehicle while earning money to sustain their daily needs. It is available all over the US, so it's best to check it out and see if you qualify.
Place #4: Bureau Of Land Management Lands
Throughout the US, the federal government owns hundreds of acres of lands. And a huge part of this land is dedicated to free camping, as long as they are under the management of the BLM or Bureau of Land Management. Simply visit their website and find places for your RV.
However, there are disadvantages to living in such a place. BLM lands do not offer hookups, so you need to find your own connection to electricity, water, and sewer. Also, you can only live for 14 days on a piece of BLM land, then transfer to another BLM RV campground.
Place #5: Luxury RV Resorts
Living in luxury is a dream that many people have. And the good news is, you can live a luxurious existence in an RV luxury resort. But, the drawback is, the wait list is quite long. And of course, the cost of living in such a beautiful place in your RV is high.
So before you head to the best luxury resort in the country, make a reservation first. You can park your RV for a long time in the resort, and enjoy the comforts that the place offers with high-end amenities.
Place #6: National Or State Park
You know you're living a wonderful life when you live in a national or state park, surrounded by nature. And you can do this by working as a park host, and then you can live in your RV in the campground.
Your job includes campground maintenance, assisting guests, and keeping order in the park. And in exchange, you get to bring your RV into the campground.
However, the position of a host is not easy to acquire, and only a chosen few are accepted. But if you prove your worth, you may get the job and free living space.
Place #7: Membership Clubs
In all the best places to live in an RV, one of the most affordable RV camping options is through membership clubs. There are programs that allow you to join a membership club of your choosing, and you can camp your RV in their campgrounds all over the country.
Two of the most popular membership clubs are Coast to Coast and Thousand Trails. And the best thing about this option is, you can travel to different places for years without worrying about RV spots.
Place #8: KOA RV Camps
KOA or Kampgrounds of America is the largest network of campgrounds with over 500 locations in the country. You have the option to stay for a day or a month in one of the three kinds of RV parks.
KOA offers Resort, Journey, and Holiday parks, as well as extended stay coupled with KOA-based resources and amenities. All you have to do is download the KOA app, and find a suitable location and duration to live in your RV.
Place #9: County Parks
One of the best places to live in an RV near me is a county park. RV camping is quite affordable here, and you can even live for free at the campground in exchange for becoming a host.
But whether you rent or live for free at a county park, the setting is perfect for an RVer. Plus, you get a chance to live with fellow RVers.
Place #10: Privately-Owned RV Parks
Aside from federally-owned and government-managed campgrounds, there are also privately-owned campgrounds. These parks offer monthly RV camping, extended stay, and long-term parking for all adventurous RVers.
The good thing about these RV camps is the set of amenities that are prepared for the campers. Plus, security is a lot tighter in privately-owned parks.
Place #11: Mobile Home Parks
Mobile Home Parks is a combination of middle and lower-class RV campgrounds. They offer complete RV hookups, but with no other amenities except the beauty of nature.
The cost to stay in such parks is cheap, and the security is not really good. But if you are on a tight budget and simply want a place to park your RV and live, then a mobile home park is definitely for you.
Place #12: Businesses That Approve RV Parking
While you're travelling, you can park your RV for a night at some business parking lots such as Bass Pro Shop, Cabelas, and Wal-Mart.
However, you should call the establishment first prior to parking, since not all stores welcome free RV parking. The good news is, many branches of these stores do allow overnight parking for RVs.
Place #13: Purchase An RV Spot
To free yourself from the constant burden of paying your rent, it is ideal to purchase an RV lot. There are many RV campgrounds that allow RVers to purchase a spot in their place.
This is a great option for you if you prefer to live in your recreational vehicle for the rest of your life. And when you own an RV lot, all you need to do is pay for the available utilities in the campground.
Place #14: Property Of Family And Friends
Another option to live in your RV is to ask a family member, relative, or friend to use the extra space in their property to park. This is an amazing way of living, since you are near people you care about. You can either rent out the space, or pay off the rent through doing chores in the property.
Whatever agreement you come up together with the property owner, you are in good hands.
Place #15: Your Own Private Property
If you're looking for a permanent place to stay in your RV, then the best route is to buy a small property. The main advantage in owning your own land is that you can park your RV forever there.
So instead of building a house in your property, opt for an RV. And your neighbors have traditional houses, so you have plenty of time to get acquainted.
The best part is, you can travel anywhere and anytime you prefer. And then you can always come home to the same spot. Indeed, you're taking your RV lifestyle to the next level.
Things to Consider in Choosing a Place to Live in an RV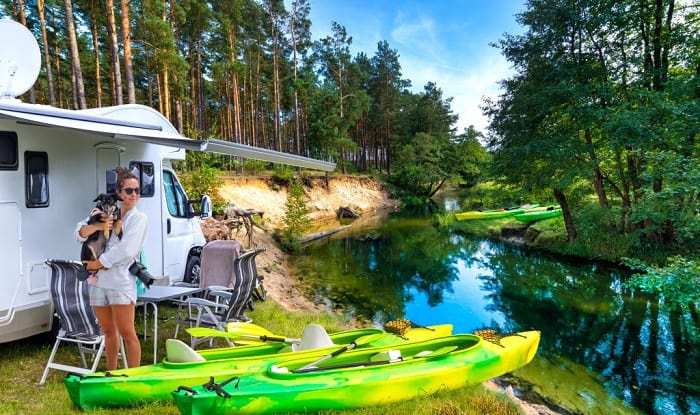 RVing is a trend for many people who prefer to live their lives in the open road, ready to take on adventures. And if you love to live in an RV and are always ready to travel anytime, then there are things you need to consider before you find a place to park your RV.
Where do you want to explore? Which part of the world do you wish to see? Location is an important factor to consider, especially when you plan to stay somewhere for a long time. And when you know where to go, it's easier to find the perfect RV spot.
RV living is awesome, but you need to know exactly how long you plan to stay. There are different places that offer various durations for RV camping. You can stay for a whole day, a week, a month, or even longer than six months.
What do you wish to achieve in living in your RV? Do you plan to do this full-time, or part-time? Either way, you need a job to support your basic needs. And your purpose helps you choose an RV campground, which there are many in the country.
Conclusion
Now that your question: where can I park my RV to live is answered, you can start planning your next move. And if you like this post, kindly spare the time to share this.
It is our hope that RVers who are looking up "RV living parks near me" will know where to park their recreational vehicle. And please leave your thoughts in the comment section below.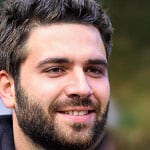 Hi, I am Joseph. Carpe diem! Seize the day! That's always been my life motto. If you haven't seen some of the most beautiful places in the country, you are missing out on incredible adventures.