Although the Fast and the Furious movies introduced us to the world of sticker-covered tuner cars, the honor of being the first to have vinyl stickers right out of the dealerships go to the recreational vehicles. You can find many RVs on the road today with sharp stripes and other funky shapes, but they do not look tacky at all.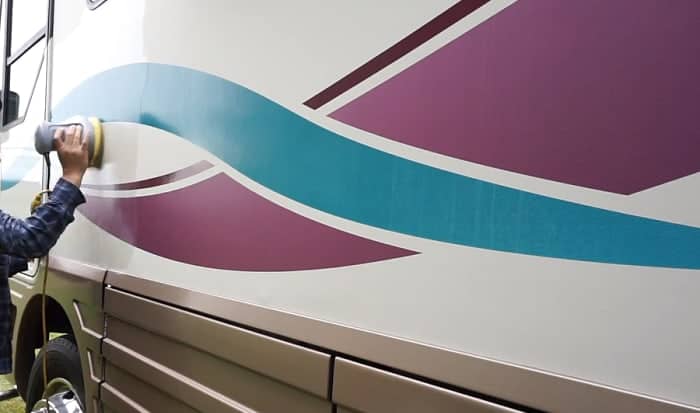 If you are an owner of one such RV, it is vital to learn how to take care of the vinyl motorhome decals properly, so they will still look great even after many years have passed. It is the reason why you have to use the best wax for RV decals.
Not all wax products are safe to use on vinyl stickers and decals. With this article, you will learn and understand how to find the perfect wax. It is the one that will give your RV a good shine and protect and extend your decals and stickers' lifespan.
Best Wax for RV Decal Reviews
1. Meguiar's M5032 Wax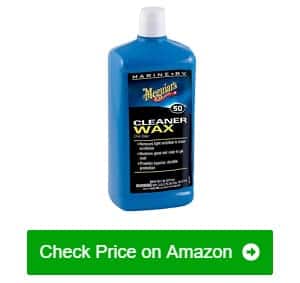 I have always been partial to products with the Meguiar's branding, and so far, they have not disappointed me yet. One great product from the brand is the M5032 one-step cleaner wax. As the name states, this product can deep-clean the surface of an RV while depositing a high-quality wax capable of emitting a high-gloss shine.
As mentioned above, this product can remove light surface damage without using an abrasive polishing agent. I was pleasantly surprised to find out that it removed the light swirl marks on the clear coat, which is a plus for me. Furthermore, it can work on light oxidation damage with minimal to no scrubbing.
Aside from providing a deep, high-gloss layer on top, this wax also contains polishing oils that made the colors underneath regain their original vibrancy. In short, this product does more than just protecting the paint and vinyl underneath from damage.
The most important part is that this Meguiar's RV wax provides more than enough protection against UV rays' possible damages. This wax leaves behind a protective coating that blocks nearly 100% of the sun's UV rays, the number one enemy of vinyl decals. Aside from making RV vinyl decals fade and discolored, they dry up and get brittle as well.
If you have a polisher or buffer, it is a breeze to use this product. Yet, it is great to know that we can apply it by hand without worry.
You need to know beforehand that this wax is exclusively for gel coat and fiberglass, which is a detail that should have been on the label.
What We Like
Cleans and waxes surfaces in just one easy step
Removes slight oxidation, surface scratches, and swirl marks
Contains polishing oils that restore the color and brilliance of paint and decals
Provides superior protection against UV rays
Can be applied either by hand or by using a buffer
What We Don't Like
Not that versatile – seems to work only for a fiberglass gel coat
If you have a fiberglass RV, then this Meguiar's product is a perfect choice for you. Aside from making the exterior of your vehicle shine brightly, this
top-rated

wax for gelcoat rv
. Also cleans and removes slight blemishes at the same time.
2. TR Industries RV Wash and Wax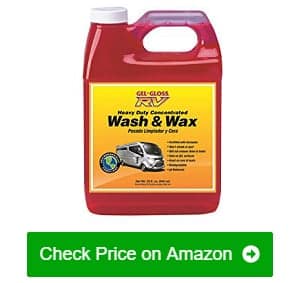 Since I will be cleaning an entire RV, what I look for in a cleaning and care product is breezy use, saving me time and effort. I am glad that I found this wash and wax from TR Industries.
This product cleans the surface and leaves a thin protective coating of carnauba wax all in just one step. I do not need to spend an entire afternoon working on the RV and have sore hands like before.
Now, even though this product cleans thoroughly, it does not do anything to strip the existing wax layer on the RV. Instead, this wash and wax product will bolster it.
It is a great way to maintain the high-gloss finish of your RV as it will lengthen the existing wax layer's durability by quite some time. In other words, instead of reapplying the wax, say two or three times a year, you will only need to do it once a year.
Another reason why I like this product a lot is that it is very environmentally-friendly. This cleaner is readily biodegradable and will immediately break down right after you rinse it off your RV. It is also non-toxic for animals and plants, so no need to worry about your pets or other wild animals getting hurt when they accidentally ingest the substance.
I also like how economical this product is. You just need a couple of ounces of this product diluted in a bucket of water. It will be more than enough to clean an entire RV. Hence, you can get quite a lot of uses from this one gallon of concentrate.
Aside from saving a lot of money on RV cleaning products, it is also possible to save money on wax because it can lengthen existing wax's durability on the RV.
The only thing that I did not like about this product is how short its high-gloss finish lasts. Although it adds to the existing wax coating, the layer that it leaves behind does not last that long, or at least the gloss of this layer is.
What We Like
Can clean and protect the RV surface in just one step
Cleans the surface thoroughly without stripping away the existing wax
Completely biodegradable as it contains natural carnauba wax
Provides above-average protection
Highly concentrated – only a couple of ounces diluted to wash an entire RV
What We Don't Like
The protective wax layer does not last that long.
The nice thing about this product is that you do not have to spend an entire afternoon just to get your RV nice and shiny. It works excellent for maintenance washes if you already use a good base wax.
3. Walbernize RV Super Seal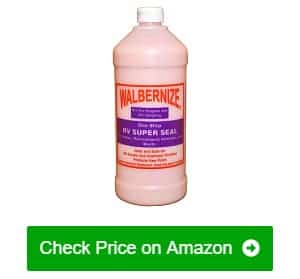 I enjoy the efficacy of the Walbernize product, even though technically, it is not a wax, but more of a glazing sealant.
You can usually apply it onto a brand-new vehicle to provide a thin protective layer on top of the clear coat, which is somewhat more durable and effective than traditional waxes. That said, you can still use it on older vehicles, and I highly recommend that you do.
The good thing about this RV super seal from Walbernize is that it can revitalize the clear coat of your RV, making it look like it just rolled out of the lot. That is because the Walbernize Super Seal deposits a thin film of silicone on the clear coat's surface.
Also, it creates a waterproof and hydrophobic seal on top of the clear coat. Such a layer prevents water from forming beads on the surface of the RV. Note that water often forms into thin sheets and rolls over the edge, leaving the surface dry and without any trace of dirt.
With this agent, you will surely love the ease of application and its striking results. Based on how deep the shine this product usually leaves behind, people would think you used a paste carnauba wax and multiple layers of it. Also, this high-gloss silicone finish lasts a long time. You will probably reapply it maybe two times a year at most.
I also like how this product can eliminate mild surface blemishes like slight oxidation, swirl marks, and micro scratches on the clear coat. It can even erase minor stains like traffic film, road tar, bird droppings, and more.
The only problem with this product is that it does not indicate on the label if it provides any amount of UV ray protection, which is a bit daunting. According to some user reviews, it can somewhat protect against sun exposure, but I would still use a proper wax on top of it to be sure that my paint and RV exterior decals will not fade.
What We Like
Somewhat more durable and effective than traditional waxes
Leaves thin film of silicone for a glowing look
Offers a waterproof and hydrophobic seal on top of the clear coat
Enhances and protects the clear coat/gel coating of RVs
Can remove light oxidation, traffic stains, oil stains, and other light blemishes
What We Don't Like
Does not have any indication that it provides UV protection
Although this product is not a true car wax, the high-gloss finish that it leaves behind certainly makes it look like it truly is.
4. Meguiar's M5616 Pure Wax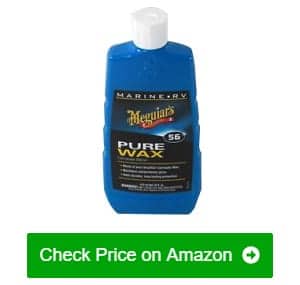 Ask any car detailing professional what their favorite brand is, and most of them will most likely tell you that it is Meguiar's. As expected, this M5616 model from them does not disappoint.
Meguiar specifically formulates this product to be safe to use on virtually all vehicle finishes. I tested it on both gel coat and urethane finishes, and I am happy to report that both of them looked great after just one coating. I suppose that they would look even better with two or three coats of this product.
The finish provided by this product is not just for the show. In detail, it contains pure carnauba wax, which provides excellent protection against the sun's harmful ultraviolet rays, thus preventing the paint and decals of your vehicle from fading.
Also, it contains synthetic polymers that enhance the hydrophobic qualities of the carnauba wax. In other words, the high-gloss surface will not allow water to bead on it. It can lessen the number of times you will need to wash your RV because it repels dirt and grime.
In my opinion, one of the best qualities of this product is its fast and effortless application. I have no doubts that it will be easy to apply even by hand because of its loose consistency. However, you might not have a uniform gloss like you would when you use a buffer.
If you live in an area where it is almost always sunny and hot outside, I suggest you park your RV in a shaded place first and let it cool down a bit before applying the wax. The reason is that it dries up fast and it will be quite difficult to buff. It is also the reason why you need to work on one small patch of the RV at a time to avoid getting the wax too dried up and leaving a hazy finish.
What We Like
Safe to use on almost all finishes, be it marine fiberglass or painted aluminum
Contains pure carnauba wax to protect from UV rays
Provides a hydrophobic coating to avoid dirt and grime
Easy to use – either by hand or to use a buffer
Meguiar's has always been a trusted name for auto-detailing products, and this wax is a worthy addition to their lineup. With that in mind, I highly recommend the use of this product.
5. Glidecoat RV Wax Replacement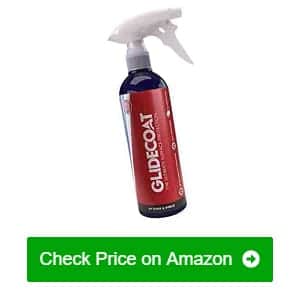 Glidecoat RV wax replacement claims that it is better than traditional waxes, which I am a big fan of. So, I was intrigued and a bit skeptical about this product. But after using it one time, I immediately liked it a lot.
Not only was this non-wax coating easy to apply, but its glossiness also lasts quite a long time. I trust that I will not need reapplication for up to 8 months.
Regarding being hydrophobic, this one is par with the best paste wax brands out there. After just one application, my RV exterior will no longer allow water to bead and collect dirt on the surface. It immediately turns to sheets and rolls off the side. I can point a garden hose at it, and it will be dry to the touch within seconds.
It is a bit better than paste waxes because the protective coating does not just sit on top of the clear coat. Some of it bonded with the clear coat, thus improving their durability and keeping it moisturized.
This product also contains UV inhibitors that completely block the sun's harmful ultraviolet rays, thus preventing the paint from fading, drying, and cracking.
Best of all, the Glidecoat wax replacement comes in a convenient spray bottle. You only need to spray it onto one panel. Let it sit for less than a minute, and then wipe off the excess and buff dry using a microfiber towel. With minimal effort, you can get an intensely shiny finish that will last a long time.
The drawback of this almost perfect product is the price point. You will need more than one bottle to finish shining up an entire RV.
What We Like
Provides a wax layer that can last for up to 8 months
Gives a protective layer that can repel water and dirt
Leaves an almost non-stick surface for wiping off bird droppings, tree sap, tough dirt
Offers better protection than most wax products
Gives excellent protection against the UV rays
Quick and easy to use – spray it on and wipe off
If you have a bit of wiggle room in your RV maintenance budget, I suggest that you invest in a bottle or two of Glidecoat wax replacement. You may never go back to using regular wax again.
6. 3M Marine Restorer & Wax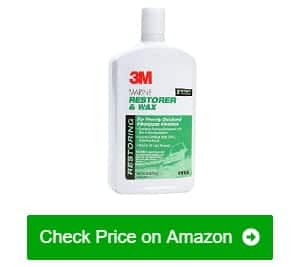 I have a rather old RV, so I wanted to try the 3M Marine Restorer and Wax. I have heard many good things about this polisher for RV, so I had to see it myself.
Speaking of surfaces, although 3M marketed this product for use on fiberglass boats, I used it on urethane-painted aluminum, and it came out just fine. Now, if your RV is mostly fiberglass and gel coat then you have nothing to worry about. This choice for combination RV compound and wax will leave your RV exterior looking extremely shiny and vibrant.
Aside from oxidation damage, this restoration product can also erase moderate to heavy surface blemishes. Several spots on my RV were highly oxidized, and they were no match for this product. Notably, the rubbing compound in this product works as well as 1000-grit sandpaper to polish away most imperfections after just one or two passes.
The wax component of this restoration product leaves a coating that is glossy and has a deep shine. It is also a protective layer that blocks the sun's harmful UV rays. It means that aside from restoring your RV exterior to its former glory, it can also maintain its beautiful look.
The only caveat, especially when working on heavily oxidized areas, is that you will most likely need to use a handheld electric buffer to make full use of the polishing capabilities.
What We Like
Polishes the surface and leaves a protective wax layer
Safe to use on almost all surfaces without any damage whatsoever.
Can restore even heavily oxidized finishes after one or two applications
Provides excellent UV ray protection
Can erase moderate to heavy surface blemishes
What We Don't Like
A bit tricky to apply by hand
Although the 3M Marine Restorer and Wax require a bit of elbow grease to use (if you do not have an electric buffer), the results that you will get will be more than worth the added effort.
7. Thetford Premium RV Wax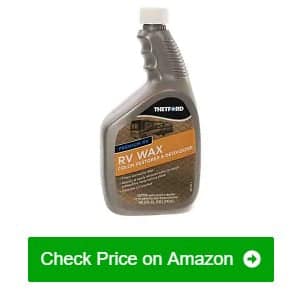 The first thing that made me like the Thetford premium RV wax is its performances on all surfaces, even on my RV vinyl decals. It helped remove the oxidation on the decals without damaging them.
One great reason why this RV wax is so good is that it contains pure carnauba wax. Most people think that carnauba wax is just for making painted surfaces shiny. The truth is it also adds a layer of protection that prevents damage to the paint job.
In truth, Thetford Premium wax protects your RV finish by blocking the harmful UV rays, which is the main culprit for faded and discolored paint.
Surprisingly, this protective coating also repels water, thereby preventing dirt and grime from getting a foothold on the finish as a result. It also means that you will not need to wash your RV quite often as you used to.
I appreciate that it also restores the paint underneath the clear coat. The Thetford Premium wax contains restoring oils that penetrate through the clear coat and paint to make the colors more vibrant and brighter. In my case, it even made my RV look ten years younger, at least.
I mentioned earlier that this product could remove oxidation and light scratches, which it can honestly do. However, you will still need a power buffer to get satisfactory results. You can do it by hand, of course, but you will be spending a lot of time and energy.
What We Like
Works on all kinds of surfaces and will not fade or discolor stickers and decals
Contains pure carnauba wax for a high-gloss finish that lasts
Removes light oxidation and other light surface damages
Protects against UV rays while providing a hydrophobic finish
Contains color-restoring ingredients that make the paint look brighter
What We Don't Like
Still requires a buffer to remove oxidation and light scratches
With incredible versatility and impressive performance, The Thetford Premium wax is worth spending your money on.
8. Star Brite RV Polish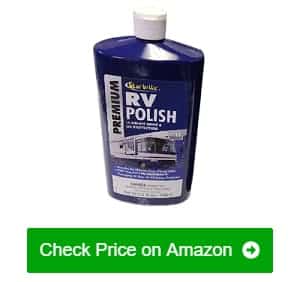 I can also say that this RV polish from Star Brite is worthwhile to invest in and use for your vehicle.
I benefit a lot from how this product protects the RV surface finish from harmful elements. This means that applying it should not be a cause of concern since I do not have to worry about the finish getting damaged along the process.
Another excellent characteristic of the wax coating is that it is highly hydrophobic. It means that it repels away water. This wax product helps protect your RV because it blocks the sun's UV rays to prevent decals from losing their color and shine.
It is also beneficial because of the polymers present in it that bond to the treated area or surface. With that, you can easily and quickly do the cleanup as it can help repel greasy stains, grime, and dirt.
Besides that, I am sure you will also love the fact that you can apply it over old polish or wax.
One issue I would like to point out, though, is that it still requires the use of a power buffer if you intend to have an even polish. This flaw is the reason why it is just a tad more complicated to use than other products.
What We Like
Provides a protective layer that repels stains and dirt
Completely blocks damaging UV rays
Versatile application, either by hand or by a buffer
Long-lasting and high-gloss finish
Polymers present for quick clean-up
Can apply it over old polish or wax
What We Don't Like
Might need the help of a power buffer to get an even polish
Although this product may require a bit more effort, the results will be more than worth it in the end.
9. Meguiar's M6732 Compound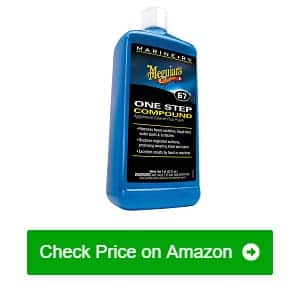 As always, Meguiar's has done it again. The brand created a product that makes quick work of heavy surface damage and leaves behind a glossy finish.
For your information, the finish is not technically a wax coating. But it can still leave your vehicle looking presentable until the time you can lay a proper coating of wax. Such a product comes in handy when you do not have enough time for waxing after thoroughly polishing your RV,
As mentioned earlier, this one-step restoration product contains a heavy-duty polishing compound that can help you get rid of common surface blemishes like micro-scratches, haze, swirl marks, and even heavy oxidation. If you have an older RV and you want to make it look almost like new, grab a bottle of this stuff and a handheld buffer and go to town on those blemishes.
Besides removing light to moderate surface damage, it also contains additives that penetrate deep into the paint and rejuvenate and revitalize it. It means that after using this product, you will notice how much brighter the color of the paint is compared to before. It also helps condition the clear coat, keeping it from drying out and cracking.
Please note that if you are dealing with heavy oxidation, be prepared to put in a bit more elbow grease into polishing. If you happen to have a buffer, you will see how quickly all the surface damage goes away.
What We Like
Serves as a one-step product to restore the surface
Can remove heavy oxidation, scratches, watermarks, and other tough stains
Leaves behind a high-gloss finish
Contains compounds that can restore and brighten surface colors
Conditions the clear coat to keep it from drying out and cracking
What We Don't Like
Might require more elbow grease into polishing
Although it is not a dedicated one-step RV surface restorer as it does not contain a wax sealant, it can still do an excellent job making your RV exterior look like it is many years younger than it is.
10. 3M Perfect-It Boat Wax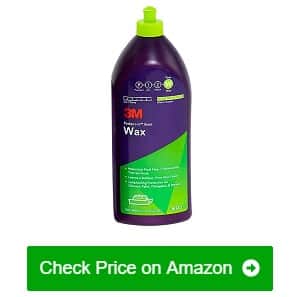 3M has always been at the forefront of car care products, and this one is not an exception. The Perfect-it wax is the final step in the Perfect-it system of surface restoration products by 3M.
Even though it is a liquid wax, the finish you get is comparable to the kind you get with other carnauba paste brands. It means you will be getting a mirror-like finish if you buff it properly.
One of the things that I like about this product is that it works well on all surfaces. Although 3M claims it for fiberglass boats, you can also use it on recreational vehicles regardless of whether the exterior is fiberglass, gel coat, or painted aluminum.
It can also go on top of vinyl decals without causing any damage. Furthermore, you can rest assured that it provides a protective coating to prevent them from fading.
Because it has a loose liquid consistency, it is easy to apply onto the surface that you wish to shine. It does not matter if you do not have a buffer; you can still get excellent results by applying it by hand and buffing it using a soft microfiber towel. Yet, it will take a long time before you can get favorable results.
The high-gloss finish can also resist moisture. I can hose down the entire side of my RV, and it will be dry in seconds due to the water just rolling off in sheets.
However, this product is part of 3M's Perfect-it system, so it might not offer full power if you do not use the other components.
What We Like
Provides a wax coating with a deep shine
Can work safely on all RV finishes – gel coat, fiberglass, and painted metal
Offers a protective coating to prevent decals from fading
The liquid consistency makes it easy to apply directly from the bottle
Provides excellent protection against UV rays and oxidation
What We Don't Like
Should to be used together with other 3M products
Despite that, the entire system is still worth the investment considering how good it is in restoring the look and condition of your RV.
Best Waxes for RV Decals Buying Guide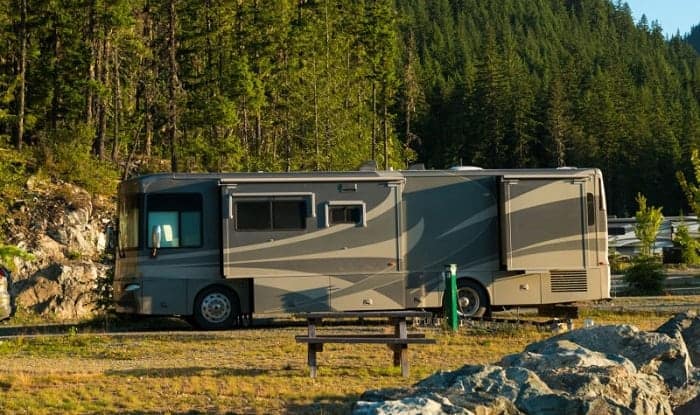 When shopping for a wax that you can use on your RV, you might come across many different brands, so choosing one that can help keep your RV decals looking new will be a challenge. However, if you know what attributes to look for, the task will seem less daunting than before. Here are some essential things to keep your eyes peeled out for:
UV-protection – A good quality RV wax should provide a protective layer that blocks the harmful UV rays. These rays are the reason why unprotected paint jobs fade when exposed to the sun for extended periods. If your RV decals do not receive ample protection, the UV-rays will cause the vinyl decals to fade and get seriously discolored.
Aside from making colors fade, UV rays can also severely weaken the vinyl material of the decals. Prolonged exposure will cause the decals to dry up, crack, and eventually peel off the surface.
You will need a wax that provides the surface of your decals with a protective shell that blocks most, if not all, UV rays from reaching them.
Hydrophobic protective layer – Most people do not know that the wax layer on top of the paint job does more than making it look incredible. The high-gloss layer left behind by a good quality wax should be extremely hydrophobic, meaning it repels water and does not let it bead on the surface.
It does not mean that the high-gloss surface is almost friction-less. The wax coating does not allow the water's surface tension to form. It means that instead of beading on the surface, water droplets form into sheets that flow off the edge of the panel eventually.
Without any water to hold onto, the dirt and dust will not have anything to hold onto until they can cake onto the surface. It can assure you that you will no longer need to wash your RV as often because it will virtually repel dirt.
Ease of use – Keep in mind that you will be waxing a large vehicle, so the least you can do to help yourself is to choose an easy to apply wax. However, you will have to compromise with the gloss of the finish. Liquid waxes are easier to spread on the surface than paste wax, but such does not provide the same high-gloss finish.
Moreover, if you happen to have a buffer in your garage or gain access to one, you should also apply the wax using it. Remember that you will be waxing an entire RV, not just the decals, so using a buffer will make the tasks go by a lot quicker. It can also produce a more even result.
Durability – The durability of a car wax pertains to how long the high-gloss finish can last before it starts to fade and its protective properties weaken. It is yet another area wherein a paste wax outperforms a liquid wax. You will need to reapply most liquid waxes every month or two while a good paste wax only needs a single application every year.
If you already have trouble freeing up enough time for washing your RV every month, go with a wax that needs the least number of reapplications. On the other hand, if you rather enjoy taking care of your RV every week or so, and you have plenty of time on your hands, something more affordable might be up your alley.
Abrasiveness – You will be seeing quite a lot of polish and wax products out there, and these are the ones that you might want to avoid for now. Polishes have abrasive compounds that remove bits of material from the surface to make it even and smooth. Although it is great for removing surface scratches, it can still damage the decals.
Unlike the underlying paint of an RV or any other vehicle, the vinyl decals do not have a clear coat finish to protect it from scratches and abrasions. If you use an abrasive polishing compound on vinyl decals, you rub off the colors and vibrancy it has.
Price – Just like with most other car care products, you will also get what you paid for when it comes to RV waxes. Therefore, it is not advisable to set a low budget for buying RV wax. Aside from reapplying the product more often, so you are not saving that much money in the long run, you are also risking damage on the delicate vinyl decals.
However, you do not necessarily need to buy the most expensive product on the shelves, especially when there are plenty of RV waxes priced in the middle to middle-high price spectrum. My advice is to buy the expensive ones right away, not until you have tested or researched the ones that are a bit more affordable.
How to Remove Oxidation from RV Decals
If the oxidation damage on your RV decals is not too severe and not too dried up and cracked, RV decal restoration is possible. If the oxidation is not that severe, you can remove it just using a scrub sponge. It should be the same thing that you use in the kitchen.
It is also best to do this before you wash and wax your RV because the process will strip away the existing wax coating over the decals. Have a bucket of clean water handy, and another bucket of water for rinsing the sponge.
Grab your sponge, dip it into the bucket with clean water, and then using the scouring pad part, proceed to scrub the oxidized area of the decal. It is best to work on small areas and use as much pressure as needed to scrub out the oxidation.
If you feel the sponge is getting a bit too dry, rinse it first on the other bucket, squeeze it thoroughly, dip it back into the clean water bucket, and do the entire process again.
After scrubbing off as much of the oxidation as you can, proceed to wash the entire RV as usual. Do not forget to apply the wax onto the decals to protect them from dirt and UV rays. Just to be on the safe side, ensure that you put a tad bit more wax on the decals.
Now, if the oxidation is severe, you can use a bit of rubbing compound or polish to cut through the oxidation and hopefully still have enough of the vinyl decal to work with. After getting rid of as much of the oxidation damage as you can, apply a layer of RV decal protectant over the area and buff it until it is glossy.
Can You Wax Over Decals
Yes, if the wax you will be using is safe for decals, you should always wax over the decals while waxing the rest of the recreational vehicle. Wax your decals because they do not have the same protective coating that the painted aluminum and fiberglass surfaces do.
However, if you are using a new product, it is always best to try it out first on an area that is not visible. That is to determine if it will not damage the decals.
Care and Maintenance
If you have a lot of the RV wax leftover after shining up the decals and the rest of your RV, you can still store and save it for a long time or until you need to reapply another coat. Just make sure to shut the lid tight and stow away the wax container. It should be somewhere cool and dry and does not receive any direct sunlight.
Conclusion
The RV decals are the most delicate parts of your RV's exterior, so you will need to take good care of it. The best thing you can do is to apply the best wax for RV decals on top of them. The wax will protect the vinyl decals from getting discolored and damaged due to sun exposure, thus extending their service lifespan.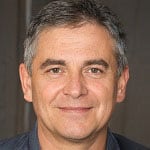 Hi, I am Tom Hank, an RV-er since 2014. Back then, I started without much help. As you can imagine, the struggles are endless. But now, you do not have to begin your adventures knowing next to nothing about RV lives.