Oxidation is the unsightly white blemishes resulting from long periods of exposure to the elements. Fortunately, you can buy the best oxidation remover for RV to make these unsightly marks disappear permanently.
With a good oxidation remover for RV, you can make your vehicle look like new even if your rides have already logged thousands of miles on it.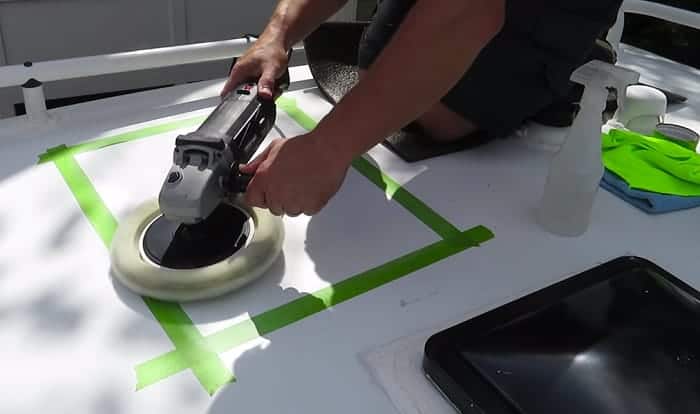 This guide will explain just what oxidation damage is, and what exactly is an RV oxidation remover. You will also learn about the active ingredients present in these products.
You will also get to access some product reviews and recommendations on good oxidation removers. With that, you will get an idea of what kind of product you need for surface restoration and waxing RV. Or better yet, you might even find the one product that fits your needs perfectly.
One thing is for sure, though. Once you finish reading this article, you can make an informed decision on what brand of oxidation remover for RV finishes you need to buy.
Best Oxidation Remover for RV Reviews
1. Meguiar's M4916 Oxidation Remover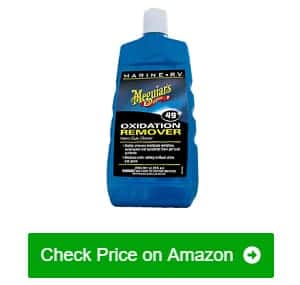 Meguiar's has been in the business of keeping automobiles and other vehicles looking their best for more than a hundred years, so you can trust this brand to deliver a high-quality product. It is the same product that many restoration professionals use. If it is good for them, it should be more than enough reason for you to use it as well.
This oxidation remover can remove oxidation from RV and deal with most kinds of surface blemishes that you will see on RVs. Among these blemishes are light to moderate oxidation damage, water spots, rust stains, and even surface scratches. With the product around, you can get rid of such blemishes easily.
Another reason why I like this model is that it contains feeder oil additives that get absorbed in the underlying paint and clear coat to revitalize them. When you use this product, the paint regains its lost brightness, and the clear coat over RV fiberglass also becomes shinier.
These additives are the ones responsible for making your old RV look like new again. The good news is that you have an assurance that it will continue to look at its best for many more years to come.
One neat feature in this RV fiberglass oxidation remover is that it uses diminishing abrasives. It means that the tiny little abrasive beads used in cutting through the gel coat finish and oxidation damage will break down during the application process. Therefore, it can make sure that only the bare minimum of the gel coating is removed while also getting rid of all the oxidized parts.
However, I notice one issue in this product: it sometimes takes a while for the diminishing abrasives to dissolve. Be careful not to use too much pressure when scrubbing the oxidation off the surface of the fiberglass finish, or else you might end up cutting into the paint as well.
What We Like
Has a distinguished pedigree
Same quality product used by professionals
Works as an effective color restorer
Polishes and provides a protective wax layer
Can deal with moderate to heavy oxidation
What We Don't Like
The abrasives can cut into the actual paint if used too roughly.
Meguiar's M4916 Heavy-duty Oxidation Remover is yet another product that the company can truly be proud of. If you want your RV to look new again, you have to give this product a try.
2. McKee's 37 MKRV-521 Oxidation Remover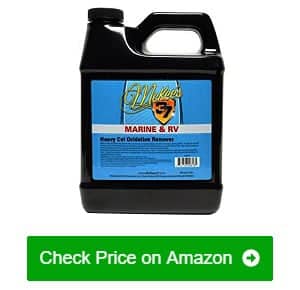 What I truly like about McKee's Heavy Cut RV oxidation removal product is how effectively it erases almost all traces of oxidation on the surface of my RV. Users are advised to apply this product for removing oxidation from RV on the roof, which suffered the most oxidation damage of all.
You can run your hand across your cleaned roof's surface, and it will feel smooth thanks to this remover. Hence, it is the ideal oxidation remover to get rid of the oxidation left on the surface of your RV, often exposed in the sun, and at the mercy of hazardous elements in the surroundings.
This product does not just work on gel coats, but also on fiberglass surfaces. I find this capability cool since my RV exterior is mostly made of fiberglass.
Another thing I like about this oxidation remover for cars is how easy it is to use. Although it is possible to apply and use this product by hand, you might want to invest in a good rotary action polisher, or rent one from your local big box hardware stores for the weekend. You just use it like you would a regular car paint polish. You should then use the rotary buffer to work the abrasives into the oxidation damage, cut through them, and reveal the gel coat's undamaged layer.
Speaking of buffing, the secret of this oxidation remover is the presence of diminishing micro-abrasives cutting into the oxidized layer of the gel coat. Remove it then polish the surface to make it shine like new.
You do not need to worry about the product getting rough with your paint job. The abrasives will start to break down and dissolve. Just make sure that you do not use too much pressure with each buffing cycle.
Although it is a good oxidation remover, it would have been even better if it was easy to use by hand.
What We Like
Makes dealing with heavy oxidation easy
Works well on different kinds of surfaces
An easy- to-use oxidation remover
Needs only a couple of buffer cycles to obtain good results
Can erase scratches and minor damage
What We Don't Like
Can be hard to apply by hand
If you are dealing with many years' worth of oxidation damage, then this product is the one you should consider using.
3. Bio-Kleen M00707 Oxidation Remover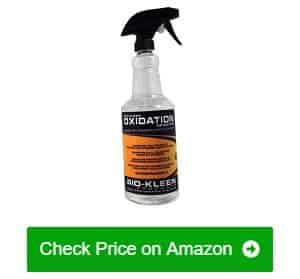 This product from Bio-Kleen can be regarded as an all-purpose cleaner of sorts since it does not only work as an oxidation remover but can also deal with other types of surface blemishes on RVs.
For instance, I have a huge problem with bird droppings leaving disgusting stains on my RV surface. However, Bio-Kleen oxidation remover made quick work of the stains that pesky bird droppings made.
As per its name, this product is great for removing oxidation on fiberglass, like the chalky stuff left on the surface even after a thorough washing. Soap and water are not nearly strong enough to get rid of oxidation damage. This oxidation remover is better than soap and water as it will not have any trouble cutting through the chalky oxidation, making it possible to wipe away later.
You can also use it at home. I have tried using it on my fiberglass bathtub, and it did a great job removing water stains from the shower. Gone are the yellow stains and the mineral deposits from the water. I just needed to re-seal the surface afterward, but that is not that hard of a task.
Probably the best thing about this oxidation remover from Bio-Kleen is that it is environment-friendly. This product is entirely and readily biodegradable. Even if you happen to spill some of it on the ground accidentally, plants will not have any trouble whatsoever. Bio-Kleen also promises that they followed the strict guidelines to keep their research animal-friendly. This product did not undergo animal testing.
I do have a bit of a problem with this product as it does not do much against heavy oxidation. However, it did manage to fix the light oxidation, and I think it does a great job in that area.
What We Like
Environmentally-friendly since the product is completely biodegradable
Dissolves through oxidation, making it easier to remove
Useful in the home, particularly in the kitchen and bathroom
Works great on fiberglass and stainless steel
Makes short work on the stains left behind by bird droppings
What We Don't Like
Does not have much effect on serious oxidation
Although this oxidation remover is not that effective for seriously oxidized surfaces, it is still a good multi-purpose surface restorer that is ideal for light damages and oxidation.
4. Protect All Fiberglass Oxidation Remover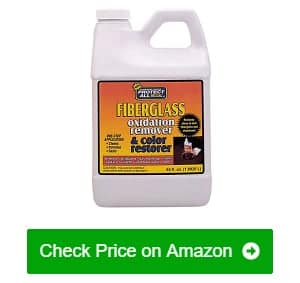 Probably the thing that I love the most about this product is that it does not only remove the oxidation from the surface of the fiberglass but also rejuvenates the color underneath the gel coat.
After I finished applying it on my RV, which is tan and brown, the colors seemed brighter than before. The gel coating got such a nice polishing that it enabled more of the color underneath to pop.
I am also glad to say that this oxidation remover is not just usable on RVs, but can also be utilized to clean and restore other surfaces. I have used it on enamel and even on painted aluminum.
This oxidation remover does a great job of cleaning all of them. I would advise, though, that if you are dealing with a clear polyurethane coat, you should not put too much pressure when polishing as it can cut right through it and into the paint underneath.
Another thing that I appreciate in this product is that it does other things besides cut into the oxidation. It also leaves a protective wax layer on the surface. The oxidation remover cleans the oxidation off. The abrasives also polish the surface smoothly then leave a wax coating that serves as a sealant and a protective layer against further oxidation damage. It can even prolong the shine and color of fiberglass panels.
As mentioned earlier, this product is a multi-purpose oxidation remover. It means you do not need to use other products to finish cleaning up your RV. If you do not want to spend the entire day just trying to get rid of oxidation marks because you also want to get to polishing and waxing your massive vehicle, this product is for you.
You will get the convenience of having three products (oxidation remover, polishing compound, and wax sealant) in one.
Still, it takes a lot of elbow grease to get results when applying the stuff by hand. You will need an orbital polisher to make sure that you will be applying the product evenly. It also ensures that you will not be working on your RV the entire day.
What We Like
Revitalizes and brightens up the paint underneath the gel coating
Wash and wax RV gel coat to make it extra clear
Easily cuts through the oxidation to reveal the undamaged layer underneath
Provides a protective outermost layer to prevent damage from recurring
One-step oxidation and polishing
What We Don't Like
Can be hard to use by hand
This product is as close to a true multi-purpose oxidation remover as you can get. Even though you will need an electric buffer to apply it better, it is still one of the best that you can get out there.
5. MEGUIAR'S M-4965 MG Oxidation Removal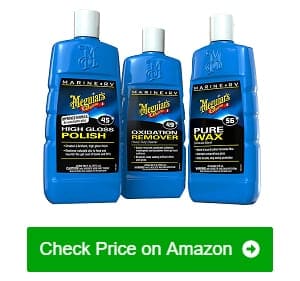 What is better than Meguiar's oxidation remover? In this case, it is an entire kit composed of several different Meguiar's products that will restore even a badly oxidized surface. Although there are many different multi-purpose oxidation removers, nothing can beat products dedicated to one specific task.
This kit contains all of the things that you will need to bring back the old shine of your RV. This fiberglass restoration system consists of three products. First, there is the Meguiar's Oxidation Remover No.49, which has fine abrasives to cut through light to somewhat heavy oxidation, thereby exposing the undamaged clear gel coat underneath. It also works well in getting rid of light scratches on the surface of the gel coat.
The next product in the collection is a pure polish. After using the oxidation remover, you need to follow with the Meguiar's Pure Polish No.45. This polish will infuse the surface with feeder oils that will get absorbed into the paint job and revitalize it. This second step of the system will make your RV look ten years younger at the very least.
The last product is the Meguiar's Pure Wax No.56. It is a tough and long-lasting wax that will provide the necessary protection from further oxidation. It also protects the fiberglass from UV damage caused by direct sunlight exposure. Waxing an RV also gives the paint job a deeper and seemingly brighter color, making it look like new.
Each kit contains enough product to treat a 30-foot RV two times, and a small travel trailer multiple times.
Please note that you need to use a bit more elbow
grease to finish treating
an entire RV because there are different products to use. If you plan on using this oxidation removal system, you should have an electric buffer to make the task a bit easier.
What We Like
Consists of professional-grade products that deliver professional-grade results
Can cut through light to slightly heavy oxidation easily
Comes with a professional-grade polish to revitalizes and brighten the paint
Removes surface scratches with ease
High-quality carnauba wax leaves a protective layer preventing oxidation
A valuable kit for multiple uses
What We Don't Like
Can quite a challenge to apply by hand
If you want to get rid of oxidation damage with the same quality as the professionals do, use the same products they are using, including this one from MEGUIAR.
6. 3M Perfect-It Heavy Cutting Compound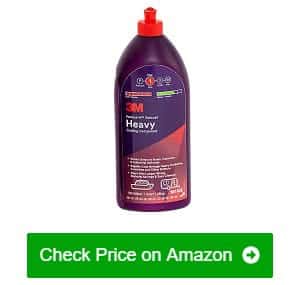 By far, this 3M product is one of the most effective oxidation removers that I have used. Notably, the 3M oxidation remover cuts through the blemishes effortlessly. It is ideal for treating the roof and other parts of the RV that got damaged by oxidation and the sun's UV rays.
One of the reasons I genuinely like this product is that just a little bit of it can go a long way. When I treated the entire roof of my 30-foot RV, I only managed to use ¼ of the contents of a quart bottle.
The 3M heavy-cutting compound stays wet longer, making it easier to work into the damaged area. Also, it can get into the problematic and seriously damaged parts because it does not dry up quite as quickly.
Best of all, it works effectively as a dedicated single-purpose oxidation remover. It does not contain any other additional products that will affect the effectiveness of the oxidation remover.
Plus, boat-owners can use this solution to deal with damage to gel coatings on fiberglass. You can find other products that will handle other paint restoration tasks as this one is specially formulated to treat oxidation.
However, you still need to be careful not to work the material too much as it might dig into the actual paint job. It means you have to be careful or get the 3M light cutting compound instead when treating minor damage.
Beyond that, this product is sold at a higher price compared to other models in the market.
What We Like
Works real great on heavy oxidation damage
A little bit of product goes a long way
Specifically made for cutting into oxidation
Can be used to deal with surface scratches
Professional-grade product
To get the most out of this product, you will need to get the other parts of the 3M oxidation removal system, but don't worry, you will not regret doing so.
7. Marine 31 Gel Coat Oxidation Cleaner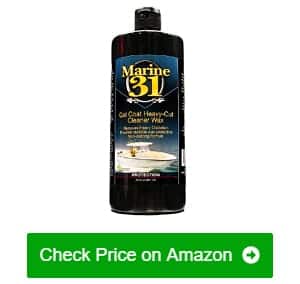 The marine oxidation remover's formula excels at cutting into heavy oxidation on the gel coat. I have used it to remove the ugly, chalk-like oxidation marks on the surface of my RV, and it did make the surface shine like new again.
This product contains abrasive particles that gradually diminish while you work the oxidation remover into the surface.
Furthermore, it comes with its lubricating oils to make polishing and buffing a whole lot easier than not having them. The oils allow hassle-free oxidation removing over the gel coating. It also allows the abrasives to cut into the oxidation evenly.
Aside from that, the oil lubricants make it easier to wipe off the oxidation remover after doing its job. I also appreciate that this product is entirely eco-friendly. Since it is initially made for boat surfaces, you do not have to worry about the oxidation remover and its residue harming the fish and plant life under the water. This product is readily biodegradable. It means if any of it falls into the water, it will decompose and turn neutral in just a couple of days.
Another feature that I truly appreciate is that I can easily apply it even when exposed to direct sunlight. Other car polishes and waxes require that you first park the vehicle in the shade; otherwise, they will dry up quickly. I do not know about you, but I like working on my RV during sunny days as long as it is not too hot outside.
Beyond that, users will need to use an orbital polisher or buffer to apply this product correctly. It is necessary if you are dealing with severe oxidation damage.
What We Like
Can be applied even on sunny days
Can make short work of heavy oxidation damage
Comes with lubricating oils to make the application easier
Cuts through oxidation easily and polishes the gel coat
Completely biodegradable and eco-friendly
What We Don't Like
Needs the help of a buffer
The oxidation resulting from years of neglect can still be reversed. With the aid of this product, you have an assurance that such a reversal will happen.
8. Meguiar's M77132 Oxidation Scrub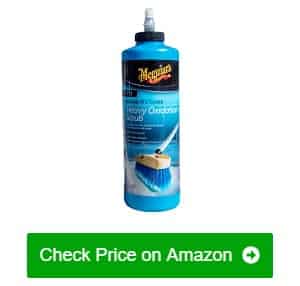 The next product in this list is a compound for heavy oxidation that helps prep the heavily oxidized surface by dealing with the tougher parts and then leaving the rest for less abrasive products. You can remove oxidation from the RV roof using this well-made solution.
Surprisingly, it does not only clean the surface but also gets rid of much of the oxidation.
I love the fact that this product does not require the use of any electronic implement. You just need a sponge, or a deck brush to use it. It is also important to have some water to scrub the surface thoroughly.
It contains abrasives that will cut into most oxidation, and the foam will lift the dust to make it easier to rinse off later.
Because it is also formulated for use on boats, the detergent used in this oxidation remover is also biodegradable and rinses off easily with water. Even though it is an effective oxidation remover, it will not harm any plant or marine life.
The best thing about this product is its pedigree. The Meguiar's brand name is widely recognized among vehicle restoration experts and car enthusiasts as well. If you see a product with the signature script writing on the front label, you can be sure that you are getting a high-quality one.
According to online fiberglass oxidation remover reviews, the only issue that several other people and I experience is that it does not do an excellent job in dealing with light to moderate oxidation. If you will be treating heavy oxidation, it is a crucial first step. However, if you are just facing light or medium oxidation, you can skip this step altogether.
What We Like
Cuts through heavy oxidation effectively
Can be applied using a scrub pad, or a deck brush
Creates a foam that makes it easier to wash off the chalky oxidation
Rinses easily using plain water
Readily biodegradable and eco-friendly
What We Don't Like
Does not work so good on light to moderate oxidation
This scrub is an excellent product for prepping and getting rid of a good chunk of the heavy oxidation. It can shave a couple of hours compared to just going straight to regular oxidation remover.
9. Poli Ox Heavy Oxidation Remover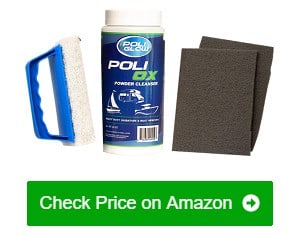 This Poli Glow product promises effective removal of severe oxidation, water stains, mineral deposits, damage caused by bird droppings, among many others.
It is an abrasive slurry that will help grind away the oxidation. It is a four-piece kit, including the Poli Ox powder cleaner, a scrub pad with a handle, and two sheets of ultra-fine scouring pads. You need to use the scouring pads with the Poli Ox first to eliminate the topmost layer of oxidation. You can then follow it up using the scrub pad to get rid of the remaining oxidation.
Aside from the gel-coat, you can also use it on fiberglass. It is also useful in cleaning and polishing different kinds of metal surfaces. Boat-owners can rely on the product to restore the shine of brass, copper, and stainless steel.
Yet, I love how it can do a great job of polishing glass. It can get rid of the small scratches on the surface without making the glass cloudy.
This product is also straightforward to use. You do not need any other tools other than what already came with the kit.
For heavy oxidation, you should start with the scouring pads to get rid of most of the oxidation, and then use the scrub brush to polish the remaining. It will leave a dull but stain-free surface. At this point, you can use your choice of polish and wax to give the surface a nice shine.
However, I noticed that it would have been a better product if the abrasive particles were better. As it is right now, it requires quite a lot of elbow grease to get any noticeable results. Moreover, you will still need to use polish and wax to shine up the surface and seal it properly.
What We Like
Does not need any additional tools
Can be used to clean and polish multiple surfaces
Restores the shine of brass, copper, and stainless steel
Straightforward using process
What We Don't Like
Needs quite a lot of effort to get significant results
This product might take a bit more effort, but you will get rid of many years' worth of oxidation damage. Hence, it will be well worth it.
10. Meguiar's M6732 One Step Compound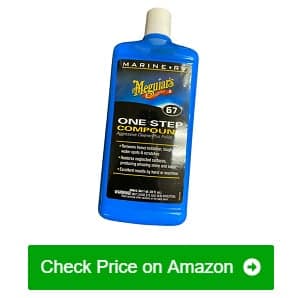 The final entry for you to consider purchasing is an all-in-one solution. It can afford the optimal elimination of moderate to heavy oxidation marks while also leaving a high gloss finish.
Aside from the chalk-like substance caused by oxidation, it can also remove shallow scratches, watermarks, and even rust stains. Unless you put a lot of pressure during the application, it will not cut too deep into the gel coat.
Like its name says, Meguiar's Marine No.67 is a one-step compound, meaning it is both a cutting compound and a polish. You can rest assured that the abrasives in this compound will scrub away the oxidation damage. It will also polish the underlying gel coat to reveal a smooth finish.
The only thing left for you to do after this is to apply a wax coating to preserve the shine.
Probably one of the best features of this product is that it also rejuvenates and brightens up the paint layer underneath the gel coat. Meguiar's No.67 contains feeder oil additives that get absorbed through the gel coat and into the paint. You can expect these additives to help revitalize the color, thereby turning the once dull, washed-out colors back to their original condition.
I also like that you can somewhat get the same results whether you use it by hand, or with the help of a power buffer useful in applying the product onto the affected surface. This is great news if you are only planning to do some spot damage repairs and not do the entire RV.
On the other hand, if you are thinking of extending the treatment to the rest of your RV, you will barely even need to use half of the 32 ounces of the one-step compound in the bottle.
However, this liquid can clean off the oxidation and polish the underlying surface. But if you leave it like that, the oxidation will return in a week or so. You will still need to do one more pass with a good wax to seal the surface and leave a protective coating to prevent oxidation.
What We Like
Removes one step from the whole oxidation removal process
Restores the paint to almost brand new condition
Can be applied by hand or using an electric buffer
Useful in removing surface scratches, water stains, and other non-oxidation related blemishes
Only needs a little bit of the product to work
What We Don't Like
Require a layer of wax for protection
Even though this product is not a true one-step oxidation remover, the Meguiar's No.67 still does a stellar job when it comes to eliminating medium to heavy oxidation damage.
Best Oxidation Removers Buying Guide
Many different brands of oxidation removers are available today, so it is understandable if you feel overwhelmed with the number of choices you have. However, not all oxidation removers are made the same. Also, making the wrong choice might lead to adding more damage to your RV's body.
To help you make the right choice, here are some of the things you must consider once you start to hunt for a high-quality RV oxidation remover:
Compatibility – It meets it should be suitable for use on your RV. Look for a product specifically made for RVs and/or boats. When you are out shopping for an oxidation remover, avoid randomly picking from your choices then expecting that you will be happy with the results.
You need to choose an oxidation remover for boats and RVs right for the type of surface and the degree of oxidation that it will be treating. Do not make the mistake of getting an oxidation remover for cars because RV bodies are made of different materials.
You need to get an oxidation remover that states on the label that it is made for treating RVs and/or boats. These are specially formulated and a bit more potent than what you would use on a car (cars have more fragile paint jobs than RVs) to handle even the most severe oxidation damage.
Price – Some oxidation removal products are on the expensive side, which means you might need to spend a bit of money just to have enough product to treat the entire surface of your RV properly. It means that if you own a Class A recreational vehicle, you might need more than one bottle of oxidation remover.
Although when it comes to oxidation remover, you will get what you paid for. It does not necessarily mean that you have to buy the most expensive one on the list. This kind of thinking will lead to a significantly lighter wallet.
You need to check customer reviews, specifically the products with an overwhelming number of positive versus negative reviews. If these products have a slightly higher price than the cheapest of the bunch, it might be worth the added cost and should be seriously considered.
A note about setting your budget, please do not limit your spending so much that you can only afford to buy the cheapest one. It is an excellent way to guarantee that you will be getting a sub-par product that might not work.
Check the average price of oxidation removers and set your budget to just a bit above that. It will give you plenty of options to choose from, and you might even spot something that works just as well, if not better than the more expensive products.
Versatility – As mentioned earlier, a good oxidation remover of RV is one that can work on different surface materials. The body of an RV is not just made of painted metal. Sometimes, the metal is left unpainted. You can also find some parts made of plastic, fiberglass, aluminum, and hard rubber, among many others.
You need to get a product that can help treat different kinds of materials without damaging others. This type of information is usually printed on the labels of different products. If it does not say that the product is meant for RVs, you should look for another that specifically says it is.
The versatility part is when the product has other uses other than just dealing with oxidation. Aside from dealing with oxidation damage, different versions of it come with wax and polish additives. It means you will not just be treating the oxidation damage but also make the paint job shine.
You can also choose any of those that provide a layer of protection against the sun's UV rays and future oxidation damage.
Ability to last long – You also have to find out whether it will last long before buying. If you intend to purchase oxidation removers that also serve as a paint wax and polish, consider choosing those with long-lasting results.
Keep in mind that you will be applying the stuff all over the entire surface of your RV, so better get a product that will last for at least a couple of months before you have to apply a fresh coat. Even small RV travel trailers will take an entire afternoon to clean and polish. It is not a chore that you would want to do every week or every other week.
Get a product that can provide a shine that will last at least three weeks before it starts to get dull. You will need something that you have to apply just once a month. You can find out what products are useful in this regard by reading through as many customer product reviews as possible.
Ease of use – The process of applying an oxidation remover should not be an overly complicated task. It should not take a rocket scientist to understand the directions for use, and getting consistently positive results should not be difficult. Application of the oxidation remover should not also require the use of specialized tools.
It should not also require you to wait until specific parameters are met before you can use the product. Moreover, you should only need to do minimal prep work on the surface treated with the oxidation remover. Usually, the only thing you need to do is to make sure that the surface is clean and dry.
There is no need to sand the surface and apply other products. The product should also be usable right out of the bottle. It should not require you to mix two different substances before use.
Now, it does not mean that you should actively search for a product that can be used by hand and still get excellent results. A product can still be good if it needs to be applied using an electric buffer.
How Many Types of Oxidation Removers for RV Are There?
Oxidation removers come in several different variations, and they work in slightly different ways. You need to understand which type does what so that you will not waste your time and money on one that will not even reach your expectations.
Here are the different types of oxidation removers currently available:
Multi-purpose – This type is a kind of a jack-of-all-trades in a sense. It does not only remove oxidation to a certain extent but also provides other benefits as well, like paint color restoration and polishing the surface. It can also provide a protective wax coating.
This type of oxidation remover is a bit more expensive than a single purpose, but the good thing is that you can also use it as wax and polish, so you do not have to do them separately. However, seeing as it is a jack-of-all-trades, it is not quite as effective at removing oxidation damage compared to most single-purpose products.
Moreover, if you want to give your RV a real showroom shine, you should at least use separate waxes and polishes since those are infinitely better than multi-purpose products. The biggest benefit of multi-purpose oxidation removers is they are convenient and save a lot of time with their ability to do multiple tasks at once.
Single-purpose – This type includes those products marketed solely as oxidation removers. The primary and sole purpose is to remove stains, chalking, oxidation, and other types of damage brought about by exposure to the elements. Because these items are not diluted with other ingredients, they are more potent at removing the damage.
This type does not also contain additional ingredients like polishes or waxes, making it much more affordable than multi-purpose oxidation removers. If you have a tight budget and have no complaints about spending a weekend afternoon grooming your beloved RV, you just need to get an honest-to-goodness oxidation remover.
It also works for you if you already have actual polish and wax.
How Do RV Oxidation Removers Work?
Luckily, oxidation damage happens only on the top layer of fiberglass and the paint job's clear coat finish. It means that you just need to take off the outermost layer and get rid of the damage. Essentially, oxidation removers are just effective polishing compounds specifically formulated only to treat the paint's topmost surface.
The secret to making an old RV look new is to seal the treated area to protect the paint underneath immediately. Leaving the surface untreated will only make it easier for it to get damaged by oxidation again. So, after you use oxidation remover on the stains on your RV, make sure to use a good quality wax to seal the surface and protect it from further damage.
How Do You Remove Heavy Oxidation from an RV?
To eliminate heavier stains and oxidation, you will need to put more effort into polishing it off. It is also necessary to use an industrial-strength oxidation remover to get the best results. Things will get exponentially even more difficult if you have been lacking in providing care to your RV, causing some parts to rust over time.
To treat rust stains, thoroughly clean the area using your usual car shampoo. Mix some baking soda with a bit of water. Add the water gradually until the baking soda reaches the consistency of a thick paste. Take a bit of the resulting paste and apply it directly to the tough stains. Scrub it in using a soft rag and add more if the paste starts to run dry.
Make sure to work the paste into the stain, scrubbing it in for around five minutes or so, then leave it for about an hour to let the baking soda do its work. After an hour has passed, rinse off the baking soda from the surface. Make sure not to leave any residue behind, then use a good quality oxidation remover to finish off the stain.
The baking soda has larger abrasive particles that will scrub away the tougher rust stains, and once that is taken care of, the oxidation underneath can be treated better. After you finish applying the oxidation remover, seal the top using a good quality wax.
Will Vinegar Remove Oxidation from Fiberglass?
Yes, even though it is not the best way to remove RV oxidation, the acid from the vinegar can work wonders on oxidation damage. You just need to make a simple solution of one part white vinegar to four parts water.
You should then apply the solution on the affected area using a spray bottle. Scrub the area using a damp sponge or clean rag, and apply more vinegar solution if the oxidation persists.
How to Remove Oxidation from RV Fiberglass/ Decals?
First of all, you need to keep in mind that there are different kinds of fiberglass finishes. With that in mind, you have to find out what type of finish your RV has when choosing an oxidation remover. If you have a fairly new RV, like ten years old or newer, it is likely using a fiberglass gel coat, which is usually white or cream-colored.
If that is the case, apply a coating of wax to seal in the newly-polished/cleaned surface to prevent even more damage. To make sure that the product you buy will not cause even more damage than there already is, test it out first on a hidden part, and keep an eye for any adverse reactions, especially on the RV decals.
If it seems like the product is safe to use, proceed to treat the oxidized part with your chosen oxidation remover. Use a soft sponge to apply the oxidation remover on the affected surface and scrub it into the surface. Scrub using the oxidation remover until the surface no longer feels coarse and relatively smoother than before.
Allow the oxidation remover to dry for an hour or so, and then buff the area using a soft microfiber towel. After that, apply a wax layer on top to seal the surface and protect it from further damage.
Care and Maintenance
Unless you have neglected your RV and let the oxidation damage get out of control, you will most likely have a lot of oxidation remover left over after you finish treating your vehicle. If that is the case, you can store it indefinitely since it will take quite a long time before it goes bad.
You just need to store the leftover oxidation remover in its original container. Make sure that the lid is closed tight, and place it somewhere cool and dry. Put it in an area that is not exposed to direct sunlight.
You can also take a look out review on most trusted RV awning cleaner. Don't forget to read our review for RV slide lube and share the post.
Other Oxidation Removers for RV That We Reviewed
3M Marine Fiberglass Restorer
This item is one of the best oxidation removers that you can buy right now. However, it is also one of the most expensive that is currently available. Despite that, it is worth the price, especially if you plan on dealing with severe oxidation.
Key Features:
A little amount goes a long way
Works on a variety of surfaces, from fiberglass, aluminum, and even rubber
Performs well when it comes to restoring old gel coatings
Marine 31 Porter Cable 7424xp Boat Oxidation Removal
This product is a complete oxidation damage removal kit. It does not only include the oxidation remover itself but also comes with a variable speed polisher and a couple of polishing pads.
Key Features:
Comes in the form of a complete, professional damage repair kit
Features not only the oxidation remover but also a polish, carnauba wax, and sealant
Includes a power polisher to make quick work of the oxidation removal
Thetford Corp 55032 Oxidation Remover
This oxidation remover is a multi-purpose product that restores and protects fiberglass. If you want the task done in the quickest possible time, then it is for you.
Key Features:
Contains a 3-in-1 formula that will clean the affected area, polish the damage, and seal and protect against further damage
Can remove oxidation, wax build-up, and many other different kinds of unsightly blemishes
Leaves a long-lasting protective coating that prevents further damage from occurring
3M Perfect-It Gelcoat Medium Cutting Compound
If you want to get professional results, you need to use the tools utilized by professionals. In terms of oxidation removers, this 3M solution is what most pro vehicle restorers use.
Key Features:
Categorized as a professional-grade multi-purpose cutting and polishing compound
Does not only clean and polish the oxidation damage but also leave a protective wax coating
Specifically formulated for fiberglass and gel-coat finishes
Bio-Kleen M00715 Oxidation Remover
This product is specifically formulated for cutting into gel-coat fiberglass coating, so it will make short work of any oxidation damage that your RV might have incurred through the years.
Key Features:
Comes in a 5-gallon container, which is many years worth even for a large RV
Not only removes oxidation, but also leaves the surface sparkling clean
Can remove chalking from all kinds of surfaces, including fiberglass and stainless steel
Star Brite Premium Restorer Wax
If your RV has medium to slightly serious oxidation issues, you need to use this product. Aside from effectively getting rid of the oxidation and other surface blemishes, it also protects the surface.
Key Features:
Can be used for removing medium to heavy oxidation damage
Polishes and leaves wax coating that protects against UV rays
Easy to apply and only requires a little to work
Boater's EDGE Cleaner Wax
Although it is marketed as a product for boats, you can use it on RVs as well. Since this oxidation remover can remove the oxidation and other water damage, it will not have a problem with plain RV use only.
Key Features:
Follows just a one-step process to clean, polish and protect fiberglass body panels
Gently cleanses and restores the bright color of gel-coat
Leaves a highly water-resistant wax coating that will further protect the surface from further damage
Thetford Premium RV Wax
Although it is marketed as an RV wax, it also contains a potent oxidation remover that will also leave the surface cleaner and shinier than before. It can even restore your RV to its former glory.
Key Features:
Formulated for gel coating – It will not harm the surface, but seriously removes oxidation quickly.
Tested safe for fiberglass, metal, chrome and other surfaces
Contains carnauba wax for a shiny and protective finish
3M Perfect-It Gel-coat Light Cutting Polish
If the oxidation damage is not that bad, then you should not use the marine/RV heavy-duty oxidation remover as it might worsen the damage. Use this product to provide just the right amount of restoration and protection.
Key Features:
Professional-grade – It is the same solution that big auto restoration pros use.
Leaves a protective wax layer and seals the gel-coat to prevent future damage
Provides just the right abrasiveness to deal with light oxidation and other kinds of blemishes
Gel-Gloss RV GG-128 Polish and Protector
Suppose you are looking for an oxidation remover for RV that will not only remove unsightly blemishes but also protects the surface from further damage. In that case, this one is what you have to consider investing in.
Key Features:
Can be used on fiberglass, vinyl, acrylic, and other surfaces
One-step cleaner, polish, and wax; removes oxidation and gives the surface a beautiful shine
Ideal for use on bathtubs, fiberglass showers, tiles and other surfaces that are constantly in contact with water
Conclusion
Oxidation marks are just some of the many things RV owners have to deal with, and you can find a way to get rid of them. These issues cease to be a problem when you have the best oxidation remover for RV on your side.
This product can make short work of those unsightly blemishes caused by exposure to the elements. It can also make your RV's paint job look as if it just rolled off the dealership. Your beloved RV will always look its best with a good oxidation remover and a bit of elbow grease.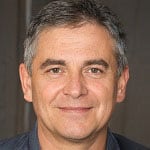 Hi, I am Tom Hank, an RV-er since 2014. Back then, I started without much help. As you can imagine, the struggles are endless. But now, you do not have to begin your adventures knowing next to nothing about RV lives.