Imagine what would happen if even just one of your wheels suddenly stops spinning. The bearings need to spin with as little friction as it can. To attain that, you will need the best wheel bearing grease for travel trailers.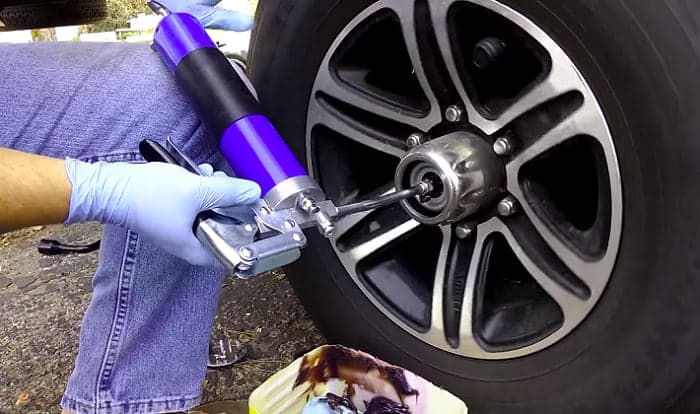 If you are not familiar with this kind of product, here is a guide on finding the best grease for travel bearings. You will also receive a couple of product suggestions to make shopping a lot easier. By the end of this article, you will more or less know what type of grease for trailer wheel bearings you need.
Best Wheel Bearing Grease for Travel Trailers Reviews
1. Plews & Edelmann 11390 Wheel Bearing Grease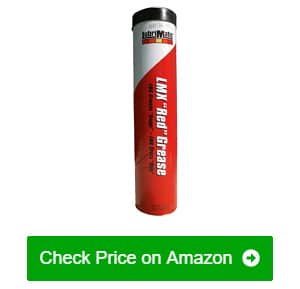 Some people would like their wheel bearing greaser to be a bit viscous, but I find that grease, which is a bit tackier, works slightly better. Considering that fact, the grease from Plews & Edelmann is a perfect option. The product has the right amount of tackiness, which makes it stick better to the bearings.
It also means that the grease does not easily break down even after a long time of use. Best of all, this grease is very water-insoluble since exposure to moisture does not lead to its breakdown. With that, we can rest assured that this grease also works well when used on boat trailers.
Hence, you can immerse the trailer in water, and the bearings will not get wet at all, therefore completely free of corrosion.
Another thing I find impressive in this product is that it has a high-temperature resistance. The bearing housing and the bearings themselves are subjected to high temperatures and pressure. Because of that, the items need to have proper lubrication to prevent the heat from rising. The Lubrimatic 11390 can handle high temperatures, and it will only start to drop off (the grease changing state from solid to liquid) at 510 degrees F.
Besides using it to grease travel trailer wheel bearings, you can also use it in the travel trailer's other components. You will find it useful in most of the suspension components, the steering, and other moving parts that need lubrication.
There is nothing to complain about with this product, but if I have to say something critical about it, it would be that it is a bit on the expensive side.
What We Like
Easy to use and tends to fit into most, if not all, standard grease guns
Comes with just the right amount of tackiness
Has a high-temperature resistance, as well as high drop off temperature
Can be used on other automotive components other than only bearings
Highly water-insoluble and ideal for use in various weather conditions.
What We Don't Like
A bit more expensive compared to other bearing greases
Although this product is a bit more expensive, I believe that the additional cost is very much worth it. It is an excellent RV wheel bearing grease that you should at least give it a try.
2. Triax Wheel Bearing Grease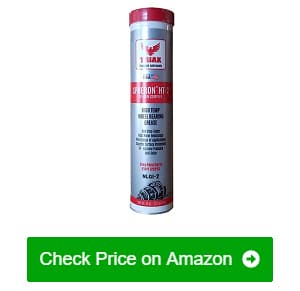 You can trust this Triax Wheel Bearing Grease to stay well on all the available areas within the wheel bearing.
It has just the right amount of tackiness to stick onto a surface and stay there regardless of the amount of pressure applied to it. This grease also has the right consistency, like heavy peanut butter, and it effortlessly sticks on the bearings.
Aside from having just the right viscosity, the Triax bearing grease also has very exceptional waterproofing properties. In detail, when it gets in direct contact with water, a negligible 1.5% loss in mass will be the only issue. So, if you frequent wet or rainy days while out camping, it is ideal to use this grease to keep moisture from contacting the bearings. In some cases, people use it on a boat trailer because the bearings are almost always submerged in water.
This grease also comes with a sufficient high heat-resistance function. You can trust that it works well when the temperature reaches 292 degrees C (550 degrees F). Since the RV wheel bearings get hot quickly, they should be adequately lubricated with this grease.
Besides protecting the bearings from the dangers of moisture and corrosion, the Triax wheel bearing grease also helps protect the bearings from excessive wear and tear. This grease goes on thick, providing a more adhesive coating all over the bearings.
It provides a near-zero coefficient of friction between the bearings and the wheel and the bearings. There is nothing that I can seriously complain about regarding this complex grease. It delivers on all its promises, and sometimes even more.
However, some improvements should be made to its waterproofing feature.
What We Like
The right amount of tackiness to stick onto the bearings effectively
Provides excellent protection against wear and tear
Can withstand extreme heat
Excellent pressure resistance to prevent disintegrating and dropping off
Lasts significantly longer than most multi-purpose greases
What We Don't Like
Technically still not considered as a marine grease by the camping world
In my opinion, this product is most probably one of the best lubricants that you can use or general RVs.
3. Timken GR224C Wheel Bearing Grease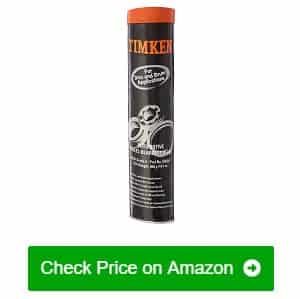 Essential features to look for when you are shopping around for bearing grease is proper viscosity. It should also have a high level of tackiness. Both these qualities are in the Timken brand grease.
Users benefit a lot from the consistency of the grease. In truth, when pressed between the fingers, it does not change at all. Furthermore, it takes little effort to make this product stick onto all of the bearings' surfaces.
Notably, the grease is also so resistant to high heat that you can also use it in disc and drum brakes. If the oil can handle the extreme temperatures that brakes can get, it will have no problem lubricating RV wheel bearings. It means that even if you shatter a bearing, the grease will still retain its consistency long enough to notice that there is something wrong so you can have it fixed.
Although it is not a marine-bearing grease, it is so water-resistant that it may well be re-categorized. Even when submerged in water, only a minuscule amount will washout and dissolve in the liquid.
Even if you are forced to drive through a relatively deeply flooded street, your bearings will still not get any contact with water, thanks to the grease.
Aside from protecting the bearings against moisture and water damage, this grease for RV trailer bearings also contains corrosion inhibitors. It means that even if a bit of moisture penetrates the thick and tacky grease coat, the corrosion inhibitors have penetrated the metal, thus making the bearings virtually rustproof.
Also, as mentioned earlier, this grease piles on thick, so it also protects the metal parts continuously in contact with each other. With that, it can prevent excessive physical wear and lengthening their usable lifespan by a considerable amount.
The aluminum end caps are quite easy to bend, and a couple of canisters that I got looked like they were pretty beat up. Fortunately, I was still able to load them up to my grease gun.
However, if there is something that needs improvement, it must be the packaging of the product.
What We Like
Incredible tackiness and viscosity
Stick well even on non-porous metal surfaces
Reliable waterproofing protection
Offers wear and tear protection for long-lasting use
Rust proof against salt water
What We Don't Like
The flimsy packaging needs a slight upgrade
Although this grease comes in a grease cartridge that is a bit on the flimsy side, the product contained within is truly a game-changer.
4. Plews & Edelmann 10320 Wheel Bearing Grease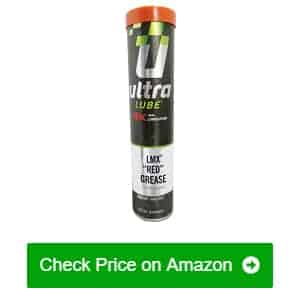 The thing that I liked the most about this RV wheel bearing grease is its high operating temperature, and the heat needed for this grease to drop off.
You can use this grease between the temperature range of -40 degrees F to 427 degrees, which is extreme at both ends. Hence, the RV can promise smooth rides to anyplace with different weather conditions.
Another reason why I liked this grease is that it has a myriad of applications. In truth, you can use this grease on trailer wheel bearings or other vehicles, like farm equipment, tractor-trailers, construction equipment, all-terrain vehicles, and the like. With that, this grease is undoubtedly a true workman's tool.
This grease already has a high maximum working temperature, pressure limit. It also has a much higher drop-off point and flash point, at 527 degrees F and 619 degrees F, respectively. That means it is durable enough to withstand high heat and pressure without shifting from solid to a liquid state and thus not providing nearly enough lubrication for the bearings.
Another nice thing about this product is that it is eco-friendly. The Plews and Edelmann 10320 grease is biodegradable and non-toxic. It means that even if a bit of this grease leaches into the ground, it will not negatively impact the environment.
I do not have any serious complaints about this product. It performed better than I expected it would. However, since it is not petroleum-based, it is a bit thinner than expected.
What We Like
A wide range of operating temperatures, even in sub-zero climates.
Ideal use in all weather conditions
Withstand extreme heat without breaking down or catching fire
Suitable use for bearings and parts that are prone to wear and tear
Excellent tackiness to stick nicely onto metal parts
Made from non-petroleum-based materials
Completely biodegradable and non-toxic
What We Don't Like
The consistency is a bit thin
If your home or garage is near a body of water, you should do your part in making sure that no harm comes to the environment. You can begin by using this wheel bearing grease.
5. Valvoline Moly-Fortified Full Synthetic Grease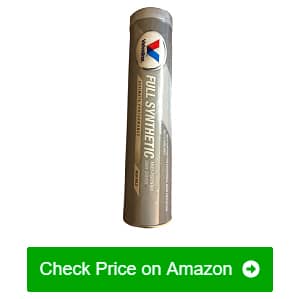 The great thing about Valvoline grease is that it is moly-fortified, meaning it sticks better onto the bearings better than other oils. The moly (molybdenum disulfide) is an additive that makes lubricants adhere more efficiently.
It ensures that there is always a lubricant film between two surfaces, thus preventing excessive wear and tear. This grease can significantly increase the bearings' service lifespan.
This Moly EP grease is designed for high-pressure engine and automotive parts, making it one of the best choices for bearing grease. The moly additive prevents metal surfaces from welding onto each other due to extreme pressure.
Applying this grease on your trailer wheel bearings will prevent them from ever seizing up. You can also use these items in the other parts of the trailer chassis and other moving parts that need lubrication, especially in the steering and suspension systems.
This grease moly also has very effective corrosion inhibitors. Even if a bit of saltwater managed to get into contact with the bearings, it would not cause the metal bearings and their housing to rust. Less corrosion means less wear and tear. Hence, your trailer's bearings will last much longer than previously expected.
This grease is also resistant to high temperatures. It has a dropping point of 500 degrees F. It is the temperature wherein the grease will start to lose its tacky, solid-state, and start changing into a runny liquid. When lubricant reaches its dropping point, it will begin to peel off the bearings' surfaces, thus depriving them of lubrication.
Some say that you should not use fortified moly grease for wheel bearings because they will cause them to slip, but it is not the case for this grease. It is in accordance with the specifications of Ford and GM.
However, you might still get weird looks from other RVers when you tell them that you used moly-fortified grease.
What We Like
Moly-fortified, meaning it can adhere to surfaces better and stay there
Has a very high tolerance to heat, one of the best in the industry
The moly additive prevents parts from seizing up and binding.
Has corrosion inhibitors
Prevents most of the wear and tear caused by moving components
What We Don't Like
Some suggest that moly-fortified grease is not suitable for bearings
This moly-fortified grease is pretty good for trailer bearings in various weather conditions of the camping world.
6. Lubrimatic 11402 Trailer Bearing Grease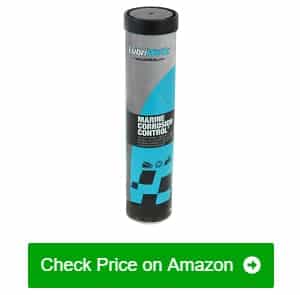 This product is a marine-grade bearing grease, which means that it is entirely waterproof. It is designed for boat trailers, and unlike RVs, their wheels are designed to be submerged for launching boats.
When you use this grease on the wheel bearings of your RV, you can rest assured that not even a tiny amount of moisture will reach the bearing. If there is a bit of moisture that manages to do that, it cannot cause any damage because the Lubrimatic trailer bearing grease contains corrosion control additives. It provides excellent oxidation resistance and prevents rust from forming. The moisture will evaporate without doing anything on the bearings.
This grease also has an almost perfect combination of Viscosity and tackiness. For those of you who are unfamiliar with the term, Viscosity is the property of a fluid (in this case, the grease) to resist flowing. A high viscosity liquid will readily flow, but one that has low Viscosity tends to flow slowly. This grease has low Viscosity, but it is tacky, making it stick easily to the bearings.
It also has a respectable amount of heat resistance. Even though it is used for boat trailers, you can still use it on RVs. RVs are quite heavy, and it translates to the bearings heating up considerably. The bearings will carry quite a lot of weight, and when the RV is in motion, they will heat up significantly. This grease has a very high-temperature rating. It means it will not drop off or catch fire that easily.
The only complaint, more like a minor inconvenience, is that the tin end caps are quite frail. The ones that came in the mail had the ends that were bent in several places, so I needed to straighten them up before I could load them into my grease gun. If the end caps were just a bit sturdier, we would never have any issue with this product.
What We Like
Effective waterproofing, making it effective in preventing moisture from getting into contact with the bearings
Contains anti-corrosive additives
Has just the right combination of Viscosity and tackiness
Designed for boat trailers, but can also be used in RVs and other vehicles
Has a very high pressure and temperature resistance
What We Don't Like
The tin end caps are frail.
This product is one of the most recommended bearing greases available these days. It would undoubtedly be in your best interest to get yourself a couple of tubes of this stuff.
7. Lucas Oil 10005 Red 'N' Tacky Grease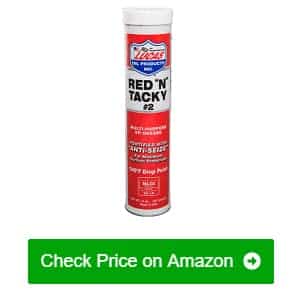 This product is a lithium-based grease fortified with several other polymers to give it the right tackiness and consistency. As its name suggests, this grease is quite tacky, making it easy to apply. You also have an assurance that it will stay in place.
This grease contains additives that minimize the amount of wear and tear that the wheel bearings will be receiving in the long run. It also contains anti-seizing components that refer to additives that ensure that there will always be a grease film on top of the metal components.
The product can prevent the bearings from welding onto each other due to intense heat and pressure due to its high resistant function. It is the reason why this grease is the ideal grease for trailer bearings, as their friction produces a lot of heat.
This grease has a 540 degrees F drop off point, which is the temperature that turns the product into a liquid. This grease is suitable for trailers, for use on the bearings of your car or SUV.
If you have a boat trailer, a fifth wheel, horse trailer, or anything else for that matter, these vehicles will undoubtedly benefit from this tacky grease. You will also find it useful around the house.
If you have some of this grease leftover, you can use it to lubing up hinges, gates, winches, pulleys, and other components that will need lubrication. I do not have anything that bad to say about this grease. It does its job well.
However, if I need to give at least one bad take on this grease, you will need to wear rubber gloves when applying it because it will be hard to wash off your hands. It is mainly due to its tackiness and excellent waterproofing.
What We Like
Provides just the right combination of viscosity and tackiness
Boasts of high resistance to pressure and temperature, allowing it to protect the bearings effectively from different stresses
Has a 540 degrees F drop off temperature -the highest in its class
Can be used in many different vehicles, not just RV trailers
Comes with anti-corrosive and anti-wear additives
What We Don't Like
Very hard to wash off the hands
Overall, it is easy to apply, provides excellent lubrication, stays in place, and generally does all of the things that you would expect from a bearing grease and more.
8. Triax Atlas 600 NLGI-2 Wheel Bearing Grease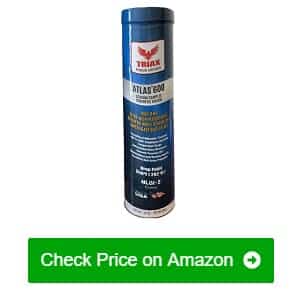 This Triax Atlas grease is ideal for many apllications, such as universal joint, disk brakes, or any car parts that need lubrication since it is incredibly tacky.
Tackiness is essential for the grease to easily stick onto bearings and not come off even when the wheel is rolling down the road. It also ensures that the bearings are always coated with lubricant and not in direct contact with other metal surfaces that will cause it to seize.
The thing that impressed me the most about the Triax Atlas 600 is its exceptional chemical stability. Unlike other brands of grease, this one will never split. I had prior experience with other grease brands where the product needs to be mixed in a tub or any other large container before use when stocked for a long time. The Atlas 600 is formulated in such a way that its components are permanently emulsified.
Another impressive feature of this particular wheel bearing grease is its impressive operating temperature. It starts at -40 degrees F up to 400 degrees F. Moreover, this grease has a dropping off temperature of 550 degrees F. It is the temperature where the oil will become more viscous until it turns into a liquid. With that, it is not just ideal for wheel bearings, but also lubricating brake components and other under chassis components.
The only weak point of this product is that it is a bit on the expensive side.
If you plan on repacking the grease on all your RV bearings, you need to set aside a reasonable budget if you will be using the Atlas 600.
What We Like
Has a no-separating formulation
Features excellent surface adhesion
Boasts of an extensive operating temperature range
Comes with a high dropping off temperature
Useful in a multitude of applications
It is not fair to say that the Atlas 600's price is a con. The added cost is justified as you will be getting one of the best wheel bearing greases on the market today.
9. Mag 1 720 High-Temp Wheel Bearing Grease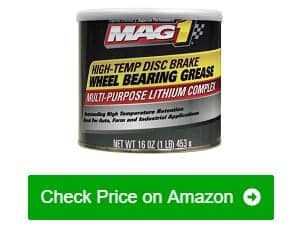 This wheel bearing grease is pretty easy to work with. It has the right consistency, which is just firm enough to hold its shape but is still quite easy to pump into cramped spaces using a regular grease gun.
The great thing about this grease is that it retains its consistency regardless of the ambient temperature. However, it is still best that you use all the oil up at once.
This grease also has very excellent water resistant function. Even when completely submerged underwater, only a very insignificant amount of this grease will wash out. It is great because you can also use it for greasing the bearings of boat trailers, mainly if the boat will only be used in freshwater.
However, if used on a regular RV, you can drive with confidence over flooded roadways, and not even a smidgen of moisture will reach the bearings. This grease is specially formulated to adhere to the bearings and always makes sure that all the metal surfaces are covered in a film of lubricant.
It will prevent the bearings from seizing up even in extreme temperatures and pressure conditions. This grease also boasts of its high operating temperature, and an even higher drop-off temperature, so you can be sure that your bearings are always protected.
Many users are happy with the fact that this grease is fortified with corrosion inhibitors. Hence, the corrosion inhibitors will prevent rust from forming on the surface of the metal bearings, even when just a bit of moisture was to make contact with the wheel bearings' metal surface.
The only problem that I have with the Mag1 grease is that it does not come in tubes. This grease comes in one pound tub, so you will need to scoop enough of this grease and pack it into a grease gun.
What We Like
Has a pretty uniform consistency
Comes with a wide operating temperature
Very tacky and adheres nicely onto metal surfaces
Fortified with corrosion inhibitors to protect the bearings
Boasts of high dropping off temperature
What We Don't Like
Does not come in a tube, only in tubs
In my opinion, this product is a cost-effective investment in bearing grease that every RV owner should have.
10. Sta-Lube Marine Grease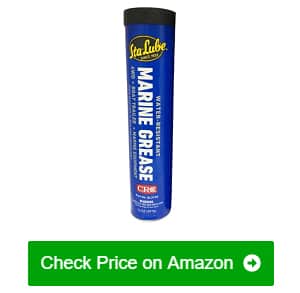 The neat thing about the Sta-Lube marine grease is that, even though it was designed to be used on boats and boat trailers, it also serves its purpose on other automotive applications.
Some of these applications are for the drum and disc brakes, U-joints, and other metal parts that are constantly in contact with each other. This grease is also specially-formulated so that it provides just the right amount of tackiness that makes it easy to apply on metal surfaces.
Once applied, this grease will never let go of its adhesion on the surface. Even when the RV has been traveling for hundreds of miles, the bearings will still be coated with it.
Also, since it is a marine grease, you can be sure that it will never come off even when the bearings are submerged in saltwater. Therefore, moisture cannot reach the metal wheel bearings and cause them to rust and corrode. This grease is also water-insoluble, so it will not also wash out in floodwaters.
Aside from being completely waterproof, it can withstand quite a lot of heat and extreme pressure. This grease has a surprisingly wide working temperature range, which is why you can use it to lubricate disc brakes, the part that can get so hot that the rotors will glow red. This heat gets transferred onto the moving parts of the assembly, so the grease needs to be able to resist extreme temperatures.
The only gripe that I have about this product is that you have to store it at a specific temperature. If you don't, the grease will separate into the base oil and the other contents.
What We Like
Has a wide range of automotive and marine applications
Features a nice tacky consistency that allows it to stick onto any surface
Comes with anti-corrosive and anti-wear additives for added performance
Boasts of an extensive operating temperature range
Can resist high heat and temperature
What We Don't Like
The grease separates when kept in storage for a couple of weeks.
In conclusion, this is a good pick of bearing grease that surely satisfies you due to its fantastic functionality.
Best Wheel Bearing Greases for Travel Trailers Buying Guide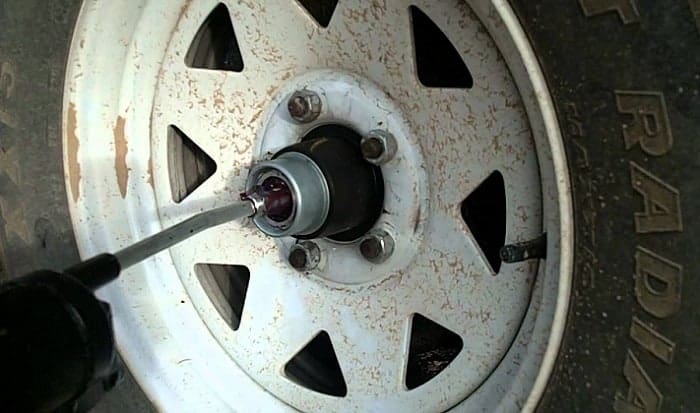 If it is your first time shopping for RV wheel bearing grease, you might run into a bit of difficulty, especially if you are unsure which kind of oil to buy. To help make the task a bit easier, here are some factors that you need to consider once you begin shopping:
Temperature Rating – Here's the thing. You may not notice it, but the bearings can get quite hot. Even though these items are lubricated and more or less roll quite smoothly in their housing, there is still a considerable amount of friction between the bearings and the wheel axle.
Hence, a bearing grease that can withstand extremely high temperatures is necessary. If you buy the wrong type of lubricant with limited temperature, which is not even near the maximum range of wheel bearings, it will disintegrate and lose all of its effectiveness.
It means it will no longer provide lubrication and protection. When you are shopping for bearing grease, check the label for the grease temperature range. You should compare different brands of wheel bearing grease and choose one with the highest temperature range.
Waterproof – The bearing grease itself should be highly resistant to water as it will be the bearings' last line of defense against water and water penetration. If moisture manages to get into the bearing housing, and the grease is not waterproof, it will wash away the lubricant. Without the protection provided by the oil, the bearing will start to fail.
A grease's level of waterproofing is directly related to its oil content. It should be quite high to provide an acceptable level of water protection.
Once you begin shopping, you should look for marine-bearing grease. It is the type used for marine boats. This product has excellent waterproofing as it is designed to keep out highly corrosive saltwater from the bearings of boats.
Viscosity – By definition, viscosity is the fluid's resistance against deformation. In other words, it is a fluid's resistance to flow. It is not necessarily the same as the grease's thickness, but it does seem like that from a layman's viewpoint.
Wheel bearing grease viscosity is denoted by a number from 0 to 6. The number 0 is runny and almost has the same consistency as water, but not quite, while 6 is quite hard, almost like a hard paste.
When shopping for a trailer wheel bearing grease, get one that has a rating of 2. If you cannot find the rating anywhere on the label, check out the contents. The lubricant should have the same consistency as creamy peanut butter.
How Many Types of Wheel Bearing Greases for Travel Trailers Are There?
Here is where shopping for bearing grease can get a bit tricky. You have to choose a type of grease to use on your trailer. There are many different kinds of bearing grease. To choose the right one, you need to study as many of them as you can and pick the one that you think is the best for your needs.
Here are some of the more popular types of grease readily available in most automotive and RV shops:
Calcium-based and Sodium-based Grease – This type of wheel bearing grease has an excellent waterproof quality. However, it is not ideal for bearings that reach extremely high temperatures.
Many people still use it, though, for greasing small trailers or fifth wheels as their bearings do not heat up considerably. Alternatively, if you live and travel mostly in dry areas, and water is not much of a concern, you can get the polar opposite of calcium-based grease, which is sodium-based.
This type of grease has excellent heat-resistance, but not much in terms of water-resistance. It is very impractical to use these two greases on bearings, and it is highly suggested to steer clear of them.
Multipurpose Grease – As its name suggests, this grease is a jack-of-all-trades type of product. It has different properties that are present in other specially-made grease types, although not usually as potent.
Although you can expect its performance to be just fair when used on wheel bearings, the great thing about this grease is that it is useful in other household applications.
For instance, you can use it for lubricating squeaky door hinges, and the like. It is the reason why it is good to have it in your toolbox.
White-lithium Grease – This type of grease is the most popular because it is multipurpose but better than the aforementioned multipurpose grease. It is because this one is geared more towards automotive applications.
This type of lithium complex grease is ideal for metal-to-metal contact as it has superior waterproofing. However, the white-lithium oil is more suitable for vehicle chassis applications compared to wheel bearings.
Disc and Drum Wheel Bearing Grease – This bearing grease is highly recommended for all kinds of RVs, especially the bigger ones, or the ones that are loaded and quite heavy.
You can use it on disc and drum brake assemblies, so they have high heat resistance. It means the product can be of good use in other greasing needs.
Marine Wheel Bearing Grease – If you want one of the best bearing lubricants that you can buy, look for one labeled as marine grease. This grease is made to withstand marine environments as it has very high waterproofing qualities and prevents corrosion due to moisture. The caveat here is that this is essentially a bit more expensive, but that extra expense is more than worth it.
Moly EP Grease – This grease has universal applications, but EP greases are best used for applications that involve extremely high temperatures and pressure. With that in mind, it is very suitable for lubricating wheel bearings, ball joints, and universal joints.
Now that you have an idea of what different kinds of bearing grease are available, you can start narrowing down your choices and hopefully come to a final decision immediately.
How Often Should You Grease Wheel Bearings on a Travel Trailer?
Trailer wheel bearings are some of the most overlooked, sometimes even completely ignored parts of the vehicle, but they also have the most significant load to bear.
How often should wheel bearings be greased? It should be done at least once a week, but if you are always on the road, you need to do it every 3,000 to 3,500 miles traveled.
Moreover, trailer manufacturers recommend that the old used grease be eradicated from the bearing hub and replaced with a batch of entirely new oil. Do not just top up the grease.
Remember that you and your family's safety rests on top of those wheel bearings, so you should not cheap out on grease.
How Do You Grease a Travel Trailer Wheel Bearing?
Even though greasing the trailer wheel bearings is an important task that should not be ignored, the good news is that you can do it yourself. You will only need a couple of essential tools and about an hour of your time.
Doing this task yourself can save you a lot of money, plus you will be learning more about your vehicle's inner workings. First, here is the stuff that you will need:
Rubber mallet or a small hammer
Flathead screwdriver
A couple of rags, old torn up clothes will work
Your choice of bearing grease
A jack
A jack stand or two
A pair of regular pliers
An adjustable wrench
A bearing packer
A note about the bearing packer: you do not need to spend hundreds of dollars on the professional tool, especially if you are working on your RV. There are plenty of affordable ones made of durable plastic that works just as well.
How to Pack Bearings?
Chalk up the wheel on the side of the RV you will be working on. Place the jack underneath the vehicle.
Before jacking up the RV, loosen up the lug nuts a bit. Doing so will prevent the wheel from spinning. The weight of the RV will hold the wheel in place. Once all of the nuts are loosened up a bit, but not completely taken off, you can start jacking up the RV.
Jack the RV just high enough that the wheel can spin freely. Place the jack stands underneath the trailer. It will help the jack support the weight of the RV. You can choose to remove the jack from underneath the RV if you want, but it is better to leave it for additional support.
Remove the bearing cover by prying it off using the flat head screwdriver, or you can also use the rubber mallet, tapping the sides until the cover falls off. Do not tap too hard, or you will end up with a deformed cover.
Wipe off the grease using a rag until the axle nut is exposed. Use your pliers to pull out the cotter pin, and then use the wrench to remove the axle nut and spindle washer. To remove the cotter pin, straighten out the legs so they can pass through the pinhole and then pull it out using the pliers.
Pull out the outer bearing. If it's stuck, hold the tire and shake it from side to side. It should dislodge the bearing and make it easier to pull out. If it is still stuck, get some WD-40 to help it loosen up.
Pry the hub from the spindle, and repeat the process to get to the inner bearing. You can use the pliers to make pulling the seal out much easier.
Use your rags to get all the components as clean as you can. It is best if you will be using ripped old clothes for rags as you will be wiping off used grease, and they are almost impossible to get out.
Use your bearing grease packer to make easy work of packing in new grease into the housing. There are many cheap plastic-bearing grease packers that you can buy for just a couple of bucks. You only need to buy the metal ones if you own a garage.
Spread a thin film of new grease on the bearing races and put the entire assembly back together. Do not forget to replace the cotter pin. It is to make sure that the whole assembly will not fall apart. Before you put the seal back in place, apply a substantial layer of sealant around the edges.
Replace the bearing dust cover and you are done.
Care and Maintenance
There is nothing that you need to worry about with your bearing grease. If there is anything left over after you finish lubing your RV's wheel bearings, just wipe the entire tube using paper towels, replace the cap, and store it somewhere away from direct sunlight.
You need to make sure that you will be storing the leftover grease somewhere where it is not exposed to direct sunlight. Moreover, you should not store grease for too long or at least certain grease brands because they tend to separate. When it gets to that point, it is no longer usable.
The great thing about bearing grease is that you can still use the remaining grease to lubricate other stuff in your RV and household. You can use the remaining grease for lubing up noisy door hinges, garage door, and other things that need optimum lubrication.
Other Wheel Bearing Grease We Reviewed
Lucas Oil 14.5-oz. 10301 Heavy-Duty Grease
This product is not your ordinary grease. It is ideal for challenging conditions, for example, high-speed bearings.
Key Features:
Lasts up to four times longer than other conventional automotive greases
Can withstand exposure to extremely high temperatures
Boasts high water-resistance
Star Brite Wheel Bearing Grease
If you are looking for an excellent waterproof bearing grease that will not break the bank, this product is what you need.
Key Features:
Marine grease, which is virtually waterproof
Provides excellent protection against moisture and corrosion
Can also withstand high temperatures (up to 325 degrees F)
Plews & Edelmann LubriMatic 11404 Wheel Bearing Grease
Although this is a marine-bearing grease, it is formulated for all kinds of use.
Key Features:
Can withstand up to 550 degrees F of heat
Specially formulated water-insoluble formula; guaranteed not to wash out
Efficiently protects against corrosion
CRC SL3184 Marine Grease
This product is a no-frills marine bearing grease. If you are more impressed with results than promises, this product is what you need.
Key Features:
Easy to use, loads easily into mini-grease guns
Lasts for an incredibly long time
Very affordable; comes in a package of three tubes
Plews & Edelmann LubriMatic 11400 Wheel Bearing Grease
This product is another must-try bearing grease. It can withstand immersion in saltwater, and also exposure to 550 degrees F heat.
Key Features:
Formulated to be highly water-insoluble, will not wash away
Can withstand extreme heat conditions
Comes in a pack of four, fits into most mini-grease guns
Allstar ALL78240 me Red Wheel Bearing Grease
This bearing grease is so high-performance that you can also use it for lubricating disc brake systems. It is a multi-purpose grease that you can trust.
Key Features:
Contains corrosion inhibitors, and has excellent water-resistant properties
Can withstand high temperatures without disintegrating
Provides superior protection to your wheel bearings, prolonging their service lifespan considerably
Lucas Oil 10682 Marine Grease
This is a multi-purpose marine bearing grease that can spare you from expensive repairs later.
Key Features:
Lasts significantly longer than regular bearing grease
Contains a very efficient friction reducer
Can withstand heat up to 550 degrees F
Valvoline Multi-Vehicle High-Temperature Red Grease
This came from the makers of top-ranked automotive products, so you can be sure that this bearing grease is legit.
Key Features:
Can perform exceedingly well even in extreme heat and pressure
Can still provide lubrication at 350 degrees F, drops off at 500 degrees F
Provides up to 50% better protection compared to other multi-purpose greases
Quicksilver 8M0071841 High-Performance Grease
This product is one of the best marine greases that you can find. Try it to find out what you are missing.
Key Features:
Will not break down even when submerged in water
Aside from wheel bearings, you can also use it in other automotive components.
Can fit snugly into standard grease guns
WD-40 Specialist Marine Grade Grease
This product comes from the same company that gave the world one of the most popular rust removers. It also works as an excellent lubricant.
Key Features:
Has one of the best waterproof qualities among all other marine grease products
Will not wash out even when submerged in water
Can resist heat exposure up to 620 degrees F
Conclusion
The wheel bearings of travel trailers are some of the most neglected parts of the RVs and other automotive vehicles. The bearings are the part of the wheel assembly that undergoes the most abuse, so it makes sense that you take care of them.
The best way to do just that is to replace the grease regularly. You will need to use the best wheel bearing grease for travel trailers to make sure that you can enjoy more camping trips in the years to come.
Hopefully, with our materials, you can make the right decision to purchase the right one that fits your particular needs.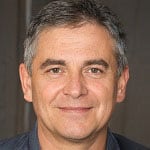 Hi, I am Tom Hank, an RV-er since 2014. Back then, I started without much help. As you can imagine, the struggles are endless. But now, you do not have to begin your adventures knowing next to nothing about RV lives.