When it comes to cleaning the awnings of your RV, the use of just any detergent is not advisable. Depending on the type of awning you have installed on your vehicle, being careless at cleaning it will result in costly repairs.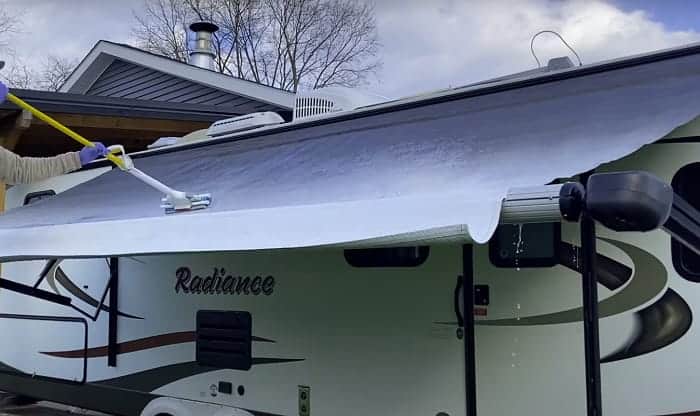 You need to use the best RV awning cleaner to make sure that your RV accessory is always in the best condition. Awning cleaners have special formulations that can effectively clean vinyl, canvas, and other kinds of awning materials without damaging them and ruining their waterproof coatings.
In this article, you will notice the different kinds of awning cleaners that are available, along with some helpful buying guides. To start with, here are some of the most highly recommended products:
Best RV Awning Cleaner Reviews
1. Camco 41024 Awning Cleaner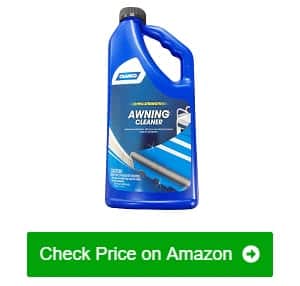 One thing I find so impressive about the Camco Pro-strength cleaning product is that it is tested to be safe for generally all kinds of awning fabrics.
It does not matter if your RV awning is made of vinyl or canvas, this cleanser can handle it without causing any unsightly discoloration. The good news is that even if this product can deeply clean the surface, it will not wash away the waterproofing treatment on the surface of the awning.
It is a highly concentrated cleaning product, so you need to dilute it in some water for regular cleaning purposes. Just 4 ounces of this cleaner mixed into a gallon of water is strong enough to clean even the largest RV awning thoroughly.
This cleanser was formulated to clean all sorts of dirt and grime that you RV might encounter during one of your trips. It is a heavy-duty cleaning solution that can safely remove stains caused by moss, tree sap, bird droppings, and any kinds of dirt.
It is worth mentioning that this multi-purpose product also restores and reinvigorates their colors and designs. If you think that there is no hope left for your years' old and quite dull-looking awning, you will be surprised at how this product can breathe new life into it.
Beyond that, the product needs to be carefully diluted before use. You should follow the instruction to measure out how to mix it with water to create a safe cleaning solution.
What We Like
A versatile solution for use on any awning fabric
Can thoroughly clean the awning without causing damage or discoloration
Highly concentrated, hence a small bit can go a long way
Deals with tough dirt and stains like tree sap, bird droppings, and the like
Restores and brightens up the color of the awning, making it look like new again
What We Don't Like
Needs to be diluted in water before use
Although you will need to be accurate when mixing up a bucket of this cleaning product, it can still effectively clean and restore your RV, so a bit of work is much worth it.
2. Thetford RV Awning Cleaner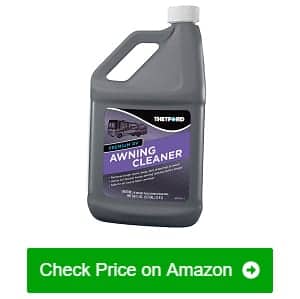 The next product from Thetford is indeed a functional yet safe solution for RV cleaning. Even though this cleaner does not contain any chlorine, it can still deal with tough dirt and stains. Best of all, after being cleaned, your RV is left with a protective coating against the harmful UV rays of the sun.
This product is also versatile. Aside from cleaning my awnings, I have used Thetford Premium awning cleaner on the RV shower, the tires, and on all the plastic and rubber parts of the RV. It is a wonder that this cleaner can be so delicate on the material and yet so tough when dealing with dirt and stains.
Besides, this cleaner is non-toxic and biodegradable. Hence, it is safer for both users, their kids and their pets. I also appreciate that it is biodegradable and safe for plants and grass. Therefore, you can rest assured that no harmful effect is done to the environment due to the use of this product.
Plus, just like me, you are going to love how easy it is to use. When using the solution, I pour it into a spray bottle and spritz a bit of the stuff onto the awning surface. After letting it stand a bit, I can scrub it a bit using a wash brush, then rinsing the surface with water. Notably, you do not have to do any preparation work whatsoever.
The only issue that I have with this product is that it cannot remove mold and mildew quite well. It is especially true if the mold has been left to dry and bake into the fabric.
However, it can still lighten the stain enough that it is barely visible unless you know that it is there.
What We Like
Versatile in use for cleaning RV awnings, bathrooms, and rubber or plastic components
Non-toxic and biodegradable, hence safe for the environment
Easy to use – just spray it on, scrub then rinse.
Can do wonders on the common things that usually stain your awnings
Does not contain any chlorine or ruin the awning's waterproofing
What We Don't Like
Does not do quite a good job against mold and mildew stains
All in all, the Thetford Premium awning cleaner is a good maintenance cleaner that every RV owner should give a try.
3. B.E.S.T. Awning Cleaner
This product from B.E.S.T. is an excellent awning cleaner working on both acrylic and vinyl without damaging either. The versatile model also promises deep cleaning on all surfaces of your RV.
You can use this stuff to clean the countertop inside the R.V., and stubborn stains will go away. Aside from dirt and grime, black streaks, and the occasional bird droppings and other debris, this RV awning cleaning product can also remove mold and mildew with relative ease.
It is also ideal for cleaning your bathroom and kitchen, or wherever mold and mildew would usually rear their ugly heads.
There is no difficulty using this solution. For light stains, you do not even need to scrub. You just have to spray a bit of the cleaner onto the offending stain. It should be just enough to saturate the area. Wait for a minute or two, and then rinse the spot with cold water. The stain should come right off. For tougher stains, you may need to scrub the area a bit with a soft wash brush.
Aside from cleaning the awning fabric, the awning may earn a protective layer that prevents further stains while also providing U.V. protection. If you like to camp near the beach or frequent coastal camping spots, you will surely love how it can protect your awning against the corrosive effects of saltwater.
However, I wish that it would come in a bigger bottle. The amount of awning cleaner in one bottle is not enough for awnings that are 18-feet long or larger. Getting two bottles will result in a lot of cleaning products left over.
What We Like
Cleanser works equally well on acrylic and vinyl
Can be used to remove mildew and mold
Breezy application with light dirt and stains
Versatile since you can use it on different surfaces and materials
Provides a protective layer against saltwater, U.V. rays, and weathering
What We Don't Like
One bottle is not enough to clean larger awnings
When it comes to cleaning efficiency, the BEST Propack is one of the best out there. It is truly worthy of your investment.
4. Korkay Awning Cleaner
This product is one of the most cost-effective RV awning cleaners that you will find in the market these days.
It is ideal if you have an RV cleaning business, or just like to keep your RV awning looking like new. You will be getting a gallon of concentrated cleaner, so this one bottle will last quite a long time.
Remarkably, this camper awning cleaner can deal with a lot of different kinds of dirt and grime. If you live in an area that is full of trees, then you probably have a problem with pollen sticking onto your camper awning. You will be glad to know that this cleaning product will have no problem whatsoever getting rid of green pollen.
Additionally, it can effectively clean mold off RV awning. As long as you have not let the mold stick onto the surface for too long, it will not cause any problem removing all traces of these unsightly fungal growths on your awning. If the mold stains have been there for a while, it might not be able to get rid of the stains completely.
However, it can remove enough that it will be hardly visible at all. I am also delighted to say that this cleaning product can be used on all awning materials. Regardless if it is made of vinyl, acrylic, or even canvas, this solution can clean them all without causing any damage whatsoever. However, if you are a bit apprehensive, you can test this canvas awning cleaner on a small inconspicuous spot first.
Yet, you will need to put in a bit of effort into scrubbing, especially if you dilute it too much.
What We Like
A gallon of concentrated awning cleaner for a reasonable price.
Safe for use on all awning materials
Does not contain any bleach/chlorine
Colour-safe and non-toxic
An acrylic awning cleaner kills and removes mold and mildew
Easy applying and wiping off; no rinsing required.
What We Don't Like
When diluted, the solution tends to get too weak for deep cleaning purposes.
Although this RV awning cleaning solution does have its share of shortcomings, it is still one of the best wash available right now.
5. Star Brite Mildew Stain Remover
One thing that leaves a great impression on me regarding this surface cleaner spray is that it can quickly remove dirt and stains.
The best thing about this Star Brite model is that it immediately works upon contact. Just spray it onto the stain directly then watch and wait as the stain goes away. Once the stubborn dirt is gone, rinse off the excess cleanser.
This solution is a complete cleaning product. It contains a buffered bleach for getting rid of mold and mildew, chelating agents that effectively lift even deep-seated dirt and stains, and surfactants that cut through grease and grime. It means that whatever kind of dirt that you are tackling, you will only need this product. Also, even though it is a "mildew stain remover", you can use it on any kind of stain.
As mentioned earlier, this cleaning product contains a buffered bleach agent. It is different from chlorine bleach as it does not damage the fabric, nor does it cause colors to fade. It means that you can also use it on upholstery without worrying about damaging it. I have even tested it using its full strength, and it did not harm the fabric at all.
I also notice that this cleaning solution is a very versatile product. It does not just work for awnings as well as for those items made of vinyl. You will also find this product useful on different materials and surfaces.
I have used this cleaner to get the dirt and stains out of a wooden deck, and it worked perfectly. Other surfaces that you can safely use it on include, but are not limited to, tiles and grout, concrete, drywall, fiberglass, and others.
However, you should take note that it is a strong chemical cleaning solution, so you should be careful when using it. Even though the buffered bleach is not as caustic as chlorine bleach, it can still harm your skin, so use rubber gloves every time you use it.
What We Like
Works immediately upon contact
No need to do any diluting or preparation to use
Useful in cleaning a wide range of dirt and stains
Does not contain any chlorine – a safe acrylic and vinyl awning cleaner
Works effectively in cleaning different surfaces and materials
What We Don't Like
Can cause slight chemical burns on your skin, so it is advisable to use protective gloves
If you are dealing with difficult dirt and stains, then this solution is surely the best way to clean RV awning you will need to have in your arsenal.
6. Star Brite 071332 RV Awning Cleaner
This Star Brite awning cleaner is a budget-friendly model specifically formulated for cleaning cloth and vinyl awnings.
I highly appreciate its efficacy in removing different kinds of dirt and grime that usually get stuck onto the surface of my RV awning. These include tree sap, bird droppings, rotting leaves, and many more.
I also like how this product was able to remove the leaf stains left behind by the other awning cleaners used before. It can handle even those several-month-old stains. In fact, they completely disappear after I use this product on them.
The best part is that it does not cause any damage to the fabric. Furthermore, this canvas awning cleaner leaves a protective layer on the surface of the awning. It contains additives left behind on the surface of the awning material. It also actively repels dirt and grime, thus preventing stains from developing in the future.
This protective layer also protects against the UV rays of the sun, thus extending the service lifespan of the awning. Although it is marketed as an awning cleaner, it is quite versatile as you can use it on other outdoor fabrics.
For instance, among the patio furniture I have at home is a vinyl cloth hammock, and I regularly use this product to keep it clean and looking like new. I also use this product to clean and restore the color of my car and boat covers. After using it on them, they no longer look dusty and dingy. It somewhat restored the covers to almost brand-new condition.
Although the Star Brite awning cleaner works against stains, it does not work that well against mold and mildew, which is one of its downsides. It can somewhat remove a good chunk of the fungi stuck on the surface, but it cannot completely remove it.
What We Like
Comes as a multi-purpose cleaning RV awning bleach at an affordable price
Can remove stains left on the awning for months
Easily removes tree sap, bird droppings, and many other kinds of dirt on your RV
Does not cause discoloration or damage the fabric
Ideal for use in cleaning and maintaining many outdoor fabrics and surfaces
What We Don't Like
Does not do a remarkable job at cleaning mold off camper awning
Despite the minor flaw, the Star Brite awning cleaner is still a good all-around product you can use for cleaning an awning.
7. Camco 41022 Awning Cleaner
The next entry, the Camco 41022, is another safe yet versatile cleaning agent for use on any awning material.
Unlike other multi-purpose cleaners out there, this one from Camco can also kill and remove any trace of mold and mildew. I have been guilty of rolling up my awning without letting it dry completely, so mold and mildew have always been a problem of mine. Thanks to this cleaning product, those unsightly black and brown splotches have become a thing of the past.
Notably, this best awning cleaner for RV boasts of professional strength. In truth, it is so potent that it will start cleaning right on contact. Just spray a bit of the product on the offending stain and watch as the powerful surfactants in the cleaning product immediately lift the dirt off of the surface of the fabric.
Another amazing thing about it is that even though it can clean awning surfaces quite well, it does not contain any chlorine bleach.
It contains surfactants that effectively lift dirt and stains off of the top of the fabric, but without harming the fabric itself. Hence, you do not need to worry about the threads getting faded or weakened by this awning cleaner.
Still, it can cause some chemical burns on your skin, so you need to wear rubber gloves when handling this product.
What We Like
Ideal for use on all awning materials
Highly versatile to clean all types of outdoor upholstery
Can effectively clean bird droppings, tree sap, leaf stains, and other types of dirt
Works immediately upon contact y needs minimal scrubbing.
Does not contain any chlorine so it will not cause color fading
What We Don't Like
Can cause chemical burns on your hand if you are not careful
This product is one of the best professional-grade RV awning cleaners that money can buy. If you have to deal with tough stains, then you will need this product on your side.
8. Valterra LLC V88542 Awning Cleaner
The Valterra LLC V88542 Awning Cleaner is specifically designed for removing all kinds of dirt from your RV awning.
I have tried it on the usual things that get stuck on the awnings, like dirt and dust, mold and mildew, tree sap, and many more, and I am happy to report that it provided exceptional results.
The Valterra awning cleaner is highly concentrated, so one bottle will go a long way. Just half a cup of this cleaner in a gallon of water will produce a potent cleaning product. It will be more than enough to clean a large 18-foot wide awning thoroughly. You can even load it into a spray bottle for a more accurate application of the product.
Best of all, we can use this product on all types of awning fabrics. It does not matter if you have a vinyl or canvas awning. The Valterra awning cleaner will be able to clean it thoroughly. Moreover, since it does not contain any chlorine bleach, using this cleaner will not cause the fabric on your awning to fade.
Apart from all the other benefits that this product provides, it also leaves behind a protective layer on top of the awning. This layer protects the fabric against stains, keeps dirt and grime from getting absorbed by the awning, and protects it from the dangerous UV rays of the sun. It means that it will not only clean your awning but also prevent it from getting damaged even further.
The thing that I somewhat do not like about this cleaner is that it cannot completely remove mildew stains, especially if they have been given time to get into the fabric.
Meanwhile, if the fungal growth is still considerably new, then expect this cleaner to be able to take it out without any problem.
What We Like
Highly concentrated awning cleaner
Can get rid of a variety of dirt and stains
Can be used on different kinds of awning fabrics
Does not cause discoloration nor damage the fabric itself
Leaves a layer of protection against stains and harmful UV sun rays
What We Don't Like
Has some trouble getting rid of deep-seated mold and mildew stains
Although it may not be as effective as some of the other RV awning cleaners on this list, the Valterra awning cleaner is still a good maintenance cleaning product to keep your RV awning looking like new for many years to come.
9. Dometic D1205002 RV Awning Cleaner
Dometic is known for making some of the best RV accessories and cleaning products, and this awning cleaner is not an exception.
This premium-grade solution can help you deal with all sorts of dirt and grime, including bird droppings, bug splatters, and even mold and mildew.
Just spray it all over the awning, scrub with a soft brush then rinse. It can then restore the awning to its former glory. It does not also contain any chlorine bleach, so it is safe to use on colored awnings. Instead of bleach, this remover contains heavy-duty surfactants that chip away at, and lift off dirt and dust.
Apart from that, using this clean helo further protects the surface of the awning. This product also contains additives that leave a protective layer designed to prevent stains from happening. The protective layer cleans and moisturizes the surface of the awning fabric even.
The only problem I have with this cleaning solution is that you will need to get in there when scrubbing to get rid of deep-seated stains. If your awning is extremely dirty, then you will need to spend an entire afternoon just scrubbing the awning fabric.
What We Like
Strong enough to effectively treat different kinds of stains and dirt
Immediately cleans upon contact of the dirt
Does not contain chlorine or cause discoloration nor damage the stitches
Ideal for use in cleaning both vinyl and or acrylic awnings
Leaves a protective film that prevents further damage and stains
Although the Dometic Premium RV awning cleaner is far from perfect, it is still a well-made cleaning product that you should try to use at least once.
10. Duragloss 542 RV Cleaner
If you want professional-grade results, then you will need to use a professional-grade cleaning product, too and that is exactly what Duragloss marine and RV cleaner can provide. If you have a vinyl awning, and you are adamant about keeping it clean and spotless, then it is one of the best investments you will ever make for your RV.
Aside from the vinyl awnings, it can also work wonders on all the non-porous surfaces on the RV. You can use this cleaner on fiberglass, plastic, and tiles. Even if the stain has penetrated deep inside the material, this professional-grade cleaner will get rid of it completely, or at the very least, make it fade so much that it is hardly visible.
I am pleased to find out there is no chlorine or any other highly caustic materials in this cleaner that can damage your awning. It does the job relying on a specially blended combination of surfactants that work similarly to chlorine bleach. Hence, no sign of color becomes faded, or the stitches get weakened.
Another thing that I truly love about this product is how effectively it works against mold and mildew. Even for ones left on the surface and allowed to dry and stain for a long time, just one application of Duragloss cleaner can eliminate all. For tough stains, you can also use it at full-strength and scrub it into the offending stain.
I do not have any complaints about the performance of this product, but I do have an issue with how it is packaged. It would be better if the package is durable enough not to leak out the solution during shipping.
What We Like
A cleaning product used by professionals
Can work wonders on even the dirtiest vinyl RV awning
Highly versatile with its effectiveness on fiberglass, plastic, and tiled surfaces
Does not contain any chlorine bleach, so there is no risk of discoloration
Completely kills and removes mold and mildew
This product is one of the top three awning cleaners, in my opinion. The performance of this awning cleaner more than makes up for its slight inconvenience.
Best RV Awning Cleaners Buying Guide
As mentioned earlier, there are lots of different RV awning cleaners available in the market today, and not all of them can do a good job. Some may even cause severe damage to your awning. To find out which product will get the job done, here are some of the things you need to keep an eye out for:
The material of your awning – The very first thing that you need to consider when shopping for an awning cleaning product is the actual material used in your awning. Your awning is likely made of either vinyl or acrylic fabric material. It is best to look for a cleaning product specifically formulated to clean either one of these materials.
Using a vinyl awning cleaner on acrylic awnings may cause serious damage on the fabric, or at the very least, unsightly discolored patches on the awning. There is also the issue of using the wrong cleaning product. It may cause damage to the waterproof coating, making the awning relatively useless.
On the other hand, you can find certain brands of awning cleaners that are relatively safe to use on both vinyl and acrylic materials. Take care when choosing this type of product as choosing the wrong one may lead to you spending a couple of hundred dollars or more on a replacement awning fabric.
Price – Another thing you should seriously consider is the amount of money you are willing to pay for the product. When it comes to awning cleaning products, having a higher price does not necessarily mean that the item is automatically better than the cheaper ones.
However, that does not mean that you should just get the most affordable one. You may not like how the product is watered down to reduce costs. One tip before shopping is to set a reasonable budget. Do not set the limit too low, though, or you will have no other choice but to buy the cheapest and usually the least effective cleaner.
You do not need to buy the most expensive one too. You should try to stick to the average price as much as you can. To make it easier to choose, it is advisable to look for customer reviews online so that you will have an idea of how effective a certain product truly is.
Effectiveness – The only real way to test how effective a certain product is at cleaning your RV's awning is to buy a small amount of it and test it out on a small, hidden portion of the awning fabric. It is a big help in finding out how effective it is at cleaning.
If it causes any damage or discoloration, at least you did not waste money on a large container of the stuff. A good product is one that can clean without the need for any extra effort in your part. You can find some good and reliable brands of awning cleaners in the market right now that you just need to spray them onto the surface and wipe off.
You do not need to scrub it in and rinse. Also, if you still need to scrub, it should not be so thorough that it leaves your shoulder extremely sore afterward. If it is not possible to get just a small container or even just a small packet of the said RV cleaner, another way to get important information is to search for online customer reviews.
You can usually find reliable firsthand customer experience stories in online retail sites.
Ease of use – You should get an RV awning cleaner that is ready to use. If possible, it should be in a convenient spray bottle so that you can immediately use it once opened. Some cleaners still need to be diluted and used like normal detergent, which is not that much of a bother.
However, if you want to do a spot cleaning treatment, then it would be best for you to go for a ready-to-use product. You can also find some solutions that are so potent that you just need to spray them onto the stain, and you can watch them lift the dirt and stain away.
You only need to wipe away the excess cleaner. It does not even require you to rinse it off. Moreover, the cleaner should at least be potent enough that it can thoroughly clean surfaces in just one pass.
It means that there is no need for a second or third application. You can choose professional-grade products that are so effective that they only take a bit of the stuff to get rid of dirt and grime.
Versatility – Although it is best to get a dedicated awning cleaner, it is more cost-effective to get a cleaning product that you can use to clean the other surfaces in your RV as well. For instance, you should go for a vinyl awning cleaner that can also be used to clean the plastic dashboard, door panels, and other plastic or vinyl parts of the RV.
However, even if the packaging states that the product is safe for certain materials, you should always do a test application on a hidden part of the thing that you will be cleaning first. You have to do the test just to be on the safe side. If there will be any staining, it will at least be somewhere that is not visible.
Composition – The composition is yet another important factor to consider. You need to check the label to find out if the cleaning product you intend to buy contains any harsh ingredients that might cause the awning fabric to fade or get discolored. Stay away from cleaners that contain acids, abrasive particles, and chlorine.
It is because these substances can potentially damage your awning. Also, look for cleaners that have additives capable of leaving a protective layer on top of the awning. This protective layer should be able to prevent further stains from getting in the awning material. It should be like wax and polish for cars.
Safety – It is also important to consider the level of safety provided by the product, especially if you have pets and/or young children in the family. Choose a product that is not only non-toxic but also biodegradable.
If you ever misplace the container of awning cleaner, and your kids somehow got a hold of it, you can at least breathe easy that they will not get poisoned or become seriously ill. It should also be biodegradable so in case you ever spill any of the stuff on the ground, grass, or plants, they will not suffer from any negative effects because of its chemicals.
Brand Name – Of course, you can almost guarantee that an awning cleaning product that came from a well-known brand will be more effective than one made by a smaller, lesser-known brand. The great thing about choosing based on brand names is that the company making the cleaner cannot afford to put out a sub-par product.
It is because doing so can ruin the reputation they have worked long and hard to establish. On the other hand, there will always be some up-and-coming brands that can give the more popular brands a run for their money. Finding them takes a bit more effort, though, so you have to be patient.
How Many Types of Awning Cleaners for RV Are There?
When shopping for this type of cleaning solution, you will discover that it does not have that many different types. It is the reason why you can see this product being categorized only based on final packaging. In that case, some common options are the following:
Gallon Bottles – These types of awning cleaners are ideal for those who like to buy in bulk, like those who run their own car wash business, or just someone who likes to keep their RV clean and sparkling.
You need to pour the cleaner out and into a spray bottle before you can use it. In some cases, you might even need to dilute the substance by adding water.
Spray Bottles – These RV awning cleaners are the most convenient choices as you can already use them immediately once you take off the seal. These solutions are already prepared and ready to spray onto the surface that needs cleaning. You just need to work a bit of this solution into the surface and wipe it away.
Hose Connectors – These products refer to those cleaners with nozzles that can attach to any regular garden hose. It will automatically dilute the cleaner and spray it onto the surface that needs cleaning. It is great for detailed cleaning of large awnings, like the ones that are 18-feet or wider.
How do RV awning cleaners work?
The reason why RV awning cleaners can do such a good job in cleaning, even though they do not contain any bleach, is that they use natural chemicals that bind onto the dirt and grime and lift them from the surface of the fabric material. RV cleaning products work better than water because they have lower surface tension.
It makes them attract dirt even better. Aside from that, it promotes ease in getting off with just minimal scrubbing. These cleaners do not have any harsh detergents that can dry up and ruin the waterproof coating applied on the awning fabric. It even adds more protection when applied.
The reason why these cleaners can do such a good job at cleaning even though they do not contain harsh bleaches is that they come with efficient surfactants. These surfactants refer to those substances that lower the surface tension of the water. With that, expect these substances to get in and under the dirt and stains, lift them, and wash them away.
Who Makes the Best Awning Cleaner for RV?
A lot of different brands sell RV awning cleaners, but in my experience, only a few of them can be trusted. Among those brands that deserve the trust of the public are Camco, Thetford, B.E.S.T., Korkay, Star Brite, Valterra, Dometic, and Duragloss.
What Should I Use to Clean My Awning?
As previously mentioned, you will need the right kinds of awning cleaner for the material. Also, keep in mind that depending on how dirty or stained your awning is, you will either need a microfiber rag (or any clean rag you might have around). You may also need a soft scrub brush to get the cleaner deep into the dirt and knock it loose.
If your awning has deep-seated dirt, then you might need to make two or three more passes to get most of it out. If even after a couple of passes you still find plenty of stubborn stains on your awning, it means you have taken too long to clean it and it is now permanently stained.
You should just take your loss and do not force yourself to remove the stains as you would most likely create more damage and possibly completely ruin the awning.
How Do I Get Mold Off My RV Awning?
The most likely reason why mold formed on your awning fabric is that you rolled it up while it was still wet with rain and you did not let it dry properly. Most people's first reaction to it is to use vinegar to get rid of the mold, but that is not a good idea. Vinegar contains acid, which will damage the weatherproof coating of the awning.
Fortunately, you can find several brands of RV awning cleaner that can handle mold and mildew just as good as vinegar or bleach, but with the added benefit of not damaging the awning fabric.
Moreover, most awning cleaners come with additives that leave a protective layer on the surface of the awning that prevents stains from happening. You can also expect it to offer adequate protection from the UV rays.
Can I Use Bleach on My RV Awning?
It is generally advised that one should not use chlorine bleach when cleaning fabric awnings because it can cause discoloration while also washing away the protective coating that makes it waterproof. If there are tough stains on the awning, you can use non-chlorine bleach.
It would be best for you to choose the one, which is color-safe, but use it sparingly. Aside from causing discoloration, if the chlorine concentration in the cleaner is high enough, it can eat through the material. Usually, the first thing to go is the cotton stitching at the hem of the awning. When that goes, everything else will start to unravel.
It would be best for you to use dedicated RV awning cleaning products to ensure that your awning will look like new for many more years to come.
Care and Maintenance
If there is still a lot of RV awning cleaner that is left over, then you can rest assured that you can still keep the product for a couple of years before it goes bad. Make sure that the bottle is closed up tightly. You should also keep it in a cool and dark area and make sure that it is not exposed to direct sunlight.
Other Awning Cleaners We Reviewed
Thetford 32822 32-oz. Premium RV Awning Cleaner
This awning cleaning product is specifically formulated for cleaning vinyl awnings, but you will also find it useful for other cleaning purposes that you might have.
Key Features:
Does not contain any chlorine – It will not damage nor discolor the awning.
Can be used to clean vinyl, rubber, and even plastic without causing any damage
This product is very safe – It is non-toxic, non-flammable, and biodegradable.
303 (30313CSR) Products Aerospace Protectant
This product will provide a protective layer on your RV awning to keep it looking new and damage-free for many years to come.
Key Features:
Safe for use on vinyl, rubber, fiberglass, and many other parts of your RV
Protects your awning against discoloration while also repelling dirt and dust, thus preventing stains
Does not need to be rinsed off – It can leave a non-greasy, matte finish.
TR Industries Gel-Gloss RV Wash and Wax
This solution is a wash and wax cleaning product that you can use on all parts of your RV. Aside from cleaning the surface, it also does a pretty good job of protecting it with the aid of a protective coating.
Key Features:
Single-step cleaner and wax
Comes with carnauba wax additives to provide extra protection and a deep shine
Completely biodegradable and safe for the environment
PROSOL Bugs N All All-Purpose Interior & Exterior RV Cleaner
The Bugs N All professional cleaning product can handle a wide variety of different stains and dirt, not just on the RV awning, but also the other parts. It can even clean the interior.
Key Features:
A concentrated product – It can make a total of two quarts of cleaning products.
Can work well on a wide variety of dirt and stains that might occur on your RV
Ideal for use on both the exterior and the interior of the RV
Does not contain any chlorine bleach as it will not damage or discolor your RV awning
Korkay 1-quart Awning Cleaner and Black Streak Remover
This product is a multi-purpose cleaner, but it is mainly made for cleaning RV awnings. It does not contain any chlorine or acids, so it will not cause any discoloration.
Key Features:
Highly convenient as it already comes in a handy spray bottle while also being ready to use
Can thoroughly clean vinyl awnings without causing any discoloration – It can even protect the awning against potential damage and stains
Cleans the rubber tires, painted surfaces, and fiberglass components of the RV
Star Brite RV Wash & Wax
This product is an all-purpose RV cleaner that you can use to clean the exterior of your RV, including the awning.
Key Features:
One step clean and shine process – The product comes with a polish to keep the surface shiny.
Highly concentrated cleaning product – A couple of capfuls of it mixed in an equal number of buckets of water is enough to clean an entire RV.
Won't remove any existing wax on the gel coat nor harm the waterproof coating of the awning
303 Products 30570 1-gal. Marine & Recreation Multi-Surface Cleaner
This solution is an all-purpose surface cleaner that you can use, not just on the RV awning, but also on all parts of the RV where tough stains might present themselves.
Key Features:
Can clean virtually all kinds of surfaces and will not leave any unsightly residue
Can be used to treat any parts of the RV
Ideal for use on household purposes as it will not cause any sort of discoloration whatsoever
30 SECONDS Outdoor Cleaner
If you need a quick and easy way to clean your RV awning without the need for any sort of scrubbing, then you need to get a bottle of the 30 Seconds Outdoor Cleaner and try it out for yourself.
Key Features:
Comes in a bottle that can be directly connected to any regular garden hose
Simple application – You just need to spray this stuff onto the awning, and rinse it off right after; no scrubbing required.
Readily biodegradable as it will break down once rinsed away
IOSSO Mold & Mildew Stain Remover
This product is a highly concentrated cleaner specially formulated for RV awnings and the like.
Key Features:
Can remove stains left behind by tree sap, black streaks, bird droppings, and even rotting leaves
Does not contain any chlorine bleach, which ensures that it will not damage fabrics nor cause discoloration
Can be used to clean awnings, vehicle covers, tents, and the like
Scotts 32-oz. Outdoor Cleaner
This product is another quick and easy way to make your RV awning sparkling clean. It is tough on dirt and stains, but gentle on the fabric.
Key Features:
The bottle attaches to any regular garden hose for easy and efficient application.
Immediately foams and works upon contact with the surface
Needs very minimal scrubbing to lift any deep-seated stains
Conclusion
RV owners like yourself need to take better care of your RV awning. Maybe the next time you wash your RV, you should also include the awning fabric. Just like the other components of your vehicle, the awning also needs proper care and maintenance so that it can last for as long as possible.
For that, you will need to use the best RV awning cleaner. Hopefully, you can gather all the necessary information to find and purchase an awning cleaner that can thoroughly clean and protect the material.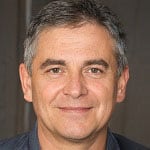 Hi, I am Tom Hank, an RV-er since 2014. Back then, I started without much help. As you can imagine, the struggles are endless. But now, you do not have to begin your adventures knowing next to nothing about RV lives.