Without proper lubrication, the slide-out rooms will no longer slide out as fast as they used to. Once it becomes apparent, it is important that you lubricate the mechanism immediately, or else you will be spending a lot more money on expensive repairs.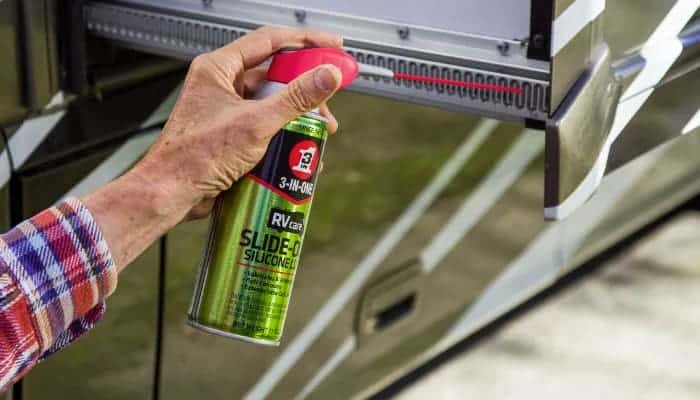 Most undermine the importance of getting the best RV slide lube, which is supposed to be useful in letting it function properly. Of course, your RV slides need a good RV slide-out lubricant.
If it is the first time that you learned that there are specialized lubricants specifically made for slide-out rooms and similar mechanisms, you probably might be confused to pick the right one. Don't worry, we present all the essential things about slide lubrication products in this article. Hopefully, you make an informed decision regarding your purchase.
Best RV Slide Lube Reviews
1. Camco Slide-Out Lube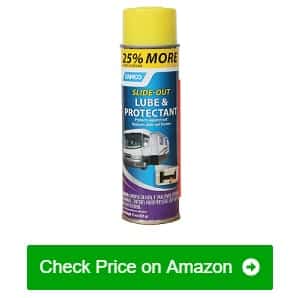 The Camco slide-out lube is specifically designed and formulated for use on the slide on RV.
This product is easy to apply. You just need to point the nozzle onto the components that need lubrication and lightly put a smooth coating of the lube. There is no need to wipe it on. Just allow the lube to dry a bit and it will be all good to go.
This lube coats the metal parts and provides a water-repelling barrier that will help keep your slide-out running smoothly for many years to come. This thin film of lube does more than just lubricate the slide mechanism, it protects the metal from moisture damage like rust, corrosion, and calcium deposits or pitting. Hence, it will prolong the service lifespan of the slide-out parts.
The product has even been tested to last for over 336 hours of continuous exposure to salt spray. If it can withstand significant abuse to protect and revitalize the rubber seals that serve as a protective cover for the slide-out' internals.
More importantly, by applying this substance all over the rubber seals, it will moisturize and revitalize the rubber, making it more pliable and less likely to crack.
The only thing that I did not like about this product is that it takes a while for it to dry, hence it attracts dust and dirt during the application.
What We Like
Easy to use – You just have to point and spray it.
Provides excellent lubrication protection quality
Can immediately eliminate annoying squeaking and other noises
Protects the metal components against water
Useful in revitalizing the rubber seals to make them last longer
What We Don't Like
Takes a while to dry completely
Although it will require a bit of patience to apply correctly, this Camco lube is still quite a good lubricant that you can use to make sure that your RV slide-out will work without any issues for many years to come.
2. CRC Power Industrial High-Performance Lubricant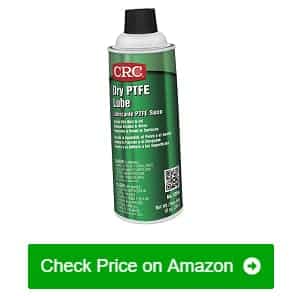 What makes the CRV high-performance lubricant perfect for lubing up the rails and other parts of your RV's slide-out is its ability to withstand an enormous amount of pressure without breaking apart.
Even if your slide-outs are fully loaded when you extend them, it will do so with ease and will not creak or squeak or make any kind of audible noise whatsoever.
Another thing that I like about this RV slide-out lubrication is that it is not harmful to the environment. This product is NSG H2 certified, meaning it is safe to use on meat and poultry processing plants as it is non-toxic.If you have pets around, you do not have to worry about them getting poisoned by this product.
Furthermore, this CRC industrial-grade lubricant can stay on well. Thanks to the PTE additive, this lubricant can adhere to the surface of the slide-out rails for a long time. Therefore, you do have to reapply a fresh coat quite as often.
Speaking of protection, when you apply even just a thin coating of this product, it will provide a water-repelling barrier that will prevent the metal components from rusting and other forms of corrosion.
The only problem that I have with this product involves the straw extension that allows you to spray into tight spaces. The straw will sometimes not connect properly, so users should be careful pressing the button.
What We Like
Industrial-grade formulation guarantees
Prevents rust and other forms of corrosion
Completely biodegradable and non-toxic
Lasts for a long time and highly durable
Can withstand a lot of pressure without breaking down
What We Don't Like
The application straw sometimes does not lock in place, making application a bit hard.
This product is one of the best sprays on RV slide lubricants available. It is even one of the brands recommended by top RV makers, so you should seriously consider getting this one.
3. Protect All Slide-Out Dry Lube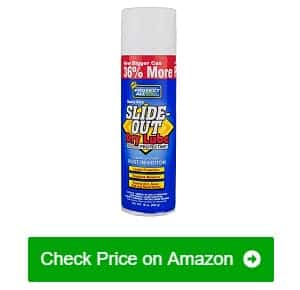 As the name suggests, the Protect All slide-out lube leaves a dry yet waxy film on the surface that it is applied to. Unlike other kinds of camper slide-out lubricant that leave a greasy and somewhat tacky residue, this lubricant is made for components exposed to the air, like the slide-out tracks and other mechanisms.
This dry lube provides ample friction reduction without attracting dirt and dust. This product is easy to use as you just point the spray can and give the surface a proper uniform. Also, this lubricant is formulated to dry quickly and leave a thin yet sleek coating. Hence, there is no need to wipe off any excess since it is capable of distributing itself evenly.
Another nice feature of this lubricant is that it protects the metal parts of the slide-out from damage due to excessive friction.
The lubricating film left behind by this spray also has water-repelling properties. It means that as long as you regularly apply this lubricant, the slide-out mechanism will never rust or corrode.
Another thing to highlight about this RV slide lubricant is its versatility. Although the label states that it is a slide-out lubricant, it still has other applications. We can use it on the door hinges, window tracks, and other parts that will need lubricating, even brake parts. Some use it on their power cutting tools, or even boats since it can withstand saltwater.
However, it is tricky to get this lubricant off if you get any on your clothes. So we need to be extra careful when applying the product.
What We Like
Versatile applications on vehicle parts
Dries quickly and leaves a slick, waxy coating
Highly durable and long-lasting
Easy to use as you just point the nozzle and press on the spray button
Protects the metal components from moisture and water damage
What We Don't Like
Can be quite messy when you miss your target
When using this product, it is highly advised to wear disposable rubber gloves and lay out old newspapers or plastic sheets on the places that you might accidentally hit. However, regardless of these extra precautions, this product performs quite well and is also very affordable, which is a win-win in my book.
4. Thetford Premium Slide-out Lubricant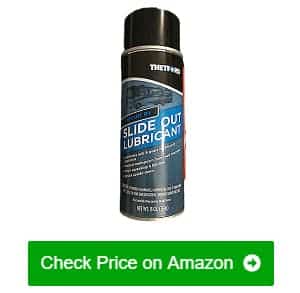 You are going to love how the Thetford premium slide-out lubricant eliminates all squeaking and grinding noises after just the first application.
The best feature of this product is that it also protects the metal components of the slide-out. It leaves a thin film of lubricant, which is also highly water-repellent. With that, it can prevent the metal tracks, gears, and other parts from getting rusty.
I am also happy that this company is doing its part to help the environment by not using any CFC gases as pressure additives for their spray cans. All the cans are pressurized, and all the contents inside are lubricant. It also means that you can use this can even if it is upside-down.
Its efficacy is incredible so there is no need for additional coats. You can save much time and money using this lubricant for your RV slides once in a while.
Even though it says on the label that it is a slide-out lubricant, it does not mean that you cannot use it to lubricate other parts of the RV. In truth, this product is very versatile since you can apply it on the car, such as the tracks of the windows, the hinge at the rear door to make it easier to open and close.
The only issue that I have about this product is that it has a pretty strong and lingering smell.
What We Like
Environmentally friendly as it does not contain any CFCs
Highly versatile for use on other components
Completely waterproof, making it useful even on boats
Provides excellent lubrication and protection against excessive wear and tear
Lasts for a very long time
What We Don't Like
It has a strong and lingering smell.
The issue that I have with this lubricant is mostly subjective, and it does not take away from the fact that this product is very effective at keeping my slide-outs working like a charm.
5. Permatex 80070 Silicone Spray Lubricant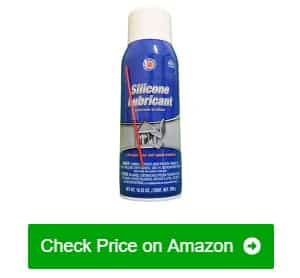 The Permatex 80070 is a silicone-based product, making it an effective lubricant. That means when it dries, it only leaves a thin, wax-like film, and does not attract dirt and dust.
This lubricant provides a waterproof barrier that protects the metal parts of the slide-outs. It means that even if the rubber seal covers the metal track and the gears that push the slide-out in and out, water can't penetrate through the silicone lubricant. It can further prevent rust and other forms of corrosion.
This product is excellent for re-conditioning and moisturizing the rubber sealing gaskets, making them pliable and flexible again. People also use this spray on the rubber tracks and the door seals since it causes no adverse reaction to paint and plastics.
If you accidentally spray this stuff on anything, you can easily wipe it off using a paper towel. Just do not let it dry up on the surface as it will be harder to remove.
If you have a boat, you can also use it to lubricate any parts that need it because it is entirely waterproof. It can even withstand extended exposure to saltwater.
One minor drawback of this product is the delivery system. It is okay if you will be spraying over a wide area, but for pinpoint lubrication, it can get a bit messy.
What We Like
Leaves a dry, yet slick surface that does not attract dirt, dust, and debris
Protects the metal components from water damage, like rust and acid rain damage
Can help recondition and restore the rubber seals of the slide-out
Protects the rubber seals from the harmful UV rays of the sun
Can be used on other components that need lubrication
What We Don't Like
Can be quite messy to apply
The issue with the messy application can be mitigated just by careful and deliberate use, so do not let that convince you not to give this product a try. It is surely a good investment.
6. Kwikee 905068000 KwikLube
People who want to purchase a multiple-purpose lubricant for different applications can rely on the Kwikee 905068000 KwikLube. It proves excellent to use on the slide-out mechanism and other RV parts.
With that, You can apply it and expect the oil to work well on the RV steps, the support arms of the awnings, and so on. It is also not a silicone-based lubricant, so it does not dry up.
The lubricant stays clean when being applied to RV slide-outs. Moreover, because it is a petroleum-based lubricant, you can easily clean it up using paper towels if you spray a bit too much on the surface.
Although not quite as effective as dry silicone-based lubricants, the Kwiklube does a respectable job protecting the metal parts of the RV slide-outs against water and corrosion. Also, when exposed to the weather, it will take a hefty downpour to wash away the Kwiklube.
Surprisingly, this petroleum-based lubricant has a wide operating temperature range. Regardless of whether it is scorching hot outside or freezing cold, this lubricant will keep its consistency and work as it usually would. It is not like other lubricating grease and oils that freeze and seize up when the temperature drops even slightly.
Apart from that, we can use the plastic straw for precise applying. However, some customer reviews still claim that the can of lubricant they received does not have enough propellant to empty the can.
What We Like
Has a wide variety of uses besides lubing the slide-out mechanisms
Boasts of a high water-resistance rating
Helps protect metal components against rust and corrosion
Easy to use as it comes with a plastic "straw" for precise application
Easy to clean in case of spills or wrong applications
What We Don't Like
Some cans do not have enough propellant in them
In my opinion, this lubricant is still undoubtedly effective as it delivers on all its promises.
7. Roadmaster 747 LubeMaster Silicone Spray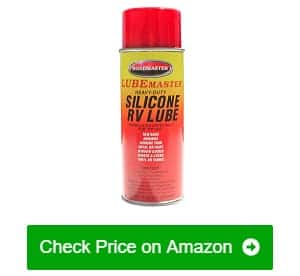 We can use the Roadmaster 747 LubeMaster Silicone Spray as a protective coating to waterproof or prevent the RV slides from rusting.
Usually, this piece provides a thin yet very slick layer in one application. But when you use this lubricant on RV slide-outs, three or four coats is needed to provide enough lubrication and make the slide-out glide smoothly.
Do not worry about the lubricant film getting scraped off. This lube adheres to the surface durably, and you can only remove it using turpentine.
The product leaves a thin layer of silicone lube that prevents water and other external hazards from contacting the metal. Hence, you can also use it for lubing up different parts of the vehicles and machines around the house. For instance, if you drive an older, classic car with chrome accents, you can use this product to not only make these parts shine.
It is noticeable that the product is easy to use. One of the biggest draws for me in using it is that it dries quite quickly after application. In truth, we only have to wait around 30 seconds for the lubricant to dry completely before we can put the rubber seal back. Other lubricants I have tried had me wait for at least an hour for them to set properly.
I have nothing much to complain regarding the Roadmaster lube, but I do have one small gripe, and it is about the spray tube. It is already 2020, and they still use the same style of the tube that went in style in the 90s, the one that you have to stick into the nozzle.
What We Like
Easy to use, dries up in just seconds
Lasts for months without needing a touch-up application
Provides excellent protection against wear and tear
Creates a waterproof barrier to prevent rust
Can be used to lubricate other RV parts as well as for household applications
What We Don't Like
The spray smart straw is a bit outdated and easy to misplace.
This product is one of the most highly recommended spray lubes in the market today. If only the company updated the can and nozzle design, it would have gotten perfect marks.
8. 3X Chemistry 99033 EZ Slide Slide-out Lubricant
Another well-made product that should be included in this list for its functionality is the 3X Chemistry 99033 EZ Slide Slide-out Lubricant.
In exchange for a pretty high cost, we have, in return, an effective lubricant that stops the excessive noise coming from the RV slides. When you use this product on the tracks, they immediately run smoothly and silently.
Furthermore, first-time users do not have to worry much about applying this lubricant. It does not make a lot of mess like other oils do. Unlike other lubes wherein you need to use a rag to apply, with this product, you just need to spray and wait for it to cure. This stuff dries clear but leaves a thin water-repellent film that feels waxy.
This lubricant does not just make the slide-out parts but also provides a weatherproof coating that prevents rust and corrosion. That means anything that it coats will no longer be penetrated by water, making rust and other forms of corrosion almost impossible to occur. It will extend the service lifespan of the slide-out by at least a couple of years.
I am also happy to say that you can use it for other purposes, not just to lubricate the slide-out. In fact, this silicone lubricant works excellent on sliding windows. It makes the rubber seals pliable and supple again, making opening and closing my windows a lot easier.
The only thing that I did not like about this product is the spray hose nozzle. The plastic straw is not a part of the can, and it is so thin and small that it will not take much to misplace it.
What We Like
Works very efficiently
A thin coating for the slide-out to operate smoothly
Protects the metal parts from rust and other forms of corrosion
Revitalizes and renews the rubber seals
Can be used for other purposes other than lubricating the slide-out
Dries fast and does not allow dust and dirt to stick onto the surface
What We Don't Like
The spray hose is easy to misplace.
The issue that I have with the spray nozzle is subjective at best, but that does not take away from the benefits that this product provides.
9. Star Brite 78212 Premium Slide-Out Lubricating Fluid
You will be pleasantly surprised to find out that the Star Brite Lubricating Fluid works almost immediately.
The slide-out can perform with hardly any sound at all after just one application. This product deposits a thin film of lubricant on top of the metal that reduces the friction between the two contacting surfaces to almost zero.
It does leave not only a thin film of lubricant on the surface but also penetrates the metal. It conditions and strengthens the metal and inhibits the formation of rust and corrosion.
Most users are amazed at how versatile this lubricant is. However, it is best used for metal-to-metal contacts, such as hinges, metal joints, and the like. With plenty of leftovers after finishing lubricating the slide-outs, people can use it on various objects. It also works well to recondition the material.
The only problem with this lubricant is that it takes a rather long time to dry up properly. While it is in the process of drying, it will attract quite a lot of dust.
It is advisable to use this product in a place that is relatively dust-free or inside your garage. You can also use a hair blower or a heat gun set on low to hasten the drying process.
What We Like
A little bit of this product goes a long way
Reduces the friction between two rubbing surface to almost zero
Protects the metal parts against moisture damage, rust, and other forms of corrosion
Can be used for many other lubricating purposes
Can also be used to recondition rubber seals and tracks
What We Don't Like
Takes a while to dry and set completely
Although the application process may take a while, it is very well worth the wait. Your slide-outs will work like brand new after using this lubricant.
10. Thetford Premium Slide-Out Conditioner and Protectant
Although it is not a slide-out lube, this product is also worthwhile to use. This product works by coating the rubber seals that cover the slide-out tracks and gears and prevents it from drying out. It can recondition the rubber, making it pliable and stretchable again, preventing it from tearing.
Aside from making the rubber seals flexible again, it also provides a protective coating on the surface. This coating protects the rubber from water damage. Most importantly, it offers protection from the sun's UV rays.
Notably, you need to spray a bit of this stuff on the seals and then wipe them down using a clean rag or a couple of paper towels. After just a minute or two, the seals looked brand new, and more importantly, they worked like it, too.
This RV slide-out rubber seal lubrication is not just for the rubber seals. You can also use it on any rubber or plastic components of your RV or car.
The only complaint that I have is that the can does not come with a spray tube to concentrate the spray and make it easier to apply in tight spaces.
What We Like
Makes the rubber seals flexible and pliable again
Prevents the rubber seals from drying out and cracking
Leaves a thin film
Protects the rubber from the harmful effects of UV rays
Can be used on other rubber and plastic components
Easy to use and lasts a long time
What We Don't Like
Does not come with a spray tube
Even though this RV slide-out seal lubrication did not come with the spray tube, you can use the ones that came with your other spray lubes if you have them. It does not change the fact that this product is quite effective and is a must-have in any RV owner repair tools box.
Best RV Slide Lubes Buying Guide
When shopping for an RV slide-out lube, it must consider some crucial factors that can contribute to your final decision. Some of the key factors are the following:
The amount of lubricant needed – Some lubricants can provide more than ample lubrication using just a bit of the product. On the other hand, you can also find other oils that require you to use quite a lot to get the same results.
However, more effective lubricant also tends to be a lot more expensive than the latter. With that in mind, you have to consider how much of it you need to apply to know if it fits your budget or worth buying.
Quality of protection – A slide lubricant is not just for making the tracks slippery, but also for protecting the elements. Keep in mind that the slide-out tracks will be exposed to the outside elements, so getting a lubricant prevents corrosion like rust or pitting in the metal tracks.
Ideally, the lubricant should be highly water-resistant and provide more than enough protection against the sun's UV rays. These additional features will not only aid in ensuring that the slide-out room functions as it should, but also prolong the service lifespan of the entire RV. It can also save you from costly replacements and repairs.
Ease of use – Of course, the lubricant that you get should be easy to use. It should at least be easy enough to use that you can apply the product yourself without using any specialized tools, or even have someone else help you with the task.
This factor is critical if you do not know how to lubricate RV slides. Keep in mind that you will be lubing the slide-out tracks regularly, so the whole process should be something that you can easily do.
A tendency to get runny after application – Does the lubricant get runny after applied? You should do your best to avoid products that drip or run a short while spraying it onto the slide-out track.
Aside from being messy, which is just another one of the things that you would not want to deal with, it is also a sign that the lubricant is not as good as it claims to be. Moreover, if the grease is runny, it will attract dust, dirt, debris, and other road elements to stick onto the tracks. Not only is this unsightly, but it can also cause a lot of problems.
First of all, the debris will cause the slide mechanism to jam up and might even cause the actuator motor to burn up. Also, the organic compounds in the debris will decompose and start to stink after a while. It will also be a cause for mold and mildew to start growing in your RV.
Price – Of course, you will need to buy a lubricant that fits in your budget. However, you should also make sure that you set a budget that you can efficiently work with.
However, if you set your spending limit so low that you can only afford to get the cheapest lubricants available, you might end up spending more on repairs later. It is because the products you got did not perform as they should.
How Many Types of Slide Lube for RV Are There?
When you are shopping for lubes that you can use for your RV slide-out, you will instantly discover that you have quite a lot of options.
For instance, some lubricants have a dry and wax-like consistency while others are liquid, and look just like regular oil. When searching for slide-out lubes, you will come across a myriad of options on today's market. It is quite possibly the exact reason that you felt an article like ours could help. People also often ask whether all these products are the same.
Moreover, some RV slide lubricants are petroleum-based, which is like regular machine oil. You can also find those that are silicone-based. Choosing a type of lubricant based on its composition will usually depend on the suggestions by the manufacturer of your RV. Still, you can also consult with other RV owners and ask for their opinions.
You can also find lubricants that come in different forms. You can find those that come in a spray can. These products are sprayed onto the surface that needs lubrication, and upon contact, they will quickly dry and leave a greasy film on top. It can help make it easier for the slide-out to glide over the tracks.
Then there are the ones that look like and have the consistency and feel of car polish. This type requires you to apply it on the rag first and then wipe it onto the surface that needs lubrication.
Both of these options have their share of pros and cons, but it will eventually be up to your personal preference. Weigh the features of both types and figure out which one fits your particular needs.
How Do RV Slide Lubes Work?
If you are new to RVs and in anything automotive in general, you might be wondering why you would need to buy an RV slide-out lube. There are several ways that an RV slide lube would work for you:
Eliminates irritating squeaks – One of the main reasons you are thinking of buying slide lube is that you want to remove the annoying squeaking sounds that it makes when it slides out of your RV.
What used to be something that happens quietly is now quite noisy and sounds like nails dragging across a chalkboard. Applying a liberal amount on the moving and moisy parts will more or less eliminate the annoying noises. It also makes the slide-out function properly again.
Prevents rust and corrosion – The reason your slide-out rooms have started to squeak when you open is that the surfaces have gotten rusty, and the noise is coming from the rusted parts rubbing against each other.
When you apply lubricant on the moving parts and the tracks of the slide-out, you are providing a protective layer on top of the metal. It prevents rusting and other forms of oxidation from occurring on the metal parts of the slide.
They are versatile – Also, you should get slide lube since you can lubricate other parts of the RV. With the lube left from lubricating the premium RV slide-outs, you can use it to grease up the hinges on the doors, windows, and other parts of your RV that might be squeaking.
You can also use it to lubricate certain parts of your car and in your home.
How Do You Lubricate an RV Slide-Out?
Having the right lubricant will not be of much help if you do not even know how or where to use it. If it is the first time that you will be reapplying lube to your RV slide-out, here are the steps on how to do it the right way.
Fully extend your slide-out – You will only have access to the moving parts of the slide-out when it is fully extended. Doing it this way is much more convenient and safer than crawling underneath the RV and navigating by touch until you find the parts that need lubing.
Look for the rubber seals of the slide-out – These are rubber seals that protect the metal parts that push the slide room in and out. Although these seals are not made of rubber, you should still apply a right amount of lubrication to get moisturized.
It will prevent them from drying up and cracking. Completely cover the entire surface of the seals with lubricant. You do not need to apply that much. Just one coat is enough.
Pull the seals aside to expose the metal components – Spray a liberal amount of lubricant on all the moving parts like the gears, sliders, and the track, and any exposed metal parts so that they will not get rusty or pitted over time.
You do not need to empty the entire can of lubricant on one side of the slide-out room. Apply just enough grease to cover the metal parts with a thin film of lube. Once you are finished, put the seal back in place and give the slide-out room a couple of rounds of extension and retraction.
Are RV Slide-Out Supports Necessary?
Some RV owners say that you will need to put slide-out supports to lessen the stress put on the cantilever part of the slide-out rail. However, you will also find that the majority of the RV owners will advise against it.
Here is the rub. RVs with slide-outs are already designed with the maximum weight of the slides-out rooms, so you do not need to put supports underneath them. Doing so may cause more harm than good. Picture this. You parked your RV in the campground. You put the slides out and place supports underneath them.
After a day or two, the weight of the RV's main body causes it to settle a couple of inches into the ground, but the supports remain at the same level. It will cause massive damage to the slide-out mechanisms. If you think the same will not happen if you are parked on asphalt, think again.
When asphalt heats up under the sun, it will still cause your RV to sink considerably. Again, you do not need to add RV slide-out supports since they only tend to cause more harm than good.
Care and Maintenance
There is not much that you can do in terms of care and maintenance of RV slide-out lube. You need to store it properly if there is any of it left. It is especially true if you use the spray can silicone lubricant. You need to make sure that the cans of lube are stored in a cool, dry spot, and it is not directly hit by sunlight.
It is vital to keep the cans dry because if the bottoms get rusted, there is a good chance that the propellant and most of the lubricant will leak out. It is also not recommended to store leftover RV slide lube for too long as it might lose efficacy over time. The best thing you can do is use up anything that is left over as soon as you can.
Other RV Slide Lubes We Reviewed
3-IN-ONE RVcare Slide-Out Silicone Lube
This 3-in-1 silicone lube makes the metal parts of your slide-out glide together effortlessly and has other neat uses.
Key Features:
Specifically made for lubricating and protecting slide-out mechanisms
Dries quickly and leaves a thin film of lubricant that lasts quite a long time
This silicone 3-in-1 lube can also be used to moisturize and condition the rubber seals of the slide-outs.
3 in One RVcare 11-oz. Slide-out Silicone Lube
If you are lubing up the slide-outs of your RV, you might get an additional can of window track lube.
Key Features:
Helps reduce friction in the window tracks, making them easier to open
Can prevent corrosion in metals, conditioning them so they can last longer
Dries quickly and will not allow dirt and debris to stick to it
CRC 03044 Dry PTFE Lubricating Spray
This product is one of the most efficient lubricants that you can buy right now. If you use it on your slide-outs, it will be a long time before a reapplication is needed.
Key Features:
Effectively waterproofs anything that it coats
Not tacky at all and will not attract dirt and debris
Has a low coefficient of friction, which means that it is slippery
Plews & Edelmann LubriMatic 11400 Wheel Bearing Grease
Most RV owners often neglect to take care of the rubber seals of their slide-outs. Fortunately, this product can make rubber seal maintenance a lot easier.
Key Features:
Leaves a waterproof film that prevents rust and corrosion
Greatly decreases the friction during slide-out extension and retraction
Provides ample UV protection, so seals will not get brittle from sun exposure
Penray 7005 Inner Slide Lube
This product is both easy to use and long-lasting. It is a great value for the price.
Key Features:
Instantly adheres to flat surfaces, guaranteed will not run
Fortified with Moly-sulfide for longer lasting and superior lubrication compared to other brands
Provides more than ample protection against corrosion
WD-40 Specialist Dirt & Dust Resistant Dry Lube
One of the most popular lube brands has its RV slide-out lube, which is very good at its job.
Key Features:
The industrial-strength formula guarantees deep penetration and conditioning of metal parts.
Has a wide operating temperature range
Applies dry, and provides a low-friction surface that lasts for a long time
Star Brite Rubber Seal Conditioner & Protectant
Protect the rubber seals, and they will help protect your RV slide-out. Use this product to make sure that your slide-out rubber seals are always in perfect condition.
Key Features:
Specifically engineered to protect and revitalize rubber seals and other kinds of rubber components
Prevents the seals from sticking, thereby preventing them from tearing as well
Protects the rubber seals from the harmful effects of the UV rays
Thetford 40003 Slide-Out Dry LUBE PROTECTANT
You can keep your RV slide-out operating as smooth as it did when it rolled out of the lot by regularly using this dry lubricant.
Key Features:
Formulated with a water-repelling formula that will protect all the metal parts against moisture
Leaves a thin coat of lubricant to help prevent the formation of rust and pitting
Considerably lengthens the service lifespan of your slide-out moving parts
3X: Chemistry 99032 Seal Saver
Rubber Seal Conditioner helps increase your slide-out rubber seals' lifespan and any other rubber components of your RV for that matter, by regularly applying Seal Saver conditioner on them.
Key Features:
Leaves a water-repellant film over all the metal components, so it protects them against rust
Keeps rubber seals supple and pliable, making them less likely to crack or rip
Can also be used on window and door gaskets
Hot Shot's Secret Slide-Out Lubricant
This product is specially formulated for use on RV slide-outs, but you can also use it on any other component that may need lubrication.
Key Features:
Sprays on evenly and dries quickly; will not drip or run and cause a huge mess
Leaves a lubricating film that lasts for a long time
Prevents the metal parts from rusting, pitting, or showing any other signs of corrosion
Conclusion
RVs that have slide-out rooms are some of the most expensive vehicles today, and much of that added premium value comes from the sophisticated slide-out mechanism. However, this same complicated mechanism is also one of the most neglected.
If you want to ensure that your RV slides work as intended for many more years to come, you need to regularly lubricate the moving parts. Proper lubrication will make sure that the moving parts responsible for making the slide-out room move in and out from the RV's main body.
However, not all RV lubes are created equal. Some are exponentially better than the others, and you should buy and use only the best RV slide lube that you find. Hopefully, our article can help you make an informed decision regarding the purchase of an RV slide lube.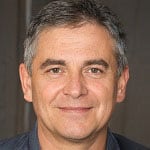 Hi, I am Tom Hank, an RV-er since 2014. Back then, I started without much help. As you can imagine, the struggles are endless. But now, you do not have to begin your adventures knowing next to nothing about RV lives.