Are you used to eating hot food all time or stacking up frozen foods for your next camping trip? Or, is it the winter season when you like to travel? Also, camping at an offbeat destination might be thrilling, but it means lack of fresh food and restaurants. Yes, you will have to carry tons of frozen foods to satiate your tummy during the trip, and for that, you will need a microwave for defrosting it. And if you are confused between RV microwave Vs. home microwave, consider the following guide.
Benefits Of A Microwave
Compact size – An RV has a limited amount of space. You can fit a microwave inside a cabinet so that your countertop remains free. In that way, you can use the free space and keep other appliances/eatables there.
Convenience – Many people do not wish to cook on a stove inside their vehicles. Moreover, due to adverse weather, you might not be able to grill your food outside. A microwave proves to be very useful in such situations. It will also keep your RV free of smell and smoke. You can put or position the lightweight device anywhere as per your desire.
Saves time – When you cook on a stove, you will have to wait for all the ingredients to cook slowly. When you put them in a microwave, the cooking time is reduced significantly. You can set the timer and indulge in other activities waiting for your food.
RV Microwave Vs Home Microwave
When you buy a medium-sized or large RV, you will come across options that already have built-in RV microwaves. If your RV does not have a pre-installed microwave, you can fix a home microwave as well. But you must have the device because it is imperative to have it during camping.
You should go for a microwave that runs on a maximum of 1000W (watts), as these can be operated utilizing a large capacity generator or battery. But if you have an electrical hookup at the campsite, you can choose any kind of microwave.
Furthermore, the two differ in the way they function. An RV microwave is generally used for heating up and cooking basic food items, while a home microwave can be used for advanced cooking as well.
But a home microwave will use more electricity, and operating multiple electrical appliances at once might not be possible if you do not have a constant electricity supply. Watch Long Long Honeymoon's guide to gathering some tips on setting up an RV kitchen.
In truth, you should use a home microwave if you are going to live in the rig for an extended period. However, for weekend trips and short-period camps, an RV microwave would be a better option.
RV microwaves are designed in a way to fit small kitchens in an RV and consume less power. But you may not be able to cook food in those devices or heat a large quantity of food at a time. RV microwaves, however, are more compact and suitable for campers.
Choosing The Ideal Microwave For Your RV
There are some specific features you need to look for before buying any appliance. When you are investing in a microwave, you must consider the following.
Power – Focus on power levels while buying a microwave. The unit should have at least 10 power levels. If it has fewer power levels, it will provide you with less control overheating.
Capacity – An ideal microwave must have a cubic foot of capacity. A lesser space inside the device means you cannot cook large meals at once, specifically during special occasions or outing with your friends and family.
Automated Functions – You should also look for automated cooking options. The current market offers microwaves featuring a variety of functions like –

Heating food option
Melting option
Frozen food cooking option
Water reheating option
Popcorn option
Baked potato option

Size – Consider the size of your RV and measure the space where you will be keeping the microwave. Invest in the machine accordingly. A large microwave will take up more space and add bulkiness to your compact kitchen.
Energy efficiency – This should be a factor if you travel and stay away from electrical hookups. Powerful microwaves make cooking and heating easier, but a microwave above 1200W will demand a lot of electricity. It can overload the generator if you are using other appliances at the same time. So, find a microwave that is powerful but energy efficient.
List Of The Best Microwaves For RV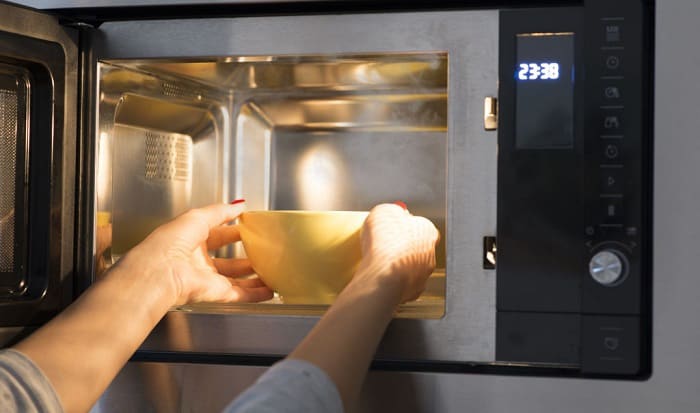 Finding the right microwave can be confusing. You will have to search, read several reviews, consider the model's advantages and disadvantages, and then make your decision. However, we have formed a detailed list of the best machines to make this process easier for you. This will help you in making a well-informed decision.
1. Panasonic NE-1054F
This countertop microwave is a full-service product suitable for RV use. Panasonic NE-1054F is a user-friendly and convenient model. The device has programmable memory functions, touch screen controls, and is loaded with various useful features.
The microwave comes with 1000W of power and has a 0.8 cubic feet capacity without the presence of a turntable. This device can heat various food items quickly, including dinner plates, coffee mugs, large casserole dishes, glass bowls, etc., and is built from stainless steel. The model allows you to cook and heat in other items too.
The best part is that this device uses a bottom-feed that lets energy travel at a short distance from the heat source to the plate. This gives faster results and ultra-efficient operation. Moreover, this microwave has a handle door instead of a push-button one, which increases its durability.
Pros
Powerful performance
Heavy-duty and durable design
Features 20 programmable menus
Handle door available
Cons
2. Toshiba EM925A5A-BS
This microwave has an attractive design and offers excellent performance. The total capacity of the device is 0.9 cubic feet and is ideal for large dishes as well. The unit has 900W of power along with 10 different power settings.
The unit features a digital control panel and an LED light fixed in the interior. It also has a glass turntable, easy to clean, and a black stainless steel exterior, which adds to the aesthetics of the device. You will also get 6 pre-programmed functions, including frozen vegetables, popcorn, potato, pizza, beverage, and dinner plate.
You can turn on its power-saving mode for saving electricity and turn its sound off for quiet operations. It also comes with the child safety lock, which protects the unit and keeps curious fingers away.
Pros
Easy to clean
Space-saving hardware
6 pre-programmed functions
Has power-saving mode
Offers powerful performance
Cons
You may have to turn off the main switch when it runs again after taking out the food.
3. Commercial Chef Countertop
If you are looking for a small microwave that does not use much power, this one should be your choice. It has 0.6 cubic feet space and can fit into any travel trailer or RV easily. The machine offers 600W of power and uses Westinghouse's smart technology.
The microwave boasts a 9.5 inches plate and supports bulk cooking. Moreover, it comes with 6 varying power levels
High
High/medium
Medium
Medium/low
Low
Defrost
With the defrost option, you can prepare frozen meat easily for grilling it outside. The dials that set the temperature are also straightforward to use. You can adjust cooking time as well, as per your requirements. Apart from the functionality, it is perfect for all kinds of décor due to small size and black color.
Pros
Easy-to-understand buttons
Convenient size and handling
Durable construction
Cons
Conclusion
Microwaves have become a vital cooking appliance for an RV. If we compare RV microwave Vs home microwave, the choice depends on your requirement. If you are traveling, you should go for an RV microwave that uses a limited amount of power. For people who camp at locations with electrical hookups, a home microwave will work well. Lastly, whichever type of microwave you plan to buy, you must consider
Its size, which should be perfect for your RV
Its capacity, which should align with the amount of food you will cook at once
Power usage, which should be limited
Specific features, which enhance the microwave's overall performance and power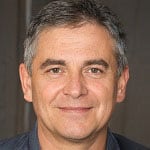 Hi, I am Tom Hank, an RV-er since 2014. Back then, I started without much help. As you can imagine, the struggles are endless. But now, you do not have to begin your adventures knowing next to nothing about RV lives.