If you mostly live in your RV and spend a sheer amount of time in it throughout the year, then you need to have the best RV oven and stove. With that appliance, you can assure yourself that you will always be eating well while on your trips.
If you want more than the usual fried foods and the occasional chilli, then investing in a stove and oven combo is a must. Trust me; it will open an entirely new culinary world. What do you need to look for when you are shopping for the best RV range and oven?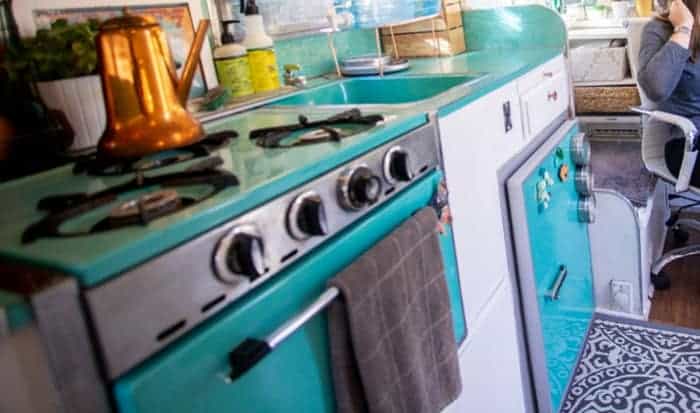 First of all, make sure that what you are getting will fit in the space that you have in your RV. Fortunately, the space is usually not a problem as there is always a provision for this type of appliance in most RVs. However, you still need to make accurate measurements of the space available and only look at the brands that can truly fit.
Remember that it will be much easier to fill in gaps instead of hacking off pieces from your countertop just to make a large stove and oven fit. You will also have to consider many other things during the selection and buying process. You will learn all of them as you read through this article.
Aside from that, you will also be getting a couple of helpful recommendations on brands and models. The moment you finish reading this article, you will more or less be able to make a wise decision when planning to purchase a new stove and oven for your RV.
Best RV Oven and Stove Reviews
1. Atwood | DOMETIC RV-1735 Stove Range RV-1735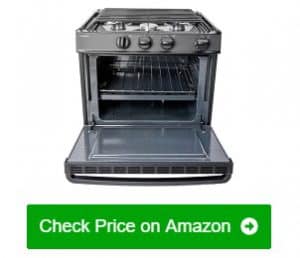 The first camper stove oven combo we have has quite an impressive set of features. The first thing that I liked about the Atwood RV stove is the stovetop itself. I noticed that there are three different burners placed on a 17-inch grate surface. This wide cooking surface means you can use even several large pans and pots at the same time.
All the burners also come pre-installed with lighters, making them easier to light. These lighters are much safer to use than the old clicker lighters because they spark continuously. With that, there is a smaller chance of the propane leaking out too much and then flashing when they do light up.
It is a useful safety feature to have since propane gas can quickly fill up the small space inside your RV when you let the gas flow without lighting it. This choice for the best RV stove is also quite easy to clean, thanks to the sealed burners. It means that spilt foods will not seep underneath the burners.
I just need to lift off the steel grate and then wipe off any food spills using a kitchen sponge or a damp rag. Also, you just have to clean it frequently as the food spills tend to pile up quickly. The oven also has a broil function. What it means is that you can also use the oven to brown the surface of the dishes you are cooking quickly.
For instance, if you just want to melt the cheese topping on your lasagna without drying up the inside, then you just have to set the oven to broil it. You can expect it to get done in a couple of minutes.
The only problem that I have about this Atwood cooktop is that the grates are a bit too high from the burners for my tastes. I would have liked it better if it was just a bit lower, and not made of round bar. It would have made my pans and pots lie level on the burners.
What We Like
Compact, ensuring users that it will not take up too much space at all
Has three separate burners, the strongest of which is in front
Equipped with a safe lighter
Easy to clean, thanks to the sealed burners
Boasts of a broiler function
What We Don't Like
The grate is set a bit too high off the burners.
Even though this Dometic RV oven and stove is not perfect, it still comes close to it. If you are looking for a compact and highly efficient stove and oven for your RV, then check out Atwood RV ranges, especially this product.
2. SUBURBAN MFG Suburban 3241A Gas Range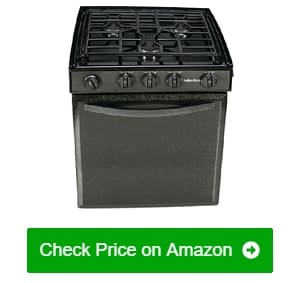 This best RV cooktop has a rather large broiler area, which I have used quite often from the moment that I got it. The space is large enough to squeeze in a pair of medium chickens. It is excellent considering that this stove and oven is not that large at all.
The entire oven is a very impressive RV oven upgrade. It has walls that are nicely insulated. With its excellent insulation, it does not produce any problems at all reaching temperatures of up to 500 degrees F.
Of course, there are very few, if any, recipes that call for such high cooking temperatures. However, it is nice to know that my oven can reach such intense heat when needed. I also like the three propane burners. The one in front is capable of producing 9,000 BTUs of heat, while the back burners can reach 6,500 BTUs each.
I usually use the front for high-heat cooking, like stir-frying and cooking steaks, among many others. The ones at the back are generally only used when I need to cook using two or more pots. In most cases, these tasks include simmering and braising.
I also love the efficient ignition system used by the stove. I am used to using old stoves that use clicker ignitions, but those are very inefficient and unsafe. This portable oven for RV comes with safe Piezo lighters to prevent wasting any propane. It also prevents sudden flashes that usually end in singed eyebrows.
The only complaint I have is not with the RV gas range itself; it is about how the Suburban's packaging does nothing to protect the contents. I had to return the first one that I ordered because when it arrived, it was so severely dented.
The next one that I got still had a couple of deep dents, but fortunately, they were in a place that is not visible once installed, so I did not return it this time.
What We Like
Has a large broiling area
The oven is nicely insulated and can reach 500 degrees F
Boasts of three powerful burners
Comes with a nice stove grate that is quite sturdy
Equipped with an efficient piezo ignition switch
What We Don't Like
Suburban's packaging does not protect the contents at all.
Despite the issue with the packaging, Suburban does make excellent stoves and ovens, and this one is not an exception. It is worth it to give this brand a try. Hopefully, the one that you get can survive the journey to your home.
3. Camp Chef Outdoor Camp Oven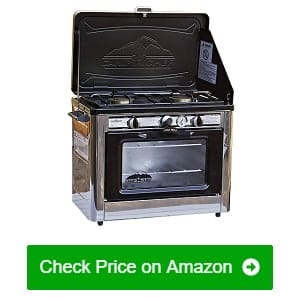 This appliance is not a camper stove and oven, per se, but you can still take it with you on your trips. It is a nifty portable stove and oven. It is a complete cooking station meant for use in the great outdoors.
I like that even though this stove is initially designed for use with a one-pound propane tank, it does come with fittings that allow you to use a 20-pound propane tank. It sounds great if you want to use this appliance as your permanent outdoor cooking kit. It is easy to set up, so this kind of arrangement is very feasible.
I think that the best feature of this stove is the cover of the burners. It is because when propped up, it also acts as a wind cover. With that, it can prevent the flames of the burners from being blown out by the breeze.
Speaking of the burners, I discovered that there are two that can produce flames that can reach up to 7,500 BTUs each. It means that I can also use this stove for cooking any kind of cuisine, even deep fat frying.
The RV toaster oven might look small, but it can easily fit a regular 9-inch by 13-inch baking pan. It means you can use this appliance for baking things, including bread, meatloaf, and others. The oven is also rather efficiently insulated and can reach temperatures of up to 400 degrees F.
It is more than enough heat to cook whatever dish you can think. The only bad thing about this RV propane range is that it can be troublesome if you need to use it indoors. You cannot install it in the kitchen, but you can place it on the counter if you need just to use the oven. Furthermore, you need to make sure that it gets plenty of ventilation all over.
What We Like
Small and compact, allowing you to take it anywhere
Comes with a burner cover that also works as a good windscreen
The burners can reach up to 7,500 BTUs each.
Has a substantially sized oven, which can fit a standard baking pan
Provides ample insulation in the oven, can reach temperatures of up to 400 degrees F
What We Don't Like
Cannot be installed in the RV kitchen
Although you cannot install it inside the RV kitchen, you can still bring this brand of stove and oven with you on your trips. It is because its portability will let you use it outdoors. In other words, you can still cook and bake even when you are out in the wilderness, which just makes the experience even more epic.
4. COSTWAY 24-inch Built-In Single Wall Oven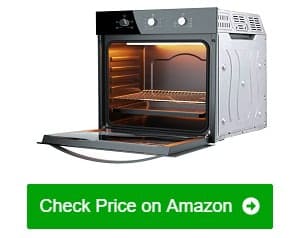 This appliance from COSTWAY is a neat-looking, and very efficient, built-in, under-the-counter RV electric oven. The nice thing about this oven is that it fits right underneath your RV countertop, so you do not need to cut out any part off the surface. You just have to clear out some drawers, and you are good to go.
Once installed properly, you would swear that it looks like it came stock with the RV. Another feature that I liked about this RV wall oven is that you can choose if the heat comes from the top, the bottom, or from both. When only the top heating elements are activated, they help brown and broil the surface of the food.
When you utilize the bottom on its own, it cooks the food from the bottom up, like a stove. Now, if both heat sources are on, it turns into a convection oven ideal for baking. I also like the number of different safety features. The one that I liked the most is the cooling fan. It automatically turns on when the oven senses that it gets a bit too hot.
The fan also helps keep the exterior of the oven relatively cool. Although some people doubt electric ovens, this one will erase all of those. Thanks to the double-paned tempered glass door, this oven is very efficiently insulated. It allows this appliance to reach temperatures of up to 450 degrees F.
It is more than what most dishes require. You can use it for baking hams, roast chickens and turkeys, and bake bread and pastries. The only thing that I wish this small propane oven for RV had is a stovetop.
Although it saves space by being installed underneath the counter, the space-savings would have been bigger if it has like an induction cooktop or something.
What We Like
Very compact, making it fit underneath most kitchen counters
Has two powerful heating elements – the top and the bottom
Can be programmed for specific cooking tasks
Well-insulated and can reach temperatures of up to 450 degrees F
Has a modern, minimalist look that will fit most décor
What We Don't Like
Does not have a cooktop; it is an oven only
Although it is just a straightforward oven, this appliance is one oven that you should have in your RV. It is space-saving, energy-efficient, and has many different applications.
5. Suburban 2985A Cover-Slide-in Cooktops and Ranges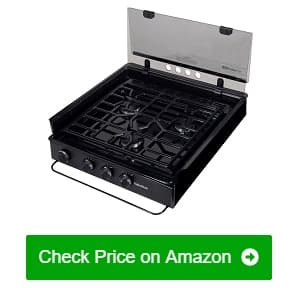 It is not a stove or an oven, but it will help add more counter space to your RV kitchen, provided that you have a Suburban stovetop or stove and oven. It is a tempered glass cover that, when installed properly, will lay flush to your countertop. It can essentially give you more counter space in the process.
Aside from giving you more counter space, the glass cover also helps keep the burners clean. Nobody likes to clean propane stoves. There are so many nooks and crannies, and you have to scrub vigorously to get caked-on food spills. Having a cover to keep the burners free from dust is, therefore, a huge plus.
This stove cover is not just practical. It also gives a cool design aspect to your kitchen. This cover, which is made from smoked tempered glass, makes any kitchen look a bit more sophisticated. Your guests will be surprised when they walk into your RV and find a kitchen that looks like what celebrity chefs would have in their homes.
Aside from keeping your burners clean and providing additional counter space, this cover also serves as a useful windscreen when lifted. With this cover in place, you do not have to close the kitchen port window just so the wind does not blow out the flames.
You can continue cooking without worrying about your burners going out and the propane leaking inside your RV. However, as mentioned earlier, Suburban's product packaging could use a lot of work and improvement. The first cooktop cover that I received comes with half of it shattered into a thousand pieces.
It is a good thing, though, that the second one I got to replace the first was in perfect shape. Suburban could save a lot of money on broken merchandise and unnecessary shipping costs if they just used better packaging and content protection.
What We Like
Can be used on all compatible Suburban cooktops
Very easy to clean and maintain
Helps protect the burners from dirt and damage
Provides additional counter space
Also acts as a windshield
What We Don't Like
Suburban's product packaging fails to provide ample protection to its contents
Horrible packaging aside, this stovetop cover is an excellent investment. Aside from working effectively as a cover to protect the propane burners, it will also effectively extend your counter space by quite a bit.
6. Atwood Mobile Products Wedgewood 52458 Oven Range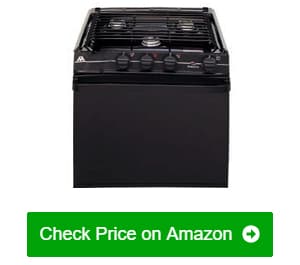 At just a little over 17 inches wide, this built-in the Wedgewood RV stove will fit in any RV kitchen. You just need to cut out a minimal amount from your existing counter. Also, if there is already a provision for this kind of appliance, I am sure that it will fit perfectly.
My RV already has a space for such a stove, and it only took me roughly two hours or so to unpack and install it properly. This Atwood RV oven has three propane burners that I genuinely like. It is because I always have my family with me on trips, and having the capacity to cook for a lot of people is certainly a plus.
The front burner is the largest of the three. You can use it for tasks such as deep-frying, searing meats, and wok cooking. The back burners are for simmering, slow cooking, and other cooking tasks that require gentle heat.
The oven is big enough for two chickens to roast side by side. It might look small from the outside, but when you open the door, you will find that the cooking chamber is deceptively large. The opening is wide enough that you can use a regular 9-inch by 13-inch baking pan. It also has two racks, so that you can do some serious baking with it.
The oven is also insulated quite well, and because it is smaller than the regular oven, it heats rather quickly. Also, because the walls and the door of the oven are very effectively insulated, the oven can reach temperatures of up to 500 degrees F – that is if you can control yourself from opening the oven every five minutes
There is only one complaint that I have with this stove and oven, and that is, it does not have an automatic ignition system. I have to use old-fashioned matchsticks or one of those stove lighters to turn on the burners. I do not mind it that much, but some people who are not big fans of getting their hands anywhere near the burners might not like it.
What We Like
Easy to install
Minimalist design and works on all décor
Well insulated, can reach temperatures up to 500 degrees F
Might look small, but can fit a regular baking pan
Has three powerful burners
What We Don't Like
Does not have an automatic ignition
Although you will need matchsticks to light up this stove oven, it is still a good piece of kit to have in your RV. You can cook using several different pans at once. Aside from that, you will also get a decent-sized oven.
7. Avanti GR2013CSS Gas Range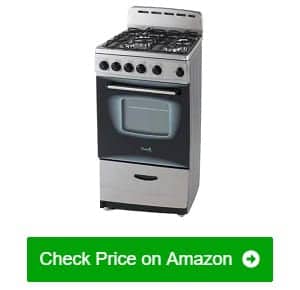 Although this travel trailer stove is a bit wider than most, at 19 inches, you do get the benefits of having four burners, and a wider oven. Although you have to make a bit more room, you can be sure that the space that the range occupies is used very efficiently.
The oven door has a small port window so that you can check on whatever you are cooking without having to open the door every time. With that, you can prevent a lot of heat from escaping inside the oven. To monitor what you are cooking with ease, there is an oven cavity light.
It is bright enough for you to check out how the cooking process is going. It also comes with a broiler function. With that, you have the option to brown the surface of the dishes quickly. It is excellent when you are cooking dishes like lasagna, certain pastries, toast, and others that you just need to crisp up and not necessarily cook through.
I also appreciate that this oven comes with its broiler pan. It also features an oven drawer. You can use this specific part to keep other dishes warm while you are still cooking something in the oven.
It utilizes the excess heat from the oven and puts it to use, adding to the already impressive propane efficiency of this propane gas oven and range. The only problem that I had with this stove is the part where I have to convert it to run on propane so that I can hook it up to my RV's gas lines.
Although the stove did come with a conversion kit, finding a professional who can help me install the said conversion kit was very difficult. When the guy I hired was finished, he said that he would like it if he would not have to work on another case like mine again.
What We Like
Perfect for the RV or small apartments
Has an oven door window so you can watch as the food gets cooked
Comes equipped with an electric ignition
Has a broiler function with a broiler pan included
Has an oven drawer for extra storage, or for warming up dishes and pieces of breads while the oven is being used
What We Don't Like
The conversion kit from natural gas to propane is not that easy to use.
Overall, this RV oven and stove is still an excellent investment. It is designed in such a way that cooking and doing other kitchen tasks while being on a trip will be much easier.
8. NutriChef 30 Quarts Kitchen Convection Oven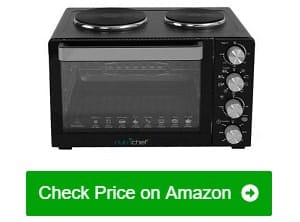 If you do not have that much space to spare in your RV, or if there are no provisions for a stove and oven in your kitchen, then this handy electric appliance is the best choice. Aside from letting you get a nice, electric oven, you will also be enjoying the two hot plates on top. It means you are getting two cooking appliances in one.
Speaking of the hot plates, there are two that are situated right on the top of the oven. The larger of the two can pump out as much as 1000 watts of power while the smaller one can use 600 watts. It means you can use the larger plate for tasks like frying or searing meats, while the smaller is for simmering and keeping food warm.
The oven is quite large as well, considering that this is a countertop model. I particularly like the rotisserie function as it cooks entire chickens evenly and thoroughly. Also, because it is on a rotisserie, it bastes itself, thereby ensuring that the finished product is still quite juicy.
I have also tried roasting pork and beef, and they all came out nice. The neat thing about this appliance is that you can easily set which part of the stove and oven will be working. You can set it so that only one of the burners is turned on.
It is also programmable in a way that only the top or bottom heating element turns on. You can use it for a load of other different functions that will let you fine-tune your cooking process.
The only thing that I wish this appliance can do is for the oven and at least one of the hot plates to work at once. However, I also do realize that it will cause the appliance to draw out too much power and blow a fuse. Still, having the option to bake and cook on the stove at the same time would have been great.
What We Like
Very small and compact, allowing it to fit on any countertop
Has two hot plates on top
Can use any kinds of cookware
Has a rotisserie oven that can fit one large or two small chickens
Can choose between different modes of cooking just by twisting a knob
What We Don't Like
Does not allow the simultaneous use of the oven and the hot plates
Although you cannot use the hot plates in conjunction with the oven, it does not take away from the fact that it is a great all-in-one cooking station that will look great in your RV.
9. Flame King YSNHT600 RV Cooktop Stove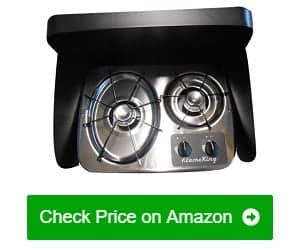 This product is a drop-in stovetop, so you have to cut out a hole in the countertop that you wish to turn into a stove. You should then drop it into the hole and secure it with screws. Do not be scared as it is effortless to install, even without the assistance of a professional contractor.
If you know how to operate essential power tools, then you can mount this appliance correctly onto your countertop. It is very suitable for RVs because it is lightweight. Also, you do not have to cut out a large part of your counter, so that you can install this cooktop.
Even if you do not have enough room in your RV for a regular-sized stove, it will not be a problem here. This stovetop has two burners. The first one is under a large circular grate and can produce around 7500 BTUs of heat. It is enough for cooking steaks, and for using a deep frying pot.
The other one, which is under the oval grate is capable of 5200 BTUs. It is excellent for delicate cooking tasks, like poaching eggs, stews, and slow cooking. You can even use both burners at the same time, as long as the pots and pans can fit beside each other.
This stove comes with a nifty cover that converts into a windscreen. The cover unfurls to reveal a windshield that protects three sides of the stove. With that, the wind will not be able to blow out the flames. It means you can open up the kitchen window and let the cool breeze inside the cooking area.
It is a great idea, especially if you will be cooking a lot. This appliance would have been even better if only it had an automatic ignition, but I do not mind lighting it with a match. However, the real issue is that the stove itself tends to get too hot when using both burners at the same time.
For mine, the label around the knobs has started to melt because of the heat. I will not be surprised if even the knobs start to melt.
What We Like
Lightweight and compact
Easy to install, as it only requires minimal carpentry work
Comes with a cover that doubles as a windscreen
Resistant to vibrations
Has two burners that have high BTU capabilities
What We Don't Like
The stove tends to get hot when both burners are used.
Despite the issue, this RV oven and stove still has plenty of excellent features that make it a good buy. It is a useful appliance that will surely make your kitchen tasks much easier to fulfil, even if you are on the road.
10. Camp Chef Deluxe Outdoor Camp Oven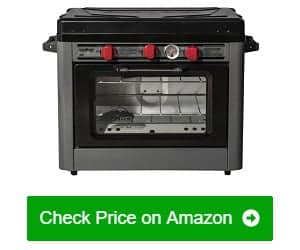 If you think that you cannot bake when you are out camping, then you are entirely wrong. This stove and oven is meant for use in the outdoors, and it is pretty decent. It can run on a one-pound propane tank, or you can connect it to larger tanks, provided you have the right regulator and fittings.
This stove and oven combo comes with two brass burners. The first one is capable of producing 9,000 BTUs, and the other smaller one can pump out 3000 BTUs. It means that you can use large pots for cooking on the larger burner and it will not be a problem at all.
It also lets you cook delicate dishes with the other burner, which has a smaller heat output. Whatever dish you have in mind, whether it is a big pot of chilli, or you want to make pasta, this stove can handle it. The stove also comes with a sheet metal cover to protect the burners from dirt and damage while in transit.
Furthermore, when opened, the cover doubles as a windshield. It is convenient when it comes to cooking outdoors. Not even a strong gust of wind will be able to blow out the flames of the burner with the cover in place. Moreover, the cover protects the surroundings from food splatters.
The oven may look small from the outside, but it can fit a standard size baking sheet. It can even fit two of them – one on each of the two racks. I have used this oven many times for making muffins and sourdough bread. For outside use, the walls and door of the oven are well-insulated, allowing the inside to reach temperatures of 400 degrees F.
The only thing that I wish was included in this appliance is an actual thermostat for the oven. Whenever I am baking something with this oven, I need to keep a close eye on it as there is no way to control the heat accurately. I need to check with a thermometer and adjust the heat as necessary.
What We Like
Allows you to cook and bake even when you are outside
Can use a one-pound propane tank or larger ones
Comes with a cover that doubles as a windscreen
Has two powerful burners
Comes equipped with a well-insulated oven that can reach 400 degrees F
What We Don't Like
The oven does not have a thermostat.
This unit is one of the best outdoor stove and oven combos that you can get. Sure, it is not perfect and has its flaws, but it does come close to it. With that, it is very much worthy of your time and money.
11. Furrion 17-inch 2-in-1 Gas Range Oven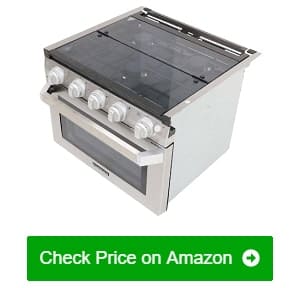 The most impressive feature of this gas range and oven is the huge cooking capacity of the oven. It is one of the biggest ovens I have seen in a 17-inch wide form-factor. When you open the door, you will be treated with 1.24 cubic feet of space. It provides more than enough room for anything that you plan on cooking.
The Furrion RV oven is also very easy to clean. It is also a feature that I do appreciate because cleaning up stovetops is usually a daunting chore. With this stove, the grate can be taken off quickly for easier cleaning. There is also a ceramic coated drip pan that catches all of the spills from the pots and pans.
It is also removable to make it easier to clean. The inside of the oven is made entirely of non-stick stainless steel, so it is easy to wipe away any food splatter. This oven and stove is made for the RV life. For instance, the grate inserts neatly into the rubber-lined holes to prevent them from rattling around when the RV hits bumpy roads.
The glass oven door is also made of two layers of very tough and durable tempered glass. This material will not crack due to heat. Also, they will not shatter even when the RV hits a huge bump on the road.
Probably the most fantastic feature of this stove and oven is its auto-cut-off safety function. When the stove senses that the propane is flowing, but there is no light on the burners or in the oven, it will automatically shut off the gas line.
I thought at first that my propane leak alarm was broken when I rushed back into the RV as soon as I realized I left the stove open. However, when I opened the door, there was not even the faintest hint of propane in the air.
The only thing that I wished was better is that the front burner could have been a lot more powerful. The front burner can pump out around 8000 BTUs, but I need a bit more than that for wok stir-frying and searing steaks perfectly. However, that is not a big issue as I can just wait a bit longer for the pans and pots to heat up.
What We Like
Has a large oven capacity
Very easy to clean and maintain
Comes with three powerful burners
Can run on natural or propane gas
Has a lot of safety features
What We Don't Like
The front burner could be a bit more powerful.
This appliance is one of my most favorite stove and oven. It is small and compact, has a whole bunch of helpful features, and easy to take care of and maintain. What's not to like here?
12. Atwood (56472) DV 30S Drop-In 3-Burner Cooktop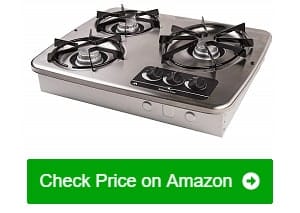 If there is not that much space in your RV for a stove and oven, then this drop-in cooktop might just be the thing you want to find and use. You only need to make a small cutout in your counter. As its name suggests, you just drop in this stove and screw it down securely.
This stove will sit flush to your countertop, and it will look like it came standard with the RV. Despite its size, this cooktop has three different burners. The largest one can produce up to 7200 BTUs, while the two smaller burners can pump out 5200 BTUs.
Although these numbers are significantly lower than those of the other items on this list, you can expect these numbers to be more than enough for regular home cooks. The knobs also allow the user to tweak the amount of heat coming from each burner accurately.
For instance, if you need to dial down the flames, you just need to turn the dial to the left, instead of dialling down to the weakest burner level, which is still quite high. You should then just keep an eye on the flame to make sure that it is the right intensity.
The gas range also comes with a cover that allows you to extend the counter space when the stove is not in use. When the stove is installed correctly, the cover will be flush against the rest of the countertop. When not in use, and you need extra counter space for food preparation, you just have to place the cover on the stove and you are set.
The only problem that I had was when I received the disassembled stove, the pre-drilled holes for the control knobs are not centered correctly. I had to take a metal rasp and take out a lot of material so that I can put on the plastic knobs. Aside from this significant oversight of the quality control department of Atwood, the stove works completely fine.
What We Like
Easy to install, as it only requires minimal carpentry skills
Makes good use of space with three burners
Easy to clean, thanks to the entirely stainless steel construction
Comes with a cover that doubles as an extension of the countertop
Features dials that allow precise gas control
Although I ran into a couple of hassles while installing the stove, it still performed quite well. I have not run into any other problems so far. I highly recommend this
appliance for the RV kitchen
and small living spaces as well.
Best RV Ovens and Stoves Buying Guide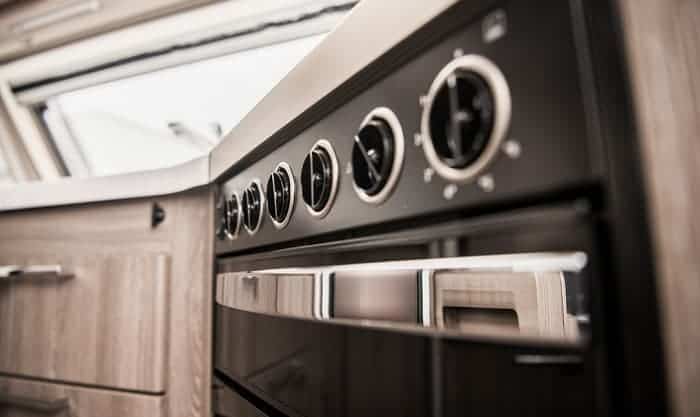 How Many Types of Oven and Stove for RV are There?
When it comes to stoves and ovens, take note that you can classify them based on how they are installed in the RV. Among these classifications are the slide-through, drop-in, countertop, and outdoor stoves and ovens.
The slide-through stoves look similar to the ones that are installed in most home kitchens. You can just slide these units through a space between countertops. When fitted correctly, it will make them look as if the counters were built around the stoves.
The only difference between slide-through stoves for RVs is that they are narrower and smaller, allowing them to fit into smaller kitchens. If there is no provision for a slide-through stove and oven in your RV, you can make one by taking out a couple of drawers and then sawing out enough counter space to fit the unit.
If this is the only option that you have, you should at least get the services of a professional carpenter to help you out with the installation. The drop-in stoves are more suitable for smaller RVs. These appliances are installed with the aid of a hole cut out from an existing countertop.
The drop-in stove is, for lack of a better term, then dropped into the recess. These stoves have outer lips that can then be screwed securely onto the countertop to prevent them from moving. In most cases, these appliances only come out as stoves. There are no ovens included.
The great thing about this kind of stove is that it requires minimal carpentry skills to install. If you can use a circular saw, mounting this kind of stove will be quite easy for you.
Countertop stoves and ovens are almost always electric-powered. These are portable cooking stations. You get an electric convection oven or toaster oven, and a griddle or hot plate on the top. It is for RVs that have very limited counter space.
The great thing about countertop stoves and ovens is that you can stow them away when not in use. You just then clear up enough space later when it is time to start cooking.
The last is the outdoor stove and oven that are neat pieces of the kit. These appliances look very similar to normal gas ranges, but these are much smaller. They are small enough that you can place them on top of a picnic table.
These stoves are designed to run off small one-pound propane tanks, but with the right fittings and regulators, you can hook them up to your RV's propane line as well. The only problem with this kind of stove and oven is that it is not suitable for indoor use.
The fumes that these kinds of cookers produce can quickly fill the space inside the RV if you are not careful.
So which one among the mentioned types should you choose? It will depend on how much room you have in your RV. Take inventory of how much space you can spare. If you still have a lot of counter space, go for the slide-in stove and oven. If you do not have nearly enough counter space, then go for the drop-in or the countertops.
In addition, when you choose the oven and stove for your RV, you will probably also be interested in our list of RV cookware sets and list of the best RV range hood.
How Does an RV Oven and Stove Work?
RV ovens and stoves work by igniting a mixture of propane (or other types of fuels) using a pilot light or an electric igniter. The more propane that gets fed into the burner, the higher the flames will be.
Stoves are connected to propane tanks as their source of fuel. However, to make sure that the gas fed into the burners are of constant and safe pressure, a regulator needs to be installed between the propane tank and the stove.
Which Brand of Oven and Stove for RV is the Best?
I have tried and tested quite a lot of stoves and ovens throughout the years, and I noticed that several brands have stood out from the rest. If you are shopping around for a new RV stove and oven, then an eye out on truly reliable brands.
Among these brands are Atwood, Camp Chef, COSTWAY, Suburban, Avanti, NutriChef, Flame King, and Furrion. I have personally tested these brands, and they go above and beyond what is expected of them. If you want to get the most bang out of your buck when it comes to RV stoves and ovens, then these are the brands you can trust.
How to Choose the Right Size?
The best way to find out which size of stove and oven you can fit into your RV kitchen is to take a tape measure and get measurements of the countertop. Also, take note of the amount of counter space you need and can spare.
If you found out that you can spare to hack out more than 17 inches off of the counter, then you can get one of those fancy slide-through stoves and ovens. These items will provide you with the most number of cooktop burners and more space for ovens.
On the other hand, if you definitely cannot spare counter space, you can use either the drop-in stovetops or the countertop stoves and ovens. Drop-in stoves usually come with covers, so you can still maximize the counter space.
Countertop stoves, on the other hand, can be stowed away once you are done using them, so they save a lot of space, too.
How to Set Up?
Let's say that you have correctly fitted the stove and oven into your RV. The next thing that you need to do is make sure that it is correctly connected to your RV's gas line. Modern stoves are easy to connect to the gas line. They usually already come with the necessary fittings, so you just have to thread them in.
However, you need to make sure that the stove and oven that you will be buying is compatible with your RV's propane tanks. There have been stories of many people not knowing that what they bought were natural gas stoves. It could not work with propane unless, of course, they use a conversion kit.
How Do I Use My Oven and Stove in My RV?
First, you need to make sure that the propane tanks are open. Once the gas is flowing through the lines, you just need to twist the knob for the appropriate burner that you will be using. Many modern stoves already come with electric piezo lighters. It means there are two wires near the burner with a spark jumping in between.
The spark will ignite the propane the moment that it exits the burners. Place the pot or pan on the burner and adjust the size of the flame accordingly. If you find that the lowest setting on the knob is not weak enough for what you need, there is a trick to lower the flame to a level that it is almost out.
Instead of turning the knob towards the weaker flame setting, twist it past the maximum setting to the point where you will practically be turning off the burner. The flames will be so small that they will be enough just to keep the pot or pan warm or on a low simmer.
Care and Store
A good set of RV stove and oven can last for many years. However, you have to do your part and give it enough care and maintenance. First, you need to clean the burners and the oven properly after every use. This way, the spilt food or splatters will not have time to get baked into the surface, which will only make them harder to remove.
For the stove, after letting it cool down, remove the grate and wash it with soap and water in the sink. While it is drying, get a kitchen sponge, dampen it and place a bit of dishwashing soap in it. Proceed to scrub away at the bits of food that spilt out of the pots and pans and onto the burners and the surrounding area.
For tougher bits of food that have been baked into the surface, use a bit of white vinegar mixed with some water and let it soak into the dried up nasty bits of dirt. After a while, it will have loosened up considerably.
If possible, take off the tops of the burners and scrub them with soap and water in the sink. You might also want to take a toothpick and make sure that there is no gunk stuck in the holes.
To clean the oven, especially if there are tough, baked-in bits of food on the sides, here is what you can do. Make a slurry using baking soda and a bit of water. Apply it liberally over the parts where there are tough bits of caked-on food. Pour a bit of white vinegar over the baking soda slurry.
Let the fizzy reaction run its course, which will only take a couple of seconds. You should then wipe away the loosened dirt and grime. If you have a modern oven, you can use the self-clean function. What it does is that it runs the oven on overdrive, often reaching temperatures of up to 900 degrees F.
In these high temperatures, the baked-on dirt along the sides of the oven will get disintegrated and fall off. The only caveat here is that it can get scary. Also, the inside of your RV will smell quite funky while the oven is self-cleaning.
Buying Guide
If you are a first-time buyer or looking to replace the old cooking range that you have in your RV, then you are probably worried that you might get something that is not worth the price. To prevent yourself from getting cheated off of your money, here are some of the things that you should consider when shopping for a new cooking range.
By considering these factors, you can somehow make sure that you will be happy with your purchase.
Available space – The first thing that you need to make sure of when buying an RV oven or stove is the amount of space available in your vehicle. If you are set on getting a cooking range, then you will need a space that is at least 17-inches wide. It is the smallest commercially available appliance right now.
If you are thinking of getting a countertop electric cooking station, you have to consider the depth of your countertop. There should be a couple of inches of space between the backsplash and the back of the cooker. It is a big help for proper ventilation.
Fuel options – You first need to choose what kind of fuel the cooking will be using. Choose from either gas or electric or maybe even a combination of both. One benefit of having a gas range is that the burners are more responsive. It also allows you to control the temperature quite precisely.
Moreover, you will notice that it is inexpensive to use in the long run. The only reason why you need to plug it into an electric socket is for the electronic ignition. Regarding electric ranges, you will enjoy the fact that these appliances are much easier to install. It is mainly because you do not have to deal with gas plumbing.
You just need to plug it into an electric socket that has its high amperage fuse. Electric ovens are also better than gas because they have more consistent temperatures.
Although these units are more expensive, the combination of gas and electric range provides the best of both worlds. You will be getting a gas burner stove and an electric oven in just a single unit. It will also let you get precise flame controls and an evenly heating oven.
Installation – Another thing you have to consider is how the cooking range (stove and oven) will be installed in your RV. The first option is the drop-in range. It is smaller than the other ranges, and you might need custom cabinetry to make it look like it belongs in the space provided. It does not have any bottom drawer for storage.
The other is the slide-in range. Ideally, the height of the cooktop and the height of the surrounding countertop should be the same. These units are called slide-in ranges because they slide into the space provided. As such, the sides and back are not finished as they will not be visible once you successfully installed the range.
Other RV Ovens and Stoves We Reviewed
Camp Chef Professional Barbecue Grill Box
This grill box is a handy addition to your outdoor cooking arsenal. Just slap it on your two-burner or three-burner stove, and you are all set.
Key Features:
Heats and cooks evenly
The lids lock in place for portability.
Comes with a thermometer and vents for heat control
HBHOB 12-inch Gas Cooktop
If you do not have that much room in your RV or trailer, then this 12-inch drop-in stove is perfect for you.
Key Features:
Comes with an electric ignition (must be plugged in)
Has a flame-out safety feature
Easy installation and does not take much room
Atwood Mobile Products 52933 Atwood 3 Burner
If you use an Atwood 3-burner stove, it will make cleaning the appliance a breeze.
Key Features:
Cut to the perfect shape and size of the stove
Catches all food drips and prevents baked-on food
Highly flame-resistant
GAS ONE GS-2000 Dual Fuel Double Propane or Butane Stove
This unit is perfect for cooking both indoors and outdoors. You can cook anywhere you like depending on your mood and the weather, of course.
Key Features
Can use either propane or butane
Has a piezo electric safety igniter
Each burner is capable of providing up to 8000 BTU.
Suburban 3215A 22-inch RV Gas Range
This sleek black 22-inch gas range is the perfect kitchen companion for people who seem to live full time in their RVs.
Key Features:
Comes with an ample broiler space
Porcelain-enameled oven surfaces for easy cleaning
Three propane burners
Dometic MO0911CIS0000US Cooktop
This unit is the ultimate solution in terms of space-saving. Not only will you get a two-burner stove, but you will also have the chance to use a kitchen sink!
Key Features:
Combination kitchen sink and two-burner stove
Channeled stove for easy cleaning
Easy installation
Ramblewood GC2-37P 2-Burner Gas Cooktop
With its minimalist design, this drop-in 2-burner stove will fit in almost all kitchen décor.
Key Features:
Can use either propane or natural gas
Comes with heavy-duty cast iron grates
Equipped with a thermal couple and automatic shut-off valve
Atwood Mobile Products 52232 Wedgewood
This drop-in range just looks sophisticated. It is pretty easy to use and will look good in any kitchen, whether big or small.
Key Features:
Has three powerful burners
The front burner can go up to 9000 BTUs.
Has a spacious broiler/oven
Avanti MKB42B Multi-Function Convection Oven with Dual Burner Cooktop
Don't have space for an actual range cooker? The Avanti MKB42B is the all-in-one oven and electric stove that you can use.
Key Features:
Large convection oven with rotisserie
Has two electric burners on top
Comes with precise temperature controls
Suburban 2938ABK 3-Burner Black Cooktop
This drop-in cooktop is very easy to install and a joy to use. It is perfect for RV kitchens or any place where space is a premium.
Key Features:
Enamel-coated surface for easy cleaning
Precise flame controls
Easy to install
RoadPro 12-Volt Portable Stove
Although not a real stove, this lunchbox-sized heater can cook simple meals. It is a must-have for the person on the go.
Key Features:
Can heat up to 300 degrees F
Plugs into any 12V lighter socket
Can cook stews, rice, and other simple meals
Coleman Camp Oven
Although this appliance might just look like an ordinary metal box, it is still a stovetop oven and a great one at that.
Key Features:
Can fit on any gas stove or grill
Has three adjustable rack heights
Folds flat for maximum portability
Conclusion
Just because you are enjoying the great outdoors, it does not instantly mean you have to compromise regarding food. When you have the best RV oven and stove, you can cook delicious dishes like you would when you were still in your home kitchen.
Having a stove and oven means that you will not be limiting yourself to just one type of cooking technique. This simple appliance will open up a lot of different eating options, thus making your RV trip all the more enjoyable.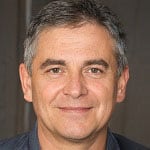 Hi, I am Tom Hank, an RV-er since 2014. Back then, I started without much help. As you can imagine, the struggles are endless. But now, you do not have to begin your adventures knowing next to nothing about RV lives.