Are you tired of using paper or plastic plates and saucers whenever you go camping in your RV? Do you even feel more tired of getting your good china shattered when you load them up in your RV? There are lovely RV dinnerware sets that you can take with you on RV trips, and they are guaranteed not to chip or crack on the way.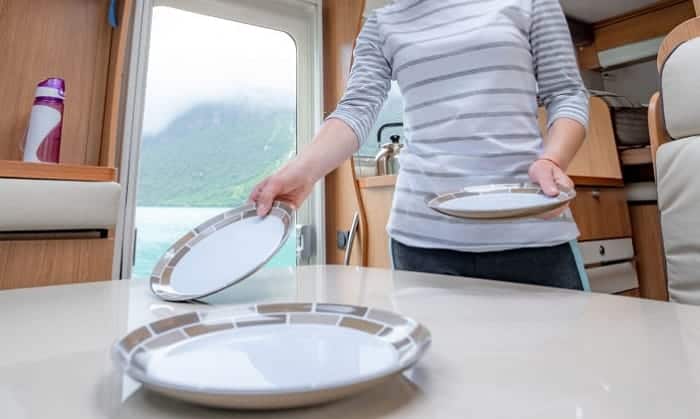 Yes, there are nice-looking dinnerware sets that you can safely take on your trip, and I am not talking about printed plastic plates. I am referring to real ceramic dishes and saucers. The question is, how can you find the best dishes for RV and tell if they are what they claim to be?
This article will teach you what to look for when shopping for RV plates that you can use on your camping trips. You will find out what makes the best dinnerware for RV so strong and sturdy. Furthermore, you can master a couple of techniques to stow your dishes away safely so that they are no longer at risk of breaking.
Best Dish for RV Reviews
1. Gibson Studio 114334.12 Mauna Melamine Dinnerware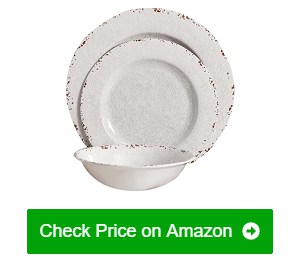 Just like most of the other dinner plates in this list of recommendations, these Gibson Studio plates are made of very durable melamine. There is a guarantee that these plates will not chip nor crack, even when dropped from the waist onto a concrete floor.
When you have these plates in your RV, you can drive easy without worrying about them clanging around in the cupboard. Aside from being highly resistant to chipping and breaking, these melamine dishes are also almost scratch-proof. You do not have to be overly careful when using your knives and forks.
You can stab and slice at your food without leaving any scratches or gouges on the surface of the dishes. They will still look as good as new. The finish of these lightweight dishes for RV mimics the weathered crackle glaze that you can find in many antique china sets. This beautiful design is perfect for outdoor gatherings and picnics.
The plates can also be cleaned with the dishwasher for RV. However, you should only place them on the top rack to prevent them from getting damaged. Putting them on the base racks might cause the finish to blister and crack. However, I highly recommend hand-washing these plates only.
Also, take note that even though these camper dishes are beautiful and almost indestructible when new, they will start showing signs of damage after a couple of months of use.
The finish will start to chip, blister, and crack, and the thin melamine will weaken. If you are looking for dinner and salad plates that will last for many years, you cannot expect these items to be among those.
What We Like
Made from durable and robust melamine resin
Has a beautiful, antique-looking faux crackle glaze finish
The finish is highly resistant to scratching.
Does not shatter that easily even when dropped from up high
Partially dishwasher-safe (top rack only)
What We Don't Like
The finish will only last around six months to a year before it will start chipping.
For its price, this set of melamine dinnerware is quite a steal. You will be getting a beautiful set of dishes that is both strong and durable. Even though it will start showing damage after half a year or so, these items are still worthwhile additions to your RV dishes and accessories.
2. US Acrylic Cambridge Plastic Dinnerware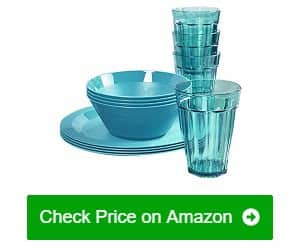 The thing that I like the most about these unbreakable dishes for RV is that they look beautiful while being economical. For such a low price, you will be getting a full dinnerware set, including RV accessories and tumblers. You can do away from using disposable paper plates. They are much more economical to use.
This dinnerware set is entirely made from plastic, so even if you have toddlers to feed, you do not have to worry about picking up shards of ceramic off the floor. These plates and tumblers will just bounce off the surface and look as if nothing happened. You have an assurance that there will be no chips nor cracks.
I also like the bright colors of these RV dishes set, and the best part is that they will not fade even after a long time using. Because these items are made of plastic (BPA-free), you can also expect them to be scratch-resistant.
I have been using these plates for quite a while now, and they still look like new. I can only see the scratches when I look closely. The plates are very lightweight and easy to stow away, too. They are not also that heavy. If they do move around in your RV cupboard, they do not have enough mass to hit open the cupboard door.
Even when they hit against each other, they will not cause any noticeable damage. The only gripe I have with this dinnerware set is the size of the tumblers. It would have been much better when they are a bit bigger. I gulp down juice or water, and these tumblers are not nearly big enough for my particular tastes.
What We Like
Shatter-resistant, even when dropped at shoulder height
Very economical; you can save more money by using these instead of paper plates
Has a fade-resistant and scratch-resistant finish
Lightweight construction
What We Don't Like
The tumblers are too small.
Despite my issues with the tumblers in this set that are just minor inconveniences, this dinnerware set is worth a lot more than what it truly sells.
3. Marjoy 12-pc. Melamine Dinnerware Set
This 12-pc dinnerware set is wholly made of melamine. It is resin-based, a material that is very strong and durable. It feels like thin porcelain, but you can drop it on the floor, and it will just bounce right back up without nary a scratch. With such durability, it is the perfect choice for RVs.
The thing that I liked the most about these camping dishes is that they save a lot of cupboard space. These dishes, when stacked one on top of the other, will not be so high that you will have a hard time fitting them into an RV cabinet. When stacked together, all the twelve pieces will only be a couple of inches tall.
There will still be enough room above them for other things. Another thing I love is that it comes in many different designs and colors. If you are not a fan of solid colors, and you want to give your dinner table a bit more whimsy and fun, you can choose from several lovely designs.
There is nothing that bad that I can say about this dinner plate set. The only thing that I can think of if I get forced to talk about a particular flaw is that the colors are a bit on the muted side. If the colors were slightly brighter, then this dinnerware set would have been much better, in my opinion. However, that is just a subjective opinion.
What We Like
Nearly indestructible as it is made of shatter-proof melamine
Comes with many designs that you can choose from
Boasts of a compact and stackable design
Very lightweight, making it perfect for picnic baskets
Works well for a lot of RVs because of its versatile designs
What We Don't Like
Muted colors and look like they will scratch easily
The issues I have with these plates are purely subjective as I could not find a real solid thing to complain. Overall, the dishes are beautiful and durable, plus they come with several more features that you will surely love.
4. Corelle 18-pc Service Chip-resistant Dinnerware Set
These Corelle dishes for RV have a gorgeous and minimalist design that is both suitable for RV trips and everyday use at home. Although these plates are made of glass, they are constructed in such a way that they are chip-resistant and crack-resistant.
The one thing that I love the most out of anything that came from Corelle, especially this dinnerware set, is that the plates are very lightweight and easy to handle. Even though can be used with RV microwave because these dishes are made of glass, you do not have to worry about them shattering at the slightest touch.
Because Corelle dishes are made of glass, their surfaces are completely non-porous, thus making them easy to clean. Food particles will have a hard time latching onto the surface. These dishes are also dishwasher-safe, making them even more convenient to use.
Another thing that indeed left a good impression on me, as far as this dinner set is concerned, is how neatly and compactly they stack on top of each other. The dishes are so thin that they are roughly half the thickness of similar-sized ceramic sets, making the process of storing dishes in RV a whole lot easier.
The thing that I did not like very much about the plates is that they are quite pricey, which is almost expected from Corelle. However, although this set commands a high price, you can be sure that you will be using the plates for many years to come, so they are still worthwhile investments.
What We Like
Very lightweight and compact
Made of three layers of impact-resistant glass
Can be dropped numerous times while remaining solid
Can resist chips and other forms of damage
Has minimalist designs that can fit any décor
Yes, Corelle products are a bit on the expensive side, but they are of high quality and guaranteed to last for many years. If you have enough room in your budget, then why not invest them in this high-quality set of dinnerware?
5. Camp Casual (CC-001) 12-pc. Dish Set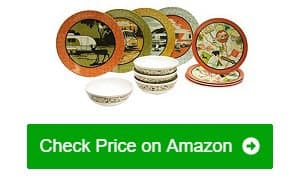 The thing I genuinely like the most about these plates is that they have cool retro designs and colors that are perfect for RVs. The themes and colors are reminiscent of classic campground ads. However, even though the themes are camping-related, such themes should not stop you from using the items at home if you want to.
This dinnerware set is made out of melamine, so even if they do accidentally fall out of the RV cupboard while you are driving, they will not shatter into a million pieces. This construction also makes them perfect plates for when you have toddlers or young kids.
Another thing I like is that they come at just the right size for use in an RV. They are not too large that you will find it hard to arrange them in the cupboard. The actual size also makes the plates easier to wash, even when you are out camping. However, the dishes are not so small that you will not be able to place enough food in them.
This dinnerware set consists of 12 pieces, which means you will be getting all of the different kinds of plates that you will need to serve a full-course meal. The fact that it comes in a complete set makes every outdoor meal somewhat fancy. It can also make your trips even more enjoyable.
The only thing that I did not like about the plates is that they are not microwave-safe, which is a big deal when you are in an RV. It would have been great if you could just put a bit of food into the bowls and pop them into the microwave.
What We Like
Comes in classic and colorful designs that are perfect for RVs
Made of durable melamine, so they will not shatter when dropped accidentally
Composed of 12 pieces, enough for serving a full-course meal
Just the right size for easier storage
Comes at a small and compact size, making it use a lesser amount of water for cleaning
What We Don't Like
The plates are not microwave-safe
It is a shame that these plates are not microwave-safe, but they do excel in other terms. There are many pieces included in every set, and I noticed that they are near-indestructible. Furthermore, they are available in neat designs.
6. Marjoy Melamine 4 to 12-pc. Dinnerware Set
One thing I like about the plates in the set is their faux marble design. They give a somewhat elegant feel to every meal, regardless of what is being served. Although it is quite evident that these are not made of marble, I have no problem using them for simple gatherings and dinner with friends.
Because these plates and bowls are made of melamine, you can expect them to be indestructible. I am sick and tired of having to sweep up shards of broken plates every other time I go camping in my RV, but since I started using these melamine plates, I have not lost even a single piece.
The plates are the perfect solution for use in recreational vehicles. They are less than half the thickness of ceramic, and just a fraction of the weight, which is ideal for the minimal space in RV cupboards.
The plates are also light, and because they are so thin when stacked, you can easily strap them down. One thing you should be aware of about this set is that you can buy straps that are installed in RV cupboards. With that, you can lash down dinnerware to prevent them from sliding.
My RV already has these straps preinstalled, and I love that I can lash down quite a lot of these melamine plates. However, these plates would have been a lot better if they were a bit cheaper. The price right now is a bit too high for melamine plates, and if you scrutinize the dishes, you will quickly see the edges of the graphics sublimation.
What We Like
Very durable and shatterproof
Lightweight construction and stacks easily
Can be lashed down using straps in the cupboard
Looks great, allowing it to pass as actual ceramics at first glance
Dishwasher-safe, although this is only applicable to the top rack
What We Don't Like
Quite expensive for a melamine dinnerware set
Although the price is quite steep, this melamine dinnerware set does have a lot of benefits that make it somewhat worthwhile to have. If the number of people who mistook this product for glassware is any indication, then this is a good investment if you can't afford the real thing yet.
7. Gianna's Home 12-pc. Rustic Farmhouse Melamine Dinnerware Set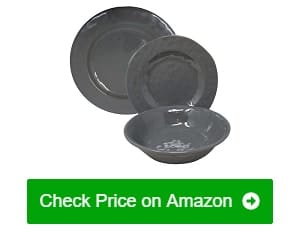 Unlike other melamine dinnerware, the plates in this set are quite heavy and feel truly solid when I hold them in my hands. It is a quality set that I genuinely like and actively look for when I am out shopping for dinnerware.
Because these are made of melamine, they can take a lot of abuse before they even chip or crack. This characteristic makes them the perfect choice for use in an RV. Accidents do happen, but you can count on these dishes to survive even the roughest of falls.
Another thing I liked about these dishes is that they do not look cheap at all. I will not even feel ashamed to use these dishes when I have friends come over for dinner. Each plate has the same kind of finish that antique ceramics have. Unless you examine the dishes very carefully, you cannot tell that they are plastic.
Another thing I love is that the dishes and bowls can be stacked on top of the other. These plates are very lightweight, so there should not be any problem stacking the whole set together and placing them in the cupboard of your RV.
As with most of the other melamine plates available nowadays, the only complaint that I have is that these dishes are not microwave-safe. I absentmindedly popped one of the bowls into the microwave to heat some soup, and it caused a part of the surface to blister. It also eventually cracked open, revealing the plastic material underneath.
What We Like
Feels hefty and high-quality in the hand
Comes with all the dishes needed for a full-course meal
Boasts of a nice-looking antique finish
Lightweight while allowing you to stack it
Comes at just the right size; not too big and not too small
What We Don't Like
Cannot be used in the microwave
This product would have been the perfect affordable dinnerware set if the plates were microwaveable. However, that does not mean that this set is not worth your investment. On the contrary, it would be a welcome addition to any person's RV or home.
8. Bowla 12-pc. Melamine Dinnerware Set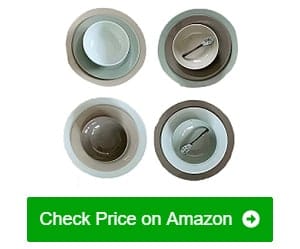 What I liked about these plates the most are their unusual color schemes. This set of plates encourages you to mix and match the different colored plates and bowls. Some people with bad OCD might get triggered by this dinnerware set.
However, I like how the different yet complementing colors make my dinner settings look fun and enjoyable. Another feature of these dishes that I like is the finish. It somewhat looks like real, glazed, and fired ceramics. Moreover, the colors and finish of the plates do not fade, even after months of continued use.
I have had my set for close to six months now, and you can barely make out the scratches on the surface. Also, their colors are still as vibrant as the day I took them out of the box. Although these plates look like real ceramic, they are made of melamine, a type of plastic resin commonly used for building affordable dinnerware.
The most significant advantage of melamine compared to ceramic dishes is that it is virtually indestructible. You can drop a melamine plate on the floor, and it will just bounce without even having a single chip. It will not shatter, either.
Aside from being sturdy, melamine is also very lightweight. If you compare these melamine plates with similar-sized ones made of ceramics, you will realize that melamine dishes are just a fraction of the weight. It makes them much easier to handle. It is also easy to hand wash, which is what you will usually do when camping.
However, although these plates are lightweight, they could be a bit heavier, just so they also feel like they will not break easily. If these were just a couple of grams heavier, they would be among the best dinnerware sets available today.
What We Like
Has a quirky color scheme that you can easily mix and match
Looks just like glazed ceramic dishes
The finish is very resistant to scratching.
Light and easy to hold and hand wash
Nearly indestructible
What We Don't Like
Could use a bit more weight
The issue I have with this dinnerware set is purely subjective, as some might not be bothered by the weight. The truth is I am very fond of these dishes, and I would highly recommend them to anyone shopping for plates right now.
9. Aidea Wood 12-pc. Dinnerware Set
All twelve pieces included in this set of dinnerware are entirely made of real hardwood, acacia, to be exact. The wood used for making these plates all came from highly renewable sources, making them very eco-friendly. Also, the dishes are fully biodegradable.
I like the craftsmanship that went into making every one of these plates. Each RV dish and bowl are made from several different pieces of wood, all joined together and milled as one single slab. It creates a seamless joint between the various parts. Even when I run my fingers across the dishes, I cannot feel the ridges where the wood pieces are joined.
Because these plates are made of wood, they will not shatter when they are accidentally dropped on the floor. However, one should still take care of them as they can still incur damages when they hit the ground too hard. They are not as prone to chipping and cracking compared to ceramics.
Another advantage of using wood dishes and bowls is that they are lightweight, but not so light that they feel cheap. These dishes have a bit of heft in them, so they feel stable when held in hand.
The fact that they are lightweight also makes it possible to stack them on top of each other, making them easier to stow away in the limited space provided by RVs. However, although these dishes and bowls are great, they still have some flaws.
The biggest issue that I have is that you need to only hand-wash them because they are made entirely of wood. Putting them into the dishwasher will cause a considerable amount of damage.
What We Like
Made of responsibly-sourced acacia wood
Top-tier craftsmanship guaranteed
Lightweight but still has a considerable heft
Can be stacked and takes little room in the cupboard
Boasts of a beautiful natural design that is suitable not just for the RV but also for the home
What We Don't Like
Not dishwasher and microwave-friendly
Although these plates require a bit more maintenance than the others, they are still a worthy addition to your dish collection. The dishes are not just nice-looking but are also very practical.
10. Hware Melamine Dinnerware Set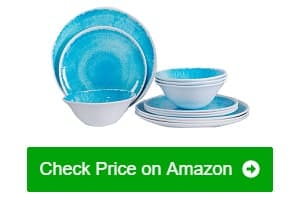 First of all, these dishes are quite beautiful. I liked the faux ceramic glaze that it has. The glaze is so bright and deep that if no one told you that these dishes are not made of ceramic, you would most surely doubt him.
The dishes are ideal for RV trips as they are made entirely of melamine plastic. Melamine is a robust and resilient material that has been used in making plastic dishes for a long time now. Plates made of this material are chip-resistant and crack-resistant.
Even if you accidentally drop one on concrete, it will just bounce back without nary a crack. If you go on an RV road trip, you know that you only have limited space for the things that you will need to bring with you. It is the reason why it is inadvisable to bring ceramic dishes. They are large, heavy, and take up a lot of space.
These melamine plastic dishes can be stacked on top of each other so that they take minimal space in your RV cupboard. The plates are dishwasher-safe, although the top rack is only the one safe for the dishwasher. Despite that, it is still better to wash the items by hand.
You do not have to worry when you decide to do so as these dishes are pretty easy to hand wash. They are lightweight, and the glazed surface is non-stick, so there is no need to scour the surface. These items are also comfortable to hold with one hand, so you do not have to be so gingerly when handling them over the sink.
However, it is a shame that these plates cannot survive being in the microwave for too long, especially when you consider the fact that it is one of the most used appliances in an RV. I discovered that even on the lowest setting, they would start to blister and chips when used in the microwave, so just use other microwave-safe dishes instead.
What We Like
Comes with a stunning faux ceramic design
Highly durable as it will not crack nor chip when dropped on the ground
Lightweight, thereby promoting ease when hand-washing them
Can be placed in the dishwasher, although it is only the top rack
The slick and smooth surface does not let the leftover food stick.
Although the dishes are not microwaveable, they take little space that you can afford to take a couple more dishes that are microwave-safe. Besides, you would not want to miss out on all the great things that these dishes can provide.
11. Camco 12-pc. Dishware Set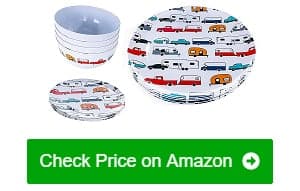 Whether you have or don't have kids, you will love the whimsical and colorful trailer designs that adorn all 12 pieces of this dinnerware set. Camping should be fun and not taken too seriously, which makes these dishes and bowls the perfect travel dinnerware.
If you are tired of your kids dropping your favorite china on the floor and shattering them into a thousand different pieces, then you should get this set of melamine plates quickly. These plastic plates are virtually indestructible, meaning you need to put a lot of effort into throwing them on the floor for them to get damaged significantly.
When used normally, you can expect these items to last for years without even a single crack or chip. The dishes are dishwasher-safe, but they are only meant for the top rack. The lower racks are too harsh and might strip off the surface coating of the plates.
However, since these are easy to clean with their non-porous and slick surfaces, they will get enough cleaning even when on the top shelf. The thing that I do not like about the melamine material used in these dishes, though, is that it is not microwave-safe.
However, because they are compact and easy to store, I just make do by bringing a couple of microwave-safe containers to reheat food and pour the contents onto the plates afterward.
What We Like
Comes with whimsical and colorful trailer graphics
Highly durable, as it will not crack or chip easily
Lightweight and easy to stow away
Dishwasher-safe, although it is the top rack only
Boasts of a non-porous finish that does not let food stick on it
Not being microwave-safe is just a minor inconvenience as you can just bring a couple of other containers that are. Besides, these dishes are just so fun to look at and use that it would seem a waste not to get them.
12. Yinshine Teal Dinnerware Set
This dinnerware set comes with dishes that have simple yet elegant and modern designs. The design is not too fancy but not too shabby as well. This dinner set is ideal, not just for home use. You can also expect them to look great on an outdoor setting or when you are on an RV road trip.
Another reason why these dishes are perfect for the RV is that they do not easily break nor get chipped. One of the reasons why ceramic plates are not that popular with RV owners is that when not tied down properly, they will fall out of the cupboard and smash on the floor.
Speaking of storage, the dishes are much thinner and a lot lighter than ceramic-based ones, so you can easily place them in RV cupboards. Even if they are not strapped down, these dishes will not fall out as long as the cabinet doors are secured. They do not have enough mass in them to break the cabinet doors open.
These items are also great gift ideas for weddings, or just for showing someone you appreciate them. They are beautifully designed, making them work great with anyone's home décor. Also, since these are not dishes that you would just display, the recipient will appreciate that you gave something that is truly usable.
The problem that I have about these dishes is that they are not that safe to use in the microwave. I tried to heat something in the microwave, and it was enough to cause a small part of the plate to blister.
What We Like
Can be a great gift idea as it is beautiful yet practical
Has a simple yet elegant design
Virtually indestructible
Contains 12 pieces for complete dinner service for four
Lightweight and easy to store away in an RV
What We Don't Like
Cannot be used in a microwave
Although this is not microwaveable, this set of dinnerware is still an excellent addition to your RV trips. You will never need to sweep up ceramic shards off the floor of your RV ever again.
13. Gibson Studio 116500.12 12-pc. Melamine Dinnerware Set
This set of melamine dinnerware consists of 12 pieces, enough dinnerware for a complete dinner or lunch service for up to four people. If you have a small family, then you should get one of these sets for your own. I have two of these, one is for the home, and I stowed the other set in the cupboard of our RV.
The thing I genuinely liked about this set of dinnerware is that the items are shatter-proof. I have lost count of how many dishes I have lost through all the years of camping that my family and I have been through. Ever since I used these plates for the RV and even at home, I have yet to clean up another broken plate.
Aside from being utilitarian, I like the design and colors of the plates. The embossed floral designs give the plates and bowl a rustic feel, especially when you are using them for eating outside in the fresh air. At first, I thought that these dishes were ceramic and not melamine.
Because these are very lightweight (just a fraction of the weight of ceramic dishes), they are effortless to hand wash, which is the ideal method of washing them. You can pop them into the dishwasher, but only at the top shelf.
You should not even think about placing these dishes into the microwave, as they will blister and maybe warp. This flaw is the thing that I do not like about melamine dishes. There have been quite a few dishes of mine that have unwittingly gone into the microwave. They got damaged a bit, though they are still somewhat usable.
What We Like
Lightweight and easy to stow in the overhead cupboards in RVs
Even though they are lightweight, the dishes do not break easily.
Can survive being dropped onto a concrete floor
Can be cleaned in a dishwasher but on the topmost rack only
Has enough pieces for a complete dinner service for four people
What We Don't Like
Cannot be microwaved or else they will blister
Not being microwave-friendly is not a huge deal-breaker, though, as I do not mind this issue. This dinner set is one of the best that you can ever own, especially if you own an RV.
14. The Lakeside Collection Rustic Melamine Dinnerware Set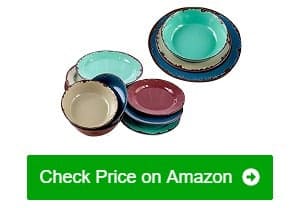 I genuinely love the rustic and antique look of these dishes. They resemble aged ceramic plates that have been taken care of by their owners. However, seeing as these are melamine dishes, you will not be scared to hold them in your hands.
As mentioned earlier, the plates are made of melamine, meaning they are shatter-proof and will not chip easily. You will need to put enough effort into throwing the dishes on the floor to get them to crack or chip.
With that, expect these dishes to be the perfect companion when you are on the road in your RV or at home when you still have young kids to feed. These items are not just for the RV or home. College students will also like to use these melamine dishes. First of all, these are affordable, and secondly, they are easy to clean.
Even if you do not have a dishwasher, you can easily clean the items by hand. However, if you do have an automatic dishwasher, you can place the dishes on the top rack. If you need to refrigerate leftovers, they can also be popped into the fridge or freezer.
The one thing that you should not do with melamine dishes like these is to put them into the microwave. It is because they will blister and crack from the heat. Another thing that I did not like about this particular dish set is that it is a bit too light for my tastes. If they were a bit heftier, then I would give this set a perfect score.
What We Like
Beautiful antique designs and colors
Virtually shatterproof
Dishwasher-safe, top rack only though
Easy to hand wash, very light, and non-stick
Can be popped into the freezer and will not crack
What We Don't Like
A bit too light for my tastes
These plates would have been much better if they were a bit on the heavier side, but still, that little issue will not take away all the benefits that you can get from them.
Best Dishes for RV Buying Guide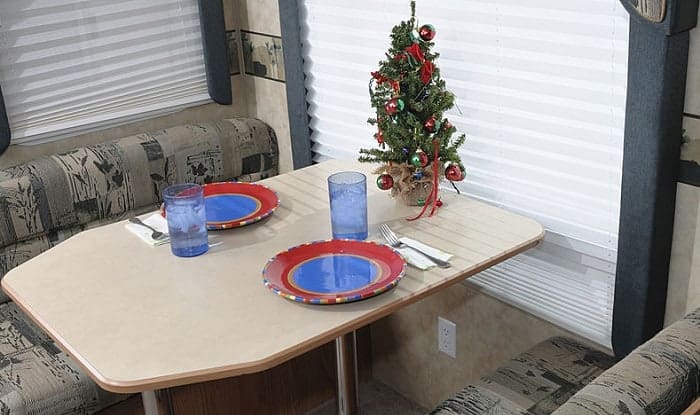 How Many Types of Dishes for RV are There?
The dishes that you should ideally have in your RV are those that do not break that easily. It means that you should not bring along your antique china, expensive ceramic dinnerware, crystals, and other costly and fragile dinnerware.
You should only use these items at home and for special occasions. When you are going camping in your RV, there are three popular choices in terms of dinnerware material, including:
Shatterproof glass – Brands, like Corelle, use this material. It is the best choice as it is not likely to shatter when it falls on the floor (but there is still a chance that it would). It is dishwasher and microwave-safe as well.
The only problem with reinforced glass dinnerware is that it is costly. However, if you have room in your budget, you should look into getting a set of these.
Wood – If you want to give your RV road trips a very rustic vibe, then you should also get wood dinnerware. These items are made from real hardwood pieces that are glued together, then turned and smoothed on a lathe.
However, you need to know that wood dishes, although shatterproof, are susceptible to other kinds of damage. For instance, you should not pop them into a dishwasher, nor should you place them in the microwave.
Melamine – This is one of the most common materials used for making RV-friendly dinnerware. Melamine is a type of resin that, when added to a plastic polymer, will add strength and resilience. Melamine dishes are near indestructible. You have to throw it hard against the ground to get it to chip.
However, the problem with melamine plates is that you cannot put them inside the dishwasher (only on the topmost rack), nor can you use them for microwaving.
Of these three, the melamine plates are the most advisable for use in an RV. They are pretty low-maintenance plus they do not break easily. They are also easy to stow away since they do not take up that much space.
Who Makes the Best Dishes for RV?
Several manufacturers produce different kinds of dinnerware suitable for use in RVs. However, among the brands with the best dishes out there are Gibson Studio, US Acrylic, Marjoy, Corelle, Camp Casual, Gianna's Home, Bowla, Aidea, Hware, Camco, Yinshine, and The Lakeside Collection. I noticed that these brands are very suitable for those who like to go on trips in their RVs.
How to Pack Dishes in a Travel Trailer?
If you have lost a lot of dishes because they always seem to fall out of your RV cupboard whenever you go on trips. Here are a couple of tips that can help you secure all your dishes and glasses to keep them from moving around while you are en route to your campground:
Use melamine or wooden dishes – Ceramic dishes might seem nice to use. However, aside from being fragile, they are also heavy. It means that when you make a sudden sharp turn or swerve a bit, they will start to slide around the cupboard. Also, if you hit a bump, they will hit against each other, causing them to chip.
The best choice here is to switch over to melamine dishes. Melamine dishes are lightweight and very resistant to cracking and chipping. They can slip, slide, and hit against each other, and they will not suffer from any kind of damage whatsoever.
Wooden dishes are also a viable option. They do not chip and shatter as well, but they are a bit high-maintenance. However, if you do not enjoy eating out of plastic dishes, and have enough room in your budget, you can avail of reinforced glass dinnerware.
These dishes feel and weigh similar to ceramic, but these options are very durable and can take a surprising amount of abuse. They also look beautiful to boot.
Use silicone coasters and placemats – If you are set on taking your ceramic dishes with you, here is a tip to prevent them from breaking when you hit a bump on the road. When you are stacking the plates on top of each other, place one or two silicone coasters in between the two dishes.
It will provide a cushion that will absorb the impact when the dishes bounce against each other. It would be even better if you use a full silicone placemat. You should also place a silicone placemat at the base of the cabinet. Doing such will prevent the dishes from slipping and sliding when you are on the road.
Use foam pool noodles – If you have breakable items placed beside each other in the cabinet, you can secure them in place by cutting some of those foam pool noodles to length and placing them in between the breakable items.
Also, place a bit of foam pool noodles along the sides of the cabinet to provide a soft bumper for the fragile items to lean on.
Use a metal securing rod – A securing rod is like a curtain rod that has a spring inside the two pieces to hold itself tight against the sides of the cabinet. It will help you keep your dishes and other utensils in place and prevent them from shaking while you drive.
Use cabinet organizers – You can also buy one of those nifty cabinet organizers in RV specialty shops or online retailers. These items are like office table organizers, but much bigger. The compartments are also lined with padding to protect the contents.
Make sure to take measurements of your cabinets beforehand so you can get organizers that will fit inside them.
How Do I Stop My RV from Breaking Dishes?
Of course, a big part of the reason why your dishes keep breaking while you are driving your RV is how you store them. However, it could also be due to poor driving habits and the condition of your vehicle.
Here are some tips on what you need to change and do more to prevent any more of your dishes from getting shattered into pieces.
Tip #1 – Maintain a safe distance between your RV and the vehicle in front of you
Remember that you are driving a huge and heavy vehicle, which means you will need more room to brake appropriately. For example, if you are following another vehicle while on the freeway, always ensure that you have enough braking room between the two of you.
Now, keep in mind that there will be other car drivers on the highway with you who do not understand why you need so much room in front of you, and they will try to overtake you and get immediately in front.
Always anticipate that this scenario will happen. When it does, you do not slam on the brakes and cause all of the contents of your RV to slide and crash. If it happens, slowly let go of the gas to gain once again some distance between you and the car in front.
Tip #2 – Avoid swerving from lane to lane
Another probable reason why you always keep breaking glasses in your RV is that you tend to swerve from one lane to the next while you are driving. Not only are you risking breaking your dishes by driving too aggressively, but you will also be putting your life at risk because your RV might tip over to the side.
Your RV is not meant for rapidly switching lanes. It is too tall and top-heavy, meaning one wrong move while you are swerving, and you will find yourself on your side. Stick to your lane and be patient while driving. Remember that you are not in a race. It is not worth your and your family's safety to save a couple of minutes from your travel time.
Tip #3 – Always be wary of potholes and bumps on the road
When you exit the freeway, and you are on your way to the campground, drive well below the speed limit and keep a close eye on the road. It means you should not be looking at the GPS or, worse, your phone while driving.
Always think that there are potholes and bumps on the road, so keep both eyes open for them, and drive carefully. If you hit a hole in the road at high speed, breaking a couple of dishes will be the least of your worries.
Tip #4 – Get your RV's shock absorbers checked
If you feel that your RV is a bit more bouncy than it usually is, then there might be a problem with the shock absorbers. Properly working shocks will prevent your RV from bouncing because they also have pneumatic dampers to stop the vertical movement.
Take your RV to the mechanic straight away to have its shock absorbers checked out properly. Faulty shocks do not only cause a bumpy ride but will also negatively affect the handling of your vehicle.
How Do you Wash Dishes in an RV?
Not all RVs have dishwashers installed. If yours does not have one too, then the best way to wash dishes in your RV is by using the kitchen sink and doing it the old-fashioned way, which is by hand. However, in the RV kitchen, the sink is not as large as the one you have at your home's kitchen, doing the dishes can be a bit more daunting.
Here are some tips to make this chore more bearable:
Wash as you go – Do not let the dishes stack up on the small RV kitchen sink. Even if there is only a dish or two and a couple of glasses in the sink, take care of them immediately.
Make one-pot meals – RV camping is not the best time for cooking gourmet meals. Also, you do not want to waste so much time cooking when you should be enjoying the great outdoors.
Collect one-pot recipes, preferably those that use the least number of ingredients as possible. With that, you can cook faster while ensuring that there will be fewer dishes to clean later.
Invest in a collapsible dish rack – This nifty little item will make your dishes dry faster than leaving them on top of a drying towel overnight. This way, you can clear your sink more quickly.
Plug the drain – If you are the type of person who lets the water run while washing the dishes, you will discover that doing so in an RV is an excellent way to run out of water quickly. Use a drain plug so that you can save water and get your dishes squeaky clean.
Are Corelle Dishes Breakable?
Many people think that break-resistant is the same as being unbreakable, but that is not the case. Corelle dishes often made using tempered glass are very break-resistant, meaning you can drop them on the floor while still having a high chance that they will survive in one piece.
However, if dropped from a considerable height, even Corelle dishes will likely break. They can only absorb so much stress.
Care and Storage
If you are stowing away your dishes for next year's camping season, you need to wash and dry them thoroughly before putting them in the cupboard for storage. You might also want to cover them with a huge piece of clean fabric to prevent dust from settling on top of them.
When it comes time to use them again, make sure that you give them a quick wash and dry as they will be a bit musty from being in storage for so long.
Buying Guide
One might think that buying dishes for use in an RV is just as straightforward as purchasing a set for your home. However, that is not always the case. You need to consider certain factors when purchasing dishes for RV use.
That way, you can ensure that you will not waste money on inferior quality items that did not even meet your needs.
Must be unbreakable – There will undoubtedly be times when you will forget to secure all of your plates before you set off on your RV trip. As such, they might fall off the counter and hit the floor. If you chose the wrong kind of dishes, you would need to pull over to the side of the road to sweep away broken shards off the floor.
You should get dishes that are at the very least shatter-resistant, but it would be much better to go for shatterproof ones. Your best options are those that will not break, chip, or crack even when you drop them on the floor from a height above your head. It will break the cycle of you having to buy new dishes every time you go on a trip.
Must be dishwasher-safe – The dishes that you get should at least be top-rack dishwasher-friendly. Many RV dishes are made of melamine, which will cause bloating and chipping when subjected to high heat, like that produced by most dishwashers, especially at the bottom racks.
If you do not have a dishwasher in your RV, then you can disregard this factor. However, if you do have a dishwasher, then it would be such a waste if you bought hand wash-only dishes.
Must be microwave-safe – If you are the type of person who could not live without a microwave, which is almost everyone, then the dishes that you own should be able to withstand the heat of the microwaves. Many plastic dishes, usually those containing melamine, will blister and crack when subjected to microwaves.
Must be BPA-free – Of course, when it comes to the dishes that you eat out of, your health should always come first. It is the reason why when shopping for dishes for your RV, you also have to choose those without even trace amounts of hazardous materials.
One example is BPA. Such chemicals can cause very adverse effects on your health and that of your family. Look for 100% BPA-free marks on the dishes. Make sure that they are certified safe by the FDA, too. Having such certifications is proof that they are safe to use at home and in your RV.
Other RV Dishes We Reviewed
Yinshine Outdoor Camper Dinnerware Set
These plates and bowls look just like antique porcelain dinnerware. They resemble old ones, but with the added benefit of being nearly indestructible.
Key Features:
The collection contains a set service for four diners.
Top rack dishwasher-safe
Lightweight and 100% BPA-free
Aidio Dinnerware Set for 4
From afar, you could swear that these melamine plates are genuine antique ceramics. However, unlike the real deal, you can use these plates instead of just setting them up for display.
Key Features:
Break and chip-resistant
Stacks on top of each other in a very compact manner
Dishwasher-safe
AmazonBasics 18-Piece Dinnerware Set
If your entire family always comes with you whenever you go on RV road trips, then you need this 18-piece dinnerware collection.
Key Features:
Comes with all the basics for six table settings
Microwave and freezer-safe
Comes packaged with a one-year limited scope warranty
Preserve 20310 Everyday Tableware Set
If you want a guilt-free, and one hundred percent eco-friendly RV life, then you need to get this set of dinnerware for four.
Key Features:
Made entirely from recycled plastic materials
Completely BPA-free and melamine-free while remaining durable
Comes with a textured surface that prevents food from slipping and effectively hides utensil scratches.
The Lakeside Collection Happy Camper Dinnerware Set
The quirky and fun designs on these plates and bowls will add quite a lot of fun to your everyday meals.
Key Features:
Has fun designs that make eating outdoors more enjoyable
Dishwasher-safe, but only for the top shelf
Comes with all you need for a dinner party for four
Gibson Brist 12-Piece Dinnerware Set
Do you want a plastic dinnerware set that looks so good that you would not mind using them for when you're hosting dinner parties? Then this set offered by Gibson is ideal for you.
Key Features:
Comes in various colors, allowing you to mix and match components when you want to
Break, chip, and scratch-resistant
Dishwasher-safe, but it is recommended to hand wash them
HWare 12-piece Melamine Dinnerware Set
It can be hard to find a dinnerware set that is dishwasher-safe, but some like this set by HWare that comes along and blows people's minds.
Key Features:
Will not break unless you throw it on the ground
FDA-approved safe for use
Highly stain-resistant
Camp Casual CC-006 Multicolor Set
These bowls are not just made for serving food but also come with lids so that you can use them for storage as well.
Key Features:
The bowls nest into each other for easy storage.
Come with 100% BPA-free plastic lids
Features RV-themed designs
Craft & Kin Melamine Dinnerware Set
Everyone would love to have real wood dinnerware, but cannot afford them. This dinnerware set is the next best thing.
Key Features:
Comes with photo-realistic wood grain designs
Dishwasher safe, but only on the upper rack
Made of high-quality, break-resistant, and food-grade melamine
HWare Rustic Plates and Bowls Set
This product is one of the most affordable, yet very long-lasting melamine dinnerware sets that you can buy. The rustic design only adds to this set's value.
Key Features:
Top shelf dishwasher-safe, but is lightweight and easy to hand wash
Looks and feels like ceramic, but is nearly indestructible
Very affordable while having all the plates needed for four settings
Melange 100% Melamine Dinnerware Set
If you are not an expert when it comes to inspecting dinnerware, you might be fooled into thinking these plates and bowls are kiln-fired clay.
Key Features:
Contains 100% melamine, making it thicker and heftier than most
Comes with enough pieces for four place settings
Completely dishwasher-safe
Conclusion
There is something about eating on proper dishes even while you are camping in the great outdoors that just feels right. If you are tired of always cleaning broken dishes every time you drive out in your RV, and eating on paper plates is not an option, you need to get the best dishes for RV.
These items might cost a bit more money than paper plates, but at least, you will not be throwing cash away by keeping on breaking your expensive ceramic dishes.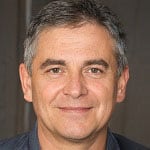 Hi, I am Tom Hank, an RV-er since 2014. Back then, I started without much help. As you can imagine, the struggles are endless. But now, you do not have to begin your adventures knowing next to nothing about RV lives.