Not everyone is a master in the kitchen. Some are pretty satisfied with getting some microwaveable meals and heating them for a couple of minutes. It goes double when you are on an RV camping trip. If you have been driving for hours and you just want something good to eat once you arrive at the campsite, the microwave is your best friend.
However, just because it is a microwave, it does not mean it is just for heating leftovers or frozen foods. You can whip up incredible tasting dishes using it. These dishes will only take a couple of minutes to prepare, and you will not be stuck with a massive pile of pots and pans afterward.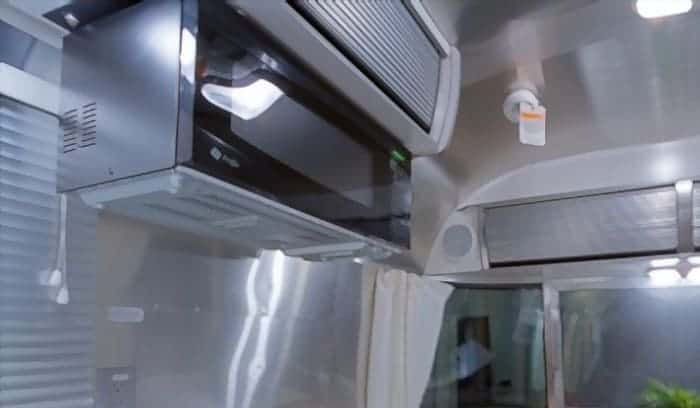 Indeed, the microwave oven is one of those kitchen appliances that cooks and non-cooks alike will appreciate. Now, if you want to look for the best RV microwave to put in your vehicle, you will have a lot of choices. However, not all of them will work for your particular circumstances.
You have to consider many different factors to find out which microwave suits your needs the most, and this article will teach you how to make the right choice.
Best RV Microwave Reviews
1. RecPro RV Stainless Steel Microwave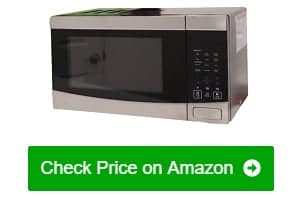 I am glad that this microwave already came with its own installation trim kit. It means that aside from remaining secured inside the cabinet, it also makes the microwave look like it came standard with the RV.
Although this RV microwave with trim kit is small and compact, it has a generous amount of cooking space. When you open the door of the oven, you will be treated to generous 1-cubic feet of room. I have warmed up my large dinner plates in my RecPro microwave, and there was still a bit of room to spare.
I also appreciate that this low wattage microwave for RV has a child-lock function. I find this feature helpful since I have a young toddler to take care of. It will prevent my toddler from operating the microwave on his own. I would not like to have my kid nuke an egg and have it explode in his face. This additional layer of security makes this microwave ideal for families.
There are also eight different cooking options available that I find helpful because it removes all the guesswork regarding the cooking process. For instance, if I wanted to cook a baked potato, I just press the one button for the baked potato option, and the microwave will set the timer and cooking power automatically to ensure that the potato is evenly cooked.
There is nothing much to complain about with this microwave. However, if I have to point out one thing, it would be that the rotating dish inside the microwave would shake around when I am driving the RV.
What We Like
Easy to install
Looks sleek and clean once installed
Compact design yet has a surprising amount of cooking space
Very quiet operation
Has eight different cooking option settings
What We Don't Like
The rotating dish usually shakes when the RV is in motion.
I could not find anything serious to complain. I even discovered that it is easy to remedy the issue with the rotating dish. I can just take it out. Overall, it is a good idea for a camper microwave.
2. Kenmore 70929 Countertop Microwave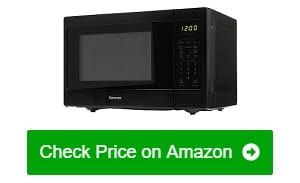 The Kenmore microwave is just the perfect size for use in an RV. It has the right dimensions so that you can place it in a cabinet and still have enough room for ventilation. However, one should be careful to make sure that this appliance is adequately secured in place.
I like the touch controls of this small RV microwave. They are bright and clearly labeled, so even in the early hours of the morning, I do not need to strain my eyes too much to operate the microwave. I prefer this kind of control over the old-school dials that require you to be more precise when twisting.
As far as the controls are concerned, six instant heating options make using this microwave even easier. For example, if you just need to heat your ceramic dinner plate (to keep your food warm for longer), you just need to press one button, and the microwave will do the rest for you.
Another thing that I like about this microwave is that the cooking space inside is covered with diamond-shaped indentations.The purpose of this feature is to target the microwaves evenly on the food being heated.
The microwave would have been great if only Kenmore had better customer service. Many reviews said they just had a minor issue with their microwaves but did not get any response from the company.
What We Like
Small and compact, making it a perfect solution for RVs and small apartments
Has six cooking presets
Bright and easy to press buttons
Has diamond indentations inside for even cooking and heating
Comes with a child lock
What We Don't Like
Kenmore customer service could use a lot of improvement.
Despite the sub-par aftermarket service of Kenmore, they do make a nice-looking, compact, and yet powerful microwave oven that makes a great addition to your RV.
3. Sharp R1874T Convection Microwave
This unit is not just one of those regular RV microwave convection ovens. It is also one of the best RV convection microwave choices you can find in the market today. You can use it to brown, crisp, and roast foods. You can now enjoy delicious baked goods at just a fraction of the time.
I like that the Sharp r1874t over-the-range oven can be installed above the RV range. This capability helps conserve space and adds functionality as an exhaust system for the range top. This additional feature also helps keep the smells from the oven from spreading inside the RV.
The inside of this Sharp microwave convection oven for RV is also large. At 1.1 cubic feet, you can place even large dinner plates or even bowls. You will not be left wanting in terms of cooking space. This microwave oven can handle anything that you can throw at it.
The neat thing about this RV microwave convection oven over the range is that it has a smart interactive cooking system that guides you through the process if you would like. Even complete beginners will be able to program it to work the way they want.
This RV microwave convection oven combo would have gotten higher marks from me if it was not so difficult to install. The biggest issue that I have is that the mounting screws are too long, and the bracket itself is a bit too long and sticks out too much. It was a pain lining the microwave correctly so that we can screw in the microwave base.
What We Like
Can be used to bake, roast, and broil as well as microwave
Has built-in vent for directing cooking smells away
Features a bright and clear button pad
Comes with a smart cooking assistant
Can be mounted above the stove and used as a vent
What We Don't Like
It is not that easy to install.
If you get the help of someone who knows a bit of carpentry, then the installation process might not be so hard. However, despite that, this combination 12v microwave and convection oven would be a great addition to your RV.
4. COSTWAY Countertop Microwave Oven
This item is one of the most compact microwave ovens that I have ever had the pleasure of using. The entire thing measures just 18 inches deep, 14 inches wide, and 10 inches high. Even if you do not have that much counter space in your RV, you will not have any problem making some room for this appliance.
This mini-RV microwave comes with an auto-cook setting, and within which are presets for cooking different foods, like popcorn, pizza, fish, meat, and others. It removes all the guesswork. You do not have to set the time or the power needed to cook the food.
Aside from the auto-cooking feature, this travel trailer microwave also has five adjustable power levels, starting from 20% to 100%. It allows you to fine-tune how your food gets cooked. For instance, if you want to gently defrost a piece of fish, or quickly cook thin slices of meat, you can do so with this nifty appliance.
Even though this microwave oven is small, it has a comparatively large cooking space to body size ratio. You have a 20-liter (almost ¾ cubic foot) cooking space, which is more than enough when cooking for one or two people.
This microwave works great. However, there is an issue about operating this appliance, and that it is a bit too complicated. Unlike other microwaves where you just need to press a button to get it started, here, you have to go through a couple of options to get it to work just right.
It is the type of microwave that you can only use correctly once you read and understood the user's instruction manual.
What We Like
Small and compact, which is the reason why it hardly takes up counter space
Features an ample cooking space relative to its size
Has a delayed start timer; will only start at a particular time
Comes with a child-lock feature
Has an automated cooking function
What We Don't Like
Can be a bit tricky to operate
Although the minimalist design makes this microwave ironically more challenging to manage and use compared to other brands, the fact that it can save space and do its job well is enough to merit it having a permanent space in your RV.
5. Advent MW912BWDK Microwave Oven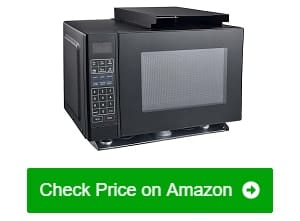 It is not a home microwave that happens to be the right size for an RV. It is specially designed for installation for RVs. This oven comes with a wide trim featuring vents, promoting ease in installing it in most modern RVs that already have provisions for appliances.
This microwave, despite its small size, packs a lot of power. The unit boasts of a whopping 900 watts of power that you can control using ten different power settings. You can use this to heat some water for coffee or tea or cooking a whole baked potato.
Speaking of cooking, it has six different cooking presets. It means that the user no longer needs to set the power and time for cooking typical dishes manually. For instance, I enjoy snacking on popcorn whenever I want to relax in the campground, so I just toss in a bag of kernels and press the preset. Once done, the machine will do everything else for me.
The thing about this microwave that I genuinely appreciate is that it runs silently. You do not get the loud humming noise that most microwaves have. It is so silent that at first, I thought that I got a defective device, but it worked like a charm.
The only problem that I have with this microwave is not the unit itself but the Advent's customer service. I had a problem with the trim I received. It was the wrong color, but RecPro was not of much help, so I just left it to Amazon to get things sorted.
What We Like
Made specifically for RV use
Easy to install
Runs quietly
Has a lot of power for such a small microwave
Comes with six presets for smooth operation
What We Don't Like
RecPro's customer service needs to improve a lot.
Despite the shoddy customer service, the Advent microwave itself does work as advertised. It has enough power for general cooking purposes. It is also easy to operate, making it ideal for RVs.
6. RecPro RV Microwave
I found out that this microwave from RecPro is meant explicitly for mounting in an RV's kitchen. It comes with a wide trim plate that has built-in vents, allowing the unit to breathe and cool off when in use. Once correctly installed, the face will be flush against the surface.
This microwave is quite small and compact, so it will not take up a lot of space in your RV. It can also be installed flush alongside the kitchen cabinets, so it will be hanging on the wall and not using up valuable counter and floor space.
This nifty cooking appliance comes with a rotating glass table inside to ensure that every side of the food being cooked is evenly exposed to microwaves. When done correctly, even a thick slice of meat or fish will be cooked thoroughly with the right power and timer settings.
This microwave also has a couple of different cooking presets for smoother operation. If you want to cook fish, just press the right preset button. If you will be heating leftover pizza or pastries, there is a preset for that, too.
The only problem that I had with this unit is the trim. The trim that came with this is a bit too wide for the provision in my RV. I had to saw off a good inch or so above to make sure that the vent holes are not covered.
What We Like
Made explicitly for RVs; comes with trim with vent holes
Does not take up a lot of space; it even does look like this furniture belongs in the RV when hung properly
Has more than enough power for most cooking tasks
Features a helpful timer and power presets that eliminate all the guesswork in terms of cook times
Comes with a rotating glass table, which ensures even cooking
What We Don't Like
The trim is a bit too thick, making installation a bit tricky
This appliance is one of the best RV microwaves that I have used so far despite having a bit of difficulty with its installation. It works as advertised and is easy to operate.
7. Commercial Chef CHM660B Microwave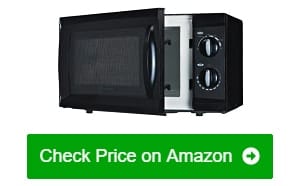 Not everyone likes to use modern, sleek, push-button contraptions. There are still people out there who just want simple controls, and this Commercial Chef microwave is the perfect choice for them. There is a certain charm with analog rotary dials. They are practical and durable while also having the ability to get the job done.
There are only two knobs to operate this microwave. You can use one for controlling the power out of the magnetron while the other one is for the timer. Unlike most of the feature-packed microwaves out there, you do not need to read the user's manual to know how to operate this microwave properly.
Of course, it is unless you need to know the specific cooking modes or settings certain kinds of foods. The thing I truly love about this microwave is that it is pretty durable. The analog dials may not be as high-tech as push-button interfaces, but they last a lot longer. It has no electrical controls that might malfunction, making it capable of lasting for many years.
It is easy to clean and maintain, too. You can easily remove the glass turntable and put it in the dishwasher. Also, the insides just need regular wiping using a clean rag and a bit of soap and water. This microwave can take a beating, and with a bit of TLC, it can last for many years to come.
The only problem that I have with this microwave is the lack of child-proofing. There is nothing that will prevent small children from using this microwave on their own. If you have little kids, then you might want to position this appliance a bit higher on the shelves.
What We Like
Simple and easy to understand controls
Only has two analog controls
Durable and long-lasting construction
Low-maintenance and easy to clean
Very energy-efficient since it does not consume any electricity at all when not operating
What We Don't Like
No child controls or any other similar protection features
Despite not having any child-controls (the best solution is to mount it high), this microwave does whatever it is expected to do, and for many people, that is enough.
8. Nat. Quality Built-in Microwave Oven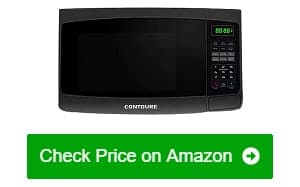 This unit is a compact microwave that you can easily mount over the counter or place on the countertop itself. This microwave is compact that it is not that hard to make room for it even if your RV kitchen is already a bit cluttered.
It comes with cooking presets to make cooking a lot simpler and more precise. I hardly needed to program the microwave when I am cooking certain kinds of foods, like popcorn, potatoes, soups, and more, manually.
Speaking of cooking, although the microwave itself is small and compact, the cooking area is relatively large for its size. You will not have any problems fitting a full-size dinner plate inside it, and the turntable will still spin as usual.
This microwave pumps out 900 watts of power, which means it will do just fine with the electrical system of most RVs. However, take note that it would still be wise to consult with an electrician first before you buy and install one in your RV.
I do have one gripe about this product, though, and that is it does not come with the trim kit included in the package. The ad clearly shows the microwave with the trim, so it was a surprise when I found out that the trim was a separate purchase.
I was also disappointed that I had to wait another week for it to come. I wished that the trim would come standard with the RV microwave.
What We Like
Small and compact
Can be installed inside a cabinet, specifically inside the provisions provided
Very powerful for its size
Can accommodate a full-size dinner plate without any problems
Comes equipped with preset cooking buttons, making it easy to use
What We Don't Like
The microwave did not come with the trim; it is a separate purchase.
Even though I had to wait an extra week for the trim and to get the microwave installed, many plates of food have come and went through it once it was set in place. It is indeed a useful and practical buy for many RV owners out there.
9. Dometic DCMC11B.F Microwave Oven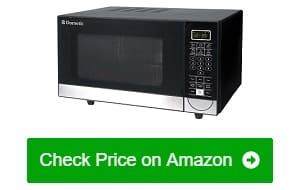 Although this microwave convection oven for RV is a bit on the large side, many still prefer it, especially those with a large family whose members often come with them on most of their RV trips. This Dometic oven has a staggering 1.1 cubic feet of cooking space, and 1000 watts of power. Preparing enough food for a lot of people will only take a couple of minutes.
This Dometic RV microwave can either be placed on the counter if there is still enough space on it. You can also install it above the sink, inside a cabinet, or over the stove. This appliance comes with a wide installation trim and exhaust kit that will make the oven look like it is part of the furnishings.
I am also happy that this RV built-in microwave convection oven has ten preset cooking settings. Depending on the kind of food that you will be cooking, you just need to press the appropriate button, and the oven will take care of the settings and amount of cooking time. It takes out all of the guesswork involved in cooking.
This microwave is also very easy to clean and maintain. You can easily and quickly take out the sizeable rotating glass turntable and put it in the dishwasher. The inside of the microwave is made entirely of stainless steel, making it easier to clean. Just wipe it down using a clean, damp rag to get out most of the stuck-on food along the walls.
The only complaint I have with this microwave is that it is tough to install because it is quite heavy and bulky. This appliance weighs a total of 35 pounds, so holding it in place while someone else is screwing in the trim can be quite a challenge.
What We Like
Has an ample cooking space
Easy to clean and maintain
Comes with a sleek looking trim and ventilation kit
Features 10 cooking presets for easier use
Has enough power to cook large amounts of food in a short amount of time
What We Don't Like
Hard to install because the microwave is heavy and bulky
Despite the difficulty in installation, the Dometic RV microwave is the best choice for RVs of large families. It has a large capacity and more than enough power to cook large meals.
10. Forest River MCG992ARB .9 Microwave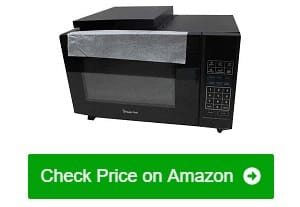 This microwave is specifically designed to be installed in RVs. It comes with the appropriate installation bracket, including the vent cowl. It promotes ease in installing the microwave in RV cabinets.
One of the great features that I liked about this microwave is the convenient defrost mode. You can either choose to defrost the food according to time. What it means is that you just set the timer. You can also defrost it by weight, which means the microwave will determine how long the defrost time will be depending on the weight of the food.
Another convenient feature that I liked is the additional 30-second start button. It is beneficial because there are times when I thought that the amount of time that I inputted is enough, but it is not, and adding a minute will be too much. Adding just 30 seconds to the cooking time is enough most of the time.
This microwave also has a built-in child lock to prevent unsupervised access to the microwave. It is one of the greatest safety features here, mainly because I have lost quite a few microwaves in the past. It is due to my kids putting in non-microwaveable materials in the microwave.
I have one complaint about this product, though, and that is the installation trim kit is not included in the package. It would have been great if the trim came with the microwave since you will not be able to use other trims for this product anyway.
What We Like
Comes with installation bracket and ventilation cowling
Easy to install as it just needs a couple of screws to secure
Has smart defrost modes
Comes with an additional 30-second button
Features a child safety lock
What We Don't Like
Does not come with the trim
Although, unfortunately, the trim does not come with the package of this microwave, it is still worth getting if only for the numerous other benefits that it provides.
11. Furrion FMCM15-BL Microwave Oven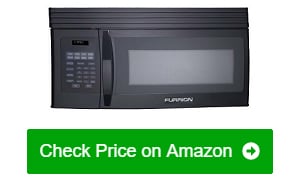 This microwave oven is small and compact, and you can easily install it over the stove in the RV. It saves a lot of precious counter space, which is especially crucial in RVs because of the limited amount of storage space. It is also ideal for small apartments or kitchens.
This microwave convection oven also comes with a vent fan. It will direct all the smells from the oven and the stove out and away from the interior of the RV. Not all cooking smells are pleasant, so venting them outside of the RV can be useful.
Aside from being a microwave, it is also a convection oven. It means that you can bake, broil, toast, and roast foods in this oven. I have used this microwave oven to cook so many dishes that I could not possibly have done using just an ordinary one.
This oven is the best choice for large families. It has a cooking space of 1.5 cubic feet, which means it can cook a lot of food at one time. You can cook an entire meal for a large family in just a couple of minutes.
It has a unique feature called the Speed Bake function, which allows the user to cook baked goods at just a fraction of the time. It combines the microwave and convection oven in one. The microwave heats the ingredients quickly, cooking them in minutes, and the convection oven browns the surface.
The only problem that I have with this product is that the packaging is quite unsubstantial. When the microwave arrived at my house, there were tears in the box. I also noticed a couple of scratches and some dents. It was fortunate, though, that all of the damages are in the rear of the appliance and cannot be seen once installed.
What We Like
Boasts of a large 1.5 cubic meter cooking capacity
Has a compact design
Easy to install above the stove or by itself
Comes with a strong ventilator that draws cooking smells away
Useful for baking, broiling, and toasting, among many other tasks
What We Don't Like
The packaging could use some improvement.
Fortunately, the damage due to insufficient packaging did not affect the performance of the appliance. It is because this convection microwave oven is a nifty piece of kit that you would do well to have in your RV.
12. Cuisinart CMW-200 Microwave Oven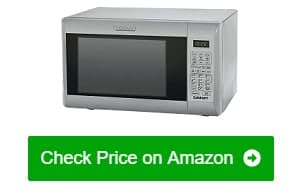 This unit is an all-in-one appliance. It can do it all. This convection microwave oven is not just great for popcorn or reheating leftovers, but also for cooking all kinds of dishes. You will find it useful for baking, roasting, broiling, and even grilling.
The Cuisinart convection microwave oven has a large 1.2 cubic foot cooking space, which is more than enough space for cooking large meals. I have even tried baking a cake, and roasted whole chickens using this oven, and they all turned out great.
The inside of this microwave is made entirely of stainless steel, making it very easy to clean. Because the inside of the oven is very smooth and non-porous, food splatters will not stick on the surface, which also means that smells will not stick to the walls.
There are numerous cooking presets, so the user only needs to push one button to start cooking. There are even settings that combine the microwave and convection function at the same time, thus significantly decreasing cooking time. The built-in presets make cooking with this oven even easier.
However, even though this product may seem like the perfect kitchen appliance, I do have some complaints about it. The biggest issue that I have is the lack of quality in their customer service. You had better pray that you get a perfectly good working unit because getting help from Cuisinart customer service can be a challenge.
What We Like
Large cooking area
Easy to clean and maintain
Has numerous cooking presets for different dishes
Can combine the use of convection and microwave to decrease cooking time
Can cook all kinds of dishes at just a fraction of the time
Priced reasonably low for something that has the Cuisinart logo
What We Don't Like
The company's customer service leaves a lot to be desired.
Despite the rather lousy customer service, this convection microwave oven for the RV is pretty solid, both in price and performance.
13. Daewoo KOR07R3ZEC Microwave Oven
The first thing that I noticed about this microwave oven is the way it looks. It has the kind of design vibe that is reminiscent of the golden years of the Airstream trailers. However, underneath its vintage facade is a modern microwave with cutting-edge functions.
My most favorite feature of this microwave oven is the Concave Reflex System. It means that the microwave used concave microwave reflectors that quickly and evenly cook all the food that you place inside the oven.
Another feature that I like is that the turntable is recessed under the floor of the microwave. Aside from saving a lot of space, this RV microwave also ensures the even heating of the food. However, even though the turntable is sunk under the floor, you can still remove it for cleaning.
You can choose from five different power levels depending on the type of dish you will be cooking. For instance, if you will just be reheating that mug of coffee that you forgot on the kitchen table, just choose the water reheating option, and the microwave will handle the rest.
This microwave oven works very well, in my opinion. However, there is one thing that I did not like, and that is the fan that keeps the magnetron cool as it tends to be very noisy. Other than that, I have no other real complaints.
What We Like
Has a beautiful vintage look and feel, and is very small and compact
Comes with a recessed turntable for more room inside
Features large and bright LCD display
Equipped with five different power levels
Easy to operate
Despite the fan being a bit too loud, this microwave is still the perfect choice for an RV and even a small apartment or house.
14. Toshiba EM925A5A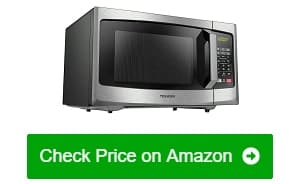 This Toshiba microwave helps cut out all the guesswork and failed dishes by offering cooking presets for different kinds of dishes that one might cook. For instance, I use mine all the time when cooking baked potatoes, and I just need to press one button to ensure that they will all come perfectly cooked.
Aside from the cooking presets, I also like that there is an instant cook microwave setting. Just press the numbers from 1 to 6 for the microwave to turn on at maximum power for the said amount of minutes. It is excellent when you just want to reheat something quickly.
The neat thing about this microwave is that it is not an energy hog. It has an eco-mode, which means that the microwave will use the minimum amount of power recommended. You can also turn on and off the beeping if you want.
This microwave also has a bright LED display, which I find useful as I usually use mine during the early morning hours to heat a breakfast muffin or something when my eyes have yet to adjust to the morning light.
This item is also one of those cooking appliances that is small and compact, making it perfect for RV countertops, studio apartments, college dorm, and other living spaces that have limited space.
The only complaint I have is that the presets for heating dinner plates are not powerful enough to heat ceramic plates quickly. It takes almost six minutes to warm up one plate when it just takes three minutes in other microwaves.
What We Like
Small and compact, perfect for small living spaces
Comes with different cooking presets for different dishes
Features an eco-mode for energy-saving functions
Equipped with one-button quick heating features
Has a bright and clear LED display
What We Don't Like
Not quite as powerful as other microwaves, might take a bit more time to heat up
Although this microwave might not be as powerful as its contemporaries, it still does the job it is supposed to do. For most people, that is more than enough reason to invest in this microwave.
Best RV Microwaves Buying Guide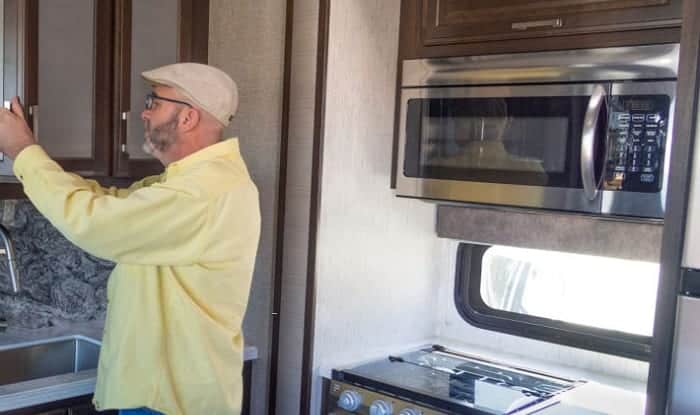 How Many Types of Microwaves for RV are there?
Different types of RV microwaves are available at present, and they also have a couple of different classifications. For instance, if you will be classifying microwaves according to how they are positioned in the microwave, your options include the counter type, the cabinet type, and the range hood type.
The counter type of microwave oven is just like the one that you use back home. The two are even the same. If you can find a home microwave oven that is small and compact enough that you can take it with you during your RV trips, then that is technically considered as an RV microwave.
The cabinet type is a microwave oven installed inside the provisions in the walls of an RV. This type of microwave is often placed inside a small cabinet or hung underneath a hanging set of cabinets. It is designed in such a way, so you can still have a lot of counter space even if you have a microwave oven.
There are also range hood types of microwaves. These are the ones installed right above the burners of a gas range. These microwave ovens have their built-in ventilator to draw out the bad smells coming from foods.
It is also possible to classify microwaves based on the way they function. Traditional microwaves use magnetrons to excite the water molecules in the food. It does so to the point that the friction between the molecules will create a lot of heat, enough to cook the food.
Then there are also the convection microwaves. Aside from microwaves, it also uses radiant heat, which is the same kind of heat produced by regular ovens, to cook food. The advantage of this kind of RV microwave is that you can also use it for baking and browning foods.
I also have a list of the RV dishes with microwave-safe for your reference. Moreover, check our list of toaster ovens for your RV if you're living in an RV since there might not be enough space for your microwave or full-size oven.
How Does an RV Microwave Work?
Here is how a traditional microwave oven works. Inside the metal housing of the microwave oven is a magnetron, which is the microwave generator. When you pass electricity through a magnetron, it gets converted to very high-powered radio waves.
The magnetron will then send these microwaves through a waveguide, which is a channel that leads to the "cooking area" of the microwave. It is the part with the rotating turntable where the food is placed.
The food placed on the turntable will be spinning slowly, so every part is evenly exposed to the bombardment of microwaves. It ensures that the food is cooked evenly throughout. The microwaves emitted will then bounce back and forth off the walls of the inside of the microwave oven.
When the radio waves hit the food, they do not bounce back. They go through the food. As these high-energy radio waves pass through the food on the turntable, they excite or cause the water molecules inside to vibrate vigorously.
When water molecules vibrate, they produce a lot of heat. The faster the vibration, the more heat is produced. As the microwaves pass through the food, they create a lot of heat, which is hot enough to cook the said food.
It is a reasonably widespread opinion that microwaves cook food from the inside out. It is not entirely true, though. Microwaves can only pass through a certain thickness of food, which is around a centimeter or two.
It is the reason why when you try to cook a thick piece of chicken breast in the microwave, you will find that only the outer part is thoroughly cooked when you cut through it. With that, most microwave cookbooks advise you to let food sit for a while before eating. The residual heat from the outside of the food will need some time to reach the inner part to cook it.
Who Makes the Best Microwave Convection Oven for RV?
I have tested and reviewed quite a number of different brands of microwave convection ovens throughout the years. With that, I noticed that some brands that produce the best products are RecPro, Kenmore, Sharp, COSTWAY, Advent, Commercial Chef, Nat. Quality, Dometic, FOREST RIVER, Furrion, Cuisinart, Daewoo, and Toshiba
If you are out shopping for a new microwave oven for your RV, I highly suggest that you actively search for the brands mentioned above. I have tested these brands personally, and I find them entirely satisfactory.
Can You Use Any Microwave in an RV?
Not all microwave ovens are suitable for RV use. You have to consider a couple of things to find out if a microwave oven is fit for use in an RV. First of all, will you be putting the appliance in a microwave provision hole in the RV? If you are, the odds are that counter microwaves will not fit inside the hole properly.
You might also have a hard time looking for a trim that will look good. However, if you know a bit of carpentry, you can fashion your custom trim for your microwave. Just make sure that you place ventilation holes so that there is somewhere for the heat from the microwave to escape.
If you are placing the microwave inside the cabinet or on the counter of your RV, then you will need to deal with sizing issues. Ideally, you should get a microwave that is not so big because it will take up too much precious counter space. However, because you have no choice but to choose a compact design, you will need to compromise a bit on cooking capacity.
In terms of power supply, most modern RVs right now come equipped with 12v power inverters. With that, you can eliminate your worry about not having compatible power sources.
How to Replace RV Microwave Oven?
If your RV has an RV microwave oven already built-in, but you want to replace it for whatever reason, you have an assurance that the process is quite easy that anyone can do it. However, you might want to get another person's help as you will need another set of hands to hold the microwave later.
First of all, if you will be replacing a broken or a defective microwave, you should turn off the circuit breaker of the RV just to be on the safe side. You should then take a screwdriver and remove the screws that hold the metal trim around the microwave in place.
Once all the screws are taken out, gently slide out the old microwave, but do not pull it out entirely yet. Reach into the hole where the microwave is and then pull out the power plug from the socket. You can now pull the entire microwave out of its hole.
Now, take the new microwave out of its packaging then do the entire process again, but in reverse. You do not have to worry about the screw holes not lining up correctly. Odds are you will be getting wood screws so you can just screw them directly into the wood.
Note: Before you buy a new microwave to replace the old/broken one, make sure that it will fit inside the provision hole. Get a tape measure and measure the width and height of the old microwave, not including the trim.
The new microwave should be the same size or as near to it as you can get. You can get something that is half an inch to an inch bigger, but not more than that.
How Do I Use my Convection Microwave in my RV?
The great thing about convection microwave RV ovens is that they have the best of both worlds. They can cook food quickly, and leave a beautiful browned surface just like the kind you get from a traditional oven or broiler. It is a convenient appliance to have in your RV because it lets you cook different dishes and not just your regular microwave dinners.
However, with that said, you need to be careful when using convection microwave ovens. The most important thing that you need to consider is the container that you will be using. If you are using the microwave mode only, then you can use any microwaveable container that you have.
However, if you are using the convection mode, use a container that is oven-friendly, something like aluminum or ceramic. Now, things can get a little tricky when you will be using both the convection and microwave functions at the same time. For this, it is best to use containers made either from heat-resistant tempered glass or ceramic bakeware.
You need to be careful when setting the functions of the convection microwave oven. You would not want to accidentally use the convection function when there is a plastic container inside, as this might cause it to melt.
It would be much more catastrophic if you absent-mindedly chose the microwave function when there is an aluminum container inside. It can seriously damage the magnetron.
Are Convection Microwaves Worth it?
Convection microwave ovens are much more expensive compared to traditional microwaves, but the additional cost is due to them having more functions. There is only a limited number of dishes that you can cook using just the microwave oven. A combination of convection and microwave oven will open an entire world of culinary possibilities.
When you have a convection oven, you can use it for baking pieces of bread and pastries, not just warm them over. Also, you can roast chicken, pork, and other kinds of meats. If you like your lasagna to have a browned and crispy top with gooey cheese inside, then this is the oven that you need.
Things get even better when you find out that you can use both the convection and the microwave functions at the same time. It will give you the benefits of both. You get the quick-cooking capabilities of microwave cooking, as well as the browning and toasting effects that convection ovens provide.
You will be able to cook a dish in just a fraction of the time, but it will not be soggy. So, to answer the question, yes, it is very much worth it to get a convection microwave oven for your RV.
What is the Smallest Microwave for RV?
In my opinion, the best small microwave for RV is the COSTWAY Retro countertop microwave oven. This appliance is just 18 inches long, 14 inches wide, and 10 inches high. This tiny microwave can fit into any counter or cabinet in any RV.
However, the Costway Retro only has around 0.7 cubic feet of cooking space, so you have to compromise on that a bit.
Care and Store
There is nothing technically different between a microwave for RV and that used in the households. With that in mind, their care and maintenance is pretty much the same, too. Most microwaves are easy to clean. First of all, you need to take out the glass turntable then place it in the dishwasher to get cleaned.
To clean the inside of the microwave, you just need to take a slightly wet clean rag and wipe away all of the stuck-on food particles on the inner walls. If there are particularly tough, caked-on food particles stuck on the inner surfaces, you can steam them off using a simple vinegar solution.
Take a cup of water and mix in a tablespoon of white vinegar. Pour the solution into a microwave-safe bowl, place it inside the microwave and then nuke it for two minutes. After that, the caked-on dirt will have loosened, and you can easily wipe them away.
If the inside of the microwave smells, you can add a tablespoon of baking soda into the vinegar solution.
Buying Guide
It is commendable that you have not even once had a microwave oven in your RV after so many years. However, now that you finally came to your senses and you realize just how convenient having one is, you are now ready to invest in this appliance for your RV.
To make sure that you will not be throwing your money away, here are some factors you will do well to consider.
Conventional or Convection? – Conventional microwaves are just your regular, magnetron powered ovens. If you just need something you can use to reheat leftovers, thaw frozen food, and pop popcorn quickly, then this kind of appliance will suit you just fine.
A convection microwave oven combines the power of a conventional microwave with convection heating elements to have hot air circulating inside the chamber that browns, roasts, and grills food.
It is like using a traditional convection oven. With the help of microwave technology, though, you can expect the food to cook in just a fraction of the expected time. If you like to bake or make broiled dishes, then it is ideal for you.
Style – The styles of microwave ovens depend on how they are installed and how they function. One of the most commonly used styles is the countertop. These units are the usual microwave ovens that you see in most homes. What is good about them is that they do not require installation at all.
You just have to put them on the countertop with an available power strip nearby. You can also choose the above-range style. This style is the second most popular microwave oven. Because it is installed above the cooking range, it saves a lot of counter space.
Many brands also do double-duty as exhaust fans for the cooking range. It is the ideal choice for a small RV kitchen since it maximizes the use of space. It also does not take up any counter space.
Another style is the drawer, which is relatively new to the market. These microwave ovens are installed underneath the counter. They also have doors that open like a drawer, exposing the loading rack. Although this type of microwave oven will require a bit more skill during the installation, it is the most space-saving out of all the styles.
Size and Power – If you like to go on RV trips solo, or with just one other person, then having a small, low-powered microwave oven should be enough for your basic needs. Even the smallest microwave oven is big enough for cooking meals for one or two persons. However, since they are low-powered, cooking meals will take a bit longer.
The good news is that they do not consume that much electricity, so you should make a couple of compromises. However, if you have to cook for a rather large group of people, then you need to get a full-size microwave oven.
Go for one that has at least 1000 watts of power. These microwaves are so powerful that it will only take a couple of minutes for them to cook a raw potato to perfection.
Convenience Features – There is nothing wrong about wanting a very basic microwave oven, like the ones that have twist knobs for timers. However, there are times when you have to make sure that you time the cooking process precisely. One example is when you are cooking fish. If you take it too long, the fish will dry.
If you want to take the guesswork out of cooking, then get a microwave that has a lot of cooking presets already built-in. You just need to press a button, and the microwave will take care of the time and temperature for you.
You can even find some high-tech microwaves that sense if the food is sufficiently cooked by measuring the amount and temperature of the steam inside.
Other RV Microwaves We Reviewed
Sharp R-1514 Over-the-Range Microwave
Yet another excellent piece of electronics from a trusted brand, the Sharp R-1514 over-the-range microwave is a great addition to any RV.
Key Features:
One and a half cubic feet of cooking space
14-inch revolving turntable for increased capacity
Has 11 preset cooking settings
AmazonBasics Microwave
If you have an Alexa in your home, you can pair it with this microwave to make your home feel like it is a hundred years in the future.
Key Features:
Added voice control features when paired with Alexa
Small and compact, ideal for RVs and small living spaces
Alexa will add even more cooking presets the more you use it
Commercial Chef CHM770B Countertop Microwave
For those who do not have much counter space to spare, but still need a full-featured microwave oven, then this Commercial Chef microwave might be what they need.
Key Features:
Equipped with ten power levels
Has six quick-cook presets
Has a multi-stage cooking mode
BLACK+DECKER EM925AB9 Digital Microwave Oven
Black+Decker is not just known for their power tools. The company has also went into producing home appliances, and this nice and cool microwave is one of them.
Key Features:
Has presets forU the usual cooking tasks
Has a large LED display
Compact design perfect for RVs
NAT.QUALITY Microwave
If you like your microwave to look like it has always been in the RV right after you install it, then this appliance is your best bet.
Key Features:
Comes with a wide trim for easy installation
Has a rotating turntable for even heating
Small and compact design that is guaranteed not to take that much room
RecPro RV Convection Microwave
A built-in microwave oven should look as if it came standard with the RV. It is precisely what the RecPro RV Convection Microwave is.
Key Features:
Has child-lock settings to prevent unauthorized use
Durable touchpad controls
Comes with eight express presets
Panasonic NN-SN651B Countertop Microwave
This appliance is a very energy-efficient and space-saving microwave oven. It works perfectly for the RV and the home.
Key Features:
Uses inverter technology for more efficient use of electricity
Has an inverter turbo defrost function, which defrosts in a fraction of the time regular microwaves do
Compact design, ideal for small kitchens
Farberware FMO11AHTBKB Countertop Microwave Oven
This sleek, stainless steel microwave has more than enough power and space for cooking family meals in just minutes.
Key Features:
Has a spacious one cubic feet interior
Comes with express cooking buttons
Can defrost by time or weight of the food
Furrion FMCM15-SS Convection Microwave Oven
Want something more than a regular microwave? Then this convection microwave is what you are looking for.
Key Features:
Speed Bake function cuts cooking time considerably
Has a 300 CFM vent system
Comes with six different cooking presets
GE JVM3162RJSS Over-the-Range Microwave
GE is one of those brands that you can always trust when it comes to kitchen furniture, and this microwave is yet another addition to their fine line of electronics.
Key Features:
Large 1.6 cubic feet cooking capacity
Comes equipped with convertible venting
Provides the option to turn the turntable off if you want to
Nostalgia RMO4AQ Countertop Microwave Oven
If microwaves were around in the 1960s, there is no doubt that they will look just like the Nostalgia RMO4AQ, making it ideal for anyone who wants a unique and vintage design for their appliance.
Key Features:
Vintage, timeless design coupled with modern technology
Has 12 cooking presets for one-touch cooking
Has easy to use dial control and push-button center
Sharp ZSMC0710BB Countertop Microwave Oven
Sharp has been in the electronic appliances game for many decades, and that is because they produce top-quality products. This microwave oven, though simple, is yet another top-tier offering.
Key Features:
Has a +30 seconds button for added convenience
Comes equipped with six operating presets
Compact design, ideal for RV kitchens and other small living spaces
Daewoo KOC-9Q4DS Convection Microwave Oven
Don't be scared by this convection microwave's unorthodox controls. It is pretty easy to understand once you get the gist of things.
Key Features:
Honeycomb pattern on the inside, which increases efficiency by 15%
Comes with five auto-cook functions
Has a handy Easy Steam Clean function
Conclusion
The humble microwave oven has become quite a necessity nowadays in most kitchens, which is why your RV should also have one. Having a microwave for your RV provides a lot of modern conveniences. You can use it for cooking and quickly heating leftovers.
Now that you have reached the end of this article, you are already well-informed on how to find the best RV microwave. You can now go shopping for one with confidence.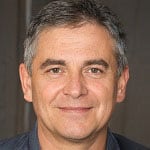 Hi, I am Tom Hank, an RV-er since 2014. Back then, I started without much help. As you can imagine, the struggles are endless. But now, you do not have to begin your adventures knowing next to nothing about RV lives.