To be able to get in and out of your beloved RV, you will need to pass through its door. And to know how to make use of your RV door keeps you safe. Also, you will feel at ease knowing that you can handle your travel trailer door locks quickly in case of emergencies.
Manipulating an RV door is not so hard. After all, you will need your key to lock and unlock it. But is that safe enough? Read until the end if you want to know more about how to lock rv door from inside!
How Does an RV Door Lock Work?
An ordinary handle lock and a deadbolt are incorporated with RV mechanical entryway locks. The handle lock holds the hook or handles back from the opening whenever the entryway is locked. Also, the deadbolt slides in by moving a lump of metal through the way to the casing.
Also, the RV door security bar is attached beside an RV's door? It also serves you more security. When you apply horizontal force (done by the security bar) on the outside of a door, it changes to vertical force, anchoring the door jammer. And when someone tries to break-in, the jammer digs in to prevent them from doing so.
Can We Lock Camper Door From Inside?
Locking an RV door from the outside does not mean that it is locked inside. When you want to lock your RV door from the inside, you need to shut the deadbolt using your key.
Maybe you have also wondered what you will do if you ever got locked from the inside of your RV and cannot go out. Let me give you some tips about that.
You will need to stay calm and not panic.
Search for your spare key; you should have one. If you can't see it, then it's time for you to call for help.
Or you can try bolt cutting your lock. Always have your tools available in your camper for this kind of unprecedented event.
Travel Trailer and RV, Is There a Difference on How to Lock Them From the Inside?
Travel Trailers are considered RVs, so you won't have any problem operating their door locks. It is simple to lock your RV/Travel Trailer door lock. Just lock the deadbolt using your key.
Level Up Your Security by Upgrading Your RV Lock
This may surprise you, but apparently, 90% of travel trailers have the same lock and keys. Even if the RVs don't belong to the same manufacturer, a single key can unlock them all. Manufacturers do this on purpose to relieve dealers of the burden of carrying dozens of keys.
And knowing that fact may have made you feel a bit unsafe. So, to regain the feeling of being secured, here are some tips on how you can improve your RV door security:
1. Double the protection
You can never go wrong with being overprotective, especially with your belongings and yourself! Here I recommend what you can use for your two-layer protection.
If having a key seems to be a nuisance for you, then your lock should be keyless! You can have an RV lock upgrade by replacing your old one with this high-technology, Keyless Entry Door.
Such high security RV door locks can be easily installed, and a lot of campers have tried this. And in most of their feedback, it is said that this mechanism is convenient and easy to operate. You can find variants of this keyless door on Amazon and RVlocks' websites.
You can install a ring alarm system on your RV to be more secure. Most campers recommend this type of alert system because it has impressive
technology. Ring alert systems can also be installed in all kinds of RV.
2. Replace your old camper door lock
Since almost all RVs have the same door lock, you must change yours with a new one to be unique. This method will improve your RV's security because it won't be accessible to other people who have RV keys.
You can either do it yourself or ask for a professional's help in replacing your door lock.
Conclusion
Hopefully, you have already figured out how to lock RV door from inside and more about RV door security. Knowing how and what to upgrade with your RV's lock will give you peace of mind whenever you are camping or having a long ride with your Recreational Vehicle.
There are many ways to maneuver, upgrade, improve, and enhance your RV's security. I hope you find this article helpful and informative. Continue on camping safely, campers and motorhome owners! For interactions and suggestions, kindly leave a comment down below!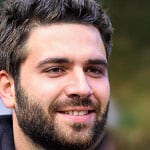 Hi, I am Joseph. Carpe diem! Seize the day! That's always been my life motto. If you haven't seen some of the most beautiful places in the country, you are missing out on incredible adventures.