Trailers are not cheap, and waking up one morning to see them disappear is devastating. Keep a trailer from being stolen by locking it securely. But the question is, how to lock a trailer so it can't be stolen?
Use trailer anti theft devices to lock the towed vehicle securely. You can take advantage of different options to secure a trailer from theft, such as a hitch coupler lock, hitch pin lock, and wheel chock locks.
You might not have a clear idea of how to use these devices. Keep reading to know more about these tools for preventing trailer theft.
What You'll Need
Take note that there is no best way to lock a trailer. It is because one solution might not provide the same advantages to every rig owner. Still, the items mentioned below will help keep your trailer safe from being stolen.
Hitch Coupler Lock
As the name implies, a hitch coupler lock is a U-shaped locking device that fits over the tongue coupler. It helps prevent another vehicle from attaching to your trailer.
Also, certain hitch coupler lock models help keep the wheels of your trailer from moving.
You can find different hitch coupler lock designs on the market. But make sure that the unit you get will fit your tow vehicle and trailer's hitch for it to work effectively.
Hitch Pin Lock
Do not confuse a coupler lock with a pin lock as the latter replaces the trailer's conventional pin with a locking unit. It goes through the slot in the locking latch, preventing it from opening.
But this trailer locking device is ideal for trailer owners who are on a fairly tight budget since many variants are reasonably inexpensive.
Therefore, thieves would have to take the two secure parts properly if they want to drive off with your trailer.
Wheel Chocks
Although wheel chocks are generally used for safety rather than security, you can purchase special locks for them that prevent trailer theft. Also, most models have fairly straightforward designs, making them ideal for those that want easy setups.
It is important to think about the wheel chock you want to use for your trailer. Some considerations include the chocks' designs. You also need to factor in your trailer wheels' sizes.
Moreover, consider applying thorough testing procedures to ensure that the right lock will secure your trailer efficiently.
Step-by-Step Instructions
After choosing the right lock to secure your trailer from being stolen, it is time to install these items onto your rig. Also, take note that some of the procedures mentioned below might not apply to your model. If so, check your product's instructions for more details.
Use a Hitch Coupler Lock
Your hitch coupler lock should have the necessary adjustment bolts. If it does not, consider buying a different coupler lock and make sure it comes as a complete set.
Then, use the provided keys to unlock the coupler lock. Position two of your fingers into the holes and remove the lid.
Unlock the trailer coupler before placing the lock onto the appropriate slot. Doing so should make the bolt act as a hitch ball. Return the lid onto the lock to seal everything inside.
Make sure that there is zero clearance. You can adjust the coupler lock by using a wrench.
Take note that different coupler locks may have varying setup instructions. Consult the owner's manual to know how to install specific models properly.
Use a Hitch Pin Lock
There are many different styles of hitch pins; some have locks to secure your vehicle.
You may install a locking hitch pin by following these steps:
Take the long end of the pin and insert it to one of the visible holes on the other side of the receiver. Attach the locking mechanism to the pin. Insert the key & turn it until you can feel or hear a click that signifies the lock is now secure.
Also, make sure that the hitch pin lock is tight. Tug on it a few times after securing it to ensure that the lock and the trailer do not move significantly.
Use Wheel Chocks
You can wheel chocks that have a lock component. Depending on the angle of the street where you park, install your wheel chocks on the side of your vehicle that faces the downward slope. If the surface seems flat, or if you cannot figure out where the road is sloping, you can place the chocks on both sides.
Make sure to place wheel chocks in both of the rear tires. If you only place wheel chocks on one side of the trailer, it can create an imbalance, promoting risks of accidents. You will know when the chocks are secure if they do not budge.
Last, check the owner's manual to lock the wheel chocks and the tires in place. If you want more secure results than usual, install chocks on all of your trailer's wheels.
The safety of the assets on the RV is always an issue that we have to worry about. so we have spent a lot of time researching and coming up with a solution to this problem, you can refer to our following tutorials such as top rated rv door lock, rv cabinet latch and most trusted portable dog fence for rv and rv carbon monoxide detectors. Hope they help you.
Conclusion
Did you enjoy reading this guide on how to lock a trailer so it can't be stolen? Make sure to leave a comment to let others know about your experiences in using certain tools to lock your trailer.
Remember, you have different options to lock your trailer. These choices include hitch coupler locks, hitch pin locks, and wheel chocks. Use the right product to have peace of mind, knowing that your trailer will still be where you parked it when you return.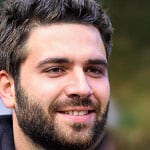 Hi, I am Joseph. Carpe diem! Seize the day! That's always been my life motto. If you haven't seen some of the most beautiful places in the country, you are missing out on incredible adventures.