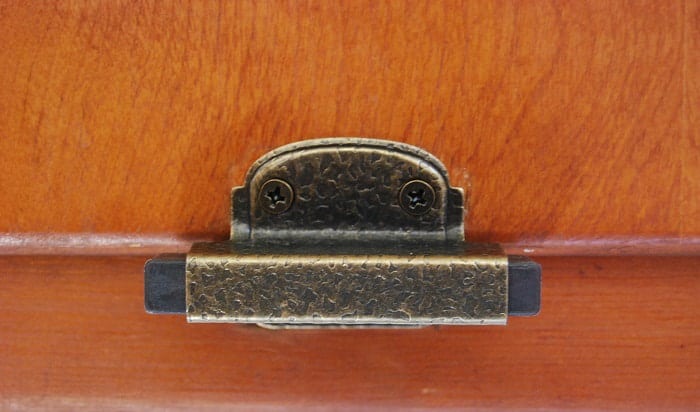 It can be cumbersome to find your RV cabinets swinging open with each ride. The myriad of latch options available on the market does not make the selection process any easier. Take note that a range of high-quality RV cabinet door latches exist on the market to help secure your closets, doors, drawers, and other furniture.
But what is the best RV cabinet latch? What do you need to look for in a cabinet latch for a motorhome or travel trailer that can help secure your items? Here are some of the criteria I have for selecting one.
Security: A cabinet latch for your RV can help safe keep essential items. Additionally, the right model can help keep your little ones away from potentially harmful objects inside cabinets and drawers.
Latch type: Take note that you can find different types of cabinet latches for motorhomes on the market. Some kinds of cabinet and drawer latches or locks include push-button, magnet, and touch types.
Appearance: If you care about the look of your RV, pick a latch that complements your cabinet's exterior and doesn't stick out like a sore thumb in your vehicle.
You can check out the buying guide for more criteria. Here, you're going to take a look at 11 of the most RV cabinet latches the market has to offer.
Additionally, keep reading to find out how to find the best RV cabinet locks that fit your needs and preferences. You'll find answers to frequently asked questions, such as who makes the best camper cabinet latches and how to install them.
Best RV Cabinet Latch Reviews
1. Camp'N RV Cabinet Door Holder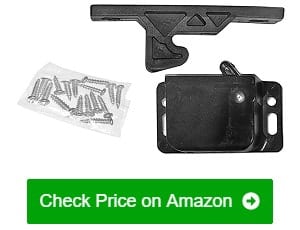 It has come to my attention that this Camp'N cabinet latch holds a special place in the hearts of many RV owners with good reason. It presents several highly likable features that promote substantial benefits to its users.
One of the likable aspects of this set of RV cupboard door latches is the amount of force needed to open them. It takes about 5 lbs of force to open, which is secure enough to prevent items from falling out of the motorhome furniture.
The durability is also commendable as this cabinet latch has a build quality that should last a long time. The material used in manufacturing this product looks and feels reasonably premium. The locks that come in this pack have nice chamfers or radiuses, allowing for optimal longevity.
Another benefit brought by this product is its ease of installation. This item is fairly easy to install, and it is safe to say that even complete beginners to DIY travel trailer setups should not find trouble assembling this product.
Furthermore, the compatibility of this particular set of RV door holders is fairly excellent. It can fit many factory-made cabinets, drawers, cupboards, and medicine cabinets.
On the downside, these RV cabinet latches don't give a smooth click when I open and close the drawers. They produce a creaky sound, although they still work fine.
What We Like
Requires about 5 lbs of force to open
Commendable durability with a premium build quality
So easy to install that even beginners should not have problems with the setup
Compatibility is reasonably excellent
What We Don't Like
These RV latches do not sound smooth
Beginner RV campers that want to make their items secure in their cabinets, drawers, and cupboards should have a fairly easy time with this Camp'N RV cabinet latch. The ease of installation and use is praiseworthy for many rig owners that have compatible furniture for these locks.
2. ACIMONE RV Cabinet and Drawer Latch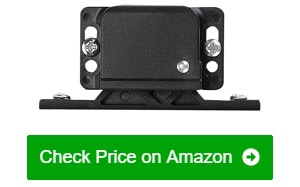 ACIMONE is one of the many trusted brands in the RV cabinet and drawer latch space, and this product shows the pride of the company's passion to deliver top-notch locks to many rig owners.
One of the reasons why many would prefer this product over others is that the package comes with eight latches. It is a more economical purchase than what other companies offer. In comparison, other RV cabinet latch brands only tend to offer one, two, or four pieces in one pack.
Plus, each latch requires a force of about 8 lbs to open, making it more durable than many of its competitors. It's a reasonable amount of locking prowess that can keep many items in closets and drawers, even during fairly rough rides.
Compatibility is also top-notch with the latches in this pack. Aside from being compatible with many RV cabinets and drawers, these locks can also fit screen and sliding doors. These products also work reasonably well when installed to keep pets from opening drawers.
Installation is also reasonably easy, especially when replacing old RV cabinet latches. Since I already had pilot holes drilled into my camper or travel trailer's cabinets & drawers, the initial setup only lasted a few minutes with the right tools. These RV drawer latches are even beginner-friendly, despite the lack of instructions.
However, be careful when installing these locks. If you do not line up these latches well, the cabinets or drawers will be difficult to close. Thankfully, it is a reasonably straightforward process to remove the latches and adjust the position.
What We Like
Economical purchase since the package comes with eight latches
Requires more force to open than many competing products
Top-notch compatibility, allowing these locks to fit on different types of doors
Reasonably easy installation only requires a few minutes to complete
What We Don't Like
The furniture might be difficult to close if the latches are misaligned
RVers that do not want to spend a lot of money on a cabinet door latch can save some of their hard-earned cash with this economical pack.
3. Hardware House 64-4567 Roller Catch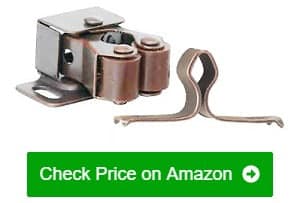 Those that are fans of vintage designs may like this Hardware House catch for RV drawers and cabinets. The antique copper color should be a good fit for many wooden furniture in campers and travel trailers.
Aside from its aesthetics, this pack of spring release latches comes in 10 pairs, making it an economical purchase. The package is also easy to open, unlike some products that I've tried before.
On the downside, the included screws feel flimsy. Therefore, it is best to buy an extra set of screws to install these locks instead of using the ones included in the package.
Moving forward, the force required to open and close cabinets with these locks installed is fairly substantial. Cabinets shut and open will feel weighty, giving peace of mind to RVers since their items become more secure than before. Plus, the sound of the latches locking into place is fairly silent, which some camper owners prefer.
Plus, each latch should only take about a minute to install, provided that users align them correctly. But if you misalign them, these locks are reasonably easy to remove and realign.
What We Like
Vintage copper aesthetics are pleasing to the eyes
Economical 10-piece pack with easy-to-open packaging
Secure design requires more force than average to open standard closets
Doesn't make much noise
Installation only takes about a minute to complete
What We Don't Like
Included screws are flimsy
This set of roller catches are ideal for RV campers that want to secure their items inside cabinets and drawers without relying solely on the built-in locks of these pieces of furniture. These locks are also reasonably beginner-friendly, seeing that it only takes about a minute to install them properly.
4. CRANACH RV Cabinet Door Latch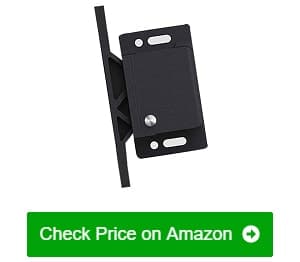 RVers who are frequently having trouble with their cabinet and drawer doors opening should look into the Cranach cabinet door latch. It has a hard ABS plastic build, and it is quite resistant to the elements.
This reliable RV push latch already comes with mounting screws, which is always a welcoming thing to see from such a product. Plus, installation and disassembly are quite fast, with both procedures not requiring more than a few minutes to complete.
However, DIY beginners may have some trouble installing this product. In some cases, it is possible to misalign the lock, causing doors to close inefficiently. This latch's design can make it challenging for newbies to remove the screws, re-drill the pilot holes, and reinstall it to the proper position.
Moving forward, the versatility and compatibility of this RV door latch are staggering. It is possible to use this product to lock more than cabinets and front doors. It can also be mounted on drawers and sliding doors in homes.
Another benefit of using this particular product is it is safe for children. Young kids will have difficulty operating this door latch, making it tough to open without the recommended amount of force. Therefore, it reduces accidents that may befall kids when opening or closing closets and doors.
Finally, this product comes with a limited warranty from the manufacturer. With this guarantee, anyone as a rig owner can have peace of mind as they receive support from the company if this product arrives faulty.
What We Like
Tough ABS plastic build
The package comes with mounting screws
Installation and disassembly can be reasonably fast
Top-notch versatility, compatible with many openings
Safe for children
Manufacturer's limited warranty
What We Don't Like
Might be more challenging than usual for DIY beginners to install
Make no mistake as this product is one of the best cabinet latches consumers can find on the market. Although it is not as beginner-friendly as other RV locks, users only need to do the entire process once correctly and forget about it for a long time.
5. Camco 44323 Thumb-Operated Cam Lock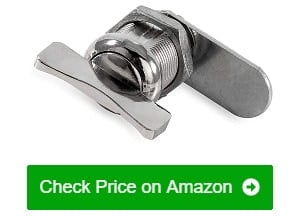 If there is one word that can adequately describe this product, it is 'simple.' This thumb-operated lock is my favorite RV medicine cabinet latch, and it also secures items in my motorhome's drawers and doors.
The simple operation only requires users to turn the knob using their thumb. I've said goodbye to those moments when I had to grunt my way to opening or closing cabinets, drawers, and doors. The operation is almost flawless as the mechanism seemingly slides without the use of sheer force.
Take note that this latch will stay in the locked position, even when driving our vehicle in rough terrain. With it, this lock can provide users with the utmost calm, knowing that the items inside their cabinets and drawers will stay put during rough rides.
Another surprising yet still pleasing element found in this RV lock is its faceplate. This feature allows for a cam mount, which secures cabinets without affecting their look. Therefore, this fairly small yet incredibly secure lock provides extra safety for homeowners and campers alike.
As for its durability, this product has a fairly decent build quality. However, it is not advisable to install this lock outdoors because the material is not rust-proof, particularly its locking mechanism. Leaving it outside can cause the metal components of the locking mechanism to rust over time.
What We Like
Installation is possible in different openings like doors and medicine cabinets
Straightforward and easy to use thumb-operated design
Stays in the locked position during rough rides
The design allows for a cam mount
Reasonably decent build quality
I'm happy I invested in this RV lock for my cabinets, drawers, and other openings to give the items in my vehicle or home the utmost security.
6. JQK CC101-P4 Magnetic Cabinet Door Catch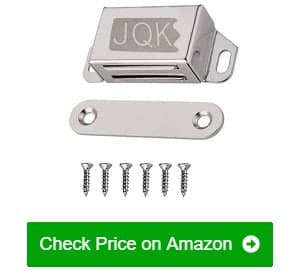 This JQK door catch is as secure as my old camper concealed positive cabinet latch. Opening the package, you'll see four pairs of this closet lock. At first, I feared that the lock would slide in and out while I'm driving the vehicle. But, now I know if this latch is used to keep cabinets locked, it will stay in that area until opened.
The smoothness also makes doors easier to open and close than before, thanks to the magnets built into these sliding cabinet locks. Gone are the days when I had to pull an extra muscle to open and close my closet doors, pantries, drawers, and other pieces of furniture. With this latch, the doors and drawers will function with utmost ease.
Still, take note that this product does not come with instructions. Therefore, it might not be as beginner-friendly as some competing locks for motorhomes. However, once buyers know how to install it properly, the entire setup procedure should not take more than a few minutes to complete.
The manufacturer even included additional screws in the package. It is a great move, seeing that the included screws are made of stainless steel. Plus, the stainless steel mounting screws will have optimal longevity regardless of the installation location.
What We Like
Four-in-one pack
Glides with first-rate smoothness during operations, thanks to the magnets
Secures cabinets well while driving
Additional screws included in the package
Rugged set of stainless steel screws
What We Don't Like
Does not come with instructions, which may make the setup tougher for some
The highlights of the latches in this pack are the magnets. These components make the locks easy to operate while still making the setup emanate optimal security. With these features and benefits, campers that do not want to have difficulty opening and closing their cabinets and doors should look into buying this product.
7. Camco 44203 Side-Mounted Cabinet Catches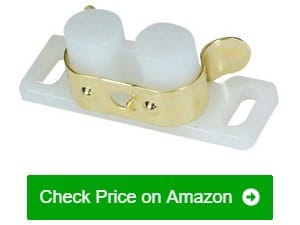 High-quality security comes in a fairly complete yet reasonably miniature product with this RV catch.
This pack comes with six pairs of catches while including all the necessary pieces of hardware for a proper hardware installation. In other words, shoppers will find all the installation screws and mounts for a proper assembly, reducing and perhaps even eliminating the need to return to a local hardware store for extra parts and tools.
One of the main highlights of these side-mounted cabinet catches is their barrel designs. The top-notch construction promotes optimal sturdiness, allowing the product to resist different weather.
Still, the supplied screws do not have stainless builds and can be considered to be the weakest elements in the entire package. If you are installing the catches indoors, you may not need to use other screws other than the ones included in the package. Otherwise, you may want to use more durable screws if you are going for an outdoor installation.
Still, the locks also stay in place even when driving in the roughest of terrains. Some RVers might not find this particular benefit as a surprise, seeing that Camco is quite famous for providing top-notch products for campers, travel trailers, and other similar vehicles.
Installation is also not an issue. The side-mounted construction does not require much effort to align properly.
What We Like
The package comes with the necessary hardware for a proper installation
First-rate barrel construction delivers sturdiness
Stays locked during rough drives
Initial assembly does not require much effort to complete
What We Don't Like
The included screws may need to have better quality builds
It is quite difficult to find RV cabinet latches for motorhomes of this caliber. These easy-to-install latches are ideal choices for rig owners that do not want to spend more time and effort than needed for the installation process.
8. Alise CA100-4P Cabinet Catch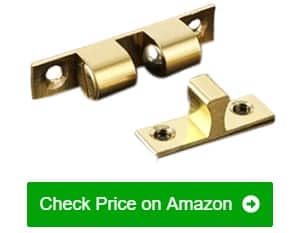 Those looking for a highly durable cabinet catch for their campers or motorhomes might consider adding this product to their shopping lists.
The all-metal construction is nothing to laugh at. Placing it in the hand, the metal catch feels and looks premium, thanks to the use of a top-tier brass. This material is rustproof, which means that each catch in the pack will promote maximum longevity.
Additionally, it is nice to know that this all-metal catch does not have an expensive price tag. It is even one of the more inexpensive models on the market, making it an ideal choice for those who are following strict budgets.
Next, the catch's gold finish is a standout for many rig owners. Albeit the luxurious color does not enhance the functionality of the device, it still adds to the overall aesthetics of different campers and motorhomes.
Plus, the versatility this catch offers is one of the best for RV drawer latches I can find. It is possible to mount it on closets, drawers, sliding doors, and kitchen cabinets.
However, its top-notch compatibility and versatility come with a small caveat of having a more difficult installation process than average. It can take more than a few minutes to align and install the pieces properly. However, RVers only need to do the initial setup once, and the product should work as intended.
What We Like
All-metal and rustproof construction promotes outstanding durability
Fairly reasonable price point
Aesthetically pleasing gold finish
One of the best in versatility and compatibility
What We Don't Like
Installation might be more difficult than other competing products
The highly durable build quality, beautifully premium appearance, and top-tier compatibility make this product one of the best cabinet catches that our hard-earned cash can buy.
9. BTMB 8541850601 Double Roller Catch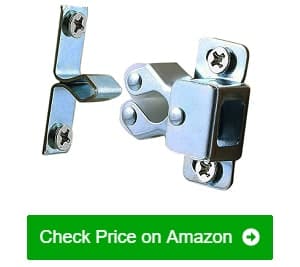 While other RV locks and catches on the market only offer a few pairs in their packages, this particular option gives buyers twenty latches in one pack.
Each catch in the pack has dimensions of 37 x 8 x 15 mm, which is small enough to fit different furniture sizes. The manufacturer is even kind enough to include all the screws in the pack, which means RV owners may not need to purchase extra screws for the installation.
Despite the product's miniature size, each latch has excellent versatility and compatibility. Users can choose from a broad range of installation locations, including closet doors, cupboards, and drawers.
Additionally, the roller catches have galvanized steel constructions, making them highly durable against wear and tear. Plus, this material keeps the overall costs low, making the entire 20-piece set a budget-friendly purchase for tight spending allowances.
The brand also includes a 1-month return and replacement service for parts that do not operate properly because of production errors. Furthermore, the company also offers a lifetime of free customer service for inquiries and support to keep customers happy and satisfied.
On the downside, it can be quite challenging to align the catches. You might need to experiment a little while installing.
What We Like
Affordable, comes with 20 RV cabinet and drawer catches with screws
Reasonably small and inconspicuous size fits different furniture sizes
Excellent versatility and compatibility, making it usable on closets and more
Galvanized steel construction
1-month return and replacement policy with lifetime customer service
What We Don't Like
Might be more challenging than average to align
Those who need several RV cabinet latches in one package might not look further than this set of durable 20 closet catches.
10. Mousike Cabinet Door Magnets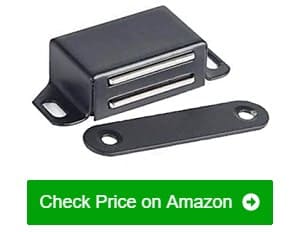 This set of door magnets is a dream to use. The products are advertised to require 30 lbs pull force. It also means that the locks can prevent accidental opening from children and pets.
I installed these magnetic door catches and have been using them for quite some time. The doors and drawers in my RV can close and shut safely because of these items. I have peace of mind that these catches will not open with the slightest disturbance. The locks remain in place even when driving over considerably rough terrains. Additionally, the cabinets safely shut with these cabinet magnets installed.
For those who are wondering about the level of durability the magnets provide, their stainless steel material can resist rust and ensure longevity.
Do take note that the elongated design means that it may not fit certain pieces of furniture. Therefore, it is best to measure the location first before you decide to purchase these RV cabinet latches. Still, the magnetic operation means that the locks do not damage the cabinet's paint.
The installation is also reasonably easy to do. Even beginners should not have significant problems completing the initial setup as it does not require any special procedure. But it would be better if the screws had a better build quality.
What We Like
The magnetic locks promote top-notch security to attached furniture
Prevents children and pets from opening doors and drawers accidentally
The catches stay in place when driving RVs over rough terrain
Long-lasting and rust-resistant
Does not damage furniture's paint
Reasonably easy and beginner-friendly installation process
What We Don't Like
Elongated design may not fit some surfaces
Screws might need to have better build quality
For consumers who are looking for a first-rate set of magnetic locks to secure doors and other furniture, I highly recommend buying this product.
11. RDEXP M5181127172 Button Keyless Locks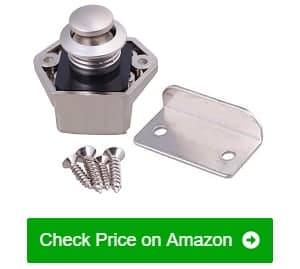 Some locks for RVs tend to open or close with the help of keys. But keeping keys can be cumbersome, especially for people that forget about them easily. This set of RV push button cabinet latch requires no key, thus eliminating that problem.
Additionally, this set of five RV locks have zinc alloy constructions with durable plastic bases. The use of zinc alloy helps keep the production and retail costs down, making these locks reasonably inexpensive while still providing optimal security for RVers for extended periods.
The pack also comes with all the necessary screws for installation. Installation with the use of these screws is fairly decent as they do not promote significant issues during the procedure.
Versatility is also excellent for each lock in the pack. These latches can be installed in different RVs and motorhomes. Additionally, the possible installation locations include kitchen cupboards and medicine cabinet doors.
One shortcoming is that the compatibility is not as extensive as that of some competitors. Although you can install these locks in different doors and openings, it is not possible to set them up on surfaces that are over 1-inch thick.
What We Like
Keyless construction offers convenient opening and closing operations
Package comes with five durable zinc alloy locks
Secure, easy to install, & not costly
The pack comes with all the screws for the installation
Excellent versatility, allowing setups on different doors and openings
What We Don't Like
Can not be set up on surfaces over 1-inch thick
These RV door locks are for interested customers that find keeping and using keys to be annoying tasks. Using these keyless latches also promotes optimal security to cabinets, doors, drawers, and other openings, thanks to their sturdy build qualities.
Best RV Cabinet Latches Buying Guide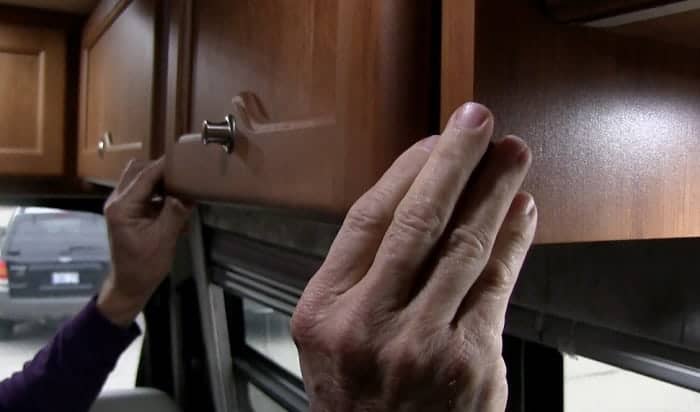 Before purchasing camper cabinet door latches, it's ideal to take note of certain factors to help with your purchasing decision. The things to consider include RV cabinet hardware latch strength, compatibility, functionality, and design.
Latch Strength
Many rig owners would agree that latch strength is one of the most important, if not the most essential factor to look into when buying trailer cabinet latches.
Take note that not every RV latch you see on the market has the same holding power. If you can purchase cabinet latches for RV from a local store, ask the salesperson in charge if you can test the hold of those products.
If not, consider reading online reviews before checking out your preferred product. Read RV cabinet latch reviews from customers to check if a particular lock has superior holding power. Search for other options if it doesn't.
Furthermore, consider the weight of your RV's drawer or cabinet door. For instance, if you're trying to secure a drawer filled with heavy pans and pots, you may need to buy RV drawer latches with more superior locking prowess than others. The best RV drawer latches should handle the weight of inner content.
You might want to look for ones with a stainless steel shell or models with an iron catch plate. Only the most resilient products are ideal for gun cabinets.
Compatibility
A camper, travel trailer, or 5th wheel vehicle with a unique set of cabinets or drawers might have limited choices for motorhome cabinet latches and camper drawer latches.
For example, certain cabinet and drawer styles for mobile homes tend to have doors or drawers that lay flush against the frame or inset. On the other hand, it's also possible to find an RV cabinet or drawer to have a door or draw with an offset frame.
If you choose incompatible options, the cabinet or drawer will not close properly, leading your goods to be insecure. You can check out the brands above or MPJ double roller catch, Jiayi cabinet magnets, and any reliable manufacturer.
Functionality
Today, you can find cabinet latches for motorhomes under two classifications in terms of their functionalities: automatic and manual. Here's how each cabinet latch works:
Automatic models include RV cabinet magnetic latches and variants with programmed locking mechanisms. Manual models, such as cabinet door push button latches tend to require human intervention to lock and unlock.
Design
Many RVers do not mind the looks of their chosen travel trailer cabinet latches and RV drawer locks because these items are generally inconspicuous. Still, some models may stick out like sore thumbs if you do not pay attention to their appearances.
Choose RV cabinet door locks and motorhome drawer latches with the same color and finish as the vehicle's primary theme. That way, you can enjoy a uniform design, promoting consistency in the aesthetics.
Installation
Some of us prefer adhesive installation, as they are easier to manage. But make sure you find reliable adhesive mounted cabinet locks for long-time use. In most cases, installing latches for cabinet doors requires mounting screws. Such products will ensure a solid set-up that will not break anytime soon.
Who Makes the Best RV Cabinet Latch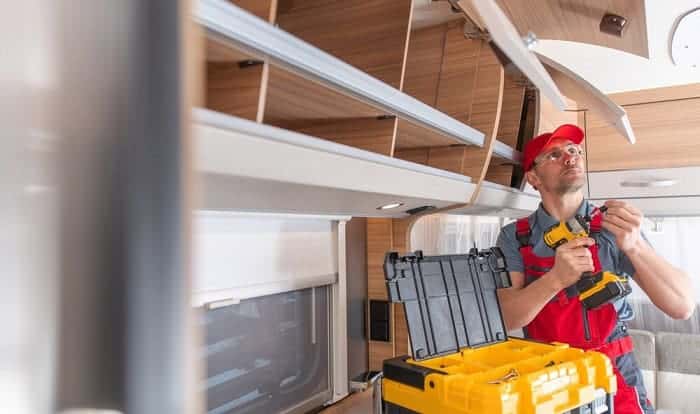 Some RV cabinet latch makers stand out from the rest. Camp'N and Camco are a couple of excellent examples.
Camp'N is a noteworthy RV parts, tools, and accessory supplier that many in the camper community know and love. Some of the high-quality and long-lasting products sold by this company are RV door catches, grab cabinet handles, and screen door parts.
Then there is Camco, which is a leader in manufacturing various RV equipment. This company had humble beginnings as it only sold antifreeze at first. Now, the business sells various RV and marine items, such as grills, heaters, and locks.
How Do I Keep My RV Cabinets Closed While Driving
If you ask other RV owners if they get annoyed by their cabinets and drawers swinging open while driving, they may answer you with a definitive 'Yes.' On some occasions, cabinets and drawers swinging in RVs can be quite dangerous.
Preventing those scenarios requires the installation of top-notch locks & child safety locks for your RV cabinets and drawers. But if you do not have access to these items, and you need to secure your goods immediately, you can still take advantage of items like ropes, bungee cords, and cord cabinet locks for similar results.
How Do You Install Latches on RV Cabinets
Some campers, travel trailers, 5th wheels, and motorhomes will already have RV latches built into their cabinets and drawers. If so, a time may come when you need to replace these built-in models.
Here are the steps to help you replace and install new latches on your RV cabinets and drawers:
Unscrew the old hardware and remove it from the wooden frame.
Hold the new latch or lock to the same area where you removed the old hardware.
Mark the location with a pen or pencil so you do not lose sight of it.
Drill the marked area if the new screws do not fit properly.
Screw the new latch into place and test it out to make sure you did not commit any mistakes.
If the latch still feels loose, tightening the screws may help. However, do not overtighten the screws as it might become more difficult than usual to remove them when needed.
Conclusion
Now that you have reached the end of this post, you should now know the best RV cabinet latch that fits your specific needs. By now, you should have a good idea of which product to choose based on our shopping criteria.
After checking the different cabinet latches for RVs on the market, I found the JQK CC101-P4 Magnetic Cabinet Door Catch to be my top-rated product. This product is easy to install, delivers smooth operations, and creates secure enclosures to different furniture with the use of a top-notch magnet.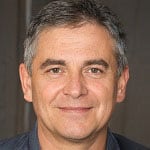 Hi, I am Tom Hank, an RV-er since 2014. Back then, I started without much help. As you can imagine, the struggles are endless. But now, you do not have to begin your adventures knowing next to nothing about RV lives.