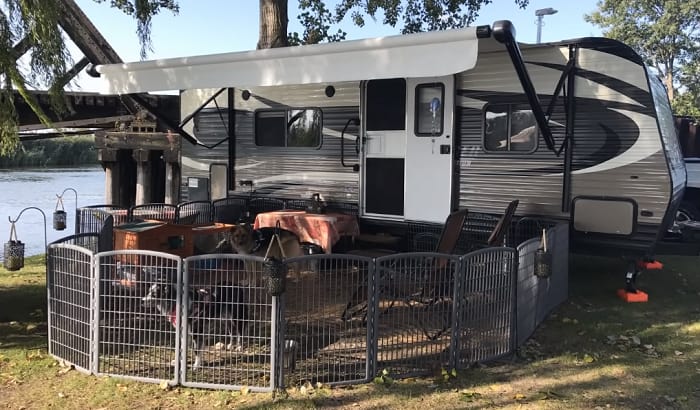 As a proud dog parent and an RV owner, you want your pet to run around the campsite or parking area without the risk of getting lost. Your canine companions should be able to stretch their legs, allowing them to get their much-needed exercise while you are camping or boondocking.
It is for that reason that you need the best portable dog fence for RV. A portable dog yard will allow you to set up a perimeter around your camper, motorhome, or travel trailer for your pooch.
However, it is important to think about some important factors before buying a portable outdoor dog fence. That way, you can gain excellent value from the money you spent on the product. Plus, you will not have to worry about the removable dog fence getting damaged or breaking down soon with the right pet pen.
Some of the factors that you need to consider are:
Your dog's size: Take a look at your dog's size when thinking about camping dog fence ideas. Purchase portable dog fences that are reasonably tall so that your pet cannot jump over them.
Material: Many pet owners know that their dogs will not jump over the portable fence around their RV campsites. However, those canines might have something else in mind – biting on the fence or bumping into it.
Make sure that the camping dog fence you buy is reasonably durable. That way, the product will not break if your pet decides to become an escape artist by biting the RV dog fence construction.
Perimeter range: The portable dog fence should also have enough space for your pet to run around while staying at the campsite. The product should provide a reasonable area for your pets to stretch their legs without the added risk of them running away.
Now that you know some of the important factors to think about when looking for the top-rated portable dog fences, keep reading to know the top 12 dog fences I found and tested. Also, read the buying guide for more tips.
Top 12 Portable Dog Fence for RV Reviews
1. YAHEETECH Heavy-Duty Pet Playpen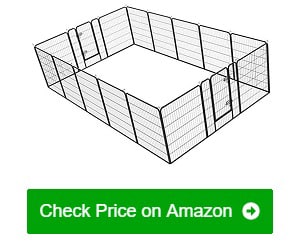 I found the design of this dog fence for camping to be ideal for both indoor and outdoor use. I purchased the 16-panel variant, but it is also available in smaller and larger sizes. Buyers can purchase the smaller model with the eight panels if they want to have a dog playpen inside a reasonably large camper or fifth wheel. On the other hand, the 32-panel dog pen can be better for those who want a portable dog fence for large dogs.
Aside from the different variations, this durable fence has a sturdy iron construction. This metal fence did a good job in keeping my dog in the perimeter I set up.
Furthermore, I liked that the kit comes with two entrances. These two entryways allow me to conveniently walk up to my dog while he's in the playpen without moving much.
Moreover, the panel is sufficiently tall. At 40 inches high, my dog has trouble jumping over the fence, which is a good thing. The best that he could do is to put his paws onto the top of the fence. But if my pooch attempts to jump over the fence, he would hurt his chest or belly. I think he learned his lesson the first time he tried it and did not attempt jumping over this fence again.
The only thing that I am not too keen on about this product is the latch. Although it does a pretty good job in keeping my pet safe while he is behind the metal fence, the latch wiggles when my dog bumps into the portable wall. If I am not careful, he might wiggle the latch open and run out.
What We Like
Available in different sizes, such as 8-, 16-, and 32-panel variants
Durable iron construction
Two gates allow for convenient entry
Sufficiently tall panels prevent dogs from jumping over the portable fence
What We Don't Like
The latch might wiggle when a dog bumps into the fence
I recommend this dog playpen for both indoor and outdoor use. It keeps pets safe, thanks to the panels' reasonably tall height.
2. Midwest 552-30 Foldable Dog Pen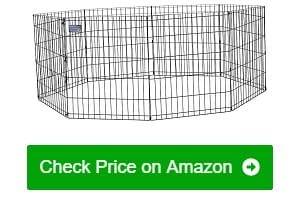 Zoomies are difficult to explain; these events come and go as dogs have the urge to run around the premises. However, it also means that dogs can run away in search of adventure if we are not careful. Thankfully, this portable camping dog fence prevents that from happening.
This RV dog fence is one of the sturdier models I got to install for my pet. At times, my pooch would run around the perimeter I set up using this product. He would then bump into the fence, but the material has such excellent durability that it will only rattle a bit instead of becoming dented or, worse, broken.
The kit also comes with 8 ground anchors. I used four ground stakes on both ends of the perimeter, and the fencing became more solid than before. These accessories are great for my dog's personality that causes him to run around randomly.
Continuing its list of safety features is this product's thumb snaps. With these parts, assembly and disassembly become a breeze. It only takes a few minutes (at most) to set up the entire fence. The manufacturer is even kind enough to include a 1-year warranty.
Still, I would prefer if this dog pen had taller panels. At 30 inches, the height is quite easy for my fairly large dog to jump over. Therefore, I would recommend this dog playpen for sufficiently small pets.
What We Like
Sturdy fence that prevents breaking during zoomies
Stable anchored design
Thumb snaps promote easy assembly
1-year manufacturer's warranty
What We Don't Like
This pen might not be suitable for large dog breeds
This dog pen can be the right product for people with small dogs. It secures our pets inside the fencing while assuring us that our furry friends will not escape by bumping into the wall.
3. ZENY Foldable Metal Dog Pen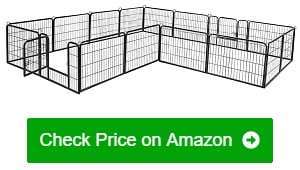 Some dog fences are mixed bags of features that allow usage for both indoors and outdoors. This product is one of those top-notch variants. I bought the 16-panel variant, but this fence is also available with an 8-panel option. The 16 panels are reasonably large for outdoor use. On the other hand, some pet parents might prefer the 8-panel model for indoor use.
If used outside, the 16 panels can create a 66.52 square foot perimeter near my motorhome. That space is enough room for my dog to run around the area while we are on a camping trip.
The build quality is also nothing to laugh at. It has a premium feel, and its design ensures that certain dogs will stay within the perimeter. Aside from catering to different usage settings, this metal dog pen has a durable iron construction. It has a rust-resistant coated metal design, which holds fairly well against different weather in my experience.
The gates also come with secure slide-bolt latches. These components slide into place and do not rattle or wiggle if my dog bumps into the fence.
On the downside, I would prefer if the panels on this dog fence for RV were taller. At 24 inches, my large dog found it reasonably easy to jump over it. But a small dog, like a nearby camper's dachshund, had trouble jumping over this fence.
What We Like
Available in two options to promote indoor and outdoor use
16-panel variant creates a 66.52 square foot locked space for dogs
Durable iron construction with rust-resistant coating
Secure slide bolt latches do not rattle or wiggle
What We Don't Like
The 24-inch high panels might not be suitable for larger breeds
For owners of a small or medium-sized dog, this large dog playpen can be the ideal choice for their furry friend.
4. BestPet Heavy-Duty Dog Kennel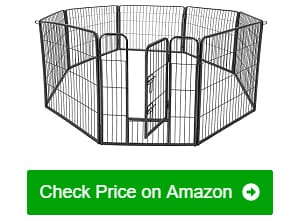 Other fences for dogs tend to be quite difficult to set up. Those models tend to require special tools to complete the assembly, which also makes disassembly more challenging than intended. Thankfully, that is not the case with this product.
I would even go as far as to say that this is one of the most trusted portable metal fences for camping trips, thanks to its easy-to-install design. The way this product is constructed also beats having to make a DIY RV dog fence, especially for time-conscious folks like me.
The fence also has a lightweight construction and is collapsible. This roll up portable dog fence cements its place as one of the most convenient to set up and disassemble models on the market. I didn't even have to use any special tools for the assembly and removal of this doggie play area.
It also has a commendable frame, seeing that it has a black-coated finish. I found that this rugged construction is suitable for both indoor and outdoor use, particularly for the latter. It did a good job of resisting the elements because I did not find significant signs of wear after leaving the pen outdoors for extended periods.
However, I did not like that the fence had gaps in between the panels. If I left my pet unsupervised while he was playing in the fenced perimeter, his hind legs might get stuck in those gaps. I had to use some caps to close the gaps and avoid this problem.
What We Like
Easy-to-install design
Black-coated construction can work indoors and outdoors
Does not require special tools for assembly and disassembly
Lightweight portable dog fence with a collapsible design
What We Don't Like
The gaps between the panels might become a safety hazard for some dogs
Overall, this product is one of my top choices, as it saves me time and effort in setting up and disassembling, unlike most fences.
5. Amazon Basics 9004-24B Foldable Pet Exercise and Playpen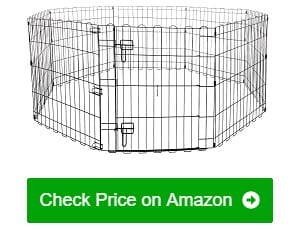 This particular playpen for pets is a game changer for me. It has many likable features that many pet parents will love.
Although the model I purchased for a friend's pup has a height of 24 feet, this product is also available with 48-inch panels. That variant is great for larger dogs. Furthermore, the 16-square-foot enclosure it produced is reasonable for pet parents owning more than one dog.
I also like that this pet pen makes use of high-quality materials with a rust-proof finish, making it great for outdoor use. I can also fold the panels into the right shape effortlessly.
Additionally, each panel folds flat during disassembly. This feature makes it easy to store for it does not take a significant amount of space. Furthermore, this design is not difficult to assemble. It did not take me a lot of time to install it at the campsite, so the dog did not have to wait long to run around the area.
But the company should redesign
the door locks
because some of them are hard to open or shut. It is even quite difficult to get the third lock to work. I solved this issue by hooking one panel over another.
What We Like
Available in different sizes, making it ideal for small and bigger dogs
Sufficiently large enclosure is enough space for several dogs
Top-notch construction with a rust-proof coating is excellent for outdoor setups
Folding design promotes easy setup, disassembly, and storage
What We Don't Like
The locks tend to be difficult to open and close
This foldable pet playpen is a first-rate choice for many dog parents. It's a portable and collapsible pet area that can keep our canines safe during camping trips.
6. New World Pet Products B558-48 Foldable Pet Exercise and Playpen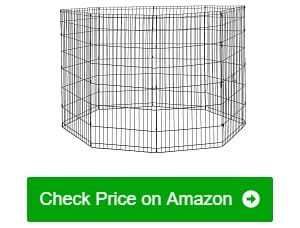 This foldable playpen for dogs can be the perfect solution for convenient and flexible fencing for many pooch parents. Its list of many likable features will provide excellent value for money. Plus, dogs of different sizes and personalities will be kept happy and safe within this fence's perimeter.
One aspect of this pet playpen that I like is that I was able to join this fence with other dog pens. The ability to connect multiple playpens means that I can have a larger perimeter than before, promoting the perfect portable dog park in my campsite.
With it, I could invite other dog lovers in my area and have a little doggie meet-and-greet. Also, since I can make the perimeter larger than before, the question of 'how much room do I need' can now disappear from my mind.
Furthermore, the package comes with four metal stakes that dig into the ground nicely. These parts keep the pen secure while multiple dogs are playing inside. It is also possible to secure other pets inside this fence, such as ducks, rabbits, and large turtles.
The entire pen is also reasonably easy to install. There are secure-locking thumb snaps across the design of the product that makes for straightforward and secure setups. These components work quite well, seeing that dogs that are playing in the fenced perimeter could not open the panels, even if they applied a good amount of force.
My only complaint is that there is no door on this playpen. Thus, it might be a little hard for users to get in and out.
What We Like
Can connect with other RV dog fences to increase the perimeter
The stakes pierce the ground properly and provide a haven for pets
Usable for dogs & other types of pets, such as rabbits and turtles, to play securely
Reasonably straightforward install process
Resists force well
Since I have a reasonably large dog and like to have a portable doggie meet-and-greet on my camping trips, this fence is an excellent choice.
7. BestPet Dog Pen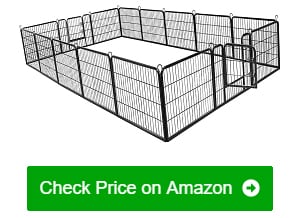 One of my camper friends has a small pup that seems to have a fondness for climbing on fences. Therefore, it became a challenging endeavor to keep the puppy in a fence because he would climb out using his tiny paws and claws. But those days came to an end when my camping mate bought this product.
This dog pen does not rattle or shake significantly while dogs are playing inside it. The stakes do a good job of keeping the panels as stable as possible. Furthermore, the design is tall enough that puppies find it tough to climb onto. The horizontal spacing between each hole is reasonably small so a puppy's tiny head can't squeeze out of the fence.
Moreover, this fence is a joy to use, thanks to its flexibility. The panels do not bend, but my friend and I were able to change the size of the perimeter by folding or expanding some of the panels.
This fence also comes with step-thru doors located on two sides. These entryways make it easy for us to climb in and out of the fenced perimeter if we wanted to play with our dogs without fear of them making a run for it.
My only concern is the paint job on the fence. I left the product outside for a few days and found some paint chipping in different locations. Applying some paint touch-ups did the trick, but I still wish I did not have to deal with that extra task.
What We Like
The fence does not rattle or shake during a dog's rough play in the perimeter
Stakes keep the fence fairly stable
Pets can't climb onto the pen or stick their heads out
Panels can fold or expand to fit the allowable space
Strategically placed entryways for easy access and exit to and from the perimeter
What We Don't Like
Paint job could be better
This portable dog fence for RV owners is ideal for campers that want a flexible and secure space for their pets.
8. FXW Outdoor Dog Playpen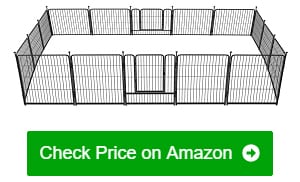 My dog can be smarter than he looks. In one instance, I looked away for a few moments, only to find out that he escaped from a pen that I previously had. It was because my pooch was able to jiggle the lock, allowing him to escape. But those days are gone when I replaced my old dog playpen with this model.
I can safely say that this product is dog safe, thanks to its automatic locking device. The latch has a gravity-action mechanism, preventing dogs from pushing the entryway open by shaking or wiggling the entryway.
Aside from being a secure choice, this dog pen is also quite versatile. I was able to connect it with other pet fences to increase (or decrease) the size of the perimeter based on the current allowable space. Plus, the entire fence folds flat for easy storage, which is ideal when it is time to move to another camping or parking location.
I also liked that the panels have anti-injury balls. These accessories protect some pets that decide to jump out of the gate but fail to create a clean hop over the fence. Other pens would only have the metal bar, and that can hurt the animals attempting to jump over the perimeter. But with this playpen, pet owners can breathe easily.
On the downside, the material does not have an anti-rust coating. I saw some signs of rust forming after a week of leaving the playpen outside. I was able to remedy the situation quickly. But some pet parents should take note of this shortcoming, especially if they want to make this product last.
What We Like
Gravity-based automatic lock that prevents accidental opening of the gate
Top-notch versatility allows the panels to connect with other RV dog fences
Folds flat for easy storage
Panels have anti-injury balls that protect pets from getting harmed
What We Don't Like
Might need to have an anti-rust coating to last longer than expected
Dog owners that are looking for a versatile and easy-to-store pen for their furry four-legged friends should not miss out on this product.
9. Topeakmart Heavy-Duty Portable Pet Pen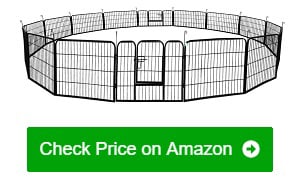 I was hesitant to purchase this particular pet pen because the price tag was slightly over my budget. But I went ahead in buying it because I read a lot of good feedback from other campers that already own it. Once it arrived at my address, I was more than happy with the results that it provided.
For instance, I liked that each panel has a premium powder-coated finish. Even the stakes that come with the package have the same high-quality coating.
On the downside, the panels did not hold up well when exposed to significant amounts of moisture. I found some rust forming on the gate's metal material after a few days of heavy rainfall in my area.
Still, I liked that the fence has rounded edges. This design choice helps keep my dog safe while he runs around the fenced perimeter. The gate also has two hinged doors, allowing for easy entry and exit.
Moving forward, the panels are connected with reasonably flexible hinges. I could make some interesting shapes with the fence because of this trait. For example, I could extend all of the 16 panels to create a 66.52 square foot area. Otherwise, I can also fold some of the pieces if I had to deal with a limited amount of space in a reasonably small campsite.
What We Like
Premium powder-coated finish
Rounded corners allow safe and secure play for dogs
Two hinged doors promote easy entry and exit
Flexible hinges create versatility to adapt to different space requirements
What We Don't Like
More expensive than many other competing products
Might not be ideal for fairly wet places
RVers and pet parents that are staying in reasonably dry areas may want to look into this product to secure their dogs during outdoor playtime.
10. Nova Microdermabrasion Indoor and Outdoor Play Yard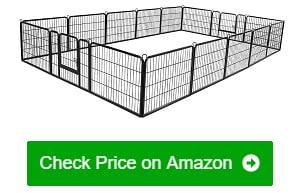 When I adopted a small pup, I had some trouble with keeping him inside an old pet playpen because of the large holes on the panels. So I decided to buy this product, which I think is ideal for keeping many small and some medium-sized breeds safe while they play outdoors.
Each panel has a height of 24 inches, which is not tall enough for large dogs. On the other hand, breeds like Corgis, Pugs, and Chihuahuas will find it more challenging than usual to jump over this height.
Furthermore, I liked that the gate has a rust-resistant and powder-coated finish, making it more durable than many of its competitors. I left the fence outside for a few weeks, and happily found a lack of visible rust on its surface.
The panels are also reasonably easy to set up and disassemble. Moreover, the panels fold flat for easy storage. Also, I can make the fence into different shapes and sizes, depending on the space requirements. For instance, it is possible to transform the shape of the gate into an octagon, rectangle, or square. It was even possible to make it into an L-shape if needed.
I am also quite happily surprised by the space that this playpen offers. At first, I thought the space would be almost the same as the many other dog fences on the market. However, I was wrong because the space provided by this product is quite massive. So if you want to extend all of the 16 panels to their maximum length, you should prepare a large area.
What We Like
Secures many small- to medium-sized pups and dogs inside its perimeter
Rust-resistant and powder-coated finish on the panels
Fairly easy to set up, disassemble, and store
Can be folded to create different shapes and sizes
Large space provided when all the panels extend fully
What We Don't Like
Not as ideal for large dogs as a tall portable dog fence
For customers looking for a pet fence to secure a small or medium pooch, this product should be a top-notch choice.
11. IRIS 301714 Exercise Pet Playpen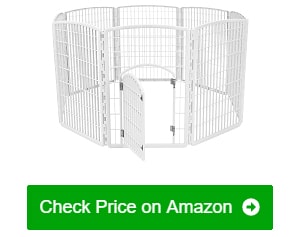 I found this pet playpen to be at a budget-friendly price point. But I noticed that its features are more geared towards indoor usage than outdoors.
For instance, the panels have non-skid rubber feet, allowing them to stay in place even when I put the gate on a slippery indoor floor. The feet also do a sufficiently good job in reducing fence slippage when placed outside.
The panels also have this beautiful white-colored aesthetic that blends well with my camper's theme. On the downside, the color white also means that it can get dirty easily, which can be the case when I camp in fairly wet and muddy locations.
Also, I liked that the product has a built-in doggie gate for many small breeds and some medium dogs to enter and exit the gate's premises conveniently. Once they're inside, I can lock the playpen with the built-in latch.
The locking system is also quite secure and does not jiggle significantly when my dog bumps into the panels. I am happily content that the fence does not budge when I placed a rambunctious pup in its perimeter.
A friend had to leave his dog with me for a few hours, and the puppy, seeing that I was not her parent, started going crazy in the pen. However, the panels stayed strong and sturdy throughout that period.
What We Like
Budget-friendly price point
Rubber parts let the panels stay in place while placed on slippery surfaces
Beautiful-looking white color
Built-in doggie gate is great for easy access and exit for many dogs
The fence does not budge even when a rambunctious puppy is in it
What We Don't Like
Might not be ideal for outdoor use because of its white color
This particular pet playpen is great for RVers that want to secure their dogs in their vehicles. This product can still work for outdoor usage, but many might prefer to keep this pen indoors.
12. VIVOHOME VH786 Heavy-Duty Exercise Pet Fence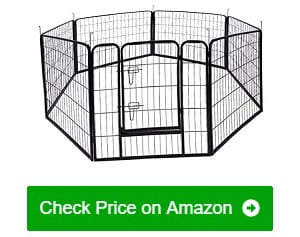 There are many things to like about this pet fence. It is a great place to keep my dog in a secure spot without the worry of him running off into the great outdoors.
First, this multi-functional and portable dog gate-slash-crate is sufficiently flexible and versatile. I could connect and shape the 8 panels in different ways. In my experience, I was able to shape the fence into a rectangle, square, or octagon, depending on the available space.
Moreover, I liked that the fence is fairly secure. The package comes with stakes that anchor into the ground. These accessories do their jobs well, for the panels do not budge when my dog bumps into them.
Plus, the entire product is fairly lightweight. A friend of mine helped me in lifting the entire fence without disassembling it. I could do the lifting myself if I was not too lazy regarding folding the panels first.
But that is not to say that this product is difficult to set up and put away. It only takes a few minutes to install and remove. Plus, the panels collapse into a flat form, promoting easy storage.
I should mention that the panels have a gap between them, which can become safety hazards. If some dogs try to put their paws against the panels and slip, they might get caught in these gaps. I solved this issue by putting cable ties between each panel.
What We Like
Flexible and versatile design promotes different shapes for the fence
Secure pen does not budge when bumped
Fairly lightweight construction allows lifting without disassembly
It only takes a few minutes to install or put away
What We Don't Like
The gaps between panels might become safety hazards
With this pet playpen, dogs can have the time of their lives without leaving the immediate premises. The adaptable construction promotes play, even while staying outdoors.
Portable Dog Fences for RV Buying Guide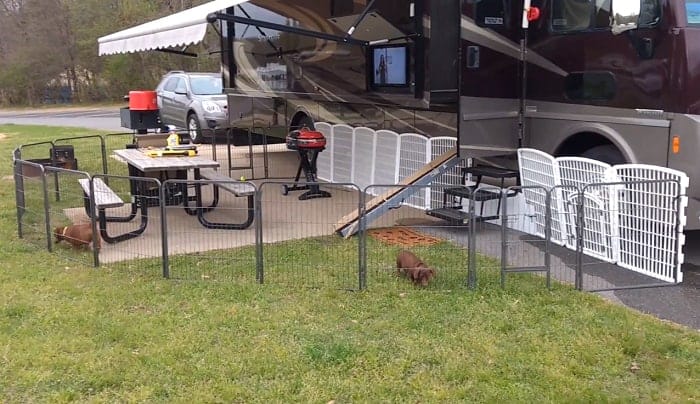 Many pet owners, including those who own RVs and campers, do not want their pets scurrying off into the unknown. Therefore, they need to use a camping dog fence. But what is the most suitable portable dog fence for camping for you?
To answer that question, it is important to think about some essential factors to help with your purchasing decision. In this section, you are going to know about those elements so that you can buy the right RV pet fence for you and your dog.
Your Dog's Size
The first step to buying an RV outside dog fence is to take a look at your dog's height and jumping ability. Is your dog tall or short? Would your pet pooch be capable of jumping over tall heights or not? Are your canine companions so hyperactive that they might jump on top of the fence if it is too short?
Ask yourself these questions when shopping for RV pet enclosures. The portable pet fence for RV should be tall enough that your dog will not be able to jump over it.
Material
Aside from the height of the camping fence for dogs, you also need to consider the product's material. The RV portable pet fence should be sufficiently durable so it does not dent or break if your dog bumps into it.
Perimeter Range
Many dogs like to run around wide-open spaces. However, some canines give into their curiosities, increasing the risks of them getting lost.
While you are thinking of RV dog fence ideas, make sure to consider the possibility of your pets and their zoomies. As your dogs are running around at the campsite, make sure that there is minimal risk of them running away. Therefore, the pet fencing for camping that you get should encircle a reasonably large perimeter around your camper's parking area for your pets to stretch their legs properly.
Adaptability
Sometimes dog owners will become proud owners of different canines. These pets might come in different breeds, which means that you need a portable camping fence with a configurable nature.
Consider buying a portable fence for dogs that has a resizing feature. With that functionality, you can adjust the portable fence for RV based on your current pets.
Price
Last, the RV fence for dogs that you purchase should coincide with your budget. You do not want to buy portable dog runs for camping that is over your spending allowance. Otherwise, you might regret the purchase, for you may not have enough spending power to buy other essential items.
FAQs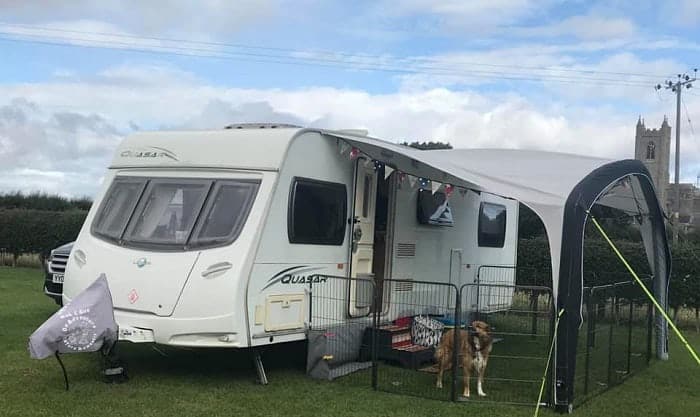 How Big Should A Portable Dog Fence Be When Camping?
The dimensions of your dog fence for camping depend on your pet's size. If you have medium-sized dogs, consider buying larger-than-average portable fences. On the other hand, if you are a pet parent to small dogs, such as Chihuahuas or Corgis, using fairly small portable fences should suffice.
Is A Portable Dog Fence For RV Difficult To Set Up?
Some portable dog fences for RVs are difficult to set up. However, some models are sufficiently easy to install. The trick here is to look at portable dog fence reviews first before making your final purchasing decision.
Can You Anchor A Portable Dog Fence?
Some portable dog camping fences have accessories that you can use to anchor them into the ground. Search for these products to make sure that your pets stay put within the perimeter.
In addition, if you are looking for products with the purpose of protecting your property or pets when outdoors. You can refer to the most trusted RV carbon monoxide detectors and list of top-rated RV cabinet latches.
Conclusion
You are now at the end of this guide, and you should have a good idea of your best portable dog fence for RV. It might be challenging to pick the right model for your specific needs. But take the time to think about your dog's size and the characteristics you want in a portable dog pen.
My top-rated choice is the BestPet Dog Kennel. This product does not rattle or shake when dogs are roughhousing. Also, the panels promote different sizes and shapes to fit different space requirements.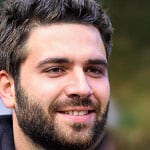 Hi, I am Joseph. Carpe diem! Seize the day! That's always been my life motto. If you haven't seen some of the most beautiful places in the country, you are missing out on incredible adventures.