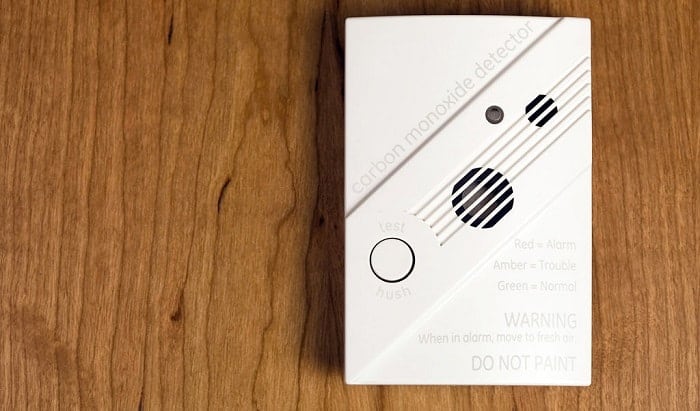 Carbon monoxide is an odorless, colorless, and silent hazard to humans. Breathing carbon monoxide can lead to symptoms like dizziness, vomiting, headache, and chest pain. And, long-term consumption of this chemical compound can even lead to serious problems like permanent damage to the brain and cardiovascular system.
Thankfully, you can prevent these consequences by installing an RV CO detector in your camper, motorhome, 5th wheel, or similar mobile vehicles. But the question is, what is the best RV carbon monoxide detector on the market? Also, what do you need to consider to find the right carbon monoxide detector for RV?
A reliable RV carbon monoxide detector keeps beeping if it detects more than the minimum amounts of the compound in the nearby vicinity. That way, you can take immediate action and prevent potentially serious concerns. Here are three factors to help you with your purchasing decision:
Type: The different carbon monoxide detectors on the market provide different features for specific needs. Some models can only detect the CO compound while certain variants can also detect other harmful gases.
Power Source: CO detectors are generally powered by either an internal power source, such as a built-in battery, or the RV's power cell. AA batteries need replacements when their energy depletes. On the other hand, connecting a carbon monoxide detector to the mains can increase the energy depletion rate of your RV's power cell.
Ease of Installation: An ideal carbon monoxide detector provides ease of installation to customers. You should only spend a few minutes to complete the install process. Spending more time and effort on the initial setup process can be annoying for some users.
In this guide, we will tackle the top 11 RV carbon monoxide detectors that you can purchase today. Also, you will learn other meaningful information about using a carbon monoxide detector for camping. For instance, keep reading to know the importance of an RV CO alarm. Additionally, you will know how to replace a malfunctioning CO detector for RV.
Best Carbon Monoxide Detector for RV Reviews
1. MTI Industries 20-441-WT RV Propane Gas Detector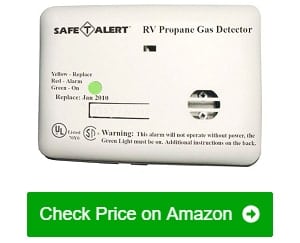 Propane gas can be fatal as it is a combustible compound. This CO detector from MTI industries can help me and other rig owners sleep easily at night, knowing that it will alert me if the propane tank leaks.
First, I would like to point out that it is reasonably easy to install. It only took me about five minutes to install this 12 volt RV carbon monoxide detector. However, the install process can get confusing if we do not consult the instructions. Once it was correctly connected, the light started flashing as the device began its life to save me from carbon monoxide-related incidents.
Since I first installed this device, it has been serving me quite well for many months. I even heard from some of my fellow campers that they have the same model, and it has been helping them for over three years. It is also possible to make this unit into a replacement Costar RV carbon monoxide detector.
It is also nice to know that this particular unit works as intended. It has an operational temperature rating of -40 degrees Fahrenheit (4.44 degrees Celsius) to 158 degrees Fahrenheit (70 degrees Celsius). The item worked fine during winter and summer.
On the downside, it requires it to be flush against my RV's wall. Otherwise, it cannot hang onto the supplied bracket.
What We Like
Provides optimal safety from carbon monoxide leakage from propane tanks
Only takes about five minutes to do a proper installation
Excellent longevity and will work for many years
working temperature range: -40°F to 158 °F
Functions as intended during winter and summer
What We Don't Like
The installation needs to be flush against the wall
RVers that like to use their propane tanks for cooking and heating purposes can purchase this RV carbon monoxide propane detector to protect them from incidents related to carbon monoxide gas.
2. MTI Safe-T-Alert 35-742-WT Dual LP/CO Alarm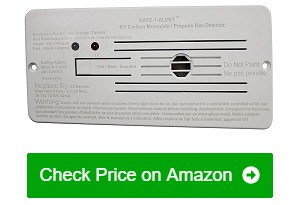 I was not expecting the audio from this Safe-T-Alert RV carbon monoxide detector because it has a highly audible alarm. The sound is so loud that it can wake me up from a deep sleep without a problem.
Furthermore, I am impressed by this device's detection speed. I ran a test by purposely releasing some carbon monoxide from canned air. Within seconds, that loud alarm started blaring that even some of my camping neighbors noticed.
The detection system built into this device is also quite impressive. I tested different types of scenarios to check if this smoke alarm will find those anomalies. I release gases like butane, propane, and smoke from a nearby grill. Thankfully, the alarm detected all of these gases.
Additionally, I liked that the installation is reasonably easy to accomplish. It only took a few minutes of my time to get the unit set up correctly. Besides, this smoke detector comes with a dimension that fits well to a compact space on my RV.
Still, I found the detection rating to be a bit too sensitive at times. For instance, a buddy smoked some cigarettes nearby, and the device started blaring its loud smoke alarm. It is easy to turn off the unit when it is not needed. But it does come with the cost of reducing security, albeit only for a few minutes.
What We Like
Loud smoke alarm can warn sleeping individuals about gas leaks
Top-notch detection speed within seconds
Can detect smoke and other types of gases like those from propane tanks
Fairly easy to install
A compact dimension that fits different RVs
What We Don't Like
The gas and smoke detection might be a bit too sensitive at times
This RV carbon monoxide alarm can be an excellent fit for a heavy sleeper who wants to feel safe at night without the worry of a gas leak. It is among the smoke detectors trusted with fast alarms.
3. First Alert SCO5CN Carbon Monoxide Detector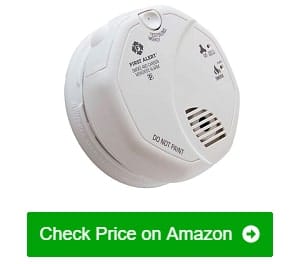 I bought this RV carbon monoxide detector replacement device for my old unit because it has two units in one pack. Although my expectations were reasonably low when testing out this CO detector, it happily surprised me with many of its reliable features.
First, I would like to mention that I bought this First Alert 2-pack smoke and carbon monoxide detector over a year ago. At the time of writing, the batteries that came with the unit are still working. I have not yet experienced any RV carbon monoxide detector false alarm, which usually happens because of low batteries.
Another benefit that I loved is the device's detection rate. I placed one of the units on top of a coal-powered grill. I thought that the heat from the coal had already disappeared after cooking some meals. But the device almost immediately sprang into action after I turned it on after cooking.
Interested buyers should take note that this is a photoelectric model and not an electrochemical CO sensor. It means that it detects both photons and ions in certain gases, which will then set off its alarm.
Furthermore, I found that this CO detector can also distinguish other types of gases, such as significant amounts of CO2. It is because I was taking a hot shower in my RV, and this RV CO2 detector started sounding its alarm like there was no tomorrow.
With that in mind, I advise users to turn the alarm off when cooking or taking hot showers. The detection feature can be a bit too sensitive in certain cases, which might cause some disturbances.
What We Like
Two RV carbon monoxide detectors in one pack
Excellent longevity for the batteries
Quickly detects carbon monoxide gases in the area
Can identify different types of gases, including CO and CO2
What We Don't Like
The device might be too sensitive to certain gases in certain scenarios
This pack is a reasonably economical purchase and makes a great choice for camper, motorhome, and travel trailer owners. It has a 'set it and forget it' type of installation, which gives many users peace of mind.
4. Kidde 21026043 Carbon Monoxide Detector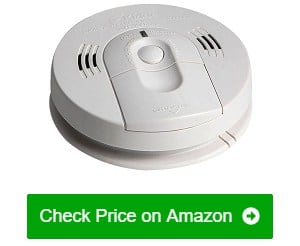 At first, I was quite skeptical about this RV carbon monoxide detector. It is because its price tag belongs in the budget-friendly department. But its UL certification convinced me to purchase the product. Upon achieving a proper installation, almost every doubt and worry associated with this CO detector disappeared.
For its price, it presented me with some premium features. For starters, let's talk about its sufficiently loud alarm; I recorded the unit with a decibel meter and found that this unit blares its sounds for about 85 decibels. In comparison, that volume is comparable to an operating dishwasher or garbage disposal unit.
The smoke alarm also comes with a voice alarm, so I know which type of gas I need to worry about in certain situations. I tested it out by lighting a small amount of hairspray near the unit. The device alerted me by saying 'fire' many times.
Plus, during the time I was testing this unit, it did not give me any false alarms. Even cooking mishaps did not trigger the alarm, unlike other units within a similar price range that gave me an RV carbon monoxide detector fault. Therefore, I did not have to reduce the security in my RV while I am cooking.
However, its reasonably inexpensive price tag shows in its build quality. The shell has hard plastic construction, which is reasonably durable. But it has some degree of flex to it, which can cause concern for some users.
What We Like
Budget-friendly price tag
UL-certified CO detector for RVs
Alarm volume (85 decibels), comparable to a dishwasher or garbage disposal unit
Smart voice detection feature in the smoke alarm
Ensures few to no false alarms
What We Don't Like
The hard plastic shell may flex slightly
This RV CO detector is ideal for mobile vehicle campers that do not want to spend a lot of their hard-earned cash to feel safe from carbon monoxide-related incidents.
5. MTI Safe-T-Alert 35-742-BL Dual LP/CO Alarm
Unlike the Kidde model, this particular Safe-T-Alert alarm from MIT is on the expensive side of the market. For the price, it presents premium features to many RV campers.
I appreciate the build quality of this smoke detector; one look, and I know that this smoke alarm is resistant to wear and tear. The durable shell and flush-mount installation mean that I can expect it to give me service for many years.
Plus, take note that this model uses the RV's 12v battery. Therefore, I can say goodbye to worrying about replacing internal batteries, which is the source of trouble in some inexpensive and low-quality CO detectors.
I am also happy to say that this RV carbon monoxide detector meets the requirements presented by the RVIA/NFPA, particularly those listed in UL 1484 RV and UL 2034 RV.
Additionally, the design of this unit should fit almost any built-in mount in different RVs. It did not give me any significant problems during the installation. Furthermore, it was a breeze to readjust the device when needed.
Still, I noticed some areas that the company may need to improve on this particular model. For instance, this LP/CO alarm gave me some false positives on some occasions. After some digging, I found that pollen and fine dust can trigger its detection features.
What We Like
Excellent build quality and exteriors are resistant to wear and tear
No need to replace batteries since it connects to the RV's main power source
Meets RVIA/NFPA requirements
Universal design should fit most built-in mounts on different travel trailers
Reasonably easy to readjust if needed
What We Don't Like
Might not be for budget-conscious folks
All in all, having this MTI industries detector installed in our RVs can result in safer cooking time inside such a small space.
6. X-Sense CD07 Carbon Monoxide Detector
I was slightly skeptical by this carbon monoxide detector's battery life since it has a rating of 10 years. After using it for a reasonably long time, it seems that claim is no mere marketing gimmick.
This device's battery is kept in a durable, fire-retardant plastic shell. This optimal ruggedness makes it possible to install this monitor near relatively hot places, such as RV stoves and ovens.
I also love that it has three indicator lights: a green blink for active, a flashing red light for alarm, and a yellow color if it needs a battery replacement. Therefore, I am not making any second guesses when looking at the device, unlike other carbon monoxide detectors with only one color for their LEDs.
This device also has an on-screen digital display, which is quite surprising since its price tag is within a budget-friendly point. The digital display is reasonably large and fairly bright so that I can see the readings from across my RV.
We should note that ETL and UL 2034 standards qualify the model's ability to detect smoke. Thus, it is a safe CO smoke detector to use on RV during trips.
Although the detector sometimes gives me a false alarm, it's not a frequent occasion. Besides, I'd rather be alerted of small smoke amounts than be unaware of leaked carbon monoxide in my RV.
What We Like
A long-lasting battery lasting 10 years
Durable fire retardant plastic casing
ETL and UL 2034 standards certify the model
Three-colored indicator lights: blinking green, flashing red, and yellow
Fairly large and bright digital display
What We Don't Like
It might sometimes give false alarms
This product is a top-tier CO detector that we can buy from the current market. We can rely on this model for accurately detecting smoke with its budget-friendly price tag, reliable CO detection features, and convenient functionalities.
7. First Alert CO250 Alarm
Perhaps the aspect that I liked about this RV CO alarm the most is its form factor. It has a relatively common design, which is not a bad thing, to say the least. However, its standard looks mean that it presents top-notch compatibility with many conventional RV smoke and CO detector mounts.
Furthermore, this device has a silence feature, which I frequently use when I am sure that there is no carbon monoxide leak in the immediate area. This feature is useful when I am cooking or when I am taking a hot shower in my RV. That way, I will not be disturbed by loud noises, which may ultimately turn out to be false alarms.
I also liked that this device has a tamper-proof design. It requires a pin to open the shell, which prevents accidental openings by kids when the little ones are playing in the camper.
The carbon monoxide detection features are also fairly accurate. I tried it by placing the alarm near the RV furnace. Within seconds, the unit's LED flashed red and sounded a reasonably audible alarm.
Still, I would prefer if this model can detect more than carbon monoxide. I wished that it could also give off an alarm when detecting smoke in the area. However, the company has another device for that purpose, but it is a separate purchase.
What We Like
Unobtrusive form factor can fit standard RV smoke detector mounts
The silence feature prevents noise from false alarms
Tamper-proof design secures the device's internals from accidental prying
Fairly accurate CO detections
Flashing red LEDs and loud alarm
What We Don't Like
Might be better if it can detect other gases besides carbon monoxide
This carbon monoxide-detecting device is a safe choice for many RVers. Its conventional and straightforward design means that it is likely that this device will fit our motorhome's mount without an issue.
8. Kidde KN-COEG-3 Carbon Monoxide Detector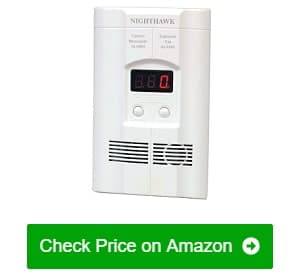 Like other RV campers, I am one with many folks in the RVing community that want to avoid unnecessary DIY installations. Thankfully, this RV CO detector will not have me experience those scenarios when I want more safety against CO poisoning.
Unlike other RV CO detectors, this model has a plug-and-play design. It works by connecting to a wall outlet. Therefore, I can safely say goodbye to using my drill and screwdriver to install this to a space in the wall as I can stick into a power outlet and leave it.
Furthermore, I also liked that it has a 9v backup battery. This device will keep working while I charge the camper's batteries. Plus, there is an LED indicator when it has dead batteries and, as such, needs replacement.
I also like that this device can detect more than carbon monoxide gas. It can also detect other harmful gases, such as those coming from propane and butane. These features give me peace of mind that I can be safe from danger from toxicity from carbon monoxide or explosive gases.
However, I did notice that it sometimes gets confused. I tested it by spraying some carbon monoxide gas, and the device produced an alarm that isn't the substance I exposed into the air.
What We Like
Plug-and-play design that is powered by a wall outlet connection
A 9V backup battery included in the package
LED indicator will flash when the backup battery needs replacement
Can detect smoke, carbon monoxide gas, propane and butane gases, etc
What We Don't Like
The device might sometimes become confused about different gases
This model could be the right CO detector in providing convenience to its users. We can use it immediately upon taking it out of its packaging without having to drill holes in our camper's walls.
9. X-Sense SC01 Carbon Monoxide Detector
This battery-powered smoke and carbon monoxide detector has dual sensors and a reasonably compact form factor. I like its 5.7 x 5.7 x 2-inch dimensions since it does not take up a significant amount of space in one of my RV's walls.
Additionally, the reasonably flush installation makes it possible to hide the detector behind certain appliances or books.
Looking at the front of the device, I saw an LCD screen, a large test/silence button, a status LED (to indicate an active alarm), and the speaker for the alarm. It is a feature-rich design that did not require me to break the bank to enjoy these functionalities.
As for its performance, let's start with the alarm's sound; the sound can be pretty jarring, especially when it rings at night. However, that is not a bad aspect since I can wake up from a deep sleep. Besides, an alarm mute switch is at the device's back. Therefore, I can switch off the loud noise if I want.
It has an almost uniform design throughout its shell, bringing about some issues during the installation. The device had no clear markings or indicators to show its top. I had to do some trial and error to fit it into the mount. Thankfully, I only had to do the install process once.
What We Like
Reasonably compact and unobtrusive form: 5.7 x 5.7 x 2-inch
The device sits reasonably flush against the wall
Feature-rich front panel, which includes an LCD screen and a status LED
Loud alarm that can wake up deep sleepers
Features a mute alarm switch
What We Don't Like
Some users might have some trouble with the installation
This combination smoke and carbon monoxide detector for RVs are a great way to stay safe from harmful gases while camping in a motorhome or travel trailer.
10. Kidde Nighthawk Carbon Monoxide Detector
Like the other Kidde carbon monoxide detector previously mentioned, this model also has a plug-and-play design. It draws power from one of the RV's wall outlets, promoting easy and hassle-free usage.
This model is also one of the most budget-friendly carbon monoxide detectors I saw on the market. I am happily surprised that it delivers a range of valuable and quality features while staying reasonably inexpensive.
Not only can this UL-certified device detect carbon monoxide but also other harmful gases as well. It did a great job in warning me and other nearby campers that my RV's furnace leaked. The alarm at 85 dBs was loud enough for us to notice in the middle of the night.
I additionally liked that the package included different mounting options. Using these accessories allowed me to use the device in either a horizontal or vertical orientation, depending on my current space requirements.
On the downside, the carbon monoxide levels displayed on the built-in screen can sometimes jump between different figures. On one occasion, it suddenly jumped to around 200 ppm, which shocked me and other people who saw the number. Still, it went back to normal quickly after.
What We Like
Does not require special tools for the installation
One of the most inexpensive yet quality RV carbon monoxide detectors
An UL-certified product for reliable uses
Fairly accurate readings
Loud alarm (85 dBs) will notify campers about significant CO gas levels
Different mounting options included in the package
What We Don't Like
The number displayed on the screen may sometimes jump between figures
This RV carbon monoxide detector can be our next lifesaver while camping in our motorhome. It accurately detects significant levels of CO in the immediate area and sounds an audible alarm to warn us of the current danger.
11. FORENSICS DETECTORS FD TW-5IA7-GGTV CO Detector
Truth be told, I took a step back when I saw this model's price tag. But the myriad of top-notch features it offers justifies the bump in costs.
For instance, this particular CO detector is usable in different scenarios. I used it on different vehicles, including SUVs, trucks, fifth wheels, and school buses. It is also possible to use this device to check for carbon monoxide leaks from aircraft.
These applications are made more convenient as the device is quite portable. It has pocket-friendly dimensions of 2.7 x 1.9 x 0.8 inches and weighs less than a pound. I can even put it in my pocket when I am not using it.
It continues its convenience-focused features with its one-button operation. Turning the unit on and off only requires one push of the large button at its front. Furthermore, the package includes a 3M stick-on mount if I decide to make this unit stay in a semi-permanent location.
The included battery also served me quite a bit before running out of energy. It took about 8 months before having to replace the batteries. This particular model runs on two CR2032 batteries, which are not too difficult to find on the market.
On the downside, I found that the device had some trouble working in the winter. The device had trouble staying on when the outside temperature dropped to about 28 degrees Fahrenheit (-2.22 degrees Celsius).
What We Like
Device is usable check for CO leakage on different vehicles
Pocket-friendly dimensions: 2.7 x 1.9 x 0.8 inches, weighing less than 1 lb
Convenient one-button operation
Includes a 3M stick-on mount for easy attaching and taking off
The package includes two CR2032 batteries
Batteries can last eight months before replacement
What We Don't Like
It might have some difficulty functioning in the cold of 28 °F
While other carbon monoxide detectors dedicate themselves to protecting RV campers, this particular device can also help other vehicle owners.
RV Carbon Monoxide Detector Buyer's Guide
It is important to take note of certain essential factors when buying a reliable camper carbon monoxide detector. That way, you can avoid issues with your purchase. Plus, you can gain excellent value from the device, leading to enjoyable and safe camping experiences with your RV.
Here are the factors that you need to consider while shopping for a carbon monoxide alarm for RV.
Type
The different RV carbon monoxide detectors may look similar, but many variants do not share the same features. For instance, you can find a dedicated 12v carbon monoxide detector that only detects that specific chemical compound. On the other hand, some CO alarms can also act as an RV smoke detector.
Furthermore, do not confuse smoke detectors with carbon monoxide detectors. The former type of unit detects flares and smolders from nearby fires. Using an alert carbon monoxide alarm, on the other hand, will detect the compound in the area.
Power Source
Hardwire smoke and carbon monoxide detectors often attach to the wiring of your motorhome. Some models have backup batteries to avoid putting additional stress on the vehicle's built-in power sources.
Still, a battery-operated carbon monoxide detector for RV tends to be easier to install than a hardwired option. However, you need to pay attention when the battery is about to run out to prevent false alarms and misdetections.
Extra Features
Carbon monoxide detectors have been stapled safety devices for many RV owners for years. Many rig owners prefer to use dedicated models because of their reasonably inexpensive price tags. But if you have the extra cash to spend, you can opt for a smart carbon monoxide detector.
Some smart carbon monoxide alarms provide the advantage of allowing RVers to know if something is amiss when they are not at home. The device can connect to a mobile app through the Internet. It can then send valuable data to the owner. Some models can even send the information in real-time.
Another valuable feature that you may consider for your next RV carbon monoxide detector battery-powered is an extra battery source. As mentioned previously, some options will come with backup batteries. That way, the alarm can function for extended periods without relying on your motorhome's internal battery supply.
We should also pay attention to functions like fuel cell sensor, photoelectric smoke sensor, and rapid recovery sensor when choosing the right CO detectors.
Ease of Installation
Keep in mind that an RV carbon monoxide detector will only work properly if you install it properly. Failure to do a proper installation can result in the detector not doing its job properly.
Make sure that the carbon monoxide-detecting device that you use is reasonably easy to install. That way, you will not have to spend more time and effort than needed to readjust the device if needed.
Brands
To choose the most trusted RV CO detectors, it's better to check the collection of reliable brands. There are familiar names mentioned above, such as Kiddle, X-sense, MTI Industries, Safe-T Alert, First Alert. We also recommend you check out an Atwood carbon monoxide detector.
Frequently Asked Questions
Do I Need a Carbon Monoxide Detector in my Camper?
Take note that carbon monoxide can come from exhaust leaks from the vehicle's engine or generator. Therefore, every camper vehicle should have a carbon monoxide detector. It is because RVs and other mobile vehicles tend to spew this harsh chemical compound silently.
Where Do You Mount a Carbon Monoxide Detector in an RV?
Install a carbon monoxide detector in a central location in your RV. The RV CO detector should be about 5 feet from the floor. The reason is that this chemical compound will rise as the temperature in the air within the vicinity rises.
Additionally, make sure that the device is close to your sleeping quarters to hear the beep if it detects the odorless and colorless gas. This way, we can be aware of CO levels and gas leaks in our RV.
How Do You Replace a Carbon Monoxide Detector in a Camper?
CO detectors can become damaged or stop functioning over time. Replacing the model will help you and other nearby campers to enjoy your time outdoors without fear of carbon monoxide poisoning.
Thankfully, replacing the device is not as difficult as you might think. Start by removing the old model from its installation location. Take note of the wiring from the previous device if you are replacing it with the same model. Then, follow the instructions which usually come with the package. You will know if you did a fairly good job with the installation procedure when the LED starts lighting up from the unit.
How Do I Stop My Camper Carbon Monoxide from Beeping?
A camping carbon monoxide detector will beep constantly if it is running out of battery. Charging or replacing its internal power source will usually stop the annoying sound. If the device is still beeping continuously, consider replacing the malfunctioning unit with a new model. Make sure to search for the specific method on how to change battery in RV carbon monoxide detector, especially for your specific model.
Conclusion
Functional CO smoke detectors notify us about the CO levels, invisible fire particles, large smoke particles, gas leaks, and more. So, we must pick the best RV carbon monoxide detector that suits our specific needs. Make sure to consider the essential factors to gain excellent value from your purchase.
Still, out of the different RV carbon monoxide detectors tested, I found the Kidde 21026043 Smoke & Carbon Monoxide Detector is my top pick. It has plenty of safety features to offer without making customers spend money on premium fees.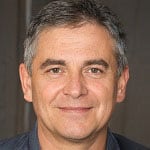 Hi, I am Tom Hank, an RV-er since 2014. Back then, I started without much help. As you can imagine, the struggles are endless. But now, you do not have to begin your adventures knowing next to nothing about RV lives.