A decal can be a paper, cloth, plastic, or ceramic and has printed patterns or images. These images or patterns are transferrable from one surface to another via contact. Water and heat play a concrete role in the transfer of these decals from one surface to another.
A decal is a conglomeration of multiple layers ranging from the bottom to the top. The layers include:
The top layer consists of a film or paper- Printing is usually done on the upper side of the face stock.
The adhesive layer, which is applied at the bottom of the face stock.
The silicone- This layer is applied on the higher side of the underneath material.
The paper or film liner- This layer offers the bottom layer of the label stock.
An RFID circuit- this can be included in the film face stock.
In most cases, decals are frequently used on plastic models and hot rod automobiles. Alternatively, they are also used on guitars in order to personalize them. Government agencies utilize decals to identify their own vehicles. In some countries such as the United States, it is required by law that all fire and law enforcement vehicles be marked by decals.
RV commonly refers to recreational vehicles; these are vehicles meant to be used for enjoyment purposes. These vehicles are classified in different classes most commonly A, B, and C.
Decals can be a big turn off, especially when one wants to sell his her recreation vehicle; hence, the necessity to be removed. Although most buyers pay very little or no attention to old stickers around the RV, having it neat is also very important. Removing the stickers the correct way can help you as a seller reap maximum benefit from the sale of your RV.
Effective methods of removing old decals from RV
Apply heat to get rid of unattractive bumpers stickers.
This can be done by using a hair drier and one edge of a hard plastic squeegee. When enough heat from the drier is applied to the old sticker, they are easily removed without applying much elbow grease.
Put on an adhesive remover
Often, when bumpers stickers are peeled up, they typically leave their adhesive behind. To remove it quickly, a product called rapid remover can efficiently do that. On metal and fiberglass surfaces, the adhesive remover is very safe and efficient, and it takes the shortest time possible, though it requires some physical strength.
Get rid of oxidation.
Abolishing oxidation from your recreation vehicle can be tiresome and time-consuming in the old decal removal process. Foremost, you need to clean your RV thoroughly and scrub it with a Ghost Away Oxidation Remover, a special agent for removing oxidation. This process is vital in removing oxidation from exposed areas and will weaken the yellow oxidation so that it camouflages with the non-oxidized surface below the stickers. The ghost away product makes the RV look yellower and better than it was before, and this may increase the sales value.
Use of the eraser wheel
This method is considered straight forward as compared to others, though it comes at a cost. The eraser wheel is:
Specially designed to fit in any pneumatic or home drill.
It can clean the decals and the surfaces around it with a wet cloth or rag.
This is hailed by many as an efficient remover of old decals because:
It is easy to use. When the kit from the manufacturer arrives with an electric drill adapter arbor, this makes it easy to install on any pneumatic drill or home power.
It is non-toxic. The material used to make this kit is safe for human health and does not cause environmental pollution.
Saves cash and gives the user the good value of his/her money. It readily fits in any home drill
Steamer
A steamer is also one of the most convenient methods of removing the old decal from an RV. It causes no damage to the RV. It is cheaper as compared to the other methods.
Final Word
Old decals can be a big turn off to both user and buyer of RV, hence, it needs to be cleaned for maximum profit when selling the RV. You can bring it back to its original state by effectively applying the above-mentioned methods. Use these techniques to effectively remove old decals from your RV now.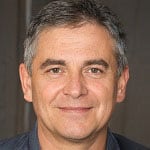 Hi, I am Tom Hank, an RV-er since 2014. Back then, I started without much help. As you can imagine, the struggles are endless. But now, you do not have to begin your adventures knowing next to nothing about RV lives.