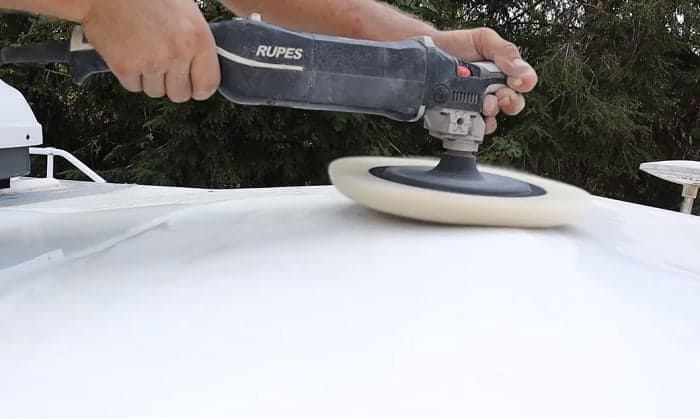 Are you planning to remove the existing oxidation from RV fiberglass? The process isn't difficult once you are aware of the basic steps to follow. The entire process of removing oxidation from RV fiberglass will involve the proper use of mildly abrasive polish, which is then followed by a wax coat. So, get your answer on how to remove oxidation from rv fiberglass now!
Most of the current RV exteriors are crafted using fiberglass or fiber-reinforced plastic reinforced plastic with a gel coat layer. Such materials happen to be durable, light in weight, and dependable. It is important for vehicles covering a long distance. Gel coat is a synthetic resin product used for protecting fiberglass.
Primarily, the fiberglass gel-based coat is around 1/32 inches thick and bonded to the fiberglass directly. This coat provides your RV with its perfect shine. But with time, this shine turns dull and makes your RV look junky.
Reason for Gel Coat to Lose its Shine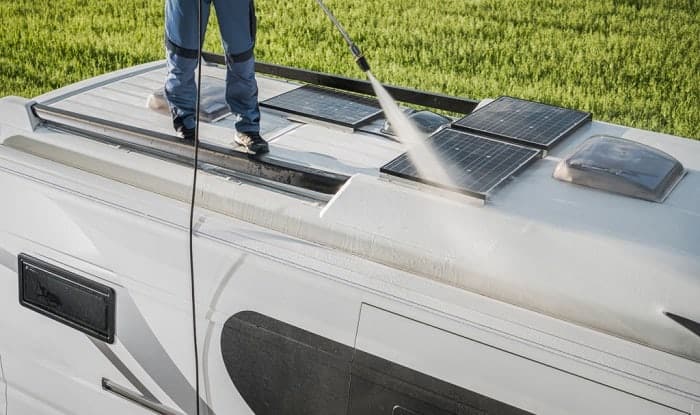 With passing time, that gel coat turns chalky and cloudy and sometimes forms a yellow tint on top. It is because of oxidation. Generally speaking, oxidation is a chemical reaction with oxygen. For example, rust on iron is the result of oxidation. The same happens to the gel coat as it comes in direct contact with oxygen and as the sun is pretty harsh on such coats.
So, removing oxidation from the gel or basic fiberglass top is important. There are various procedures involved. Here, I have mentioned some of the best methods to give a try.
Using Hand Buffing Technique to Remove Oxidation
This method is generally the simplest way to remove RV oxidation from the fiberglass top. You will need some polishing compound and little elbow grease to cover up the job. Apply the polishing agent with a non-scratch kitchen sponge. Later, work that polish into the fiberglass's surface manually and polish it until you can't feel any resistance.
Give the polish some time to try out and then haze over. Once it is time, it is time to wipe the haze off with dry clean cloth for revealing the shiny surface. Make sure to top this clean surface with RV grade or quality marine wax. Use a clean, dry cloth for applying the wax and then give it time to dry to a haze. Once done, polish if off for that final shine.
Proper Use of Power Buffer to Remove RV Oxidation
Try another method with the help of an electric power buffer to save time. This method is less stressful and will exert less body strain. You have to use this electric power buffer with polish for removing oxidation from larger portions of your RV. Here, you have to use the same kitchen sponge and polish for removing deposited oxidation from your RV.
This power buffer is designed to apply polish and remove oxidation from the gel coat. But, you can use the same machine to apply wax and give your RV the much-deserved shine. Remember to always use a wax, perfectly designed to protect RV's fiberglass surface only. Marine wax is mainly formulated to be applied on boats, but can also be used on RVs.
How to Remove Heavy Oxidation from RV's Fiberglass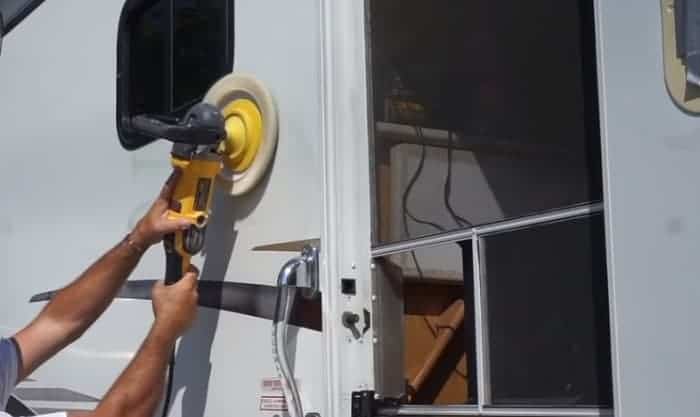 Polishing and waxing will only coat the oxidation and allow it to continue under the wax layer. The solution is to scrub fiberglass with a specially formulated oxidation remover, procured from reliable online centers. You can try using Meguiar's M4916 Marine/RV Heavy Duty Oxidation Remover or even Fiberglass Oxidation Remover and Color Restorer, based on your preference. After scrubbing the dirt off, you need to coat the surface with a sealant.
Step 1
First, take a sponge brush and saturate it with liquid oxidation removers, as already mentioned. Try working outdoors to minimize the mess. Remember to wear a mask as you don't want to breathe in the harmful chemical fumes while working with the removers.
Step 2
Use the sponge brush for scrubbing the fiberglass surface. If you need, you might have to add more oxidation remover until the fiberglass's gel coat starts getting back its original appearance. Once that is done, it is time to dry the surface area completely.
Step 3
Remember to apply the sealant directly on the cleaned fiberglass of your RV with the help of a sponge applicator. You will get it along with the product bottle. Now, give some time to dry out the surface before proceeding towards the next step.
Step 4
Now, it is time to buff treated fiberglass with the help of an electrical one, like a DEWALT Buffer/Polisher, till you can see the surface shine. Next stop, you have to apply the marine grade wax if needed. If you want to add an extra protective layer once the oxidation is stripped off, remember to go for the next wax. It helps in resealing the surface.
Settle Down Washing Tips to Prevent RV Oxidation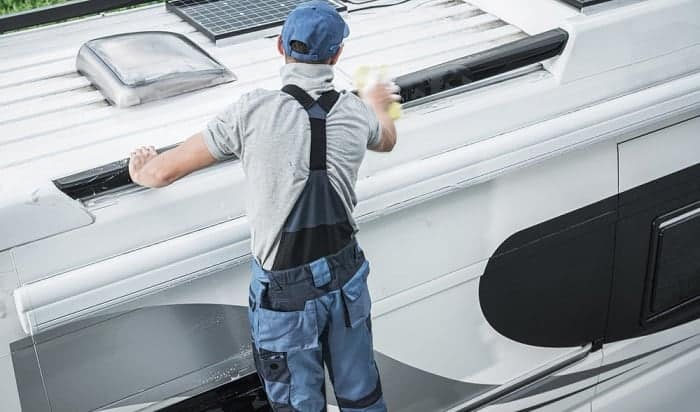 It is vital to wash your fiberglass RV once a month. It helps to prevent building up of oxidation. Try using the wash and wax products for a change, designed perfectly for your RVs. It makes your job a lot easier and keeps grime and dirt away. It even prevents further oxidation from building up.
Apart from basic cleaning, it is also a clever choice to wax RV once every year for maintaining its shine. It even helps in adding an extra layer of protection from oxidation and harsh sun rays. In case you have one used RV with signs of oxidation, try using a fiberglass restorer apart from washing and waxing the RV.
Proper Maintenance Tips to Follow
Some extreme environmental conditions like humidity, sun, and air pollution can damage your RV's surface. So, if you are concerned about your RV's outer shine, try keeping it out of the sun and under any shade, if possible. It is highly advised to keep the vehicle in the garage when not in use, or under an RV cover. It prevents UV rays from damaging and oxidizing the gel coats.
Best Ways to Restore the Gel Coat of Your RV
Once you are done removing oxidation from your RV's fiberglass, you must get on with ways to restore the gel coat finish. Simple steps can work a long way!
For the initial step, remove surface dirt with proper marine-based RV soap, properly diluted in water. Other than rinsing off the residue, these soaps are better for the environment when compared to other liquids because these products are free from sulfonates.
Some of the molded-in skid portions of your RV can be tough to clean. For that, try using a non-skid cleaner. These cleaners are primarily formulated to break the bond between dirt and RV's top later without any heavy scrubbing.
Once you have removed the surface dirt, check for any damage. Try looking for some cracks, which are signs of underlying structural issues. Get those areas repaired, if any, before moving forward with the next steps.
Unfortunately, mere water and soap mixture cannot remove all stains, mainly those at a deeper level within the gel coat's porous surface. Some stains are localized, and in others, those can cover the top portion entirely. You will find two stain styles, organic and mineral. Mineral stains are rust stains and come with black streaks. Then you have organic stains resulting in discoloration from bird dropping, wine, and more.
Look for acid-based removers for removing maximum stains. These acid-based products are packed in a gel form, making them easier to use. They can hold to the vertical areas well. As they work chemically, there is little to no scrubbing required. Make sure to wear eye goggles and masks while using acid-based removers. Keep the gel away from varnish, paint, or galvanized areas.
After swabbing the gel remover, keep it for 20 minutes and rinse off. It helps in removing stains and oxidation and restores the old shine.
Conclusion
Remember to keep some pointers in mind if you are trying to remove oxidation on your own without professional help from RV fiberglass. Some major ones are listed below:
Don't forget to wear protective masks and eye goggles before working with the chemicals.
Use proper stain removal chemicals to match the RV's fiberglass. The ones to be used on gel coats are completely different from the basic one.
Don't use too much force to scrub the oxidation off your RV, or you might dent the body of your vehicle.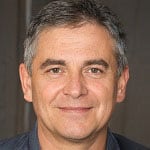 Hi, I am Tom Hank, an RV-er since 2014. Back then, I started without much help. As you can imagine, the struggles are endless. But now, you do not have to begin your adventures knowing next to nothing about RV lives.