There are many reasons why you would want to get the best RV windows for your fifth wheel or trailer. Among these reasons are replacing broken ones, or because you wanted to give your old trailer a fresh new look. The good news is that new windows will most certainly do that.
Regardless of the specific reasons you may have, you need to do a lot of thinking beforehand, as it will be a very costly upgrade. If you are just going to replace your old windows with precisely the same design as the original, then you will have no problem.
All that you have to do is to go to the RV dealership, and they will hook you up with the factory standard windows without any problem at all. However, if you are thinking of getting something different from the original, then the possibilities will suddenly shoot through the roof.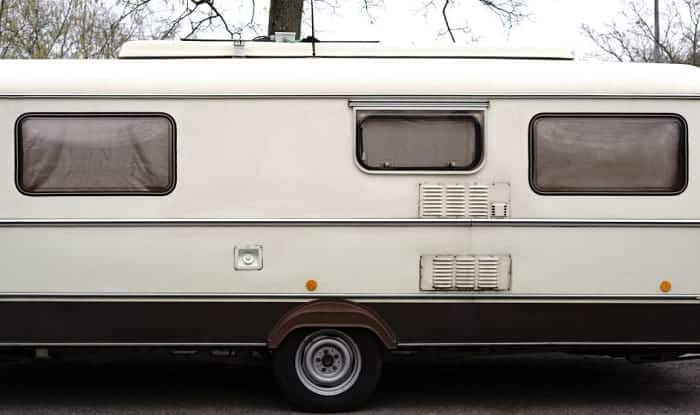 It is greatly possible, especially if you are hoping to maybe breathe a bit more new style into your RV. When shopping, remember that many different brands of RV windows and aftermarket RV window manufacturers are accessible at present. They come in even more various configurations, materials used, and designs.
Diving straight into shopping for new windows without first doing your research will lead to you not getting the kind of windows that you like. It might even increase your chance of overspending or going beyond your budget. Fortunately, this article is now accessible.
The content here will teach you all about replacement RV windows. Some of the many things you will learn are what qualities to look for and the different styles available. Once you finish reading this article, you will know all that you need to know to make the right purchasing decision.
Best Window for RV Reviews
1. AP Products 015-201512 Slim Shade Window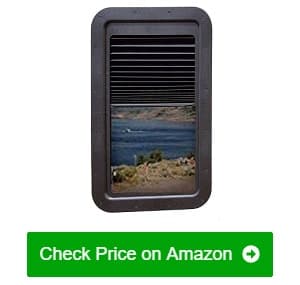 One feature that I genuinely love about this slim shade replacement door window from AP Products is that there is a built-in shade. Installing an aftermarket shade for the door is often a hit-or-miss affair. It could either be that the shade looks tacky or it does not precisely fit the window.
The built-in shade is quite nice and gives the window a clean look. Another thing that I liked about this choice for replacement insulated RV windows is that it is a perfect fit for my door window. I did not need to modify the already existing hole left by the used RV windows. It is because everything seems to slide into place perfectly.
I was even able to install this window by myself, but with a bit of ingenious use of masking tape to hold things together. The window glass that came with the set is already pre-tinted. I like the tint used in the window.
It is because aside from being not so dark that you cannot see anything outside (you can see clearly), it also prevents people outside from getting a clear look inside the RV. The addition of the blinds gives me a good sense of security and privacy.
The shade itself is pretty nicely designed. It looks like paper, but it is made of a fibrous material that is very rigid and durable. The drawstrings used to lower and pull up the blinds are nicely hidden inside the inner frame, so it looks clean and uncluttered even from the inside.
The only problem that I had is with the installation process. I did say that it is relatively easy to install because the item comes in standard RV window sizes, but that is when you have an extra pair of hands to help. If you are doing the installation process by yourself, then it can get tricky.
What We Like
Nice, clean look inside and outside
Comes with tinted windows guaranteed to provide an extra layer of privacy
Has a built-in shade in the window frame
Features a pull cord for the shade hidden within the frame
Fits precisely in the existing hole of the door
What We Don't Like
Can be tricky to install when alone
Although it takes more time to install than usual, especially if you are still unfamiliar with the process, it was all worth it. This window added a lot of style points to my trailer. I am also impressed with how functional it is.
2. RecPro RV Window
The nice thing about this set is that it already comes with two windows. With that, I noticed that it saves a lot in terms of shipping. I got two sets for my trailer so that all of my windows match. These deals saved me a lot of money, but I did not have to compromise with quality at all.
I am thrilled and satisfied with how these windows turned out so far. The frame is made of anodized aluminum, which is then powder coated black to give a sleek, cool look. The frame is very lightweight, which does a lot to improve the fuel economy of the RV.
I try to shed as much weight off my RV wherever I can, so that I save money on fuel. The frame also lies flush against the walls of the RV to make it more aerodynamic, thus further improving its fuel efficiency.
The width of its dual-pane acrylic windows frame significantly extends over the hole on the side of the RV. It helps create a better seal. Aside from that, it dramatically improves its resistance to water infiltration while preventing the sides from becoming a nest for insects.
The glass is also lightly tinted to allow light to come inside the RV. It does so while preventing most of the heat of the sun from getting inside. Also, the tint does an excellent job of avoiding prying eyes from getting a peek inside the RV. Despite that, you can still see clearly from inside the vehicle.
The only problem that I had is regarding the installation of this choice for double pane RV windows. Mainly constructed for flat wall surfaces, you will have a hard time getting it installed flush against the surface if you have a teardrop trailer. Despite that, it is still manageable.
What We Like
Comes in sets of two windows
Lower costs because you will be getting pairs instead of purchasing individually
Has an extended lip for better resistance against water and insects
Lightweight and aerodynamic design for improved fuel economy
Features tinted windows that provide ample privacy
What We Don't Like
Not made for curved outside walls, but can still make do
I truly enjoyed the look and feel of these windows after I installed them on my RV. They gave the old boy a fresh new look. The windows also helped improve the ventilation inside the RV.
3. Vintage Technologies RV Vertical Window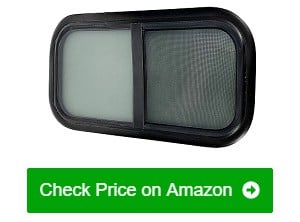 This vertical window from Vintage Technologies is the perfect upgrade for teardrop trailers. These rounded edge dual pane RV windows give trailers a sleeker look compared to the sharp edges of the usual square window frames.
The neat thing about it is that I did not need to modify the openings at all. I noticed that they just went over the holes perfectly. When opened, the bottom of the window is covered in a fine mesh screen. It helps provide the interior of the trailer with proper ventilation but also helps keep insects like mosquitoes from getting inside.
It improves energy-efficiency since you can stay inside the trailer without having to turn on the AC most of the time. I need to stress just how easy it is to install these Winnebago window replacement. In fact, I did not even need to use a silicone sealant around the edges. This window already came with a robust neoprene seal inside the window.
It created a perfect seal all around it. Also, I discovered that because of neoprene's qualities, mold growth is almost an impossibility. There are also adequately-sized weep holes drilled at the bottom of the frames. These holes allow any rainwater that manages to get inside the tracks of the frame to drain out from the bottom.
It is an often ignored feature that is very important. Without these weep holes, water can pool inside the frame and overflow inside the RV. Moreover, the pooled water can turn into a breeding ground for mold and bacteria.
The only thing that I felt could have been better with this window is the packaging. The package came with a cut-out template. It is for those who want to add windows to their RVs and build teardrop trailers. Also, the screws can be a bit longer to help compress the neoprene seals better.
What We Like
Fits exactly when used as a replacement window
Comes with an insect screen for ventilation purposes
Has ample weep holes drilled at the bottom
Comes equipped with neoprene seals – You do not need to use and buy more of these seals.
Prevents the growth of mold and mildew
What We Don't Like
Does not come with a cutout template for fresh installs
This window is the perfect choice if you do not have much space for bigger window upgrades while still hoping to have more for additional ventilation. Just the fact that these acrylic thermal pane windows are easy to install makes them worth your time and money.
4. RV Window Premium 15″ x 24″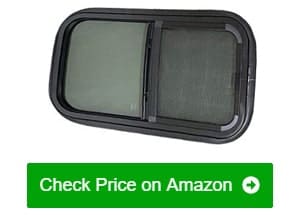 If you are building a teardrop trailer, or just want to add a couple of small double-pane acrylic RV windows in your vehicle for additional ventilation, then these windows are among the best choices currently available to you. The compact size of these windows makes them the best choice for modern teardrop trailers.
These small windows are also among the best choices for sleeping quarters and the bathroom of the RV. The rounded edges of this window also give your trailer a sleeker look and feel compared to using, say old-fashioned awning windows.
The rounded edges flow nicely with the curves of the body of a teardrop trailer while still looking great when installed in a full-sized RV. Another neat feature is that this window uses tinted glass to provide ample privacy for the person inside the trailer. Although people outside the trailer can't see inside, the person inside can clearly see what is outside the window.
It is a great feature to have, especially when you are attending a tailgate party. The tint will provide you with privacy when you just want to stay inside the RV and rest for a while. The bottom pane of this window is covered in fine wire mesh. It allows you to open the window for additional ventilation.
It provides ventilation while also acting as a barrier to prevent insects, like mosquitoes, from getting inside the trailer and causing all sorts of ruckus. Keep in mind that not having a screen window in your RV is just an invitation for bugs and mosquitoes to make themselves at home inside the vehicle.
Teardrop trailer builders such as myself would have loved this window more if the package also contained a cutout template. If you have enough experience in metal fabrication, then this would not be much of an issue. However, having a template makes it much easier to figure out where you should cut.
What We Like
Boasts of rounded corners that help give a sleek, modern style to old RVs
Comes with a lightweight aluminum frame that aids in fuel efficiency
Has a neoprene seal, which does not need any additional caulking
Features tinted window, which prevents excess heat and UV rays from the sun from getting inside
Has a screen window that provides ventilation while serving as a barrier against insects
What We Don't Like
Does not come with a cutout template
Although this option for dual pane acrylic RV windows is not the perfect window replacement, it does comes close to it. If you want to give your RV a style update, then this product is the ticket.
5. Lippert Components 806621 Thin Shade Complete Window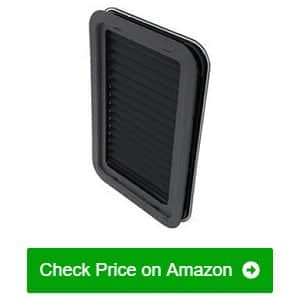 This product is an excellent replacement door window for your old RV. Just replacing something as simple as the door window can give you many years old RV a breath of fresh air. The flat black finish, combined with the wide radius chamfered corners, gives off a very modern, minimalist vibe.
Aside from adding style, it also adds the much-needed privacy for the residents of the trailer. First of all, the glass is tinted. From outside, the glass looks just like a solid black piece of glass. However, when looking out from the inside, you will see everything clearly.
Another benefit provided by the window tinting is that it dramatically minimizes the number of UV rays and heat from the sun from getting inside the RV. Aside from the window tinting, this replacement door window also comes with compact blinds to fully cover the window.
Although the blinds look like they are made of heavy gauge paper, you can still expect this material to be a dense fabric that is very durable when the shades are down entirely and exactly covers the window. The drawstrings of the blinds are also hidden inside the frame, giving it a clean look.
There are also weep holes drilled at the bottom and top of the frame to allow rainwater to drain efficiently. It is a neat feature because it prevents the pooling of rainwater in the window frame. It prevents mold and bacteria from growing while keeping the window frame pretty much clean all the time.
The top weep holes are useful when you want to install the windows with the screen on top. The frame of the window is made of plastic. It is not much of an issue, but it would have been better if it was made of some kind of metal, like aluminum.
Plastic just seems tacky for some reason. Moreover, it gets brittle the longer you expose it to the heat of the sun.
What We Like
Easy to install, but you might need someone to help
Comes with tinted window glass
Provides utmost privacy, thanks to the additional window blinds
Comes with weep holes to allow rainwater to drain
Gives any trailer a modern, sleeker look
What We Don't Like
The frame is made of plastic, which is less durable, instead of aluminum.
Although the plastic framing docked a couple of points from this door window replacement, it still has a lot of advantages and benefits that make it quite a good purchase.
6. ToughGrade Horizontal Sliding RV Window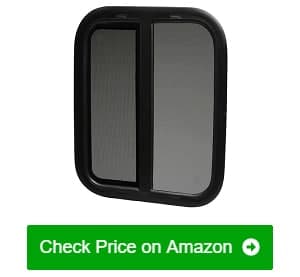 The feature that I liked the most about this particular replacement window is that it is one of the smallest sliding windows that I have ever encountered. Other windows that are of the same sizes are usually awning style windows to maximize their opening.
However, turning it into a sliding window means you can place a screen on it, which is essential, especially for teardrop trailers. I also liked that you cannot even see the fasteners from the outside. Add to that the large diameter chamfered corners of the frame, and it gives a modern, sophisticated kind of styling to any trailer.
If you own a decade's old RV, then changing the old windows to this style will immediately cause your vehicle to look like a newer model. Because of its size and the way that it is designed, the installation of this window cannot be any more straightforward.
Although there are no instructions on how to install it, you can find several instructional videos that will serve as your guide during the process. You need to see those videos as it can be quite tricky to figure out the installation on your own.
The screen window uses a new, flush design that prevents it from catching on the sliding window pane. This design will also prevent the screen from getting damaged and prolonging its service life. You would not want to have a screen window with a big gaping hole in it when you are out camping.
Camping next to a lake will be unbearable at night once the mosquitoes start coming out in droves, and they find the hole in the screen window. The only thing that I did not like about this replacement window is the way it is packaged. The packaging did little to protect its contents, which is why I had to return one window that I ordered.
The frame came so bent out of shape that I could not even install it. Fortunately, the company sent a replacement right away. The packaging should have more Styrofoam padding to protect the window adequately.
What We Like
Features a small and compact design, making it perfect for teardrop trailers and additional ventilation ports in RVs
Has a sleek and clean design that makes older RVs look more modern
Easy to install if you know a couple of tricks
The screen window is installed flush to reduce snags.
Can fit into walls up to 1-1/2 inches thick
What We Don't Like
It does not come with installation instructions, and the packaging is horrible.
Although it would have been much better if there were proper installation instructions that came with the packaging, this small and compact window is still a very worthy addition to your trailer.
7. RecPro RV Window | 18″ W x 15″ H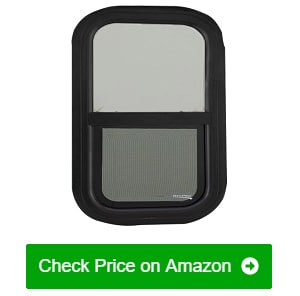 This type of window is what you would most likely want to have if you are building your teardrop trailer. It is very compact while remaining functional. This window is almost square, which makes it look good on small trailers like teardrops, horse trailers, and the like.
Another reason why it is excellent for teardrop trailers is that its frame is made of solid yet lightweight anodized aluminum. Including the glass pane window, the whole assembly weighs just a couple of pounds and shedding weight wherever you can lead to increased gas mileage.
It means you will have more gas money to spend on more RV trips in the future. Another reason why this type of window is ideal for fuel economy is that the frame is installed flush against the side of the trailer or RV. It dramatically decreases the amount of drag, making the RV/trailer more aerodynamic, thus saving on gas.
Moreover, having the windows mounted flush along the sides makes the RV look sleek and modern. The windowpane is also made of tempered glass, which is more durable than regular glass. Also, if something hits the window and breaks it, the glass will shatter into thousands of dull pieces instead of large sharp shards.
It is the reason why tempered glass is the choice of automobile manufacturers for vehicle windows. One can argue that using acrylic will be much safer, which is correct, by the way. However, acrylic does have this problem of accumulating scratches over time.
The only problem is that you cannot leave the windows open when it is raining outside. Because these windows have no awnings, water will find a way to get in through the open window quite easily. You can install rain guards on top if you wish, but that would defeat the purpose of having the windows installed flush.
What We Like
Small and compact design that installs flush into the sides of the RV
Can be opened for ventilation, and the screen guard will prevent bugs from getting inside
Features a tinted window for privacy
The window is made of tempered glass for safety purposes.
Lightweight and aerodynamic installation for fuel efficiency
What We Don't Like
Does not allow you to leave the window open when it rains
Although there is an inherent design flaw in all sliding windows, it could be overlooked because of all the benefits that this particular sliding window, together with its frame, has to offer.
8. Vintage Technologies RV Horizontal Window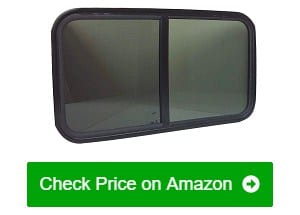 This window is the best choice in case you are planning to replace all of the windows in your RV. First of all, the frame has large diameter chamfered corners, giving your RV a more updated look. Gone are the days of the tacky plastic, squared RV window frames. Black rounded edges are the new thing.
The large windowpane is also tinted black. The tint is not so dark that it blocks most of the light of the sun from getting inside, but it prevents people outside from getting a peek inside your RV. It is excellent when you will be parking your RV in a communal area. Having some privacy in these kinds of crowded recreation areas is a godsend.
If you want to open the windows for ventilation, you can do so without worrying about bugs getting inside the vehicle. There is a screen panel behind the glass window that will serve as a barrier preventing insects like mosquitoes from getting through.
Cleaning this kind of window is also very easy and convenient. You can slide the screen door aside so that you can wipe the windows thoroughly. The screen pane can then be vacuumed to get rid of the built up dust. Compared to other windows, like awnings and crank windows, there are no hinges to clean and oil.
With that fact, these sliding windows are surely very low-maintenance. The only caveat is that you have to close this window completely when it is raining. There are no awnings that will prevent rain from merely going through the window. You do not have much choice in the matter. Just close all sliding windows during inclement weather.
What We Like
Gives even old RVs a more modern and updated look
Features tinted windows for added privacy, which means you also do not need curtains
Low-maintenance and easy to clean
Easy to install
Has a screen mesh to allow the opening of the window for ventilation without letting bugs inside
What We Don't Like
Need to be closed entirely during rains
The thing with the inability to keep the rain out is an inherent flaw in sliding windows. However, it does not take away much from all the benefits and other advantages that this window provides.
9. RecPro RV Entry Door Window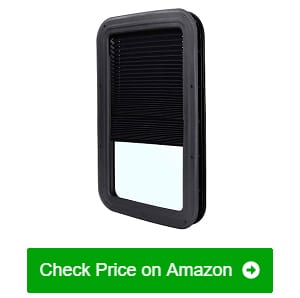 If you want to update the look of your RV, then you might as well start with the door. One of the easiest and most cost-effective ways to do so, short of replacing the entire thing, is to change the window. The RecPro entry door window will instantly give your RV an instant updated look.
The large black trim and the rounded corners give a hint of modern design and look much better than the squared windows that your door used to have. One of the features of this replacement window that I genuinely liked is the built-in shade.
If you do not want people looking inside your RV through the door window, just draw the black blinds down, and no one will be able to see anything inside. The blind looks like it is made of paper, but do not be fooled. It is a fibrous cardboard-like material that is very durable and can withstand years of use.
The shade is also an excellent way to prevent the heat of the sun from getting inside the RV. The black color of the blind absorbs and disperses the heat so that it does not get too hot inside your vehicle. I like the black blinds so much that I got matching ones for the other windows in my RV.
It is pitch black and very cool inside the trailer with all the blinds drawn. The installation process is pretty easy once you learn how to deal with the floating glass pane. What I did was use masking tape to hold the glass in place while I tighten the screws for fixing it in place.
I am also glad that I did not have to do any modification whatsoever to my door. The window fits perfectly in the hole left by the original window. The one thing that I did not like about this door window is that matter related to installing the glass pane.
In my opinion, the screws that came with the window set are not nearly long enough to hold the glass securely. I had to use some super glue to make sure that the screws are held securely in place.
What We Like
Can fit most standard door window installations
Easy to install, comes with all the hardware necessary
Comes with built-in shade for privacy
Can fit in doors up to an inch and a half thick
Has a sleek modern design that instantly updates the look of any RV
What We Don't Like
The screws that came for installing the glass are a bit too short.
This product is a good starting point if you want to upgrade the look of your RV piece by piece, especially if you do not have that much in terms of a budget. Installing this sleek looking door window will instantly make your trailer earn a lot of style points.
10. ToughGrade Vertical RV Window
This vertical Dometic Seitz-style double-pane RV window is the perfect size and style for most teardrop trailers. If you have a trailer, then it is also a good replacement window for the water closet. It is small enough for the small space but opens up wide enough to provide ample ventilation.
You can get an excellent 9-inch opening when this window is fully opened. Another thing I like about this window is that there is a fine mesh screen at the bottom half of the window. It means that even if you open up the window entirely, insects and small animals or birds will not be able to get inside.
It is a great feature, especially for teardrop trailers, because there is nothing worse than having mosquitoes inside your sleeping quarters. I also like how clean the window looks like from outside. There are no exposed fasteners, like screws or rivets that are visible, giving the window a clean, minimalist style that is all the rage right now.
If you have an older model trailer that still uses the rubber gasket fixed windows, it is about time to update your windows to something that looks a bit more modern. Although this window looks exceptionally minimalistic design, it still has advanced features.
For instance, it has concealed weep chambers that allow rainwater to drain out efficiently without causing unsightly water tracks along the side of your RV. There is also a built-in neoprene seal, so you do not need to use additional sealant.
The only problem that I had with this window is that there are no cut-out templates to help me figure out the size of the hole I needed to cut out the side of the teardrop trailer I was making. Having a template would have helped in the proper positioning of the windows.
What We Like
Features a clean and modern design that instantly updates the look of older RVs
Easy to install, everything is included in the kit
No need for sealant as the window comes with neoprene seal already
Comes with a built-in screen at the bottom half of the window
Perfect size for teardrop trailers and small rooms in RVs, like the bathroom
What We Don't Like
There are no instructions included in the package – There is also no cutout template added to the package.
The issues that I had with this window, though, are just minor inconveniences. Once I got everything figured out, the installation process went smoothly and without any issues whatsoever.
Best Window for RV Buyer's Guide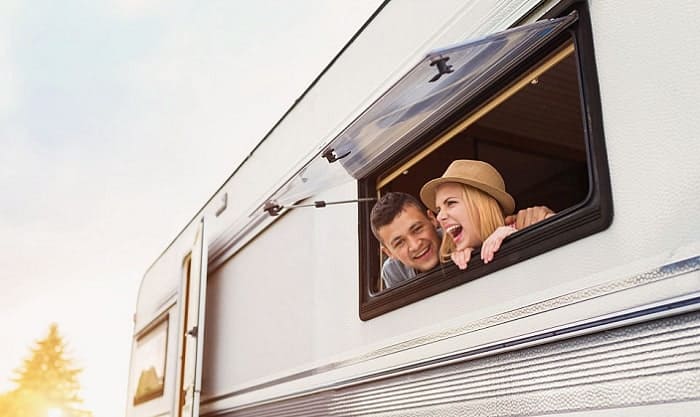 To help you find the best deals in RV windows, you need to take a couple of things into consideration. By considering certain vital factors, you have an assurance that you will be getting the kinds of windows that you will surely be happy to use.
Your choice will surely be something that you will not regret for many years to come. Here are just some of those factors to think about:
Your budget – As with all major purchases, it is necessary to set a budget and do your best not to go over it if you can. However, you should not set your budget too low, or you will only be able to buy the cheapest windows. The problem with overly cheap windows is that they usually do not last that long and only cost you more money in the long run.
Do a bit of market research. Ask around for prices of RV replacement windows then base your budget on the average cost of the windows. You can also base it on what sort of improvements that you have in mind. To be on the safe side, set a budget, but give yourself around five to ten percent allowance so you will have a bit of wiggle room.
Having a budget will slash the number of possible choices by at least half, making your decision a bit easier than before.
Will you be replacing all the windows at once? – If your intention is just to replace a couple of busted windows in your RV, then you should just stay with the current design of windows that your trailer already has. It will be quite a problem if you own a rather old and discontinued RV model.
The manufacturer might have stopped fabricating replacement parts for your RV, so you might need to find customized window fabricators that could cost a bit more. On the other hand, if you want to go and change the way your RV looks, you can choose to replace all the windows at the same time.
The great thing about it is that you do not need to look for a specific design of windows. You can choose whatever you like. Since you have the freedom to choose, you have full control of your spending as well.
Style of windows – Now, let us discuss the style of windows that you can choose. Many different kinds of windows that you can install on your RV are available at present. What is even better is that you can mix and match different types of windows, depending on your needs and wants.
For instance, you can place fixed pane windows on specific places, while you can also use sliding or awning windows in other areas, like the kitchen and the bathroom. Many different styles and types are available for you to choose from, and they have different functions and benefits.
You should study as many of these different types as you can, so you can make a better choice. We will be discussing these different types of windows later.
Energy savings – Do you live somewhere where you need to heat the interior of your RV so that it can be livable? Then you should invest in energy-saving windows. These items are the ones that have excellent insulating properties, like double-paned windows.
Do keep in mind that these types of windows are a bit more expensive than the regular window panes. However, the higher initial investment will eventually pay for itself in heating and air conditioning costs later on.
Modifications on your RV – You also have to consider if you will need to make any changes to your RV to make your choice of windows fit. It is usually the case when you will be using a style of window that is a different size or shape from the original windows that came with your RV.
If your choice of new replacement windows will require a bit of modification to your RV, then it is best that you first consult with an auto body expert. You would not want to cut through an essential structural component of your RV in your over-zealousness for new windows.
It is highly not advisable that you DIY the window replacement modifications unless you have extensive training and knowledge in RV body repairs.
Also, check our guides for the most favorite  RV awning shades and slide topper if you like.
How Many Types of Window for RV Are There?
As mentioned earlier, there are different types of RV windows that you can choose from when you are planning to shop for replacements for your vehicle. If you are tired of looking at cracked windows, and window panes that have been temporarily fixed using duct tape, then here are the choices that you have:
Fixed Pane – Also known as stationary or solid pane, fixed pane windows are the ones that do not open. These kinds of windows are the simplest to install and are the cheapest to buy. However, since they are fixed, these windows do not provide even a bit of ventilation.
Picture windows are a sort of large fixed windows, and their only purpose is to let in light and provide a great view of the outside. Some fixed windows are made into egress windows.
You can see them having quick-release latches and wide-opening hinges so you can use them as emergency escape points. These windows can be opened quickly and thoroughly to make exits easier.
Sliding Pane – Sliding pane windows, or just sliding windows, as the name suggests, slide on a track to open one or more sides. These windows are the simplest type of window. They are also a lot more affordable compared to awning windows.
Also, if done right, sliding windows can be more durable than most of the other types. The downside with sliding windows is that you can only open them halfway. Also, if you leave sliding windows open when it is raining, the water can get inside your RV quite quickly and easily.
Sliding windows can also come in different configurations. There are horizontal sliders that are the usual kinds that you often see being used in homes and RVs. These windows slide from left to right and vice versa.
You can also find vertical sliders where the panes either slide up or down. Some T-sliders are a combination of the first two.
Awning Window – Awning windows are not even the standard name for this type. They are also called crank, louver, slated, torqued, and jalousie windows. Although they are somewhat different from each other, they do share one characteristic – that is, their window panes are hinged on top, and they open outward.
It creates an awning; hence, the name. Most awning windows just require a bit of a push at the bottom or pulling up of a lever to open. However, some options need you to crank them to open slowly. The crank windows, because of the additional complicated mechanism, are more expensive.
The great thing about awning windows is that they can remain open even when it is raining outside, and the water will not get inside the RV. Old awning windows were not that popular back in the days because they could not make a good seal when closed.
However, nowadays, they are very viable, and they even come in double-paned models to provide even better insulation.
Frameless RV Window – If you want to give your RV a sleek appearance, pretty much like a car, then you will want to install frameless windows. With these types of windows, the only thing that you will see from the outside is the glass. You will not see the window frame at all.
It is a relatively new style, but it is quickly becoming very popular because they look great. Most frameless windows open up like awning windows, so they provide quite a lot of ventilation. You can also leave it open when it rains. However, you can also choose fixed pane and egress frameless windows.
Egress – Egress windows are not a style of window, but generally a description of their function. These items are emergency exit windows. They refer to windows that open up quickly and widely so that people inside the RV can escape during emergencies.
Most of the time, egress windows are hinged on top and have a quick-open latch at the bottom. It is usually painted red for visibility. Once the latch is popped open, one just needs to push on the window, and it will open wide.
How Does an RV Window Work?
RV windows work pretty much the same way as the windows in your home. The way they open up will depend on the type of window that you choose that were all explained in more detail earlier.
RV windows are primarily used for providing ample ventilation inside the RV. They also offer a way to look outside. Ideally, you should have as many windows in your RV because you can save a lot on the air conditioning when it is hot.
It also makes it possible for you to let a lot of natural light inside the RV. Having lots of windows means that you can quickly ventilate the interior of the RV in case there is a propane leak inside.
How Much Does It Cost to Replace RV Windows?
The cost of RV window replacement will depend mainly on the type of window you will be using, as well as the specific materials used in making the said windows. Fixed pane windows are the most affordable since there is no additional hardware used, but then again, you will not have any natural ventilation when you only use this kind.
The costs also go up when you use double or triple-paned tempered glass. Not only is the glass itself costly, but you will also need to use a more durable frame, hinges, and latches to hold the heavy glass. If you want to cut down costs, you can use clear acrylic for the windows instead of glass.
Are Dual Pane RV Windows Worth It?
Dual pane windows are quite expensive. The reason behind their high price is not just because of the amount of glass used for making them, but also for the very complicated process used in their assembly. Most double-paned glasses have a sealed air pocket between the two panes of tempered glass.
It is the one responsible for giving this type of window excellent insulating properties. However, it gets even more expensive when the air pockets are filled with nitrogen gas instead of just plain air.
Are these types of windows worth the money? Of course, they are. Sure, you will be laying out a lot of money as an initial investment for the windows. However, you will notice that in the long run, these windows will practically pay for themselves.
It is especially in terms of the amount of money that you will save as far as air-conditioning and heating costs are concerned.
Are Frameless Windows Better?
Frameless windows are better, especially in terms of style. These windows, especially when they are tinted dark, will make your trailer look sleek. You can also expect them to make your fifth wheel look quite cool and sophisticated because of their almost seamless looks.
However, in terms of performance and durability, these windows are not that great. Frameless windows are usually just single pane, meaning they are not that great at insulating.
Furthermore, you need to be careful when closing a frameless window as it is prone to shattering. It will usually happen when a strong gust of wind slams the window closed, or if something accidentally hits the edge of the window hard.
Can You Put House Windows in a Camper?
As long as the window can fit inside the frame of the older RV windows, there is no reason why you would not use house windows. You can use awnings and other windows that are similar to the ones used exclusively for RVs.
However, one should not use casement windows. It is mainly because aside from not looking that great on an RV, it also tends to slam closed when hit by a breeze.
How to Choose the Right Size?
When measuring the size of your windows, you need to measure the outside of the window frame. It will make sure that you will not have to fill out any gaps between the window and the hole in the wall.
On the other hand, replacing entire sets of windows should only be left in the hands of a professional. It is not a weekend DIY project. Installing windows is an exact process that requires the use of a lot of tools, especially safety equipment.
Care and Maintenance
There are very few things that you can do to care for and help maintain your RV windows. First of all, you should always keep them clean. Every once in a while, or at least once a week, you need to clean the glass windows using glass cleaner and a soft sponge or rag.
You should also clean and oil the hinges so that you can quickly, easily, and smoothly open up the windows. It is also advisable to blast the hinges every once in a while. You can also do so with rust remover to prevent them from getting rusty due to the rain and sun.
Other RV Windows We Reviewed
Vintage Technologies FC03 RV Window
This product is one of the largest pre-fabricated windows that you can get for teardrop trailers and the like. It is highly recommended.
Key Features:
Tinted windows prevent excess heat from getting in.
Fits into walls that are up to 1-1/2 inches thick
Comes with all the mounting hardware needed
RecPro RV Entry Door Window
If you are looking into replacing the door window of your RV, then this product is one that is worth checking out.
Key Features:
Comes with an internal shade
Clear tempered glass
Comes with a sleek black interior and exterior trim
AP Products 015-201495 RV Entrance Window
This replacement window fits in almost all brands of RV entry doors. It allows plenty of light in but is not see-through, so your privacy is still protected.
Key Features:
Glazed privacy glass
Fits perfectly in existing door windows
No sealing or caulk necessary
Lippert Components 363370 Entry Door Window
Are you looking into replacing your RV entrance window? Then this one already comes mostly assembled. You just need to mount it. It also comes in black or white.
Key Features:
Made of very durable polystyrene
No assembly needed
Easy to mount and install
Valterra A77008 Black Carded Entrance Door Window
This product is just the frame that will hold the glass in place. If you had some specialty glass made, you could use it to install it on your door window.
Key Features:
Easy to install, no special tools needed.
Perfect replacement for OEM window frame
Looks great as it appears identical to standard frame
RecPro RV Window | Teardrop
This product is a sleek and stylish horizontal sliding window that is also energy-saving. It can surely give your trailer a huge style upgrade.
Key Features:
Has a frame made of rustproof anodized aluminum
Features a tight rubber gasket that provides an excellent seal
Has tinted windows for privacy and minimal heat
Vintage Technologies RV Vertical Window
If you do not have much space for window upgrades, then this vertical sliding window can be your best bet.
Key Features:
Comes with tinted glass for privacy and prevent excess heat from getting inside
Half of the window comes with screen mesh.
Comes with neoprene seals, no additional sealant needed
ToughGrade Vertical Sliding RV Window
This replacement vertical sliding window is a combination of minimalist style, but with maximum function. It is great for giving your trailer a sleek and modern look.
Key Features:
Equipped with black trim and tinted glass for a sleek, stylish look
Features covered weep chambers that prevent mold and water tracks
The screen window is installed flush with the frame.
Vintage Technologies RV Horizontal Slider Window
This window is one of the ideal replacement windows for teardrop trailers and RVs. It boasts of its durable horizontal sliding door design.
Key Features:
Half of the window is a screen mesh for ventilation but can keep insects out.
Comes with a durable neoprene seal
Can fit in 1-1/2 inch thick walls
JR Products 11011 RV Entry Door Window
Are you tired of the usual black window frame? Then try using this one for a change. It can give your trailer a brighter and cleaner look.
Key Features:
An exact OEM replacement frame without any more modifications needed
Comes with pre-applied sealant
Comes with UV-protection to prevent it from turning yellow
Conclusion
If you are tired of looking at all the broken and missing panes of glass in your RV, then you need to get the best RV windows that you can afford as soon as possible.
Now that you have made it to the end of this buying guide, you have all of the tools that you will need to make a wise decision when it comes to shopping for a new set of RV windows. Now, you will be able to choose the perfect set of windows. You are also well-informed to pick the best one that fits inside your budget.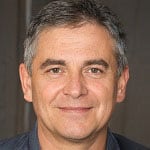 Hi, I am Tom Hank, an RV-er since 2014. Back then, I started without much help. As you can imagine, the struggles are endless. But now, you do not have to begin your adventures knowing next to nothing about RV lives.