Having a recreational vehicle with a slide room extension is the ultimate solution to enjoying luxury. It can virtually double the amount of floor area your travel trailer has, depending on the model. With that additional space, you and your loved ones will have more room for various activities.
However, even though if these items look cool, they do come with their own sets of problems. One of the concerns you might have regarding the use of it is getting the best RV slide topper. An RV slide topper is a small awning that rolls out with the slide-out.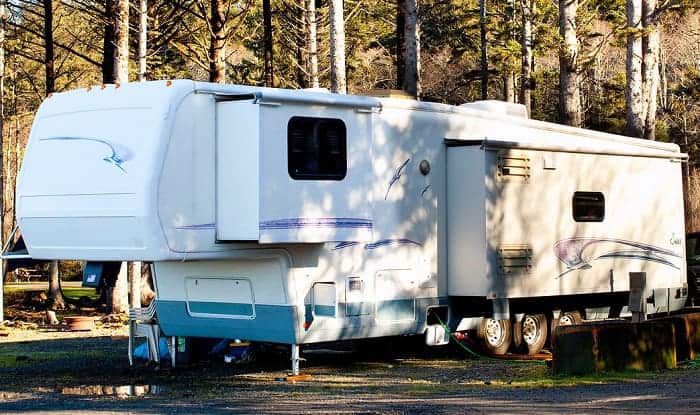 The topper prevents water and dirt from getting inside the slide-out tracks and inside the hydraulic mechanism in the RV. Although RV slide-outs already come with seals, the use of them might also cause you to experience one of the many RV slide out-awning problems today.
It is the fact that the items are vulnerable to tearing, especially when you expose them directly to the harsh rays of the sun. A slide-out topper will protect the seal from the UV rays that cause discoloration and make it brittle.
If you just recently bought an RV with a slide-out, and if it does not have slide toppers yet, or the ones installed are already in disrepair, then you need to get the best ones that you can afford. Trust me. You will be glad that you did.
Best RV Slide Topper Reviews
1. Solera Black 13'6″ Slide Topper Awning
Regardless of what brand of RV you have, this choice for RV slide-out covers by Solera will have you covered, literally and figuratively. This side topper has a width of 13 and a half feet, which means it can fit on top of sliders that are between 152" and 157-3.4" wide. It can also extend by as much as 50", which is the maximum amount of extension that modern sliders can achieve.
The roller tube of the RV slide topper easily attaches to the edge of the slide box. The raw edge of the fabric is also affixed permanently against the outer wall above the slide. Although the installation process of this slide topper does require the use of a hand drill, the whole task is not that difficult.
You and a friend could probably finish the RV slide out awning installation in under an hour or so, which is possible even with the both of you not having any prior experience installing slide toppers. Once installed correctly, you do not have to do much anymore. The awning will extend and retract automatically, moving with the slide-out room.
The fabric roller assembly is spring-loaded, so it will help roll up the fabric when the slide-out is retracted. All of this will be meaningless if the topper does not do its job well, which, fortunately, it does. The black heavy-duty fabric makes sure that the slide-out awning does not get damaged by different kinds of debris and dirt.
The fabric is also entirely waterproof, so the slide-out is protected against snow and rainwater and other weather conditions. I do have one minor issue with this product, though, which I also often see in other toppers RV reviews related to the awning roller.
When my slide-out is fully extended, which is around 40 inches only, the roller's spring mechanism is not pulling on the fabric as much as I want to. It is the reason why there is a sag in the middle of the fabric, which is a problem sometimes.
What We Like
Very easy to install with the included installation instructions being pretty straightforward
Can be installed by two amateurs, but if you choose to go to a professional, the setup process fee should not be that costly.
The awning automatically retracts when the slider does.
The black awning fabric is highly resistant to stains.
Protects the slide from debris, rainwater, snow, and extreme sunlight
What We Don't Like
The spring-loaded roller is not strong enough to keep the fabric completely taut. There is a bit of noticeable sagging in the center.
You can use your RV without a slide topper, but why would you want to risk potentially thousands of dollars of water damage? You need to get this one now and extend the service lifespan of your RV.
2. INNOVA Slide-out Cover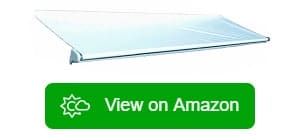 The thing that I liked the most about this best RV slide topper fabric is that I find it useful in almost any brand of slider topper. I am currently using a Carefree slide topper, and this replacement fabric fits the bill, literally. The Innova trim to fit cover can fit toppers between 140" and 163" wide.
If your topper is on the smaller end, then you can easily trim the fabric down to the right roof sizes. Once trimmed, it is effortless to install. The polycord hems electronically welded for additional strength. You can also easily thread them through the awning roller's slot. Meanwhile, you need to tack down the other end on the side of the RV.
The edges of this fabric do not have any hems that will prevent water pooling in the middle. Another great thing is that you can choose between the black and white fabric. The white fabric is more effective at blocking heat and UV rays as it easily reflects them. However, the downside is that white fabrics are more prone to stains and discoloration.
On the other hand, while black fabrics are not as reflective, they are more resistant to stains. Regardless of the specific color options that you pick, this fabric will be able to protect your slide-out room adequately. It is made of 1000 denier vinyl material, making it very resistant to puncture and tearing. Also, because it is UV-treated, it can block almost all of the sun's UV radiation.
It would have been better, though, if the product came with detailed instructions on how to install it on the slider properly. However, there are lots of RV slide-out awning reviews and online videos that will teach you how to put it on properly.
What We Like
Ideal for use on most other RV slide topper brands, not just on INNOVA
Very easy to install; the construction of the fabric seems very durable.
Does not come with stitched hems that usually prevent water from pooling in the middle
Offers a choice between white and black
Constructed from a durable fabric material that blocks almost all of the harmful elements
What We Don't Like
Does not come with instructions on proper installation
With this product, you will not need to buy and install an entirely new slide topper when
the awning fabric
gets severely damaged. For a fraction of the price tag, you can further lengthen your topper's service life.
3. Carefree KY25TL Slide-out Cover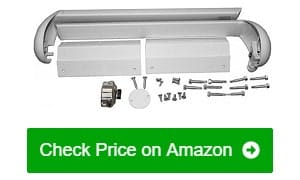 I am happy to say that I can buy just the brackets for my Carefree slide topper because it would have been expensive to replace the entire side topper. It is also very convenient since the brackets are precisely the same size as the broken ones that I will be replacing. I did not even need to drill new holes on my RV. I just placed new sealants on the holes.
The covers are quite easy to install. I just needed to detach the old broken cradle support (I bought two so that both sides will have the same amount of wear and tear), remove them from the roller, and attach the new ones. After that, re-mount the new brackets in their place.
I am also pleased to say that the brackets came with everything required for installation. I could have used the old bolts that came with the old side topper, but I just tossed them into my collection of odd screws and bolts. It just did not seem right to use these shiny new brackets with old, faded bolts.
It is sort of like a universal bracket that is suitable for use for all Carefree side toppers. It is quite a tall bracket. It means you can use it on slide-out rooms with flanges from 3.25" to 5" wide.
I had no trouble using the product, but I do understand that other people would have a problem with it because the instructions are quite unclear.
What We Like
Much cheaper than replacing the whole topper
Comes at the same size as the original
Easy to install and use
Can fit slides with flanges that are 3.25" to 5" wide
Comes with all the necessary hardware
What We Don't Like
Comes with instructions are hard to understand
It is nice that you can just replace damaged parts, just like the roller brackets when needed. In other words, there is no need to spend hundreds of dollars on an entire topper.
4. Solera 7'6″ Slide Topper Awning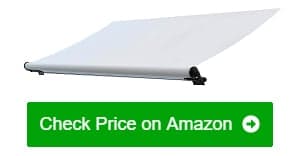 This particular slide topper is quite easy to install, although you will still need another pair of hands to finish the task. There are no fancy tools required. Just a hand drill and the appropriately-sized wrench will do. My buddy and I were able to install it on my RV in just under an hour.
The awning roller is spring-loaded and allows the topper to extend when the RV slide goes out. This same mechanism also retracts the awning fabric when the slide room retracts back into the RV. It means that you do not have to do anything at all once the topper is installed.
This topper does an excellent job of protecting the slide-out room. First of all, the thick awning fabric is completely waterproof and resistant to mold and mildew, so it will not let water get into the slider seal. In addition, the fabric can block the sun's heat and UV rays.
I also find this slide toppers useful in all brands of RVs, as long as the slide-out room's width does not extend beyond 85.75" and no smaller than 80". If you are looking for another topper size, you need to make sure that you are getting one that has an allowance of 2.5" on both ends.
The only problem that I had with this product is the packaging used by the manufacturer. It does not seem to protect the contents that much.
What We Like
Easy to install; only takes two persons less than an hour.
Comes equipped with a spring-powered awning roller
Protects the slider quite well against debris
Uses a waterproof awning fabric, which is also resistant to mold and mildew
Can be used on any brand of RV
What We Don't Like
The product packaging is lacking.
It is one of the most affordable slide toppers currently available. However, remember that its low price does not mean it is not superior in terms of quality. It is even quite the opposite.
5. SunWave 110″ Slide Out Cover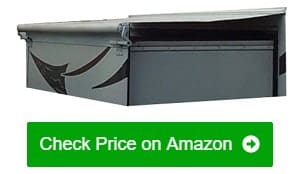 The thing that I liked the most about this RV slide-out awning replacement fabric is how well it protects the slide seals. First of all, this small awning protects well against debris like road dust, dried leaves, and branches. Aside from the debris causing the slider to get dirty, it can also cause expensive damages.
Aside from solid dirt and debris, the slide topper also protects against rainwater and snow. The fabric used in making the small awning is entirely waterproof. The hems are also not sewn, thereby preventing water from pooling in the middle and causing the growth of mold and mildew.
I am also delighted to announce that this awning fabric is easy and quick to install. The instructions that came with the package were clear and easy to understand. It also took my spouse and I less than an hour to install the entire thing, even if it was the first time for both of us to tackle this type of project.
The neat thing about this fabric is that it is easy to cut to length. As long as your slide-out room is no more than 105" wide, you will have no problem using this fabric. For RV slide toppers that are smaller, like the one we have, trimming the side to make it fit right is easy.
The product is not as thick as the original fabric that it replaced. It is not much of an issue for me, but it just feels like the original one was more substantial.
What We Like
Protects the slide-out seals against water damage
Prevents debris and dirt from getting into the seals
Protects the seal against heat and UV rays from the sun
Easy to install
Easy to trim down to size
What We Don't Like
Not as thick as the original fabric
Although this replacement awning fabric was not as thick and heavy as the original awning, it still works quite well, so investing in it is a wise decision.
6. RV Awning Avenue 200″ x 35″ Slide-Out Awning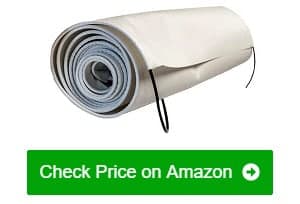 One impressive fact about this slide-out awning replacement fabric is that it is compatible for use with all brands of a topper. It is easy to insert the polycord hems into the awning rollers and the awning rail. It does not also require any special tools for installation. The only things needed are a sharp pair of scissors and a steady hand.
One side of this replacement fabric is electronically welded, giving it superior strength and resistance to fraying. The other side is raw, and it is where you are supposed to cut off the excess amount of material to make the fabric fit your side topper.
This replacement topper fabric is made to fit products that are up to 200" wide and extends no farther than 35" out. It is made for smaller slide-out recreational vehicles. It means that if you have a Class C or Class B motorhome, it might fit the bill for your side topper.
Although it is a replacement awning fabric, it can still perform at par with the original fabrics that came with the topper. In fact, it might be a bit better. The thickness of this fabric and its waterproofing is better than the fabric that I replaced. I do not doubt that it will last for years.
People need to be careful when buying this replacement fabric, though, not because of its quality, but because of its maximum extension length. It is wide but narrow. Prospective customers might think that it will fit their slide-out, only to find later that it is too small.
What We Like
Ideal for use by all brands of slide toppers
Easy to cut to size
Highly durable and will not fray or tear easily.
Provides ample protection against water and debris
Easy to install without the need for any special tools
What We Don't Like
The fabric is wide, but not that long.
When your topper fabric has already collected a fair amount of damage, you need to get this replacement fabric as soon as you can to continue protecting your slide-out.
7. RecPro RV 46″ x 160″ Slide-Out Awning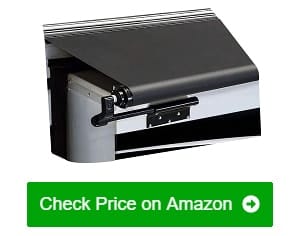 I chose this replacement fabric to install in my RV's slide topper when its awning started to get worn out because I wanted to try out a different color. The previous fabric was white, and it was a pain to clean and retain its bright color. This one is a little more forgiving; dirt and stains do not show up in black fabric.
With that, I just need to hose it down every once in a while to keep it clean. It is the biggest replacement fabric that you can get from RecPro, which means any RV, regardless of its size, can use it. Aside from being 160" wide, it can also accommodate slide-out awnings that extend up to 46" outwards.
The thing that I liked the most about this product is its durability. This fabric has a tensile strength of 140 psi, meaning that it will not rip or tear even if subjected to gale force winds. The seams are also electronically welded together, not just sewn, allowing it to develop a stronger resistance against fraying.
Because this fabric is more durable than the one it replaced, I no longer have to fear parking under a large tree. It is because even if a branch did fall on the topper, it would not rip nor tear. This fabric is also completely waterproof, so I also do not need to worry about heavy rainfall or snow. No amount of water will be able to get through.
The only thing that bothered me is that the fabric came folded in its package, not on a roll. It meant that the awning fabric had a lot of wrinkles. It did manage to stretch out after a couple of days, but the wrinkles were very noticeable right off the bat.
What We Like
Highly resistant to stains
Has a tensile strength of 140psi
Has heat-bonded seams
Easy to trim and install
Boasts of excellent waterproofing
What We Don't Like
Was severely wrinkled right out of the box
The issue I had was more of a minor inconvenience. All in all, this replacement awning fabric delivers on its promises and more.
8. Dometic 98001CQ.090B EZ Slide-Out Awning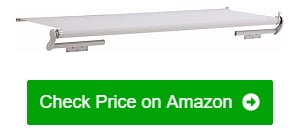 Probably the thing that I liked the most about this Dometic slide topper is the fact that it is quite beautiful. Unlike the other toppers that somewhat do not even try to make themselves look pretty, this one went above and beyond. At first glance, one would think that it is not an aftermarket part and that it came standard with the RV.
This slide-out topper is not just all looks. It provides a lot of services. First of all, the tear-resistant awning fabric is durable enough that it can withstand falling tree branches, and it will not tear. It is important because keeping debris out of the slide-out track and seals is its primary job.
Aside from keeping debris out, the other job of this topper is to protect the slider from the sun and rain. The fabric awning is made of a synthetic material that blocks not just the heat of the sun, but also the harmful UV rays. The latter is responsible for the weakening and premature degradation of the slider's seals.
It is also straightforward and effortless to install. All you need to get it appropriately sorted is a measuring tape, a hand drill, and a couple of wrenches. Also, you will need to have some sealant for the holes you will be drilling out. It is also advisable to have an extra pair of hands to help hold things while you bolt them in place.
The only problem that I have with this slide topper is that the spring mechanism of the roller is not that strong. When my slide-out is extended fully, there is a noticeable sag in the middle of the awning.
What We Like
Looks pretty
The awning fabric is resistant to tearing and punctures.
The fabric is waterproof and reflects the sun's heat and UV rays.
Easy to install
Extends and retracts along with the slide-out
What We Don't Like
There is a bit of sag when the awning is fully extended
This slide topper may not be perfect. However, it came close to it. You can use it to protect your costly investment. Just install this slide topper as soon as you can.
9. Carefree DG1600042 Awning Fabric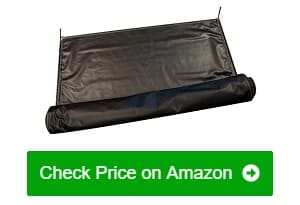 The thing that I find to be so impressive about this replacement awning fabric is how durable it is. The fabric is made of industrial-strength vinyl, which is then coated with a waterproofing substance. It also has nylon webbing sewn into the edges with polycord for added durability.
I can also use this replacement fabric for slide-outs that have 42" extensions. It is one of the biggest choices currently in the market. The great thing about it is that you do not need to trim the length down. You can just leave the excess stowed in the roller. It will not hinder the performance of the topper in any way.
Because it is already pre-cut, you just need to install the fabric on the rails. It is pretty easy as you just need to insert the polycord through the roller and the base of the awning. Just be careful when installing the fabric as you will be dealing with a pre-tensioned spring in the roller.
Another nice touch that I liked in this product is that the fabric came in a roll. It means that the awning fabric will only have minimal wrinkles. Even though creases and wrinkles will eventually even out, it does take a couple of days for the awning fabric to get completely smooth.
The only problem that I have with this product is that you need to order the exact correct size from Carefree. It is because you cannot trim these replacement fabrics to size.
What We Like
Highly durable awning fabric
Has reinforced polycord sides
Comes with seams that are all double stitched using vinyl thread
Easy to install, will not take more than an hour.
The fabric came in a roll, significantly minimizing wrinkles and creases.
What We Don't Like
Cannot be trimmed to size
Although you need to be extra careful when ordering this replacement fabric, it will surely last for many years when you do get your order right.
10. Carefree JE200625A47 Slide-out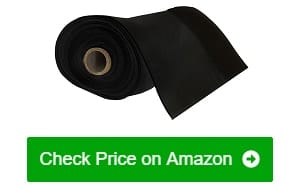 One fantastic thing about this product that I and others like is the somewhat limitless leeway it offers. It means you can be a bit lax when taking measurements. Although it is not advisable to be too relaxed when taking measurements for your slide topper, it helps a lot when you have room to work with.
When you are trimming down this awning fabric, all you need is a sharp pair of scissors or a utility knife. You might even want to get a couple of wire cutters to trim down the excess polycord. You do not also need to worry about the fabric fraying. Every fiber is bonded with each other, so fraying is almost impossible.
One of the best things about using this cut-to-fit awning fabric is that you no longer have to wait for the manufacturer to make you a custom fit awning fabric, which usually takes a month or so. If you need your RV to be in good working condition immediately, install the new awning yourself.
I also appreciate that Carefree packaged the fabric rolled up and sealed using FLXGuard protection. The fabric is not just wrinkle-free. The FLXGuard also protected the fabric from heat and UV rays. It means that this product will only start getting damaged the moment it is taken out of its pack and not while it is in transit.
The only problem that I have is with the FLXGuard, precisely the seam between it and the awning fabric. After a couple of months, the seam somewhat gets weak.
You will be getting the benefits of a custom fit awning without having to wait weeks or months for it when you choose this product.
What We Like
No need to wait for custom-fit awning fabrics
The FLXGuard protects the awning fabric during transport.
Easy to trim to size as it comes with a tool to make sure your cut is entirely straight
Quite an easy installation process
Protects against debris and severe weather
What We Don't Like
The seam between the FLXGuard and the fabric is a bit weak.
You will be getting the benefits of a custom fit awning without having to wait weeks or months for it when you choose this product.
11. Solera Universal Slide Topper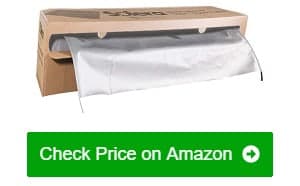 This Solera slide topper is meant for RV repair technicians as it is a universal slide topper. The package contains fifty feet of material. You just need to cut out enough material to fit the width of the slide topper and then cut it using a sharp utility knife.
The nice thing about this product is that the box that it comes in is a dispenser. The material is spooled around a plastic tube, which is then anchored at both sides by plastic blocks. You just need to place the box on the ground and then pull out as much material as required. The spool is anchored in place.
Lippert-Solera might make this replacement material, but you can use it on any brand of slide topper that you have. This awning fabric is much better compared to the fabrics that usually come with some popular brands out there.
It can even protect the slide-out from all kinds of damage, including debris like tree branches and leaves, and excessive rainwater and snow. It also protects against the heat of the sun and the harmful UV rays that come with it.
The only problem that people might have with it is that it is not deep enough. The box is just 27" long, so you can't use it on larger slide-out rooms.
What We Like
No need to wait for custom fit RV awnings
The box it came in is also its dispenser.
Easy to cut to size
Made from durable vinyl fabric
Protects the slider from all the damage that Mother Nature can throw at it
What We Don't Like
Might be too small for RVs that are bigger than a Class C
If you have a small slide-out RV, you should get yourself a roll if the time comes that you have to replace the slide awnings. It will be more cost and time-effective than ordering custom cut fabrics.
12. Carefree FH2000047 SideOut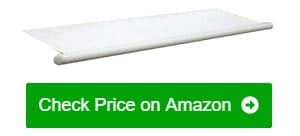 One impressive fact about this product is that you no longer need to wait for the awning manufacturer to ship a custom-cut awning fabric replacement. You can just get this whole roll that contains 200' of awning material, and cut out the amount that you need.
It is mainly for RV slide topper repair shops, but it would not hurt to have some extra materials set aside. Although this replacement fabric came from Carefree, you can still use it regardless of the brand of your slide cover. The nice thing about awning makers is that they make products that have cross-compatibility with other brands.
You can rarely see an awning maker produce proprietary awning fabrics. This cut-to-fit slide topper awning material is 47" deep. It means it can fit most slide-out rooms, seeing as the next size would be around 50" of extension, and there are not that many of those in the wild.
You do not need to worry about the extra material. It can just stay in the roller. Another neat thing about this product is that the packaging is also its dispenser. You just need to lay the box down on the ground and pull on the awning material until you have enough.
The awning fabric is wound around a spool, so it will be easy to pull out. The only thing that I do not like about it is that it is too much material for many RV owners.
What We Like
Provides more than enough material for your slide topper
Easy to cut and install
Ideal for use on different brands of toppers
The packaging is also a dispenser for added comfort and convenience.
Sturdy material used in its construction, which can provide your slide with ample protection and shield from possible damages
What We Don't Like
Too much material for private RVers
This product is a good investment if you have a business that caters to RV users. Even if you don't, it might also be useful for you in the long run with the many benefits and excellent features it has.
RV Slide Toppers Buying Guide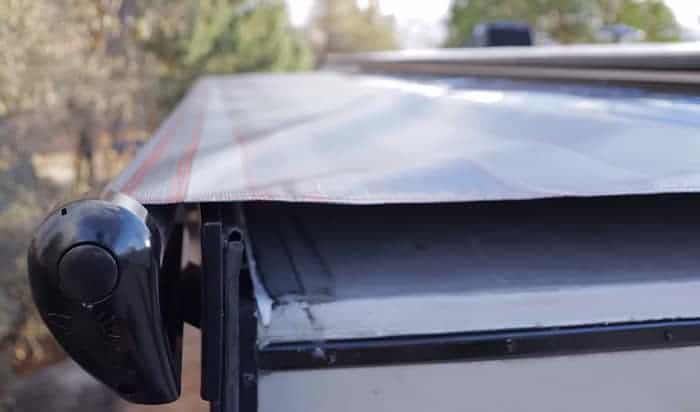 So, you decided to get your RV a slide topper, but you do not know what you need to look for? The following information will provide you with all of the factors that you have to consider when you are out shopping for one. Aside from providing the best value for your money, you can also get a slide topper that will do its job correctly.
Size – One of the most essential factors that you have to consider when shopping for an RV slide topper is the size. Most manufacturers make toppers ranging from 5.5 feet to 16 feet wide. If you are replacing an old slide topper, just get one that is precisely the same size.
If you are installing a new topper on a new RV, then it will get a bit complicated. The first thing to do is accurately measure the box width. Once you have a measurement, add 2-1/2 inches for the width of the awning fabric.
If you already have a manufacturer in mind, check their sizing chart. Your chosen manufacturer might already be carrying the same size of product in their inventory.
Ease of Installation – When choosing a slide topper, get one that is not overly complicated. It should be the simplest that you can find. If you decide to tackle the installation process by yourself, then the product that you get should come with instructions that are easy to understand.
Ideally, the instructions should be illustrated to make it easier to follow. The entire installation process should not take you more than two hours if you have the right tools. If you have a couple of options in mind, you can usually find their instruction manual on the manufacturer's website.
They are usually in pdf format for easier reading. If you can figure out the installation process just by reading the manual, you can be somewhat sure that the product is easy to install.
Materials – The fabric material used for the slide topper will be the first to show signs of damage as it is the one that is most exposed to the weather elements. It is the reason why you need to choose a topper made of durable synthetic fabric material, like vinyl-coated polyester or the like.
Moreover, get something easy to clean, or at least dark-colored so dirt and stains are not quite as visible. The material should also be able to protect the slider from the heat of the sun's rays.
Most importantly, it should prevent most of the UV rays from passing through. The UV rays are the ones responsible for weakening the slider's seal.
Color – When it comes to the color of the fabric for the awning, remember that you will always need to make some compromises whichever color you pick. Also, since most of the slide toppers are either black or white, your choice in the matter is limited.
If you choose the black awning, let it be known that the dark color absorbs heat from the sun, whereas the white material will reflect most of the heat. However, black awning materials are not prone to dirt and stains.
The white material is, and it is also prone to discoloration. Weigh the advantages and disadvantages of the two colors, while also taking into account your personal biases.
Quality and durability – Ideally, it is necessary to get a slider topper made of quality materials that can last for years. No one wants to end up with a product that already showed signs of damage after just the first camping season. It was mentioned earlier that it is necessary to choose a durable fabric material for the awning, which is true.
However, you also need to make sure that the hardware that comes with the fabric is high-quality. The exposed metal parts should be appropriately painted, or better yet, powder-coated so that they will be highly weather-resistant.
The way the slider topper is constructed should also be of high-quality. The fabric should be double-stitched using reinforced threads so that the seams will not pop and cause it to fray. The screws used for assembling the entire thing should be made of stainless steel so they will not rust or corrode.
Moreover, the product should come with a reasonable, if not very impressive manufacturer warranty. It will provide you with your much-needed peace of mind because aside from giving enough coverage for your purchase, a good warranty also indicates how much faith the manufacturer has over its product.
Value/Price – How much budget do you intend to set aside and spend on the slider topper? Although you are ultimately the one responsible for setting your budget, you should at least set a reasonable price. Make sure that it is not so low that you can only afford the cheapest product on the market, though.
Give yourself a bit more room to work with, so that you have a chance to get a quality slider topper. However, a product's price is not always indicative of its quality. You can find a few brands that are modesty priced, but in terms of material and build quality are at par with more expensive items.
To find out what these products are, set aside some time to do some research. Look for online awning reviews on the product and see for yourself which ones are worth your money.
Miscellaneous – Because there are so many brands and models of slider toppers out there, manufacturers have come up with new and exciting ways to get a leg up on the competition. For example, the toppers could come in different shades and designs, or the manufacturers could add automatic features and other options to their products.
If you are torn between a couple of brands of toppers, you can compare their miscellaneous features against each other. Look for as many customer reviews as you can, and pick the design that suits your needs and preferences better.
Also, when you choose RV slide topper, you will probably be interested in our list of top-rated RV awning shades. And please take a look at the list of the most trusted RV flagpoles if you are looking for one that fits an RV exterior.
How Many Types of Slide Topper for RV Are There?
You will realize that you can't find that many different types of slider toppers. It is because they are just simple awning extensions installed on top of the slide-out rooms. These small awnings are only used for that singular purpose.
Most slide-out toppers are made primarily out of acrylic, vinyl, or other synthetic fabric materials. However, vinyl is the most popular choice because it is very lightweight and waterproof.
How Do RV Slide Toppers Work?
RV slide-out toppers are relatively simple RV accessories. Even the way they work is simple if you compare it to the intricate hydraulics that controls the slide-out rooms that they protect. However, they do provide a lot of benefits.
Slide toppers work pretty much the same way as your RV awning does. There is a roller at the base that stows away the fabric material when the slide-out is not extended. It is a small awning with an end connected to the edge of the slider.
This small cover will protect the slider, particularly the seal that keeps outside debris from getting inside. This awning protects the seal from the harsh UV rays of the sun. Moreover, it prevents rainwater from pooling on top and causing the growth of mold and mildew.
How to Choose the Right Size?
If you are only replacing the fabric of an already pre-installed slide topper, you just need to get a replacement fabric from the manufacturer. They will most likely have replacement fabric materials already pre-cut to the exact dimensions that you will need for your RV.
On the other hand, if you will be installing a new one, choose that which fits your RV's slide-out room. Some kits come with raw edges that will allow the buyer to cut the material according to the size that you need. It is the choice made by those who want to ensure that the product that they get precisely fits their RV.
What is a Slide Topper?
A slide topper is a small awning with a base attached on the side of the RV. It also features an outer edge connected to the outside edge of the slide-out room. It allows the awning fabric to extend and retract along with the slider.
It is permanently installed, so you do not have to reattach and dismantle it every time you extend and put back the slider room.
How are RV Slide-Out Awnings Measured?
How to measure for RV slide-out awnings? The good news is that it is not that hard to do so. All you need is a simple measuring tape and a ladder that will let you reach the top of the slide-out.
To make sure that you get the right size topper for your RV slide-out, correctly measure the flange to flange distance. You can find it at the outer edge of the slide-out room. Also, measure how much the side extends outward from the outer edge of the RV. It is almost always under 50 inches.
Are Slide-Out Toppers Necessary?
If you own an RV with slide-out sections, then you probably already know the answer to the question, are slide toppers worth it?. You should not have any problems at all when it comes to protecting your already hefty investment, and the part that needs the most attention is the slide-out room.
The seals around the slide-out room will be the one that gets hit the hardest as it has to deal with wear and tear due to the moving parts. It will also need to deal with the effects of the weather. When the damage to the seals get too much, it will cause serious issues, such as leaking and mold and mildew growth.
You will need an excellent slide-out topper so you can protect the seals and prevent these expensive problems from happening. Avoid going for the cheapest when shopping for a slide-out topper. Check out as many RV slide topper reviews as you can and get the best that you can afford.
If you don't, you might be paying a lot more in repairs later. It is all because you did not want to spend extra on protection. To convince you further to invest in a good topper, here are the benefits of having one:
It will keep rainwater and snow from getting into the slider's seals.
It will protect the slider from the harsh UV rays of the sun, which causes discoloration and weakening of the materials.
You do not have to clean the slider seals as much as you would without the topper. The fallen leaves, branches, and other debris will just fall off the topper when you retract the slider, so you do not need to worry about it either.
The only real complaint that people have with slide toppers is that they tend to flap around when the wind outside gets a bit too strong. However, considering all the benefits that come with this product, dealing with a bit of noise when it is windy outside seems like an easy thing to do.
How Do You Replace an RV Slide Topper?
When you already have a slide topper installed in your RV, the first thing that will fail or get damaged is the awning material. When this happens, you do not need to replace the entire assembly. Just remove and replace the awning material. The good news is that it is not that complicated to do.
First, you will need to measure how much material you have to get. In such a case, you will only need a ladder and a measuring tape. Measure the distance between the left and right end caps of the slider topper. After that, measure the distance between the outside wall of the RV and the outermost edge of the slide-out room.
It will give you an idea of the amount of material that you need to buy from the manufacturer. Also, the manufacturer might even have some pre-measured awning materials ready, so get the one that is closest to the measurements that you got.
Care and Maintenance
Just because an RV slider topper is meant to protect the slider, it does not instantly imply that any form of maintenance is already unnecessary. Even though toppers are already pretty low-maintenance, it is still essential for you to take care of it so that it can do its job correctly.
First, to clean a slide topper, a hose is the only thing you will most likely need all the time. The water pressure of the hose should be enough to get all or most of the dirt on the topper. Use it regularly to prevent dirt from digging into the fabric and causing a stain. If the dirt is stubborn, you can scrub it off using a soft-bristled brush.
It is not recommended to use any kind of detergent as it can severely damage the waterproofing of the fabric. If there are obvious stains, use only certified awning cleaners to prevent damaging the material.
As mentioned earlier, slide toppers tend to flap when the wind outside gets a bit too strong. Aside from producing an annoying noise, it also causes considerable damage to the entire assembly.
Fortunately, most modern slide toppers already come with features that will prevent the fabric from flapping in the wind. Check the user's manual of your product and look for this feature. Usually, it just involves securing the awning tightly and keeping the material taut.
Other RV Slide Toppers We Reviewed
INNOVA Trim to Fit 93″Slide-out Cover Fabric
If you have slide toppers made by either Carefree or A&E and you need a replacement fabric, you definitely should check out this product from INNOVA.
Key Features:
Can fit toppers that are no more than 93" wide and extends less than 42".
Electronically welded polycord hems for a stronger bond.
Made from very heavy-duty, 15-oz. 1000 denier vinyl
SunWave 198″ Slide Out Cover Fabric
If you have a relatively large slide-out room in your RV, this replacement fabric from SunWave will surely fit it.
Key Features:
Can replace the fabric of slide toppers with widths up to 198"
Fits Carefree and A&E toppers
Ideal for use on slide-outs that extend up to 50"
Carefree LH0810042 74″ – 81″ White Slide-out Cover
If you have a new RV, one that has a slide that is at most 81" wide, then get this topper as soon as you can. You will not regret it as it has plenty of incredible benefits and features.
Key Features:
Can fit on RVs with slide-outs up to 81" wide
Easy to install, although you need to order the mounting brackets separately
Provides more than adequate protection for the slide
SunWave 132″ Slide Out Cover Fabric
If for whatever reason, you need to replace your topper fabric, this one made by SunWave will work for you.
Key Features:
Can fit on toppers up to 132" wide
Compatible with toppers that have 50" of projection
Can be trimmed to fit smaller toppers
Carefree LH1610042 154″ – 161″ Slide-out Cover
Larger slides can lead to larger problems later. To prevent expensive headaches later, you need to get this Carefree slide topper as soon as you can.
Key Features:
Automatically extends and retracts with the slide-out room
Heavy-duty aluminum used for its brackets, making them extremely strong
Provides more than enough protection for your slide, thereby ensuring many years of use
Carefree FH2000347 Gray Vinyl 200″ x 47″ Universal Slide-out Awning
Although it is made by Carefree, this replacement gray vinyl fabric can also be used by other topper brands, like A&E, Dometic, and Lippert.
Key Features:
Can be used in other topper brands aside from Carefree
Comes with poly cords at both ends for easier installation
Can be cut to fit narrower slide toppers
Carefree LH0890042 White Slide-out Cover
This replacement fabric made by Carefree is the perfect pairing, not just for same brand toppers, but also for other brands as well.
Key Features:
Automatically extends and retracts along with the slide-out room
Easy to install and only requires minimum drilling
Comes with a built-in roller lock that has wind deflector properties
Carefree LH0730042 White Slide-out Cover
Protect your beloved RV by installing this Carefree slide topper right away. Never go on a trip without this product ever again.
Key Features:
Prevents dry leaves, branches, and other debris from falling into your slide-out seal
Comes with a built-in roller lock to stop the fabric from billowing in the wind
Can add many years to the service life of your RV slide-out
Carefree LH1530042 White Slide-Out Cover
Although slide-out rooms look cool and are quite convenient, they are also very prone to expensive damage. Save yourself from all the hassle and get your RV this slide cover.
Key Features:
Installs in less than an hour
Protects the slide from debris and rainwater
Blocks heat and UV rays from the sun
Carefree UQ08562JV Vinyl Fabric Slide-Out Awning
This product is a sleek looking black vinyl slide-out cover. Do not worry. It is as functional as it is stylish.
Key Features:
Comes with a built-in wind deflector that prevents the fabric from flapping in the wind
Has a simplified roller tube installation for easy access when in need of repairs
Features a spring-loaded roller, which allows the awning to extrude and retract with the slide-out room
Dometic 98001FJ.090U EZ SlideTopper Slide-Out Awning
One of the neat things about this slide topper is that it is resistant to stains. Given that the fabric is black, however, it is also very durable.
Key Features:
Blocks the harmful UV rays of the sun
Protects the slide-out seal from debris and dirt
The installation will not take more than an hour or two for inexperienced people.
Carefree LH1450042 White Slide-out Cover Awning
Never take a chance when it comes to the protection of your RV slide-out rooms. Use this Carefree slide topper to ensure that your very expensive RV does not turn into a costly headache.
Key Features:
Easy to install; the roller is also easy to access in case it needs repairs.
Automatically retracts and extends, thanks to the spring-loaded rollers
Protects the slide from extensive damage while also keeping it clean
Carefree UQ0770025 SideOut Kover III Awning
Give your RV slide-out room the protection it needs by installing this Carefree UQ0770025 Sideout Kover III awning. It will save you thousands of dollars in the long run.
Key Features:
Spring-loaded fabric roller, which will automatically extend and retract with the slide and without putting too much strain on the slide motor
Blocks a huge chunk of the sun's heat and UV rays
Comes with a built-in roller lock, preventing the fabric from billowing in the wind while you are in transit
Conclusion
Although you might need to possibly spend a couple of hundred dollars more on your already expensive slide-out RV, you will not regret doing so because the best RV slide topper will save you from thousands of dollars' worth of damage if you do not have it.
A slide topper may not look like much, but according to many RV slide-out awning reviews, it does an essential job. Hopefully, this buying guide taught you to pick the right side awning cover, so that you can enjoy your RV for as long as possible.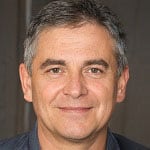 Hi, I am Tom Hank, an RV-er since 2014. Back then, I started without much help. As you can imagine, the struggles are endless. But now, you do not have to begin your adventures knowing next to nothing about RV lives.