Having the most RV awning means that you can have more fun during your RV trips. It is a practical investment as it provides a bit of shade where you and your loved ones can retreat under during the hotter parts of the day. Having the best RV awning shade essentially means you can extend your RV by giving you a makeshift porch regardless of where you are.
However, if it is your first time to invest in an awning for your recreational vehicle, you might get overwhelmed with all the options that are in the market these days. Aside from the dozens of different brands of RV patio awning, you can also access different kinds of them.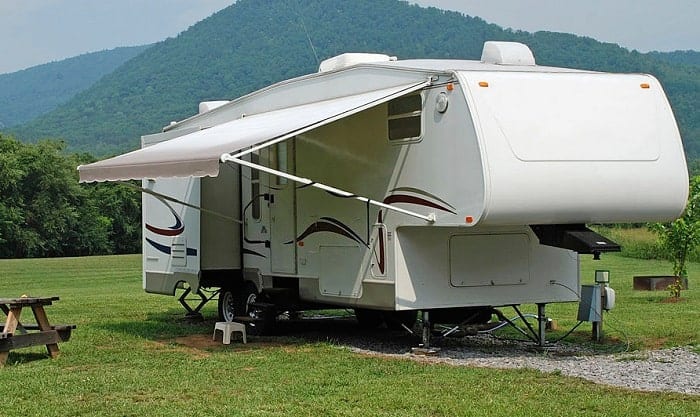 You can also see them being constructed from various materials with different properties, which might confuse you. You do not have to worry too much, though, since this article will teach you all of the various nuances that you need to take into consideration when shopping for a brand new RV awning.
Once you finish reading this article, you will know all the things about this product, making it possible for you to make a wise purchase. Keep in mind that motorhome awnings will not be cheap, so severe buyer remorse is real. You can prevent that by being a knowledgeable and wise buyer.
Best RV Awning Reviews
1. Shade Pro RV Awning Fabric
One impressive thing about this product is that it has several color options currently available. I am not usually a fan of slate blue, but it is quite pretty in this fabric. Another neat feature is that this awning replacement fabric is compatible with different brands of awnings, not just Shade Pro.
Moreover, according to some of the top-rated RV awning fabric reviews, it is as good as the in-house awning fabrics of other brands. One of the essential features that this replacement awning has is its easy-to-install structure. You will never experience problems installing it. It even just takes a couple of minutes for one person to do the process.
I think it is all thanks to the nifty pull tab that makes inserting the fabric through the awning rod much more comfortable. This camper retractable awning fabric is made using heavy and durable 13-oz 3-ply, vinyl material fabric. This material is one of the heaviest and most durable awning shade that you can buy right now.
I do have one issue with it, though – that is, it does not come with an instruction manual. I had no problem installing it on my RV, but other people might have some difficulties without any manual to use as their guide.
What We Like
Compatible for use with other brands of RV awnings
Features a beautiful color scheme
Made of heavy and durable vinyl fabric
Easy to install
Protects against the harmful rays of the sun while also being completely weatherproof
What We Don't Like
Does not come with instructions – Someone unfamiliar with awning replacement will have no idea what to do because of the lack of an instruction manual.
This product is not your average electric camper awning replacement. It is one of the most durable awning fabrics that you can buy right now.
2. Solera Heavy-Duty Vinyl Universal Fit RV Patio Awning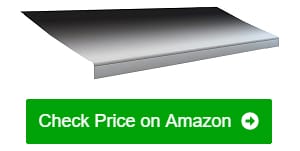 The thing I liked the most about the Solera universal fit awning replacement fabric is its overall construction and structure. It has heat-welded seams for extra durability, as well as adequately reinforced high-stress points.
I am also delighted to say that even though Solera has its awning kit, the brand still provides products like this one that fits in other top-rated RV awnings. This awning fabric replacement can fit in almost all 20-foot wide awnings regardless of the brand.
This fabric is also made of pretty heavy-duty, dense, and thick 13-oz vinyl fabric. You do not need to worry about this fabric getting torn up anytime soon. Also, because it is heavy and dense, flapping in the wind will not be much of an issue.
This fabric has also been stress-tested to ensure that it can endure real-world weather conditions. One of the tests done by Solera is a cold-crack test where they place the vinyl fabric in -25 degree F temperature conditions to see if it will fail.
One drawback I discovered, though, is that although it is technically a universal fit replacement fabric, the poly cords are sometimes just a tad too thick for some awning slots. You can still use them, but it will take a bit more effort to slide through.
What We Like
Made of durable, high-quality vinyl fabric
Universal fit, making it useful regardless of the awning brand
Underwent stress testing, thereby ensuring the durability and longevity of the product
High-quality construction, which reduces the likelihood of physical failure
Made of heavy material so flapping due to wind will not be much of an issue
What We Don't Like
The poly cords make a tight fit for some awning brands.
I do not have a lot of major complaints about the Solera replacement fabric awning. I discovered that this option for the right RV awning replacement fabric is somewhat easy to use. It is long-lasting, too, so you can rest assured that you can get your money's worth.
3. SunWave Awning Fabric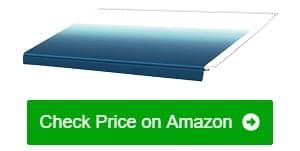 One thing I want to highlight about the SunWave replacement awning for travel trailer is the way it looks. It has a lovely color on top, which is ocean blue that fades to white at the base. It is also visible at the bottom.
This automatic RV awning replacement fabric is constructed with durability in mind. The base is a 15-oz vinyl fabric, which is tough on its own. Aside from that, it has a 16-oz vinyl weather shield, which is heat welded on top for added toughness. It is a universal-fit awning, so even if you do not have one made by SunWave, you can still buy this replacement.
I also like how easy it was for me to install this replacement fabric on my awning. The poly cords were quite rigid and almost precisely the perfect awning size for the slots in the railing. It was a breeze to put on.
The only issue that I have that I noticed other Sunwave awning reviews also touch up on is the somewhat stretchy vinyl fabric. You will need to lower one corner by quite a bit, or else water will pool in the middle.
What We Like
Has color both on top and the bottom
Durably constructed, made to last for many years
Can be used on different awning brands
Made of heavy and durable vinyl fabric, with weather guard heat welded on top
Easy to install – The poly cords are just the right size.
What We Don't Like
The RV retractable awning fabric is a bit too stretchy.
You will need to raise or lower one corner by a considerable amount to prevent water from pooling in the middle. Despite that, it is still a nice replacement awning fabric regardless of the brand you have, provided you get the right size options, of course.
4. RecPro RV 14-foot Camper Awning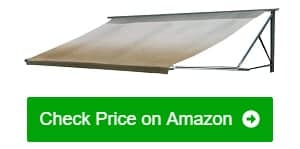 This fabric replacement is quite nicely made. The colors are woven into the fabric, so you do not have to worry about fading and discoloration for the next couple of years. In addition, the fabric is also UV-treated, so the harsh rays of the sun will just bounce off and not penetrate through the material.
The material itself will not get damaged by the sun easily. Aside from giving shade, the awning fabric also shields you from the harsh UV rays of the sun, protecting your skin from painful sunburns. The fabric also makes it possible to enjoy the view outside if it is raining.
This awning fabric replacement is also water-resistant, almost to the point of being waterproof. If you get pounded by torrential rains, you can be sure that rainwater will not seep through the vinyl fabric.
The picture in the ad shows the color of the replacement RV awning with metal cover starting to fade at around three-quarters of the fabric, but in actuality, the color starts fading at only one-third of the length.
What We Like
Have colors woven into the fabric
UV-treated to protect the awning and the people underneath
Easy to install
Highly weather-resistant, allowing it to handle sun, rain, and other conditions
Mold and mildew-resistant
What We Don't Like
Only colored a third of the awning length
Despite the RV awning replacement fabric not looking as advertised, it is still a good investment.
5. ALEKO RVFAB12X8BLUE24 RV Awning Fabric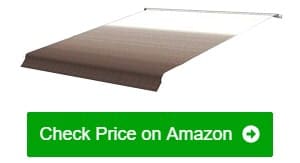 I like that this replacement awning fabric is made of very densely-woven vinyl. The color is also woven into the fabric, not just printed on, so it will not fade quickly. Apart from that, the color is visible at the bottom of the fabric.
This awning fabric replacement also provides more than ample protection against the elements. The fabric is UV-treated, so it will not chip and fade due to exposure to the sun's rays. This protection also extends to the people sitting underneath the canopy.
The replacement fabric is also constructed with durability in mind. The seams are not just heat-welded but also stitched using sturdy nylon threads. The fabric itself is heavy and comes with an equally durable protective layer of weather guard.
The thing that I liked the most is that it is compatible with almost all brands of manual retractable trailer awnings. As long as your awning came from any one of the famous brands aside from Aleko, you can be sure that it will fit.
The only problem that I have is that the measurements are a bit off. The width is not just a couple of inches short. The difference is almost one foot.
What We Like
Very resistant to physical damage and fading
Protects against the harmful UV rays of the sun
Easy installation
Completely weatherproof
Constructed with durability in mind
What We Don't Like
The width of the awning is too short.
This awning might have a couple of issues, but you can rest assured that such downsides are nothing so serious. You can even ignore some of them completely. For its price, it is kind of hard to pass on this one.
6. Awnlux RV Camper Awning Fabric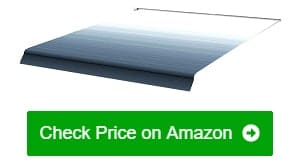 The neat thing about this awning fabric is that you can use it in almost all awning brands. You do not need to own an Awnlux awning. Anything from popular brands or even from the not so popular ones will work.
The fabric blocks almost 90% of the light from the sun. Most importantly, it reflects nearly 100% of the harmful UV rays that come with the sunlight. This UV protection does not only keep the awning fabric itself safe from damage but also protect you when you want to just hang around outside your RV during the lazy afternoons.
Aside from protecting you from the harmful rays, this awning fabric can also protect you from the rain and wind. The awning fabric is completely waterproof, which means even after an hour or so of torrential rains, no amount of rainwater will be able to get through.
It is effortless to install. The fabric comes with poly cords and a pull strap that promotes ease in inserting the fabric into the roller's slots. I was able to install the fabric by myself in under half an hour. Of course, I have some experience doing this sort of thing.
The only thing that I did not like is that if your awning is not from Dometic, Carefree, or Awnlux, you might have a problem with the material being too short. The material will be at least 10 inches shorter than the prescribed awning width that it can fit into. However, it is 10 inches, at least, shorter, so it can fit certain awning brands.
What We Like
Can fit into almost all brands of RV awnings
Blocks a good chunk of sunlight
Blocks nearly all of the harmful UV rays
Completely waterproof
Straightforward RV awning installation
What We Don't Like
Might be too short for specific brands of RV awnings
Although it does have an issue with how it fits in some awnings, it still does have a lot of benefits that you simply cannot overlook.
7. Shade Pro RV Vinyl Awning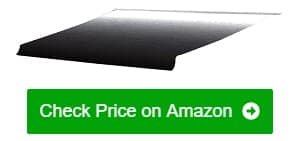 If you are in the market for an awning fabric replacement that will surely last for at least a couple of years before even bit of damage will appear, then this one from Shade Pro is for you. This awning fabric is made of 3-ply that is 13-oz each. It is the heaviest fabric that Shade Pro has access to.
Aside from being made from dense fabric, this awning replacement also has Weather Guard welded onto the surface to provide additional weather protection. It will ensure that you will always be dry underneath your awning no matter how strong it rains outside.
This awning is also quite possibly the easiest one that I have encountered when it comes to installation. I never faced any problem when I set it up. The poly cords have the right thickness that they slip into the slots easily while staying secure.
The best part is that you can use this awning replacement fabric regardless of the brand of awning you have. If you have Lippert or Carefree RV awnings, expect it to fit on your awning just fine.
Here is what I did not like, though. The color of the awning does not look quite like what it appeared in the advertisement. The actual color starts to fade to white at around the one-third point of the exact length of the awning. It is not at the two-thirds mark, like in the ads.
What We Like
One of the sturdiest e replacement fabrics you can buy today
Almost wholly blocks the UV rays from the sun
Provides more than ample amounts of shade while offering protection against heavy rains
Easy to install – Even a first-timer will not have a problem with it.
Useful on any similar-sized awning regardless of the manufacturer
What We Don't Like
The color of the product in the ad is misleading.
Although the issue about the color of the awning replacement fabric is unfortunate, it is still a worthwhile investment in spite of its flaws.
8. VEVOR RV 20′ Camper Awning Fabric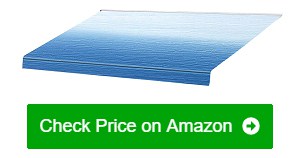 The thing that I liked the most about this awning replacement fabric is that everything is easy to install. Even a complete novice will be able to figure out how to do it. This replacement awning fabric is made of dense and heavy 15-oz vinyl fabric reinforced by adding a 16-oz weather shield on top.
It means it will take a while before you need to replace this awning fabric. You will be very much protected from the weather, regardless if it is sunny or rainy outside. The vinyl fabric blocks almost 85% of sunlight. It can provide ample shade. I also like that this awning fabric has quite a beautiful color.
It is a nice change of pace compared to the plain white ones that I always encounter. I am also delighted to say that it has its color woven into the fabric, so it will not fade or discolor even after a couple of years of use.
Although I did say that this awning replacement fabric is easy to install, it does not mean that you can do it yourself, which is a downside for me. It will take at least one more pair of hands to finish the installation of your new awning fabric.
What We Like
Comes with easy to understand installation instructions
Made of dense and durable vinyl fabric
Provides ample protection against the rays of the sun
Features UV-treated fabric
Waterproof
What We Don't Like
It will take at least two people to install the awning fabric
Although this replacement RV awning fabric is not perfect, it does come close to being one. It is genuinely something worth your money.
9. SunWave Awning Fabric Burgundy Fade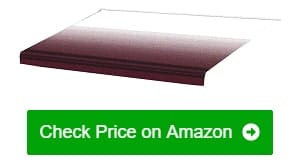 The neat thing about the RV awnings sold by SunWave is that any awning brand can also use them. I use a Lippert awning, and I had no problem using this replacement awning fabric on it.
I like the bright burgundy color much better than the usual pearl white and black awnings that I usually see in campgrounds. The color is also very nice because the fabric has a UV-treatment that helps prevent fading caused by sun exposure.
It is also nice that installing this awning replacement fabric is not that hard at all. The package comes with simple and yet concise installation instructions, so even absolute beginners can understand. It also comes with a pull tab among other RV awning parts to make pulling the fabric through much easier.
It will fit any standard 16-feet RV awnings. I also noticed that it could accommodate awning projections that are up to 8 feet. Do not worry about the extra material. You can just leave it in the roller without causing any problems at all.
The only real thing that I can say negative about this product is related to the installation process. This awning fabric does not have the poly cords sewn into the ends of the fabric. You have to insert them during the installation.
What We Like
Universal-type awning replacement fabric
The instructions that came with the package are clear and easy to understand.
Comes in a bright burgundy color that does not fade
Provides more than ample protection against the harsh rays of the sun
Mold and mildew-resistant
What We Don't Like
The installation process is a bit different from other brands of replacement awnings.
Although the installation is a bit unorthodox, that does not mean that it is difficult to do. You will still be able to use this product quite easily.
10. Carefree Ash Gray Replacement Canopy for an 18′ Awning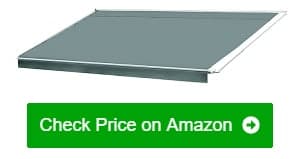 The thing that I find so cool about this replacement awning fabric is its ash gray color. Although it is not a bright sort of color, it boasts of a classy appearance when used on a white RV. I also noticed that even a black RV would work great with it.
Speaking of the color, unlike other patio awnings fabrics, it tends to penetrate each fiber. It means that the color will not wash out when it rains, unlike other fabrics with just printed colors on the surface.
The fabric is also UV-treated, so it will not get damaged by the UV rays. It also means that when you are underneath the canopy, you will also get the same protection. The best thing about this product is how easy it is to install. You do not need any tools at all. Everything that you will need is already in the package.
The only thing that I have to stress about this product is that you need at least one person to help you properly install it. It is not impossible to do on your own, but it will take you hours, which makes it time-consuming.
What We Like
Comes with a beautiful and vibrant color that is quite uncommon
The color will not wash out or fade under the sun.
Protects people underneath from harmful UV rays
The fabric is completely waterproof.
Relatively easy to install
What We Don't Like
Although easy to install, it will still take two people to finish the task.
For the price, you will be crazy not to consider at least getting this awning fabric replacement. Trust me; it is well worth the money.
11. Dometic 8952002.400B RV Awning
This Dometic RV awning is an electric RV awning, which means you do not have to bother with a hand crank. At just a push of a button, the awning will roll out for you.
It comes with a wind sensor. It detects if the wind hitting the awning is too strong, and will automatically trigger the retract function. This function can prevent the awnings from getting damaged severely.
The awning fabric is made from durable vinyl fabric material. It is heavy and durable stuff that can reflect more than 90% of the harmful UV rays. It is also waterproof, so you will be protected when it rains.
This product is entirely made in the United States of America, which means you can trust that no corners were cut when it was manufactured. It also features a made-in-the-USA seal, which is a guarantee that it is a quality piece of hardware.
The only downside is that it is in an expensive price range. You have to shell out quite a bit of money for this RV tech piece, but you can at least be sure that every penny was well spent.
What We Like
Fully automatic
Comes with a wind detector for safety
Provides ample protection against the sum
Fully waterproof when it rains
Made in the USA
Even though you will need to save for a couple of months to afford this best electric RV awning, it is still worth it, especially once you read many RV power awning reviews and learn and understand its benefits.
12. SunWave Awning Teal Green Stripe 18′
I like the 80s vibe that this awning fabric design emanates. The teal color gradually fades to white. It gives off a kind of feel that you used to get whenever you watched Miami Vice when you were a kid – that is if you were the 80s or 90s kid.
This choice for RV awning fabric replacements consists of a thick 15-oz vinyl base and topped with an even denser 16-oz weather shield fabric. You can be sure that this replacement fabric will last for many years.
Another thing I love about it is the fact that even if I did not own a SunWave manual RV awning, I could still use their replacement fabric. You can also use it with other brands like Carefree, Lippert, and others.
This replacement fabric will fit all awnings up to those having a standard 8-foot projection. There is no need to worry if your awning does not project that far. The remaining material will remain in the roller without any problem.
My only complaint about this product is that it is a bit too stretchy than most other awning fabrics. It causes water to pool easily in the middle.
What We Like
Comes with a beautiful color scheme
Very easy to install (if you have someone to help you)
Can be used on other manual awning brands
Provides ample protection against the UV rays of the sun
Can fit awnings that project up to 8 feet outward
What We Don't Like
The fabric is a bit too stretchy.
Even though it is not a perfect product, it still has a lot of outstanding benefits, making this replacement fabric well worth your time and money.
Best RV Awnings Buying Guide
There are usually two reasons why people would shop for a new RV awning – either the one that came with their RV is not to their liking, or their RV did not come with an awning at all. Whatever reason you have, I am sure that you have some valid points, and no one should state otherwise.
However, it is still essential to do your research when shopping so you will not get burned. To help you out with your purchase, here are some of the factors that you should consider:
The Length of the Awning – It will hugely depend on the size of your RV. The bigger your RV is, the longer the retractable awning it can accommodate. If you are unsure of the length of awning that your RV can handle, it is usually indicated in the owner's manual of your vehicle.
Even if your RV did not come with an awning, this information should still be available in the manual that came with it. If not, you can call your dealership and inquire about it.
Awning Crank Mechanism – In this regard, you can choose between manual and automatic (electric). The manual mechanism is the most commonly used. You will discover that the awnings that you usually see installed in most recreational vehicles are extended using a manual crank.
The crank used for extending the awning is detachable and stored inside the RV. It should not take more than a minute or two to fully extend the awning using a manual hand crank if it is working as intended.
Another mechanism is automatic. It is easier to operate as it just needs a push of a switch to extend and retract. The downside is that these items run off of the batteries of the RV. Some models also draw quite a lot of power.
It is the reason why it is best to leave the engine running while you extend or retract your RV awning. It can help by keeping the battery charged.
Assembly parts – It is also advisable to check and study the awning's assembly parts. For example, the arms. If your RV came with an awning as standard equipment, you might not even need to replace it. If the awning arms were the only things that got damaged, then you can buy a new pair of support arms.
You can also replace the spring-loaded awning fabric roller. You just need to find out the length of the awning you need to replace, or the length that your RV can handle. The awning fabric is usually included with the roller tube assembly. However, if it is not, you have an assurance that you can still choose from many other brands.
If you do not like the fabric that came with your awning, you can replace that separately, too. Plenty of manufacturers make RV awning fabric vinyl or acrylic that almost all awning brands can use. There are very few brands that use proprietary parts for their products, and it is best to steer clear from those.
Materials Used – You would want an awning that is as light as possible. It can minimize the additional fuel consumption resulting from the extra accessory. It is why most RV awnings are made almost entirely by lightweight aluminum alloy, which is lightweight and robust at the same time.
When it comes to the awning fabric, you can see it being usually made from a nylon or acrylic fabric blend. The rest, which includes the housing of the awning fabric roller, is generally made of PVC plastic.
Color – RV awnings usually come in white, which matches the color of most recreational vehicles. However, some also come in black. The fabrics also traditionally come in white, but some awning manufacturers sell those that come in different designs. Others even let their clients choose the design.
Choose an awning fabric that can protect you from the heat of the sun. It should be able to block harmful UV rays. Aside from that, it needs to be waterproof to protect you from the rain and snow.
The arms – You can choose from two different types of RV awning arms. The first one is that with bases attached on the sides of the RV. When the awning is extended, the arms also get longer (using a telescoping mechanism) to support it. When fully extended, the side of the awning takes the shape of a triangle.
The other type of awning arm has a base that you can plant perpendicular to the ground. When seen from the side, the awning is shaped like a square. The easier to set up is the first type. It is because you just have to extend the awning. It is the reason why this type is also the most commonly used.
Price of product and your budget – It is essential to set a budget for RV accessories because it is very easy to get carried away and overspend on stuff. However, when it comes to awnings, you should not limit your spending power too much. For instance, if you set your budget down to just $200, the only things you can buy at that price are spare parts.
On the other hand, if you raise your budget to around $700-$800, then you can probably find a decent manual crank awning. Set your budget over $800, and you get into the electric/automatic awning pricing territory.
How many types of awning for RV are there?
You can find different kinds of RV awnings out there that tend to vary based on the materials used, and their manner of construction. Among the types of awning that you can use for your RV are:
Acrylic Awning – It is the most common RV awning material. It is also the most affordable. This kind comes with a couple of advantages, like high resistance to intense sunlight. It has a certain degree of weather resistance as well.
It works rather well against weak drizzles or summer showers. Aside from that, it dries quickly. However, acrylic awnings are not entirely waterproof, so if it is exposed to heavy rains, the rainwater will seep through the fabric. Also, it can get overstretched by the wind, causing it to whip back.
Vinyl Awning – It is the other popular awning material aside from acrylic. It has all of the benefits that acrylic has, but with the added advantage of being completely waterproof. Vinyl awnings are also scratch and fade-resistant. You can also expect them to block almost 100% of the UV rays.
However, it is a dirt and dust magnet. Apart from that, it is necessary to let the awning completely dry first before you retract it as it is very prone to mildew and mold. However, with proper research, you can still find a few vinyl RV awnings, especially the newly made ones that are resistant to fungi.
Fixed Awning – It is one of the smaller RV awnings permanently installed above the doors and windows of your RV. These awnings for RV are great for providing constant protection against the rain.
However, fixed awning also has a couple of drawbacks. The most significant disadvantage is that there is a chance that it will blow off when you are driving the freeway because it is only attached using mounting tape.
Slide-out Awning – If your RV has slide-out rooms where the sides come out to increase the amount of floor space inside the vehicle, then this one is the awning installed on top of those extending rooms. The awnings are made to protect the seal surrounding the slide-out room. It also prevents debris from getting inside the mechanism.
Roller Awning – These awnings for RVs are the ones most commonly used by RV owners. It refers to the awning with fabric stored in a spring-loaded roller. With that, you can easily roll it out and retract. The awning is usually deployed using a crank. You can even pull out some by hand.
This awning is the most budget-friendly while being the easiest to maintain. You can use it along with acrylic, vinyl, or even canvas awning fabrics. The only downside to this type is that if you do not extend it properly, rainwater will pool in the middle, causing the fabric to weaken and leak.
Automatic RV Awning – This awning for an RV is the most convenient to use as you can open and close it at just one push of a button. However, it has a couple of major cons. First of all, if you have a small budget, you might not afford this type as it usually goes beyond $1000, excluding the installation.
Speaking of installation, that is another bad news. You might not have the right technical skills to install an automatic awning RV on your own, so you have to hire a professional installer. Repairs, especially on the electric motor, can be costly, too
Patio Awnings – Basically, patio awnings are roller awnings with extra materials on the sides that virtually transform into an additional screen room for your RV. This awning usually has small windows and a zip-up door. It will serve as the main front door for your RV.
These items are great screen rooms as the extra material can provide additional protection against the wrath of Mother Nature. However, you need to know that this type of set-up will require a lot of preparation.
For instance, because of the extra material hanging around the sides, you need to secure this awning by using numerous ground stakes and lashings. It also makes them quite a chore to set up and stow away.
How do RV awnings work?
If you want to enjoy the nice weather and are not that keen on getting a deep tan because of the hot sun, you will need to extend your RV awning so you will have more than enough shade.
When your awning is extended, you can sit back on your lawn chair, take a sip of your drink, and just enjoy the view without the sun burning your skin to a crisp. Aside from protecting you from the harsh rays of the sun, the awning material is also usually waterproof, or at the very least, water-resistant.
It means that you can still cook on your grill even when it is raining outside. An awning is an extension of your RV roof. It virtually turns any vacant patch of land into an instant patio for your RV.
How to choose the right size?
The maximum size of awning that you can install on your vehicle will depend mostly on the exact RV size. The longer your RV is, the wider the awning you can install on it. However, you should consult with the owner's manual of your RV to get the exact size that you can install without causing any problems.
What is the best material for the RV awning?
The answer to this question is subjective as the different materials used in creating the owning come with their own sets of pros and cons. For instance, vinyl is not as durable as canvas, but then again, it is better at protecting you against the rain. The best awning material is the one that suits your needs the best.
For instance, if you usually find yourself camping in dry, desert landscapes, or near the coast, you might like the performance of the canvas. However, if it often rains where you want to camp or fish, you need something that is waterproof, like vinyl.
What is the best replacement fabric for the RV awning?
When it comes to choosing replacement fabrics for your RV awnings, it always boils down to two choices: either acrylic or vinyl. Which of these two can you consider as the best?
Let us first discuss acrylic fabrics. Acrylic is available in woven form, which means that there are small holes in it that allow for increased air circulation underneath. This fabric can lessen the harmful effects of the sun and protect you from rain and snow. It also serves as a windbreaker.
Another advantage of acrylic is that since it is a woven fabric, it allows air circulation underneath. With that, you can expect it to be cooler compared to vinyl. Moreover, you can roll up and stow away acrylic even if it is wet, though, it is not highly encouraged.
Also, because the colors are woven into the acrylic fabric, and not printed on the surface, it is very resistant to fading and discoloration. However, the caveat is that acrylic fabric is just water-resistant, not waterproof. It means that when it is raining, the water surface tension is the only thing preventing it from leaking through the fabric.
When it is raining pretty hard, and you do so much as touch the underside of the acrylic awning, the rainwater will start to seep in through the holes in the fabric. Vinyl awnings, on the other hand, are heavier and waterproof. No matter how heavy the rain is, no amount of rainwater will be seeping through this material.
It shares most of the benefits that acrylic awnings have, like sun and wind protection, and others. Vinyl is also more robust and more resistant to tearing and puncture compared to acrylic. However, because it is dense, vinyl can be heavy, which might cause a bit of a spike in your RV fuel economy.
Moreover, vinyl is non-porous. With that, it does not provide as much ventilation as acrylic. It can get hot underneath the awning during the summer months. Since the price difference between acrylic and vinyl awnings are not that big, with vinyl just slightly more expensive, the ultimate decision on which one is best relies on your personal preference.
Choose the fabric that you think works best for your particular needs and does not require too many compromises on your part.
What is better – vinyl or acrylic awning?
As mentioned earlier, vinyl and acrylic have their own sets of advantages and disadvantages. For instance, acrylic is breathable and allows better air circulation underneath, while vinyl awnings are entirely waterproof and much more durable.
Because there is not much of a price difference between the two, the choice of which is better between vinyl and acrylic camper awnings is mostly subjective. Choose the one that provides more benefits for you and your particular needs and situation.
How much wind can RV awning take?
If we are talking about sustained winds, then it is safe to say that most RV awnings might be able to withstand 20 mph winds. However, winds are never sustained. Lower wind speeds, but buffering and erratic, are much more destructive. It is the reason why it is not a good idea to base the strength of an awning on the wind speed that it can resist.
It is also the premise used by automatic RV awnings, which prompted them to use motion detectors that monitor the movement of the awning itself instead of measuring the speed of the wind. If the awning is moving beyond a set limit, it will automatically retract, thereby avoiding any severe damage.
How to install an RV awning?
Ideally, you should get a professional contractor to install your RV awning for you. It is to make sure that the job is done correctly. Now, if you think you have enough skills and you are up to the task, then here is how you do it.
The first, and most crucial step in the installation process, is attaching the awning rail on the side of your RV. You first need to take precise measurements then clearly mark the points where you will be mounting the brackets.
Carefully position the railing on the markings, and have someone hold it in place while you drill appropriately-sized holes. After that, screw them in place. If you do not have anyone to help you, use some double-sided mounting tape to hold it securely, and then screw them in place.
It is essential to tap holes into the side of your RV first rather than directly screwing the bracket into the side using a hand drill. It is because the drill can over-torque the screws and strip them. After you have secured the rail, you need to unroll the awning fabric by placing the roller on the ground and unlocking it, so it will let you roll out the fabric.
Grab onto the awning tube and pull out the vinyl fabric completely. Slide the top awning arms into their place. While still holding the awning taut, make adjustments to the tension rafter knobs on each side of the rod.
With the awning still fully extended, extend the support legs then place their base against the floor line of the RV. Make a clear mark where you can see them being placed. Position the bottom brackets on the markings, then drill out the holes you need to bolt them in.
Attach the brackets afterward. Place the base of the awning arms into the brackets and secure them with the included bolts and locking pins.
Care and Maintenance
If you want to extend the service lifespan of your RV awning, there are a couple of things that you can do. First of all, you need to secure your awning correctly, so that it can handle moderate to strong winds without collapsing on itself.
Avoid the fabric from flapping in the wind by installing an awning de-flapper. It is a gadget attached halfway in the awning. It works by adding tension to the fabric. If you take away the slack, there will not be any fabric that will flap in the wind. The violent flapping of the fabric can cause it to rip and tear.
Also, secure the awning by installing tie-downs and stakes. It will hold the awning down when a draft gets underneath, making it want to fly up in the air. The more tie-downs there are, the more secure your awning will be. Do it, especially if you want to enjoy your camping experience in a windy location, like in a mountain valley, desert, or along the coast.
If you want your awning to last for years, protect and maintain every part. If you are using a sliding tension arm, you need to apply silicone spray every once in a while to lubricate them. Apply some on the adjustment knobs as well. Also, adjust the awning so that one corner is around 5 inches lower than the rest.
It can prevent rainwater from pooling in the middle of the awning fabric by allowing it to flow out. Speaking of the awning fabric, you need to clean it often as well. However, do not use regular detergent as it cannot deal well with mold and mildew. Only use vinyl cleaners formulated to deal with the specific problem.
The cleaners should also be mild enough that they do not strip away the waterproofing of the fabric. Apply a fresh batch of silicone sealant on the drill holes in the rails and the base brackets. It will prevent water from leaking into the RV.
Other RV Awnings We Reviewed
Shade Pro RV Vinyl Awning Fabric Slate Blue
This replacement vinyl awning fabric is one of the heaviest awnings on the market. It is proof that it is indeed durable.
Key Features:
Made of 3-ply fabric
Comes with welded Weather guard for extra protection
Has 3-year limited warranty
SunWave Awning Fabric Camel Fade 18′
This item is a beautiful camel-fade vinyl awning fabric replacement that you can install by yourself. It is well worth the investment.
Key Features:
Comes with a pull strap to make it easy to insert into the slots
Both edges come with tough poly cords to promote ease of installation.
Can be used in different awning brands
RecPro RV 21-foot Camper Awning
Do not let a ripped awning stop you from going on a well-deserved trip. This product will allow you to replace your old awning in just minutes.
Key Features:
Universal fit, making it compatible with almost all awning brands
Has a tensile strength of 140psi
Flame-retardant for extra safety
Carefree EA206B00 Fiesta Camel Fade 20′
This 20-foot wide product is the right awning for every RV. Get shade whenever and wherever you need it through this awning.
Key Features:
Comes with a single-track slider for easier deployment
Has self-storing canopy clamps
20-foot wide canopy
SunWave Ocean Blue Fade 20′ Awning Fabric
This heavy-duty awning fabric replacement adds color to your RV and provides you with a canopy that will last many years.
Key Features:
Made of durable 15-oz vinyl layer with 16-oz. weather shield
Can fit perfectly into a 20-feet awning of almost all brands
Ocean blue fade to white at the base
ALEKO Retractable RV Trailer Awning
This awning is the ideal accessory for a small travel trailer or fifth wheel. It is wide enough to cover almost the entire side of your RV but folds away neatly when not in use.
Key Features:
The awning fabric is made of water, UV, and mildew-resistant PVC.
Protects the side of your camping trailer from the rays of the sun
Opens and closes in less than a minute using the included pull-strap
Tentproinc RV Awning Sun Shade
This product is an excellent addition to your RV awning. Aside from adding more shade, it also protects you from the wind while offering you a bit of privacy.
Key Features:
Blocks the harmful UV rays
Easy to install and remove when needed
Provides shade and proper ventilation
Shade Pro RV Vinyl Charcoal Fade 15′ Awning Replacement Fabric
If you want to give your RV a bit more flair while still enjoying all the benefits of a proper awning, then you need to get yourself one a 15′ RV awning fabric.
Key Features:
Can be used in different brands of RV awnings
Easy to install, thanks to the convenient pull strap
Provides more than ample protection against the scorching sun, wind, and rain
Carefree 701508 15'x8′ Drop RV Awning
This awning is an RV awning sunshade that is convenient to use. You do not have to install the whole thing whenever you need it. Just zip it on and off.
Key Features:
Comes in two panels – The top stays installed, and the bottom conveniently connects via a zipper.
Blocks around 85% of the sun's light and almost 100% of the UV rays
Easy to install – The top portion has a poly cord that simply threads through the rod's utility slot.
SunWave Teal Green Stripe 18′ Awning Fabric
Give your trailer that good old 80s vibe with this teal stripe-fade. It also boasts of its modern sensibilities and technology.
Key Features:
Pretty teal stripes that gradually fade to white
Made from heavy and durable vinyl fabric
Classic vibe while still having modern technology
Shade Pro Dune Fade 19′ RV Vinyl Awning Replacement Fabric
This product is made using Shade Pro's heaviest awning fabric. It means you will be able to enjoy the shade under this awning for many years to come.
Key Features:
The dark sandy brown color that fades to bright white to match the RV
Easy to install without the need for any special tools
Made from 3-ply, 13-oz. vinyl fabrics, making it durable
Carefree Ash Solid Gray Replacement Canopy for a 15′ Awning
There is something about the ash-gray color that makes it look classy. Give your RV an update; change your awning fabric now.
Key Features:
Easy to clean and maintain
The color does not fade.
Stain and dirt are not readily visible.
SunWave Grey Fade 18′ Awning Fabric
This product is a beautiful neutral gray colored awning that fades to a bright white. It is minimalist while still being striking, making it perfect for your RV.
Key Features:
Perfect fit for an 18-foot RV awning
Made of thick and heavy-duty vinyl fabric
Can fit into most of the popular awning brands
Conclusion
Having the best RV awning installed will allow you to enjoy each RV trip, making it into a memorable one. You no longer have to find a shady spot in an RV park or campground. You are already carrying your shade with you.
However, since there are so many different brands and models of RV awnings out there, choosing just one will be quite a challenge. Fortunately, you now have enough knowledge of RV awnings, so making an informed choice that will not lead to buyer remorse is possible.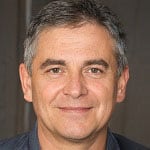 Hi, I am Tom Hank, an RV-er since 2014. Back then, I started without much help. As you can imagine, the struggles are endless. But now, you do not have to begin your adventures knowing next to nothing about RV lives.