Is your RV more than ten or so years old? If so, then you might be considering renovating it to update its style and livability. It is best to do the process bit by bit, so your finances will not get shot at once. Start with getting the best RV blinds first, so you will also be getting something functional and stylish.
All RVs need to have proper trailer blinds as they have many different uses. First of all, blinds will provide you with much-needed privacy. If you are staying in a communal RV park or take your RV to a festival, having proper blinds will prevent accidents. One example is getting caught with your pants literally down when you step out of the shower.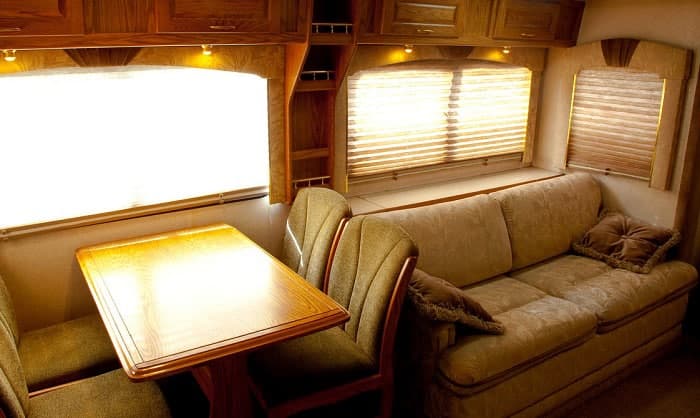 The blinds are also helpful if you do not want people to stare at you while you are taking a nap. Blinds can also help keep your RV warm during particularly balmy days. Drawing them down will block the rays of the sun, and most of the heat that came with them. The blinds for RV can also help insulate the inside of the vehicle.
It is a big help during the colder months of the year. The blinds prevent the heat from escaping through the windows while providing another sealing layer against outside drafts. This article will help you find the right blinds to use in your RV. It can also help ensure that you will not be wasting your money on substandard products.
You can also access an informative buying guide for RV blinds here, as well as details on a couple of recommended products.
Best RV Blind Reviews
1. RecPro Pleated Shades 32″ W x 24″ L RV Blinds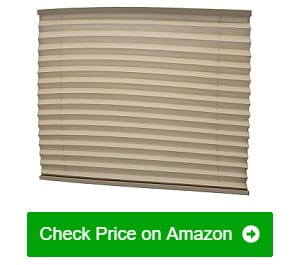 The thing that I liked the most about this RV shade is its lovely and relaxing cappuccino brown color. The color of the blinds brings the entire look of the interior of my trailer together. It is neutral yet very provocative.
These RV mini blinds, when entirely pulled down, can block the sun. I love how dark the interior of my RV gets when all the shades are down. Even if they glow a bit when the rays of the sun are quite intense, almost all UV rays are blocked from getting inside the RV.
Whenever I need to catch a couple of hours of sleep in the middle of the day, these blinds do an excellent job of making it look like it is nighttime, even when it is just 11:30 AM in your sleep. If bought as a replacement set for older blinds, you should be able to use the same drill holes that the original used.
When I replaced my RV's blinds, I was pleasantly surprised to find out that I did not need to drill any additional holes at all for these RecPro RV blinds. All the existing drill holes lined up perfectly with the holes of the bracket. I also like how these RV window shades not only block light but also keep the inside of my RV cool, even during the hottest days of summer.
With these blinds down, the RV's AC hardly had any trouble getting the cabin down to a comfortable, cool temperature. Furthermore, these blinds also did an excellent job muffling outside noises. It is pretty nifty if you happen to park in a very busy campsite.
The only thing I did not like about these blinds is the drawstring. You have to pull both drawstrings at either end at the same time to pull them up evenly. Pulling them down is easy enough, though.
What We Like
Comes in a gorgeous yet neutral cappuccino color
Easy to clean because the dust does not stick onto the material
Durable fabric as it can withstand thousands of pulling and drawing without the risk of tearing
Easy to install
Very affordable – It will not break the bank at all.
What We Don't Like
The drawstring system needs a lot of work.
Regardless of the issue with the drawstrings, these RV window blinds, just on the merit of their price, are worthy upgrades for any vehicle. You will get all that you need, without spending a lot.
2. RecPro Pleated Shades 50″ W x 24″ L RV Blinds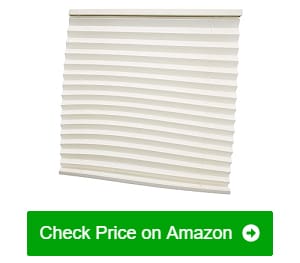 What I liked the most about these blinds is how easy they are to clean and keep clean. Because the material used for the blinds is so light, dust does not collect on top of them. It means that they will only need a bit of light dusting every other day to keep them clean and white. The only intense cleaning that I need to do on is to wipe them clean using a damp cloth.
I also like how effectively these camper blinds cover my windows. They are thick enough to block prying eyes from seeing anything inside the RV, but not so thick that it no longer lets a bit of sunlight through. Even though these items are not blackout blinds, they can still block just enough light to make the interior comfortably dark enough for a quick nap.
Another neat thing about these blinds is that they reflect the UV rays of the sun. It means that almost none of the heat coming from sunlight will be able to penetrate inside the RV. These blinds can help protect the plastic items inside the RV, like the dashboard, the trim of the doors, the plastic sidings, and the children's toys.
I also like how easy it is to install the blinds. It gets even easier when you bought these mobile home blinds as a replacement set for your old blinds. It is because the drill holes used are practically in the same place. You no longer need to drill additional holes anymore. You just need to remove the old, then install these new blinds exactly where the old ones used to be.
Just like the blinds that came before this one, drawing the curtains is also a bit too complicated. You have to draw the strings at roughly the same time. You also have to tie them down on hooks on the wall to keep them up.
What We Like
Easy to keep clean since dust does not settle too much on the material
Allows just enough light in, but blocks heat
Capable of blocking harmful UV radiation
Easy to install
Provides ample privacy even at night
What We Don't Like
Drawing and keeping the blinds up can be tedious.
Although it is not the perfect replacement blinds for RV, it still provides a lot of benefits that RV owners are looking for. Also, this product is quite affordable, so you might be able to forgive its faults.
3. RecPro Black RV Roller Shades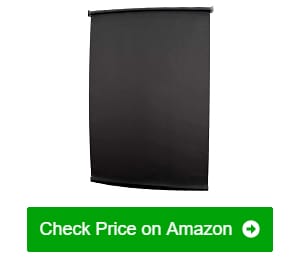 The best thing about these roller shades for RV is the fabric used for the blinds. The shade is made of thick, durable, and heavy 4-ply linen. There is always a window in my RV. This window somehow always faces the sun during the hottest part of the afternoon. However, when I used these blinds, this kind of problem no longer persists.
Aside from providing pitch-black cover even during the brightest of days, the thick blinds also block a lot of the heat coming from the sun. It is probably my most favorite benefit out of all. It is because it lets me take a comfortable nap even during hot afternoons in summer. Furthermore, my AC does not have to work so hard to keep the interior of the RV cool.
Another great benefit of these blackout roller blinds is that they provide me with plenty of security and peace of mind. Many people think that going on RV trips always ends up parking next to a beautiful lake. In other words, there are no other people around you, but that is not usually the case.
You will be sharing the campground with dozens of other families. Some of them can get pretty snoopy. With these blinds down, unless they have x-ray vision, no one can see what is going on inside the RV.
The drawing mechanism used by these roller blinds is also robust and durable. The gears are so finely tuned that pulling them down and drawing the blinds back up takes minimal effort at all. And even better, the blinds lock in place automatically. They will not roll back up when not tied down.
I could not think of anything to fault these blinds. However, if it comes down to it and I have to find something to fault, it is that there is no way to secure it when it is down. I would have liked it better if the blinds are lying flush against the window. It is a big help in ensuring that no light leaching occurs around the edges of the blinds.
What We Like
Thick and durable
Easy to clean and maintain
Blocks almost all light from the outside
Blocks heat and UV rays
Provides a perfect solution to your privacy problems
What We Don't Like
The blinds cannot be secured to lie flush against the window.
There is nothing serious that I can say bothered me too much about these motorhome shades. It is even one of the few RV blinds that came close to being a perfect product.
4. Trader Blinds Cordless Light Filtering Cellular Shade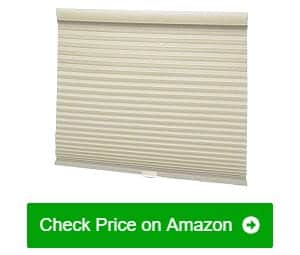 I genuinely liked the cordless lift system used by this RV window shade. I do not know how they do it, but I just need two fingers to raise and pull down the blinds. There are no strings to pull and tie down. The blinds will stay in place where you stop pulling.
These are not your ordinary motorhome blinds. You can even save a lot of money from these items. These products are cellular blinds, meaning they have trapped air pockets in the fabric that act as insulators. It also means that they keep cold air in and heat from the sun out during the summer, so you save a lot of money on air-conditioning.
Also, they do the opposite during the winter months to save on heating. These RV blinds and shades are also great blackout shades. If you want to turn the inside of your RV dark instantly, whether to watch a movie or catch a quick nap, these blinds will make it seem like nighttime fell early.
The cellular structure of these RV replacement blinds also helps with soundproofing. It is a great thing to have when you are parked in a busy camper park where kids are always running about and screaming, and other campers have their radios on at full blast.
With these blinds pulled down completely, it would feel like you are parking on a secluded site where no one else can disturb your peace. The only problem that I currently have with these replacement blinds for motorhome is that there might be something wrong with the cordless lift system.
After a couple of weeks or so, one side of my blinds started to slow down when it goes down and up. It happens even if I pull on the exact center of the blinds. Now, most of my blinds end up looking crooked all of the time, and it kind of bothers me.
What We Like
Convenient cordless system
Cellular fabric insulates against excessive heat and cold
Comes with curtains that block a lot of sunlight and UV rays
The cellular system makes for a good soundproofing solution.
Helps save money on air-conditioning and heating
What We Don't Like
The cordless mechanism starts to conk out after a couple of months.
Although the mechanism of the cordless lift gets wonky after a bit, the other benefits and advantages provided by this set of RV window blinds still make it a very worthwhile investment.
5. RecPro Black Pleated Shades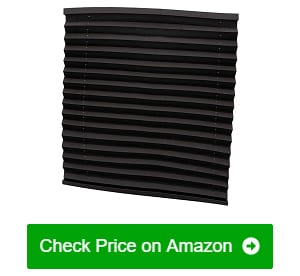 The thing that I liked the most about these RV blinds is that they can almost completely block any light from getting into the RV, save for a few wisps of light bleeding from the edges. The reason I like it is that you can rarely find a secluded park where you can legally hunker down your RV and just relax.
These blinds provide me with all the privacy I need anytime necessary. Getting caught with my pants down after getting out of the shower once is more than enough. Aside from blocking sunlight, these blinds also help keep the interior of the RV cool. It is because they reflect the heat and harmful UV radiation.
Ever since I got these blinds for my RV, I noticed that I have been spending less gas on air-conditioning. The interior always seems to stay cool even during the hottest summer months. The window blinds are also very thick and durable. The pleated blinds are made of thick Bellagio fabric that is resistant to fraying and tears.
Although it is technically not a cellular window blind, the fabric used is thick enough that it can muffle outside sounds quite well. The thick fabric also means that these blinds can prevent the cool air from getting out and the heat from getting inside. These RV curtains and blinds are also easy to install and operate.
If you are replacing the dated and/or broken blinds in your RV, odds are you will not need to drill any new holes anymore. You can use the holes from the previous blinds to install them. However, you need to take the most accurate measurements to make sure that you will be getting mounting brackets that are relatively the same.
There is nothing remotely serious that I can complain about. However, if I will be nitpicking, then a flaw I would like to point out is that there are times when the fabric will not follow the pleated parts. I had to guide the blind by hand to make sure that it folds correctly.
What We Like
Excellent as a blackout curtain
Insulates against the heat and excessive cold
The durable and tear-resistant fabric used
Easy to install
Low-maintenance and easy to keep clean
What We Don't Like
The fabric sometimes needs help to fold up properly.
Although there are a couple of minor kinks in this set of RV blinds, those issues are not enough to convince me not to give this product a chance.
6. RecPro RV Day & Night Pleated Shades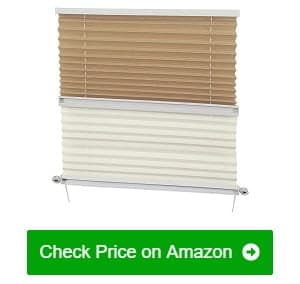 The thing about these blinds that I genuinely liked is that they come as a combination of day and night blinds. First of all, the bottom part of the blinds is light-colored. The set also has somewhat opaque pleated blinds. You cannot see through them, but they let enough sunlight inside to light the interior.
On the other hand, the top half of the blinds is a tan stitch board. It almost wholly blocks the rays of the sun. Most importantly, it blocks the eyes of nosy trailer neighbors. When the blinds are pulled down completely, the inside of the RV will almost be pitch black. It is also very cool because the blinds block the heat of the sun.
Having two different kinds of RV window shades is convenient because you get the benefits of both without having to waste space. If you want privacy during the daytime, use the sheer cotton part of the blinds. When nighttime comes, pull it down to where the tan stitch board starts.
These blinds are also easy to install. You just need to drill a couple of holes on top of the windows. If you are replacing your old blinds, then it might not require any additional drilling. You can use the holes left behind by the previous blinds.
The concept of these window blinds seems to be genius. However, you have to compromise on weight since it comes with enough material for two sets of blinds. Since the sheer cotton blind part is not that heavy at all, you do not have to compromise that much.
What We Like
Combines two different blinds into one
Keeps excess heat and cold outside
Comes with all the mounting hardware that you would ever need
Protects against harmful UV rays
Easy to clean and maintain
Although the blinds from this RV blind company are a bit hefty, it is a compromise that anyone will be willing to make seeing as it works like two sets of blinds in one.
7. Zy Blinds Cordless Pleated Window Shades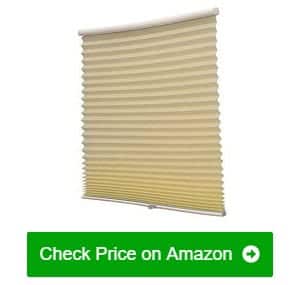 The neat thing about these light-filtering blinds is that you can get all the advantages of getting natural light inside your RV, but with the additional benefit of privacy. Although these blinds are a bit sheer, they do not provide a place to peek into the interior of your recreational vehicle.
These blinds are custom-made, so you need to know how to measure for RV blinds. It means that you will need to provide the exact measurements of your windows to the manufacturer. Although it also translates to the product being a bit pricey, it worth it because the blinds will surely look great as well.
You can even have the blinds mounted inside the frames of the windows, giving them a sleeker look. When the blinds do come, they are easy to install, even without any instructions. However, I still recommend that you follow the installation instructions as I had a couple of screws left over after installing the blinds without having any idea where they are for.
Customer service is also excellent. Because Zy blinds are custom-made, you will be in contact with the company's customer service quite a lot. The team was great and entertained all of my questions and queries.
The only problem that I have is that the blinds material is very delicate. You need to be extra careful when drawing and pulling them out as they might fray a bit and maybe even rip.
What We Like
Allows a lot of natural light to get inside
Reflects heat and UV radiation
Provides ample daytime privacy
Easy to install
Custom-fitted
What We Don't Like
The blind material is quite delicate and fragile.
These blinds are quite beautiful and functional. Even though the items are a bit more expensive than the others on this list, they are still a very worthwhile investment.
8. Lippert Components Thin Shade RV Window Shade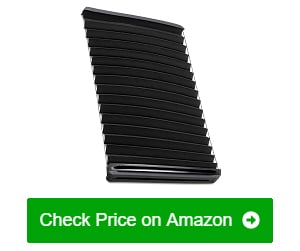 One of the most important things that you need to know about these travel trailer mini blinds is their overall construction meant for ThinShade-ready doors. The entry door of my trailer happened to use ThinShades, and they require replacement. It is an excellent replacement, much better than the original shades that came with the door.
These blinds are blackout shades. It means they prevent sunlight from getting inside the RV. When these shades are down, the interior of the RV instantly gets darker, regardless of the time of day. Aside from sunlight, these blinds also prevent most of the heat from the sun from getting in. It results in the inside of your RV getting not only darker but cooler as well.
These blinds are very easy to install. They pop into the frame of the window and connect using just a couple of screws. It took me less than fifteen minutes to remove the old blinds and install this new set in its place.
Aside from sunlight and heat, these blinds also provide you with much-needed privacy. I love this feature as I usually find myself parked in trailer parks that have a lot of prying eyes all around. When the blinds are down, no one can see inside the RV at all, regardless if it is night or day.
I would have loved these blinds more if the material used was a bit thicker than what is used now. As it is right now, I feel like the blinds will rip if I pull on the drawstrings too fast.
What We Like
Fits exactly inside the frames of ThinShade-ready RV doors
Easy to install and looks very sleek
Blocks ample amount of sunlight and darkens the interior of the RV
Blocks a lot of the heat from the sun
Provides a lot of privacy
What We Don't Like
The material used for the blinds is a bit fragile.
Although the blinds are a bit on the flimsy side, they still look good on the door window. Furthermore, all of the benefits provided by these blinds make them worth your time and money.
9. RecPro RV Blinds Pleated Shades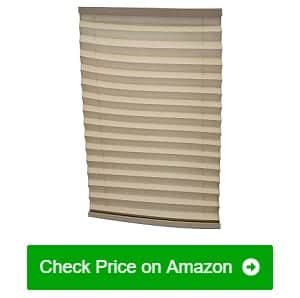 One incredible thing that I like the most about these blinds is its color. The light cappuccino color can fit in all types of interior décor. It is also quite relaxing on the eyes. These blinds make my RV feel more homey and warm, but not in the literal sense.
Although the blinds look warm, it does the opposite. When entirely pulled down, these shades block most of the light of the sun, instantly making the inside of the RV dark. It then makes it a more conducive environment for napping.
Another benefit of these dark shades is that your nosy RV park neighbors will not be able to get a peek inside of your RV. It also goes as well for potential thieves. Aside from blocking sunlight, these blinds are also great at reflecting heat outside, preventing them from getting inside the RV.
With that, your RV's interior will not only get dark but also become cooler than before. The blinds are also easy to install and operate. These are cordless blinds. It means there are no drawstrings on the sides of the blinds. You just have to pull and lift the blinds to the desired position.
The only issue I have is that these blinds do not come with installation and operating instructions. I managed to figure out on my own how to install the blinds.
However, if you do not have any experience hanging these kinds of window treatments, then you might spend the good part of an afternoon figuring it out on your own.
What We Like
Comes with a beautiful and relaxing cappuccino color
Cordless operation
Blocks a good portion of sunlight
Keeps the inside of the RV cool
Provides a lot of privacy
What We Don't Like
Does not come with instructions
If you are experienced with DIY projects, then you will not have any trouble with these window blinds. Also, remember that even if you run into problems while installing, it will be all worth it because of all the benefits that it provides.
10. Camper Comfort Cappuccino RV Pleated Shade
If you are looking for replacement blinds for your RV, then do not get those boring, off-white ones that were just similar to those that were there originally. The blinds come in a gorgeous cappuccino color. I love this color as it is relaxing for the eyes. It also provides a fresh new look for your RV.
These shades are easy to install. If you are replacing old window blinds, you will not need to drill new holes for installation. It will likely fit in the holes of the previous blinds. These blinds are not just for aesthetics, but they also create a comfortable environment inside the RV.
When pulled down completely, the blinds block most of the sunlight while reflecting most of the heat and UV rays. It helps keep the inside of the RV cool, which means the air-conditioned does not have to work too hard.
These blinds are not sheer at all. It means they can provide plenty of privacy. It will also prevent potential thieves from staking out your RV. The only problem with these blinds is that you have to pull on the strings at both sides at the same time. It can be quite tedious after some time.
What We Like
Easy to install
Low-maintenance and easy to clean
Efficiently blocks sunlight and heat
Blocks loud noises
Provides a lot of privacy
What We Don't Like
The drawstrings are kind of tedious to use.
These blinds are not just good-looking but also very functional. Aside from giving your RV's interior an upgrade, the blinds also make the vehicle more energy-efficient.
Best RV Blinds Buying Guide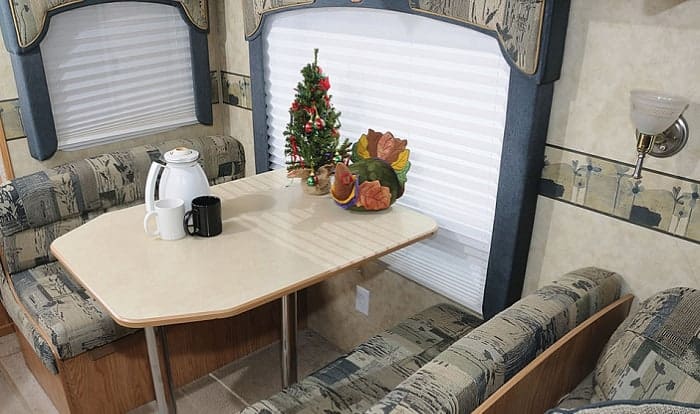 If it is the first time for you to buy new window shades for your RV, it is understandable if you do not know where to start on your search. Allow this buying guide to help you choose the right blinds so that you will not have any regrets later. Here are some considerations you have to make:
Amount of Privacy Provided – Unless you park in an extremely secluded park, it is highly likely that you will be sharing the place with other RV owners. If you do not want curious RV neighbors to poke their noses where they do not belong, then you need good quality blinds. With this product, there will no longer be gaps where prying eyes can get into.
Blinds are also significant deterrents against possible thieves. Criminals would usually scout the places they plan on breaking into. They do it, so they know beforehand what to take and where it is placed. Planning beforehand will ensure that they get in and out of place quickly.
Having a good set of window blinds will prevent would-be thieves from getting any advance information about your RV. It can, therefore, decrease the chances of them going through with their plans. For your security and peace of mind, choose blinds that prevent people from the outside to get a peek of what is inside your RV.
Insulating Properties – Because RVs do not have much in terms of a ceiling where you can put insulating foam, keeping the interior of RVs cool can be a challenge. However, when you install shades in your rig, these items can help lower the inside temperature faster, keep it cooler longer, and help prevent your RV's AC unit from getting overworked.
You can also find UV-blocking shades that keep the UV-rays, the ones that are responsible for the heat, out. These shades do so while letting natural light inside the RV. It will help cut down energy costs for lighting while helping keep the interior of your RV relatively cool.
You can also get cellular shades that go on top of the UV blocking shades. With that, you can further insulate the inside of your RV from the outside heat. It can also keep the cold air trapped inside.
Custom-fitted – Standard window sizes in homes are very different from the ones used in RVs, so getting them to fit correctly will be a pain. You will most likely need to make a lot of modifications to the blinds so that they would at least look decent on your windows.
Usually, you will need to use a band saw to cut the blinds to the right width. With that, you have to be very careful not to hit the mechanism. The point here is that you should not use blinds for houses in your RV. It will too much of a hassle to make them fit, and they will still not look quite right afterward.
You should get blinds that are made to fit RV windows. Inquire with the company that made the windows of your RV, or better yet, ask the RV company. They likely have in-house blinds that you can buy.
If you want the blinds made to your specific instructions, like if you have a particular material or color or pattern in mind, then you could speak with custom blind makers.
Ease of Installation – If you are getting pre-made RV blinds, make sure that they come with detailed, and very easy to understand installation instructions, preferably one that comes with progress pictures. Installing blinds is not as easy as it seems. You will realize that it is not the same as hanging curtains.
Ideally, you should get blinds that require very minimal drilling or any other kind of modification done on your RV. Also, make sure that the package already comes with all the hardware that you will need to complete the installation.
Blackout Blinds – I highly advise that you get blackout blinds, or at least find a way that you can install your blinds of choice along with blackout blinds. It is because these blinds are guaranteed to be very useful.
If you have been an RVer for a while now, then you probably know how much of a pain it is that you do not have any control over the lighting where your vehicle is parked. There have been times when the street light is perfectly positioned that its light hits you right in the face when you try to sleep at night.
Blackout shades will ensure that the inside of your RV will be completely pitch black, regardless of your location and the time of day. You would enjoy your midday naps with these blackout shades down.
Another added benefit of blackout blinds is that they block noises from outside the RV. It is excellent when you want a bit of peace and quiet in a busy RV park. When the blinds are down, there would still be a bit of sound coming through, but they will be significantly muffled down to a more acceptable level.
Easy to Clean and Maintain – Curtains can get dusty and grimy quite fast, which is not good if you or anyone else in your family has asthma or any kind of respiratory problem. Also, short of washing them, keeping curtains clean can be a challenge.
Instead, you should just get roller shades that you can vacuum or wipe down clean using a damp rag. The easier they are to clean, the more likely they will stay that way.
Durability – Usually, the first thing to go in cheap window treatments is the drawing mechanism. The gears that help pull the shades up and down would sometimes get clogged up with dust and dirt. It can cause difficulties in making them work.
Moreover, if the blinds are made from cheap materials, then the mechanism will just seize up completely, leaving you with blinds that are permanently partially opened. The mounting brackets of the blinds should also be quite durable. They need to be able to withstand all of the road shocks without getting knocked loose from the wall.
Also, if you are easily annoyed with all the clacking from slatted blinds when bumps shake them on the road, choose to use cloth roller blinds instead.
Fits your Personal Style – You want to feel at home in your RV, so you should choose blinds that suit your personal style. The chosen blinds need to make you feel cozy and comfortable. For instance, if you want a more modern feel, then go for solar shades that have a sleek, modern style.
If you want to give your RV some character, then printed roller shades, or wooden or bamboo shades may be more to your liking. On the other hand, if you are more of a minimalist, and function is more important than style, then plain black or any other dark-colored blackout blinds are your best choices.
Fits your Budget – Your budget should be the first thing that you should significantly consider when shopping for new blinds. You need to set a respectable budget. Do not set your spending limit so low that you can only afford the absolute cheapest RV window blinds. You will only be regretting them later.
Set your budget a little above the average prices of the blinds. It will give you a bit more wriggle-room in case you found a set of blinds that you genuinely like, but it is just beyond your budget by a little bit.
I also have a list of the top-tier RV windows for your reference. Furthermore, check our guides for the most fovorite RV step covers if you like.
How Many Types of Blind for RV Are There?
You can avoid getting overwhelmed when shopping for new window blinds for your RV by doing advanced research on the different types that are currently available. To help you get a leg up on your shopping, here are some of the most popular styles that you can buy right now:
Solar Shades – If you want natural light to still get inside your RV, but you do not want all of the heat that comes with it, then you need to get solar shades for your RV ASAP. The neat thing about this kind of window blinds is that they let in a lot of natural light while also blocking most of the heat and dangerous UV rays that come with it.
One of the advantages of solar shades is that they are quite affordable. They are also easy to operate as they are usually just roller blinds. Aside from that, you will immediately notice that solar shades are easy to maintain.
Also, the shades can give plenty of daytime privacy. However, take note that seeing as they are almost entirely white, they do not provide much in terms of nighttime privacy.
Roller Shades – These items are the best bet when you do not have that big of a budget. You can expect the roller shades to work a bit similar to solar shades, but they use different fabrics. The roller mechanism is still the same. The advantage of these shades compared to solar shades is that they provide complete privacy regardless of the time of day.
It is especially true when you choose to use blackout fabrics. These blinds also come in light-filtering variants, but they do not let in quite as much natural sunlight. Another advantage of roller blinds is that there are hundreds of different fabrics that you can choose from.
You can even have a custom fabric made if you want. Aside from that, the roller shades take up very little interior space. You are also allowed to use valances to cover the mechanism if you so choose.
Pleated Shades – Pleated shades are among the most stylish alternatives to roller blinds. The crisp, sharp pleats instantly give a modern and sophisticated vibe to the interior of any RV. However, even though they look fancy, these blinds are quite affordable.
Just like roller blinds, pleated blinds are available in hundreds of different fabric materials. You can also expect them to be blackout or light-filtering blinds. The neat thing about pleated blinds is that they are virtually invisible when they are pulled up.
Cellular Shades – This type of RV blinds can come in either pleated or roller styles, but the pleated style is the more popular choice. Although these blinds are not as effective in letting in natural light as solar blinds, you can expect them to be better in keeping the heat out of the RV.
Furthermore, the shades also help insulate the interior of the RV, meaning it can also keep the inside cooler. With these blinds installed and drawn, the air-conditioning unit of your RV will not have to work quite as hard to keep the inside temperature down. An additional benefit of this type of window blind is that it can also help muffle out sounds from the outside.
Although blackout blinds can also provide soundproofing to a certain degree, the cellular structure of the fabric used in this type of window blind makes it more effective and efficient at blocking sounds. Moreover, even if it is quite expensive, you will be getting all of the benefits of the other blinds in just one package.
Aluminum Mini Blinds – Since these blinds are made of metal, they can last infinitely longer compared to the other choices on this list. These blinds are also more durable and very easy to clean. You just need to wipe off the dust on the slats using a damp rag. Even though these blinds do look sleek and sophisticated, they are the cheapest.
You also have better control over the amount of light that you let through the window because the slat openings can be adjusted. However, there are a couple of things that you might want to consider.
The biggest issue is, if they are not appropriately secured, these blinds will tend to rattle while you are driving down the road. Also, the style of this type of blind is pretty dated. If poorly executed, the inside of your RV will look like the inside of an office building from the 1990s.
How Does an RV Blind Work?
Blinds work just like curtains, but the difference is that these items will not be blown away with a light breeze. Blinds, when drawn, are weighed down by the material itself, and by a bar connected at the end.
Blinds are also easier to use and maintain compared to curtains. Curtains have to be manually parted and tied at the sides so they will remain open. On the other hand, blinds only need to be pulled up using a built-in mechanism. You can even find automated blinds that automatically go up and down at the flick of a switch.
When it comes to functions, blinds and curtains work the same way. They both provide privacy for those inside the RV. Some also let natural light but reflect the heat and harmful UV rays. There are even thick blackout blinds that completely block light from the windows and can also muffle noises from the outside.
Can I Use Regular Blinds in RV?
Technically, you can use regular blinds for your RV, but that will entail a lot of modifications that will be too much of a hassle. The result would still be far inferior to blinds that are specifically made for RVs.
Unlike the standard blinds used in the home, RV blinds are made explicitly for trailers and other kinds of recreational vehicles. As such, they come with special modifications, including but not limited to, cordless controls and special hold-down brackets.
The blinds used for houses are almost always the same standard size as the windows that they cover. A different set of standard sizes is used for RVs, and they are much smaller than the ones used for homes for obvious reasons. Things get even more complicated if you own a custom-built trailer or camper that also happens to use custom-made windows.
In the latter's case, you might need to get custom blinds as well. If you have standard RV windows, there will be standard RV blinds that fit them perfectly. There is no reason why you should complicate things by getting regular home window blinds for your RV when there are already plenty of different options and brands that are available.
Also, most RV blinds are quite affordable, so you can likely afford most of them even if you have a modest budget.
How are RV Blinds Measured?
Before you go shopping for RV window blinds, you need to make sure that you take accurate measurements of your windows first. When you are taking measurements, you should focus more on getting the width as accurately as you can. The length of the blinds can be adjusted easily once they are installed anyway.
Here are a couple of tips that you should keep in mind while you are taking measurements:
Use a steel tape measure. Keep in mind that plastic tape measures would sag easily, which will affect the accuracy of your measurement.
Round up the height and weight to the nearest 1/8". It will give you a bit of an allowance with your measurements.
If the windows in your RV have irregular angles, then it is best to get a professional custom blinds maker and let them take the required measurements for you.
How Do You Replace Blinds in an RV?
If you will be replacing already existing blinds in your RV, then the best thing to do is get replacement parts that are exactly, or at least close to the same dimensions as the original ones. It will more or less make sure that the drill holes from the old blinds will still be usable for the new ones.
When replacing window blinds, you are usually replacing the entire thing, meaning the blinds and the drawing mechanism that they use.
How to Choose the Right Size?
When shopping for RV window blinds, the measurement that you need to focus more on is the width. If the blinds are either too wide or too narrow for your windows, they will not look good. So, when taking measurements, be sure that you get the width of the windows as accurately as you can.
The length of the blinds will almost always be longer than that of the windows, and that is okay since you can adjust it easily by drawing or pulling down the blinds to the right length. It is almost impossible to get window blinds that are too short for the windows of your RV. With that in mind, you do not need to sweat about this little detail.
Care and Maintenance
Caring for and cleaning RV window blinds will depend on their type. If you have fabric roller blinds, they should be okay if you were to vacuum them at least once a week. If they get dirty, you can use a damp sponge to wipe down the entire surface of the blinds. You can also use this method for cleaning pleated blinds.
Just be careful when wiping to avoid damaging the pleats. If you have slatted blinds, use an old sock. Wear the sock over your hand, dampen it with some clean water, and then run your sock-covered hand in between the slats.
Pinch each slat between your fingers while running them over the entire width of the blinds. Doing this step will get most, if not all, of the settled dust in the blinds.
Other RV Blinds We Reviewed
AP Products 015-201502 Thin Repl. Shade
This product is a very accurately reproduced replacement door window shade that will fit into most RVs.
Key Features:
Easy to install, making it fit where the window is installed
No tools needed for installation as it is made to snap into place with ease
Fits perfectly on RV ThinShade windows
RecPro RV Entry Door Window Shade
This shade easily snaps into place, providing you with all of the privacy that you will need, which, as you know, is completely lacking in most RV parks.
Key Features:
Easy installation – Just replace the screws on the window frame with special snap screws.
The blind can cover the entire window or leave it partially covered.
Comes with a thick black canvas blind, which completely covers the door window
Camco SunShield Reflective Door Window
This blind does not only keep prying eyes away but also reflect light and heat. It makes the interior of your RV private and cool at the same time.
Key Features:
Easy to install, no additional drilling required
Uses hook and loop fasteners to attach onto the window frame
Insulates the interior of the RV and protects your privacy
RecPro RV Day & Night Cotton/Sand Stitchbond Pleated Shades
This product is a pretty neat combination of day and night window blinds. You will get the benefits of both worlds in one package.
Key Features:
The bottom half of the blinds is opaque white, which lets natural light in and blocks harmful UV rays – It also reflects heat outside.
The other half is a Sand stitch bond fabric that is an effective blackout and privacy screen.
Comes with a thick fabric that even provides privacy at night
RecPro White RV Roller Shades
Sometimes, being simple is the best. This simple, white, opaque linen window blind effectively blocks light, heat, sound, and the prying eyes of nosy neighbors.
Key Features:
Easy to install – You just have to screw both ends of the assembly above the window.
The fabric is made of 4-ply linen, which is thick and durable.
Easy to clean
CloZures RV Door Window Shade
These window shades are not your regular slatted blinds. You can see them being positioned horizontally and fits precisely over the window of your RV's door.
Key Features:
Easy to install, even comes with all the hardware needed
Vertical slats can be closed and opened using a sliding control
The kit contains replacement glass.
Grandekor Blackout Cellular Shades
These stylish window shades block entirely the light of the sun and insulate the inside. It results in letting space cool faster.
Key Features:
100% blackout capability
The trapped air in the cells of the blinds is good insulator.
Easy to use as it comes with a cordless cord control
-=LiU=- SunShield 16 x 24 Door Window
It is not just a window blind for your camper door window. This product is also a heat and UV ray reflector, keeping your RV safer and cooler compared to the outdoors.
Key Features:
Easy to install, only need to replace a couple of screws of the window
Uses a hook and loop system for easy, but strong grip
Keeps sunlight, heat, and the meddling eyes of your neighbors away
Camper Comfort 20″ X 24″ RV Darkening Pleated Shade
This product is a simple black window blind that does what it is intended for. If your RV blinds are damaged, then you can invest in this shade, which might be what you need to replace the old ones with.
Key Features:
Uses black fabric, which effectively blocks the sun
Aside from the light, these blinds also block heat.
Opaque blind material provides excellent privacy
Achim Home Furnishings Corded Morningstar Mini Blind
This product is a neat, light-filtering window blind that does not need any cords to manipulate. It is perfect for families with small kids and/or hyperactive pets.
Key Features:
Can be drawn and pulled out by lifting or pulling down on the bottom rail
Pet and Kid-friendly – No one will get tangled around cords ever again
Light-filtering material allows a bit of natural light in but blocks harmful UV rays
Conclusion
Not that many people give window blinds nearly enough respect anymore. However, the truth of the matter is that an RV without proper blinds will not even be a comfortable place to rest and live in temporarily.
There are so many different brands, manufacturers, and retailers who carry RV window blinds, which is why you need to learn as much about the product as you can before you pull the trigger on your purchase.
Now that you have reached the end of this guide, you will already know what kind of details you need to keep an eye out for when shopping for the best RV blinds.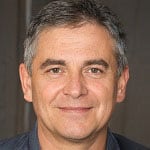 Hi, I am Tom Hank, an RV-er since 2014. Back then, I started without much help. As you can imagine, the struggles are endless. But now, you do not have to begin your adventures knowing next to nothing about RV lives.