The roof of your RV is the part that receives the most abuse. Not only do you expose the roof to constant abuse coming from the outdoor weather, but there will also be times when tree branches and other types of debris fall on it. Such may cause severe and potentially expensive damage in the long run.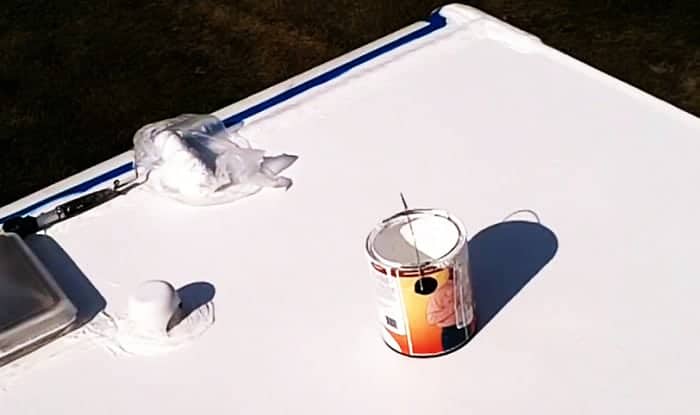 Do not wait until your RV roof starts leaking, and the water that seeped inside causes a lot of damage. You have to do periodical examinations on your RV roof to check if the existing coating is still in good shape, or if you must scrape the entire thing away and reapply a fresh coat.
To deal with those problems effectively, look for the best RV roof coating that you can afford. This article provides a simple guide on how you can choose the best RV rubber roof coating, but first, let's learn some of the best products in this category.
Best RV Roof Coating Reviews
1. Dicor RPCRC1 Rubber Roof Coating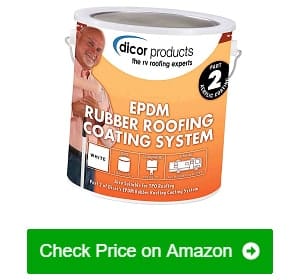 There is no sense in getting your RV a roof coating that requires constant maintenance. You want something that ensures periodic maintenance only. Luckily, the Dicor EPDM rubber roof coating is so durable and high-quality that you can forget about it for months right after applying it.
This flat roof coating is also elastic. It can move with the EPDM rubber roofing easily. Also, the coating stretches and contracts along with the roof due to thermal expansion. Such a feature is vital so the rubber coating will not tear or crack, which will cause water to seep into and damage the roof.
Once dried and cured, the Dicor rubber roof coating will start to protect the roof against the damaging rays of the sun. This liquid rubber roof product is UV-resistant, meaning the sun will not dry it up and cause cracks. The UV rays are also the reasons for the heat, and this product can reflect those rays, thus keeping the inside of your RV relatively cool.
I am also glad that this product is so economical. The EPDM rubber coating goes on smoothly, so much that it can fully cover the roof of a fifth wheel using just a gallon of it.
However, one crucial thing you should know before you use this liquid rubber roof coating for an RV camper trailer is that it can get messy. You will need to place plastic sheeting around the top of the RV to prevent the stuff from running down its sides.
What We Like
A low-maintenance roof coating
Excellent elasticity even after the passage of many years
UV-stable, proving its ability to block most of the heat-producing UV rays
Goes on relatively easy and evenly on different types of RV roof
Only requires the application of two coats
What We Don't Like
Can get messy, requiring more preparation before each use
The Dicor brand name has always been synonymous with quality, and this EPDM rubber roof coating of theirs will certainly not disappoint. It can help add many more years of life to your RV.
2. Heng's 1-gallon Rubber Roof Coating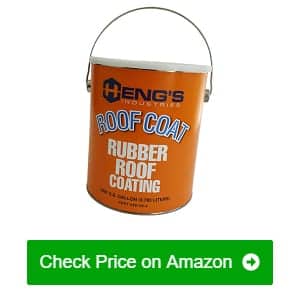 Heng's rubber roof coating has always been one of my go-to RV roof replacement products. Hence, I used their EPDM rubber coating on my rather old RV. Fortunately, it works like a charm.
I like how efficient it is at reflecting the UV sun rays. I also noticed it because it was quite cool inside the trailer even without the A/C on.
One of the reasons why Heng's rubber roof coating is so popular among RV owners is that it is highly elastic. Even after many months, the coating remains flexible. With that, I do not doubt its ability to last for many years.
Heng's RV rubber roof coating is ideal for people without any prior experience in restoring RV roofs as there is no requirement for extensive preparation work on the surface before application. In my case, I did not even need to strip off the existing roof coating on my trailer. I just repaired the larger leaks and damages and then painted the coating over them.
This rubber roof coating alone is also thick enough to seal up minor tears, holes, and seams on the RV roof. You can still go over the seams with another coat of roof sealant. Although it is not that necessary, it is still better to be on the safe side.
Best of all, this product is made non-toxic and non-polluting, posing no risk to our health and the surroundings.
The only thing that I am not too fond of much about Heng's rubber roof coating is that it takes a while to cure. You have to set aside the afternoon of one weekend to be sure that you have enough time to place a second coating.
What We Like
Highly UV-resistant roof coating
Elastic coating to move along with the roof without cracking
Requires minimal preparation, excellent adhere on top of old roof coatings
Seals tears, holes, and seams on the roof immediately
Made of non-polluting and non-toxic formulation
What We Don't Like
Takes quite a while before it dries and cures completely
Heng's rubber roof coating is yet another product you can trust. It is one of the right RV roof coating materials if you are restoring an old RV to its former glory.
3. HENRY HE587372 Roof Coating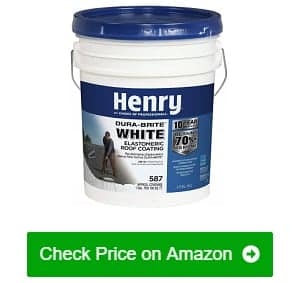 In my opinion, the best feature of the Henry roof coating is its ability to lower the temperature of the roof significantly. It can easily block almost all of the sun's UV rays, which also happens to be the spectrum that carries the heat.
Even though this product is almost as thick as oatmeal, it goes onto the surface smoothly and spreads out evenly. I used a paint roller on my RV roof, and it took me just an hour or so to finish the first coat.
Furthermore, this incredibly thick coating makes a watertight seal that envelops your entire RV roof. Not even a drop of water will get through this coating. But it will still let water vapor to vent out, so it will not cause the paint to blister and break. It also prevents moisture spots considered as breeding grounds for mildew and algae.
Another thing I like about this product is that it reflects the majority of the sun's heat. According to the manufacturer, the Henry roof coating can repel up to 91% of the sun's heat and UV rays. It translates to lots of energy savings because your A/C system will not be running quite as hard as before.
As mentioned earlier, this product has a thick consistency, almost like oatmeal, so you need to be frugal with the first coat application. The first coat should be thin so that you will have enough left for the all-important second coat.
What We Like
Highly elastic formula withstanding crack and tear
Easy to use and does not need a primer coat
Provides a watertight seal while allowing water vapor to vent out
Can block almost 91% of the sun's heat
Prevents moisture spots – breeding grounds for mildew and algae
What We Don't Like
Pretty thick in consistency, so you need to apply the first layer thinly
This product is an excellent choice for those who are on a tight budget. You will get a relatively high-quality product that can last a long time without breaking the bank.
4. L R Store Liquid Rubber RV Roof Coating
I always like how L R coating is safe to use indoors. If you seek such a coating product, the brand's Liquid Rubber RV Roof Coating is an ideal pick.
This product is water-based, so it does not smell noxious. It means that it is usable even in enclosed spaces. Notably, you have peace of mind using this environmentally-friendly coating for your RVs. As the manufacturer adds to harmful solvents to this product, it is utterly safe.
Once this roof coating properly dries and cures, it turns into a highly flexible, tear-resistant, and puncture-resistant membrane. Not only can this coating flex and stretch to keep up with the movement of the RV and the EPDM rubber roof, but it can also withstand quite a lot of physical abuse like falling branches and other debris.
I am also glad that this product is easy to use. I used to use two-part coatings that are quite messy. This product, on the other hand, is usable straight from the bucket.
It truly is a liquid rubber roof coating, like a thick rubber membrane that covers the entirety of your RV roof. This canopy cover prevents water from seeping through and contacting the metal underneath. Hence it prevents the formation of rust and the possible growth of mildew.
The only problem I have with this EPDM rubber roof coating is that it takes a while before it completely cures. Unlike other products that only take a day to cure, this one needs at least three sunny days.
What We Like
Water-based, contain no VOCs – safe for pets and plants
Highly flexible, preventing cracks and tear
Easy to apply – Brush it on the surface directly
Watertight and reflects sunlight
What We Don't Like
Takes a rather long time to cure properly
This product is one of the right RV roof coatings in terms of waterproofing, and although you will need to wait a while before you can go on your next trip, you can at least assure yourself that leaks and water damage will no longer be a problem.
5. Dicor RPFRC1 Fiberglass RV Roof Coating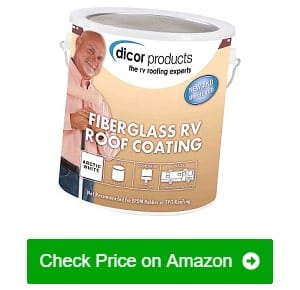 The Dicor fiberglass RV roof coating excels at blocking the heat of the sun. When let to dry and cure properly, this coating turns bright white and solar-reflective, cutting down the amount of heat in the RV considerably. It is a flexible product, preventing the coating from cracking or splitting due to heat.
Also, this product has impressive coverage. A gallon of this fiberglass RV roof coating is enough to cover 350 square feet with a single coat. With that said, I was able to give my 20-foot RV three coats using just two gallons of this stuff.
Another benefit of this fiberglass RV roof coating is that it is easy to clean. Unlike rubber RV roofs that you have to scrub hard, this coating will only need a good hosing down, so you can get rid of dirt and dust. Furthermore, it is resistant to mold, algae, and mildew.
This roof coating only needs a couple of hours until it is scorched to the touch so that you can apply the next coating. You can even finish painting your RV roof in just one afternoon. Also, this product cures entirely in just a day. Hence, you can go on your trip as soon as possible.
Keep in mind, though, that it is only for a fiberglass roof. Also, you need to prepare the surface so that this coating can adhere properly.
What We Like
Dries into a super white and solar-reflective finish
Provides a complete paint coverage at 350 square feet per coat per gallon
Effectively resists the growth of mold, algae, and mildew
Promotes ease in cleaning without scrubbing
Dries in just a couple of hours and cures in just a day
Flexible, preventing it from cracking or splitting due to heat
Dicor is popular because the company makes some of the best RV roof products on the market right now. The Dicor RV roof coating is not an exception.
6. KST COATING KS0063600-16 Roof Coating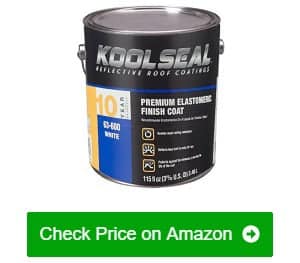 The thing Kool Seal roof coating assures that you do not even need to think about your RV roof for at least a year after its use.
Once properly cured, the elastomeric roof coatings layer provided by Kool Seal roof coating can bend, stretch, and contract every which way without cracking or tearing. It is ideal for RV roofs as not only does it deal with engine and road vibrations, but can also handle the thermal expansion of the roof quite well.
This liquid roof coating is also highly reflective and blocks most of the heat coming from the sun. With other roof coatings, you can feel the heat through the soles of your feet when you walk on them during a hot day. However, you will barely feel anything on a roof treated with this product.
Because the Kool Seal roof coating dries to a bright, solar-reflective finish, it takes less time and effort to clean your RV roof. Additionally, tree sap and road tar will not be able to stick onto this surface. The same is true for regular dirt and dust. If you feel like cleaning your RV roof, you can turn your garden hose on it.
Because this rubber RV roof coating is a bit thinner compared to other similar products, this RV roof treatment will require more than two coatings for it to do its job effectively.
What We Like
Highly elastic and super strong
Effectively reflects heat and is UV-resistant
Needs little surface preparation, not even a primer
Easy to clean – with just soap and water
What We Don't Like
Requires more than three coats for a long-lasting effect
This premium finish coat is among KST Coating's best products. You will not regret getting it for your RV.
7. Ziollo RV Flex Repair RV Roof Sealant
The selling point of the Ziollo RV Flex Repair is its resilient and near-indestructible coating. You might never need to reapply a new coating ever again if you applied this one correctly.
Here is another neat thing about this RV roof repair – it requires surface preparation no more than a thorough cleaning. You do not even need to sand the surface unless it is fiberglass. It is a bit difficult to make the coating spread out compared to other products, but not by much.
Once this coating properly dries and cures, it will create a near-indestructible, yet flexible, waterproof membrane. It will not allow even a drop of rainwater to go through it and will repel nearly all the heat from the sun. The surface remains cool to the touch even when you leave it under the midday sun.
It also does not matter what roof material your RV has because this silicone coating will have no problem bonding to it. If you follow the instructions correctly and clean the surface properly, the Ziollo Flex will cling to it without any problem. However, keep in mind that this is silicone, so your additional effort will be more than worth it.
More importantly, you can rest assured that this one is a safe product to use. Its formula contains no solvent or VOC, meaning it is a non-hazardous coating.
All in all, this product is most likely the best investment you can make in your RV. If you follow the provided instructions correctly, you will never need to reapply roof coating on your vehicle again.
What We Like
Non-toxic and contains no VOCs
Can flex and stretch along with the RV roof once cured
Works on most types of RV roof materials
Waterproof and heat resistant coating for RV roof
All in all, this product is most likely the best investment you can make in your RV. If you follow the provided instructions correctly, you will never need to reapply roof coating on your vehicle again.
8. Dicor Corporation RP-MRC-1 Coating
If you have a metal roof on your RV, then you know how hot it can get inside during the summer. The RV roof will also most likely get too noisy when it rains.
This best RV metal roof coating can help deal with such issues by providing a solar-reflective surface that significantly reduces the amount of heat that goes through the roof. It also provides a rubberized finish that offers a bit of soundproofing.
I also appreciate the elastic coating once it properly cures. Not only is the coating flexible enough that it can withstand the vibrations and thermal expansion of the roof, but it will not also tear nor puncture easily when tree branches fall on it.
If you tried to repaint the roof of your metal finish RV, then you know how hard it is to make most liquid roof products stick onto the smooth surface. It will never become a problem if you use the Dicor roof coating. You just need to follow the instructions and properly prepare the surface for painting, and it will go on without a hitch.
Speaking of painting, I always like the wide coverage of Dicor coating products in general. In this instance, I just needed a gallon of the product per coating on my 20-foot trailer, making it one of the most economical brands that I have ever had the pleasure of using.
Still, this one is not the ideal choice to prevent rust from forming on your roof. It can slow down the process, but not eliminate the forming.
What We Like
Can bond onto metal or fiberglass roof surfaces
Provides a solar-reflective surface to reduce heat
Offers a rubberized finish for soundproofing.
Wide coverage – A gallon can cover 200 square feet
Can stick well after careful surface preparation
What We Don't Like
Not excel at stopping rust from forming
There is a reason why Dicor is one of the most popular brands when it comes to roofing products, and this coating is not an exception.
9. Rubberseal Liquid Rubber Protective Coating
What truly blew me away about this elastomeric roof coating is how extremely efficient it is at reflecting sunlight and the damaging UV rays that come with it.
In truth, this coating prevents most of the sun's heat from getting into the RV. Also, whatever amount of heat the roof gets, the coating lets it dissipate quickly.
Because it no longer gets too hot inside the RV, I find myself not turning up the air conditioner as often as before. It helps lower the cost of operating my RV significantly.
Furthermore, the finish comes on thick and is very elastic. So, the liquid RV roof coating will not have any trouble bending and flexing along with the RV roof. It means that the coating will not tear, puncture, or rip apart easily, thus keeping your roof in top condition.
Another thing that I like about this product is how thick its consistency is, allowing me to use it as an elastomeric seal. Once painted over seams and little holes and tears on the roof, it will cover all of them effectively. You may still need to go over some areas with proper sealants, but overall, it handles everything fine.
The only bit of caution that I can give you is that you should consider the weather in the next couple of days after applying this product. This liquid roof coating needs around four to five sunny days to cure completely, so you should check the forecast first before using it.
What We Like
Extremely high solar reflectivity
Allows heat to dissipate quickly
Keeps the inside of the RV relatively cool even on hot days
Highly elastic coating, which can stretch and bend with the roof
Thick consistency, offering help in plugging up holes and seams on the roof
What We Don't Like
Takes some sunny days to cure completely
If you follow the package instructions carefully, you will find how truly amazing this RV roof coating truly is.
10. Liquid Roof Liquid EPDM Coatings
This product is not just a simple coating. It is an actual EPDM rubber roof coating that you can pour on your RV. If you are thinking of not just replenishing your RV roof, but replacing it entirely with a brand new one, then this product is for you.
Instead of fixing your old rubber roofs, get rid of it entirely and pour on a new one. Once it dries and cures, it turns into a hard, rubberized shell that is extremely flexible and can move along with the roof.
More importantly, this coating can twist, flex, and even stretch and contract. Unlike other roofing materials, this coating will not freeze and crack even in sub-zero weather.
This liquid roof RV coating is also virtually impervious to water. Although this RV rubber roofs coating might look porous when dried, it is still a watertight membrane that spans the entire roof. You no longer need to worry about water leaking into your recreational vehicle and having to deal with a severe mildew and algae infestation.
The thing that I like the most about this RV roof coatings is its efficiency at reflecting heat. It can block up to 90% of the sun's heat. You can touch the roof without burning your hand, even when it is scorching hot outside.
Beyond that, a problem that you will encounter with this RV rubber roofs coating is that you will need thorough surface preparation.
What We Like
Goes on thick as it plugs up leaks and seams effectively
Elastic while remaining strong and virtually indestructible
Requires one coat to protect your RV roof properly
UV-resistant, preventing the heat from penetrating
Self-levels, preventing water from pooling on the roof
What We Don't Like
Requires extensive surface preparation
Although Liquid Roof requires a bit more time and effort to apply, you will be more than pleased with the guaranteed results. Based on multiple RV rubber roof coating reviews, this one is worth a try.
11. Henry HE887HS073 Tropicool Roof Coat
If you are looking for a roof coating that might outlast your recreational vehicle, you will need this one offered by Henry.
This product is a silicone-based coating that protects against rain and leaks and is highly solar-reflective. It means most of the sun's rays will bounce off the surface, including the ultraviolet rays. Notably, it retains its reflective properties even after many years.
Another neat feature of the Tropicool coating is that it can already resist rain after just fifteen minutes after application. True to its name, the Tropicool roof coating is most suitable for use in places with tropical climates. Aside from resisting high heat and humidity, it can also protect against torrential rain.
I do not have that much time for RV repairs and maintenance. That is why I appreciate this product's one-coating for optimal efficacy. I do not have to wait for hours to apply the second and sometimes third coating.
Another nice thing about this product is that it can bond onto any roofing material. Regardless of whether your recreational vehicle has an EPDM, fiberglass, or painted metal roof, the Tropicool roof coating will permanently bond onto it without any problem.
Now, the catch here is that it needs to be a bit warm outside for it to flow freely and make it easier to apply. If you have trouble using this product, you can use a heat gun to warm up the container a bit and loosen the coating.
What We Like
Maintains its maximum solar reflectivity for years
Can withstand rain after just 15 minutes from application
Needs only one coating
Aggressively bonds onto any surface
Long-lasting – for decades even without too much RV roof maintenance
What We Don't Like
Thick consistency – It has to be warm outside for it to flow freely
You will not need to re-apply roof coating in the future after you use the Henry Tropicool roof coating, making it worthwhile to invest in and use.
12. Rexoseal RV Liquid Rubber Roofing System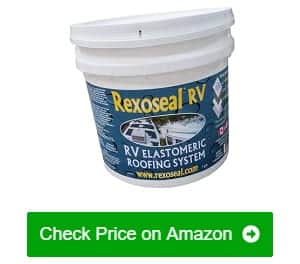 Although the Rexoseal rubber roof coating is sold at a higher price compared to other RV roof coatings, the kicker is that it contains more than 50% more rubber compounds.
In truth, the additional rubber content makes this coating a lot more durable and longer-lasting compared to the slightly cheaper brands.
This roof coating is also compatible with almost all kinds of RV roof coating available. Other specialized products need extensive preparation to bond with the roof material. Meanwhile, this Rexoseal liquid rubber roof coating will bond with all roofs, even without too much preparation other than cleaning the surface thoroughly.
The instructions on the packaging are already easy to follow. But to make things easier for you, this liquid roof coating also comes with instructional videos. Even if you do not have any prior experience reapplying roof coatings, you will not have any difficulty using this product.
The thing I like the most about it is that it is water-based and does not release any noxious fumes in the air. This means you can paint your RV in an enclosed area without any risk to your health. However, you will still need to wear breathing protection to be on the safe side. And open the garage door or the windows for proper ventilation if needed,
Now, because this product is water-based, it is thinner than other RV roof coatings. As such, you will need to put more coats so that it can protect RV rubber roofs. You will need at least three coats of the Rexoseal roof coating to protect your vehicle.
What We Like
Has up to 60% more rubber content compared to other brands
Compatible with rubber roofs, wood, fiberglass, and painted metal
Comes with an easy-to-follow instructional video
Boasts of a water-based formula and does not give off noxious fumes
Long-lasting and low-maintenance
What We Don't Like
Needs at least three coatings to be effective
This product is probably one of the easiest to use among all the roof coatings discussed here. Although it takes a bit longer to apply, that extra bit will ensure that this coating will protect your RV roof for many years to come.
Best RV Roof Coatings Buying Guide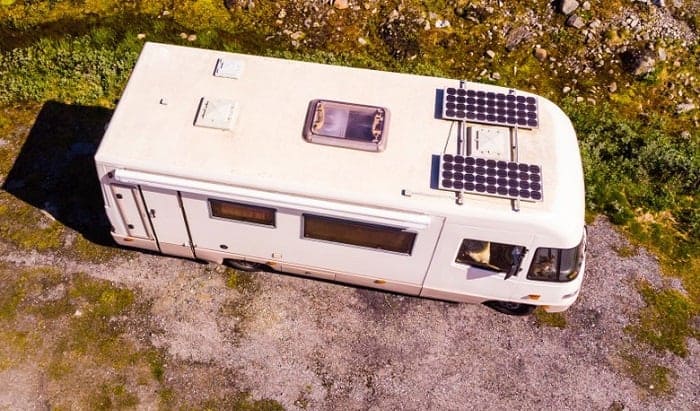 Shopping for an RV roof coating requires you to consider a few factors. They ensure that you are getting a product that will perform as expected. Thorough consideration can also prevent you from wasting your time and money on a product with subpar quality.
Your RV roof type – You have to know the actual composition of your RV roof. If you already know the kind of material your roof has, you can significantly narrow down the choices. For instance, if you have a rubber or EPDM rubber roof, you will only need to get an EPDM RV roof coating and ignore the ones for metal and fiberglass.
Companies will clearly state on the packaging what kind of roofing material a particular coating product is compatible with. So, you just need to read the labels carefully.
However, the best RV roof material is compatible with multiple types of roofing materials. Some can even bond on all of them. These products take less effort to use. Hence, they are good options for recreational vehicle owners who do not have prior experience applying roof coatings.
Price – Your budget will also help you determine what kind of coating you choose. If you have a sizable budget, you can most likely afford the top-of-the-line silicone coatings. If not, you can rest assured that there are still plenty of reasonably priced options of decent quality.
Ease of use – You will likely be doing a DIY project out of the reapplication of RV roof coating on your RV. So, do yourself a favor and buy something easy to use.
One way to figure out if something is easy to use is simply to read the instructions on the packaging. If you can easily understand the directions or you are skilled in using the required tools, you can be sure to have a hassle-free time using it.
Another way to gauge the ease of application of a particular coating product is to go online and search for credible customer RV roof coating reviews. You can find a lot of them on online retail sites like Amazon. If a particular product has way too many scores that are average to low, it is probably best to look for something else.
Cure time – It is not enough that you just let the coating dry completely. For it to work as intended, you must give it time to cure properly. Drying is just letting the solvents in the coating evaporate while curing entails having the coating undergo chemical changes.
You should read the label of the RV coating properly to get information on how long you will need the stuff to cure. It could be anywhere from a couple of days to a week or so. You must not use your RV until you give enough time for the coating to cure, or else you might need to reapply a new coat.
If you are planning to go on an RV trip the following week, make sure to get a product that can cure after just a couple of days as compared to one that requires weeks to cure properly.
Durability – Durability describes the ability of the product (properly dried and cured) to withstand stresses, both weather-resistance and from slight blunt forces. If you use your RV for most parts of the year, you are subjecting it to a slew of different stresses, like the extreme heat and cold, acid rain, torrential rains, hail, sandstorms, and other natural phenomena that will batter the roof.
You need a snow roof coating for RV that can protect the roof from all kinds of weather if you want your RV to last for many more years to come, as it should.
Longevity – Regardless of how much punishment your RV roof receives from Mother Nature, the liquid roof coating should still have a lifespan between 10 to 20 years. Anything shorter than that should not be acceptable.
Many liquid rubber roof brands claim that their product can outlast the RV you apply them on. It can still produce a problem – one of which is that there is no way for you to know the actual longevity of a product unless you see it yourself.
However, you can base your decision on other's experiences with the product. Go to any online retailer that you can think of and check out the customer reviews section. You will most likely find a lot of unbiased opinions from people who have tried the product, and just base your decision on what most of them have to say.
Packaging size – Having the RV roof coating come in larger packaging sizes makes sense because you will be getting more product for the price. For instance, if you have a mid-sized RV, it will be more cost-effective to buy one large container of roof coating rather than multiple smaller containers. The packaging itself contributes to the final retail price.
Check out the labels of the products since they usually have some indications on how many square feet of roof surface the contents can effectively coat. By reading the label, you can also figure out if the content of the product is enough for your RV.
Water-resistance – Of course, all roof coatings should be waterproof. The issue here is that some are better than the others, sometimes to the extent that they are barely waterproof at all. Your task is to find a product that has the best waterproofing capabilities. To do that, you should once again look to elastomeric roof coating reviews for any indications that the product you have your eye on is not worth your money.
UV-resistance – You are continually exposing the roof of your RV to the sun, which means it is under a steady barrage of harmful UV rays. It is an invisible spectrum of light that does a lot of damage on surfaces exposed to it, like drying and cracking.
You should get a UV-resistant roof coating, meaning one that can resist and even repel the damaging UV rays of the sun. It can assure you that the product can last for many years without fading, drying, peeling, or cracking.
Taking most, if not all these factors into consideration will most likely ensure that you will get the best RV roof coating that you can buy. It also means that you will be extending the usable lifespan of your vehicle for many more years to come.
How Many Types of Roof Coatings for RV Are There?
There are several RV roof coatings for you to choose from – with each one offering different levels of protection and cost. Here are some of them:
Urethane coating – This type is one of the most durable RV roof coating options that you can get, which is why it is quite popular with RV owners. Urethane coating is like a hard-shell coating that can protect the roof from falling branches and other small debris that might hit it. It also does an excellent job of protecting against the elements.
However, one thing that you need to know about urethane liquid roof coatings is that it has a rather high application cost. It also means you will not be able to use your RV for at least a week because urethane coatings need at least two coats to be effective.
Acrylic Coating – If your budget cannot afford complete reapplication of urethane coating, but you want to keep your RV roof in good condition, you can use a rubber roof acrylic coating in the meantime.
Getting a rubber roof acrylic coating is a good idea if you need a quick stop-gap solution for protecting your RV. Other than not lasting quite as long compared to the other options, a rubber roof acrylic coating is also UV-resistant. It can also plug up any leaks, if there are any, on your roof.
Silicone Coating – Silicone roof coating is the costliest option out there, and it is also the most durable of all. It scored well on all accounts. It works well against weather damage and impact from falling debris. Also, it prevents water from pooling on the roof.
The silicone coating also remains elastic, allowing it to remain intact for many years to come. Aside from the high cost of application and the material itself, a potential downside of silicone RV roof coating is that it gets dirty quickly. However, it is just a minor inconvenience as you can easily get rid of the dirt by rinsing it off using a hose.
How Do RV Roof Coatings Work?
There are many ways for RV roof coatings to work when it comes to protecting your entire RV and not just the roof. Some ways where this product can help are:
For structural protection – The main purpose of an RV roof coating is to seal any cracks or holes on the roof that may let water inside the vehicle and cause all sorts of damage. A layer of RV roof caulking can also prevent the roof from warping by insulating it against the heat of the sun.
For temperature regulation – Speaking of the heat of the sun, the liquid roof coating can prevent it from getting inside the RV. It happens because the coating is UV-resistant, which also happens to be the reason for the heat coming from sunlight.
To lower operating costs – Because the coating prevents the outside heat from getting inside the RV, it helps the A/C run more efficiently, thus saving you more money in the long run. Moreover, having a proper roof coating will prevent water from leaking into your RV and causing all sorts of expensive damage.
Who Makes the Best Roof Coating for RV?
There are many brands of RV roof coating that you can choose from, but not all of them can provide your vehicle with the kinds of protection that you expect. However, in my years of maintaining RVs, I discovered that among the most trustworthy brands are Dicor, Heng's, HENRY, L R Store, KST COATING, Ziollo, Rubberseal, Liquid Roof, and Rexoseal.
If you happen to stumble upon any of the mentioned brand names while you are in Home Depot, Lowe's, or when shopping online for RV roof coatings, I highly suggest that you check them out. These brands have not failed me yet.
How to Apply Roof Coating for RV?
Before you can start applying the roof coating on your RV, you must first prepare the surface. You first need to inspect the roof thoroughly for any damage and take note of any that you find. Also, you have to remove any silicone sealants, even the ones that are still in good condition. It is vital because nothing sticks onto silicone.
You also need to remove any loose, non-silicone caulking or sealants. On the other hand, if the existing caulking is still in good condition, you can leave them be. Once you finish picking off most of the loose caulking and sealants, you can proceed to wash the roof thoroughly. You can use a deck brush and laundry detergent so you can remove all traces of oil and grease that are on the roof.
With that, you have an assurance that the roof coating will go on evenly. Do not use dishwashing liquids or anything that contains solvents. You can also use a pressure washer with a mild detergent if you have one. It can make the cleaning process much faster.
To prevent any of the coatings from dripping down the sides of the RV, you can cover the sides using masking tape and plastic sheets. You do not need to cover the entire sides of the vehicle. Just a short apron will do.
Now that the roof is clean go over it again and look for anything that needs repairs. For instance, if there is a part of the roof where a lot of water pools up, you will need to straighten out the surface as much as you can then use filler to level it out. It is also important to patch up any holes, tears, or open seams using RV roof seam sealant. After drying the sealants, give the roof another good rinsing and allow it to dry.
Once the roof is dry, and all the sealants have dried and cured, you can proceed to apply the roof coating. Remove the appliance covers, vent covers, and anything else that is protruding out of the roof. Then working in sections, use a roller brush to apply the coating. It is best that you work from the front of the RV and gradually go towards the back, terminating where you have access to the ladder.
Wait until the coating is dry and no longer tacky, which can be anywhere between four to twenty-four hours, before applying the second coating. When brushing on the new sealant, make sure that you push the material into any seams that you can spot.
After applying the RV roof sealant and letting it dry and cure, you can head back onto the roof for another round of inspections. Look for any unevenly painted areas and go back and reseal the seams and other potential causes of leaks that you can find.
How Often Should You Coat Your RV Roof?
Most brands of roof coatings have an average service lifespan of ten years, so it is a good idea to reapply a new roof coating before the old one starts to show its age.
What is the Best RV Rubber Roof Treatment?
It is hard to pinpoint the best roof treatment as it will be mostly subjective. The condition of one person's roof may differ from yours so your opinion on what is best will be different as well.
However, most RV owners agree that silicone-based treatments are the best among the different kinds of roof coatings. So, if you have the option and the budget to choose, it is better if you use a silicone-based product.
Care and Maintenance
To ensure that your RV roof coating will last for as long as its manufacturer promises it will, you will need to take good care of it. For instance, if you use a silicone roof coating, it would be best to give it a good cleaning every week or two to prevent dirt and dust buildup.
You can also help keep the coating in top condition by limiting sun exposure as much as you can. If you do not have a garage big enough for your RV, consider investing in a proper RV cover, preferably one that can withstand snow and extreme summer heat.
If you have a bit of the coating left, you can keep it for a couple of months in storage. Make sure that the rim and lid are clean, and that you put the lid back on tightly to prevent the contents from drying too fast.
Also, stow away the leftover coating somewhere dark and dry. It should also be away from direct sunlight. You can use the leftover whenever you need to make roof repairs, so you better save as much of the leftover as you can.
Other RV Roof Coatings We Reviewed
KST COATING KS0063300-20 White Roof Coat
The KST Coating can offer elegant-looking coatings and a smooth finish.
Key Features:
Brings a beautiful white roofing coat
Resistant to extreme cold and heat
Can potentially save up to 35% in energy costs
Flex Seal Liquid Rubber (32-oz) in a Can
Flex Seal liquid rubber in a can is not one of the most popular RV roof sealants just because of the infomercials. It gained popularity because of its overall quality and functionality.
Key Features:
Easy to apply – You can pour it on the surface or brush it on, whichever is easier for you.
Instantly creates a watertight seal and stop leaks
Prevents the formation of corrosion while being resistant to mold and mildew
Jetcoat Cool King Reflective Roof Coating
The best thing about this product is that it helps keep the interior of the RV cool. The highly reflective finish prevents the heat and UV rays from penetrating through the roof.
Key Features:
Wide coverage – A gallon can cover up to 70 square feet per coat.
Needs only two coats for efficient use
Dries in just 2-3 hours, completely cured and ready for another coat after just 6-8 hours
RC5000RV Liquid RV roof Coating
This roof coating needs a 20-mil thick layer to provide your roof with more than enough protection against the elements and other things that can potentially cause damage.
Key Features:
Leaves a thin yet effective protective coating
A gallon is enough to cover 100 square feet
Bonds onto different roofing materials even without using a primer
Premier Pro Products All-N-1 Elastomeric Roof Coating
As the name suggests, this product is an all-in-one, high-performance, protective coating that is compatible with all kinds of RV roofing materials.
Key Features:
Compatible with any RV roofing
UV-resistant and prevents heat from getting inside the vehicle
Easy to apply, save time and effort
Go well on most roofing materials
KST COATINGS 1-gallon KST063300-16 Elastomeric Roof Coating
This elastomeric roof coating does not just prevent water from seeping into the RV but can also reflect almost all the rays, including the UV rays responsible for the heat.
Key Features:
UV-resistant, making it capable of blocking up to 90% of the UV rays
Highly elastic as it bends, expands, and contracts with the roof of the RV
Effective against all weather conditions – Creates a completely watertight seal almost immediately upon application
Ames Maximum Stretch
This elastomeric acrylic RV roof coating is the best choice when you want to restore the roof of your old somewhat yet still reliable RV.
Key Features:
Easy to apply and compatible with any roof material
Can reflect up to 98% of the UV sun rays
Elastic, making it easily resist cracking due to thermal expansion and RV roof rumble
Tuff-Gard HEAT-BLOCK – 5-gallon White Reflective Coating
Tuff-Gard specifically made this product to keep the UV rays from penetrating your roof. It works in protecting your RV and lowering A/C operating costs considerably.
Key Features:
Eco-friendly as it does not contain any VOCs and solvents
Can purportedly stretch to over 400% its original length when properly cured
Useful in other roof surfaces apart from the ones in the RV
Conclusion
The roof of your RV is your first line of defense against the weather, so you need to take good care of it. The best way to do it is to apply a good protective coating on it. The RV roof coating provides a watertight seal. It should also protect against the UV rays of the sun and other possible damages that extreme weather may cause.
Since you have reached the end of this article, you have already gathered plenty of useful information to help you identify the best RV roof coating. With that, you can make an informed decision and not worry about wasting your money and time on the wrong product.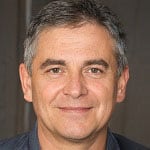 Hi, I am Tom Hank, an RV-er since 2014. Back then, I started without much help. As you can imagine, the struggles are endless. But now, you do not have to begin your adventures knowing next to nothing about RV lives.