If you own a recreational vehicle, you are probably aware of how convenient it is to have the best RV ladder for a camping trip. You may already have a good device that promotes ease of access to the roof of your vehicle. However, you can always get an upgrade.
Alternatively, investing in a new motorhome ladder among several RV ladders currently available can make a difference to your daily tasks. Notably, foldable devices such as or a telescoping RV ladder collapsed into a more compact size can also be utilized as ladders for RVs. However, since there are many different kinds of a collapsible ladder for RVs out there, choosing one will be challenging.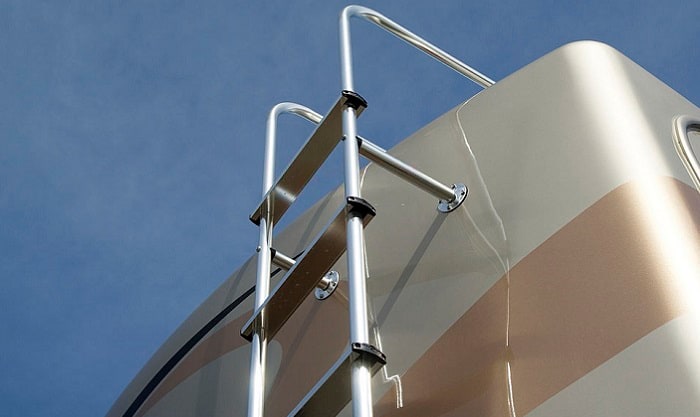 This article is created to help you make the right decision to eliminate the confusion and possible challenges when you are shopping for one. Ladders are quite expensive, primarily if you will be investing in a safe and efficient model.
Considering that, it is necessary to make an informed and wise choice. If you want to avoid serious buyer's remorse, continue reading until the end.
Best RV Ladder Reviews
1. Stromberg Carlson LA-401 Exterior RV Ladder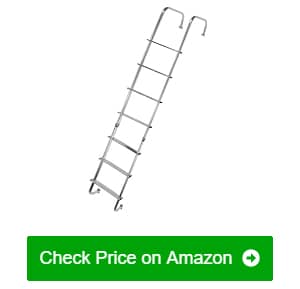 One great thing that I happened to like the most about this Stromberg Carlson 139.21 LA-401 Exterior RV Ladder is how it works well with almost all RVs. Regardless of whether your RV has a flat or a sloping rear end, this ladder will be able to fit onto it perfectly, somewhat showing its versatility.
Before being cut into the usable length, this travel trailer ladder only weighs 10 pounds. Such incredible lightness is possible because the ladder is made of one-inch diameter aluminum tubing. It means that this additional RV accessory will not add weight to the RV while still being quite strong.
Another great thing about this ladder is that it can hold up to250 pounds of weight in total. However, this capacity will still depend on how effective its anchor points are. It is the reason why you need to bolt the ladder onto the subframe of the RV, not just on the body.
Furthermore, you could conveniently trim this ladder onto your RV with a regular pipe cutter to make straight uniform cuts on the tubing. There are a couple of hinges located along the ladder for you to bend it following the shape of the RV before bolting it down.
The only thing that some customers had an issue with is the size of the rungs that were more or less just a foot wide. Due to such a drawback, huskier RV owners might have a bit of trouble climbing up this ladder.
What We Like
Versatile use for various RV types
Has a maximum weight capacity of 250 pounds
Easy to set up and install
Can fit onto any RV regardless if the rear end is straight or curved
Made of lightweight yet durable aluminum alloy
Easy to trim down to size
What We Don't Like
The rungs are a bit narrow
I can still say that it is a wise purchase since it is durable and sturdy, plus you can cut it down to the correct size.
2. Stromberg Carlson LA-460B Bunk Ladder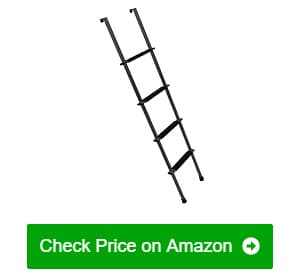 I am happy to introduce this bunk ladder to RV owners since this black RV ladder is easy to attach and remove from my RV bunk bed. There are hooks on the top end of the ladder that holds onto the edge of the top bunk without budging.
The feet are padded with thick rubber inserts to add to the stability of the compact folding ladder for RV. Such rubber feet prevent the bottom of the ladder from sliding on the floor. In addition, the rubber also protects the finish of the flooring. You do not need to worry about your wooden floors getting scratched, or your carpet getting ripped.
Another thing that I genuinely love about this ladder is that it is effortless to attach and detach to the bunk bed. It means you can stow the ladder away when not in use, so as not to consume precious space in your RV. People can attach the ladder when going to bed, then take it off after waking up the following morning.
It is amazing to know how wide the rungs are while boasting a non-slip surface to make it even easier to climb up and down the ladder. Whether you are in the complete darkness, or being partied a bit too telescoping before bedtime, climbing up to the bunk bed will not be a struggle.
The only thing that I did not like about this product is that it is a bit too long for RV bunk beds, causing it to be inclined. Moreover, the ladder tends to flex quite a bit because of the extra length.
What We Like
Easy to set up and take off
Has wide and non-slip rungs
Features rubber feet to keep the ladder stable
Easy to store away when not in use
Strong and durable while having the ability to hold plenty of weight
What We Don't Like
Too long for RV bunk beds
The ladder flexes a bit.
Although the ladder might seem flimsy, especially if inclined quite a bit, it is still quite strong. You can rest assured that it will not have a problem holding a lot of weight.
3. LUISLADDERS 15.5-foot Telescoping Ladder
I highly recommend this specific telescoping ladder if you are searching for the most reliable folding ladders for RVs. I am very impressed with this one, especially the fact that it can extend to a height of 15.5 feet. When fully retracted, it becomes a little over 3 feet tall.
It is a great ladder to have if you like to do routine maintenance on your RV even when you are out camping. Another handy feature of this ladder is the locking mechanism that secures each rung in place. The locks are spring-loaded while also being easy to press.
It is not like other telescoping ladders making your thumbs sore by the time you have fully extended the ladder. The thumb buttons on each rung will ensure that the rungs are all locked in place and will not collapse while you are on the ladder.
Because this ladder is compact, finding space for it in your RV will not be a problem. This extendable ladder crumples down to a package that is just over three feet in length and less than three inches thick. You can also easily stow it away in the luggage compartment.
The best thing about this ladder, in my opinion, is that it has a load-bearing capacity of 330 pounds. Even a grown man will be able to climb up to the top with confidence. Furthermore, the feet of the ladder have rubber tips that are useful in preventing slipping.
On the other hand, the locks that hold the rungs in place would sometimes come undone. Luckily, this issue has not caused any serious accidents yet. However, I make it a point to double-check every lock now and then just to make sure.
What We Like
Can extend to 15.5 feet high
Retracts into a compact package of just 3 feet in length
Has non-slip rubber feet
Comes with easy to use locking mechanism for rungs
Easy to store inside an RV
What We Don't Like
The locks would sometimes come loose inexplicably.
Although the safety rating of this ladder is not that high, it is still a sound investment if you only use it around your RV.
4. GP Logistics SLDS6 Ladder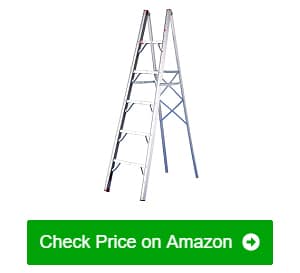 One thing that impressed me about this ladder is how it folds down to a very compact package. Unlike other bulky ladders, this one folds up twiceinto a six-foot-long plank. You can also easily stow away this plank.
I am also glad to say that this ladder is made of a very lightweight aluminum alloy. Although the entire thing weighs only a little over five pounds, and it might seem wobbly, the ladder will still tense up and hold steadily when you step on the first rung.
The aluminum construction of this ladder can support your body weight unless you weigh over 250 pounds. This ladder stands six feet tall, making it seem like a little giant that can reach anything that is well above it without having to step on the top rung. In that way, it is the perfect accompaniment to your RV.
This ladder has numerous locking mechanisms that will ensure that it will not collapse while you are on it. Also, it will take you a couple of minutes to get the thing completely set up and ready to use.
The only thing that I did not like is that it is a bit flimsier than traditional step ladders. It does not feel quite as robust as the top pick for RV ladders should be.
What We Like
Stands 6 feet tall
Folds down to a very compact package
Comes at the perfect size and guarantees portability for easy RV use
Features non-slip rungs
Has plenty of added safety locking mechanisms
Although the ladder is a bit on the weak side, it does deliver on its promises. It is a good ladder, but it would be best to use it sparingly to extend its lifespan.
5. Stromberg Carlson LA-460 Bunk Ladder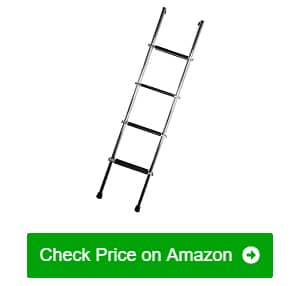 In my honest opinion, the best features of this ladder are the wide and non-slip rungs. Aside from the fact that the steps are quite wide, they also have a rubber surface that prevents your feet from slipping off the edge.
It is incredible that there are two options for securing the ladder onto the bunk bed. You can choose to use either hooks or extrusions for faster installation and removal. Or else, you can utilize both options if you like.
This ladder is 60 inch long so that it will fit on almost all bunk beds available. Also, if your bunk bed happens to be lower than most, you can still use this ladder, though expect the result to be a bit inclined. It will tend to bend a little, but you do not need to worry about it.
This choice for the best bunk ladders can bear around 250 pounds. If you are not even close to that weight, you can stop worrying about it snapping in two. It is made from 1-inch diameter aluminum alloy tubing, and it can carry quite a lot of weight.
As mentioned earlier, this ladder is quite long at 60-inches, so you might need to lean it against the bunk bed to make it work. Not only is this position kind of awkward, but it also takes up a lot of space in the RV when used like that.
What We Like
Comes with wide and non-slip rungs
Features two ladder securing options
Around 60-inches long so expect it to fit almost all bunk beds
Has a carrying capacity of 250 pounds
Features rubber feet that promote a high level of stability and safety
What We Don't Like
Takes up quite a lot of space when the bunk bed is low
Since this RV ladder can perform its intended function well, it is well worth your investment.
6. Swagman Ladder Rack Approved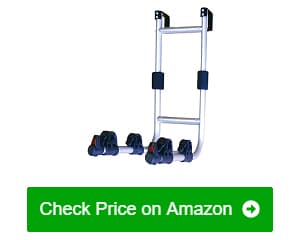 This bike rack for RVs is quite convenient as it allows me to take along two mountain bikes with me whenever my family goes on an RV trip. In the past, the bikes were all stowed inside the RV, and they took a lot of space. With this RV bike rack installed, I managed to save much room for other stuff.
Speaking of carrying bikes, this ladder rack is quite adept at it. Thanks to the two rack arms spaced almost a foot apart, wobbling is very much reduced down to nearly nothing. You do not need to worry about the paint either because the cradles are lined with soft foam padding.
I also like how easy it was to install the rack. The rack mounts directly onto the RV ladder, and it does not need any fancy tools to install. Users do not have to drill any holes on the side of your RV. You just need a screwdriver to tighten the RV ladder mounting brackets.
If you do not own mountain bikes, you can also use it to hold patio chairs. It is a good idea because patio chairs take up a lot of room in the RV, even when folded up. It will no longer be an issue when you use this rack.
The only problem that I have with this rack is that I could not replace the plastic clamps that hold the bikes in place. If one of the clamps were to break, you would have a hard time finding a replacement, which is why I just used a piece of bungee line instead.
What We Like
Can carry two mountain bikes
Easy to install without any drilling required
Arms are spaced enough to prevent wobbling.
The arms are also padded to protect the bikes' paint.
Can also be used to hold patio chairs
What We Don't Like
Finding replacement bike clamps is quite tricky.
Despite having some minor flaws, it still brings excellent value for your money.
7. GP Logistics SLDD7 Compact Folding Ladder
This folding ladder is a great item to have in your RV as it will allow you to reach places that are around 7 feet high and a bit more. I have used it to fix the side awning, and for cleaning out the gutters of the roof.
Another thing that I genuinely liked about this ladder is that it folds down to a compact package. Although the ladder is still quite long, it is less than four inches thick when folded up. It will surely be easy to store and secure on the storage compartment rack on the roof of the RV ladder installation.
I also appreciate that this ladder is designed to carry up to 220 pounds. I am a bit on the heavy side, so finding a ladder that is strong enough to carry me is a pretty good feeling. Although this product is an aluminum ladder, it is incredibly solid.
Customers are amazed by how lightweight and easy to carry this ladder is, it is just 25 pounds in total. It proves that you can easily carry it around the workplace. Aside from that, you can fold it to a compact size. It would also be easy even for just one person to carry it around.
However, one thing that I dislike about this ladder is that the rungs are a bit too narrow. This flaw is the reason why standing on the ladder for extended periods can be quite painful on the feet. It is excellent for quick maintenance tasks, though.
What We Like
Folds down to a compact package
Proven to be sturdy for something so portable
Has a carrying capacity of 220 pounds
Allows the user to reach over 7 feet high
Lightweight
What We Don't Like
Rungs are a bit too narrow.
If you only need a ladder for tasks around the RV, you can rest assured that this product will suffice your needs, and probably do a bit more than what you initially expected.
8. Stromberg Carlson LA148 Outdoor Ladder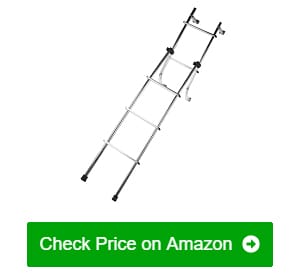 This outdoor or exterior ladder is an extension ladder that promotes ease in climbing up the rear ladder of your RV. I like using this ladder because I am a bit vertically challenged, so climbing up the rear ladder is always a struggle for me. However, with this product, I no longer experience that struggle.
One thing that delights me about this ladder is its compatibility with all brands and models of RV. The connecting clamps can fit on all rear ladders, even the ones made using tubing up to an inch in diameter.
Even though this version of a ladder is just 48 inches long, it can support loads up to 250 pounds. Just remember that when you attach this extension onto your RV ladder, it should be standing at 12 degrees or less for maximum stability.
I also like how easy it is to install this ladder onto the RV. You just need to use the two built-in clamps then tighten them by hand. The installation process requires no fancy tools or any other hardware. At 4 feet long, this RV ladder variety can easily reach the ground, making it convenient to climb.
The only drawback of this ladder is that the clamps would sometimes slide off. Such parts are a bit too tight for most RV ladders, so the screw sometimes pops off. I find that lashing it onto the ladder using a bungee cord works better.
What We Like
Makes it easier to reach the RV ladder
Easy to install without any tools needed
Pretty stable if it reaches the ground
Can support 250 pounds of weight
Easy to store, can be lashed onto the RV ladder using a bungee cord
What We Don't Like
The clamps tend to slide off sometimes.
If only the manufacturer can fix these flimsy clamps in the next update, this one is always a good buy.
9. Surco 103H Hook Over Ladder
If you are looking for a sturdy RV ladder that can hold massive weight, this Surco RV ladder is the one you need. It is constructed out of thick-gauge aluminum tubing. There are also no welds along the entire length of the ladder, meaning there are no weak points.
This ladder can be installed over the door of vans and pickup trucks. According to Surco, the ladder can fit on any van made by Ford, GMC, Dodge, and other major American brands. However, by my experience, you will not find any problem installing this ladder as long as the top of the door is square.
Regarding the installation, if your van is made by the manufacturers mentioned earlier, you will not have any problem installing it. I managed to hook the ladder onto my van within an hour and a half, including measuring and mocking up.
Most users are thrilled since the rungs of this ladder are flat instead of round, making it easier to climb. Your feet are less likely to slip and make you accidentally hit your shin against the ladder. I have experienced it quite a couple of times with my old ladder, which is not a pleasant feeling.
The manufacturer claims that it will fit on almost all brands of vans, but the truth is that you need to be a bit creative. In my case, I did something, like bending the top a bit so that the mounting plate sits flush.
What We Like
Can technically fit most vans
Made of thick-gauge aluminum
Has wide and non-slip rungs
No welds as to retain the metal's original strength
Easy to install, just needs a couple of essential tools
What We Don't Like
Might need to bend the metal to make it fit properly on some vans
Overall, users will not run into too much trouble installing this RV ladder. It is the main reason why I think it is a good investment.
10. RecPro 60-inch RV Bunk Ladder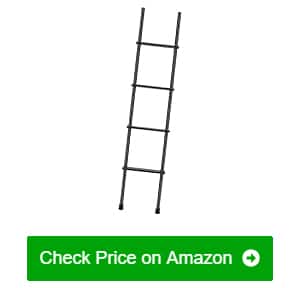 Because space is at a premium in RVs, having a permanent bunk ladder will seem too much of a waste. This RecPro 60-inch RV Bunk Ladder is the best choice for small RVs and the like because you can remove and stow it away.
This bunk bed ladder is also 60 inches long. It can fit on bigger bunk beds. If the owner does not have a high bunk bed, it is essential to install it at an incline. The solution I found that works best is to just trim off some of the excess length from the bottom and replace the rubber feet.
People are fond of how wide and non-slip the rungs of this ladder are. Climbing up ladders with round tube rungs is not a problem if you are wearing shoes. However, when you are barefoot, it can affect the arches of your feet.
This product has one and one-half-inch wide rungs. It also has a non-slip surface, which makes it easy to climb up and down, even when you are barefoot. Heavyweight people can appreciate that this ladder can carry up to 250 pounds.
Although I am nowhere near that maximum weight limit, I have used other ladders that are not as good as this one, and they have bent under my weight. There is nothing much to complain about when it comes to this ladder.
The only real issue that I had is that it was a bit too long for RV bunk beds. If it was shorter, I think it would have gotten top marks for performance.
What We Like
Ideal for small RVs
Easy to remove and stow away
Comes with a non-slip surface, promoting ease when climbing up and down
Has a good weight limit, up to 250 lbs
Can fit bigger bunk beds
What We Don't Like
Longer than what some RV owners need
Even with that flaw, this RV ladder still seems to deliver everything that it promises and exceeds expectations, so buying this quality product is a wise decision.
11. Quick Products QP-LA-466B Bunk Ladder
Space is a premium for RVs, which is why most RV bunk beds do not come with their ladders. However, as I got older, I realized that shimmying myself up to the top bunk is no longer as easy as it once was. I am thankful for this ladder because it made climbing into bed effortless.
This product is also quite a space saver. Because the ladder is easy to install and remove with available hooks, you can tow it away when not in use. Using the hooks is a better alternative than permanently bolting the ladder onto the bed frame and getting in the way of everyone in the RV.
If you want a more secure installation, you will be glad to know that this kit comes with secure mounting brackets for screwing onto the frame. To attach the ladder, just insert the hooks into the brackets, and you will be ready to go. Such an option does not eliminate the convenience of easily removing the ladder while still meeting high security and safety standards.
I also like that the ladder has a rubber non-slip end cap to protect the finish of the RV's flooring. You never have to worry about the ladder gouging up the hardwood floor, or tearing up the carpet or rug. Moreover, the rubber footings help the ladder maintain its stability as you climb up on it.
The only problem that I encountered with this ladder is that there were no instructions on how to install and use the brackets. I had to figure them out myself.
What We Like
Makes it easier to climb up and down the top bunk
Saves space
Easy to remove when not needed
Has a capacity of 250 pounds
Features wide, non-slip rungs
What We Don't Like
The package did not come with instructions on what the brackets are for.
I strongly believe that this product is a valuable investment because it promotes convenience and RV safety when using a ladder.
12. Stromberg Carlson LA-466-B Bunk Ladder
Something that immediately caught my attention when I first saw this ladder is how sturdy it looked, especially for something only meant for use on bunk beds. The ladder is made of one-inch diameter aircraft-grade aluminum alloy tubing, which is not just lightweight but also immensely strong.
Speaking of the strength of its aluminum alloy construction, I am pleased to say that it can carry up to 250 pounds of weight. This one is an excellent finding for me since most of the ladders I used before bent quite a bit due to my weight.
I also like that this ladder is 66 inches long in total. It means that it can fit on almost all bunk beds. If it is too long for the bunk bed you have in your RV, you can just install it at an incline. It means you will be taking quite a bit of space, but it is worth it in the end.
The ergonomics of this ladder are top-notch as well. The rungs are wide and non-slip, making it easy to step on and climb. The rungs are also 11 inches wide, giving you plenty of space to maneuver. Aside from that, the ladder has sturdy rubber feet to prevent it from slipping and sliding all over the floor.
For some users, this ladder is too long for their bunk beds, which means they have to trim the bottom leg to have a stable standing.
What We Like
Constructed with durability and longevity in mind
Made of one-inch diameter stock, making it very strong
Can carry a person up to 250 pounds worth of troy.
Very ergonomic and comes with ladder steps that are very easy to use
Easy to install and remove, which also further promotes ease in storing it away
What We Don't Like
The legs are a bit too long for an RV
Although this product comes with a couple of flaws, I can still say that it is very useful. For its price, it is almost a steal.
Best RV Ladders Buying Guide
It might seem like buying a new RV ladder is a simple task, but it is not that easy as most people think. You have to consider a couple of things to ensure that you will be getting the right ladder for your particular needs. Here are the most important things to keep in mind while browsing your ladder options:
Durable Construction – Since you will be relying on the RV roof ladder to carry your weight, it is only right that you search for one constructed with durability. First of all, choose a ladder made of sturdy materials.
However, it should not add too much weight to your RV. The typical material used for making RV ladders these days is a sort of aluminum alloy, but you can also find others made of stainless steel.
Consider your Needs – Most RV ladders are directly installed onto the body of the RV, usually at the back, and to one side. If you do not have an RV large enough to support exterior ladders, it would be best to get a telescoping or a collapsible ladder and store it inside the RV when not needed.
Ease of Installation – Are you planning to do a DIY project out of the installation of your new RV folding ladder? If yes, consider getting one that is not that difficult to install and does not require the use of specialized tools.
It is even more important to ask yourself if you have the right tools for the job before investing in the ladder. Do you at least have an electric drill? This tool is essential because you will be drilling into your RV.
Now, if you will not be getting a ladder that is permanently attached to your vehicle, you should at least get one that is easy to set up and use. Most importantly, it should be compact for secure storage.
Additional Features – Once you have decided on a ladder type to buy, consider the features that it should have next. Since there are so many of them, we will discuss the major ones instead, including the following:
Materials – When it comes to ladders, aluminum is the most lightweight, but it is also very conductive, so you should be careful when parking your RV next to low power lines. You can also find step ladders made of plastic and wood. However, note that these options are not usually used for reaching anything particularly high.
Size – Speaking of reaching high places, you should get a ladder that can help you reach things without having to position your body precariously and destabilize the ladder in the process.
You should never step over the ladder's prescribed height limit as doing so will significantly increase the chances of accidents. Ideally, for a ladder for RV access to the roof, it should be able to extend at least three feet above the roofline.
Weight Rating – Ladders almost always come with a label detailing the maximum amount of weight they can support. It is a standard published by the ANSI (American National Standards Institute): Type IA, which can carry up to 300 pounds, Type I, which can carry up to 250 pounds, Type II for 225 pounds, and Type III for 200 pounds.
In order to meet each criterion, the steps of the camping ladder must be able to support four times the specified weight without bending. Aside from that, it should be able to withstand side twisting stress tests.
With all of these factors considered, you will more or less be able to purchase a ladder that is right for your needs.
I also have a list of the top-tier RV step for your reference. Furthermore, check our list guides for the most favorite RV step covers if you like.
How Many Types of the Ladder for RV Are There?
There are different kinds of ladders you can use on your RV. Among the most popular ones are the following:
Step ladders – The step stool or ladder is considered to be the most uncomplicated of all. It utilizes an A-frame for strength, and only rises a couple of feet off the ground. This ladder usually ranges in size between 45 to 57 inches. Sometimes, a step ladder will have a folding shelf for holding items like paint buckets and others.
Although it is compact, it does not have quite as much use as the others on this list. However, for small tasks around the RV and in the house, this type of ladder should be enough.
Multipurpose ladders – These folding ladders are designed to be versatile, which means you can use them like step ladders and extension ladders. The fantastic thing about these kinds of ladders is that you can use them as platforms and scaffoldings. You will also find this kind useful on the stairs.
The downside of these ladders is that they can be quite heavy. Also, you will find it a bit tricky to set up since it comes with many locking pins or points. It is why fully extending and locking this ladder can be difficult for just one person to do. Another thing about multipurpose ladders is that they tend to be expensive.
Exterior ladders – It refers to the type attached permanently to the exterior of your RV, usually at the rear. You can use this ladder when you need to do maintenance on the roof of your RV, or if you need to place luggage on the roof rack. It is made of weather-resistant and corrosion-resistant materials.
It is mainly because it is constantly exposed to the external forces of nature and harsh elements. You can also invest in the folding exterior RV ladder that functions similarly to the one used in fire escapes.
Rack ladders – Many RV ladder manufacturers also fabricate this type that serves as storage bike racks RV. This rack ladder is similar to an exterior ladder, but aside from just rungs, it comes with provisions for installing bike racks and holders.
These provisions give a solid base for bike racks to hold onto. Aside from that, it usually carries several hundred pounds of weight.
Bunk ladders – You need to get this type of ladders for motorhomes if you have a bunk bed in the RV, and the steps to access the top bunk are not as convenient as you expected. This ladder hooks onto the top bunk of the bed to secure it properly. The downside of it is that you can only use it for this particular function.
Extension ladder – It is the type of ladder used for projects that require you to go up more than 17 feet off the ground. Extension ladders are almost always lighter than multi-purpose ladders.
It is also easier to set up because of relatively fewer locking points. The downside is that it only works in a straight configuration. Also, the heavy-duty ones need a considerable amount of space for storage.
How Do RV Ladders Work?
RV ladders work similarly to regular ladders. However, they are usually installed directly on the RV's sub-frame. You cannot also remove these ladders. You can use these items to access the roof to reach the storage rack.
It is also useful in case you need to do maintenance work on the roof, like cleaning the gutters, patching holes, or cleaning the air-conditioning unit. You can also find some ladders you can extend and prop up against the edge of the platform you wish to reach.
Some telescoping models require very little storage space if you want to have one of these ladders on your RV.
How to Choose the Right Size?
When choosing the height of the ladder you are planning to buy, consider what you will be using it for. In this case, you will be using it to access the roof of your RV, so you need to consider the height of the vehicle when making your choice.
When shopping for a ladder, remember that you can only safely step on the second rung from the top. For instance, if your straight ladder has 12 rungs, you should only step on the tenth rung for safety purposes.
Never do it on the 11th, and certainly not on the 12th rung. If you will be getting an extending ladder, the highest possible rung you can step on is much lower, typically four steps from the top.
Are Telescopic Ladders Safe?
Many people are doubtful about the safety of a telescopic extension ladder. It is mainly because of the way that it looks. It is also because it has not been in the market for that long. So the question is, can you trust it to hold your weight?
You should avoid the unbranded telescopic ladder where you usually see online selling for a ridiculously low price. Many online sellers claim that their products have passed stringent European safety standards testing when, in truth, they have failed. It is effortless to claim anything online. Providing actual proof is hard.
As long as you buy your ladder from a respectable supplier, you should be safe. If you are still unsure, customer reviews are your best friend. Although it is also possible for a company to buy positive reviews, you can tell if a review is fake or not easily.
If you find a product that has a lot of genuine positive reviews online, odds are you have stumbled upon an excellent telescoping ladder.
How Do You Use an RV Ladder?
You use an RV ladder the same way you would other kinds of ladders. However, in the case of RV external ladders, you do not have to make sure that your choice is stable and secure. It is mainly because the ladder is already fixed on the RV.
If you are using another kind of ladder, for instance, a telescoping ladder, there are a couple of safety checks that you need to do first before going up. First, check if every rung is secured in place. If you are not using the full length of the ladder, open it from the bottom.
Also, make sure that the bottom legs of the ladder are firmly planted on the ground. Never climb on the ladder if only one leg is firmly on the ground. Moreover, you need to carefully read and understand the instructions for the proper use of the ladder.
Telescoping extension ladders are fast becoming among the most popular types of ladders, mainly because of their portability. Although this ladder might look unsafe, if you take the necessary precautions and do not use it recklessly, the likelihood of you getting into a serious accident will be quite low.
Care and Maintenance
Although RV ladders, especially telescoping ladders, are pretty low-maintenance, they can still benefit from a bit of care and maintenance from time to time. Here are a couple of things that you can do to make sure that your ladder will last for many years.
For safety purposes, you should never adjust the rung locking mechanism while you are using the ladder. Adjust and secure the ladder before you even start climbing. As always, double-check all the locks to ensure that they are secure before you even take one step on the ladder.
It might take awhile before you can get to start on your task, but you will at least be safe while you work.
Always be careful when retracting the ladder. Some telescoping ladders that fold down quickly do not guide and slow it down. If the ladder were to slam down hard, the impact could potentially damage the locking mechanism, rendering the entire ladder useless. Moreover, you must never retract the ladder when you are still on it.
Regardless of what kind of ladder you will be climbing, unless it is an absolute emergency and you have no other choice, make sure that the rungs of the ladder are clean and dry before you even take a step. Also, never climb onto the ladder when there is horrible weather outside, such as when it is raining hard.
Most telescoping ladders come with a carrying bag. It is not just for making the ladder more portable. It is also there to keep the item clean. Always place the ladder inside the storage bag when not in use.
Speaking of keeping the ladder clean, always give it a good wiping down after every workday. It can prevent the dust and dirt from getting into the tubes and causing a lot of damage on the ladder. Moreover, unless the instructions specifically say that you do so, never oil the telescoping mechanism.
It goes the same for multipurpose ladders and their locking mechanisms. Doing these simple maintenance tasks regularly will be enough to keep your ladder in tip-top shape, allowing it to last for many more years to come.
Other RV Ladders We Reviewed
STROMBER 0139.1999 LA-401BA Outdoor RV Ladder
You do not have to worry if this ladder will fit your RV or not. You can cut it to size, so it will always fit perfectly.
Key Features:
Can be cut to size depending on the RV
Can fit onto the rear of any RV, regardless if it is straight or contoured
Made of robust and sturdy 1-inch diameter tubing
OxGord 12.5-foot Extension Telescopic Ladders
This product just might be the most convenient to use ladder that you will ever encounter in your life. It is also portable, which is nice.
Key Features:
Can extend to a maximum height of 12 and 1/2 feet
Collapses down to just a little under 3 feet
Can be retracted by a push of a button
Fantastic stability and security for climbing
GP Logistics SLDD6 6-foot Compact Folding Ladder
If you fancy yourself as a DIY repair hobbyist, and you always try to find the time to work on your RV, this ladder is the perfect choice for you.
Key Features:
Comes completely assembled and ready to use
Light construction as the entire thing just weighs 22 pounds total
Can carry loads up to 225 pounds
Surco 501L Universal Motorhome Ladder
This universal RV ladder stays true to its name. You can expect it to fit almost all kinds and brands of motorhomes.
Key Features:
Universal fit design, making it useful for all RV users
Comes with wide and non-slip rungs
Has a couple of hinges to make it follow the curvature of the RV
Blantex Hook-On Bunk Bed Ladder
This bunk bed ladder requires no tools to install while still providing a secure way to get to the top bunk.
Key Features:
Hooks onto one and one-half-inch angle bar bed frames
No need for tools or screws to secure in place
Made of very sturdy steel
Stromberg Carlson LA-104 RV Ladder
This product will turn your RV ladder into a multipurpose carrying rack. It is also great for lawn chairs or mountain bikes.
Key Features:
Designed to slip over 1-inch diameter ladders
Has a carrying capacity of 50 pounds
The arms extend outwards by 7.5-inch and come with sturdy straps.
FLASH ENTERPRISE Aluminum 12.5-foot Telescoping Ladder
This product is a telescoping ladder that is both easy to use and even has safety features that will help prevent your fingers from getting crushed.
Key Features:
Comes with rubber safety spacers between each rung to prevent them from slamming into each other
Can extend to a height of 12.5 feet
Measures only three feet when fully retracted
Stromberg Carlson LA-401B Exterior RV Ladder
It does not matter what kind of RV you drive. This ladder will surely fit it perfectly.
Key Features:
Can be installed at the rear of any RV
Designed in such a way that you can cut it to size
Made of durable materials and constructed with longevity in mind
Telesteps 700FLD 7-foot Double-sided Folding Ladder
This product is one of the best folding ladders that occupy even less room than a regular step ladder. With that, expect it to be a very nice investment.
Key Features:
Double-sided step ladder that stands 7-inch high
Takes little storage size when folded up
Made of strong, resilient materials
Thetford RV Ladder Mount System
Turn your RV ladder into a multipurpose carrier by merely installing this product.
Key Features:
Can be used to carry bicycles and chairs
Provides more storage space – You do not have to stow your patio chairs inside your already cramped RV.
Secured in place using sturdy metal brackets and screws
Blantex Hook-on Bunk Bed Ladder
If you need an additional, more ergonomic bunk ladder, then this ladder might be what you need.
Key Features:
Simply hooks onto the side of the bed frame
No need for fancy tools and any drilling
Made of sturdy steel tubing
Quick Products QP-LA-466S Bunk Ladder
These camper bunk ladders are easy to install and remove when not needed, thus saving even more space in your RV.
Key Features:
Allows access to top bunk without the need for permanent installation
Easily hooks onto the side of the bed frame securely
Can support up to 250 pounds of weight
Surco 502L Motorhome Straight Ladder
This RV ladder follows the shape of the rear of the RV, so it will fit regardless of what RV you have.
Key Features:
Made from durable 1-inch diameter aluminum tubing
Has wide non-slip rungs for easier climbing
Has four stand-offs to provide optimum stability and support
Conclusion
An RV ladder performs other functions and purposes other than just gaining access to the roof of the vehicle. You can also find other types of ladders that you can also consider as RV ladders other than the one bolted onto the back of your vehicle.
You can consider a ladder ideal for your RV as long as you can use it and store it in and around your vehicle during your trips. The problem is that selecting the absolute best RV ladder can be quite challenging because of the great number of brands and models available today.
However, since you have made it this far, you have already learned everything you need to know about ladders. With such information, you can purchase the absolute best one for your particular needs.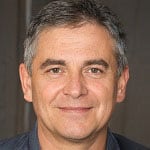 Hi, I am Tom Hank, an RV-er since 2014. Back then, I started without much help. As you can imagine, the struggles are endless. But now, you do not have to begin your adventures knowing next to nothing about RV lives.