Usually, RV doors are not designed to be around two feet above the ground. Ground clearance does play a part behind, but it is not always the case. However, those RVs having inadequate built-in camper steps can provide minimal convenience. It is why you should shop for the best RV steps as it will serve you well later.
RV steps are patio steps that attach to the base of the RV door. These products typically have three to four steps and make a whole world of difference when it comes to getting in and out of the RV.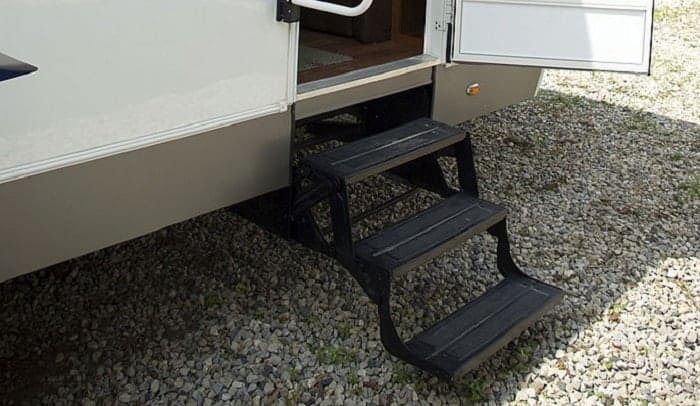 Usually, the standard set coming with RVs has around two rungs and does not often reach the ground. If you want the best items, you should go for those that are easy to climb at the very least. If there are any added benefits, you should consider them as just extras.
In this article, you will learn how to shop for new RV entry steps properly. Unlike most of the other accessories that users can buy for their RV, steps can cost upwards of $300 each, depending on the manufacturer and product quality.
It would be best to teach yourself how to spot a good deal on RV steps, or else you will inevitably suffer from severe buyer remorse and a significantly lighter wallet.
Best RV Step Reviews
1. MOR/Ryde International Inc. StepAbove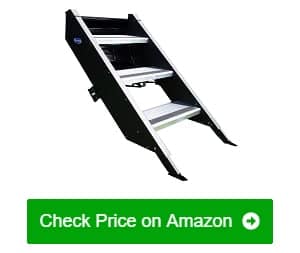 The cool thing about this MOR/Ryde International Inc. StepAbove is how easy the installation process is. All you need is a screwdriver and then do the task by yourself. People often finish installing it in half an hour or so.
I also like how stable the RV steps are. Thanks to the beefy stringer holding the treads, and the adjustable legs, you can jump on the steps without the risk of them shaking.
Customers are satisfied with the built-in adjustable legs. Notably, you can adjust their legs so that the steps will always be stable and level regardless of the terrain that you are parked in.
First-time owners can rest assured that this RV accessory is easy and convenient to use. It stores securely inside the door jamb, and you can deploy it from inside the RV just by twisting its handle.
The only problem that I have with these motorhome steps, and in all pull-down steps, in general, is that I need to clean them thoroughly before traveling. It is because all of that dirt can get inside the RV.
What We Like
Easy to install wooden RV steps
Stores securely inside the door
Stable at any terrain
Can carry up to 500 pounds
Wide and deep treads
What We Don't Like
Requires thorough cleaning before departing campground
This product is one of the best replacement RV steps that you can get. It is worth more than its price suggests.
2. Lippert Components 432687 Step Triple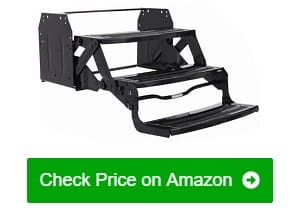 I am so impressed with how these steps fit precisely on the mounting brackets of my RV. There is no need to drill additional holes to install the replacement RV steps. I was able to finish the installation within half an hour.
Individuals who need to replace the old steps of their rusty RV can take this convenient product to utilize. It requires little effort to use and operate due to a simple yet effective design.
I also like how sleek this product looks on my RV. The black powder coating makes it seem like there is nothing underneath my door. You will only notice the steps when they are deployed.
Plusm, it is also easy to climb up and down these steps since the treads are two feet wide, and the risers are just 7 inches.
If there is one thing that I could complain about, it is how heavy the RV steps are. I needed to jack it up to install it properly.
What We Like
Very easy to install
Comes with a scratch-resistant and easy to clean powder-coated finish
Features wide treads and not too high risers
Easy to deploy
Locks securely in place
If you need to replace your old steps, then the features and benefits provided by this set of RV steps, make it a perfect choice.
3. Quick Products JQ-S150 Platform Step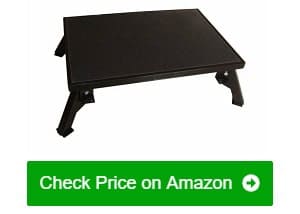 The thing that appeals to most buyers about this RV platform step is its size. It is two feet wide and 15.5 inches deep, promoting ease every time people step on and off it. A non-slip tape also covers the entire surface of the step.
Even when this step is drenched in rainwater, you can still walk on it without slipping or sliding. The feet of this choice for RV steps with a platform has thick rubber inserts at the ends. These rubber feet prevent this platform from slipping and sliding, even when you place it on a smooth surface.
As a rather hefty fellow, I appreciate that this RV step has a considerably large weight capacity, 300 pounds, to be exact.
The only thing that I did not like about this RV step is that the legs are not adjustable. They are all fixed at 7.5 inches each, so you cannot adjust them to fit on uneven ground.
What We Like
Very portable and comes with legs that lock underneath the platform
Features a large tread area
Comes with a non-slip platform surface
Can carry up to 300 pounds
Will not slip and slide on any surface
What We Don't Like
The legs are not adjustable
Although it is not the perfect RV step, I can still say that it comes close to it. Whatever issues this product has, the benefits overshadow them.
4. Lippert Components 26-inch SolidStep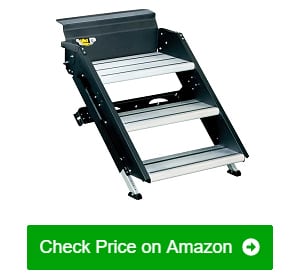 What impresses numerous users about these RV folding steps is how stable they are. This product comes hinged at the base, which means that it does not come with any other moving parts. With that, expect it to have a lower risk of wobbling.
To add even more to the step's stability, the manufacturer gears it with a pair of adjustable feet. You can independently adjust each foot's length to make sure that the steps are stable when on uneven ground.
It takes less time and effort to install this device than most buyers might expect. It took me just a little over half an hour to install these steps on my RV, which includes measuring and drilling.
Another thing that I liked about the RV steps is the fact that there are provisions for adding handrails. Also, the topmost tread is much deeper for added safety.
The only complaint that I have is that these RV steps are a bit heavy, so folding them up will be a challenge for petite folks.
What We Like
Easy to install and use
Very stable, even when placed on rough terrain
Can be made into RV steps with handrail
Comes with non-slip treads with the top one being extra deep
Fits nicely inside the RV door jamb
The issue I have is but a minor inconvenience, which you can easily overlook, especially if you start looking at all the benefits that the RV steps can offer.
5. MOR/Ryde International Inc. STP-4-30-03H Step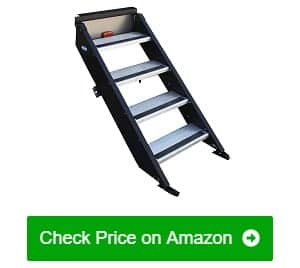 Unlike other RV steps that bounce and wobble when you walk on them, this MOR/Ryde International Inc. STP-4-30-porta03H Fold-up Step is virtually unmovable. These steps are so stable that they will not bounce.
The reason why these RV steps are so stable is that it features two adjustable feet. You can set the length and position of the feet according to the terrain. Due to such flexibility, this product ensures ultimate safety for users all the time.
It is also nice that the entire RV steps assembly folds neatly into the door jamb. There is also a convenient knob mechanism that you can use to secure it in place quickly. It does not require any folding.
As expected, installing this item to the RV is also a breeze. The steps already came assembled, so all I needed to do was mount it on the base of the door using a couple of screws. The total time spent was less than fifteen minutes.
I only wished that the company provided a paper template for the spacers. Many technically challenged people may have a hard time measuring the 5/8 of an inch needed for the spacer.
What We Like
Easy to install
Fits nicely within the door jamb
Can be deployed with a simple twist of a knob
Very stable, thereby ensuring that it will not wobble unless forced to
Comes with adjustable feet that are great for uneven terrain
What We Don't Like
Would have been better if there were templates for installation
This product is one of the best RV steps you can buy right now, so you should not let this one slip past.
6. Stromberg Carlson EHS-102-R Second Step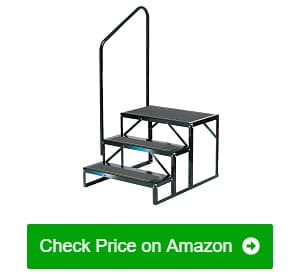 The great thing about these portable RV steps is that it takes minutes literally to set up and ready for use. I only had to assemble it once upon arrival. After that, you will have an easier time collapsing and erecting it.
Even though these RV steps are collapsible, it still feels genuinely reliable once erected. All of the moving joints are locked in place and will not give unless you go through the entire collapsing process.
I also like that the top tread of this three-step platform is almost twice as deep as the other two. It will provide people with plenty of space to move around and maneuver. Even people with mobility issues will not have a problem using it.
Speaking of accessibility, aside from the deeper top platform, the RV steps also come with a handrail, and the treads are covered in non-slip covering. Such safety function is the primary reason for the popularity of this product among RV owners.
The only problem that I have with this product is that it is kind of bulky even when collapsed. It takes up a significant amount of storage space.
What We Like
Easy to assemble and set up
Very stable and does not wobble
Comes with a handrail
Has a non-slip coating used as covering for the treads
All joints are locked in place securely.
What We Don't Like
Takes up a significant amount of storage space
Although these portable RV stairs are not quite as compact as I would want, the other benefits make it easy to make this little compromise.
7. ACSTEP Wheels Safety RV Steps
The brilliant thing about this RV step is that you can also use it for other purposes other than as an additional supporter for getting into your vehicle. I use mine all around the house as a step stool. Due to such versatility in applications, this device gives great value to our investment in the long term.
Do not be fooled by its miniature appearance. This product can support a lot of weight, up to a ton, to be exact. Although I am not even near weighing a ton, I am still glad that this step can hold a lot of weight.
I also like that this RV step has foldable legs that lock in place underneath the platform for secure storage. When the legs are folded, the entire thing is no bigger than a stack of three magazines.
The legs of the RV step also have a non-slip foot. It means that even when placed on a smooth surface, like a tiled floor, this step will not slide around.
What accounts for the disadvantage of this product is that the legs are not adjustable. When placed on an uneven patch of dirt, I will need to do some digging before the step can be considered stable.
What We Like
Can be used for other purposes
Very portable
Can fold into a compact package
Comes with foldable legs that lock in place for easy storage
Has a non-slip foot
The issue about the legs being non-adjustable is merely an inconvenience. This step stool has more benefits compared to the minor problem I mentioned earlier.
8. Buyers Products 3013658 Poly Step
The Buyers Products 3013658 Poly Step is indeed a wide-ranging device made for various uses. Other than installing it on an RV, individuals can also use it as a step ladder for household tasks. I have used mine many times whenever I need help in cleaning the cornices.
This product is made from high-grade, UV-treated, polypropylene plastic, which is very durable. Due to the superior materials used, it can withstand the rays of the sun. Therefore, people can confidently bring the item to outdoor activities.
To reinforce this polyethylene construction, the brand goes for a robust design that boosts the product's endurability under heavyweight. In detail, it is capable of carrying up to 350 pounds in total.
This product is also very lightweight and has a built-in carrying handle, thus making it very portable. If you have a fifth wheel or a travel trailer, you can store it in the bed of your truck.
The only problem I have with this product is that it is a bit on the bulky side, so finding room for it in the RV can be challenging.
What We Like
Very affordable
Has a multitude of uses, both indoors and outdoors
Made from high-quality polypropylene
Can carry up to 350 pounds
Lightweight and portable
I can say that this product is a practical RV step. It does not have any additional bells and whistles. It is a tough and easy-to-use product while also being offered at an affordable price.
9. Torklift Glow Step Revolution 4 ST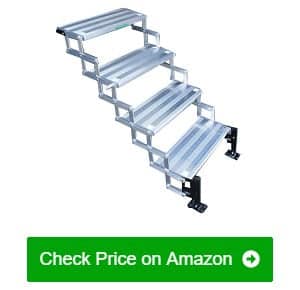 I am pleased to say that this step is ideal for use even by RVs with particularly high ground clearances. Some RVs require the use of a separate portable step so that it will be easier to get in and out of it. It is no longer a problem with this set of steps.
Another reason why I like these steps so much is that they automatically adjust to the amount of ground clearance that the RV has. If the ground is uneven, you can adjust these steps so that they are always level. You can also raise its wide feet up or down independently to each other.
That way, regardless of where you parked your RV, whether it is on concrete or the ground, you can still climb it easily. You can also easily deploy the steps. Just pull on the release tabs on either side of the steps and they will smoothly slide out. You also have the option to place the steps as close or as far apart as you want, or depending on the space available.
You will also love to know that this set of steps has wide feet so they will not sink into the ground easily. Unless you are parked on loose soil, you do not need additional footing. The steps have textured surfaces, preventing your feet from slipping even when it is wet or slightly muddy.
Speaking of mud, you can easily clean these steps simply by pointing a hose at them to wash away any dirt or mud from the surface. I do have one issue about these steps, though, and that is, if you
want to use step covers
, you will need to remove them before you fold the stairs back up.
There is no room in between the steps to accommodate the thickness of step covers so you will not be able to fold the stairs back up with them on.
What We Like
Ideal for use on RVs with high ground clearances
Stable and rigid when unfurled
Easy to level, thanks to the adjustable feet
Can be locked in three different positions
Has textured steps to prevent slipping
What We Don't Like
Need to be removed before folding them back up
Although the issue with the stair covers is a bit of a hassle, this product is still admittedly better than having a separate portable step just so you can easily reach the ground from your RV.
10. Elkhart Tool RV 24-inch Double Step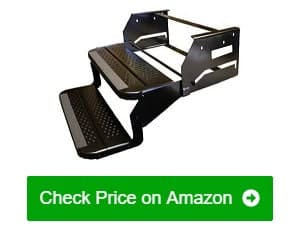 The thing that I find so impressive about this Elkhart Tool RV Motorhome Camper Trailer Double Step is how easy the whole installation process is. I did not have to drill new holes for the screws.
I also like how wide the steps are, which are around 2 feet each. This type of design will surely benefit people who need a cane to walk. Therefore, the step can show its excellent function on various occasions. If you desire a practical product for all family members, taking this one makes great sense.
It is also effortless to fold away. You might even be able to do it with one hand. However, even though it is straightforward to deploy and stow away, the steps are very steady and do not wobble too much.
The treads are also perforated so that rainwater and any other liquid will just pass through. The holes also provide much-needed traction. The steps will always give enough grip.
There is one complaint that I have about these steps, though; that is, they do not have a locking pin to prevent them from accidentally deploying. It does lock in place, but having a secondary locking pin will put your mind more at ease.
What We Like
Easy to install as it does not need drilling
Wide steps; can turn around when needed
Easy to fold away – You can even do it with one hand.
Easy to extend
Comes with perforated treads for improved grip
What We Don't Like
Does not have a safety locking pin
This RV step is one of the best replacements that you can get for your RV. It fits perfectly even on older model RVs.
11. Lippert Components Alumi-Tread Quad Step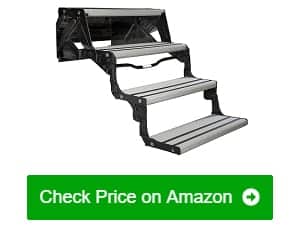 Whoever has an RV with an ample ground clearance featuring quite precarious RV steps should venture out for a replacement. The Lippert Components Alumni-Tread Quad Step comes for the rescue since it can reach the ground and provide a stable platform for getting on and off your vehicle.
This aluminum folding step amazes users with its incredible stability. First, there are two non-slip strips on each step. It also provides additional grip with the entire surface of the treads being corrugated.
Although this RV step may look a bit flimsy, it is built to last. The treads are made of rustproof aluminum, and the steel components are all powder-coated to make them wholly weatherproof and resistant to scratches.
It is also one of the easiest to use aluminum RV steps. You can pull down the steps using only one hand while also using the same hand to retract it.
The only thing that I did not like with this RV step is that it did not come with mounting screws. You will need to use the old bolts instead. If the old screws are already too rusted, you need to buy new ones before you can begin the installation.
What We Like
Can reach the ground even if your vehicle has a high ground clearance
Very stable with minimal wobbling
Comes with treads that provide a good grip
Built with durability in mind
Easy to deploy and retract
What We Don't Like
Does not come with mounting screws
Although not coming with mounting screws was a bit of a hassle, once the steps were in place, there is nothing left to complain about.
12. Kwikee 32 Series Step Assembly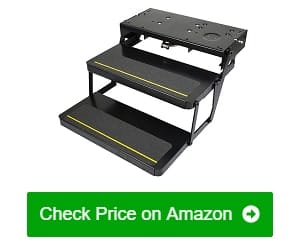 This product is probably one of the sleekest looking electric RV steps that I have ever had the pleasure of testing. The steps tuck right underneath the RV. You will not even notice it is there.
Unlike the cheap-looking steps that come standard with most RVs, these look and feel premium. The steps are made of thick-gauge sheet metal. You will not feel any give when you step on them. The finish is a thick, black powder coat that is highly resistant to wear.
You also do not need to worry about the wirings shorting out. A weatherproof tubing is around to seal them. With that feature, it is capable of withstanding any external hazards in working and campling environments.
In my opinion, the most significant benefit is that it can carry up to 300 pounds of weight. I am a bit overweight, so the RV steps are just right for me.
The only problem that I had with these steps is that the electrical wiring was unorthodox, so I had to hire an RV electrician to hook it up.
What We Like
Very low profile
Boasts of a robust built, which you can feel right away
Made of premium materials
Weatherproof wirings
Has a 300-pound weight carrying limit
What We Don't Like
The wirings are a bit weird.
Although I had a bit of a problem with how the thing was wired, once everything was all said and done, the RV steps proved that they were worth more than their price tag.
Best RV Steps Buying Guide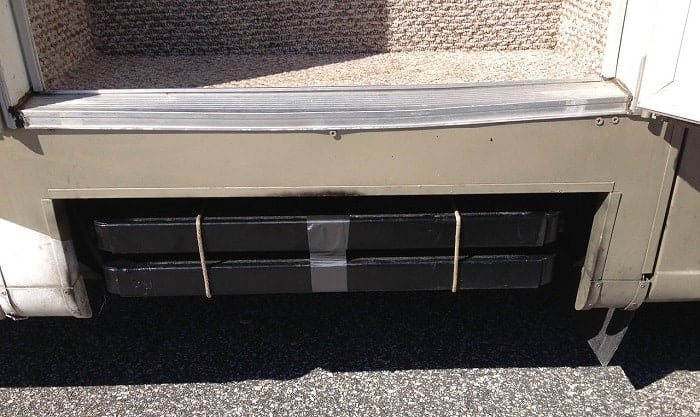 Buying new access steps to your RV is not as simple as most RV owners think it is. If you leap into the buying process without a plan, there is a good chance that you will buy something that is way too overpriced for your needs, or worse, you can buy steps that you cannot even use.
Spare yourself from a lot of hassles. Here are the basic things you should consider when you are on a quest for the best RV access steps.
The width of the RV door and the ground clearance – One of the most important measurements that you need to take is the width of your RV door. This measurement is necessary because you will need to get entry steps that have the same width.
We cannot afford to get entry steps smaller than the entryway as it might cause serious accidents. However, it is okay to get RV steps that are a bit wider than the doorway, though not by much.
Besides the door's width, you will also need to measure the ground clearance of your RV. It is the space between the ground and the floor line of the RV. It is essential because you will need it to figure out how much of a drop the access steps need to have.
If you do not have this measurement, then it is highly likely that you will get steps that are too short or too long. Although you can get steps made explicitly for the make and model of your RV, it is still best to have these measurements handy.
It is useful if you want to buy aftermarket kits that are not specifically made for just one RV brand.
The type of RV steps – There are quite a lot of different kinds of RV steps that you can choose from, and we will be discussing those a little later. It is essential to know that you have to determine which type you want to get for your RV.
Keep in mind that each of these RV steps comes with its own sets for pros and cons. Some are even clearly better than the others. However, to say that one type has the others beat is untrue.
Consider your own particular needs when choosing. Would you select stability over automated convenience? Would you like steps that reach the ground, or are you okay with something that floats a foot or so above the ground line? It will all depend on your personal preference.
The number of steps – The number of steps that your RV steps have is directly correlated to the height of each step's rise. Simply put, the more steps you have, the lower the space between them will be.
It means you do not have to strain yourself too much when climbing stairs that have more steps because the rise is gradual. The downside, though, is that your steps will take up quite a lot of space.
RV steps that have around four to five steps are known to extend five feet or more from the travel trailer's entrance. If you frequent a campsite where the space between campers is extremely limited, you might not want to use it.
On the other hand, RV steps that have fewer rungs will most likely have a much greater rise, although the rungs do not take up as much space. If you have knee problems, climbing these high steps will be quite a challenge.
Ease of installation – This factor will only apply if you plan to install the steps by yourself, which is what many RVers like to do. If you are the type who wants to do a project out of making modifications to your RV, then make sure that the installation process of the steps you purchase falls within your skill level.
It is also advisable to have all the necessary tools to do the job. If you are planning to get a manual fold-down or pull-out steps, the installation might be easy enough for you to do on your own.
However, if you are thinking of getting an electric/automatic retractable RV steps that require quite a bit of electrical wiring and some modifications, then you might want to consider having it installed professionally.
Ease of Use – I think the easiest to use of all the different types of RV stairs are the porch stairs. The steps are often large, making them very much secured on the ground. Most of them also have handrails. The problem with them is that they are bulky and are hard to stow away.
If you like to park your RV in one place for extended periods, or if you are thinking of living the RV life altogether, then this type of steps will suit you nicely. Speaking of handrails, there are plenty of RV steps that do not come with them, but you can purchase them separately.
The steps are pretty convenient, especially if anyone in your family is suffering from joint conditions. It also makes the stairs a lot safer for anyone to use.
Some think that electronic steps are the way to go because they automatically deploy when the door opens.
However, their steps are not as wide as most people would like. You can also find those who have no complaints about fold-down stairs or the like. You need to figure out what works best for you.
Durability – The steps of your RV are among those parts that will receive quite a lot of use and abuse. It is why you need to ensure that the product you buy can last for as long as it claims it can.
First, check the materials used for making the steps. Ideally, the treads should be made of thick-gauge sheet metal. It can somewhat ensure that they can survive to have thousands of footfalls land on them every camping season.
The stringers should also be able to carry not just the weight of the people walking up and down the stairs. Aside from that, these features also need to be strong enough to support the weight of the stairs themselves.
Also, check the weight capacity of your options. If you, or anyone else in your family, are on the hefty side of the scale, you need to get stairs that can indeed carry the weight. Do not get RV stairs without determining their weight capacity as it can be downright dangerous.
Stability – Of course, you would want stairs that do not wiggle and wobble about when you are walking on them. Some good examples are the fold-down ladders.
These have beefy stringers, so they will not even move even if you force them to. Other additional features that you should check out include level adjusters and adjustable feet. Some also have vibration dampers for safer use.
Manual or Automatic/Electric – There are typically two types of RV steps when categorized on how they operate: manual and automatic. The manual RV steps include, but are not limited to, fold-down and pull-out steps.
Manual steps might take a bit of physical work, but overall, they are more durable because you do not have to worry about electric motors, among many other stuff. The automatic steps are those that automatically deploy when the door of the RV is open.
Among the two types, this one is more convenient as you do not have to do anything at all. The steps will deploy automatically whenever you need them. It is because there are so many moving parts, and not to mention the actuators that make the steps extend and retract, use electricity.
With that, it tends to put a load on your RV batteries. You need to weigh your options carefully here. Of course, most of the manual RV steps are much cheaper than the automatics. However, you do not have to exert yourself when retracting or extending the steps.
Each type has its share of advantages and disadvantages, so you need to weigh them against each other. By doing that, you can decide which one suits your needs the best.
Your budget – Your budget should be one of the first things that you need to decide on. The amount of money you are willing to spend on new RV steps will narrow your choices to a more manageable number. The size of your budget will determine what kind of step you can buy.
For instance, if you set a low budget, like under $100, you can only get mostly platform steps. These items usually come with a heavy-duty step stool that you can place underneath the door.
Set your budget to around $300, and you can get an excellent fold-down ladder. This type of ladder provides more stability and reach. If your budget is even higher, you can probably get the automatic steps that hide underneath the door and deploy when you open the door.
Considering all these factors will help you immensely in figuring out which of the many different RV steps available on the market you should get.
In addition, when you choose the exterior for RV, you will probably also be interested in our list of top-tier RV patio mats and the most trusted ladder for RV.
How Many Types of Steps for RV Are There?
There are many different types of RV steps available, and we will be discussing each one next. These are:
Portable RV Steps – Portable steps have a couple of benefits. First of all, these types are among the cheapest ones you can find. Portable RV steps are also available in a wide variety of widths. You can get those that are as narrow or wide as you want to.
You can even get one that is far wider than the door of your RV. Moreover, you can use portable steps immediately because they do not require installation. You just need to put these items in place.
Another benefit of portable RV steps is that you can use them for other purposes other than getting in and out of your RV. For instance, you can use these items as a step stool to reach the roof of your SUV when you are washing it. Moreover, you can use the same portable steps on different RVs.
However, portable steps also have a couple of disadvantages. One of the most obvious downsides of portable steps is that you have to exit the RV first without the step and then put it in place.
The alternative is also quite troublesome. It means you need to store the bulky steps inside the RV and then place them before you go out the door. Also, because the steps are not fixed onto the RV, there is a chance that it will get stolen. You leave it behind, or you might even drive over it accidentally.
Also, most of them have fixed legs. It means you cannot adjust the lengths of the legs to stabilize the steps on uneven ground. However, the legs might be folded up to make them easy to store away.
Adjustable RV Platform Steps – This type is pretty much a step stool as it has only one step and a large one. It is usually wide enough that a person can quickly turn around while standing on it. You can even find some of those wide variants that can fit two persons on it.
The neat thing about it is that you can adjust the height of the step. It is invaluable to have the step at a certain height or distance from the door of the RV.
Folding RV Step – As the name suggests, the folding camper steps can be folded for secure storage. When folded, you can easily stow these steps underneath the bags or boxes. Some steps look similar to step ladders and fold up the same way.
If you are checking out a couple of folding RV steps, you need to pay close attention to the actual size of the item when folded. Do not assume that just because it folds up, you will have more than enough room for it in your RV.
Porch-style Steps – These steps are the ultimate choices when it comes to safety. First of all, this type almost always comes with handrails. With that, you will always have something to hold onto while climbing up the stairs. It is the best choice when you have elderly members or young kids in your family.
Moreover, the steps have a wide upper landing. It extends the floor of your RV outward so that you do not immediately take a step down when you go out of the door.
Most porch-style steps are foldable, so you can still stow them away with relative ease. However, they are still quite bulky when folded up, so you need to set aside enough space in your storage just for this item.
Solid Plastic Steps – These portable RV steps can come in single, two, or three-step variants. In general, the more treads a plastic RV step has, the narrower they will be to save on space.
The biggest and probably only advantage that plastic RV steps have over the other types is that they tend to be very affordable. These steps usually never go over $20 a piece.
Besides, these items always come with no assembly required. In most cases, the treads of this type of RV steps are textured to provide more grip. However, most of the time, they come covered with slip-resistant strips.
The downside of using plastic steps is that they will always be more slippery compared to RV steps made out of metal. It is true, especially when they get a bit more beat up, and when their anti-slip slips deteriorate or if it peels off of the surface.
Permanently-Installed RV Steps – As the name implies, this type of RV steps needs to be permanently mounted onto the RV. The great thing about these products is that they do not require you to get out of the RV to set them up.
These steps already come installed along your doorway. You just need to deploy them. It also means that the chances of you leaving it behind when you leave the campground is null.
The problem with this RV step type is it is quite expensive. It also usually needs to be professionally-installed, adding to the already high price tag of the item.
Manual RV Steps – Several different sub-categories fall under this umbrella term. The simplest of which is technically just one step welded onto the sub-frame of the RV. This type is permanently fixed in place.
You cannot remove or reposition it without grinding off the initial welds and re-welding the piece again. However, because it is welded in place, this type of step will not slip and has a very high weight limit.
Although most of these manual steps only come with one tread, others also feature two to three steps, some of which look more like ladders than actual stairs.
Automatic/Electric RV Steps – These RV steps look similar to the lifts used as mobility aids for the disabled. You just need to push a button, and a metal step extends outward. This item is usually just a single large step, but you can also find some models with two or three steps.
These steps are the most expensive among all the RV steps, and they tend to get even costlier when you factor in the installation. However, because everything is automated, you do not have to worry about a thing.
The biggest downside, aside from the price tag of each kit, is that automatic RV steps use electricity. Some electric RV steps lock up against the RV door when the batteries run out, preventing them from opening altogether.
There is an alternative, though, and that is getting the steps with manual release switches. The problem is that using such features usually causes significant damage to the mechanism. It is the reason why you only need to use the steps in case of emergencies.
Mentioned are just a few of the most popular types of RV steps. Now that you know the pros and cons of each, figuring out which kind is best for you will be much easier.
How Do RV Steps Work?
RV steps work by providing easy access to the RV door. Usually, the default types of steps installed are the permanent, single-step variants. These variants help a bit but are not sufficient for most people. It is mainly because these items are quite small.
An aftermarket RV steps kit can help by providing usable stairs, not just short ladders. Portable RV steps have treads that are much wider, thus easier and more convenient to use. Some even have handrails for added safety and convenience.
How to Choose the Right Size?
The first thing you have to consider when shopping for a new RV step is the width of the doorway. The steps should at least be the same width as the doorway; otherwise, it will be awkward and unsafe to use. In the case of fold-down ladders, they will not even mount correctly on your RV.
The next thing that you need to measure is the ground clearance of your RV. It refers to the space between the ground and the floor of the RV. If your RV has particularly high ground clearance, then you might need to get RV steps that have at least maybe three treads for steps.
How Do You Measure RV Steps?
To measure RV steps, consider the following as your guidelines:
Single-step – It has a deeper size, sometimes more than the length of a person's foot. However, one needs to step up higher to reach the door.
Two steps – These steps come with treads that are a bit shallower than single-steps, but they are still easy to use. It is the preference of most RV owners.
3 or 4 steps – Although these items have narrower treads, they are usually much wider than the doorway for safety reasons. These steps typically reach the ground and are ideal for those who have joint problems and cannot raise their knees that high. These steps also work well for those who need a cane to walk.
Five steps – These steps are the largest ones and are generally only used when an elevated platform is needed, or if connected to a ramp for wheelchair access. These items need to take quite a lot of space because the incline has to be low for people with limited mobility.
How Do You Remove an RV Step?
Some people might be confused as to how to remove the standard steps on their RV so they can replace them with a new one. They could not find the head of the bolt so they can hold it in place while undoing the nut.
The good news is that you do not have to do that. RVs use carriage bolts, and you have an assurance that these bolts will not turn even when you take off the nut. You just need to spray the nut with a bit of WD-40 to loosen the rust, and it should go off quite easily.
How Do You Install an RV Step?
The installation process will depend on the type of RV steps you have. For instance, if you have portable RV steps, installation is unnecessary since you just need to place it underneath the doorway.
On the other hand, if you will install a fold-down RV step, remove the transition plate of the doorway, and then just screw the flange of the steps in its place.
However, check first if the steps are centered in the door jamb. Make sure that you can close the door when the steps are deployed and if they are raised.
For more detailed and accurate instructions, consult the owner's manual that came with the steps. For electric/automatic steps, it is highly advisable to get a professional to install it for you.
Care and Maintenance
You need to conduct regular maintenance work on your RV steps to make sure that they work as intended during its suggested service lifetime. Here are some of the things you can do:
Check all of the rivets and pivot points of the steps. Use a hard-bristled brush or a rag to get rid of any caked-on mud, sea spray, dust, and other debris that found their way into these spaces.
After thoroughly cleaning these areas, you need to dry them using a heat gun on a low setting completely. It will remove every bit of moisture. If you do not have a heat gun, a hairdryer set on medium will suffice.
Also, check underneath the steps for any dirt and debris. Clean and lube the bearing that comes off the motor of the steps (if it is an electric model), too. If you are using an electric RV step, you should also check the activation peg if it has worn off considerably. If it is, then it may be time to replace it.
The activation peg is the one pushed down by the RV door when it closes. It controls the extension of the steps. If you have a metal activation peg, then you probably do not need to worry too much.
Your RV maintenance does not stop there. You will want to look at the activation peg that gets pushed in when the door shuts. The pin can wear down after being pushed in regularly. Though the metal ones wear a lot better, keeping a watchful eye on the activation peg is still a good idea.
Finally, once everything is lubed up, wipe off any excess silicone spray or grease that has gotten on the treads. You should not forget this final step, or else, it can lead to some very nasty accidents soon.
Although you do not need to do thorough maintenance that often, it should be done at least once a year to make sure that every part of the RV steps is working as it should.
Other RV Steps We Reviewed
Prime 1 Safety RV Step
This product is a portable RV step that is not only sufficiently large but is also durable and robust.
Key Features:
Has a maximum load capacity of 440 pounds
The legs can be independently adjusted.
Opens and closes in seconds
Lippert 432682 RV Double Entry 24-inch Step
This set of RV steps is more than wide enough for smaller RVs, horse trailers, and fifth wheels. It is a heavy-duty accessory that will last for many years.
Key Features:
Fully powder-coated for a scratch proof finish
8-inch risers for easy use
Compact design, which is easy to deploy and retract using just one hand
Ollieroo Step Stool Folding Steel Step
If you are looking for an affordable, yet very sturdy RV step, this product is the one you need.
Key Features:
Folds and locks in seconds
Weighs four pounds only, making it very easy to transport
Can carry up to 330 pounds of weight
Safe use for family members due to anti-slip grips
Stromberg Carlson SMFP-2100 Manual Coach Step
This RV step is wide enough that anyone can easily use it. It also folds up and locks in place securely quite fast. It is an excellent investment if you want to change your standard step.
Key Features:
24-inch wide with an 8-inch rise
Very sturdily built
Easy to install; simply screws underneath the RV door
Simple design for fans of low-profile products
Lippert Components 678027 30-inch Solid Step
This product is a sturdy fold-down step that is easy to install. It also takes pride in its sturdy built.
Key Features:
Can carry up to 400 pounds
Can fit on doors that are up to 44 inches above the ground
Very easy to install with available mounting screws
Safety Step F-08C-BLK 15″x19″ Safety Step
This safety step is nearly indestructible, effortless to use, and compact for more accessible storage. It is a good investment if I do say so myself.
Key Features:
Can hold up to 1,000 pounds
Anti-rust step with powder coat finish
Features legs that have a double-locking mechanism for safety
Has a self-leveling design
Elkhart Tool 24-inch Quad Step
This product is a universal fit set of RV steps that you can install in minutes. You can also expect it to last for many years.
Key Features:
24-inch wide steps with an 8.5-inch rise
Can work on RVs with doors up to 33-inch above the ground
Can fold up and deploy easily
Stromberg Carlson SMFP-3100 Steps
With this kit of RV steps, you no longer need to stress about how high that first step of your RV is. You can go in and out of your RV with relative ease.
Key Features:
Comes with 24-inch wide steps and 8-inch risers
Built to last many years
Easy to install and use
Straightforward design and low-profile look
Kwikee 26 Series Step Assembly
This automatic RV step will take all of the hassles out of setting up your steps. Just open the door, and it will come out on its own.
Key Features:
The sealed wirings make this electronic accessory virtually weatherproof.
Made of heavy-gauge steel plate with a heavy-duty powder coat finish
Has an impressive weight capacity of 750 pounds
Elkhart 120 Single Step
This product is a single RV step that folds and extends using just one fluid motion. It does not have a complicated locking mechanism.
Key Features:
Made of heavy-gauge sheet metal
The perforated step with a non-slip strip provides ample traction.
Compact design and effortless operation
Stromberg Carlson AP-101 Rail Mate Step
It does not matter what brand or type of RV steps you have. This aftermarket handrail will work with it correctly.
Key Features:
Very lightweight and only takes minutes to install
Come with hardware and brackets
Gear with long and robust handle for easy use
Extends 25 inches from the RV
Homeon Wheels Stable RV Steps
This RV step might seem very basic, which it is, but it can do all the things that it promises, plus a whole lot more.
Key Features:
Has a very impressive one-ton weight capacity
Ensure ultimate safety for users with non-slip strips
Has durable rubber feet to prevent the step from sliding
Each leg is adjustable from 7.3 inches to 8.7 inches high.
Mor/Ryde International Inc. SP54-099H Under Step
If you ever need more storage space in your RV, then you need to check out this under step storage box.
Key Features:
Comes with a locking mechanism
The entire surface is powder-coated for durability.
Can fit onto most step mounts underneath the RV door
Durable steel-made construction
Conclusion
Having the right RV steps will not just make your RV more accessible. It will also lessen the chances of serious accidents that can lead to injuries. It is why you need to get the best RV steps that you can find and afford. Your family's health and well-being are at stake.
The biggest problem people encounter when shopping for new RV steps is the price. An average set of RV steps can already cost upwards of a hundred, sometimes even two hundred dollars, so it is not just some minor purchase.
Now, since you have made it this far, it is safe to say that you already know what you need to look for when shopping for RV steps. With that, you can surely shop with confidence.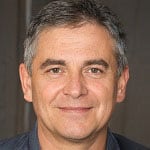 Hi, I am Tom Hank, an RV-er since 2014. Back then, I started without much help. As you can imagine, the struggles are endless. But now, you do not have to begin your adventures knowing next to nothing about RV lives.