Whenever you are out on an RV trip, you need to have the best RV camping chairs to enjoy the get-away thoroughly. Everyone would want to be as comfortable as they can for the entire journey, and nothing spells comfort more than a couple of good RV outdoor chairs.
If you are a new RV owner shopping for RV outdoor furniture for the first time, you might be surprised by the sheer number of options available.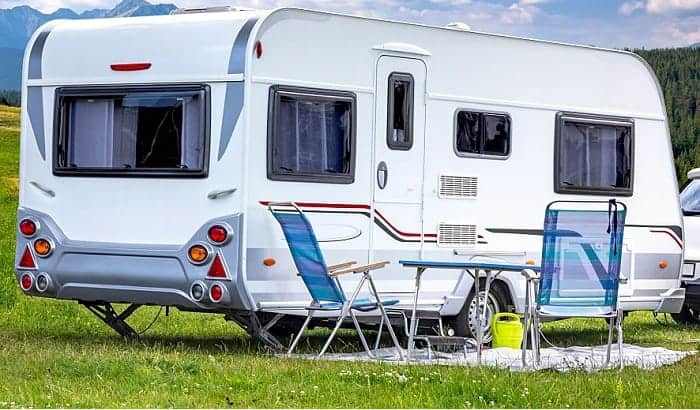 You can find many different brands of outdoor furniture and kinds of chairs that might feel a bit overwhelming to choose just one. However, if we know what we should be looking for, we can considerably narrow down those options to make a better purchasing decision.
This article will teach you about the things you have to consider when shopping for campsite chairs. Hopefully, by the time you finish reading it, you will know enough about the most comfortable RV camping chair.
Your knowledge in this area will help you make an informed choice that will not lead to remorse later. Let us start with some short reviews of the most highly recommended camping chairs ideal for camping.
Best RV Camping Chair Reviews
1. Coleman Camping Quad Chair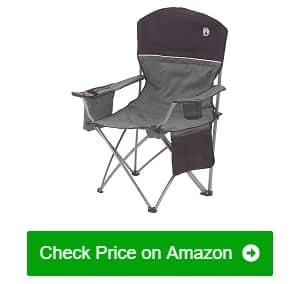 The Coleman Camping Quad Chair can be an excellent addition to your essential stuff for an enjoyable trip into nature.
Such well-designed Coleman quad RV folding chairs often come with a reasonable amount of space. Most customers are pleased about how big and roomy this particular camping chair is. At 24 inches wide, the item will not have any problem comfortably accommodating even a large fellow.
Also, at 18 inches high, tall users will not find it hard to stretch their legs. Unlike other camping chairs where you plop yourself onto a fabric or mesh seat, the Coleman Quad presents a foam-padded seat and backrest.
As a result, we can spend hours resting on this comfortable chair without feeling back pain. Because I am on the hefty side, I also liked how sturdy the Coleman Quad is. This lightweight camping chair has a heavy-duty steel frame.
Moreover, the robust construction allows the chair to carry up to 325 pounds easily. It soothes my mind that I can sit on this chair without it giving away from underneath me.
However, one small complaint about the piece is its pocket makes it hard to put the chair back into the carrying bag. You will need another pair of hands to put the piece away in a neat manner.
What We Like
Nice and big, even heftier folks will fit comfortably
Comes with a rather large weight capacity
Features a padded seat and backrest
Comes with a built-in cooler
Folds down to a compact size
What We Don't Like
ExpensivKind of hard to return to its carrying bag
The minor shortcoming does not do anything to make the Coleman Quad any less amazing. If you need heavy-duty and comfortable camping chairs, you can trust the Coleman Quads to deliver.
2. GCI Outdoor Freestyle Rocker Folding Rocking Chair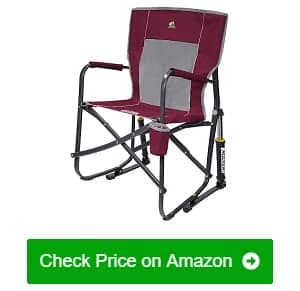 I genuinely like the rocking motion of the GCI Outdoor Freestyle Rocker Folding Rocking Chair for the incredible convenience it delivers.
The function prevents the chair from going too far back, so getting out of it is not a problem. Therefore, this one is an excellent pick for users who have preexisting back issues and face trouble standing up. I love that it just gives a little to let you lean back and take a load off of your feet. I prefer it over a real rocking chair.
Another feature that earns numerous compliments from buyers for this chair is the seat height. Because it is a rocking chair, the seat height needs to be higher than average to become useful. At almost 20 inches tall, it allowed us to stretch my legs entirely and relax.
I am happy to say that this camping chair is comfortable for bad back folds up for storage. My fingers have been caught in numerous different folding chairs countless times throughout the years. However, I have not even gotten pinched even once when I started using the GCI Freestyle.
Amazingly, we can fold and open it up smoothly, and our hands can barely get caught in between the pieces while doing so.
To ensure long-lasting products for buyers, the manufacturer builds this piece using durable, powder-coated steel. It means our chairs will be resistant to corrosion and of good use for an extended period.
This model is also customized with ultimately fair weight distribution, so we do not have to worry about its part broken due to excessive pressure. This rocking chair can even carry up to 250 pounds of weight.
The only thing that I did not like is quite trivial, and it might even be subjective for most, at least according to some RV camping chair reviews. However, I'm not too fond of the positioning of the single bottle holder.
I think that it is too forward and low the chair. If the cup holder is on the armrests, it would have been much better.
What We Like
Easy to fold and unfold
Constructed out of durable and powder-coated steel, making it strong and rigid
Features a unique rocking system
Comes with a pleasant and comfortable padded seat
Can carry up to 250 pounds of weight
What We Don't Like
The position of the cup holder is a bit awkward.
Overall, this camping chair is one of the most comfortable ones that I have ever enjoyed using.
3. Best Choice Products Zero Gravity Lounge Chair
The Best Choice Products Zero Gravity Lounge Chair can surely offer a high level of comfort provided for users with a bad back.
Indeed, the item is so comfortable that spending hours sitting on it brings no back fatigue. There are only a few camping chairs that have been so comfortable that I could take a great afternoon nap without waking up with pain in my back and neck. It is all thanks to the built-in neck pillow in the Best Choice Zero Gravity chair.
Another favorite feature of mine in this Best Choice camping chair is the automatic reclining function. It automatically reclines into a zero-gravity reclined position just by leaning back.
Aside from that, you can adjust how easily the chair reclines. All it takes is to tighten the setting, and it will take a bit more effort to recline, so you can sit upright whenever you want.
The fabric seat and backrest are suspended inside the powder-coated steel frame using heavy-duty bungee cords. It provides just the right amount of support for your body. The material conforms to the body's shape, but it does not make it so difficult to stand back up when needed.
This camping chair also comes with a handy, detachable tray. This tray has two cup holders, a slot for your smartphone, and a larger space for a book or a tablet computer. With those features, I am sure it can hold everything that one usually needs for a very relaxing afternoon outside.
I do have one complaint about this chair, though – and that is the knob that holds the chair in its reclined position is not that strong. It tends to loosen up on its own in most cases, and I need to tighten it regularly.
What We Like
Very comfortable to use
Comes with a removable neck pillow
Features a detachable tray
Can smoothly recline just by leaning back and raising your legs
Can fold down to a size that is easy to store away
What We Don't Like
The braking knob loosens up quite a bit and is not that strong.
Besides the one small issue I have, I can still say that this product is a solid camping chair that you will surely find useful wherever you decide to go while driving your RV. You will not regret your decision to buy this product.
4. Coleman Camping Chair with Side Table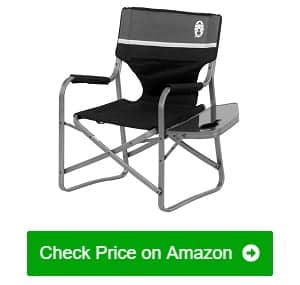 Most customers love to utilize the Coleman Camping Chair with Side Table for its incredible robustness. They claim that This compact RV camp chair remains in good condition after a long time of use.
In detail, the frame of this chair is made of sturdy aluminum rectangular tubing, and the rivets are added to reinforce the whole piece. Also, as compact as this chair is, it can hold up to 225 pounds of weight.
Users are happy to share that the item is quite comfortable to use. Such a feature is an essential point we need to pay attention to when choosing the right camping chairs. Notably, the Coleman camping chair backrest is already at a slightly inclined position. It also comes with nicely padded armrests, giving you the chance to relax completely.
A nice touch that Coleman gave this camping chair is the built-in, flip-up side table. Besides holding your drinks, the extra space is ideal for your books, notes, cameras, and other stuff.
As being made of superior aluminum, the entire product is very lightweight. It also folds down to a compact size, making it easy to store in roomy RVs and the trunk of regular sedans.
The only issue that I have about this heavy-duty camping chair is that it is a bit tricky to fold. The item is not too hard to handle, but it would help if you move it in a particular way so that the frame will fold up neatly.
What We Like
Compact yet solid design
Comfortable to sit in, thanks to the fabric material
Lightweight construction while also being easy to store away
Super compact that it takes up little room
Comes with a UV-protected fabric, thereby preventing the colors from fading
What We Don't Like
A bit tricky to fold back down
Although this Coleman camping chair does have a couple of issues, it still boasts of a solid built all in all. It is also a comfortable chair that it makes for an excellent investment, in my opinion.
5. AmazonBasics Portable Camping Chair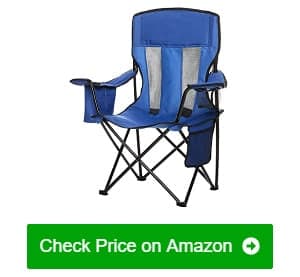 If you want a functional and convenient item to make your trips more enjoyable, the AmazonBasics Portable Camping Chair is an excellent choice.
One of the best things about this small RV camping chair is the nylon mesh material used for the backrest. I usually take trips down south where it is generally quite warm and humid. Therefore, having a mesh backrest provides me with the necessary ventilation to feel cool.
Another thing that I liked about the AmazonBasics camping chair is that it has a lot of extras. For instance, it comes with a handy beverage holder, which I find easy to use.
Best of all, you will notice that this chair has a built-in cooler. The insulated pouch is big enough to hold four 12 ounce cans. Aside from the integrated cooler, this chair also comes with a roomy storage pouch where you can place the other stuff you need.
The fantastic thing about the Amazon Basics camping chair is its compact design. Even though it has extra features, we can quickly manage to fold the chair down to a portable size. It also comes with its carrying bag. With that, you can always bring it if you want to take it somewhere other than the RV patio.
Some buyers point out one weakness about this chair – that it is a bit too narrow. If you are a rather large fellow like me, you will struggle a little to squeeze into this chair.
What We Like
Has a mesh backrest for proper ventilation
Comes with a convenient cup holder
Features an insulated pouch that can hold beverages
Has an extra storage pouch
Collapses down and fits inside a portable carrying bag
What We Don't Like
The actual chair itself is a bit too narrow.
Despite the narrowness of the chair, it still carries a lot of incredible features that make investing in it and using it in your RV a great decision.
6. ALPS Mountaineering Leisure Chair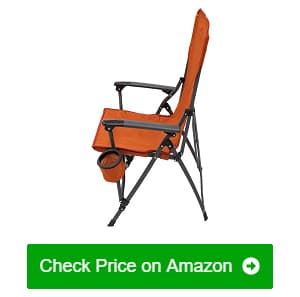 The reliable and robust build of this ALPS leisure chair makes it a sought-after product among frequent campers.
It is no exaggeration to say that the item is anything but flimsy. It has a thick powder-coated steel tubing construction, and the armrests are also amazingly robust.
It is the reason why this chair can carry up to 300 pounds in weight. The weakest link in most camping chairs is the fabric making up the seat and backrest. However, even this part of the ALPS leisure chair is also quite stable.
The seat and the backrest are made of 600D polyester, making both areas durable, yet still very comfortable once you sit on it. The seams are also double-stitched and hemmed to prevent frays.
It is also an extremely comfortable chair. When you take it out of its bag and unfurl it, it looks like an actual chair. The seat is large enough even for huge folks. Furthermore, the backrest is designed to be quite high, thus providing you with more than ample support.
This chair also comes with the now almost mandatory cup holder. Whether you are drinking out of a thermal flask, a bottle, or a can, they will fit inside the cup holder. You can also expect the items to always be within your reach as you sit back and relax in your leisure chair.
The only real issue that I have with the ALPS leisure chair is that it is a bit heavy. That means this sturdy chair was solidly built at the cost of extra weight.
What We Like
Boasts of a solidly built frame
Can hold up to 300 pounds of weight
The fabric used is 600D polyester, which is very tough and weather-resistant.
Comes with a nicely sized cup holder
Has a high backrest and wide seat
Even though the ALPS leisure chair is a bit heavy, it does not take away the fact that it is probably one of the most comfortable camping chairs I have ever enjoyed.
7. FDW Zero Gravity Chairs with Cup Holder and Pillow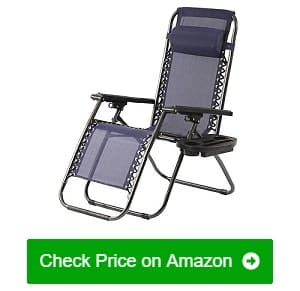 The FDW Zero Gravity product is more than just a simple camping chair. It is a full-blown lounge and poolside chair. I have literally sat and reclined in this chair and passed out for a couple of hours unintentionally. That is how comfortable the chair is.
Such a well-made reclining camp chair is often designed to deliver optimal comfort. Primarily when you use it in its inclined position, your legs are supported to have the best feelings.
Meanwhile, when you lean back, the chair will automatically recline. And you will be in a zero-gravity inclined position. It means that your entire body is lifted from the ground. And because the fabric seat and backrest provides just enough give, you will feel virtually weightless.
Customers can rest assured that their chair frame is constructed out of high-quality material. Therefore, its structure can handle a total weight of 250 pounds. Additionally, the fabric seat is durable. It is double-stitched, and use metal grommets to prevent fraying.
For your information, the seat and backrest are made from heavy-duty 600D polyester fabric. It is a very durable synthetic fabric that is both soft and breathable. Aside from that, it is UV-resistant and virtually weatherproof.
Although it is not recommended that you do, you can leave this chair outside without worrying about it rusting or having its colors fade.
The only complaint that I have about this chair is its weight. If you are thinking of bringing it with you on a backpacking trip, know that it weighs more than 30 pounds.
What We Like
Extremely comfortable – It feels like you are lying down on a cot.
Made of heavy-duty materials
Easily reclines just by lying back
Can fold to a more portable size
Can support up to 250 pounds
This product is a lounge chair, so it might not be the best to carry for long distances. As an RV camping chair, the FDW zero gravity is genuinely a great feature.
8. OmniCore Designs MoonPhase Double Camp Chair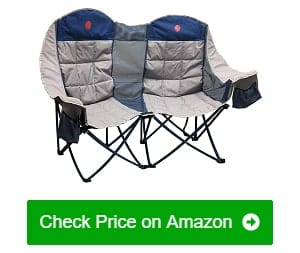 Many people go on RV travels with their spouses/significant others. If you are one of them, then this double camp chair is the perfect one for you. One of the great things about this love seat is that it takes up less storage space than two separate camping chairs.
Probably my most favorite feature is the moon phase-shift configuration of the love seat. Between the two seats is a bit of webbing that will allow you to change the chair's shape. You can bend it so that it is more comfortable to have conversations or when in front of a campfire.
You can also set it up so that you are side by side, like when you are using the chair to watch an outdoor event.
Another thing I liked about this chair is how durable it is. The metal frame is powder-coated to prevent rusting. The fabric is a 600-Denier polyester blend that is highly resistant to cuts, tears, and punctures. The seams are also doubly-reinforced in order to avoid fraying.
It is also appropriately assembled so that weight is evenly distributed. With everything taken into consideration, each seat can support up to 300 pounds of weight.
Note that this camping chair is twice the size of a regular one, so it takes two people to fold and pack it away.
What We Like
Can be configured in two different ways
Can carry 600 pounds total weight
The metal frame is powder-coated to prevent corrosion.
Comes with a fabric seat featuring reinforced seams and is UV-protected
Can fold down and fit inside a carrying bag
What We Don't Like
Needs two people to fold it down and pack into a carrying bag
In my opinion, the Omnicore camping love seat is still a convenient way to enjoy your holiday with your partner.
9. Sunyear Folding Camping Backpack Chairs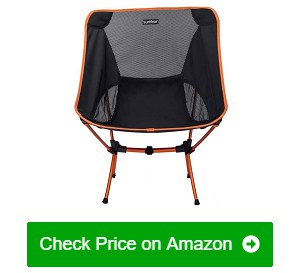 If you are looking for the smallest camping chair for RV that you can use not just for RV trips but also for an extended backpacking hike up mountains and other wilderness trails, the Sunyear Chairs are among your best bets.
Surprisingly, this product weighs just a little over two pounds, so it does not add more burden to your package. The secret to its strength lies in the material used for the frame made of aircraft-grade aluminum. This type of metal is vastly more durable than conventional aluminum alloys and is also significantly lighter.
The thing that amazes most users about the Sunyear lightweight folding camping chair is that although it is so small and lightweight, it is quite strong. The aluminum members are configured so that the chair can carry up to 250 pounds of weight.
Another excellent detail about this chair is that even portly people will be able to sit here in relative comfort, thanks to the deep design of the seat fabric.
I would like to point out in this chair is that it is a Jack-of-all-trades. You can use it for RV camping, backpacking, events viewing, and others.
But it might be a little too stiff for people with existing back pain.
What We Like
Very compact and lightweight
Easy to assemble
Can hold an incredible amount of weight
More comfortable compared to similar seats
Even plus-sized folks can sit in relative comfort.
What We Don't Like
Not very conducive for lounging around
Although you might not be able to spend hours on end just sitting on this chair, if you ever feel the knack to go out hiking, you can always rely on the Sunyear camping chair.
10. Timber Ridge Zero Gravity Chair
Like the other zero gravity chairs in this list, the Timber Ridge chair is exceptionally comfortable sitting in. However, this chair takes it to the next level. While other zero gravity chairs have fabric seats and backrests, this one from Timber Ridge comes wholly padded.
I also like the locking mechanism of this zero gravity chair. Other chairs can only go from inclined to completely reclined, but with this one, you can choose from any position in between. You can customize this chair, depending on your desired comfort level.
Please rest assured that this robust item can hold up heavyweight just fine. It does not collapse under a huge body-build person since the frame is reinforced with meticulous artistry.
Furthermore, this chair is made of sturdy steel tubing. It also has high-quality bungee cords and 600D polyester fabric. It is strong enough that it can carry up to 350 pounds.
Another neat thing about this chair is that it already comes fully assembled. The only thing that you need to attach is the detachable side tray. You can also fold this Timber Ridge camping chair with a footrest to a more compact form for secure storage. Aside from that, it unfolds in just a few seconds.
Unfortunately, this chair could easily be over thirty pounds, which is relatively inconvenient if you expect a lightweight package.
What We Like
Extremely comfortable
Has a convenient locking mechanism
Sturdy and durable structure
Can carry up to 350 pounds of weight
Can fold up for more accessible storage
What We Don't Like
A bit heavier for and for backpacking
The Timber Ridge zero gravity chair is not the best option for hiking and backpacking purposes, but it is the perfect choice when hanging out in your RV patio.
11. Stylish Camping Folding Director Chair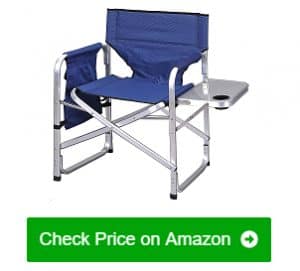 One thing that impressed me the most about the Stylish Camping Folding Director Chair is the sheer amount of additional storage it provides.
It has several pouches on the left side of the chair that you can use for different purposes. I used the pockets for holding my phone, a magazine or book, my wallet, and a couple of beef jerky bags. It can keep almost everything that you need for a relaxing afternoon.
These pouches are not the only feature that I liked about this chair. On the right side, there is also a foldable tray with a cup holder. We can use the space for our coffee and a newspaper or two. This tray locks into place using a bracket underneath.
Just by looking at this chair, you can tell just how sturdy and durable it is. This chair is made of sturdy aluminum tubing, and the seat and backrest material is durable polyester. This chair is rated to carry up to 250 pounds of weight. With that, it is an excellent choice for those on the hefty side.
However, with all that said, I do have one problem with it. It is about the locking mechanism of the side tray.
What We Like
Sturdy and durable, allowing it to carry up to 250 pounds of weight easily
The lightweight yet durable aluminum alloy used in constructing it
The seat material is made of breathable polyester.
The chair folds easily and quickly for secure storage.
Comes with several storage pouches
What We Don't Like
The tray would fold down on its own.
In conclusion, this product will be a perfect companion on your trips due to its excellent comfort.
12. KingCamp Camping Chair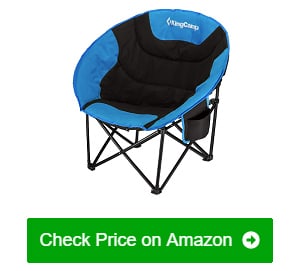 People appreciate the round-shaped KingCamp Camping Chair since it is designed to offer extreme comfort all the time.
The unique saucer shape of the KingCamp chair makes it possible for even larger folks like me to sit on it comfortably. At 33.5 inches wide, I can plop myself into the chair and not worry about hitting any armrests.
Furthermore, it features a large pouch at the back for anything you want to have nearby while sitting in the chair for relaxation. Moreover, there is a smaller pouch at the side that one can use as a beverage holder. It is great because I can lounge around lazily and not even have to stand up for anything.
You are going to love the sturdy construction of this chair. Notably, its steel-made frame can ensure fair weight distribution for users. The seat material is also highly durable. The 600D polyester fabric blend is highly resistant to tearing, punctures, and cuts.
You can also fold the KingCamp camping chair for maximum portability. The chair weighs just a little over ten pounds, and it also comes with a handy carrying bag. If you want to go backpacking or hiking, this chair would be a welcome companion.
I do have a problem with this chair, though – and it is that it is not that comfortable if you want to stretch out your legs.
What We Like
Boasts of a solid built, allowing it to carry up to 300 pounds easily
Nicely padded seat and backrest
Can be folded down for portability
Comes with a lot of storage pouches
Weighs just around 10 pounds
What We Don't Like
Can be uncomfortable for tall folks
The bottom line is this chair is still a great choice given its price and portability.
Best RV Camping Chairs Buying Guide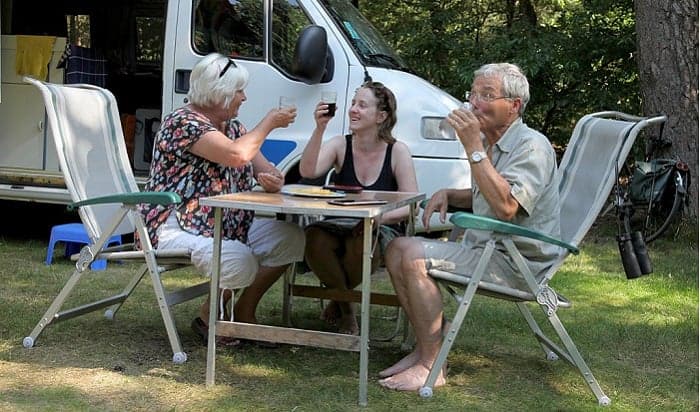 Camping chairs are not cheap, especially if you are looking for those products that are both comfortable and can last for a long time. To make sure that you make the right investment, here are some things you must consider when shopping for RV camping chairs.
Comfort – As long as you have enough storage space in your RV, you can get one of those large and luxurious camping chairs. These chairs come with high backs. They are just at the right height off the ground and provide you with the best back support and stability.
Some of these chairs even come with a couple of additional creature comforts like cup holders and storage pockets for your gadgets and other items. Some camping chairs can recline and lift your feet off the ground.
If you put a significant premium on comfort, consider getting a chair that you would not mind sitting on an entire day.
Budget – Some people go on RV trips a couple of times a year only, so in their minds, spending a lot of money on furniture that they would rarely use is not unfeasible.
Usually, I would advise against buying low-priced outdoor furniture. However, note that in this case, you can find good camping chairs for as low as $25 each.
The problem is you will be compromising comfort for a smaller price tag, which should be obvious. Moreover, if you need chairs that can support a lot of weight, avoid taking a chance on the cheap ones. The chairs with a beefier construction and durable materials sell for a somewhat premium price.
If you do not want to spend a lot of money and avoid something flimsy and uncomfortable to use, set your budget to around $60 per chair. You can find chairs in the middle of the road at this price, and you might even find ones that are premium-grade.
You can set your budget lower, especially if there are times when you do not even take your RV on a trip. Like when you just want to spend a weekend at the nearby lakeside, you can get the smaller and more compact camping chairs for more reasonable prices.
Weight – If you are looking for chairs that are compact and lightweight, mainly because you do not have that much storage space in your RV, you can be granted various options. The great thing about it is that, usually, the more lightweight the camping chair, the more affordable it is.
There is a caveat, though. These chairs are not the most comfortable in the world. Most of them do not even have armrests, and the backs are not that high. Moreover, if you want a chair with high weight capacity, it is doubtful that you can find anything like that in the lightweight category.
However, if you are only looking for something simple and are not looking for an outdoor lounge chair, go for the lightweight and compact options.
Build quality – Choosing camping chairs based on build quality can be a bit complicated. First, you need to consider what you will be doing with it. For instance, if you will be mostly camping in an RV, get one of the heavy-duty camping chairs that are relatively cheaper meant for backpacking.
The camping chairs designed for backpacking are more expensive than most products. The reason is that these chairs need to use lightweight and durable materials that cost more than the natural materials used by the regular ones.
With that said, you still need to check if the chairs that you will be buying are sturdy. Check if the fabric used is thick and at least double-stitched at the seams. The rivets should be sturdy as they will carry most of the weight. The metal frame must be painted or powder-coated to prevent corrosion.
Generally speaking, the more expensive the chair, the more durable it is. However, it is also true that if a chair is twice as expensive as another, then that does not necessarily mean that it will last twice as long as well. Just look for the top quality chairs that fall within the range of your budget.
Folded Size – Weight will not be much of an issue since you will be storing the chairs in the RV, so the thing that you have to worry about is how bulky they will be once you fold them up. The usual folding chairs fold up so you can prop them against the wall, but they are still cumbersome.
Now, actual camping chairs fold up in such a way that they take up very little space. The way the chairs fold is similar to how an umbrella does. Here is the compromise; the more compact the chair, the more weak points it will have.
If you need a genuinely durable camping chair, you need to clear up some space in your trailer.
Seat Height – The height is the clearance between the ground and the bottom of the seat. Depending on the person's height, you can expect that the higher the seat height is, the more comfortable the seating position will be. The more comfortable chairs usually have a seat height between 15-18 inches.
However, you will have to compromise the size and bulkiness of the chair. The more compact seats have an average seat height between 9-13 inches. It means you will be squatting a bit, and you might not have any back support, but then again, it is better than sitting on the hard ground.
Seat Back Height – If you plan to get backpacking chairs, you need to know that they are more like stools than actual chairs. The chairs do not have seat backs other than a small bit that supports the lumbar region.
The camping chairs with the best back and neck support are the larger ones. If you are suffering from chronic back pain, then there is no question about it. You need to get the chair with high back support.
Weight Capacity – Weight capacity is usually proportional to the size of the chair. The bigger the chair, the more weight it can carry. Some burly camping chairs can carry up to 800 pounds of weight, which almost everyone can use.
If you are eyeing the lightweight options, the average weight capacity is around 250 pounds. Moreover, the bigger the chair, the more stable it will be. The bottom line here is that if you want more comfort, go with the chairs with higher weight capacities.
If you are going on long hikes after you park your RV, you should get the lightweight options. However, do take note that the camping chair manufacturers tend to be very generous when stating the maximum weight capacity of their products.
If you weigh 250 pounds, do not get a chair rated for the same weight. You will surely regret it later when it collapses underneath you.
Leg Design – Another thing that you need to know about camping chairs is that they have different leg designs. The leg design will have a massive impact on its overall stability. For instance, the ultra-light camping chairs for backpacking have leg designs that make it easy to fold into a compact package.
However, the design is often thin and positioned near the center, so it is quite easy to topple over accidentally. On the other hand, the much more cumbersome, but more solidly-built standard camping chairs have wider-set legs, so you can plop on top of them without moving.
Miscellaneous Add-ons – When you compare camper chairs to real lounge couches, they will never be as feature-packed as your La-Z Boys or Barca Loungers regardless of their brand. However, these chairs do have the distinction of being easy to place outside.
Some of these items even have neat features that make them quite a joy to lounge around in. You can now get camping chairs with actual storage space for whatever you need while you sit back and watch the sunset over the horizon.
Now, do not expect to get any of these additional features in chairs for backpacking, as these items need to shed weight wherever they can pay for portability. If you will only be using your chairs on your RV porch, it is advisable to get one that at least has the cup holders.
Finally, for a fun outdoor camping trip, in addition to having RV camping chairs, you'll probably also be interested in the top-rated RV patio mat we reviewed. Also, check our guide for the most trusted RV led lights and list the top-tier RV awning.
How Many Types of Camping Chairs for RV Are There?
Different kinds of RV camping chairs are presently available, but to keep things simple, I will categorize them into two – the minimalist and the standard camping chairs.
Minimalist chairs are the ones that are the lightest and most portable among the bunch. It is the type of chair used by people who enjoy hiking and backpacking through the woods.
It is mainly because the minimalist camping chair is lightweight and portable, making it perfect for their lifestyles. However, you need to know that the chairs that fall under this type are stools.
Standard camping chairs are the foldable ones that have armrests. Sometimes, these chairs have high backs. It comes with frames usually made of lightweight aluminum. You can also fold them into a rather compact size, making it possible for them to fit into their carrying bags.
Some standard lounge chairs are made for big and tall folks. Others can even recline and have headrests. The more luxurious styles of camping chairs are a bit more expensive than the other standard chairs. Some also have their canopies and more.
How Do RV Camping Chairs Work?
Camping chairs have the same functions like the ones that you have in your home. You can expect them to provide you with a way to rest and take the weight off your feet.
However, because you have limited storage space in your RV, the most significant difference between camping chairs and regular chairs is that you can fold the former into a more compact form. With that, storing this chair is comfortable.
You already have seats built into the RV. Adding more would just end up cluttering the interior of the vehicle. Camping chairs are only taken out of the storage area and unfolded once you have arrived at your destination.
How to Choose The Right Size?
If you will only be using the camping chair when you are on an RV trip, the best way to choose the size is to base it on your weight. In camping chairs, weight capacity is more or less relative to the chair size.
The larger the chair and its frame, the more weight it can carry. If you always go on trips with your family, consider their weight to purchase the right piece.
However, if you travel with your spouse or significant other most of the time, you can check out one of those camping love seats that can carry two persons comfortably. Aside from being built sturdily, these chairs also have multiple legs to provide stability.
Can You Use an RV Camping Chair on the Beach?
Yes, you can. It is even possible for you to find camping chairs meant explicitly for use on the beach. It is an excellent choice if you spend quite a lot of time by the sea. You can also use standard camping chairs as well as long as there is a stable footing.
Care and Maintenance
The excellent thing about outdoor furniture like camping chairs is that they are low maintenance. In most cases, the frequency of cleaning would just be every other week or so.
Most of the time, the whole cleanup process just involves wiping down the entire surface of the chair using a damp rag or towel. Just wipe down the whole surface to get rid of the dust and dirt.
If the chair's fabric got a bit of dirt, you could use a bit of mild soap and water and a soft brush or sponge to spot clean the dirty areas. Also, every couple of months or so, you should lubricate all joints to keep them moving smoothly.
You can use a bit of WD-40 if you notice rust forming at the joints. Spray it with a silicone-based lubricant. These simple tips can make the chairs look like new once more.
Other RV Camping Chairs We Reviewed
GCI Outdoor FirePit Rocker Low Rocking Chair
Do you know what would make lounging around a campfire much better? If your camping chair could rock, just like this one could.
Key Features:
Folds flat for secure storage
Comes equipped with spring-action rocking capabilities
Can support weights up to 250 pounds
Coleman Big-N-Tall Quad Camping Chair
If you are a big guy who loves the great outdoors, this RV camping chair is the perfect fit.
Key Features:
Can carry up to 600 pounds of weight
Exceptional stability due to its size and specialized feet
Comes with a storage pocket and a huge cup holder
ONIVA Portable Folding Sports Chair
If you want the near ultimate for outdoor lounge furniture, the ONIVA camping chair is the one for you.
Key Features:
Has a sturdy aluminum frame
Can carry weights up to 300 pounds
Extra wide for portly users
ALPS Mountaineering Low Rocker Chair
This item is not just a regular camping chair. It is also a rocking chair, which can elevate your camping experience.
Key Features:
Comes with a powder-coated steel frame that provides strength
Uses breathable mesh fabric
Folds down to a compact package
GCI Outdoor Pico Folding Camp Chair
This product is a camping chair that you can take anywhere you need it. The chair even comes with its carrying bag.
Key Features:
Folds down to a package that is the size of a laptop bag
Easy to open and fold down
Made of breathable nylon and polyester fabric
Homall Zero Gravity Chair
This product might well be the most comfortable patio chair that you will ever use. It is a truly worthwhile purchase.
Key Features:
Comes fully assembled – You need to unfold and use it.
It is a zero-gravity chair – It can fully recline when you lean back.
Can carry up to 300 pounds of weight
Timber Ridge Catalpa Relax & Rock Chair
What is more relaxing than sitting in your RV patio? It would be sitting on this specific Timber Ridge rocking chair.
Key Features:
Made of sturdy steel and durable polyester fabric
Ergonomic design for maximum comfort
Can carry up to 250 pounds
Faulkner Aluminum Director Chair
Feel like you are at the helm of movie production, or sit back and relax with this chair. It has features that will let you achieve both.
Key Features:
Made with UV-protected polyester fabric
Weighs only 8 pounds in total
Can carry up to 250 pounds
ALPS Mountaineering Rocking Chair
This camping chair is probably as close as you can get to a real camping rocking chair. It is the ultimate choice in outdoor relaxation.
Key Features:
Seat and back made of 600-Denier polyester fabric
Folds down to a compact, easy to carry package
Can easily handle weights up to 300 pounds
Kijaro Dual Lock Camping and Sports Chair
This camping chair comes in a myriad of different colors. Choose your favorite, or get a set of different colors to give your RV some flair.
Key Features:
Provides a no-sag seating experience
Dual-locking for ultimate security
Can carry up to 300 pounds
GCI Outdoor Freestyle Rocker Mesh Chair
This product is unlike any rocking chair that you have seen before. You can place it on an uneven surface and still rock back and forth.
Key Features:
Folds down to a compact package
Can handle up to 250 pounds
Has a comfortable 18-inch seat height
GigaTent Blue Folding Camping Chair
After a long day hiking or doing other fun activities while out camping, it will be helpful to plop down into this cushioned camping chair.
Key Features:
Very generously padded
Powder-coated heavy-duty steel frame
Can carry up to 250 pounds
ALPHA CAMP Oversized Camping Chair
This camping chair is built so comfortably that you will want to use it in your RV and home.
Key Features:
Oversized design for more room to move
Heavy-duty construction, which allows the chair to carry up to 500 pounds
Folds to a compact size and weighs just a little under 14 pounds
Conclusion
If you want to make the most out of your RV trip, it would be great to relax both inside and outside your RV. Having the best RV camping chairs set up outside on your patio is going to offer you an excellent relaxing time.
As you probably noticed by now, there are tons of different camping chairs that you can choose from, with all of them having their shares of advantages and disadvantages.
Hopefully, this article was able to show you all the necessary things about camping chairs. With such comprehensive knowledge, you can make an informed decision on what you need to get.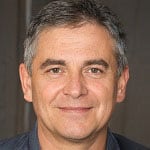 Hi, I am Tom Hank, an RV-er since 2014. Back then, I started without much help. As you can imagine, the struggles are endless. But now, you do not have to begin your adventures knowing next to nothing about RV lives.