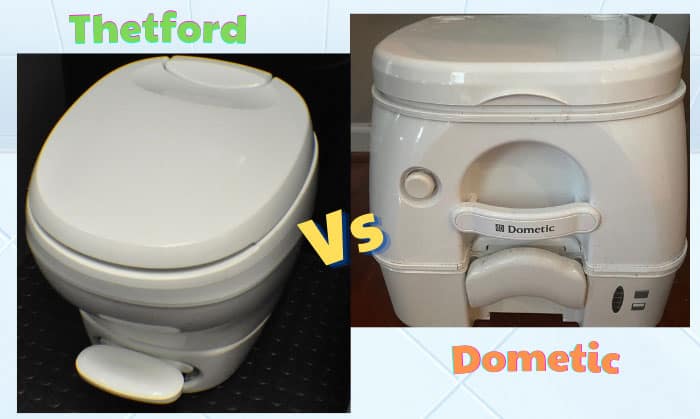 One of the necessities that every camper should have is a toilet. First-time RV owners may have some difficulty in finding the most suitable toilet for their rig. Many rig owners are torn between popular options like Aqua Magic vs Dometic RV toilet.
These functional and reliable pieces are from two brands preferred by many. So, Thetford vs Dometic RV toilets, which model to choose?
To start, here's a brief description of both brands and their best-selling products.
Dometic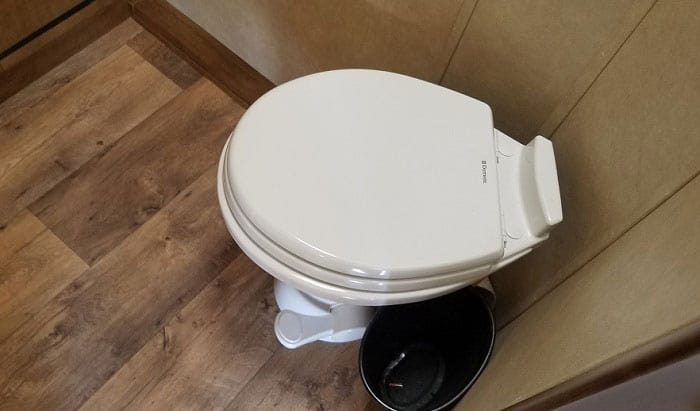 For 20 years, Dometic has been providing customers with one of the best options for portable toilets and other traveling products. This Swedish company is one of the leading brands to provide the best comfort and quality to its customers.
A Dometic portable toilet is known for its contemporary style and impressive durability. Another excellent feature this brand has is its wide range of products from which RV owners will enjoy choosing.
Here are the top three quality products from their catalog to help you get a better idea of what Dometic can offer.
Dometic 300 RV Toilet
The first Dometic product is the 300 Series of RV Toilets. For rig owners who love residential design, this is the right product for you. You can have a lot of amazing features in a single toilet, such as pedal flush and triple jet action.
If you're planning to install this yourself, it comes with a detailed manual explaining how the specific model should be set up in your RV. The product always comes with complete inclusions, so you won't have to worry about anything else.
Dometic 320 RV Toilet
For maximum comfort, you need to have a toilet from the Dometic 320 RV series. The products in this particular series have deep bowls to make sure that nothing splashes. The ceramic-wooden bowl construction will make you feel great while sitting on them. It's also very durable and user-friendly with a pedal flush.
The only thing that some people may not like about this model is that it has a basic look.
Dometic 310 RV Toilet
If you like stylish things, then you will appreciate the Dometic 310 RV Toilet Series. The bowl is made from ceramic, making it look like a pretty vase and ensuring that it's strong enough to withstand the ruggedness of an RV's environment.
Installing this to your rig is a breeze since the base is made of lightweight plastic material. This full-sized toilet is equipped with basic functions such as flushing.
However, if you are a tall person 6 feet and above, you might find this toilet to be a bit small and uncomfortable to use.
Thetford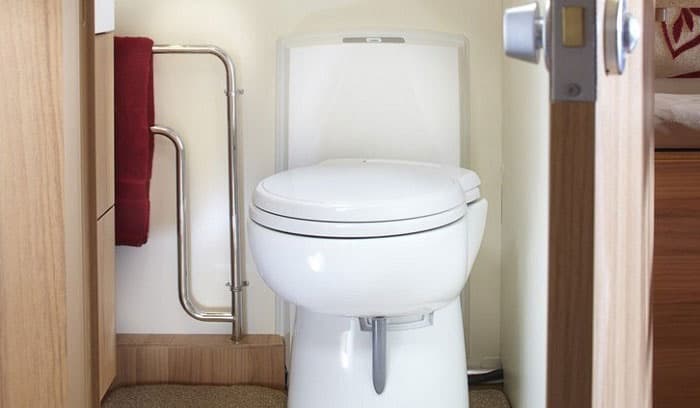 Thetford is an American brand that is dedicated to creating the best products for camping and traveling. In 1964, they created their first RV toilet, and since then, this company has been known for high-quality toilets made for the comfort of campers and travelers.
This brand is known for Thetford ceramic RV toilet with an ergonomic design that provides maximum comfort to users. If you ever need replacement parts or anything from Thetford, you won't have a hard time searching for it since most stores have this brand. Check this article on how to remove a Thetford RV toilet when you need repairing.
For decades, Thetford has been carefully improving their products. If you want to check out their best products over the years, read the next part.
Thetford Aqua Magic Style Plus Toilet
The first Thetford toilet on the list is the 34429 Aqua Magic Style Plus Toilet. It's considered as one of the top portable toilets this year. This one has impressive features, such as a customizable toilet seat and contemporary build, which is proven to withstand any harsh conditions on the road.
The downside to this product is that the model only comes in one color: white. Not too many options if you ask me.
Thetford Aqua Magic V RV Toilet
With a higher seat and classical style, the Aqua Magic V is undoubtedly one of the best products in the market today. This lightweight, portable toilet is such a gem since it's straightforward to install, and it has a compact build to fit into your RV bathroom.
The only problem with this model is that the bowl is shallow, which may cause some spraying and splashing at times.
Thetford Aqua Magic Style II Toilet
Last but not least, we have the Aqua Magic II from Thetford. This model is an excellent fit for rig owners who like a bit of a contemporary feel. It comes with a lot of funcitonal features such as a pedal flush and a tall seat.
If there's an issue with this RV toilet, it only comes in white which is very basic if you ask me.
Thetford Vs Dometic RV Models: Which One Should You Pick?
Choosing the most suitable toilet for your RV should be your top priority. Both brands are known for their quality products and excellent customer service. It all boils down to your preference for RV toilets and the features that you would want for them.
One example is the Dometic 972 vs Thetford 335. At first glance, Thetford looks much bigger than the Dometic one. The seat opening is also much broader with the Thetford model, so if you're aiming for more comfortability, you should probably choose the Thetford 335.
Another example is the Dometic 320 vs Thetford 420558. Both models have a pedal flush system, but the Thetford is much taller than the Dometic one. If you want something simple yet convenient, it's better to choose the Dometic model rather than the Thetford one.
When choosing a suitable toilet for your RV, make sure to consider all essential factors such as comfortability, style, and dimension. They will play a significant role in how your RV life will be.
Although both Dometic and Thetford are good for your RV, they still have the potential to clog. Here are a few ways when you have a clogged RV toilet. Besides, we also recommend using RV toilet paper or Septic Safe.
Conclusion
Now that you know the difference between Thetford vs Dometic RV toilets, you can now make a confident choice on which one to use for your camper. Having a reliable toilet in a rig will assure owners that they can take long trips without potty problems.
Did this article help you come up with the right choice for your rig? Let us know in the comments below, and don't forget to share this with your friends!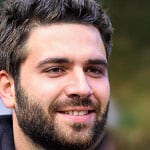 Hi, I am Joseph. Carpe diem! Seize the day! That's always been my life motto. If you haven't seen some of the most beautiful places in the country, you are missing out on incredible adventures.