Although we can turn the RV into a house by decorating and replacing furniture so that it looks like the second version of our home, it is inevitable that a camper's interior space remains cramped and uncomfortable.
Therefore, when you install a skylight in your motorhome, you will be able to experience the invigorating lighting of natural sunshine while camping as the dome breathes life and light into the RV's space. There are so many advantages of having a dome in your RV. However, you must understand how to measure a skylight to avoid regretting your selection later.
If you are looking for a post that compiles all knowledge and tips about measure RV skylight, you have come to the right place. In this article, not only will we discuss different types of RV skylights, but we will also provide a detailed tutorial on how to measure RV skylight, including steps such as:
Choosing the place where you want to install the travel trailer skylight
Considering carefully the available RV skylight dome's size
Cutting the opening
Moreover, some further notices about sizes and measurements while applying a dome as well as the importance of having an RV skylight on your trailer roof will be highlighted in this discussion so Rvers can select a suitable skylight for their mobile home. Continue reading to learn more!
Different Types of RV Skylights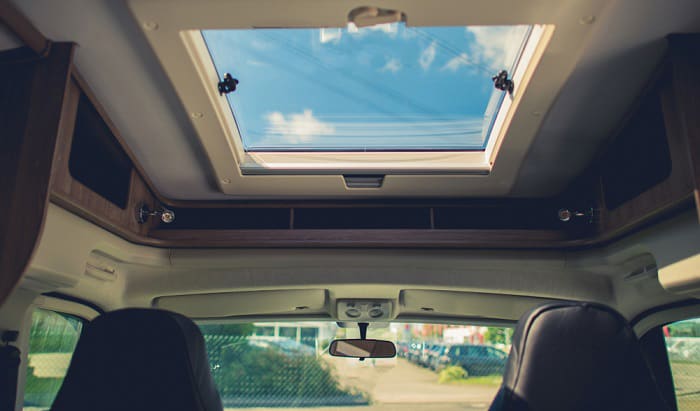 The proportions of RV skylights aren't set in stone. For a camping trailer, there are fixed skylight domes, ventilated domes, and a few other types of skylights, and the measurements of these vary depending on the manufacturer.
Fixed skylight domes
Since they are the most economical, these light fixtures are highly preferred. The majority of skylights are made of tough acrylic. They're dome-shaped for a variety of purposes, one of which is dispersing rainfall rather than collecting it.
The strength of these skylights is the second feature. The popularity of dome forms stems from its stiffness and ability to stand alone without interior bracing or support. Finally, dome-shaped skylights have a larger light distribution than flat skylights.
To increase light transmission, skylights are generally painted white, but they can also be ordered in clear acrylic, brown or tinted colors. If you want to alter the look of your dome skylight, you may purchase colored coverings.
Ventilating skylights
Impact-resistant tempered glass and metal are commonly used in these skylights. Due to a certain window barrier, these ports are mostly pivoted on one side and slightly opened on the other side.
Even though these skylights will not spread sunlight as well as dome skylights, they may be removed when you wish to take in some fresh air. Also, if you purchase a product with a panel cover, you may utilize it at night to prevent flies and other insects from entering the RV while you are asleep.
There are a few different variants of ventilating skylights. Electronic-lifting ventilating domes are available. These may be activated with a single button. They can be opened while driving the travel trailer to the campground, so they are very useful.
Skylights that open manually are also accessible. These are the skylights that need to be unlocked by turning the handle. This kind of skylight is famous among the elderly who do not believe in the longevity of motorized skylights. Even if you need to wrench it open, you can be sure that the new controls will not slow things down with manual mode.
Tinted/Clear RV skylights
If you want light to distribute properly within your RV, white-painted dome lights are the option to go for since they spread natural light more equally and properly. If you want a clean view of the sky from your skylight, transparent plastic skylights are the right choice. These will effectively transform your skylight into an extra window, providing you with a glimpse of the pure bright sky and a starry night scenery.
The two former skylight designs have the drawback of causing significant solar damage to your interior furnishings. If your RV has leather-covered chairs, you'll notice this even more since leather will fade, dry out, and crack if exposed to the sun for an extended period of time. It will be hard to fix if it becomes too serious.
Your skylight should be painted in a dark color to avoid this from occurring to your pricey RV interiors. You will still be able to see outside the dome, but the amount of UV rays that flow through should be reduced. This means you may enjoy the advantages of ambient daylight without the downsides that come with it.
The Measure and Dimensions Existing in RV Skylight
Each type of RV skylight has its own dimension that you need to calculate precisely before any dome is installed. For instance, if the exterior measurements of a unit are 33 x 25 14 x 2, the entrance dimensions will probably be 30 x 22 inches. The dome skylight may also include dome measurements of 28 x 22 x 6 inches and an outer size of 34 x 28 inches.
Nevertheless, here are some other factors you may want to look up while measuring RV skylights:
Glass thickness
Besides the metal structure, the skylight is entirely constructed of glass to allow light to pass freely. You don't have to measure the density of the glass, but it does show how effectively it can transmit light.
The thickness of skylight glass can range from 3.2 mm to 6.35 mm. On the other hand, dual-glass screens can be 25 mm (1 inch) thick. Larger skylights usually have thicker glass, although it isn't always a good indicator of strength. So, your skylight having a thin glass doesn't imply it'll be vulnerable to outside forces.
Skylight weight
The weight of a skylight is determined by its size. It's only natural that the larger the roof is, the heavier it is. This characteristic is greatly influenced by the materials utilized. For instance, a skylight constructed of aluminum is lighter than that made of stainless steel.
Installing a big skylight might be difficult for one person. Some of the larger ones can weigh over 150 pounds, making them hard to manage without assistance.
3 Easy Steps to Measure RV Skylight
So, we know everything about RV skylight measurements. The skylight and its aperture on the camper roof will now be easy to measure. When it comes to how to measure RV skylight, you'll need to stick to these guidelines to get the job done well.
Step 1: Choosing the place you want to install the RV skylight
It is critical to select the best location for the skylight. Since the RV roof is similar to that of residential homes, it is covered in electrical wire. Hence, you can't just choose a random place. Cutting one of the cables when drilling holes in the ceiling would not only make you lose your power source, but will also result in a costly repair job.
Step 2: Considering carefully the available RV skylight dome's size
You should choose the RV skylight based on the amount of space available in the installed location. Replace an old skylight by unlocking the screw holes if you're removing it. Then, take measurements of its height, breadth, and depth, as well as the proportions of the roof aperture.
Next, pick up a new skylight which is the same size as the existing one. A made-to-order light is the best option if you want to place it in a unique location. In contrast, a pre-made product is always more affordable than a customized one.
Step 3: Cutting the opening
Select the narrowest section of the roof with no electrical or other wires. If you're not sure whether you should cut through the roof, get the help of a professional technician. After the opening is finished, install the RV skylight.
The Importance of Having an RV Skylight on Your Trailer Roof
Before installing a dome into your RV roof, you may wonder why you have to proceed with this action. Now that you have understood how to measure caravan skylight, it is the perfect time to learn about the benefits of having RV skylights:
Providing natural light for all day
When you remain inside your RV all day and don't receive any sunshine, you'll have to keep the lamps on all the time to obtain enough light. It implies that you must maintain your RV battery charged to keep the lights turned on because they need power.
Furthermore, staying inside the mobile home without a skylight deprives you of the natural sunshine required for good health. As a result, installing a skylight not only saves you money on electricity but also offers good natural light even when you're inside.
Circulating fresh air
Another advantage of installing a skylight is that it will improve air circulation. You're probably taking an RV vacation to run away from the smoggy, filthy air of the city. Once you've found a quiet spot outside the city, scroll down your camper windows, switch off the AC, and remove your trailer skylight to breathe in the pure, pollution-free air.
Offering a wonderful view
If your motorhome is fitted with a skylight, it is really unnecessary to get out just to enjoy the scenery. With a skylight, you won't miss a single view, and you'll be able to appreciate the sparkling stars in the night sky while resting in your RV.
Creating an emergency exit
Having several emergency exits is always a smart idea, whether it's at your house, office, or RV. A skylight, especially in campers, provides an alternative emergency exit which might be used in the occasion of an accident if there is no other way to leave the vehicle. Skylights could save you and your crew to some extent!
Conclusion
Measuring an RV skylight is such an easy task, though dealing with damages from wrong skylight replacement is certainly unpleasant. We hope that the above information and suggestions can help you measure your new mobile home skylight precisely and appropriately. As a result, you can enjoy magnificent sceneries through the skylight's glass while camping or sightseeing in your RV car.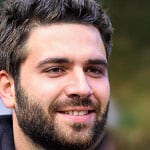 Hi, I am Joseph. Carpe diem! Seize the day! That's always been my life motto. If you haven't seen some of the most beautiful places in the country, you are missing out on incredible adventures.