Your home on wheels is your perfect companion while trying to hit the road. To keep the vehicles lighten up during darkest nights, LED bulbs are more than a basic necessity. It is tough for people to understand how to change rv interior light bulbs, so this article will provide you with every possible detail available.
LED bulbs are designed to reduce power load dramatically, and RV owners are all for that. However, there are certain safety rules implemented along with tips to help you realize when the right time is to get your LED bulbs replaced.
Dangers Related to Voltage Mixtures
Replacing RV bulbs calls for some serious steps, but first, you must learn the danger related to voltage mixtures. Remember not to install a low voltage DC bulb into AC powered fixtures. It can catch fire easily. This might happen if you put 12 V DC bulbs in an AC fitting. Using proper AC circuits will burn out the lamps immediately due to excess heat. It will melt the solder points and cause danger.
The polarity of the power is reversing to negative from positive 60 times every second. But, DC bulbs will short out instantly if placed into a negative point. So, if your current RV uses a 12-volt AC bulb for powering the lights, never replace the Halogen bulbs with LED counterparts.
When to Change RV Ceiling Lights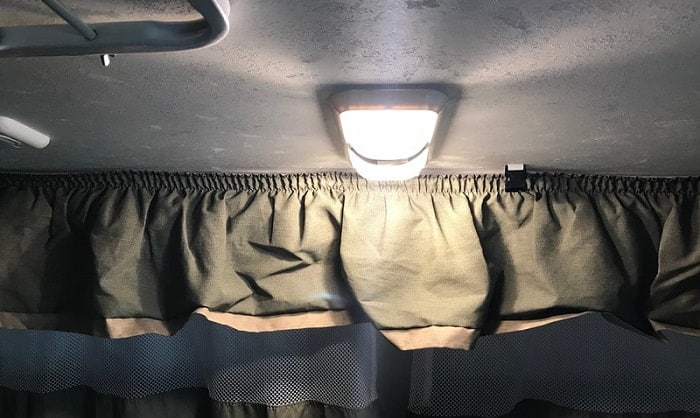 Before changing your RV bulb, you should determine its right time. Sometimes, you might think of changing the bulbs regularly, but that is not needed. There are primarily three different scenarios when you have to change the RV ceiling lights.
If you are planning to change RV ceiling lights from halogen to LED, you could do that. Multiple RV owners are planning for this switch to save money. Moreover, LED bulbs are stronger.
When you are planning to change the style of your RV, you can try changing the ceiling lights. It helps you to change the temperature or color of the bulb, along with the adjacent place.
The most obvious reason to change the bulbs is when the existing ones aren't working. If the RV lights are flickering or shut off completely, then you know it's the time!
When changing the RV ceiling lights, you can also check the RV awning lights to see if they are still working properly? If they are broken or too old, read our article on reliable RV awning lights.
Simple Steps to Help You Change the RV Light Bulb in the Ceiling
Since we finish discussing various reasons to change the RV's interior ceiling light bulb, it's time for the directions on how to do that. Be very careful, and have your protective gear ready to avoid getting hurt.
1. Turn the lights off
People generally ignore this safety precaution. Remember to turn the lights off before changing the bulb in the ceiling.
2. Remove the exterior of the light
Each light fixture is known for its exterior style. Some might have dome-shaped exteriors, and others are available in different designs. Whatever the case may be, most are available with screws. To take the exterior out you need screwdrivers handy to unfasten the screws first and then expose the bulb.
3. Time to remove the old light bulb
Now, use gloves to remove the old light bulb, especially if it was turned on the moment before. For that, turn the bulb in a counterclockwise direction to unscrew the bulb from its socket. When the bulb is pretty loose, yank the rest out from the hole. Make sure not to do it quickly; otherwise, you might break the socket. Take time and remove slowly.
Remember that sockets differ based on the fixture kind. So, while screwing in the bulb, don't apply too much pressure, or you might break the bulb. In case you have a bayonet bulb, take time to align the base properly with pins. Then push it down and twist the bulb upwards.
If using a screw cap bulb, place the bulb in the hole and then start twisting. Remember to choose a bulb of the same wattage, unless you are looking for something softer or brighter. Don't forget to check the bulb's label for maximum wattage. Never exceed the power rating as allowed by the fixture.
There are separate steps involved to change the bulb in dome light. Generally, you will need to remove screws first that secure the dome bulb. In case, the dome light isn't screwed in, just twist it manually. You can further use rubber gloves. Some separate domes are attached with metal clips. So, pull out the clips first to remove the dome and change the bulb.
4. Discard the old unwanted bulb properly
You have to get rid of the old bulb carefully. It is pretty fragile, so don't throw it in garbage haphazardly. These shards are sharp and can cut. Therefore, wrap it in an old newspaper or in the new bulb's packaging before throwing it. Keep the bulbs in a safe place that your children and pets can't reach. Remember that glass bulbs are not recyclable objects because of the filaments and metal components.
5. Add the new bulb in the existing place
After taking out the old bulb, you can screw in a new one. Attach the product to the socket and give it a turn clockwise. Continue the process until the bulb is tight. Later, screw the exterior back in its position.
6. Don't forget to test the light
After covering the basic steps, test out the light by turning its switch on. In case it doesn't work or still flickers, tighten up the bulb even more. In case it doesn't turn on even after that, then, unfortunately, the bulb might be defective, and you need to get a new one.
Best LED Bulbs for Your RVs
With multiple options to choose from, it becomes challenging to work on any particular product. For that reason, I have mentioned some of the best-LED bulbs to change the entire look of your RV's interior towards betterment.
You can try the Kohree 12V led bulb for your RV. It is a dome light available in packs for convenient lighting. The light remains RoHS and CE approved and available with anti-corrosive and heat-resistant features. It has a power rating of 6 watts and an operating voltage of 12 to 18V.
Another one is the Camco replacement RV backup light bulb. If your RV needs backup, these bulbs got your back. The replacement bulbs come with 1000 hours of life expectancy and 12.8V of voltage. These products consume less power of just 1.44 watts and minimize energy expenses. This pack comes with 10 in one and is quite easy to install.
GRB LED Replacement light bulbs are the next ones I would recommend you to try. These are primarily targeted as 800 lumens of LED replacement bulbs, available in a set of 20. It has a wattage consumption of around 6.8 and is made available with 2835 chips. These lights are proven to be more compatible with lighting systems, as found in RVs.
I might suggest you try AUTOUS90 20 x RV Trailer too. It is available with backup reverse LED light bulbs. These are rated to be 12 voltage and can match most of the RV's interior designs and styles. They are here to provide a warm white light with a lifetime of, say, 50,000 hours. Not only for the interior of the RVs, but you can also use these lights as plate lights, parking, or brake lights.
While searching for some of the best RV interior light bulbs, I came across LUYED 12-24 V super bright bulbs. These are LED bulbs, available in a set to reach 24 V easily. So, these bulbs are suitable for various RVs. These bulbs have 50,000 hours of a lifetime and are highly durable to last for ages. Moreover, since these bulbs are multifunctional, they can be used for tail lights, turn lights, and reverse lights.
Conclusion
Once you are through with the steps to change RV interior lights bulbs and the important options to choose from, remember to keep some promising pointers in mind before changing the lights.
Don't forget to check the wattage power that the fixture can take before you get a new bulb for your RV.
The removal technique of RV lights will differ based on the sockets. So, check out the socket and the light type first, before unscrewing it from its source.
The market houses multiple RV lights to give a try, but you should head for the ones that come in set to save some money.
Always head for the LED light bulbs, if you want powerful light and with less electricity bill.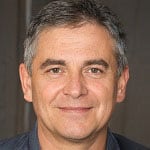 Hi, I am Tom Hank, an RV-er since 2014. Back then, I started without much help. As you can imagine, the struggles are endless. But now, you do not have to begin your adventures knowing next to nothing about RV lives.