The purpose of the best RV roof sealant is to protect against the elements. It keeps the roof safe from corrosion and other weather damage Mother Nature might throw at your vehicle. The problem is that finding the right one proves to be getting more difficult as more and more brands are offering quality products.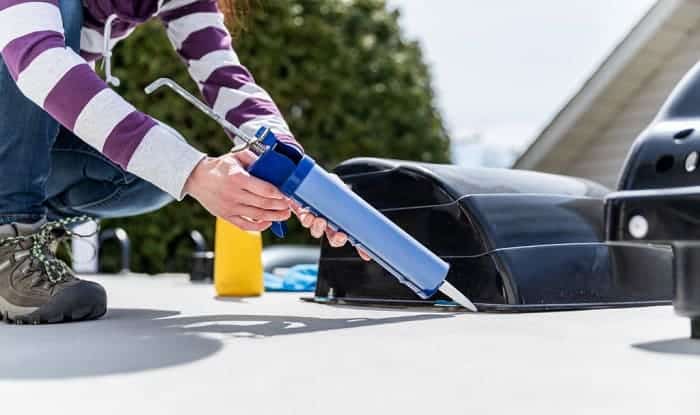 To help you shop for the best sealant for RV roof to use on your RV, here is a quick guide, including some information on what they are and which ones are the best for your vehicle. The more you know about the different kinds of RV sealant, the fewer frustrations you will experience.
This guide will make the entire buying process shorter so that you can go back to enjoying relaxing RV trips in no time.
Best RV Roof Sealant Reviews
1. Dicor 501LSW-1 Epdm Self-Leveling Lap Sealant
The nice thing about this Dicor Sealant is its ability to stick to all kinds of roofing surfaces. I tried it on my RV EPDM roof, and it adheres to the surface with ease. Also, if you need to seal your tile roof, tin roof, or other kinds of roofing material, expect this Dicor product to adhere to them without any problem.
This product is so easy to use. Just load it onto a caulk gun and lay a tall bead anywhere that you need to seal. The contents of the tube are not too thick to push out, yet not too thin that it runs. It means that the consistency is just right.
It also works as a self-leveling sealant, so you do not need to level it by hand. It will level itself out and spread just enough to give a good seal. Just leave a line of this sealant along the edge that you need to close and let it stay there.
Dicor sealants are known for being durable and long-lasting, and this one is not an exception. The sealant I placed a couple of years ago along the seams of the air conditioning vent on the roof of my RV is still holding on strong and still quite elastic.
I do have one minor gripe with this product, though, and it is about the packaging. You need to be careful not to put too much pressure on the nozzle and cause the seam to burst since the packaging is quite flimsy.
What We Like
Can adhere to any surface, porous and non-porous alike
Compatible for use on EPDM and TPO roofing
Self-leveling, so no need to spread it manually
Long-lasting and highly durable
Easy to apply – It can even adhere to wet surfaces
What We Don't Like
The packaging is pretty flimsy
When it comes to providing a good seal wherever needed, you can trust Dicor to deliver. This self-leveling lap sealant may just be the only one you will ever need.
2. Geocel 28100V Pro Flex Crystal Clear RV Flexible Sealant
If you like spending most of your time traveling in your RV, you need to have at least one tube of the Geocel Pro Flex sealant in your toolbox.
One reason why I consider it the best RV roof seam sealant is that you can still apply it when it is raining outside. No need to wait for the sun to come up before you can fix the leak.
Also, true to its name, the Pro-Flex rubber roof sealant is very flexible even after months, maybe even years of drying and curing. It works great for RVs because it can withstand the vibrations coming from the road and the twisting and bending forces that the vehicle goes through without breaking or peeling off.
As mentioned earlier, this roof sealant spray can adhere to almost every surface, even when it is wet. It does not matter what roof material your RV has. This sealant will stick onto it effortlessly.
I also like that this product is straightforward to use. If you know how to use a caulking gun, or even if you don't, you can fix leaks on your RV roof in no time. Notably, there's no need to prepare the surface before applying this caulk.
I do have one small issue with this product, though, and that it is a bit firmer compared to
regular silicone caulk
. You will need to apply a bit more force on the caulking gun to make it flow.
What We Like
Can adhere even on wet surfaces
Can bond on almost all materials if prepared properly
Remains flexible even after years
Easy to use – requires very little surface preparation.
Dries clear, making ideal for other parts of the RV
What We Don't Like
A bit thicker consistency compared to silicone
Although it will require a bit more force to apply, this sealant will last for many years, so it is a sound investment for RV owners.
3. EternaBond RSW-4-50 RoofSeal Sealant Tape
There is nothing simpler than slapping on tape to seal off a hole, and that is the only thing you have to do when you have the EternaBond RoofSeal sealant tape.
In truth, you do not have to mix compounds or use brushes and caulking guns. All you need to do is peel off the plastic backing and lay it on the damaged area. And voila, the product works wonder for your roof.
Once adequately applied and left to cure, this RV roof repair tape can be quite elastic. In other words, it can resist the vibrations from the RV engine and the expansion brought by the heat of the sun. This sealant can stretch out and return to its original shape and form.
Also, because Eternabond RV tape is in tape form, it is easier to apply. Of course, it is ideal for when you are fixing holes on a flat and straight surface. However, this product will allow you to place a sealant even around a tube evenly. You will not find a task too challenging.
Another neat thing about working with RV roof tape is that you will always apply an even amount of sealant every time. Unlike caulk sealants that dry up in clumps, butyl tape will always be flat and even.
Beyond that, this sealant is very sticky. That is probably why, according to many Eternabond RV roof tape reviews, you need to be extra careful when applying it. It sometimes tends to fold onto itself if you peel off too much, and when it does, it will not pull back apart.
What We Like
No need to mix compounds or use brushes or caulking guns to apply
Resist the vibrations from the RV engine
Can stretch out and return to its original shape
Ensures flat and even application every time.
Can go around corners and tubes easily
What We Don't Like
Tricky to pull apart when it folds over itself
Having this EPDM rubber
roof coating for RV
camper trailer in your toolbox will make RV trips more enjoyable because you know you have the right tool for emergency patch jobs.
4. Ziollo RV Flex Repair Self-Leveling Caulking Lap Sealant
I am most impressed by Zilollo's claim on how long-lasting this model is. The brand is confident that this can be the last sealant needed for your vehicle. If you seek a consistent product for long-term use, this might be the ideal pick.
If there is a leak springing out of nowhere, whether it is sunny outside or a bit rainy, you can apply this product on the roof of your RV. That means the wet surfaces are no problem when you want to use this product to plug up the leak.
Remarkably, the seal I laid out did not shrink nor dry up and crack over the years. It is still as flexible as ever as it securely stuck onto the surface despite frequent exposure to harmful UV.
Additionally, the Ziollo RV Flex repair can work on all RV roof materials, be it EPDM coatings or an aluminum roof. This lap sealant will attach itself to the surface and will not let go.
Still, to ensure that the sealant will adhere properly, you will need to clean the surface properly before application.
What We Like
Comes with a lifetime guarantee
Adheres even on wet surfaces
Completely UV stable – Not shrink nor dry up for years
Compatible with all RV roof materials
What We Don't Like
Requires surface preparation before applying
Although I had to spend some time
cleaning the roof
before applying this product, I am pleased with the results. In fact, it is one of the best lap sealants I have ever had the pleasure to use.
5. Premier Pro Products RV Roof Sealant
The first thing I noticed about this Premier Repair coating is the significant amount coming in just one package. One pouch of Premier Pro roof sealant is equivalent to two and a half tubes of caulk sealant, making it an economical choice. If you are doing a total overhaul of the seals on your roof, I highly recommend this one.
This RV roof coating is so popular sincet it comes in a resealable pouch instead of a caulk tube. Because one pouch contains so much RV roof seam sealer, it is a guarantee that you will have a lot of sealants left over. The pouch this product came in features a cap that you can close tightly to prevent the contents from drying.
You do not even need a caulk gun when you buy this product. You can get the same effect by squeezing the sealant out of the built-in nozzle. Just hold the pouch as if you would do with a pastry icing bag and pipe out as much of the product as you need onto the RV roof.
Also, this roof sealant for leaks is incredibly versatile. Not only is it suitable for almost all RV roof materials, but it also has a multitude of uses around the house. I used it more than once to patch up the gutters of my house, and it still holds strong after a year.
The only gripe that I have about this product is that it can sometimes be messy to apply, especially on curved surfaces.
What We Like
Comes in a resealable package
A professional-grade product yielding excellent results
Features a cap to prevent the contents from drying
Boasts of a versatile range of applications
One package is equivalent to two and a half packages of caulk
What We Don't Like
The application can get a bit messy due to the nozzle
If you want to get the most bang out of your buck, then this product is one of those you have to consider getting.
6. 3M Marine Adhesive Sealant 4000
If you want absolutely no water to penetrate your RV rubber roof, then I highly advise using a marine sealant like this one from 3M.
The company formulated this sealant for use on boats, even beneath the waterline, so you can be sure that it will provide your RV EPDM rubber roof with a watertight seal.
This product is not permanent, adding to its flexibility. You can remove it later if you need to remove specific components. For instance, if you want to upgrade to newer venting systems, you can easily peel off the sealant to get rid of the old accessories without damaging the RV roof coatings.
Another nice thing about this roof sealant and coating is that it remains elastic even after it has dried and cured. It is a crucial ability since the sealant needs to be elastic for it to absorb shocks and vibrations without causing them to peel off the surface.
Aside from water, this RV rubber roof sealant is also highly UV-resistant. It means that the UV rays from the sun will bounce right off the surface of the sealant. It is a good thing because UV rays will cause most other liquid rubber sealants to dry up, contract, and eventually crack apart.
The problem that I have with this EPDM rubber roof coating is that it sets up a bit too quickly. If you are only doing small repairs, you will essentially waste whatever is left in the tube as it is not resealable, and the curing process of liquid rubber sealant is quite quick.
What We Like
High-level waterproofing provided by an RV coating/sealant
Easy to remove without damaging the surface material
Highly elastic to absorb shocks and vibrations
Has the ability to resist harmful weather conditions
Boasts of its high UV resistance
What We Don't Like
Sets quickly inside the tube
Although it would have been better if these liquid RV roof sealants came in smaller tubes for spot repairs of rubber roofs, I can still say that this sealant is one of the best products that you can purchase now.
7. Flex Seal Liquid Rubber in a Can
Unlike other as-seen-on-TV products, the Flex Seal liquid sealant delivers on its promises and more.
I always love how easy the application task is. I used it to seal the vent hoods on the roof of my RV, and it went on smoothly and evenly.
I also used it to patch a small section of my roof that got a bit rusty. After removing the rust, and patching the small holes left behind with a bit of resin filler, I poured a bit of liquid rubber sealant over the repair job, and it leveled itself out perfectly.
Just as the infomercials showed, this liquid sealant has a myriad of different uses other than on an RV. For instance, you can use it to paint over walls where water often seeps through from the ground.
Notably, this sealent has a high UV resistance, so you can rest assured that it will not dry up and crack. Aside from that, it can prevent the destructive effect of changing weather and caustic chemicals.
The only problem that I have is that it is not a permanent fix. The FS sealant will peel off after a couple of years or so, which is why it is important to check your roof and the condition of the sealants periodically.
What We Like
Guaranteed to be easy to apply
Requires minimal surface preparation
Can be poured or brushed onto EPDM rubber roofs
High UV resistance
Protects against weather and caustic chemicals
Has a wide variety of different uses
What We Don't Like
Not as long-lasting as expected
Although this sealant might not outlast your RV as other rubber roof sealant brands do, it is still a great choice for quick and semi-permanent repairs.
8. Dicor – 550LSW-12 Non-Sag Roof Lap Sealant
If you want products that can adhere to almost all roof surfaces, like galvanized metal, fiberglass, and EPDM, choosing the Dicor 501lsw-12 RV roof sealant makes excellent sense.
The even better news is that other than RV roofing materials, this product can also adhere to concrete, wood, and other surfaces.
I also like how this Dicor roof lap sealant can resist UV rays. Due to the use of this liquid rubber RV sealant, I can protect my RV from discolouing and other harmful effects of prolonged exposure to sunlight and changing weather.
More importantly, this product is non-sagging so you can use it on vertical surfaces and it will not run down. However, even though this RV roof repair sealant is meant for vertical application, you can still use it on RV roofs. It will help if you spread it manually as it will not self-level.
It is important for the roof sealant to have elasticity after drying and curing. Luckily, this Dicor RV roof sealant has more than enough elasticity to resist many years' worth of the RV's engine vibrations (roof rumble) and road shocks. Furthermore, you can paint over the dry sealant if needed.
The only problem I had with the Dicor 501lsw 1 2 liquid rubber RV sealant is that it has a rather thick consistency, making it a bit hard to work with. You will need a lot of acetone and rags if you want this Dicor sealant to go on neatly.
What We Like
Compatible with all types of RV roof materials
UV-stabilized so it will not discolor or turn cloudy
Non-sag formula – Works for both vertical and horizontal applications
Remains flexible even after curing
Allows you to paint over it if needed
What We Don't Like
Has a very thick consistency, making it a bit tricky to smoothen
Although the Dicor 501lsw 1 2 is a bit harder to work with compared to silicone caulking, the results make it a worthy compromise.
9. Camp'N – RV roof tape – 4″ x 50′
Although I do find butyl RV sealant tape handy, peeling off the plastic backing can sometimes get messy. You will not experience such a problem with the Camp'N roof tape.
This product has an easy-peel backing, thereby making application a lot easier. Once you remove it and expose the adhesive side of the RV roof sealant tape, adhere it with force to the repair surface.
Unlike other roof coatings, especially the ones that you need to spread over the patch area manually, this roof tape will always apply evenly over the surface. It is also not like other sealants that leave ugly bumps requiring a bit of sanding to make them look presentable.
Once you allow the tape to dry and cure completely, it becomes a weatherproof, waterproof, and UV-resistant seal. However, even though it is a strong seal, it is still flexible to avoid damage coming from engine vibrations and road shocks.
Best of all, this product has versatile applications, meaning it can repair different surfaces. For instance, you can use it to apply on the RV roof, skylights, vents, conditioners and more.
There is one thing that you need to keep in mind when using this roof tape, though, and that is you should not apply it during a hot summer day. Too much heat will cause this tape to get a bit too soft and tacky, making it harder to manipulate.
What We Like
Comes with an easy-peel backing for non-messy application
Sticky as it can instantly bond onto the surface
Becomes weatherproof and UV-resistant once fully cured
Applies evenly every time
Versatile uses on different surfaces
What We Don't Like
Can get a bit too soft when applied on a particularly hot day
The beauty of the Camp'N roof tape is that you can do quick and easy repairs that can last for many years. This product is something worth having in your RV toolbox.
10. Kohree 4-inch x 50-foot RV sealant tape
The Kohree sealant tape is among the products promoting quick and effortless use. First-time users can comfortably aply it with ease.
For your information, the requirement for surface preparation is minimal with this product. It is a lot easier to use compared to the brush-on sealants and the caulks. You just need to bring a utility knife with you to cut enough lengths of the tape. It is also not as messy as the other two types.
Furthermore, you can even apply it on the roof of your RV in the pouring rain, and it will adhere almost like when you would use it in everyday situations.
I am also delighted to say that it is not only applicable to repairing RVs. You can use it to repair the roof of your house and for some plumbing jobs. It is also useful in sealing the sides of some windows to keep out the cold draft. The result of using this product is so clean that it can look like being done by a professional.
As expected, this sealant can protect our RV roofs from vapor and corrosive chemicals. Moreover, you will no longer be worried about UV rays ruining the roof color and quality.
The only thing that you need to be careful of is not to let the tape fold over itself once you peel off the backing. I would advise you to use this rubber RV roof coating in short lengths to prevent messy and costly mistakes.
What We Like
Easy to install, eve under the rain
Useful for sealing windows, doors, air vents of air conditioners, and more
Highly versatile as you can use it for common household repairs
Produces professional results without too much strain
Completely weatherproof and UV-resistant
What We Don't Like
Virtually impossible to pull apart if the tape folds on itself
Although you need to be a bit more careful when working with this product, you will be more than happy with the results that you will be getting.
11. ToughGrade Self-Leveling RV Lap Sealant
I always like the lap sealants made by ToughGrade as they are the least messy to deal with. With this specific sealant from ToughGrade, you leave it on its own, and it will spread out evenly.
Although this roofing sealant is not ideal for vertical application, you would be surprised at just how many uses you can get out of this one tube. With it, you can seal the vent covers, exhaust pipes, antennas, and a lot of other things that can cause leaks.
Now, even though this sealant takes around 24 hours to dry and cure completely, it will be thoroughly waterproof and airtight once it does. Also, the seals will be UV-resistant, meaning they will not weaken even after exposure to direct sunlight and other weather conditions for extended periods.
Furthermore, because it has such an extended drying time, you can still clean up the application of the seals to make them look neater. One method I use to make my seals look at least half-decent is to apply masking tape over the areas where I do not want any sealant to spill over.
I mentioned it already earlier that this product is for horizontal applications only. Hence, it is not advisable to use it on the sides of your RV windows.
What We Like
Self-leveling, so no need to get your hands dirty
Perfect for edges of the roof, roof vent covers, air conditioning, and more
Completely watertight and UV-resistant once it dries and cures
Has an extended drying for easy manipulating
What We Don't Like
Only useful for horizontal surfaces
Although it is a horizontal-only sealant, you will be surprised at just how many applications this product has. It truly is a worthwhile investment.
12. RecPro 1021 11-oz. Self-Leveling RV sealant
The RecPro sealant is your primary RV roof sealant that is reliable for long-term use.
This sealant is entirely weatherproof. It can withstand whatever Mother Nature throws at it, and it will still do its job.
More importantly, this sealant has a wide operating temperature margin, meaning it can withstand extreme cold and heat. Hence, it is the perfect choice for people who like to travel cross-country, from North to South. Regardless of where you end up, this sealant will still hold strong.
Once completely dried and cured, this liquid roof sealant will turn into a completely waterproof and watertight barrier. Even when subjected to torrential rains, not even a single drop of rainwater can seep underneath the sealant.
Aside from rainwater, this sealant can also resist and repel other materials, like caustic chemicals, oil, grease, dust, and dirt. The great thing about this product is that you can essentially forget about it for around a year after you lay it down on the roof.
However, the outside temperature should at least be 80 degrees F for the caulk inside the tube to flow freely. Yet, even when you do apply it when it is cold outside, it will still adhere properly.
What We Like
Resist all weather conditions
Creates a long-lasting waterproof barrier on seams and holes
Resists caustic chemicals and repels oil, grease, and other dirt
Can withstand extreme cold and hot weather
What We Don't Like
Will not self-level if it is too cold outside
Overall, this product is a no-frills RV rubber roof sealant. It does what you expect of it, no more and no less. If you want a practical and durable sealant, you will want to use this one.
Best RV Roof Sealants Buying Guide 
The RV rubber roof sealant always plays a vital role in the lives of RV owners. It protects the roof of the RV, which, in turn, protects the rest of the vehicle against damage caused by different forces of Nature. If this coating fails, the roof will incur damage, which will then spread to the other parts. Therefore, you have to pick out the best that you can afford.
To help make the task easier, here are the qualities of a good rubber coating or sealant that you should be looking for when you are browsing the aisles or checking out products online.
Durability – The durability of a rubber RV roof sealant is the product's resistance to tearing or deterioration. It means that the sealant should be very elastic regardless of its type. It should be elastic enough at least to stretch out quite a bit then return to its original shape.
Elasticity is important because you will be applying the rubber sealant on a moving vehicle, meaning it will twist and bend to a certain degree. Moreover, the solar heat will cause the roof and the rest of the RV to expand a bi. So the sealant should be able to stretch along with the roof.
Also, the durability of the rubber sealant extends its ability to withstand significant impact forces without tearing. For instance, tree branches and other types of debris will inevitably fall on the roof of your R. So the sealant needs to be able to withstand those kinds of impact forces without puncturing or tearing.
Water-Repelling Ability – Protecting your RV from leaks is the main reason why you wanted to use a rubber RV roof sealant in the first place. The sealant that you use on your roof should be able to prevent getting through it and damaging the roof. It needs to adhere to the surface of the RV roof effectively that water will not find any space to seep through.
An RV roof sealant usually turns into a rubbery material permanently bonded to the RV roof. In other words, it should be completely waterproof once applied on the surface. It will be like an elastic rubber skin over the roof and the seams, screw heads, and other holes. It prevents water from getting in contact with the roof and causing rust and other forms of corrosion that often results in leaks.
UV-resistance – UV rays are the components of sunlight that cause damage to everything exposed to the sun for an extended period. It is the one responsible for causing discoloration and fading of paint, photographs, and other pigmented objects.
Aside from those, UV rays also cause different kinds of materials to dry up and crack. It is the reason why you need to get a UV-resistant rubber roof sealant or invest in a good rubber roof coating.
It would be disastrous if the sun's harsh rays were to cause your rubber roof sealant to fail. It can lead to numerous cracks and tears where water can pass through, which will turn to a multitude of rust patches costing thousands of dollars to repair properly.
Save yourself from all those needless expenses and frustration when it comes to RV roof maintenance. Get a roof sealant that can resist a good number of UV rays without weakening and failing.
Longevity – As the roof sealant ages, it will also start losing its effectiveness and protective qualities. However, some products can last significantly longer than others, and these are the kinds of RV roof sealant that you need to use on your RV.
There is no exact method to determine how long an RV roof sealant can last, but you can check out the customer reviews online to get a grasp on how long the products last. You can usually find helpful customer reviews on Amazon, eBay, and other online platforms that sell roof sealants.
Ease of Use – Regardless if you will be doing spot repairs on the roof of your RV or reapplying an entirely new coat of RV roof sealant, the product you pick must be easy to use, especially if you will be the one doing the repairs.
If you will be using the liquid RV roof sealant, the consistency of the sealant should not be so thick that it would be extremely difficult to paint onto the roof surface. However, it should not also be too thin either that you will need multiple coats to provide ample protection.
If you will be choosing the tape type of RV roof sealant, get one that does not dry too quickly. The sealant should allow you to manipulate it a bit after application.
Price – It will be subjective as the concept of expensive will vary depending on who you ask. Therefore, you should get the priciest one that you can fit into your budget. With that said, avoid setting a budget so low that you will not have any other choice but to buy the cheapest sealant that you can find. Remember that when it comes to roof sealant, you will always get what you paid for.
How Many Types of Roof Sealants for RV Are There
Here is the tricky part when shopping for RV roof sealants. You will be introduced to its many different types. You have to familiarize yourself with every one of them as they serve a different purpose from each other. The first category of RV roof sealant is the material used for making them, including the following:
Urethane Coating – This material is the most popular choice among RV owners. The reason is that urethane is quite strong while also being affordable. This type of RV roof coating can provide a hard shell that can withstand strong impacts like tree branches or fruits dropping on the roof of the RV.
However, the downside of using an RV is that you will need at least two coats of the RV roof coating to get ample waterproofing for your roof (and possibly even more if you use the cheapest ones you can find).
Acrylic Coating – Although this material is not as durable and high-quality as the other two coatings, it is a lot easier to manipulate and use. It is a stop-gap solution that you can use for emergencies.
For instance, if your RV suddenly develops small leaks while you are camping, it may prompt you to use an acrylic sealant because it is easy to work with and ideal for small patch jobs and emergencies.
Silicone Coating – This material is the costliest, yet has the best quality, among the roof sealant materials in the market. One great advantage of silicone coating is that it is extremely resistant to weather damage and UV rays. It also works well against ponding water on the roof.
This type of sealant has naturally high elasticity, enabling it to resist all kinds of damage. However, silicone does tend to get dirty quite easily, so you will need to wash your RV a bit more often compared to when you use a urethane coating.
Aside from the material, take note that you can also categorize roof sealants according to their form and delivery systems.
Caulks – RV lap sealants usually come in the form of a caulk tube, which you will then need to load into a caulking gun for easier and more uniform application. It is the ideal choice when you need to seal the portions in between two panels, or if the damage is inside a tight area.
Tape – Just like caulk sealants, this form of RV roof sealant is ideal for a wide range of different repairs on the fiberglass roof. Tape sealants resemble a roll of duct tape, but with a thicker adhesive portion, and the tape itself is the sealant material.
To use tape sealants, you first need to cut out the length of the product according to the length of the damaged portion. Stick the tape onto the prepared surface and then peel the plastic backing of the tape.
Brushable – This sealant has the consistency of regular paint, which is why you can apply it on the surface using a regular roller brush, or a smaller bristled brush for the tight spaces. It is the ideal choice if you want to reapply the sealant on the entirety of your RV roof. However, remember that you will need to prepare the surface thoroughly so that the sealant will have little to no problem adhering.
How Do RV Roof Sealants Work
There are several different ways for the best camper roof sealant work to protect your RV. The primary function is that it helps mitigate and prevents water from leaking through the roof of the RV. The sealant provides a waterproof barrier that prevents moisture from getting in contact with the metal roof that often causes rust and other forms of oxidation damage.
For instance, a lap sealant will prevent even the smallest amount of water from seeping through the seams of the vents. The seal will be so effective that even when there are torrential rains outside, it will be completely dry inside the vehicle.
The RV roof sealant also prevents the UV rays of the sun from heating the roof too much. Without the sealant layer, the roof can get too hot and make the RV's air conditioning system work on overdrive just to keep the inside livable. It is like placing a thin yet effective layer of insulation on top of your roof.
Concerning the information mentioned previously, a roof sealant will also minimize the thermal stresses on the roof. It does so by mitigating thermal expansion (the way the roof would expand and contract depending on the temperature) of the roof components.
It also prevents the roof materials from deteriorating due to the heat and UV rays of the sun. In simple terms, the roof sealant will prevent the roof from getting damaged due to its high elongation factor.
Who Makes the Best Roof Sealant for RV
With thorough research, you will surely discover that there are many brands and manufacturers of RV roof sealants. The problem is these brands are not created equally. It is always safe to say that some of them are better than others.
I have been using different brands of sealants for almost as long as I have been an RV owner, which is why I already have a list of my preferred brands. If you want to make shopping for roof sealants easier, choose from trusted and effective brands, like Geocel, EternaBond, Ziollo, Premier Pro, 3M, Flex Seal, Dicor, Camp'N, Kohree, ToughGrade, and RecPro.
If you stumble upon any of these brand names while shopping for the top-rated RV roof sealant, I can somewhat guarantee that you will only get great results.
How Do You Clean an RV Roof Before Sealing
You will need to prepare the surface before applying the sealant so it will adhere properly. Technically, though, you can put the sealant over the damaged surface without cleaning it first if it is an emergency and you need to stop the leak immediately. However, you will need to redo it properly as soon as you can to make the sealant adhere much better.
You just need to clean the surface with some soap and water. Scrub the surface to get most of the surface dirt and grime off. If the existing seals have severe damages, you will need to scrape them off and clean the exposed surface as much as you can.
After you rinse the soapy water off, dry the area as much as you can using a clean rag. Use another clean rag dipped in some denatured alcohol to clean the area that you will be sealing even further. The denatured alcohol will get rid of any oils and fine bits of dirt on the surface, making it easier for the sealant to adhere. Moreover, it will hasten the drying process.
The surface is now ready for you to apply your roof sealant of choice.
Is Flex Seal Good for RV Roofs
Yes, the label of the product says that it is a good RV roof sealant. Flex Seal for RV roof has a similar formulation as most other sealants and similar products. It is just the brand name that is different.
You can even find many RV owners who swear by how effective it is at keeping their campers' EPDM roofs water-repellent. However, you will need to read its label carefully to find out if it is compatible with the roof material of your RV. Note that liquid rubber RV roof and similar materials might be a problem for certain sealants.
How to Apply RV Roof Sealants
Before you can apply sealant on the roof of your RV, you must first clean it thoroughly. First, give the entire RV a good washing, taking extra care to scrub and clean the EPDM or painted aluminum roof. Also, make sure that you park your RV as far away from any trees to prevent leaves and sap from contaminating the repaired area.
After the RV dries completely, scrape the sealant/coating around the area that you will be repairing, and sand over it until the process removes all or most of the corrosion. Rinse the area with clean water to remove most of the sanding debris. Then, wipe the surface using a clean rag soaked in denatured alcohol to get rid of any trace amounts of dust and oils on the surface.
Once the area is totally clean, you can start applying your choice of sealant over the damaged area. Closely follow the instructions on the product label so you will not be wasting your time, money, and effort on the sealant that will not even stick to the surface.
After giving the sealant ample time to dry and cure properly, you have the option to wet sand over it using fine-grit sandpaper to smooth it out. Be careful not to take off too much material while sanding.
On the other hand, if you will be using lap sealant to seal the seams of the EPDM roof vents and other components, you need not worry about how the sealant looks. It may look ugly and unevenly applied, but the important thing is that it makes a watertight seal. No one will be able to see the caulking anyway unless you invite them to climb up onto the roof.
How Often Should You Seal Your RV Roof
RV professionals recommend that you check the roof of your RV at least once a year and reapply sealant on the areas that need them. Not unless there is extensive damage on the EPDM or aluminum roof of your RV will you even need to consider re-applying sealant on the whole thing.
When you are inspecting the roof of your RV, you need to put more attention to the sealant on the base of the air conditioner vents and antennas. Check if the existing sealant is still intact. If there are small cracks, apply sealant on top of the existing sealant. On the other hand, if you can easily peel off the sealant, you will have to replace it immediately.
Where Can I Buy RV Roof Sealants
You can find plenty of choices of RV roof sealant in your local automotive supply store and big box stores like Home Depot and Lowe's. You will usually find the most popular brands in these brick and mortar establishments. If the place is large enough, you might find a dozen more brands to choose from.
The great thing about buying from brick-and-mortar stores is that you will immediately receive the item you purchased. You do not have to wait for deliveries. Moreover, if you are not completely satisfied with the product, or would like to replace it with something else, you just need to take it back to the store and present your receipt.
However, if you want to have access to more brands and products, it is best to shop for RV roof sealants online. You can find dozens, if not hundreds of different brands of sealants in just Amazon alone, and there will be even more when you go to other retail websites.
One of the biggest reasons why I prefer online shopping for RV roof sealant for EPDM and other types of roofs, and other automotive products for that matter, is that there are numerous user reviews to consult. It is not bad to take the manufacturer's word regarding the effectiveness of their product, but it is better to have the unbiased rv roof sealer reviews of other people who have used the product.
Another advantage of shopping online is that it is easier to compare prices of EPDM RV roof sealants so you can find the best deals. Furthermore, online retail stores offer online coupons occasionally so you can get huge discounts on your purchases.
Where you buy your RV roof sealant will be entirely up to you and your preferences. If you think that using any one of the products in your local auto shop is fine, then go ahead. However, if you want more choices and you like to hunt for bargains, then you can shop online.
Care and Maintenance
If you only did spot repairs on your RV EPDM roof, then you probably still have a lot of leftover sealants after you are through. If you use the caulking product, make sure that the nozzle is clean and replace the cap. In case you are using the tape, ensure that there is a bit of plastic to cover the edge of the sealant to prevent it from drying up.
Now, if you are using the brushable sealant, it is advisable to clean the rim as much as you can and replace the lid tightly to prevent the contents from drying. Once you have properly sealed the container, stow it in a place that is cool and away from direct sunlight. If properly stored, this product can last a couple more years of re-sealings.
Other RV Roof Sealants We Reviewed
AP Products 017-187690 Sikaflex-715
This product is so versatile that it doesn't even matter what material your RV roof has, regardless if it is EPDM or others. It will bond to it without any problem at all.
Key Features:
Compatible with all EPDM RV roofing materials
Cures into a strong yet elastic seal
Semi self-leveling – It is also usable on vertical surfaces with great success
Dicor BT-1834-1 1/8″ x 3/4″ x 30′ Butyl Seal Tape
This Dicor butyl tape is the ideal choice for RV owners who have limited to no experience in automotive repairs. This product is so easy to use that even beginners will not have any trouble using it effectively.
Key Features:
Easily seals complex-shaped joints
Gapless and even application every time
Quick to apply because it is on a continuous roll – It does not require any measuring.
Geocel Corporation GC24201 Pro Flex RV Instant Repair
The Pro-Flex RV instant sealer lives up to its name. You will be able to repair leaks and other kinds of damage on your roof quickly and in just one simple step.
Key Features:
Can work well regardless of the climate and weather
Tough enough to withstand moderate foot traffic
Can stop leaks quickly and permanently
Beech Lane RV Roof and Leak Permanent Repair Tape
If you need something to plug up leaks in your RV's EPDM roof, a product that works fast and well, then you need to check out the Beech Lane permanent repair tape.
Key Features:
Self-priming as it will start to harden and cure when you follow the instructions properly
Can stick onto most kinds of surfaces, except for silicone
Long-lasting – Expect it to last up to 20 years of continuous outdoor exposure
Sashco Quart Clear Roof Sealant
This product is one of the easiest-to-use roof sealants that I have come across in a while. You just need to brush it on, and you are done. You would not even notice that it is there.
Key Features:
Dries clear and will not turn yellow even after the passage of years
Highly elastic and long-lasting – It can keep up with the movement, vibrations, and thermal expansion of your RV roof.
Can resist almost 100% of all RV rays
E-SDS RV roof sealant tape 4″x50′
This product will make quick work of any leaks or other kinds of damage to your RV roof. It will take years before you will need to reapply the product again.
Key Features:
Easy to apply – Just peel off the liner and stick it on any leak, tear, seam, or anything that needs a waterproof seal.
Can resist almost all UV rays, certain corrosive chemicals, extreme heat and cold, and more
Seals off the seams of windows and around the RV door jamb
Leisure Coachworks RV sealant tape
This leak repair tape is one of the best that I have ever had the pleasure to use. It applies quickly and easily and tends to last for a very long time.
Key Features:
Provides a watertight and airtight seal once applied
Easy to apply – Just peel off the protective plastic, and the product will start to cure immediately upon exposure to the air
Easy to apply on flat, curved, and even on angled surfaces
Lippert Components 1021 Self-Leveling Lap Sealant
This sealant is ideal for preventing water from getting through the seams on the roof of your RV. It is so effective that you will not need to retouch or replace the sealant for years.
Key Features:
Formulated to last – It can effectively resist the damaging effects of exposure to weather.
Elastic formulation – It can withstand vibrations and thermal expansion and will not quickly dry up and crack.
Easy to use – The application only takes a couple of steps and less than half an hour to prep the surface and apply the caulk.
Conclusion
The sealant is probably the most crucial part of the RV roof. If it fails, there is no stopping rainwater from seeping through the seams and into the ceiling where it can cause an ungodly amount of damage. It is the reason why you need the best RV roof sealant.
Seeing as you have managed to reach the end of this buying guide, you have known how to choose from the many different brands of RV roof sealants. Hopefully, you can purchase the one that fits your needs perfectly.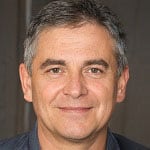 Hi, I am Tom Hank, an RV-er since 2014. Back then, I started without much help. As you can imagine, the struggles are endless. But now, you do not have to begin your adventures knowing next to nothing about RV lives.