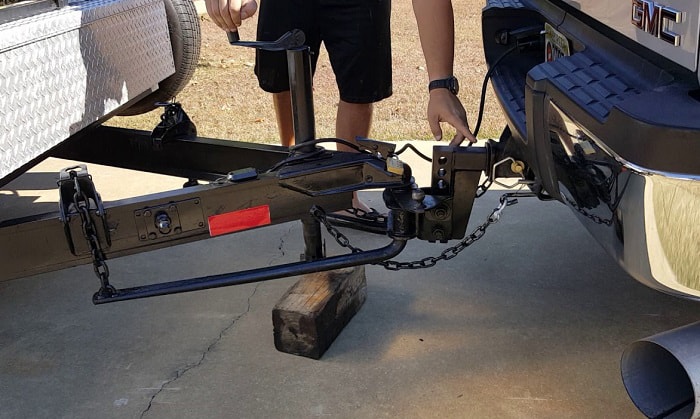 A receiver hitch for travel trailer helps provide an anchor to secure towed loads. Installing a reliable travel trailer towing hitch can help prevent many on-road vehicle-pulling accidents. But what is the best travel trailer hitch on the market?
Buyers should know that no 'end-all' model is classified as the one-and-only best tow hitch. Instead, it is important to take a look and think about the different factors associated with searching for an ideal travel trailer hitch system for specific demands.
Some of the things to consider are:
Unloaded Vehicle Weight: The weight of the towing vehicle from its manufacturing. This reading does not include the weight of any add-ons after the vehicle's initial purchase development.
Trailer Towing Capacity: The maximum towing limit of the pulling trailer's tongue. The pulled load should not exceed the maximum trailer tongue weight. Otherwise, the hitch may fail and release the towed vehicle, even while on the road.
Towing components: A standard hitch setup for a travel trailer generally uses the following parts: ball mount, trailer ball, safety cables (or chains), a pin, and clip. A reliable RV hitch kit should come with these components. However, these items might also be available as aftermarket purchases.
Remember that the factors mentioned above are not the only elements to consider when shopping for the right travel trailer towing hitch. Keep reading to gain more insight about these elements in greater detail.
First, here is a look at different yet excellent choices for travel trailer hitches.
Top 11 Travel Trailer Hitch Reviews
1. EAZ LIFT 48059 Weight Distribution Elite Kit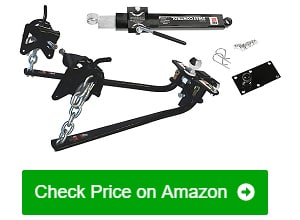 Although travel trailer hitches usually have prices that can break banks, I was content to see this particular model's costs to be at a mid-range point. Thankfully, the manufacturer did not sacrifice the durability and strength of this model.
It has a 1,200-lb maximum tongue weight with a maximum gross trailer weight rating of 12,000 lbs. I find it surprising that this weight distribution hitch kit can achieve such a feat while maintaining a relatively compact design. That reasonably small frame also made it convenient during removal and storage.
Moreover, the high-quality engineering on the steel construction made this hitch more rugged than other options, especially when compared to the low-quality units I tried.
I would also like to mention that this steel build is a top-notch chrome-molybdenum-grade variant. It means that this kit's construction can withstand high heat without the significant risk of breaking. It also means that it ensures passengers in the towed motorhome or trailer experience a stable and comfortable ride.
The next feature I adored is the built-in U-bolts. Coupled with the safety chains, I am relieved that this kit has the necessary hardware for a proper and safe installation.
On the downside, compatibility could use some extra work. I installed it on one 24-ft. travel trailer, and it worked for the most part. But I noticed that the adjustable bumper rotates with each use. Fixing this issue was possible with a bit of DIY.
What We Like
The mid-range price tag should fit many budget allowances
Tongue weight capacity and Gross trailer weight rating limit are fairly high
High-quality chrome-molybdenum-grade steel construction
Built-in U-bolts enhances convenience and safety during and after installation
What We Don't Like
May not be compatible with some travel trailers without modifications
Overall, I recommend this weight distribution system for compatible RVs and travel trailers. This product can be a great entry point for some buyers to enter the world of hitches.
2. Husky 32218 Center Line TS Hitch
While other trailer hitches only provide secure couplings between towing and towed vehicles, this Husky Center Line TS with spring bars brings weight distribution and built-in sway control in one device.
Furthermore, just about everything I needed for the installation to work is in the kit. In turn, it did not require me to spend time going back to the store.
I also like to mention that this hitch maintained a secure connection after many trips. I tested it for about 17 days while making 26 total camping and road trips. This model performed as intended. I would even go as far as to say it provided me with flying colors for its overall performance.
Initial installation was also a breeze. It took me less than an hour to install it to a 2015 Ford Expedition. But additional testing presented me with some problems with certain towing vehicles possessing uniquely designed pulling tongues. Modifying the kit slightly solved this concern.
The coupling did not budge even when strong winds were pushing against the vehicles. It was even quiet for most trips. But I noticed that the construction started creaking when subject to long trips. In context, I drove 1,100 miles, and the hitch's metal parts started making squeaking noises near the end of the journey. A little lubricant fixed this issue.
What We Like
Weight distribution and anti-sway control in one travel trailer hitch
Complete hardware included in the kit
Able to withstand strong winds
Quiet and secure performance for short- to medium-length trips
Only takes less than an hour to install
What We Don't Like
May creak or squeak during long road trips
Might not fit some towing tongues well without modifications
Overall, campers looking for a long-term solution to stable and quiet towing should look into purchasing this hitch.
3. Equal-i-zer Weight Distribution Kit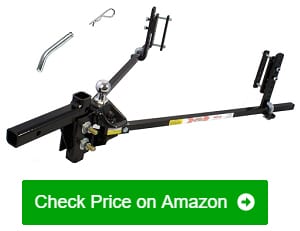 I can safely say that this Equal-i-zer hitch is one of the top-rated weight distribution hitches I have tried. It presented my camper with many benefits, such as the lack of the need to disconnect or disassemble the hitch assembly when backing up my vehicle.
Moreover, this model is also an anti-sway hitch for camper vehicles. It uses a 4-point stabilizing system to help reduce friction and sway during tows. This model also has linear friction at two points, allowing it to provide similar stability as compared to using an add-on 8-point sway control accessory.
Its stability was also on point, seeing that the friction sway control feature also provided a proper weight distribution across my vehicle's towing tongue. The result is a more convenient and safe ride, including improved steering and braking.
One shortcoming I noticed is that this kit is not the quietest setup in my books. This hitch setup for travel trailer makes a creaking sound while towing a trailer. Additionally, it is not advisable to lubricate the contact area. Doing so will reduce the anti-sway function, increasing on-road risks of accidents.
Nonetheless, this kit's compatibility is nothing short of outstanding. I was able to install it on different vehicles, including bumper pull trailers, cargo carriers, utility trailers, and even trailers with surge brakes.
What We Like
No need to disconnect or disassemble the kit while reversing the vehicle
A 4-point sway weight distribution hitch that removes most side-to-side motions
Excellent weight distribution to the towing vehicle's tongue
Top-notch compatibility for it can fit many vehicles, including utility trailers
What We Don't Like
The immutable creaking sound might be an issue for some users
Ultimately, I recommend this receiver hitch for travel trailer because of its range of first-rate features. Seeing its performance in action can put smiles on the faces of many towing vehicle owners.
4. Fastway e2 Weight Distribution Kit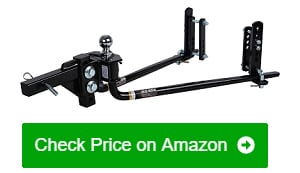 Although the price of this model falls within the average cost of many trailer hitch receivers, it has features that I found to provide me with more value than its overhead. For instance, the traditional spring arms provided my towing setup with an optimal distribution of the weight of both the towing and towed vehicle.
Take note that this setup uses a round bar and a trunnion. The latter component provides towing vehicle users like me with better ground clearance than many other choices on the market.
I also approve that the manufacturer decided to develop a hitch design that does not require disassembly while backing up my vehicle. However, I should mention that this setup that does not require a disconnection should be on a flat surface. Otherwise, attempting it on a steep uphill will still require me to take the system apart.
The install process is also unique as compared to other similar products. I can set this kit up as a front-mounted hitch or connect it to my vehicle's rear axle. This design also supplies vehicle-pulling options for many users.
Also, this unit has a cohesive anti-sway system. This feature uses friction within the brackets and spring arms to reduce trailer sway from the trailer during tows. It does fairly well in removing unwanted side-to-side motions. But I wish that it does better in eliminating up-and-down movements as well.
But I also like to thank the manufacturer for including a 10-year limited warranty for this product. It gives me peace of mind, knowing that I can contact their customer service support if I encounter problems from natural causes with this kit.
What We Like
Traditional spring arm design offers optimal weight delivery
Excellent ground clearance, thanks to a trunnion
Does not require disassembly when backing up a vehicle on a flat surface
Can be installed in either the front or back of a towing vehicle
Anti-sway system efficiently removes side-to-side movements
10-year limited warranty
What We Don't Like
Might still demand taking the kit apart if the vehicle backs up on a steep hill
This travel trailer hitch and sway bars is an advisable product for interested consumers searching for a solution to stabilize their towing experiences.
5. Andersen Hitches Weight Distribution Hitch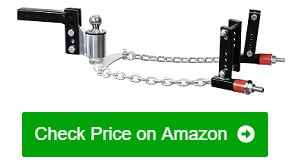 While many hitches with weight-distributing features focus on using the traditional spring bar setup, this Andersen weight distribution hitch revolutionized how these components work. The company removed the conventional spring bar design and created a relatively simpler chain system.
This chain design results in a lighter and quieter towing hitch for campers. In comparison, many other hitches generally weigh more than double what this model has to offer. Its lightweight construction also made it possible to make the install and removal setup easier than others.
Installation is also a reasonably straightforward task, thanks to the detailed instructions. But individuals that wish to purchase this kit should heed my warning: it can be easy to bend the triangle plate and ruin the urethane springs. Therefore, make sure to pay extra care when setting up these parts.
Additionally, I liked that this hitch has two ways to attach and detach from a tow vehicle. First is the use of the provided ¼-in. nut; tightening it will secure the connection, whereas loosening this component undoes the attachment. I can also use an electric trailer tongue jack to do this process faster and with less hassle than before.
Finally, this kit has an integrated lubrication system. In other words, it does not require grease or any lubricant to enhance its performance. The system does it by itself and does not require any human intervention to achieve it.
What We Like
Uses a chain design to make the system lighter and quieter than others
Straightforward installation, thanks to the detailed instruction manual
Two options to attach and detach the tow vehicle through this hitch
Self-lubricating system that does not require extra grease or lubricant
What We Don't Like
Requires care not to break some parts during installation
With this hitch system for travel trailers and tow vehicles, users can expect their towing experiences to be more refined than before. I suggest buying this kit to enhance different areas of concern during tows. 
6. CURT 17500 TruTrack Weight Distributing Kit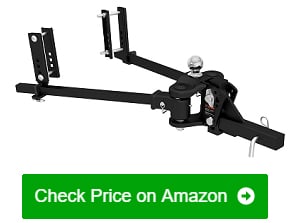 I find this CURT adjustable RV trailer hitch to be one of the more expensive units on the market. But the bump in its price tag is justifiable because it offers a myriad of functional features. One example is its weight rating.
With a 10,000-lb. maximum tow weight rating, along with a 1,000-lb maximum tongue weight rating, this vehicle's towing capacity exceeds most of its competitors. However, its compatibility limits this tow vehicle weight rating because this unit only fits 2×2-in. trailer hitch receivers.
Moving forward, another feature that I liked about this weight-distributing hitch kit is its five adjustable locations. With it, I can tow multiple vehicles, provided that the maximum trailer weight of all pulled objects does not exceed the system's allowable load.
I should also mention that distributing the weight is customizable on this kit. This adjustable hitch has a movable shank. Coupled with spring bars that move 30 to 70 degrees, this model can fit many tow vehicle tongues, as long as they have 2×2-inch receivers.
Finally, this unit's entire build has a rugged carbide black powder finish. I tested this kit's durability and found that it can withstand the harshness of outdoor elements.
What We Like
Maximum tongue weight rating and tow weight rating exceeds many competitors
Five adjustable locations for towing multiple vehicles
Adjustable shank to enhance compatibility and flexibility
Carbide black powder coating provides weather resistance to the system
What We Don't Like
Might not be compatible with hitch receivers that are not 2×2-in. in size
This travel trailer hitch is an excellent contender as one of the top-rated models on the market. It offers a slew of great features and traits that can benefit different users.
7. Ultra-Fab 35-946403 Travel Trailer Hitch Receiver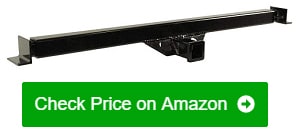 The 53-lb weight of this trailer hitch receiver triggered my skepticism. But this lightweight model is a solid performer on and off the road. Its performance can even outshine some of its heavier competitors.
Starting with the installation, it only took less than 2 hours to complete. The installation process could be faster, but I was chatting with my friend at that time. I should mention that some welding might be necessary to enhance the hitch's stability and strength.
Furthermore, this trailer hitch is a good choice for towing fairly light objects. I tested it on pulling things like generators and bike carriers. However, anything heavier than about 3,000-lbs will compromise this hitch's structural integrity.
Still, it can be quite difficult to complain about its shortcomings after seeing its price tag. It is one of the least expensive models on the market for a product of its class. I tried searching for even more inexpensive hitches. The outcome of my search is that I mostly found options that are lacking in quality features.
This relatively low cost is quite surprising after seeing that this hitch receiver comes with every hardware needed for the installation. Therefore, I did not need to go to a hardware store to get additional supplies for the setup.
What We Like
Lightweight 53-lb. construction without sacrificing overall performance
Installation is reasonably quick and easy to complete
Ideal for towing sufficiently light objects, such as generators and bike racks
Available at an inexpensive price
What We Don't Like
Might not be good for towing anything with a weight heavier than 3,000 lbs.
Some welding might be necessary to achieve a stable finish
Any tow vehicle owner with welding experience looking for a high-quality trailer hitch may not want to miss out on this product.
8. CURT 17063 Weight Distribution Hitch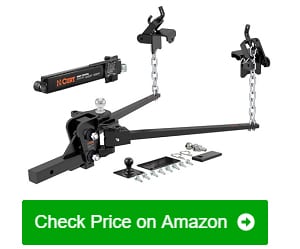 Perhaps the most likable aspects of this weight-distributing trailer hitch are its installation and removal. These procedures did not demand a significant amount of time and effort from my experience.
First, I would like to go about the install process; it starts by mounting the ball and plate onto the trailer frame. Then, I secured these parts using the included self-tapping screws. As for the sway control ball, this component came pre-installed, thus cutting the installation time by quite a bit. Finally, attach its bar to the balls and install the clips.
The removal process is also reasonably straightforward. It only required me to unclip the bar. Then, I followed the install process but in reverse. When I found myself getting stuck with the setup, I can consult the detailed instruction manual for help.
This kit also includes a snap-up lever, which provided my tow vehicle with extra leverage. This feature, it adds extra security for the setup's assembly.
I should also mention that if I had the hitch head at the highest setting, the maximum extended length is going to be 7 in. At that point, it is a reasonable height to give the tow hitch's tongue extra ground clearance.
Moreover, I like the build quality on this trailer hitch. Its construction has a corrosion-resistant carbide black powder coating that can also protect the system from harsh weather.
On the downside, this hitch's compatibility takes a slight hit because it needs larger sockets than the ones used in a conventional toolset. Buyers should purchase these items first before they can achieve a proper installation.
What We Like
Installation and removal are reasonably quick to complete
Snap-up lever provides the setup with extra leverage
Hitch head offers additional clearance at the highest setting
Superb corrosion-resistant build quality
What We Don't Like
Customers may need to buy compatible sockets for the assembly
Overall, this product is a first-rate kit with minimal causes for concern. It supplies users with top-notch benefits that far outweigh its shortcomings.
9. Husky 30849 Weight Distribution Hitch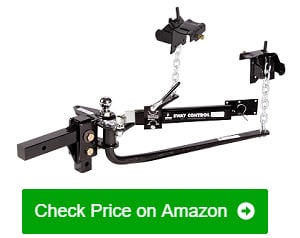 This weight distribution hitch does not only provide optimal balance and stability to tow and towed vehicles; it is also a workhorse. With a weight rating of 1,200 lbs, and a gross trailer weight of 12,000 lbs., this hitch can help pull many objects without the worry of them detaching in the middle of a road trip.
I would also like to circle back to this kit's stability because this trait is one of this product's highlights. Using a 2-point anti-sway mechanism, it manages to even out significant rocks or sways that might otherwise come from pulling a heavy load. The manufacturer also gives the option to buy two more sway control balls for extra stability.
After taking the items from its box, the next step was to install this hitch onto my tow vehicle. The installation was reasonably easy because it only took about three major steps to finish the process. First, I ensured that both vehicles were level. Then, I attached the ball. The final step was to secure the chains.
This kit also shines from its built-in pivoting. I managed to pivot the hitch to about eight inch vertically. That pivot range is generally more than what the typical weight distribution hitch can usually offer.
One shortcoming I found with this kit is its retainer pin. Although the rest of the system has a reasonably sturdy construction, the pin is surprisingly fragile.
What We Like
Above-average 12,000-lb. gross trailer weight and 1,200-lb. tow weight rating
2-point anti-sway system for optimal stability
Option to purchase additional sway control balls for additional stability
Fairly easy installation
Able to pivot with an 8-in. range
What We Don't Like
The retainer pin might need to be sturdier
Achieving the ideal towing experience is now achievable, thanks to this product. Shoppers searching for top-rated stability from their hitches may not want to leave this model alone.
10. CURT 13703 Adjustable Trailer Hitch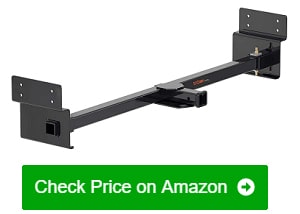 I found this adjustable trailer hitch to be quite the contender in the midrange category. It has a 3,500-lb gross trailer weight and a 350-lb tongue weight. It contends well with other similar products in its class with those measurements.
That vehicle pulling prowess resonates with the kit's durable steel build. I found the construction to have a black powder-coated finish to help prevent the unit from corrosion and rust. This coating also aids in preventing damage to the system from the elements, especially from the sun's UV rays.
Next, I admire this hitch's versatility. It can accommodate trailer tongues with widths between 22 and 72 in. At that range, this product's compatibility is reasonably excellent across the board. It can even work on different frame applications, including box, C channel, and I-beam variants.
I also found out that this particular hitch passes the Detroit engineering facility SAE J684 standards. In turn, I am at peace, knowing that this hitch system supplies me with top-rated performance and longevity.
Moving forward, the installation is also fairly easy to finish. One of my test vehicles for this product is the 2008 Jayco fifth-wheel trailer. Installing this hitch onto that RV was not a laborious ordeal.
But I wished that the manufacturer included the hitch clip, pin, and lock with the package. I had to purchase these items separately. 
What We Like
Competitive gross trailer and tongue weight
Durable steel built with black powder coating is resistant to damage
Versatile hitch that can fit different applications like a box frame
Easy to install on many compatible vehicles
What We Don't Like
May need to buy the hitch clip, pin and lock to complete the installation
RV-ers that experience this trailer hitch system might find it tempting not to pass up on this great product. I recommend this kit for its supply of different benefits to various users.
11. PSAUTO Adjustable Trailer Hitch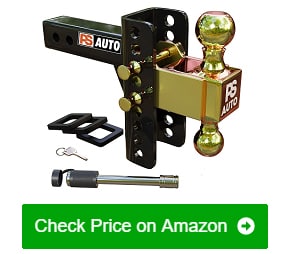 Although it seems that weight distribution hitches dominate the market heavily, I found this model with a trailer ball hitch design can compete with other similar products. I can safely say that previous statement because of this hitch's many top-notch features, especially its 20,000-lb tow weight capacity.
With this trailer hitch, a compatible towing vehicle can pull more objects than a typical weight-distributing hitch. It even has a distinct channel-style shank, allowing the setup to appear or disappear for convenient use and storage. Also, this system's weight limit allowed me to say that there might be no such thing as too much weight for towing.
That durable nature also comes with a weather-resistant construction. I left this hitch outdoors for a while to expose it to the elements. Its build withstood the harshness of rain, sleet, and dirt. Even dirt and road grime were not enough to damage the kit's rugged parts.
But in case this hitch becomes damaged from natural causes, it comes with a limited lifetime warranty. The manufacturer also offers a money-back guarantee to its customers if this product proves to be defective upon purchase.
My only wish is that this hitch can reduce more of the unnecessary side-to-side motions from my tow and towed vehicles. But it still does a fairly good job in eliminating up-and-down movements.
What We Like
Maximum tow weight capacity of 20,000-lbs.
Unique channel-style shank allows convenient use and storage
Weather-resistant construction repels damages from the elements
Limited lifetime warranty and money-back guarantee
What We Don't Like
Might do better in removing sways
I can say that this travel trailer hitch is worth every penny I spent on it. Anyone looking for a highly durable hitch kit should look into purchasing this model.
Travel Trailer Hitches Buying Guide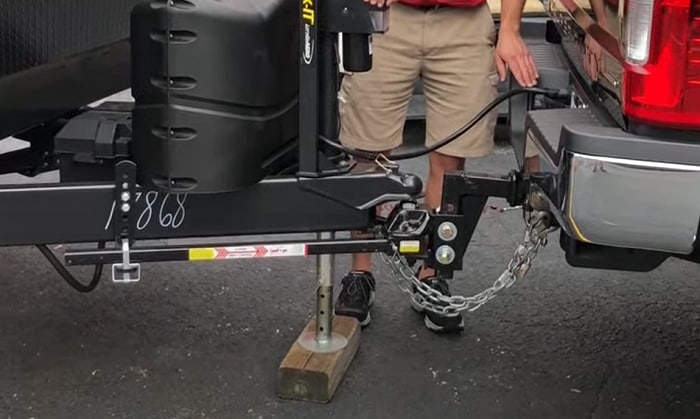 Buying a travel trailer tow hitch without taking the time to research can lead to wrong purchasing decisions. Interested buyers should start their shopping journey by looking at a trailer hitch compatibility chart.
After that initial step, think about these factors while shopping for the most favorite trailer hitch on the market:
Unloaded Vehicle Weight (UVW)
Also known as a travel trailer's real weight, the UVW represents the weight of the RV with only the load brought by the equipment installed from manufacturing. It does not take into account additional parts like extra hitch accessories.
A tow hitch for travel trailer should support the vehicle's UVW. Otherwise, installing a mounted hitch with a low lifting capacity can put the trailer's tongue and the towed vehicle to crash.
Trailer's Towing Capacity
Trailer owners can find their vehicle's maximum towing limit by checking their owner's manuals. If that piece of information is missing, towing vehicle owners can figure out their RVs' pulling limit by understanding certain elements.
First, it is important to know the different weight ratings of the vehicle. If these details are absent in the owner's guide, it might be possible to search for the information online. Make sure to use the right key phrases if you need information for specific models, like a bumper pull trailer hitch for a particular vehicle.
Also, the weight ratings required for calculating the towing capacity are:
Gross Axle Weight Rating (GAWR)
Gross Vehicle Weight Rating (GVWR)
Gross Combined Weight Rating (GCWR)
Gross Trailer Weight Ratings (GTW)
Tongue Weight (TW)
Curb Weight
Dry Weight
Payload
Then, contact the trailer's maker and give them those numbers. Aside from pulling up information about a travel trailer's tow capacity from the weight ratings, the manufacturer may also disseminate the correct details about the vehicle's precise pulling weight limit.
Tow Components
Ideally, the top-tier hitch for towing travel trailer comes as a complete kit. But some manufacturers also offer extra parts for reasonably inexpensive replacements.
A good tow hitch for travel trailer setup usually uses the following parts:
Ball mount: Often comes with a hitch ball inserted into a trailer hitch receiver and secured with a pin-and-clip assembly.
Trailer ball: Also called the hitch ball, this component is the attachment point for the trailer and the towing vehicle.
Tow hitch pin and clip: A small metal bar or rod holding the ball mount and the tube for the hitch receiver.
Safety cables or chains: Restrains the towed trailer from separating if the coupler or hitch fails.
Additional Features
When looking for the right hitch for travel trailer, it might be tempting to buy a unit with extra functionalities. However, make sure that these add-on items comply with safety regulations.
Some of the relatively common additional features included in some hitches are:
Extra mirrors: Also called towing mirrors, these pieces of glass allow drivers to gain a better viewing angle than the built-in mirrors on their vehicles.
Brake control: A feature that connects the towed vehicle's brakes with the towing automobile's brake system.
Rearview camera: Helps drivers avoid obstacles while reversing their towing and towed vehicles.
Another extra feature that many towing vehicle owners often consider is a sway control bar. With it, the trailer can maintain a reasonably straight orientation despite hazards like bad weather or high winds.
FAQs
What Kind Of Trailer Hitch Do I Need For A Travel Trailer?
Camper trailer towing hitches come in different types. Understanding the distinct features and traits of the various camper trailer hitch types will help buyers purchase the correct model for their specific needs.
A camper hitch can fall under one of the following categories:
Front mount hitch: An ideal choice for towing travel trailers at their fronts. It has a similar design to a rear-mounted design, but for the front.
Gooseneck hitch: Mainly designed for pickups only and has an average weight capacity of 30,000 lbs.
5th wheel hitch: Similar to a gooseneck hitch kit, a 5th wheel hitch mounts over or at a slightly forward location of the vehicle's rear axle. But hitches for 5th wheels can often only hold up to 24,000 lbs.
Bumper hitch: As its name implies, this camper receiver hitch attaches directly to the vehicle's bumper.
Pintle hitch: It can be easy to mistake a pintle hitch with a model with a ball mount design because of their designs. But a pintle trailer hitch for camper has a hook with the same name as this hitch category.
Weight distribution hitch: It is possible to mount a weight distribution system to either the front or rear of the vehicle. As its name dictates, this type of tow hitch distributes the trailer's tongue weight across the towed trailer and the towing vehicle.
Buyers may use specific keywords like Hensley weight distribution hitch to look at the different models on the market. Precise key phrases can also aid in filtering search results, streamlining the online shopping experience.
Which Is Better Class 2 Or Class 3 Trailer Hitch?
Class 2 and Class 3 trailer hitches supply users with benefits often unique to each travel trailer tow hitch class. The following list is a quick look for some of the relatively common characteristics of Class 2 and Class 3 trailer hitch accessories:
Class 2 Trailer Hitch Receiver
350-lb. maximum tongue weight capacity
3,500-lb. maximum gross travel trailer weight capacity
Ideal for hauling a bike rack or a small boat
Fairly inexpensive
Class 3 Trailer Hitch Receiver
800-lb. maximum tongue weight capacity
8,000-lb. maximum gross weight rating
Ideal for pulling medium boats and campers
Reasonably more expensive than Class 2s
What Is The Strongest Drop Hitch?
A steel drop hitch for travel trailer will generally outperform other hitch accessories, such as those made from aluminum, when talking about durability and maximum weight capacity. With steel, it can provide a sufficiently long serviceable life for its users, thanks to its rigidity.
This sturdiness generally also comes with optimal support. Steel weight distribution hitches work well in flat and uneven terrain, reducing unwanted movements from the trailer's tongue.
Does Weight Distribution Hitch Help With Sway?
Some weight distribution hitches have sway controls to help reduce side-to-side motions. Certain models may also perform better than others by supplying towing and towed vehicles with up-and-down motion reduction features. In the case your hitch trailer happens to shake and cause an annoying rattle. I recommend owning an anti rattle hitch device. Click here to lean more an article about them.
How Do I Know If My Hitch Is Class 1 Or 2?
Aside from consulting the product's owner's manual or asking the manufacturer, figuring out if a towing hitch for a travel trailer is Class 1 or Class 2 is possible by understanding the distinct features of each class.
Here is a quick look at the fairly common traits in Class 1 and Class 2 travel trailer hitches:
Class 1 Travel Trailer Hitch
Often designed for domestic and foreign passenger cars
Typically has a gross vehicle weight rating of 2,000 lbs.
It is generally a small trailer hitch made for towing light-duty trailers
Class 2 Travel Trailer Hitch
Often designed for passenger vehicles and light-duty trucks
Generally has a tongue weight capacity of 350 lbs.
Usually built for towing a boat or camper and mounting a cargo carrier.
Conclusion
Using the best travel trailer hitch presents users with different benefits. Some of these advantages may include (but are not limited to) enhanced durability, stability, and long serviceable life.
It is possible to get the most out of a hitch if buyers choose my suggestion, which is the CURT 17063 Weight Distribution Hitch. This model is easy to install and remove, provides great clearance, leverage and has a top-rated corrosion-resistant construction.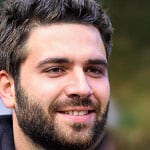 Hi, I am Joseph. Carpe diem! Seize the day! That's always been my life motto. If you haven't seen some of the most beautiful places in the country, you are missing out on incredible adventures.