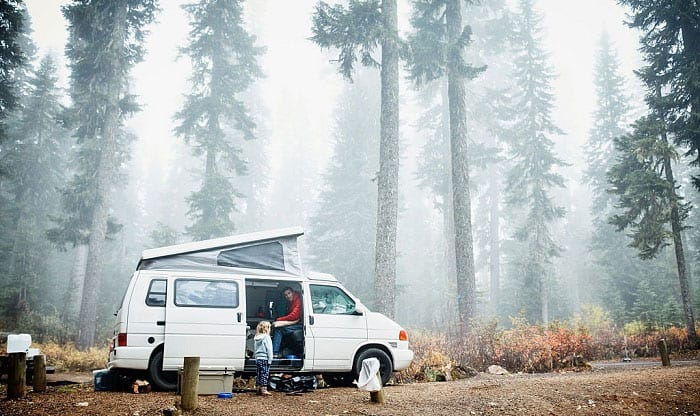 Knowing the weight of an RV can help camper and motorhome owners prevent different issues. For instance, RV owners can purchase and drive the correct camper based on their licenses' restrictions. But how much does an RV weigh?
The average RV weight often depends on the class. For instance, a camper's weight can be within the range of 16,000 to 30,000 pounds if it is a Class A motorhome. However, Class B travel trailer weight can be within the 6,000 to 11,000-lb range.
Take note that these figures denote RV dry weights. Also, Class C RVs possess a different weight range than Class A and B variants. Keep reading to know more about how much a motorhome weigh and take a look at some examples per RV class.
What Is the Difference Between Dry Weight vs. Gross Vehicle Weight?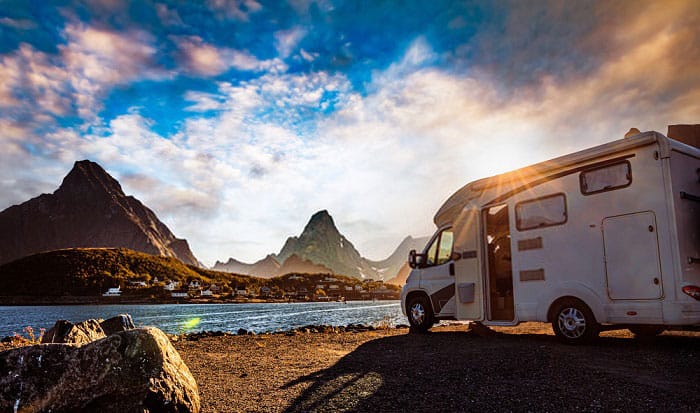 An interested camper vehicle buyer may look at an RV weight chart and see dry weight and gross vehicle weight (GVW). Despite the presence of the word 'weight' in both terms, they are different.
1. Gross Vehicle Weight
Denoted as the weight of a fully-loaded motorhome or travel trailer, the GVW often signifies the inclusion of the different items carried by a specific RV. These objects may include (but aren't limited to) cargo, passengers, and the driver.
Take note that the GVW is only an approximation. It provides RV users with the potential weight of their vehicles to know how much load they can carry.
2. Dry Weight
Unlike the GVW, the dry weight represents the actual weight of the motorhome or travel trailer without the additional load. However, RV manufacturers often include the batteries, generators, and other ordered equipment in this measurement.
What Is The Largest Motorhome You Can Drive on a Car License?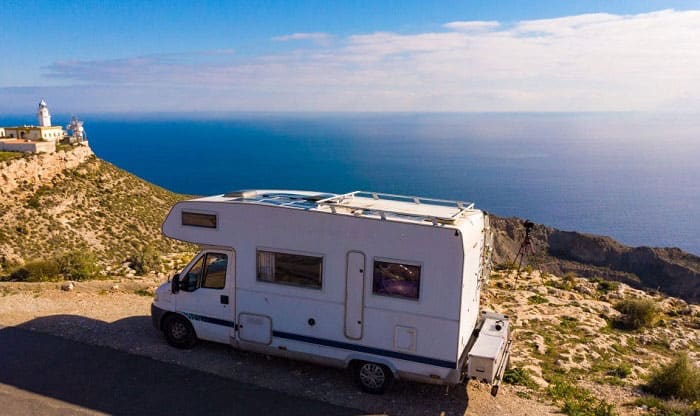 Motorhome drivers operating motorhomes beyond a weight limit mandated by certain states may need a special license. Take note of the following examples of states and the requirements in their regions:
California: Class B license for vehicles over 26,000 pounds.
Nevada: Class B license for over 26,000 pounds.
New York: For a vehicle weight of 26,000 pounds, owners should acquire a Recreational (R) endorsement for vehicles.
South Carolina: Class E licenses needed for owning and driving vehicles over 26,000 pounds.
Moreover, some states require RV drivers to declare if they are using their vehicles for commercial or non-commercial use. Additionally, some states, such as Georgia and Idaho, do not require motorhome drivers to possess special licenses for their vehicles.
How Much Does a Class A Camper Weigh?
Many Class A RVs fall within the weight range of 16,000 to 30,000 pounds. Some of these campers may look like 5th wheels. However, the weight of 5th wheel camper is different since many RVs in this category fall within the 12,000 to 15,000 range.
Here is a list of some Class A motorhomes and the details on their weights for your review:
1. 2022 Newmar Dutch Star
The GVW of this vehicle ranges from 40,000 to 51,000 pounds, depending on its floor plan. Interested buyers can choose among 11 different floor plans, including the 3709, 3717, and 4369.
Those who wish to purchase this camping vehicle for their trips can enjoy a host of different entertainment features. Some of the standard elements that are available in all floor plans include two bedroom speakers, a satellite dish prep, and two TVs.
Take a tour of this Class A RV by watching the video below:
2. 2022 Entegra Aspire
This Class A vehicle's standard floor plan has a GVW of 41,000 pounds and a gross combined weight (GCW) of 51,000 pounds. However, purchasers may opt for the higher-tiered floor plan, which has a 49,000-pound GVW and a 64,000-pound GCW.
Like other RV makers, Entrega equipped their 2022 Aspire model with many comfort and entertainment features. The standard elements included in all 2022 Aspire options include a Blu-ray player, two TVs, and LED interior lighting.
You can also take a detailed look at this motorhome by checking out the video below:
3. 2022 Tiffin Allegro Bus
With a GVW of 41,000 to 51,000 pounds, this Class A camper is one of the roomier options on the market. It provides different amenities and features that are both functional and family-friendly.
Drivers of this vehicle will enjoy a 450 HP engine, adaptive cruise control, and an elevated rail chassis. As for the passengers, they can experience and enjoy features like a king-sized bed, interior and exterior TVs, and a residential refrigerator.
Find out more about the 2022 Allegro Bus by watching this video:
4. 2021 Forest River FR3
The FR3 is one of the smaller Class A vehicles you can find. With its GVW of 18,000 for the base floor plan, many users can drive this RV in different states without the need for special licenses.
Despite its relatively compact and lightweight construction, the 2021 FR3 still offers many comfort- and entertainment-focused features. These aspects include rubber entry steps, vinyl flooring, and three LED TVs.
Check out the video below to learn more about the 2021 Forest River FR3:
This Class A RV offers different top-of-the-line features packed into its fairly reasonably 33,000 GVW. Expect this vehicle to come with amenities like power cockpit blinds, dual roof air conditioner vents, and a fireplace.
How Much Does a Class B RV Weigh?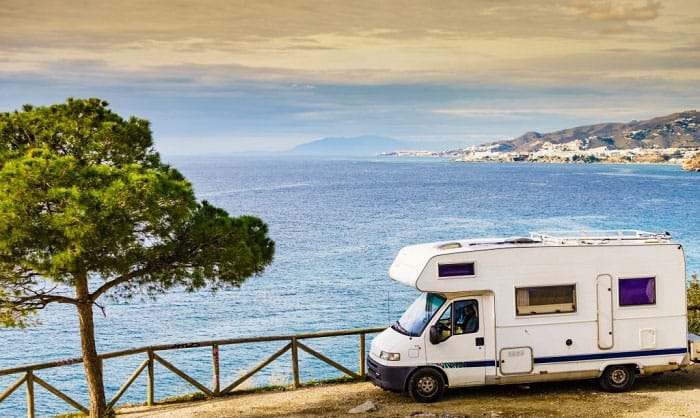 Class B RVs often fall within the weight range of 6,000 to 11,000 pounds. These options typically have similar chassis and weights. However, different manufacturers will present buyers with varying floor plan options to promote versatility.
Continue reading to know some Class B motorhomes, their weights, and some of their built-in features:
1. 2022 Winnebago Solis
It might be reasonably easy to assume that the 2022 Solis cannot handle a significant amount of weight because of its fairly compact looks. But this 11,000 to 12,000-pound GVCW Class B RV comes with many features fit for different campers.
For instance, users of this motorhome can enjoy a 220-watt solar battery system that charges from a pop-up roof unit. Moreover, there are two exterior wash stations and a cassette toilet for convenient bathroom access during outdoor camping sessions.
Watch the video below to view and compare the different 2022 Winnebago Solis floor plans:
2. 2021 Mercedes Benz Metris Getaway Van
Despite having 'van' in its name, this Class B motorhome has a GVW rating of about 6,400 pounds. It is one of the smaller RVs in its class, which can make it a good choice for solo or couple campers.
Inside, users can enjoy a sleeping area for two people. This location also has USB charging ports for your devices. Moreover, the front seats can rotate 180 degrees, providing additional space if needed.
Other features to note are light and rain sensors and air conditioning. Notable exterior features are also available, such as automatic lights for compartment doors and optional roof racks.
Click on the video below to get to know this vehicle better:
3. 2022 Pleasure-Way Tofino
With a GVW of 8,550 pounds and a GCW of 11,500 pounds, the 2022 Tofino offers comfort and sport features in one Class B motorhome. Interested RV buyers may also like its minimalist contemporary design.
This vehicle's cabin provides comfort-focused features, despite its reasonably compact construction. For instance, it has a queen-sized bed, zippered vents, and an induction stove.
The video below gives you a quick tour of this Class B RV:
How Much Does a Class C RV Weigh?
Class C RVs generally weigh about 10,000 to 12,000 pounds. This heft also usually comes with designs similar to moving trucks or vans. Moreover, Class C vehicles often have closer resemblances to vans compared with Class A's bus-like looks.
Here are some examples of Class C RVs, their weight ratings, and other notable features:
1. 2022 Tiburon Luxury Sprinter
This 2022 Class C RV has a GVW of 11,030 pounds with a powerful towing hitch capacity of 5,000 pounds. Drivers can take advantage of the multimedia console on the dashboard, which can also connect to a smartphone via Bluetooth.
As for the passengers, a bunk sleeping area is available. Children can reach the top bunk by extending the bunk ladder. Furthermore, a living room TV is ready to provide additional entertainment.
Learn more about this Class C motorhome by watching the video below:
2. 2021 Jayco Greyhawk Prestige
This Class C motorhome is among the heaviest of its class with its GVW of 14,500 pounds. However, users can take advantage of more amenities and features that a typical Class C camper may not have.
Its heftiness carries elements like automatic hydraulic leveling jacks, a panoramic window with power shade, and an infotainment center. Three TVs are also in the living, bedroom, and exterior areas.
Take a quick tour of the 2021 Jayco Greyhawk Prestige by watching the video below:
3. 2022 Tiffin Wayfarer
The 2022 Tiffin Wayfarer has a GVW of 11,030 pounds, which puts it in the average weight range of Class C RVs. This 188 hp motorhome offers many things that RVers would want in a Class C motorhome.
One feature that drivers of this vehicle may like is the adaptive electronic stability. With it, the camper balances and stabilizes during drives to prevent unnecessary movements like rocking and swaying.
If you want to learn more about the 2022 Wayfarer, watch the video below:
How Much Weight Can a Camper Tow?
RV owners can use an online vehicle towing capacity calculator to verify the amount of weight their campers can tow. You can also take a look at the list below to find rough estimates on different campers' towing capacities:
RVs over 8,000 pounds: 1,000 pounds
RVs under 8,000 pounds: 750 pounds
RVs under 5,000 pounds: 500 pounds
Expect that the results given by the online calculator are also an estimation. You should also consider other factors, such as the vehicle's cargo weight, hitch or tongue weight, and payload capacity.
Conclusion
It is advisable to know how much does an RV weigh to avoid paying expensive fines. Take note that some state governments impose strict rules regarding vehicle weight limits.
Here is a short list of things to do to ensure you are going to purchase and use the right motorhome or travel trailer:
Identify your needs for your camping adventures.
Ensure that the RV you choose can handle the weight of interior appliances, electronics, and other objects.
Check with state authorities to know if driving your motorhome requires a special license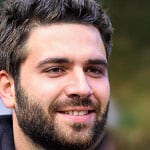 Hi, I am Joseph. Carpe diem! Seize the day! That's always been my life motto. If you haven't seen some of the most beautiful places in the country, you are missing out on incredible adventures.