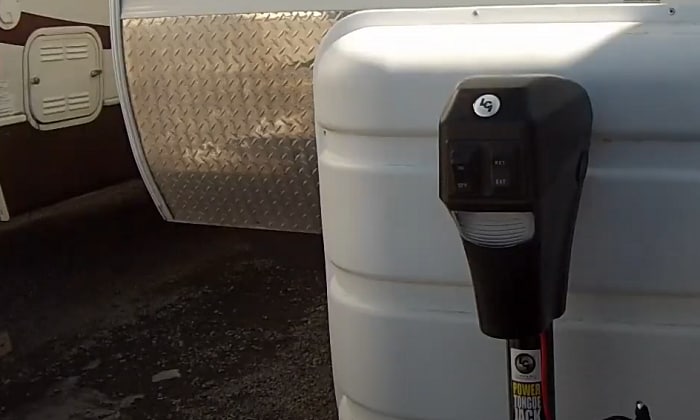 An electric hitch for camper offers features and traits that help motorhome and travel trailer users level their vehicles. But what is the best electric tongue jack on the market?
Buyers, particularly those who are fairly new to the RV scene, should know that searching for the right electric trailer jack may not be as easy as expected. Purchasing the wrong model can also lead to serious damages to the camper and nearby individuals.
With a reliable electric tongue jack, lifting a tow vehicle will not require a significant amount of human intervention. In turn, the device can carry a hitch or trailer coupler without the substantial risk of injury.
With that said, some of the factors to consider when looking for a noteworthy and new electric tongue jack are:
Brand: Trustworthy brands like Lippert, RAM, and Weize are often the go-to manufacturers for quality electric jacks for towing vehicles and RVs.
Type: Many electric trailer tongue jacks often fall under three categories, which are side-mounted, A-frame, and heavy-duty. Each type has its unique pros and cons, and buyers should pay attention to these qualities to find the best model for their needs.
Maximum lift capacity: Only use a tongue jack with the durability and strength to carry a fully-loaded travel trailer. Otherwise, using a reasonably fragile option can put the vehicle at risk of crashing and harm the user.
Bear in mind that these factors are not the only things to think about when buying an electric trailer jack. Interested customers should also look into elements like the price and ease of setup.
Continue reading our reviews and buying guide to find out some excellent choices of electric trailer jacks.
Top 11 Electric Tongue Jack Reviews
1. Lippert 285318 3500LB Power Tongue Jack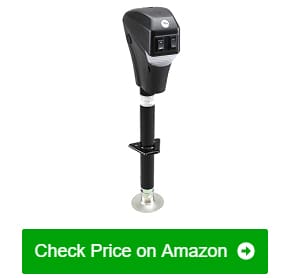 As soon as I started using this product, I could safely say goodbye to my old manual tongue jack. This electric model's features helped me save time and effort in what would otherwise be a laborious job of lifting my towing vehicle's hitch.
For instance, one of the problems I had with my old manual trailer tongue jack is it sunk in soft surfaces. But that is not the case with this electric unit. The manufacturer did a good job in designing this power jack by allowing it to spread its energy and weight across a wide surface, preventing it from sinking into the ground.
I also liked that the coupler area has three LEDs. The addition of these lights helps me set up my towing vehicle and travel trailer at night or in fairly dark areas. I should mention that the LEDs may not be the brightest on the market. But these components still do a good job in lighting up the area properly.
Moving forward, the build quality on this power tongue jack is top-notch. I noticed it has an extra finish that can resist dings and scratches fairly well. The footplate even has an anti-corrosion coating to enhance the device's overall sturdiness and lifespan.
I also like the device's ability to work with batteries and shore power.
Still, I wish this model had a cover for the control head. I understand that a cover is not necessary, but this component would enhance my peace of mind when using this product.
What We Like
Saves time when lifting trailers
Design prevents the power jack from sinking into soft ground
Three LEDs in the coupler area lights up the working space
Top-notch build quality with extra finishes to resist corrosion and scratches
Can connect to different power sources
Overall, I recommend this product, thanks to its solid build quality and first-rate features.
2. Husky HB4500 Brute Power Jack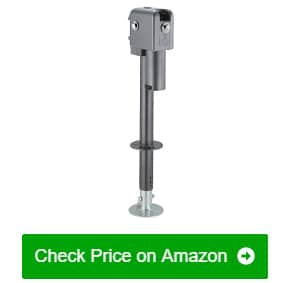 Despite possessing one of the most expensive price tags I found in a power tongue jack for towing vehicles, this unit blew me away because it does what it needs to do exceptionally well.
For starters, although rated with a 4,500-lb. maximum lifting capacity, I found that this unit can carry up to 60,000 lbs. of towed vehicle weight. It presents this benefit to many users because of the hardened steel gear in its motor. That component functions in unison with its lift ball screw design to reduce a significant amount of load stress.
Because of those features, this model can beat an electric trailer jack 10,000 lbs model that may not be able to lift a 60,000-lb. load. Moreover, since the device does not encounter significant stress, it is quieter than most competing products.
The construction is also nothing short of exceptional. Covered with a weather-resistant finish, I found that this electric jack withstands different hazards. I should mention that the trailer's cord end and switches have this weather-protecting coating to reduce risks of health hazards like electrocution during use.
This unit also has rolling friction, which is generally more efficient than sliding friction. With this feature, the motor does not need a lot of amperage, reducing heat production and extending the machine's lifespan.
On the downside, I hoped that the HB4500 had a higher lift height than it originally possesses. It can only extend up to 24 in., which means that it is one of the shorter electric tongue jacks in my book.
What We Like
Can carry up to 60,000 lbs.
Hardened steel gear and ball screw design reduce load stress
Quieter operation than other similar devices
Top-notch weather-resistant construction
Rolling friction reduces heat production, extending its serviceable life
What We Don't Like
More expensive than many other power jacks on the market
Fairly short 24 in. maximum lift height
The bottom line is that this electric trailer jack should impress many in the towing vehicle niche. With its list of first-rate features, many users may not look at other similar products when they get this machine. 
3. RAM EJ-3520-BBX Electric Jack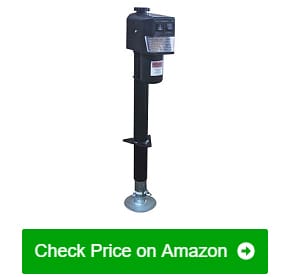 This electric trailer jack presented me with different options for use. It has a manual override crank, a bright LED for nighttime hookups, and a drop leg for that extra lift when needed.
The convenience brought by this unit is outstanding, and it is easily one of the easiest to operate based on my experience. It only took a few moments of my time to lift my vehicle's tongue. Moreover, the operation only demands a simple procedure to control the jack's up-and-down movement.
Next, I noticed that the entire unit has a steel construction. But the manufacturer went the extra mile to prevent corrosion to this unit by applying a black powder coating to the finish. The inner tube, footplate, and drop leg also have a zinc-plated coating for that extra durability and rust resistance.
Installation is also a fairly convenient affair. The design uses a straightforward bolt install process. I also noticed that the mounting plate allows any typical A-frame to fit it, providing users with optimal compatibility with their vehicles.
I also liked that the power lead is 65 in. long. With that length, it did not give me problems if I wanted to connect the jack from a power source that was reasonably far from my working station.
However, I noticed that the motor may encounter some hiccups. At one point, the unit refused to go down even when I pressed the button. Thankfully, the product comes with a 1-year limited warranty to help ease my concerns.
What We Like
Convenience-focused features, such as a manual crank and bright LED
Fairly short time to lift the vehicle's tongue
Black powder-coated and zinc finishes reduce corrosion to the steel construction
Reasonably straightforward install process
65-in. power lead for connecting to far power sources
Inclusion of a 1-year limited warranty
What We Don't Like
Motor might run into some problems when retracting the lift
Ultimately, I can recommend this product to many vehicle owners, particularly to those who want to make towing setups more convenient than before.
4. Uriah Products UC500010 Electric Trailer Jack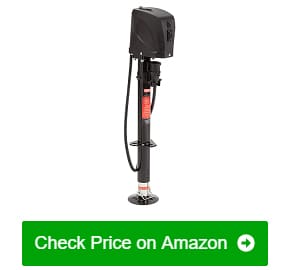 I can leave this electric trailer tongue jack – 5000 lbs. model outdoors, thanks to its durability. Its water-resistant outer shell does an excellent job of shielding the internal motor from moisture and harsh weather.
While still on this product's build quality, the thermal protection on the case also protects the motor from overheating. I said this statement because this product has an automatic shut-off function when it reaches its maximum or minimum lift height.
I also adore the plug-and-play nature of this product. It comes with a pre-wired 7-way connector to cut the initial assembly time. Moreover, the power switch does not demand complicated instructions, making this electric trailer jack a beginner-friendly model.
If not in use, storage becomes a similarly convenient affair when compared to the device's installation. Stowing the connector only required me to put it away in a built-in storage bracket.
Also, the oversized foot pedal is a nice touch. With it, the days of fiddling around a small foot pad are over. Plus, this large piece enhances the stability of the product's entire structure to prevent it from swaying, rocking, or tilting during use.
On the downside, the compatibility could use some work. In my tests, it was quite challenging to make this jack work with a Ford F-150, specifically the 2016 version of the vehicle.
What We Like
Water-resistant case helps prevent damage from moisture and harsh weather
Thermal protection with automatic shut-off function to prevent overheating
Plug-and-play design makes installation reasonably convenient
Easy-to-store power bracket
Oversized foot pedal enhances stability and ease of use
What We Don't Like
Might not work with some vehicles like the 2016 Ford F-150
With its list of likable features, it is fairly easy to recommend this product to many towing vehicle owners. RVers can use this device to help level and stabilize vehicles with its strong and weather-resistant nature.
5. Bulldog 500199 Powered Jack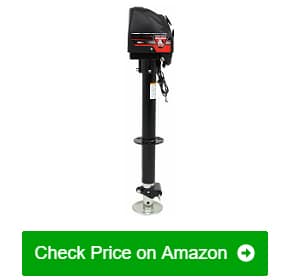 This Bulldog electric trailer jack has a heavy-duty lifting capacity of 4,000 lbs. In my experience, it was even sufficiently powerful in lifting a 26-ft. toy hauler.
I applaud the manufacturer for also installing a safety feature in this device's motor. It is because the motor will shut off automatically if it detects signs of over-extending or over-retracting.
Another convenience-focused feature that I liked is its spring-loaded pull pin. Releasing this component drops the machine's leg into position. With the spring-loaded design, the device almost immediately engages into the mounting hole, providing me with a quick and easy install process.
Moreover, this particular model has a built-in level, a feature that is often absent in many electric jacks. But this feature is no mere party trick as it provides accurate readings.
To enhance the steel construction, the manufacturer applied a black powder coating to its finish to help resist rust and corrosion. The drop leg, footplate, and inner tube also have a zinc coating to produce similar corrosion-resistant results.
Still, I wished that this product possessed a faster lift speed. It is not terribly slow, but I was able to use other powered tongue jacks that could extend and retract at faster rates.
What We Like
Powerful lift force to carry heavy loads like a 26-ft. toy hauler
Automatic shutoff feature for when there's over-extending or over-retracting
Spring-loaded pull pin makes installation secure and easy
Built-in level with accurate measurements
Black powder-coated steel construction with zinc resists rust and corrosion
What We Don't Like
Slower-than-average lifting speed may annoy some users
With competitively strong features, this device can be an ideal option for many towing vehicle owners. It is one of the most feature-packed electric tongue jacks out there.
6. Quick Products JQ-3000 Electric Jack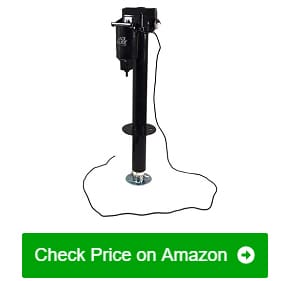 One thing that I immediately noticed and liked about this particular product is the inclusion of a weatherproof cover. This bag also has a drawstring to secure the main part of the jack and its motor from harsh elements.
Moreover, I like the manual crank that I can use at the top of the unit. With this accessory, I can still use the jack manually if I forget to charge my vehicle's batteries to lift its towing hitch or tongue.
The next feature that I adore is the two LED working lights. In comparison, many other options on the market only have one LED. With two LEDs, nighttime towing hookups are now easier and less accident-prone than before. These lighting fixtures even have a directional shield to help me direct the beam when necessary.
Additionally, the 3,250-lb. weight capacity rating can help carry and level many trailers. I found next to no problem working with this product when lifting a 6,000-lb. travel trailer. Its construction was also reasonably sturdy to lift a 24-1/2-ft. 2016 Keystone Passport travel trailer.
Finally, installation is quick and easy. The entire setup process only took me less than 30 minutes to complete. I did not even have to use the included instruction manual for this process.
I should also mention that this jack comes with a built-in bubble level. However, I found this feature to be more of a gimmick than a functional tool. It is because there is no way to adjust it, making me prefer using a dedicated RV level instead.
What We Like
Included weatherproof cover helps resist weather damage to the case and motor
Removable crank for manual operations when needed
Two bright LED working lights with directional shield
3,250-lb. weight capacity can lift trailers like the 2016 Keystone Passport
Quick and easy installation
What We Don't Like
Built-in bubble level might not be reliable
I suggest towing vehicle owners buy and use this product. Its features and traits focus on providing ease of use, reducing installation and usage time.
7. CURT 28204 A-Frame Tongue Jack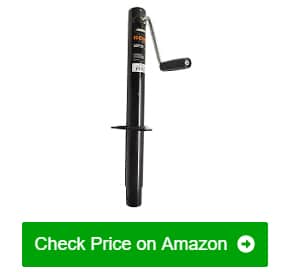 Although this tongue jack demands a manual operation, it still deserves a spot on this list. For instance, it is one of the least expensive ways to lift a vehicle's towing hitch or tongue. Moreover, its fairly low price does not sacrifice its top-rated build quality.
With the zinc-plated and black powder-coated finish, the construction should last a reasonably long time. I also found that the coating made it possible to protect the build from corrosion.
This model's design also makes it possible to install the unit to a towing vehicle permanently. It has places that allow bolting or welding onto the vehicle. Amazingly, it only took me three minutes to put it in place.
In addition, this A-frame trailer jack is a side-winded model, which means it does not require users like myself to crawl on the floor to raise or lower the device.
One shortcoming I found is its 2,000-lb. carrying weight limit. Although it can safely lift trailers like a 16-ft. 1962 Winnebago, I saw that it has trouble raising and carrying many motorhomes, travel trailers, and towing vehicles because of this fairly low carrying capacity. 
What We Like
One of the least expensive models for a product of its class
Zinc-plated and black powder-coated finish protects the device from corrosion
Side-winded construction for convenience
Possible to make the setup into a permanent assembly by bolting or welding
What We Don't Like
Not an electric model
Fairly low 2,000-lb. maximum carrying limit might be unsuitable for some users
Vehicle owners on strict budgets who are looking for a fairly low-cost tongue jack should look into buying this product. Despite the lack of an electric motor, this unit presents users with top-notch features for optimal usage.
8. Husky 82022 Super Brute Electric Jack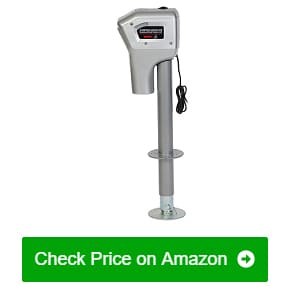 I find Husky to be a company that is not shy about producing expensive electric jacks. However, I have few complaints about the brand's expensive models like this particular unit. It is because this specific model can extend or retract in as fast as 60 seconds.
Couple that fast extending and retracting speed with its 5,000-lb. weightlifting capacity, and that is a recipe for a heavy-duty machine. Moreover, the motor has a built-in ball screw that helps reduce friction and engine wear. Thanks to these features, I am confident that this product can last a long time.
Furthermore, the kit comes with a remote for wireless operation. I do not even have to be next to this jack for it to function as intended. But if I want to operate the machine from the unit itself, two weather-protected and soft-trigger switches are present. Plus, these components rest on a backlit panel for easy nighttime operation.
I also admire that a sealed housing protects the machine's internals from exterior damage. This seal is also quite impressive, seeing that moisture will find it challenging to penetrate the shell.
This unit also comes with an automatic smart stop feature. It functioned almost immediately when it found that I was trying to extend it farther than recommended. It also means that I do not have to worry about its motor overheating.
Perhaps the only downside I found in using this model is the noise coming from the motor. Despite its functionality, it still creates a bit of racket that is louder than many other jacks I used.
What We Like
Only takes about 60 seconds to extend or retract
Strong 5,000-lb. tongue lifting prowess and automatic smart stop
Built-in ball screw to reduce friction and engine wear
Wireless remote for faraway operations
Weather-protected, soft-trigger switches with backlit panel
Sealed housing protects the motor from moisture
What We Don't Like
Motor might be noisier than other similar products
Overall, this electric tongue jack is one of the best models I used. Moreover, I have no problems recommending this unit to others that are looking for a high-quality jack.
9. Weize Heavy-Duty Electric Trailer Jack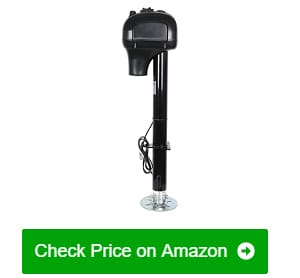 Known for developing durable automotive accessories and tools, Weize made this electric travel trailer jack that proves the brand's integrity in delivering rugged equipment for vehicles.
For starters, I tested its heavy-gauge steel build. It did well in resisting chips and scratches, which I attribute to its textured housing. The device is also covered in a black powder coat that does well in preventing corrosion and rust.
Shoppers that find this model interesting should know that this variant fits nearly all trailer types, from 5th wheels to A-frame models. It should fit well on many vehicles, including those from Jayco, ALiner, and Coachmen.
For the towed vehicles that can accommodate this trailer jack, it can extend to a maximum of 27 in. With that length, this model is slightly better than others, particularly when compared with some more expensive options.
I also like that the manufacturer included all the hardware needed for the installation. This complete kit allowed me to save on gas, which I would otherwise use to go to the hardware store to buy extra parts for assembly.
One shortcoming I noticed is that the instructions are not as clear as I want them to be. I know how to install an electric jack without heavily relying on guides. But some beginners might find this product's owner's manual to be more complicated than necessary.
What We Like
Heavy-gauge steel construction with black powder coating resists rust and chips
Fits many vehicles, including those from Jayco and Coachmen
Slightly longer 27-in. maximum extension length
All the hardware needed for the installation is in the kit
What We Don't Like
Instructions might be troublesome for some beginners
Altogether, this electric jack is an excellent investment, thanks to its durability and above-average compatibility.
10. LIBRA 26042 Electric Power Tongue Jack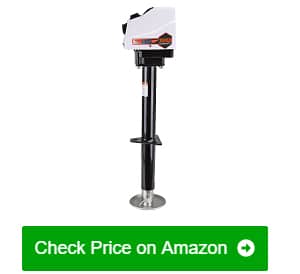 One of the cumbersome aspects I find in many power tongue jacks is their bulky frames, but that is not the case with this model. It has a slim design, making it fairly easier than others to fit into tight spaces. In turn, I find the installation and removal processes with this variant to be faster and more convenient than many other competing products.
Aside from its sufficiently slim frame, I also noticed that this device's extending and retracting speed is faster than many similar products. Moreover, I am content that this increase in speed did not sacrifice the motor's efficiency. Its internals are fairly silent, making it ideal for night hookups without the risk of waking up sleeping people nearby.
Speaking of nighttime operations, this electric tongue jack also comes with a bright LED. With this feature, I no longer have to pull out my smartphone or torch to shine a beam of light to my work area.
Another likable feature is this jack's set of rainwater drain holes. The manufacturer seems to want to ensure its customers that this product won't harbor a significant amount of moisture. Take note that this model already has a stainless steel construction with a rust-resistant powder-coated finish.
Perhaps the primary drawback of this model is not with the main unit itself but with the remote. Although it is a nice touch to have wireless functionality, the remote's functions are inconsistent. I found it easier to operate the jack through its onboard controls than with the remote.
What We Like
Slim design makes installation and removal reasonably easy
Extending and retracting speeds are sufficiently fast
Does not make loud noises
Bright LED for night time hookups
Rainwater drain holes and powder-coated finish
What We Don't Like
Wireless remote may not work at times
Overall, this electric tongue jack for travel trailers can be a good choice for space-conscious buyers. Plus, users should be able to enjoy a fairly long service life from this model, thanks to its moisture-resistant build.
11. F2C Electric Power Tongue Trailer Jack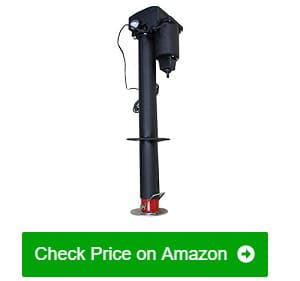 This particular power tongue jack for trailers has a hard plastic housing, which is not as durable as steel. But the manufacturer may have decided on this material to keep the price low. In turn, this model can be a good option for budget-conscious buyers looking for electric jacks for their travel trailers.
Additionally, I admire the company's efforts to make this jack as durable as possible without increasing its costs significantly. The reason I said that is because of its water-resistant parts. I noticed that even the electrical parts underneath the housing are resistant to moisture, preserving the life of the device.
The kit also includes a wrench. This tool will act as a manual cranking device if no available power is nearby. It is also easy to use because I only needed to remove the cover at the top of the jack's housing. Then, I attach the wrench to start cranking.
Moreover, the tongue jack's 3,500-lb. lifting capacity does well in carrying reasonably heavy loads. I tested it on a 28-ft. toy hauler and a 30-ft. travel trailer with no issues encountered.
I do have one minor complaint about this jack's design, and that is with the screw head. The manufacturer made this part recessed, which means that rainwater can pool in that area. It is easy to eliminate the standing water from that location. But I would still prefer that this issue did not exist. 
What We Like
Sufficiently durable hard plastic housing
Reasonably inexpensive electric model
Water-resistant electrical parts
Included wrench that acts as a manual cranking tool
3,500-lb. maximum lift rating can carry many vehicles, such as a 28-ft. toy hauler
What We Don't Like
Recessed screw head may invite standing water
Overall, I can recommend this model because of its reasonable price and durable build. Interested buyers should note that this product's benefits outweigh its drawbacks.
Electric Tongue Jacks Buying Guide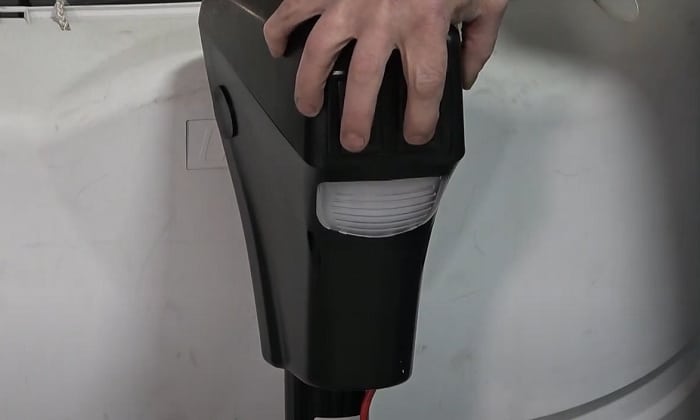 Finding the right RV electric tongue jack demands a careful look into the different factors that can positively or adversely affect the overall consumer experience. Some of these elements to consider are:
Brand
Some companies in the RV supply industry have significant experience and knowledge in the power trailer jack niche. Brands like Lippert, RAM, and Weize have products that many users deem to be their best electric tongue jacks.
Shoppers searching for specific models from certain brands may streamline their shopping process by looking them up using online search engines. For example, check out Husky electric trailer jack and Bulldog power tongue jack.
Type
Electric tongue jacks generally fall under three primary types, which are:
Side-mounted: Typically used for fairly small and lightweight travel trailers
A-frame: Touted as the most common type for an electric trailer tongue jack, models under this category generally have more lifting capacity than others.
Heavy-duty: Options under this travel trailer tongue jack class usually have the build to withstand the most massive loads.
Furthermore, many electric models do not have the same maximum weight capacity as their manual counterparts. A manual trailer jack that looks durable may not present users with the same load-bearing capacity as many electric jacks.
Maximum Lift Capacity
If an electric tongue jack for camper cannot handle the load's weight, it can crumble and deliver serious damage to both the towed and towing vehicle. It is important to verify the product's lift ceiling to prevent expensive mishaps.
For example, an electric tongue jack for toy hauler should handle loads of up to 10,000 lbs. If the same unit is used to lift a 20,000-lb. motorhome, the tongue jack will not be able to lift the vehicle properly, if at all.
Shoppers can check electric trailer jack reviews to identify this trait for different models. Another way is to consult the manufacturer if this piece of information is not immediately available.
Additionally, using the right key phrases during an online search can help with the shopping process. Keywords like 7000 lb electric trailer jack can help shoppers filter their online search results.
Additional Features
Some tongue jacks for camping vehicles offer extra features for the benefit of their users. Certain examples include four LED lights, a manual crank override, and remote control.
Oftentimes, a manufacturer may develop a fast electric trailer jack to allow users to spend less time trying to lift their heavy loads and more time on other essential matters.
Power Source
Generally, an electric trailer jack works when hooked up to an RV's power supply.
Keep in mind that different electric tongue jacks often have dissimilar power cord lengths. It is important to use a model with the correct measurement for this component to avoid complications during installation and use.
Price
The cost of a good electric tongue jack should match its features and capabilities. Some shoppers might find it tempting to buy the most inexpensive and fastest electric trailer jack on the market. But these models might not possess excellent durability.
Although consumers who buy inexpensive models can save some cash, the overhead for repairs and replacements can skyrocket over time because of these products' fragile builds.
Interested buyers should take the time in reading electric tongue jack reviews to find excellent models with prices within their spending constraints.
FAQs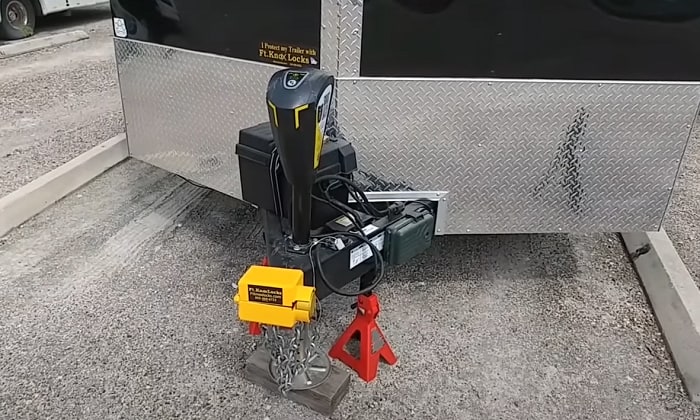 Do I Need An Electric Tongue Jack?
Electric jacks offer many benefits to their users, allowing convenient lifting for heavy loads. Buying a high-quality trailer jack, particularly one with features like heavy-duty steel gears, can provide users with advantages like:
Enhanced Durability
Many trailer jacks that come with buying the vehicles may not be as sturdy as aftermarket models. Purchasing a heavy duty electric tongue jack reduces the worry of the device failing during use.
Additionally, buying an electric RV jack with first-rate features and traits will prevent early replacements. Spending money on a fragile camper tongue jack to lift the trailer's tongue weight might see buyers looking for replacement models sooner than later.
Ease of Installation
With electric RV jacks, the setup process should not take long. In comparison, many manual travel trailer jacks do not offer accessible ways to set up the device to lift heavy loads.
Some heavy duty electric trailer jacks may only take a few minutes to install. Moreover, it might only take a few more moments to let a power tongue jack for travel trailer carry fairly massive weights.
Reduce Health Risks
Most electric trailer jacks do not require their users to crouch or crawl on the ground to achieve satisfying results. This convenient usage prevents health hazards for some individuals, such as lower back pain that might appear when crouching.
What Size Electric Tongue Jack Do I Need?
Beginner travel trailer users might find it confusing to search for an appropriately sized power jack for camper. It is because they need to consider the weight capacity of the camper tongue jack to find the model with the correct size for their setup.
Take note of these two factors when choosing a travel trailer electric jack with the right size and weight capacity:
The weight of the trailer tongue, and
The weight of the fully-loaded travel trailer
Keep in mind that an electric jack for camper should carry approximately 50% of the weight of the RV. For example, an owner of a 12,000-lb. motorhome should look for a 6,000 lb electric trailer jack.
Some top-notch models may have traits that allow them to carry heavier loads than intended. For instance, one 8,000 lb electric trailer jack might lift a 17,000-lb. RV.
Read electric tongue jack reviews online, such as the list of products found above, to learn more about the experiences of other customers with certain electric jack models.
How Do You Replace An Electric Tongue Jack?
Before replacing a damaged or old electric camper jack, ensure that the replacement model has the correct size and lift capacity. With the unit in hand, proceed with the following steps:
Remove the weight off of the trailer's front jack. Another option is to use RV wheel chocks for this step.
Take out the old electric trailer tongue jack. Read the owner's manual or consult with the product's manufacturer to verify the removal steps.
Secure the new electric tongue jack for travel trailer. Line the new RV power jack to the mounting bolts and plate.
Some RV tongue jacks may require some modifications with the electric setup. For instance, if an A-frame trailer jack has two open wires, users need to crimp them before attaching those parts to the vehicle's battery eyelet posts.
Are Electric Tongue Jacks Waterproof?
RV tongue jacks, particularly those with electrical components, do not typically possess waterproof components. Therefore, using these models in fairly wet weather will put the device at risk of temporary or permanent failures.
However, electric trailer tongue jack covers exist to help with this purpose. But like buying an RV electric tongue jack, interested buyers should pay attention to certain factors to gain value from the purchase.
Some of the elements to think about are:
Size
Price
Product quality
Brand and product reliability
Customer ratings and reviews
Like reading electric trailer jacks reviews, consumers should also look into feedback from other tongue jack cover buyers and owners. Taking the time to do this extra step can help purchasers avoid useless acquisitions.
How Long Do Electric Tongue Jacks Last?
This depends on the product, but a tongue jack lasting 3 to 6 years is not uncommon.
Electric tongue jack maintenance can keep relatively any power trailer hitch jack from breaking down fast. But keep in mind that the care process is often dissimilar between electric tongue weight jacks.
Here is one example of the steps to care for a particular travel trailer tongue jack:
Step 1: Unscrew the jack's cap.
Step 2: Apply a generous amount of white lithium grease into the device. Cover all exposed hardened steel gears with the lubricant.
Step 3: Reinstall or replace the cap.
Step 4: Use the device as a manual jack or let it extend its main shaft electronically.
Step 5: Apply grease to the power tongue jack in its fully-extended position.
Customers can attempt to search online for care instructions for their specific models. Use keywords like RAM electric trailer jack troubleshooting or electric tongue jack troubleshooting to help reduce and isolate search results.
Conclusion
Remember, the best electric tongue jack should present the user with different advantages. It should present the best value for its price.
With that said, interested buyers that want to go with my suggestion should choose the Husky HB4500 Brute Power Jack. It might be more expensive than most other electric tongue jacks on the market. But its strong construction, efficient motor, and quiet operation justifies that bump in costs.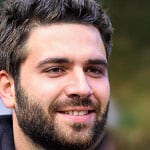 Hi, I am Joseph. Carpe diem! Seize the day! That's always been my life motto. If you haven't seen some of the most beautiful places in the country, you are missing out on incredible adventures.