Everybody needs a toaster oven, maybe even more so than a microwave. It is especially true if you are living in a recreational vehicle since there might not be enough space for a microwave or a full-size oven. In cases like this, having the best toaster oven for RV makes the most sense.
It lets you cook small meals and heat leftovers, among many other things you can do with it. There are many reasons why you should get a toaster oven for your RV. First of all, a toaster oven is smaller and more compact, making it ideal for RVs because of the limited space.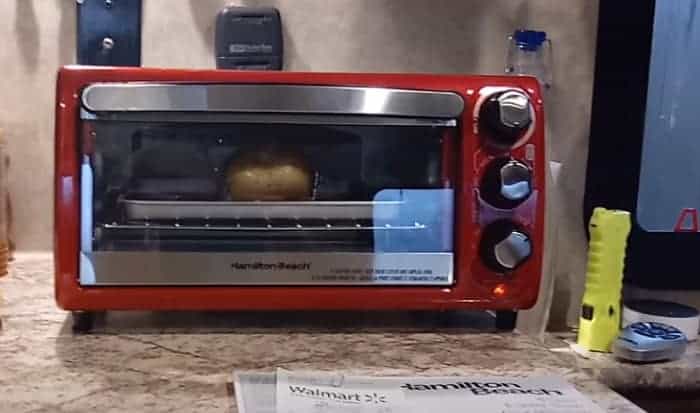 Furthermore, toaster ovens serve multiple purposes, making them multifunctional. They do not use that much electricity, too. However, the way that you choose a toaster for your RV and one designed for your home is different.
If you are not too sure how to go about choosing the best toaster for RV, then this article will be able to help you out with your decision. Here, you will learn about the best toasters that you can bring with you during your RV trips. You will also understand how you can choose the one that will perfectly suit all your particular needs.
Best Toaster Oven for RV Reviews
1. Dash DMTO100GBPY04 Toaster Oven

I truly liked the trendy designs and colors of this RV toaster oven. This compact toaster oven has a contemporary retro design. It looks like this toaster came straight out of a kitchen from the 1960s. It has a timeless design, which makes this mini toaster oven an excellent addition to an RV or any small living space for that matter.
I also like how easy it is to clean this oven. The backing tray, rack, and crumb catcher are all removable and dishwasher-safe. On the other hand, all of these components are so small that hand washing all of them will not take that long. The glass oven door is made of tempered glass, so food particles will not stick to them.
You just need to wipe it clean using a damp and clean rag. Do not think that this toaster is only made for toasting bread and heating bagels. You can even use it for cooking other dishes, albeit in tiny portions. I have personally cooked meals like shepherd's pie, cookies, meatloaf, and many other things that usually require the use of an oven.
I am also glad that there is only one dial to operate. The temperature is always constant, so you just need to tweak the timer. For instance, if you wish to toast a slice of bread, you just need to set the timer to one or two minutes, and it will come out perfect.
Depending on the food that you will be cooking, you just need to set the timer and close the door. However, its simplicity is also the only complaint I have with this low wattage toaster oven. Because the temperature is always at the maximum, figuring out just how long you will need to set the timer will take some practice.
I had burnt quite a lot of dishes before I learned how to set the timer just right. You have to bear that in mind when you are placing something in the toaster.
What We Like
Compact and small, making it perfect for small and limited spaces, including RVs
Has a classic and timeless design
Very simple to use
Easy to clean as the rack, back panel and crumb catcher are removable
Can be used to cook other dishes
What We Don't Like
No temperature controls, always at the maximum temperature setting
Although one does not have any control over the temperature settings, you would do well to have this little toaster oven in your travel trailer. It saves a lot of space, plus it is simple to use. It also does not use that much electricity, so what is not to like about this toaster oven?
2. Courant TO-621K Toaster Oven
This appliance is more than just a bread toaster. You can also bake pastries and broil meats on it. It is truly a multi-use appliance and not just something that you use to toast your bagel or heat up last night's leftover pizza. If you like to cook different kinds of dishes, but cannot afford a true oven, then it is the best choice.
You will also find it useful if you do not have enough space in your RV. Even though this travel toaster oven is small and compact, it is big enough for two slices of bread, or even a personal pan pizza (9-inches).
Although it is not an oven meant for cooking meals for families, this toaster is still more than enough for your needs, especially if you like to go RVing alone, or with another person.
Another feature I liked is that there is a knob that you can use to control the temperature. Although there is no way to tell the actual temperature, but at least, you will still know if the toaster is set on broil, bake, or toast. It is a lot more helpful for people who are not avid home cooks.
Just like most toaster ovens out there, this toaster oven comes with a mechanical timer switch that goes up to thirty minutes. I prefer these mechanical timers over digital timers because, for one thing, it will not consume electricity when the knob is not turned. It is not like digital toasters that are always on and siphoning power.
It would have been a perfect little toaster oven. However, because it only has 650 watts of power, I need to dock a couple of points from its score. Although 650 watts should be more than enough if you were going to toast bread and heat your leftovers, it is still not nearly enough if you want to cook something, like chicken nuggets.
I have been using mine for a couple of months, and it usually takes upwards of 45 minutes to cook chicken nuggets thoroughly. I find it a very long time to wait for nuggets.
What We Like
Very small and compact, allowing it to fit any countertop just fine
Consumes little electricity
Has a cooking space that can hold two slices of bread
Features separate settings for broil, bake, and toast
Easy to clean and maintain
What We Don't Like
Somewhat underpowered, causing it to take a long time to cook meats
Even though this little toaster oven lacks a bit when it comes to power, it makes up for it in its compact size and other features. Although it will take a bit more time to cook meat, it still works well for pieces of bread and pastries.
3. Bonsenkitchen Compact Toaster
The nice thing about this toaster that I truly love is that it allows the user to choose how dark their toasted bread will turn out. There are a total of seven different color settings – from very being barely toasted to very dark, but not burnt. It is a personal favorite because I like my bread toasted at a 3-setting, while my spouse likes it at a 5-setting.
With this toaster, everyone can get their bread toasted just the way that they like. Aside from the color selection feature, this portable toaster for RV also has other neat functions. One of them is the defrost feature, which is one of my favorites. It lets you warm up frozen bread just enough that it regains its original feel and texture.
I store my bread in the refrigerator to make it last longer, so it is a feature that I use on a fairly regular basis. With this feature, even week-old bread in the fridge will look and taste as if it just came from the grocery. The other great element of this small toaster for RV is the reheat function.
I am ashamed to admit that I use this more than I need to. I have forgotten to eat my toast while it was still warm more than once. It is because I usually get engrossed at reading the news during breakfast, and I dislike cold toast.
It often causes me to pop my bread back into the toaster and press reheat. It is enough to warm it up correctly. Aside from the nifty features, I also like that this appliance is easy to clean. I do not need to hold it upside down in the sink to get rid of the bread crumbs. It has a pull-out that catches all the crumbs that come from the bread.
It is recommended to empty this tray regularly, or else you will always be greeted every morning with the smell of burning bread. The only complaint that I have with this camper toaster is not about how it functions but its build quality.
When I hold this toaster between my hands, it does not feel that stable at all. It is as if it is entirely made of plastic. It is not indicative of how good this toaster works, though. However, it makes me feel like this appliance is cheaply-made, which is not.
What We Like
Has a seven-setting color picker for toast
Comes with a defrost function for restoring frozen bread
Boasts of a handy reheat function
Easy to clean as it comes with a pull-out crumb tray
Has nice and wide slots that can fit all regular slice bread
What We Don't Like
Does not feel stable at all
The issue that I have with this toaster is purely subjective, and it is honestly the only thing that I can complain. This toaster is perfectly fine. It does everything that it is expected to, making it a genuinely sound and practical investment for those who own RVs.
4. Hamilton Beach 31344D Toaster Oven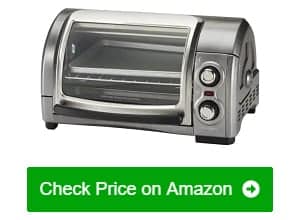 As the name suggests, the Hamilton Beach Easy Reach toaster makes it easy for the user to reach the food inside it. The topmost part of this toaster oven is not the usual flat panel. This one has a semi-circular shape. With that, you can easily reach the food every time you open the lid. Your hands will not even get near the top heating element.
Despite its compact size, this toaster oven still comes with a quite spacious interior. It can even fit up to four slices of white bread, or a full 9-inch pizza. This size makes it ideal for small families or just the solo traveler with RVs that do not have much in terms of counter space.
I even use this appliance for cooking up nice side dishes. I can also say that it is more functional than the microwave in my RV. When the glass door rolls up, it creates a very wide opening, promoting ease when reaching out for the food. The door rolls up so high that you do not even need to pull out the rack most of the time.
You can quickly grab the food directly. This feature means you will no longer have any singed oven mitts. Your hands will be far away from the top heating element always. The glass door will almost always never get melted cheese and other kinds of dirt that is very difficult to remove.
The entire cover does not get exposed to food drippings because it rolls up the top. With that, you can freely reach into the oven and pick up your food. You can even do it by hand, and you will not get burned by the top heating element. This oven is also surprisingly easy to clean.
First, the entire glass door is removable. Secondly, the crumb tray easily slides out from the front. The tray is also removable. All of these components are also dishwasher-friendly. You do not even have to worry about stains getting on the glass door. It rolls up and away from the opening, thus lowering its risk of getting drippings.
The only thing that I did not like is that it takes a while for the food to cook. Because of the large door, quite a lot of heat finds a way to escape. It is a good thing that the viewing window is big.
You do not want to open up the door just to check up on the dish you are cooking. It is because any trapped heat will get out, and you will have to wait longer.
What We Like
Huge oven opening
Comes with a large capacity cooking space; can even fit 9-inch cake pans
Removable door, crumb catcher, and rack for easy cleaning
Comes with temperature control and timer
Has a compact design that is perfect for small counters
What We Don't Like
Takes a while to cook food
Although it is not as fast to cook as other toaster ovens, it is still a neat piece of kit that you would do well to add to your RV. It has a rather large capacity for its size. It is effortless to use and maintain and looks cool to boot.
5. Elite Cuisine EBK-200B Toaster Oven
This kitchen appliance is not just a toaster but a complete breakfast cooking station. With this one appliance, you can prepare an entire hearty breakfast. If you are looking for something that can save a lot of space in your RV, then this product is the one.
You are technically getting three appliances in one. With that, you can surely maximize the use of what little space this breakfast cooking station occupies. First, the Elite Cuisine EBK-200B has a mini-toaster oven. This oven is quite small and can only fit a single large muffin, or a thick slice of bread for toast.
However, even though it is small, it has 500 watts of power, which is more than enough to heat such a small cooking space efficiently. This low watt toaster oven also comes with its tiny baking tray, so you can heat anything that you can fit inside it.
Aside from the toaster, this unit also has a coffee maker. It can serve up to four cups of coffee at a time. It is more than enough to wake anyone up, even on the laziest of mornings. This coffee maker has a compartment that swings out. It also boasts of a reusable and washable coffee filter.
What it means is that you can also save a lot of money on coffee filters. The coffee maker also automatically pauses the drip when you pull out the carafe. It happens when you want to pour yourself a cup of coffee. There is also a tiny griddle on top of the toaster. It is just a round piece of metal coated with non-stick Teflon.
This griddle gets its heat from the top heating element of the toaster oven. It means you can cook eggs or a couple of links of breakfast sausage while you are making toast. It ensures that you will not waste energy, turning it into a very efficient appliance.
Although I am thrilled with this nifty piece of kit, I do have to say that the coffee pot could have been made much better. Every time you pick up the empty carafe, you can feel how thin the glass is, so you need to be careful when handling and washing it. If you do break the coffee pot, finding an exact replacement will be a challenge.
What We Like
Very compact, just around the size of a traditional toaster, but with a lot of additional features
Maximizes the use of what little space it occupies
Has a small, yet efficient toaster oven
Comes equipped with a small griddle that uses the excess heat of the toaster oven
Features a personal coffee maker
What We Don't Like
The glass of the coffee pot is very thin and fragile.
Despite the questionable quality of the coffee pot, this little breakfast station is pretty impressive. You do not need any other appliance to prepare a complete breakfast for one or two persons. Also, because everything is working in unison, you save a lot of time.-
6. AmazonBasics 2 Slice Toaster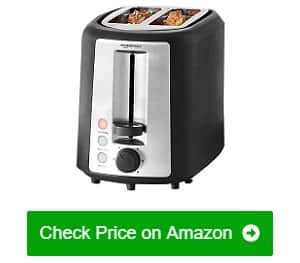 If you are looking for a two-slice toaster, then this might be the best that you can get. The slots of this toaster are quite extensive and can most likely fit any commercially-available bread slices out there. This toaster can even accommodate thick bagels (cut in half of course) and most pieces of thick-cut artisan breads.
One of the features of this toaster that I truly appreciate is the extra-lift lever that lifts the tray an inch or so more than usual. With that, even small pieces of bread can be toasted or warmed through. It means no more fishing out of small pieces of bread using a fork, which is dangerous (remember to unplug the toaster if ever you need to do it).
Another useful feature is the 6-shade settings of the toaster. With this, I can choose how dark the resulting toast will be. It is a handy function for me. I usually just want my toast lightly toasted, which, in this toaster, is at level 2. Meanwhile, my spouse likes it a bit darker, which is four on the settings.
It is unlike the other toasters where you have to carefully watch them with your finger on the cancel button if you do not want a particularly dark toast. For bagel lovers, this toaster has a feature for toasting bagels or other pieces of crusty breads. Just press the bagel button, and the toaster will only toast the cut side of the bagel.
It will leave the crust very tender. It is a feature that I wish all toasters have because there are certain pieces of breads, aside from bagels, that I just want the cut side to get a bit of color. The only problem that I had with this toaster is that you have to break it in before you use it to make toast for the first time.
Also, you have to do this outside, or at least in a room that has plenty of ventilation as the smell of burning plastic can be quite gag-inducing. After this initial step, though, the toaster performs as expected.
What We Like
Has a 6 level toast shade selector
Easy to clean with the help of a pull-out crumb catcher
Has an extra pull lever for small pieces of bread
Comes with a bagel function that only toasts the cut side
Has wide slots that can fit even thick slices of bread
What We Don't Like
Will emit a noxious smell when used for the first time
Despite the very scary and nauseating break-in process, this toaster is a neat little appliance that works better than advertised. I would gladly recommend this toaster to those who like to try different shades of toast depending on their moods that particular morning.
7. Dash DVTS501AQ Toaster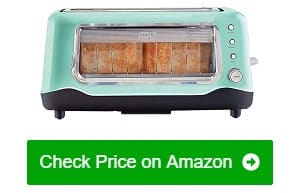 This two-slice toaster is different from the rest in the sense that the slices go in laterally. It is unlike those that are parallel to each other. The slot is extra-long, so it can also accommodate large slices of bread, like when you slice a baguette on the bias.
Another neat thing about this toaster is that it has a see-through window at the side. What it means is that you can watch as your bread gets toasted so you can cancel it once your desired shade is achieved. I love this feature, especially during the first couple of weeks, since I got this toaster because I haven't gotten used to the shade picker yet.
Speaking of the shade picker, you have a choice between 7 shades of toast – 1 being the lightest, only slightly browning the outside, but getting the bread substantially warmed and seven being very dark and makes the bread crispy and dry. I like this feature because I want my toast to be more on the medium range.
It should be toasted on the outside, but still a bit soft on the inside. With that, I set it at around 3 or 4, depending on my mood that day. Despite how it looks, this toaster is also very easy to clean. It has a crumb tray at the bottom that slides out for easy cleaning. The viewing window also slides out. All the parts are also dishwasher-friendly.
I have been using my toaster for a couple of months, and it still looks like new. There is nothing that I can complain about this toaster regarding performance, but I do find it quite humorous how strong the spring of this toaster is.
It is so strong that it throws the bread slices up and onto the counter most of the time. I sometimes make a game out of it. I place the plate beside the toaster and watch as the bread plops precisely into it.
What We Like
Can accommodate two regular slices of bread or one wide slice
Comes equipped with a transparent viewing window
Boasts of a shade selector for custom cooked toast
Allows you to watch as your bread gets toasted and cancel the cooking process whenever you want
Small and compact, suitable for RVs and small apartments
What We Don't Like
The spring that lifts the toast tray is a bit too strong.
This toaster is not just an excellent addition to RVs. It is also a smart appliance that will do great if you put inside your kitchen. It can fit two slices of regular bread or one wide slice, so it can heat up and toast every kind of bread that you might know.
8. Black+Decker TO1313SBD Toaster Oven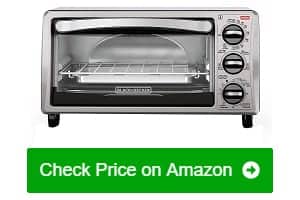 This small and compact camping toaster oven perfectly fits on any sized countertop. I do not have a large kitchen in my RV, yet I still found the perfect place for this toaster oven on my counter. It is right beside a utility outlet. I did not even need to move things around. It is how compact this oven is.
This toaster oven is almost like a real oven, albeit smaller. It has temperature controls, so you can use it for cooking meals like steaks, pastries, cupcakes, and pastries. Everything that you can cook in a traditional oven, you can also cook in this appliance.
Apart from the temperature controls, it also lets the user choose between warm, broil, bake, and grill, so you get absolute control over the way your dishes get cooked. It is a nice touch because you do not need to use different appliances. You can cook different foods with this one appliance.
You can also use this to toast bread. What is more? You can choose the shade of your toast. You just need to consult the symbols that line the timer knob. It lets you choose from lightly toasted to a very dark and crispy toast. It will only consider the amount of time placed on the timer.
The only problem I have with this toaster is the toaster timer. It can be a pain during the first week or so of using this toaster. I was still getting used to the timer settings for making toast. It would have been better if it had a cancel function to stop the toast function when the bread reaches the right shade of brown.
What We Like
Has an actual temperature control knob
Gives the user the freedom to choose the type of cooking method used on the dish
Has a small and compact footprint, making it perfect for RVs and small apartments
Features a shade selector, which is useful when making a toast
Can be used to cook different dishes, not just make toast
What We Don't Like
There is no cancel button when you need to stop the cooking process.
Despite not having a cancel button, you can solve it just by taking out the bread before it gets burnt and unplugging the oven. Despite this issue, I still highly recommend this toaster oven for those who live in, or usually go on RV trips. It is small and compact but boasts of its plenty of different uses.
9. Cuisinart TOA-60 Toaster
This appliance is not just your ordinary toaster oven. It is because you can also use it as an air fryer, convection oven, convection broiler, and, of course, for toasting bread. At just 16 inches wide and 14 inches high, this appliance can fit comfortably on any countertop.
If you live in an RV, or love to go on RV trips, then this appliance will be your best friend in the kitchen. Because you can use this toaster as an air fryer, it will let you cook healthier. It comes with a non-stick, air fryer basket, and a drip pan, so you do not need to buy additional accessories.
Because you will not be using any amount of oil, you will be cooking healthier, but without compromising on taste and texture. Despite the small footprint of this convection toaster, it has a large cooking capacity. For instance, I have used the air fryer to cook three pounds of chicken wings at once.
Also, I have successfully roasted an entire 4-pound chicken using this small oven. I love that you can cook all kinds of dishes with this one appliance. At first, I thought that this little thing would not have enough power to cook all the things that I wanted. However, I was pleasantly surprised that it had 1800 watts of power to spare.
What it means is that it can cook a lot of food at a reasonable amount of time. It is not quite as fast as a traditional propane toaster oven, but not so slow that you will get bored waiting.
The only thing I did not like about this oven is that it is not so easy to clean, especially since there are so many heating elements. Getting it even moderately clean between them is almost impossible. It would have been better if the panels were removable for easier cleaning.
What We Like
Has numerous different cooking functions
Comes with a huge cooking capacity
Can be used as an air fryer for healthier cooking
Comes with all the accessories that you will need
Has more than enough power to cook relatively quickly
Although this convection toaster oven does have a couple of issues, they are overshadowed by all of the advantages and benefits that you stand to get from it.
10. Hamilton Beach 22623 Toaster
This little toaster can handle even the thickest-sliced bread, thanks to its extra-wide slots. It can fit two slices of regular white bread, as well as pieces of thick-sliced artisanal breads. You can even use it for toasting bagels, which is the usual bread where I use this toaster.
This toaster also comes with a handy toast shade selector. I find this feature very helpful because it is not all the time that I want my bread a dark shade of brown and dried all the way through. Sometimes, I just want my toast to be lightly brown with the middle still chewy. It is possible with this toaster.
Another neat feature that I appreciate is that it has a cancel button. I used this button frequently during the first week that I started using this toaster. I was yet to get used to the shade settings. I had to watch over the toaster to make sure that I press the cancel button if I smell that the bread is getting a bit too toasted for my liking.
This appliance is also straightforward to take care of and maintain. You do not need to turn the entire thing over. There is a swing-out crumb tray at the bottom, so it is easy to get rid of all the accumulated bread crumbs. There is also a convenient cable organizer at the side of the toaster, so you can wind up the cable to get it out of the way for storage.
However, there is one problem with this toaster that I did not like, and that it does not toast both sides of the bread. For making sandwiches, it would be just fine. However, if you are looking for the perfect toast, you will not get it from this toaster.
What We Like
Has a very small footprint, making it suitable for small kitchens
Comes equipped with wide bread slots
Has a toast shade selector
Comes with a handy cancel button
Easy to clean and store away when not needed
What We Don't Like
Does not toast both sides of the bread evenly
In hindsight, just toasting one side of the bread adequately is fine for me. I figured out that many people might have the same opinion as me. With that, I can still say that it is a very respectable toaster if you are looking for something simple to use and not very expensive at all.
11. Nostalgia BST3AQ Toaster Oven
This appliance is probably the ultimate breakfast cooker. Everything that you will ever need is already in this one appliance. You can cook an entire breakfast for two to three people using it. You can even do it all at the same time. It allows me to multi-task so that I can make more efficient use of my time and energy.
Because it is a three-in-one appliance, you can expect it to be a bit bigger than the regular toaster oven. The good news is that it still makes more efficient use of the space that it occupies. Instead of getting a separate toaster, griddle, and coffeemaker, I just need this one gadget, and I am all set.
Unlike the other three-in-one breakfast stations out there, the toaster oven in this one is substantially big. Similar 3-in-1 appliances have such a small toaster oven that they can only heat one muffin at a time, but this is not the case with the Nostalgia BST3AQ.
The oven in this appliance is the same size as regular toaster ovens. It has more than enough space for four slices of white bread. The griddle on top of the toaster oven is also much bigger in comparison to similar gadgets. I can cook four eggs and a handful of strips of bacon at the same time.
I have even tried grilling burgers on this neat little gadget, and it was surprisingly easy, thanks to the non-stick coating of the cooking surface. However, there is a slight issue that I would like to point out with its grill. It is the fact that the grill is heated using the heating elements of the toaster.
What it means is that there will be an uneven heat distribution. The center is a whole lot hotter than the sides. In other words, you have to rotate the things that you will be cooking on this surface.
What We Like
Large enough to make a complete breakfast for two to three persons
Makes very efficient use of the space that it occupies
The toaster oven is as big as a traditional one.
The grill is wide enough for cooking several sausage links and a couple of eggs at the same time.
The coffee maker is quite good at brewing coffee.
What We Don't Like
The grill heats unevenly.
The issue with the grill will only be during the first week or so of use. You will soon get used to it and know where the "sweet spots" are. Although you should not expect this handy gadget to replace everything that is in your kitchen, it does come in handy if you are in an RV trip, or live in a small apartment or dorm room.
12. Cuisinart TOB-260N1 Toaster Oven
The first time that I saw this toaster oven, I instantly loved everything about it. It is not your ordinary toaster oven. It is because it is not just for toasting bread or reheating leftover pizza from the night before. The Cuisinart TOB-260N1 is a professional-grade mini oven.
It means that you can cook anything that you can imagine (aside from soups and stews of course) using this amazing little gadget. First of all, it has a spacious cooking space, which is more than 0.9 cubic feet in volume. To give you an idea of how spacious it is, you can cook an entire 13-inch pan pizza in this with still a bit more room to spare.
However, it is not bulky at all. It is just a little over 20-inches long, 17-inches wide, and less than a foot high. It can easily fit on your RV's countertop. Also, it has a large and backlit LCD.
It tells you what temperature the oven is currently set to, the amount of time left on the countdown timer, and other impertinent bits of information that will help you cook much better. Also, although it might seem like overkill to use it to make toast, this toaster oven makes the best toast that I have ever tried.
Regardless of how many slices of bread you put inside it, they will all come out uniformly browned and according to the shade that you chose the bread to be. The only complaint that I have with this toaster oven is that the labeling on the buttons rubs out quite quickly.
I have only been using mine for a couple of weeks, but the lettering on the start/stop button is all but completely erased.
What We Like
Appears as a professional-grade oven in a small form factor
Has a huge cooking chamber as it can fit an entire chicken or a family-size pizza
Comes with a large, backlit LCD screen for more straightforward navigation
Toasts bread evenly every time
Has a fan inside so you can use it as a convection oven and air-fryer
What We Don't Like
The letters on the buttons get rubbed out easily.
The issue with this toaster oven is purely aesthetics. It is still a very nice toaster oven that I could not recommend enough. It is not just for making toast. You can use it to create all sorts of delicious dishes.
Best Toaster Ovens for RV Buying Guide

How Many Types of Toaster Ovens for RV Are There?
Different types of toaster ovens that you can also use in an RV are available at present. Each of these types has its own sets of advantages over each other. First, there is the traditional toaster. It is mainly used for toasting sliced bread for breakfast. These have two slots on top where you place your bread slices.
There are also heating elements inside the toaster that work in browning them to a crisp. The second is the toaster oven. It looks like a miniature version of the traditional propane oven, but instead of gas jets, it relies on electric heating elements at the top and bottom to provide heat.
Unlike the traditional toasters, toaster ovens can cook other dishes other than just toast. The last, and probably the best, is the convection toaster oven. It is a real convection oven but scaled down to fit most of those smaller countertops, especially those in RVs. It is the best type of toaster oven because you can use it for cooking anything that you can imagine – from cakes and pastries to roast chicken, steaks, and many other dishes.
Which type of toaster oven should you pick? It will depend on how much of a cook you are. If you consider yourself a pretty good home cook, then you should at least get the best toaster oven that you can afford.
If the budget is not an issue, then you can get the convection one. However, if you will only be using it to make toast, the traditional toaster will be just fine.
How Does an RV Toaster Oven Work?
Here's a brief step-by-step explanation on how the humble toaster works:
Electricity is supplied into the toaster from a cable that is plugged into the RV's inverter power outlets.
When you push down the lever that lowers the bread into the slots of the toaster, it also turns on the main switch, allowing electricity to flow through a series of thin metal filaments. These filaments are so thin that they provide quite a lot of resistance against the current of electricity they glow red hot.
These filaments act like little radiators that direct radiant heat towards the bread that is inside the toaster. Some filaments line the sides and center of the toaster. It is to ensure that both sides of the bread are toasted evenly.
The radiant heat produced by the heating elements rapidly brown the surface of the bread. The components are calibrated so that when they reach a specific temperature, they will cause the switch to trip. It will release the spring holding down the bread tray, allowing the toasted bread to pop up the top.
Who Makes the Best Toaster Oven for RV?
There are so many companies that make toaster ovens, but not all of them make products that could be considered as good investments. Luckily for you, I have tested a lot of these products ever since I started RVing up until now.
I have no problem recommending some brands to those who are looking for a good toaster. Among these brands are Dash, Courant, Bonsenkitchen, Hamilton Beach, Elite Cuisine, Amazon Basics, Black+Decker, Cuisinart, and Nostalgia.
Toaster Oven vs. Toaster: Which One is For Me?
Some RVers wonder what appliance is the best for their particular needs. Do they need a regular toaster, or would a toaster oven be more up to their speed? If you are wondering the same thing, you need to take a couple of factors into consideration so you can come up with a wise decision.
Are you an avid cook? If you like to dabble with different ingredients in the kitchen, then you should get a good toaster oven. Also, if your budget allows, then get a convection toaster oven. There are so many things that you can cook using a toaster oven other than just toast.
You can use it for baking pieces of breads and pastries. It is also useful in broiling and grilling meats. You are only limited by your imagination. On the other hand, if you are more of a microwave jockey, then you will be perfectly happy with a regular two-slice bread toaster.
It is also useful if you do not cook other than heating microwave dinners or if you are just looking for something that will make you toast for breakfast every morning, or heat a hot pocket now and then.
However, do not just buy the cheapest that you can find. Get one that is built with high-quality in mind. Your choice should be one that will surely last for many years.
How Do I Use My Toaster Oven in My RV?
It will depend on what toaster you have. If you have a traditional bread toaster, it does not get any simpler than inserting the bread into the slots and then pulling down the lever on the side to turn on the toaster. Other toasters also allow you to choose the shade of your toast. Just twist the dial to the shade of brown that you like.
If you think that the bread has been toasting long enough, you can press the cancel button so you can stop the cooking process and make the toast pop out the top of the appliance. Now, if you are using an oven toaster, you need to lay the slices of bread on the rack inside the oven.
Then you need to set the temperature (in some oven brands, there is also a shade selector), and then set the timer. If you think that you set the temperature too high, or the timer too long, you can just open the toaster door and use tongs for fishing out the toasted bread before they get burnt.
Note that there are not that many toaster ovens that have a cancel button. The great thing about toaster ovens is that you can also cook other things in them aside from toast. If you want to reheat pastries, then rest assured that you can do so, as long as they fit inside the chamber.
You can also use the toaster for cooking other things, like chicken nuggets, fish sticks, and other finger foods. You can also use the toaster oven, like a broiler. For instance, you can also use it to melt the cheese toppings of lasagna or spaghetti.
Care and Store
Regardless if you are using a toaster oven or a regular bread toaster, you need to empty the crumb tray regularly, or preferably after every time you use it. If you let the crumbs pile up in the tray, they will get burnt by the heating elements inside the toaster every time that you use it.
It will cause a nasty smell to waft from inside the toaster. Also, it will cause the bread you just toasted to taste burnt even if it is not. Aside from emptying the crumb tray, if you are using a toaster oven, you should also clean the front glass door. Do it after cooking something that caused food bits to spatter against the glass.
You need to deal with food spatters as soon as you can. It is because they will get harder to remove when you give them a chance to get baked on the glass. To clean a toaster oven, allow it to cool down completely first then unplug it from the wall outlet. Grab a damp washrag then vigorously rub the food spatters until they dislodge from the glass.
Do the same with the spatters that are inside the oven. For tougher stains, you can use a solution of water and white vinegar. Be careful not to touch the heating elements. You do not have to worry about cleaning them. They will clean themselves when they glow red hot.
Buying Guide
People usually think that buying a toaster oven is such a simple task. You may even assume that you cannot go wrong with whatever you choose, but that is not usually the case. If you do not want to waste your time and money on a piece of junk, you need to consider the following when you are browsing for a new toaster oven.
Bread Toaster or Toaster Oven? – The first thing to consider and ask yourself is if you are only looking for a bread toaster or something more versatile, like a toaster oven. Some people just want something to make toast for their breakfast, nothing more, nothing less. With that, they are perfectly fine with an excellent two-slice bread toaster.
If you are the type of person who likes to cook regardless of where you park your RV, then you always have a hankering to whip up something more than just baked beans and bacon. In such a case, a toaster oven is what you need. If you do not have enough space in your RV for an actual oven, even a countertop one, then toaster ovens are your next best bet.
Although bread toasters are just one-trick ponies, they do their job pretty well, and they are always very consistent. You can still make toast, and more, using a toaster oven, but it usually takes longer. You have to do a bit more tweaking as well. Know what your priorities are and then make a choice.
Size – If you choose to get a bread toaster, take into consideration how many slices of bread it can toast at one time. Most toasters have a two-slice capacity. It is perfect for people who like to go on lone RV trips, or with one other person. If you go on RV trips with your entire family, making toast for all of them will take a long time.
You would be better off with a 4-slice toaster. When choosing a toaster oven, consider the number of people that you usually cook for, too. If you need to cook for one or two people, the smaller toaster ovens will be best. It will also use less electricity.
Controls – You also have to consider the controls of the appliance. It is a useful feature, even if you are looking for a bread toaster. Many modern bread toasters nowadays let you choose the shade of the toast.
If you want your toast to be lightly toasted on the outside, but still chewy on the inside, then you can twist the dial to any one of the lower three numbers. If you want your toast to be brown and crispy, twist the dial to the higher numbers.
Accurate temperature controls are also essential when choosing a toaster oven. These controls will allow you to cook your foods perfectly. You do not have to worry about burnt lasagna or soggy fish sticks anymore.
With these critical factors in mind, you will more or less have an idea of what kind of toaster you need to get for use in your RV.
Other Toaster Ovens We Reviewed
Oster Toaster Oven
This choice is not your regular toaster oven. It is a true convection oven that you can use to cook gourmet dishes, making it truly worth its price.
Key Features:
Can be used for six standard slices of bread
Can reach temperatures up to 450 degrees F
Has a large interior, allowing it to fit a whole 12-inch pizza
Hamilton Beach Countertop Toaster Oven
This convection oven is the perfect size for a family of five, and it fits on any countertop with ease.
Key Features:
Allows easy access to food
The door lifts up and out of the way, thereby preventing food drips from touching the glass.
Can fit six slices of white bread or an entire 12-inch pizza
Courant 3-in-1 Breakfast Hub
Cook everything that you will need for breakfast using just this one appliance. This all-in-one machine is the one that you need.
Key Features:
9-liter capacity toaster oven
5-cup coffee maker
10-inch griddle pan
Nostalgia RTOV2AQ Multifunction Convection Toaster Oven
Although this toaster oven looks like it is more than fifty years old, it has advanced functions. If you like old school looks and modern technology, then this toaster is for you.
Key Features:
Can fit two 12" pizzas
Has multiple functions
Comes with top and bottom heating elements
Americana EBK-300R Retro Nostalgia 3-in-1 Breakfast Maker
This complete breakfast maker will be the only appliance you will need to prepare breakfast for two. The good news is that it lets you do it all at the same time.
Key Features:
Has a removable, non-stick griddle surface
Features an oven that can hold two slices of bread, or two muffins
Comes equipped with a 4-cup coffeemaker with a reusable filter
Luby 6-Slice Convection Toaster Oven
Although marketed as a toaster oven, you can consider this as a mini-convection oven. It lets you cook many other dishes aside from just plain toast.
Key Features:
Can fit six slices of white bread
Has top and bottom heating elements
Comes with options to use either the top or bottom heating elements, or both
Nostalgia RTOS200AQ Retro Wide 2-Slice Toaster
This 50s-inspired toaster oven may look vintage, but it has advanced functions that will make your everyday breakfast much better than before.
Key Features:
Has bagel heating function
Can choose from 5 different toast shades
Comes with a defrost function
LOFTer Stainless Steel Bread Toasters
This sleek-looking 2-slice bread toaster has a minimalist design that will complement any kitchen décor.
Key Features:
Comes equipped with a warming rack
Wide bread slots
Has six shade options
Hosome Bread Bagel Toaster
This stainless steel toaster is not just all looks. It has a lot of features that you will surely enjoy.
Key Features:
Comes with a handy reheat function
Has a defrost function for frozen breads
Comes with extra-wide slots that can fit waffles and bagel halves without any problem
West Bend 77224 QuikServe Wide Slot Toaster
This choice is an unorthodox bread toaster. Instead of popping up the slots, the bread will slide down into a waiting tray, ready to serve.
Key Features
The toast slides onto a tray instead of popping out.
Has a gluten-free setting, allowing it to toast bread longer to make it gluten-free
The wide, single-slot can fit even large slices of bread.
Toshiba AC25CEW-BS Digital Toaster Oven
This futuristic toaster might look intimidating, but it is pretty easy to use. It is perfect for RVs too.
Key Features:
Clear, backlit digital display
Has enough room for a 12-inch pizza
Can reach temperatures up to 450 degrees F
Oster 2-Slice Toaster
Oster has always been a trusted brand when it comes to kitchen appliances, and this two-slice toaster of theirs is not an exception.
Key Features:
Has a bagel toasting function (cut side toasting only)
Comes with automatic bread guide that ensures even toasting
Has a seven-shade toast picker
Betty Crocker BC-2605CB RA28686 2-Slice Toaster
Betty Crocker has been around for decades, and it is because this brand produces quality kitchen appliances. One of these appliances is this 2-slice toaster.
Key Features:
Has a 6 level toast shade picker
The housing does not get hot.
Has 30mm slots, can fit even thicker bread slices
Conclusion
For most people, breakfast is not complete without a slice or two of hot toasted bread with maybe a dab of butter and some honey on top. Although you can make toast using a grill or a frying pan, using a toaster oven is a more convenient and less time-consuming option.
However, the best toaster oven for RV can be used to make more than just simple toast. You can treat it like you would a real convection oven, albeit in a smaller form factor. On the other hand, if you just want simple toasted bread or bagels, a regular bread toaster will do.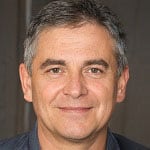 Hi, I am Tom Hank, an RV-er since 2014. Back then, I started without much help. As you can imagine, the struggles are endless. But now, you do not have to begin your adventures knowing next to nothing about RV lives.