Show your patriotism by installing a proud flagpole on your RV. There is nothing quite like having the American flag waving in the wind while you are driving down the highway.
However, make sure to get only the best RV flagpole because, aside from making your vehicle look obnoxious, it might also be dangerous and break quite a few laws. There is nothing more patriotic than having the American flag flying atop an actual flagpole.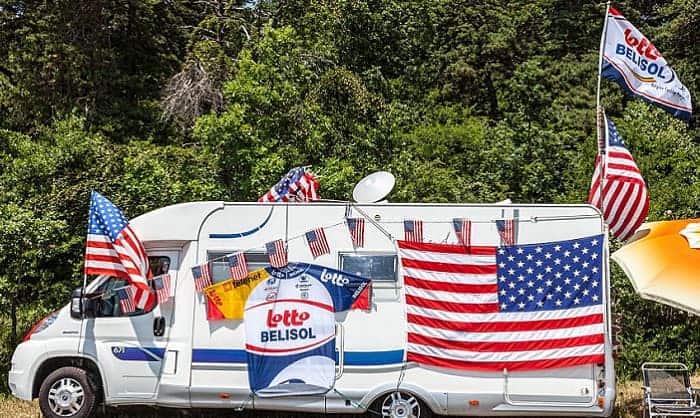 It does bring a tear in the eye of a true-blooded American to see the stars and stripes flying overhead. RV flagpoles allow you to bring your patriotic attitude wherever you go, and who knows, you might inspire others to be more proud of their country as well.
You can find many different types of travel trailer flagpole that you can choose from, but not all of them are suitable for your particular needs. Some of them may not even look good on your vehicle as well.
In this article, you will get to know the many different kinds of RV flagpole kits. The information here will let you know what to look for and make sure that you are getting your money's worth.
Best Flagpole for RV Reviews
1. Flagpole-To-Go Ultimate Tailgaters Package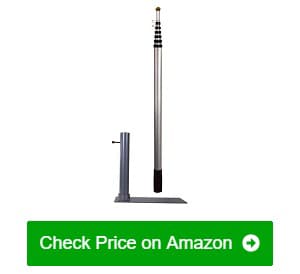 What got me hooked about this RV telescoping flagpole is that it is very compact when completely folded down. However, when extended, it can reach as high as 15 feet. It means you can let your flag fly high.
Another thing that I liked about this camping flagpole is that it comes with adjustable clips, letting you hang up to two flags that can be as big as 3' x 5'. It opens up a lot of possibilities when it comes to flag options, like flying the American flag, and that of another country for mixed-race families.
I also noticed that I only need to place the flagpole base underneath any of the RV's tires. The baseplate is wide enough to provide a stable base that will not allow the pole to fall even during high winds. When both the flagpole and baseplate are folded down, they are just a little over 2' tall. It is quite easy to store inside the RV.
The only issue I have with this RV flagpole, which in hindsight is forgivable, is that because it is collapsible, it does tend to collapse on its own during high winds. Fortunately, it is easy and quick to set up again.
What We Like
Easy to set up
Compact and portable
Comes with a pretty solid base and holder that will not fall over
Has adjustable clips for flying two flags
Can stand up to 15 feet high
What We Don't Like
The pole tends to collapse into itself during high winds.
The issue about the telescoping flagpole for RV collapsing is quite understandable. I even consider it as a safety feature as it prevents the pole from snapping in two.
2. FlagPole Buddy 16-ft. RV Flagpole Kit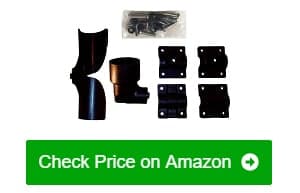 I like how securely this flagpole comes with solid and durable RV ladder clamps. I mount the pole on the bottom and top rung of the ladder for a more secure base. This flagpole uses adjustable clips, making it possible for me to fly flags that are as big as 3' x 5'.
Another neat thing is that the pole is long enough that it can accommodate two flags at a time. This flagpole, since it is not screwed onto or secured onto the base, means it can spin depending on the direction of the wind. It prevents the pole from swaying too much and then ultimately snapping into two.
Mounting the flagpole into the base is very easy. You just need to insert the pole at an angle into the top bracket, and then straighten the pole and insert the base into the bottom bracket.
The only issue I have with this camper flagpole is not with the pole itself, but with the included US flag. I noticed that it is very cheaply made. The plastic grommets break apart rather quickly, causing the flag to fray and tear.
What We Like
Easy to install and mount the pole
Allows the pole to spin around
Can hold up to two large flags
Comes with a sturdy flagpole holder ladder mount, preventing it from dislodging
The pole can extend as high as 16 feet.
What We Don't Like
The flag that came with the RV flagpole kit has flimsy grommets; they sheared right off after a week of moderate winds.
The issue I have with this RV flagpole is just with the included flag. The pole and base are quite good, making them well worth the cost. The money I saved went into the purchase of a proper US flag.
3. Camco 20-ft. Telescoping Aluminum Flagpole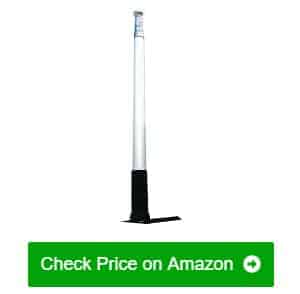 This product is the perfect flagpole for people who like tailgating or going on RV trips. This RV flagpole kit comes with an RV flagpole mount anchored using your RV's wheel. The weight of the RV holds the flag in place. The set also comes with a PVC sleeve that you bury in the ground. It also serves as the base of the flagpole.
The flagpole can extend up to a staggering 20 feet in the air. When you are ready to go back home, it can collapse to just 64 inches in length. With that capability, expect it to be the perfect portable RV flag since you can just lash the flagpole onto your roof carrier and take it down whenever you need to.
It comes with 3 feet by 5 feet American flag, so you can immediately use it upon opening. If you are in a hurry to show your patriotism, then this kit is for you. However, let it be known that the flag is made in China, so you might want to buy another one that is made in the USA if this fact bothers you.
This RV flagpole set also comes with clips that will allow you to fly two flags at a time. It is great for citizens who migrated into the US and would also like to honor their home countries. It is also configured to let you hang a flag at half-mast as a sign of respect, or when the country is in mourning.
It would have been an excellent flagpole for the RV, but there is one thing that I had an issue with – that is, the holder does not hold the flag as tightly as I would have wanted. If the holder's diameter was not so big, then it would have been perfect.
What We Like
Comes with a wheel-anchored flag holder
Has enough hardware for flying two 3'x5' flags
The kit came with a free American flag.
Can fly flags at half-mast
The pole retracts to a compact size.
What We Don't Like
The holder is a bit loose.
The issue I have with this flagpole is not that serious. All in all, it performs as expected and is an excellent addition to anyone's RV kit. Furthermore, it is quite affordable, which is always a plus.
4. Yeshom 20-ft. Telescopic Aluminum Flagpole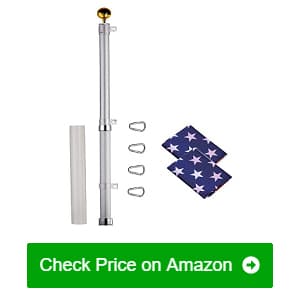 This item is one of the finest options for a portable flagpole that I have ever had the pleasure of using. It is made of light yet sturdy aluminum, which telescopes to a total length of 20 feet. However, you can lower the flagpole to around six feet high. It is very convenient when you live in a windy area.
Unlike the other portable flagpoles out there, this one is quite beautiful, making it more than worthy of holding the great American flag. The top of the flagpole has a gold-plated finial on top, giving it a classy touch. If you want, you can even install a solar light on top of the flagpole so that your flag will still look majestic even at night.
This 5th wheel RV flagpole is designed in a way that you can fly two flags at once. For instance, if you want to fly the American flag and your state flag at the same time, then you can do so. Also, you can hang the flag at half-mast when the country or your state is in a state of mourning.
The best thing is that this flagpole also comes with a grand old American flag. The size of the flag is 3' x 5' and is constructed using durable materials. Also, to ensure that the flag flies proudly for as long as you want, it has solid grommets. Such grommets prevent it from ripping, even in strong winds.
This flagpole is a great deal, but it would have been better if it already came with an EEZ RV flagpole mount. It only came with a PVC sleeve for burying in the ground I had to pour in some concrete to hold the sleeve in place because the ground in my yard is a bit soft.
What We Like
Made of solid and lightweight aluminum
Has a gold-plated finial for added fanciness
Can be extended to 20 feet high, and lowered to around 6-feet during high wind conditions
Has included hardware for hanging two flags or one at half-mast
Comes with a PVC sleeve for burying under the ground
What We Don't Like
Does not come with a portable flagpole holder
The issue with the portable flagpole holder is not that serious, as you can just buy them separately. It is still a great flagpole that comes with almost everything that you will need.
5. FlagPole Buddy 22-ft. RV Flagpole Kit
Weighing in at just 6.7 pounds total, this collapsible flagpole for RV is an ideal way to show your patriotism whenever you go out camping or take your RV out to a huge tailgate party. You can extend this flagpole to a height of 20 feet, making your flag easy to see even from afar.
Aside from holding flags, you can also place a cellphone antenna booster on top. It will help you get a more reliable signal regardless of where you go. It is possible since the antenna is not that heavy. With that, it can necessarily make an RV flagpole a huge cellphone antenna.
This flagpole is high and sturdy enough to fly two 3' by 5' flags at the same time, but some people reported that they were able to fly two 4' by 6' sized flags without any problems. However, regardless of the size of the flag, you need to pull down the flagpole if it gets too windy outside.
This flagpole mounts on the ladder of the RV. This set comes with two sturdy brackets that clamp securely on the ladder. Once installed, mounting the flagpole itself will take just a couple of seconds. The design of the brackets also makes it easy to remove the flagpole when needed.
The only thing that I wish was more reliable is the set of rings that hold the flag in place. I noticed that they get weak after a couple of months, thus resulting in the flags bunching up often.
What We Like
Weighs just a little under 7 pounds
Can extend up to 20 feet high, and lowered during high winds
Can hold up to two 4' x 6' flags easily
Easy to install as it does not require any drilling
The flagpole can be mounted and unmounted in seconds.
What We Don't Like
The rings holding the flag last only a couple of months
Even though the rings are not as sturdy as I wanted them to be, you can easily replace them with a new one. It is not that serious of a problem, and despite its flaws, this flagpole is still an excellent investment.
6. Gientan Telescopic Flagpole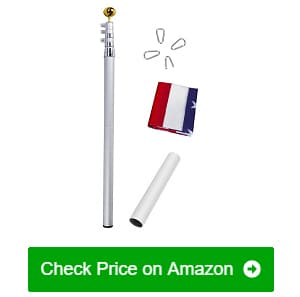 The detail that I loved about this portable flagpole is the vastly improved twist-locking system that holds the telescoping flagpole in place. The other flagpoles that I have tried so far started slipping after just a couple of weeks. This one just stayed put.
The flagpole is also made of 1.2mm thick aluminum, which is thicker than other brands. It means that this flagpole is much resistant to bending in high winds. However, the pole will still bend a bit to avoid snapping in half.
If the wind outside gets a bit too strong, like in the realm of around 20 miles per hour, it is best to collapse it and take the flag indoors until the weather dials down a bit. It is also effortless to install. Just dig a hole deep enough to embed the PVC sleeve, then insert the base of the pole into it.
One person can raise the flagpole from 5' to 20' in just minutes. Taking it down is also just as fast. The clips that hold the flag in place rotate around the shaft so that the flag will not wrap around the flagpole. It ensures that your flag will still be proudly waving in the wind whichever direction it blows.
It is not like other flagpoles that require you to bring down the flag regularly to get it unfurled. The only thing that I did not like is that the telescoping pole does not lock into place as tightly as I would have liked.
Sure, the twist lock is a lot tighter compared to other brands, but when exposed to high winds, the top portions often twist out of the lock position.
What We Like
Made of thicker gauge aluminum tubing, making it more resistant to bending and buckling
Boasts of an improved twist locking system as it now has an elastic fastener to secure it in place
Very easy to install and raise
The flags rotate around the shaft.
One person can raise and lower the flagpole.
What We Don't Like
The twist-lock still loosens in high winds, but not to the bottom.
Although it is far from the perfect portable flagpole, it is hard to argue that it is still a good purchase decision should you go through with it because of its price.
7. Klvied Telescoping Flagpole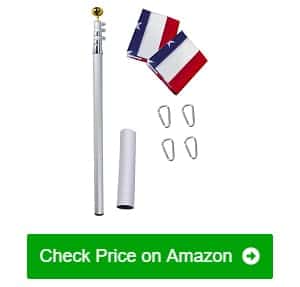 The thing that I liked the most about this flagpole is the fact that it is telescoping. I can let it stand at just a little under five feet high, so I can still see the flag from my living room window. Alternatively, I can extend it fully to 25 feet so that the entire neighborhood can see it.
However, you can also lower the flagpole by quite a bit to prevent it from bending too much in strong winds. This telescoping aluminum RV flagpole twist locks in place. However, unlike the other brands, this one has rubber fasteners that keep the joints from slipping off.
Note, though, that it will still sometimes come loose depending on how strong the winds are that day. Another feature that I liked about this flagpole is that the clips rotate along the shaft of the pole. This feature prevents the flag from getting tangled and wrapped around the flagpole. No matter where the wind blows, your flag will still fly proudly.
Speaking of the flag, there is already one included when you buy this RV flagpole kit. You will already get a 3' by 5' flag so that you can immediately let it fly the moment that you receive your package. However, keep in mind that this flag is made in China.
If this fact is adverse to your principles, then feel free to use another flag, preferably one that is made in the USA. The only problem I have is that the RV flagpole tongue mount is sold separately. It should have at least come with a wheel-anchored flagpole stand.
These mounts are inexpensive, but the fact that you had to buy them separately when they could have been added into the set is what bugged me the most.
What We Like
Features a sturdy twist-lock mechanism that will not dislodge
Comes with a PVC sleeve for mounting the flagpole into the ground
Features a free 3' by 5' American flag
Can be set up by a single person; the entire installation can be done in under thirty minutes
Tangle-free flag mounting system, which means that even if the wind is howling, the flag will fly freely
What We Don't Like
Does not come with an RV kit
The issue that I have with this particular flagpole is not particularly serious. It is just a minor inconvenience, especially when the price of this product is taken into consideration.
8. Flagpole-To-Go Portable Flagpole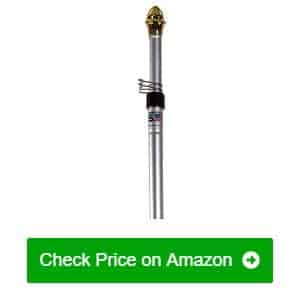 This collapsible flagpole can be set to stand at 4' up to 17', so if you just want to hang the flag where you can see it easily, then you can do so. You also have the option to string up the flag to as high as it can go for everyone else to see.
I also love the fact that it comes with adjustable clips. The placement of the clips can be easily adjusted just by pinching and pulling them anywhere on the pole you wish. Hanging the flag is easy as well. Just insert the clips into the grommets and then lock the clip in place.
This flagpole is so lightweight that only one person is needed to set it up properly, and it will only take a couple of minutes to boot. This flagpole is also sturdy enough that it can hold a 3' by 5' flag without any problems whatsoever. I managed to set my flagpole up by myself, and the whole process did not even take half an hour.
It only required a couple of essential tools. Do not be afraid when this flagpole should sway and bend with the wind. It is designed to do so. Flexing is its way to absorb the power of the wind so that it will not break into two pieces.
However, if the winds are particularly strong outside, it is advisable to take the flag down and retract the flagpole to the lowest height. The thing that I did not like, though, is that the clips holding the flag do not rotate around the pole. It made the flag wrap around the flagpole when the wind outside gets particularly rough.
What We Like
Lightweight and flexible construction
Easy to set up, one person can do it in minutes
Can hold a 3' by 5' flag
The twist-lock works well.
The clips holding the flag can be easily repositioned.
What We Don't Like
The flag gets tangled around the pole often.
Although the issue with the flag getting tangled can get annoying fast, there is no beating the value that you can get from this kit.
9. Valley Forge American Flag Flagpole
The neat thing about this portable flagpole is that it already comes pretty much fully assembled. You only need to add the finial and the clips for holding the flag. The flag stand is already incorporated into the total design. You just need to attach the small details, and then extend the pole.
You can also extend this flagpole to a maximum height of 16 feet. It can hold flags that are as large as 3' by 5' in size. It is a perfect addition to your rig during tailgate parties. I usually use my flag as a way to find out where I parked my truck when I attend large tailgate parties.
Unlike other portable flagpoles, this one is entirely made of fiberglass, making it incredibly light, but also flexible enough that it sways with the wind. It also comes with a nylon carrying case for improved portability and storage.
The best thing about this flagpole kit is that it is entirely made in the USA. According to US laws, flags should be labeled with their country of origin. This kit comes with a Flag Manufacturers Association of America's seal of authenticity, meaning your flag is 100% sourced and made in the USA.
The one thing that I did not like about this flagpole set is that you have to remove all of the clips and the finial first before you can fold it down and place it in the carrying bag. It would have been better if I did not have to disassemble anything and just throw it in in the bag.
What We Like
Can extend up to 16' high but you can also lower it to around just 6-feet when winds are strong
Can hold flags up to 15 square feet large; can even hold two of them at the same time
Comes almost fully assembled; you will only need to add a couple of small parts
The kit contains a wheel anchor and PVC sleeve.
Comes with a flag that is 100% made in the USA; certified by the FMAA
What We Don't Like
Have to remove all the additional hardware before storage
Although it is far from being the perfect portable flagpole, it delivers on all expectations. If you need something to show off your patriotism during outdoor events, then this flagpole is the best you can get.
10. WeValor Telescoping Flagpole Kit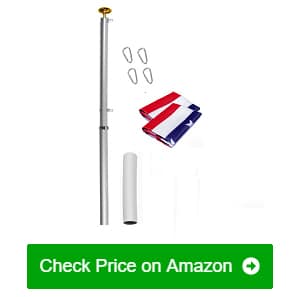 This 25-ft telescoping flagpole is made from very thick 16-ga aluminum tubing. It can be flown at full height, or you can also choose not to extend the entire length, maybe using just a bit over half when your place is a bit windy.
I also like the improved telescoping locking system. This flagpole has elastic fasteners that prevent the segments from sliding out of the locked position. You will never be surprised to find that your flagpole has gotten shorter after a particularly windy day.
I also like how easy it is to install and set up the entire flagpole kit. I managed to do everything on my own, and it did not even take me an hour to finish it. You just need to dig a hole deep enough to insert the PVC sleeve.
Insert the flagpole into the sleeve, attach the clips, connect the included flag then extend the flagpole to your desired height. Another thing I love is that it comes with a 15 square-feet flag, so you can immediately set up your flagpole as soon as you receive the package.
Speaking of flags, this item can support two flags. It means if you want to fly your state flag, or another nation's flag underneath the American flag, then you surely can do that. The issue I have with this flagpole is that even at just 20 miles per hour winds, the flagpole will sway quite a bit.
When it happens, I lower the flagpole to just below 15 feet. It is because it will snap in two if I leave it up.
What We Like
Can be extended as high as 25-feet
Can be set up and installed easily
Comes with a large 15 square feet US flag
You can lower it during high winds.
Has space for two flags
What We Don't Like
The flagpole sways quite a lot when fully extended, even in just moderate winds.
You can fix the swaying problem by lowering the height of the flagpole to under 20 feet, making it a good investment, especially since it is quite inexpensive.
11. CO-Z Aluminum Telescoping Flagpole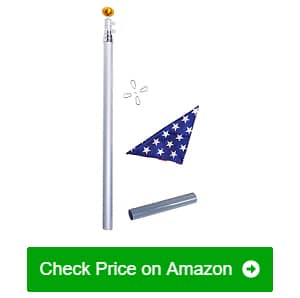 This flagpole extends up to 20-feet high and can withstand light to medium breeze. When fully extended, I find that 20-mile an hour winds make the flagpole sway quite a bit, so it is best to lower it a bit to provide it with more rigidity.
One thing I liked about this is that the rings that the flag connects to swivel around the shaft of the pole. It can prevent the flag from getting tangled when it is blown by the wind. It means you will never need to bring down the flag during somewhat windy days because the flag will always be unfurled.
Even though it is a twenty-foot flagpole, it is possible to install and set it up by one person. The flagpole itself is made of lightweight aluminum, making it easy to lift and extend. I was able to install mine in under 20 minutes, and that includes digging the hole for the PVC sleeve.
Another nice thing that I liked is that the kit came with an American flag, all ready to use. There is also a gold-plated ball that attaches on top of the flagpole for additional style points. I also installed a solar-powered flagpole light on top of the flagpole so that I can still admire the flag at night.
There is only one thing that I did not like, though, and that is the fact that the flag that came with the kit, although fairly adequate, is not that sturdy. I had to replace the flag with a true, American-made one after a week because the free item already started to fray.
What We Like
Easy to set up without the need for any tools
Can extend up to 20 feet high
Comes with a sturdy locking system that will not collapse
The rings swivel around the shaft to prevent the flag from getting tangled.
Allows you to get a free flag
What We Don't Like
The free flag is not very durable.
The issue with the flag is not that huge since it is free. With that, there is nothing much to complain about. If you want to show your patriotism, then this flagpole is the way.
12. Danslesbls Spinner Flag
If you want something a bit more dynamic to show how much you love the greatest nation in the world, then you need to get this spinner flag. When you use this, the flag is always unfurled and waving in the wind. However, if a particularly strong gust of wind blows through, it will just swivel on its base to prevent snapping.
All of the pieces are pre-assembled. You just need to do a bit more assembly, but nothing that difficult. I had mine up and about in only fifteen minutes. Even the base just needs to be buried in the ground for around a foot or so. You do not have to mix and pour concrete.
Another thing I love about this flagpole is that it is made of furniture-grade PVC pipes. This material is lightweight yet very durable. Unlike plumbing-grade PVC, it is weatherproof and will not get brittle when exposed to extreme sunlight. You can leave the flagpole outside on any kind of weather, and it will still stand.
It comes with a true made in the USA American flag. The flag measures 3' by 5', and has metal grommets for you to hang it up on. It also has a low risk of fraying. Unlike other foreign-made flags that do not pay close attention to quality, you can be sure that this flag will last for many years.
I did hope that the tubing was a bit bigger in diameter. The tubing used in this flagpole is sufficient, but the weight of the flag causes the pole to sag down a bit.
What We Like
Lightweight and easy to assemble and install
Entirely made in the USA
Comes with a large American flag
The flag is always unfurled and waves in the breeze.
Portable, making it possible for you to bring and install it anywhere
What We Don't Like
The PVC tubing used is a bit too small.
Although the pole sags a bit, it does not do so much in terms of lessening the effect it has. The flag will still wave proudly regardless if there is a breeze or not.
Best Flagpoles for RV Buying Guide
If it is the first time for you to purchase a portable flagpole, there are a couple of things you have to consider. Among these things are the following:
Wind speed – How strong are the winds in the specific spot where you will be setting up your flagpole? Will you be going to a campsite where there is hardly a breeze, or will you be attending a festival in the desert where the breeze can kick up the sand? Get a flagpole that is sturdy yet still flexible enough to withstand the wind.
On the other hand, if there is little wind or only a bit of breeze flows through the place you will be flying your flag, you can get a spinner flagpole instead. It will let the flag hang at such an angle that it will always be unfurled and spread out. It is as if a steady breeze is blowing at it.
Telescoping or segmented – You can gain benefits from both these assembly methods. The telescoping flagpoles are more portable and do not contain as many pieces. However, when they bend and twist due to the wind, the twist-lock mechanism usually loosens up.
Segmented flagpoles will not collapse regardless of the wind, but they take a while to assemble and disassemble. You can also find them coming with a lot of different pieces, all of which you need to keep track when storing the flagpole.
The thickness of the flagpole – If you are getting an aluminum, telescoping flagpole, then go for one made of thicker gauge metal. If the walls of the tubing are too thin, then there is a risk of it buckling at just the slightest breeze.
The thickness of the flagpole material is especially important when you will be getting something that is fifteen feet high, or higher. Ideally, the flagpole tubing should at least be 16-gauge thickness, especially along the base.
However, you can't avoid the fact that RV flagpoles are not as sturdy as stationary ones. That said, they will still tend to sway during windy days. Just take it down to prevent it from snapping.
Height of the flagpole – How high do you plan on flying your flag? If you are installing the flagpole in your home, you might need to consult with the HOA beforehand. There might be restrictions in place regarding the height of structures in your neighborhood.
If you are using it in your RV while camping, find out of there will be any obstructions in your campsite, like tree branches, that might prevent the flagpole from getting set up.
If you intend to use the flagpole on your RV or set it up while you are parked, the flagpole should be high enough that the flag clears the roof of your RV by at least a foot or so. Also, consider that the taller the flagpole, the deeper the base should be. If it is mounted on the RV, the bracket should be very stable and spaced far apart.
Materials used – The most common material used for making portable flagpoles is aluminum because it is very lightweight while still being durable. However, there are certain types of flagpoles, like spinning flagpoles, that use PVC tubing instead. If you plan to choose a telescoping flagpole, make sure that the materials used are not sub-par.
You can also find flagpoles made of steel, but these are quite heavy. They are also usually just one piece, so they are mostly made for home use only.
Flag included? – In almost all RV flagpole sets, there is always an included flag. If you do not mind where the flag came from, then you will be fine with the ones that come free in flagpole kits.
However, if you are serious about buying only American-made ones, especially when it comes to flags, then you should check the label attached to the flag. If it came from any other country aside from the USA, you have every right to discard it and get a true American-made flag.
Single or multiple flags? – The neat thing about many RV flagpoles these days is that they come with more than enough clips to mount more than just one flag. You can clip on another country, your state flag, or the school flag or pennant of your favorite team.
If you do not want to fly two flags, it is still an excellent idea to get a flagpole that at least has this functionality. For instance, if the country is at mourning, you can attach the flag on the clips meant for the second flag.
When you choose the RV flag pole, you will probably also be interested in our list of top-rated RV ladder. Also, check our guide for RV wind turbine when you if you need.
How Many Types of Flagpole for RV Are There?
Several different kinds of RV flagpoles are available at present, and they are usually differentiated depending on how they are installed.
First, you can find the RV flagpole bumper mount that you can mount on the tow hitch of your RV. It comes with flagpole bases that attach to the tow hitch at the rear of your RV, so you can fly your flag while driving down the road.
If you choose to get this type of flagpole, you need to make sure that the flag you will be using is safe for road use. Get in touch with your local DMV to find out what size of flag you can use on your RV when it is on the road.
The next types are the ones that come with wheel-anchored flag bases. The flag base has a wide flange at the bottom. You place this flag base in such a way that your RV's wheel rolls over the flange. The weight of your vehicle will keep the flag base in place so it can hold the flagpole.
The neat thing about it is that you do not have to drill any holes anywhere on your RV. It is also stable enough to keep the flagpole vertical even during windy days. Another mounting method is the one that involves the use of hard plastic brackets that attach to the ladder at the rear of your RV.
Although the flag is mounted onto the vehicle itself, you should not drive down the road with the flagpole still mounted in the brackets. It could even get blown off and cause accidents.
How Does an RV Flagpole Work?
RV flagpoles are very much different from the ones that you see in schools, government buildings, parks, and others. In most cases, you can see them being made to be portable, so they need to be collapsible. The best design for such kind of a flagpole is the telescoping kind.
It is made of several segments of aluminum tubing of decreasing size. The ends of the segments are threaded, so you can easily tighten and lock them in place. You can also go for flagpoles that are segmented. It means that the flagpole is made of several pieces of tubing.
One end of these tubing segments is reduced just enough that you can insert them at the bottom end of the other. The height of this kind of flagpole will depend on how many segments you plan on using. You do not have to use all tube segments if you do not want to.
Usually, these flagpoles do not have a pulley system. You just hang the flag by its grommets on clips on the pole instead. If you want to take down the flag, you need to collapse the flagpole into itself until you can reach the flag.
However, some flagpoles also come with a rope and pulley system, though, they are not the same as the metal ones used in traditional flagpoles. It is usually made of plastic.
Which Brand of Flagpole for RV is the Best?
Many different brands of RV flagpoles are available in the market nowadays, but not all of them are worth your time and money. If you want to spare yourself from all the stress, then you can go for some trusted and highly recommended brands, including Flagpole-To-Go, FlagPole Buddy, Camco, Yeshom, Gientan, Klvied, Valley Forge, WeValor, CO-Z, and Danslesbls.
How to Choose the Right Size?
The size of the flagpole you get depends on where you will be placing it. Ideally, the flagpole should be visible from all angles. What it means is that it should be tall enough to clear any nearby obstacles. If you are placing the flagpole in your front yard, it should at least be higher than the roofline of your home.
If you are placing it beside or on your RV, it should clear the roof of your vehicle enough that the flag will not touch it. Those are the bare minimum factors when choosing a size of a flagpole. You can choose to go higher if you wish.
However, avoid getting obnoxiously large flags. An example is something that can easily drape over half of your house. This kind of flag is more of a trouble than its worth.
How to Mount a Flagpole for RV?
There are several ways for you to mount a flagpole on your RV. Your choice will largely depend on what kind of flagpole you are using. The most popular mounting method when July 4th is fast approaching is the tow-hitch mount. With this method, the flagpole mount is installed into the tow-hitch receiver of the RV.
You can see it being used by RVers who want to fly their flags while they are driving down the road. The only limitation when using this kind of mounting method is that you can only use a short flagpole, like something around 6 feet. You might also need to choose a smaller flag if you are planning to drive with the flag on.
However, if you will be mounting the flagpole once you are parked safely, then you can go as high as you want. One other way to mount a flag onto an RV is by installing flag holding brackets onto the ladder at the back. The great thing about these mounting brackets is that you do not have to drill any holes. They just clamp onto the ladder.
You can use this type of mount to hold small flagpoles when driving. Alternatively, you can also use this to hold 20ft to 25ft flagpoles while parked. If you do not want to bother yourself with any kind of installation whatsoever, you can get the wheel-anchored flagpole holder instead.
It is just a small piece of tubing with a metal flange welded on the bottom. To use it, park your RV. Place the flange underneath any one of the wheels. You should then give a bit of space between the tire and the tubing.
You should then go back behind the wheel and just move the RV enough that the flange is directly underneath the tire. The weight of the RV will hold down the flagpole holder, providing a solid base to insert your flagpole.
Care and Maintenance
The great thing about flagpoles is that they are very low-maintenance, especially the portable ones. There is nothing much that you need to do in terms of maintenance. For the most part, you just need to take it down every once in a while so you can wipe it clean with just a regular cloth rag.
If your flagpole is made of aluminum, and you want to make it look fancy, you can shine it using aluminum polish and buff it using a soft piece of cloth. While the flagpole is low-maintenance, remember that the flag is another thing. The care instructions for the flag will depend on its material.
If the flag is made of polyester or nylon, you can machine wash it on a gentle cycle with lukewarm water and a mild detergent. Do not throw the flag into the dryer. Hang it somewhere out of the sun to dry.
However, if your flag is made of cotton or wool, it is best to have it professionally dry-cleaned to prevent the colors from bleeding into each other. It is the best option, especially if your flag has personal value.
Also, to make sure that your flagpole and flag last for as long as they should, you need to consider the weather outside. If it is windy outside, and you see that your flagpole is bending a bit too much than it usually does (especially the telescoping flagpoles), carefully collapse the flagpole. Detach and properly fold the flag, and then take it inside.
Also, if the weather forecast says that it will be raining for most of the day, bring your flagpole and flag inside. It is especially true if there will be a lightning storm. You would not want your flagpole to act as a lightning rod.
Other RV Flagpoles We Reviewed
FlagPole Buddy 12-ft. RV Flagpole Kit
If you want to show off your pride as a citizen of the United States of America wherever you take your RV to, then this flagpole kit is the right choice.
Key Features:
Turn-lock locks segments in place
Made of light, yet durable aluminum
1-1/2" diameter at the base, extends up to 12 feet
Ezpole Flagpole Defender Flagpole Kit
This flagpole will allow you to fly two flags at once. It is possible without using any rope or cordage of any kind.
Key Features:
Extends up to 21' high
Comes with a gold-plated ball finial
Clips swivel around the pole to prevent the flag from wrapping around the shaft
A-ONE 20FT Extra Thick Telescopic American Flagpole
This 20-foot flagpole is made of thicker-gauge aluminum tubing for extra strength against bending.
Key Features:
Made of thick anodized aluminum tubing
Can go up to 20 feet high
Has a rotating shaft to prevent the flag from getting tangled by the wind
Flagpole-To-Go Fiberglass Portable Flag
This 28-feet flagpole can be collapsed for portability. You can also place it in a permanent concrete base in your yard. It will let you have a flag wherever you go all the time.
Key Features:
The clips prevent the flag from furling.
Can accommodate up to two 3' by 5' flags
Perfect height for tailgating parties (permitted by NASCAR)
Yeshom Telescopic 16 Gauge Aluminum Flagpole
Wherever you go, you will have one heck of a way to show your nationalism. This 25-foot telescoping flagpole is the perfect way to show off how proud you are to be an American.
Key Features:
Made of 16ga aluminum tubing for improved strength
Set up and install in just minutes
No ropes or pulleys needed
ZENY Sectional Flagpole Kit
Although this flagpole might take a while to set up, it is much stronger and sturdier than most of the other flagpoles in this list.
Key Features:
Made of six sections and can go as high as 20 feet
Comes with a pulley and rope system for raising the flag
Comes with a PVC sleeve flagpole base that you can bury in the ground or set in concrete
AkTop 20-ft. Telescoping Flagpole
Even though it is a 20-foot flagpole, you can set it all up by yourself without any help. It is perfect when you like to camp by yourself.
Key Features:
Comes with rings that swivel around the flagpole to prevent tangling
The package comes with a 3' by 5' American flag.
The improved twist-lock system prevents the flagpole from collapsing.
Gientan 25-ft. Telescopic Flagpole
This portable RV flagpole might be easy to set up, but that does not mean it is flimsy, far from it.
Key Features:
Can extend up to 25 feet in height
Has included hardware for mounting two flags at the same time
Made of thick gauge aluminum tubing that can resist against bending and buckling
GUOHONG 25-ft. Telescoping Flagpole Kit
There is no need to fear that your flagpole will bend and buckle from a light breeze. This 25-foot flagpole will allow you to show off your patriotism, even when there is a strong breeze outside.
Key Features:
Comes with a PVC sleeve for ground installation
No need for pulleys or ropes
Comes with a 15 square foot flag
LAVIEVERT 6.5-ft Aluminum Alloy Telescopic Anti-Winding Flagpole
Mount this flagpole on your wall, or take it with you during sporting events. This flagpole is portable, yet still big enough to show your American pride.
Key Features:
Has an anti-tangling design
Made of heavy-duty, rustproof and weatherproof aluminum alloy
The telescopic shaft can be adjusted from 4-feet to 6-1/2-feet
HiTow Hitch Mount Flagpole
Do you want to ride down the road with the American flag in tow? Then you will need this flagpole.
Key Features:            
Can clear the back of your RV even if the spare tire is mounted at the back
Can fit in standard 2" square tow hitch receivers
Designed in such a way that water and dirt will drain out the bottom
Yeshom Portable All-Metal Flagpole Wheel Stand
The neat thing about this flagpole holder is that you can set up your flag without drilling holes. You do not even need to clamp on brackets.
Key Features:
Can hold 20ft and 25ft flagpoles
Entirely made of cold-rolled steel
Uses the vehicle's weight to anchor the flagpole
EEZ RV Products Flag and Wind Sock Pole Mount
Regardless of the size of your flagpole and the way they are constructed, this mounting bracket will be able to hold it firmly.
Key Features:
Can fit all sizes of poles
Can be installed on the RV ladder quickly and using simple tools
Made of durable yet lightweight materials
Conclusion
Having the best RV flagpole is the ultimate way for you to show your patriotic side for everyone else to see. With a good quality flagpole, you can let the American flag and any other flag that you want to let fly, as high as you want.
Now that you know how to shop for a flagpole properly, you can choose the right one that is best for your needs.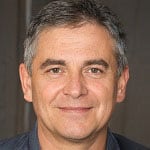 Hi, I am Tom Hank, an RV-er since 2014. Back then, I started without much help. As you can imagine, the struggles are endless. But now, you do not have to begin your adventures knowing next to nothing about RV lives.