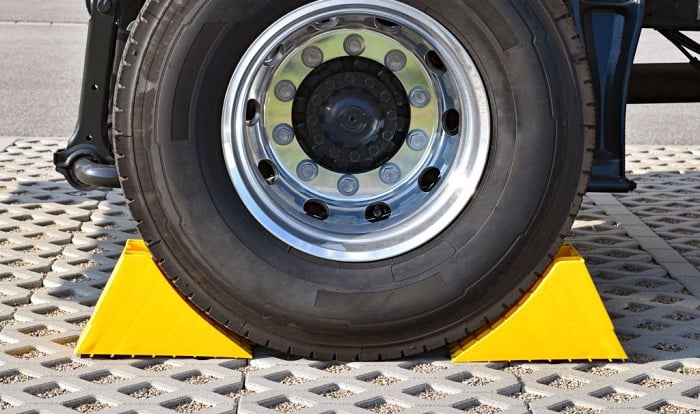 Trailer chocks often sit at the bottom of RVs to prevent these vehicles from moving while parked. But the many options on the market can make buying them tough. For some RVers, finding the best RV wheel chocks might only be a pipe dream.
Without trailer wheel stops, parked vehicles can create unwanted movements. These actions can put individuals in RVs at risk, particularly when the automobile rests at a sloped surface. Moreover, appliances can become misaligned if you do not use the right wheel blocks for campers.
But the question that might be on your mind right now is, 'how can I find the right wheel chocks for my RV?' Here are a few things to consider during your search:
RV wheel stabilizer type: Trailer chocks can be classified into two major categories: standard wheel chocks and wheel stabilizers. Each type will have its unique pros and cons, which you will find as you browse the top travel trailer wheel chocks in this post.
Durability: Locking wheel chocks are often one of the simplest additions to compatible vehicles. But it's important to take note of the ruggedness of the product to ensure fairly long serviceability.
Ease of use: In most cases, RV wheel leveling blocks that provide steadiness and security to camper vehicles are easy to install, use, and remove. Still, some models are easier to set up than others, providing you with optimal convenience.
You should also think about other factors we'll discuss in the buying guide. Remember, you are also going to secure the safety of the items and passengers in the RV with the tire lockers. So keep reading to know the top-rated RV wheel chocks.
List of 10 Top-rated RV Wheel Chock Reviews
1. Camco 44414 Wheel Chock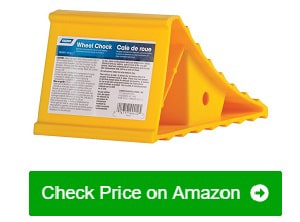 I know Camco is one of the leading brands in the RV supply niche, and this particular model is one of the best in the industry. One pack comes with two Camco wheel chocks, and the installation could not have been any easier than I expected.
It only took a few moments to install these camper wheel chocks and park my vehicle into a secure spot. In perspective, the process only required me to place the chocks behind my RV's tire before setting the vehicle into neutral. As I released the parking brake, my RV rolled into the chocks to complete the setup.
I also liked the build quality of this product. Made with durable hard plastic, both chocks in the package even have UV inhibitors. Therefore, this model can withstand inclement weather, which should give me a reasonably long shelf life.
Moreover, this chock set is quite versatile, seeing that I was able to test it out on different wheels. It can supply optimal steadfastness to relatively any vehicle with tire diameters of up to 26 inches.
Plus, this pack of two-wheel chocks for motorhomes and travel trailers is one of the most inexpensive units I found on the market. At its price point, I can safely say that this product is ideal for RVers that follow strict budgets.
However, I do not advise using these chocks on a reasonably heavy vehicle, like a 5th wheeler or a Class A RV. I tried using it on a 5th wheel, and the plastic material flattened the moment I reversed the vehicle onto the chock.
What We Like
Only takes a few minutes to install.
Decent build quality with UV-resisting properties.
Excellent versatility as it is usable with tire diameters up to 26 inches.
Fairly inexpensive costs.
What We Don't Like
Might not be ideal to use for heavy vehicles, like 5th wheels and Class A RVs.
Rig owners with reasonably lightweight RVs and tight budgets might want to consider buying this Camco wheel chock.
2. MAXXHAUL 70472 Heavy Duty Wheel Chock
If there is a word to best describe the features brought by the rubber RV wheel chocks in this MAXXHAUL package, it would be 'impressive.' Each unit is chock full of first-rate features (no pun intended).
First, the all-weather construction is always a welcoming touch in my book. With this feature, I was able to park my RV in places with rough weather conditions without worrying about the vehicle slipping from the terrain. Plus, the traction is also top-notch, seeing that it has an oil-resistant finish to prevent slippage.
Next, I also liked that these models are slightly less expensive than other options I found on the market. I was using RV wheel chocks Harbor Freight before I found these units from MAXXHAUL. The performance of the chocks from both brands is almost similar. However, I was able to save a few more dollars with MAXXHAUL.
Also, the built-in handles are a nice feature. Other wheel chocks I used did not have a handle or rope, which made removal and storage more difficult than I expected. Moreover, the handles have the same weather-resistant finish as the rest of the chocks, allowing them to preserve optimal longevity.
I should warn people who wish to buy this product to be prepared for the strong rubber smell. I had to wear a mask when I first opened the chocks from the packaging because the scent was too strong. Therefore, I advise buyers to open this product's packaging in a well-ventilated area, or else the stench might stick inside their RVs.
What We Like
All-weather construction protects against rough weather.
Top-notch traction with an oil-resistant finish prevents slippage.
Slightly less expensive than other similar options.
Built-in rubber handle promotes easy removal and storage.
What We Don't Like
Strong rubber smell might be off-putting for some users.
Rig owners that are looking for reasonably inexpensive yet top-performing wheel chocks might not want to miss out on this product.
3. Bal 28012 X-Chock Wheel Stabilizer
I find that an X-chock wheel stabilizer usually gets the job done in steadying and securing my rig in parking spots. This Bal deluxe tire chock is no exception to that rule as it provides more stability and security to rigs than many of its competitors.
The first thing I noticed upon installation is that the rocking between tandem tires disappeared almost completely. Before installing these chocks, my rig swayed whenever I walked in it. Now, these X-chocks stabilized the vehicle with a top-rated performance.
Plus, all it took was about 5 minutes to install the units. Setup is a reasonably straightforward process. All I needed to do was hold the X-chock between the two tires of my rig. Then, I adjusted the screw until the bases of the four arms attached to the tires and locked everything in place.
I also liked that the manufacturer included a plated ratchet wrench and a comfort bumper in the kit. These included tools saved me the time and effort of returning to the hardware store to purchase these pieces of equipment.
Additionally, each chock has a rust-resistant coating. I attempted to see the extent of its rust resistance by leaving my rig out in a location with a fairly wet climate. I stayed there for a few weeks, and when I left, the X-chocks still looked the same way as when I bought them.
Thankfully, these X-chocks come as a pair because they can be quite expensive. In turn, some interested buyers might be taken aback upon seeing the price tag, especially if they are following a strict budget.
What We Like
Significantly reduces rocking and sways in rigs.
Only takes about 5 minutes to install.
Includes a ratchet wrench and comfort bumper in the package.
Rust-resistant coating promotes long-term use.
What We Don't Like
Slightly more expensive than other models.
These X-chocks can be the right wheel chocks for many rig owners. With these models, rocks, sways, and unnecessary movement from our RV might disappear completely.
4. Camco 44652 RV Wheel Stop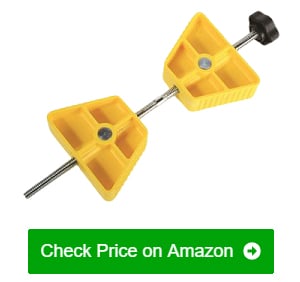 I talked with other rig owners about the right RV wheel chocks to use in different parking scenarios. Many of my fellow campers pointed me to this Camco RV wheel stop. I let my curiosity take the lead as I headed to the store to buy this model. My gratitude goes to the people I talked to because this product does not fall short of being a top performer.
The first likable aspect I found on this product is that it significantly reduces unwanted back-and-forth movement. Before, walking in my rig felt like I was walking in a boat at sea. Now, it feels as if I am strolling on hard ground.
I took the stability test one step further by adding stabilizer jacks to my parking setup. Thankfully, this wheel stop is compatible with the jack I used. The result is that the entire system prevents both back-and-forth and side-to-side movement.
Its flexibility for its use is also one of the most outstanding I have seen in a product of its class. With this wheel stop, I was even able to use it to re-hitch a truck. It prevented that vehicle from moving away as I connected it to a towing vehicle.
All of these first-rate features come at a reasonably low price point, albeit it is not the most inexpensive model on the market. But for its price, it is quite challenging to find any complaints.
However, I was able to find a caveat. Throughout my experiments with this model, the wheel stop could not latch onto the tires of extra-large vehicles, such as the Grand Design Imagine. Therefore, interested buyers should be wary and check the measurement of their tires' spacing before buying this product.
What We Like
Compatible with stabilizer jacks to reduce side-to-side movement.
Flexible usage to promote other applications, such as re-hitching a truck.
Reasonably low price point.
What We Don't Like
Might not be suitable for use for extra-large rigs.
For owners of a small RV, this wheel stop can beat other tire chocks in providing excellent immovability to their rig.
5. EPOARTIST RVTW200 Wheel Stabilizer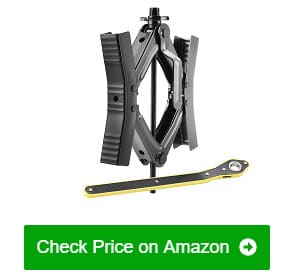 These tire lockers gave me a good serotonin boost. Its performance made me feel like a child visiting a candy store. The reason I am saying these things is that the features presented by this particular wheel chock outclass many products in its category.
For instance, I adore the flexibility of this product. The stability provided by this chock is already at a top-notch level. However, I was still able to increase that characteristic further by adding a 9/16 nut at its bottom. Now, the tire lock is more secure than before, which gave me significant peace of mind.
Speaking of stability, installing this tandem wheel chock significantly reduced unwanted back-and-forth movements in my rig. My 35-foot camper felt like it would not budge, even when I was moving around in it.
Furthermore, I like that each pack comes with two-wheel chocks for tandem tires from the start. With this choice, the manufacturer simplified the buying process as it freed me from going back to the store.
Finally, the high-quality steel construction allows the product to handle harsh weather conditions. It even has a rust-resistant coating to make it more durable than its plastic or rubber counterparts.
My only concern is that these tandem wheel chocks are a bit heavy. I would not store these in my RV if I wanted to lower its weight.
What We Like
Significantly reduced unwanted back-and-forth movement in rigs.
Economical purchase since the pack arrives with two chocks for tandem wheels.
Durable rust-resistant steel construction.
What We Don't Like
A bit heavier than standard products
Rig owners that park their vehicles on reasonably flat surfaces might not want to miss out on buying this product.
6. YM W4194 Rubber Wheel Chock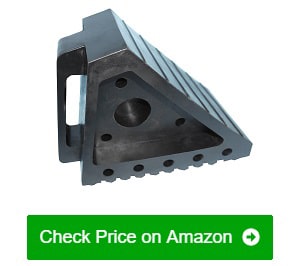 It is quite tough to find wheel chocks made with heavy-duty rubber. But this rubber wheel chock aims to destroy its stereotypes by presenting rig owners like myself with first-rate features.
My first tests with this product were for its durability. I wanted to know the extent of its load-bearing capabilities. But my doubts soon turned into excitement as the results of my experiments showed me the ruggedness of this model. Take note that I used it on different rigs ranging from lightweight trailers to heavy motorhomes.
Those investigations showed me more pleasing results than using low-quality plastic wheel chocks. The material held well, and it even prevented the rigs from sliding or slipping. I was even amazed since the chock worked well when stabilizing a boat trailer.
This product also comes with a non-slip rubber traction pad underneath. With this feature, the grip is almost unbeatable as the rigs used in my tests did not slide on different terrains like gravel and slick cement.
Plus, the chock only weighs slightly under 8 pounds, which is not too light or too heavy. Therefore, carrying it to the test site or storing it did not present me with significant problems.
However, the choice of material made it share the same problem with other rubber wheel chocks. In other words, this product presented me with a strong, rubbery stench upon removing it from its package. Make sure to open it in a well-ventilated area to avoid the smell sticking to surfaces in your rig.
What We Like
Durable rubber material can hold the weight of different rig classes.
Reasonably flexible usage even promotes use with boat trailers.
Non-slip rubber traction pad eliminates slips and slides.
Fairly lightweight construction.
What We Don't Like
Strong smell might be unpleasant upon taking it out of its package.
This wheel chock does more than a good job in stopping movement from different RVs and trailers. It can eliminate unnecessary sliding from our rig when parked in different parking sites.
7. Fastway 84-00-4150 ONESTEP XL RV Wheel Chock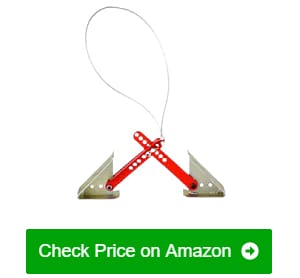 I have seen many wheel chocks during my time as an RV camper, but it is still quite rare to see products like this one. This wheel chock is like a cross between a conventional model and an X-chock. Despite giving it some awkward looks at first sight, my doubts were cleared upon seeing its performance first-hand.
Its distinct appearance fits different tandem wheels. I was able to fit it in between trailer wheels of varying widths and weights. Plus, the installation is secure in that it significantly reduces unwanted backward and forward motions.
Plus, I am happily surprised to experience this wheel chock's convenient setup. Take note that many models on the market require users to crawl or kneel to achieve a proper installation. However, that is not the case with this Fastway product.
A secure installation for this unit is possible by doing two steps. First, I held the cable in one hand. Then, I slid the unit in between the tandem tires with a foot. This entire process only took about a few minutes of my valuable time.
Additionally, the manufacturer also thought about the product's longevity by including a powder coating. Removing it for storage is also reasonably easy since the device only weighs about 8 pounds.
I should mention that the kit has holes for users to insert the rope into. However, the holes for the rope insertion have fairly small diameters, making this task more difficult than expected.
What We Like
Unique appearance offers excellent flexibility and versatility in use.
Reasonably quick and easy 2-step installation process, no kneeling.
Includes a powder coating.
Fairly lightweight build quality of approximately 8 pounds.
What We Don't Like
Small rope holes might make insertion difficult for some users.
RV enthusiasts might want to stop thinking twice while pondering about this product. This particular unit has a distinct appearance while offering a satisfying set of features to users.
8. BAL 28005 Deluxe Tire Chock
'Outstanding' can even be an understatement when describing the stability offered by this unit. Once, I had to park my camper trailer on a site with a storm warning. The weather was treacherous as it pounded my rig with wind speeds of over 70 miles per hour. But I felt safe throughout the storm, and my vehicle did not sway.
Once this tandem wheel deluxe X-chock is installed, it stays in place. This X-chock wheel stabilizer has one of the more satisfying performances I have come across for a product of its class.
Plus, the manufacturer also thought about user experience while shipping this model out to markets. I can safely say this statement because the package comes with a small crank, allowing for a reasonably fast and convenient install process.
I also admire this tire chock's durability. It comes with a high-quality construction with a rust-resistant coating. Therefore, I can be at peace, knowing that this option can stand the test of time as it resists damage from inclement weather.
But I should warn interested buyers to make sure not to leave the wrench attached to the chock. Since the installation with this tool can be incredibly straightforward, it can also be quite easy to forget about the wrench. In turn, thieves can take advantage of this moment and steal the product from under your nose.
What We Like
Eliminated unnecessary back-and-forth movement.
Keeps rigs stable even through harsh weather conditions like storms.
Stays secure once installed.
Package includes a small crank for a convenient installation process.
High-quality durable construction with a rust-resistant coating.
What We Don't Like
It might be easy to leave the wrench on the unit, inviting thievery.
Buying RV wheel chocks can be a fairly simple process if one selects this model. With it, our rig will experience optimal stability, unlike with many of its low-quality competitors.
9. B BAIJIAWEI HCA04900BL Wheel Chock
This B Baijiawei heavy-duty wheel chock is nothing short of a great buy. It comes with a plethora of likable features fit for many rig owners.
The first of its myriad of attractive features in its construction. It has an all-weather resistance, preventing it from contracting significant damage from harsh weather. Plus, the rubber material comes from recycled material, making it an excellent choice for eco-friendly RVers.
Additionally, the rubber traction pad does a great job of improving the product's grip strength. Although the rubber pad will slide slightly upon installation, the weight of the vehicle on top of it will keep everything in place.
Then there is the bright yellow reflective tape surrounding different areas of the wheel chock. With it, parking my RV at night did not give me significant issues. This feature also helped me locate the unit in a dark storage area.
Next, flexibility is another one of this unit's strongest aspects. In my tests, I was able to investigate this chock's optimal functionality when used with different types of vehicles. I used it on different RVs, trucks, vans, and passenger cars with first-rate results.
On the downside, the rubber smell upon taking it out of its packaging can be overbearing. I made the mistake of storing it while leaving it uncovered in my garage. Now, that space smells like burnt rubber. Interested customers should know that the smell will take a while to disperse, but it will go away over time.
What We Like
All-weather resistance prevents damage from harsh weather.
Eco-friendly recycled rubber construction.
Rubber traction pad significantly reduces sliding.
Reflective tape makes installation and storage easy in the dark.
Top-notch flexibility as it is usable with different vehicles like RVs and trucks.
What We Don't Like
Rubber smell might be too overbearing for some users.
This wheel chock offers first-rate performance for different vehicles. I can't see why anyone would be on the fence about purchasing it.
10. Supreme WC01 Wheel Chock
This stable wheel chock does more than keep my rig secure. At first, I was quite skeptical upon seeing that it had a plastic construction. However, this model reminded me of the importance of not judging a book by its cover.
The hard plastic construction worked well in supporting the weight of my RV. It held my rig in place, particularly when I park the vehicle on concrete roads or asphalt campsites. Moreover, the rubber feet enhance the traction of both chocks in the set.
I also liked that this pair of wheel chocks for campers and motorhomes is reasonably inexpensive. I would even go as far as to say that these units join the ranks of the least expensive models of its class on the market. With their price point, these chocks can become must-buys for relatively any rig owner on a tight budget.
It is also fairly surprising to experience that each wheel chock in the package weighs less than a pound. Therefore, these chocks can be among the lightest units out there. I can safely say goodbye to struggling with heavy materials when installing and removing this pair. Setup is also reasonably easy, thanks to its curved surface.
As a fair warning to interested users, these wheel chocks contain sharp edges. These features will not cut through tire rubber, but mishandling the products can cause cuts or scrapes to our skin.
What We Like
Confidently supports the weight of different RVs with their durable plastic build.
Reasonably inexpensive, making it ideal for tight budgets.
Each chock weighs less than a pound.
Easy installation, thanks to the curved surface.
What We Don't Like
Sharp edges might cut or scrape the skin.
Make no mistake about this product's price and appearance because it deserves a spot as one of the most affordable chocks on the market. Its superior features may even outclass many of its competitors.
RV Wheel Chocks Buying Guide
Buying the right RV wheel chock might seem like an easy task. But after you see the myriad of choices available, it can be tough to choose the best one.
To help you in your search, here are some important considerations to think about when buying RV tire chocks.
Type
Different RV chocks have varying designs and constructions. However, you can put these different models into two main categories, which are:
Conventional wheel chocks would often have wedge designs. Moreover, these units generally have pads underneath to improve traction.
The wedge look can help an RV owner (regardless of skill level) to install the tool without significant hassle. It also promotes stability and security, allowing compatible vehicles to stay in place while parked.
These traditional RV chocks also usually work well with RV wheels of up to 26 inches. Still, certain models can support up to 29-inch RV tires. Plus, many units bearing the typical RV wheel chock architecture will have a rope to enhance support.
Certain wheel chock models can also act as RV chock wheel stabilizers. Therefore, these options will not only provide stability while the vehicle is parked, but they may also aid in reducing unnecessary rocks and sways.
Unlike traditional RV wheel chocks, wheel stabilizers usually use metal as the main materials used in their production. Some choices also provide extra features, such as enhanced UV resistance to provide RV owners with increased shelf lives.
Durability
RV wheel chocks should be sturdy and must be up to the task when used correctly. Look for and use RV tire chocks that use heavy-duty materials to encourage peace of mind during camping. Otherwise, RV tire locking chocks made from substandard materials are likely to break, even when used properly.
Although you can find many plastic models on the market, you may opt to use units made of high-quality steel. A heavy-duty wheel chock made with this material may last longer than a plastic variant.
Additionally, consider using RV trailer wheel chocks with additional durability-focused features. For example, a trailer wheel chock with top-notch weather resistance can provide extended serviceability to RVers.
If you are unsure of a particular model's ruggedness, you can read RV wheel chocks reviews before finalizing your purchasing decision. Understanding other users' experiences with specific RV wheel chocks reduces the risks of buying low-quality options.
Ease of Use
The top-rated RV wheel chock should not deliver significant hardships to users. Installation and removal of the right model must not take an entire day to complete. Again, make sure to read RV wheel chock reviews (like the list of the top camper wheel chocks above) before making your purchase.
Size
Only use trailer chocks that fit your RV's wheels. Perhaps you can opt to use adjustable units that are larger than your vehicle's tires. That way, the material will have sufficient room to accommodate the tires.
Otherwise, using small camper chocks, especially models that are more compact than you need, can increase the risks of certain dangers. For instance, the vehicle might lose stability or the chock will have difficulty holding the weight of the RV.
Make sure to buy wheel chocks that are compatible with your rig's class. For example, do not attempt to use stabilizers for a small trailer if you need wheel chocks for Class A motorhome.
Additional Features
Using homemade RV wheel chocks can help you save some cash. However, many homemade wheel chocks usually do not have extra features that several commercial choices provide.
For instance, some camper tire chocks have cords or handles to promote easy installation and removal processes. Additionally, some manufacturers might produce RV wheel leveling blocks that can provide stability and proper alignment to a compatible camper, motorhome, or travel trailer.
FAQs
Do I Need Wheel Chocks For A Motorhome?
Yes. Many campers often swear by the use of chock blocks for RV. These items prevent the wheels from rolling when parked. This importance increases when you are going to park on a sloped surface.
When Should Wheel Chocks Be Used?
Use heavy duty wheel chocks anytime that you park your vehicle. You might think that these devices are not necessary when parking your camper, motorhome, or trailer on a flat surface. However, chocks can provide the extra security you need.
Moreover, camping wheel chocks can help prevent unwanted RV theft. Thieves would have to remove the chocks for RV first before they can get away with your vehicle. Inexperienced burglars can take a long while before they can remove heavy duty wheel chocks for RV. Therefore, you will have ample time to notice these robbers before they finish their dastardly deeds.
How Many Wheel Chocks Should I Use?
According to the Occupational Safety and Health Administration (OSHA), vehicle operators should use tire locking chocks to prevent vehicle movement. If you use traditional wheel chocks, you should place them underneath the rear wheels of your vehicle. Specifically, you should use at least two tire chocks.
On the other hand, if you are going to secure both sides of your vehicle's wheels, you need two for each side.
How Do I Chock A Travel Trailer?
Regular wheel chocks are relatively simple to install. These models only require you to wedge them against the tires of your RV. But some wheel chocks for trailers require you to drive the vehicle towards the units.
However, some chock blocks for RV may have unique installation instructions. For example, if you use X chocks for RVs, these options will generally go between tandem tires. Therefore, you may need to apply certain adjustments to the X-chock wheel stabilizer to achieve a proper fit. Despite the extra steps needed to install X-chock wheel stabilizers, these models should still be reasonably easy to set up.
It is for this reason that you should look into the product's ease of use before buying it. That way, you can be sure that you are not going to have a difficult time using something.
Do not forget to check the product's manual or packaging for specific installation and removal instructions. Another option is to read customer feedback to check if other buyers had a relatively easy time using certain RV blocks and chocks.
Are Rubber Wheel Chocks Better Than Plastic?
Polyurethane plastic is generally better for wheel chocks for travel trailer than rubber.
Rubber wheel chocks are quite common on the market, thanks to their material being reasonably durable and inexpensive. However, thick rubber chocks are often less resistant to inclement weather than their plastic counterparts.
On the other hand, plastic camping chocks tend to be better at resisting different hazards. These dangers include cuts, blunt force, water, and wind. Moreover, plastic models are usually lighter than solid rubber wheel chocks, allowing convenient installation and storage.
How To Make RV Wheel Chocks?
In some cases, you might need locking wheel chocks for trailers but don't have immediate access to commercial options. If this happens, you can choose to make travel trailer tire chocks using reasonably easy-to-find materials.
What You'll Need
RV level
Drill with appropriate bits
Tape measure
Hand or hacksaw
Table saw
File or grinder
4×4-inch wood
Step-by-Step Guide
Step 1: Select a target height for the wheels of your RV and the angle on the tire where the chock will be placed.
Step 2: Mark the angle on the wood with a chalk or marker.
Step 3: Measure and mark the distance between two tires.
Step 4: Cut the 4×4-inch wood using the table saw. Trim as close to the marked areas as possible.
Step 5: Cut the angle line with a hand or hacksaw.
Step 6: Repeat the same process for the other chocks required for the parking setup.
You may also staple a rope in between the homemade RV tire locking chocks. Doing so can help make the removal process easier.
Conclusion
By now, you should have an idea of the best RV wheel chocks to buy after reading this guide. Make sure to pay close attention as you think about your choices. Consider important factors, such as the wheel chock type and size, before finalizing your purchasing decision.
My favorite is the BAL 28005 Deluxe Tire Chock. This X-chock offers a plethora of attractive traits for different rig owners. It even has a rust-resistant build, ensuring long-term use.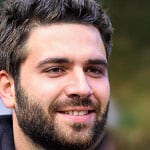 Hi, I am Joseph. Carpe diem! Seize the day! That's always been my life motto. If you haven't seen some of the most beautiful places in the country, you are missing out on incredible adventures.