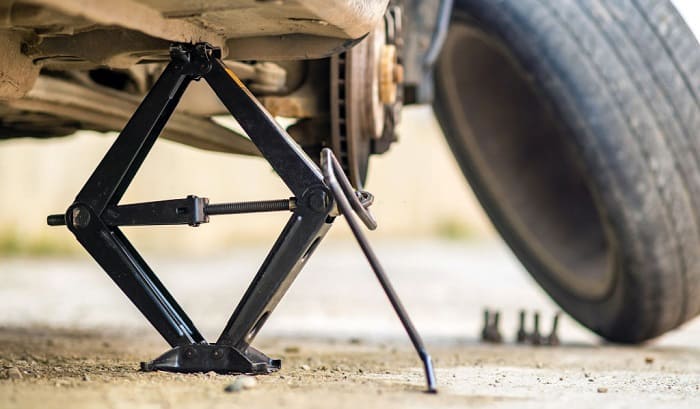 A camper jack stabilizer works by creating a stable and sturdy connection between the RV and the parked ground. This device also helps provide an extra lift to a camper vehicle, providing a better level.
But the myriad of options available on the market can make it difficult to choose the best RV stabilizer jacks for your needs. Take note that it is important to consider some essential factors before you finalize your purchasing decisions. Some of these important elements include the following:
RV stabilizer jack type: The different stabilizer jacks for motorhomes often fall under four different yet fairly common types, which are: screw, drop-leg, scissor, and full-width double stabilizers. Each stabilizer jack classification will have its unique pros and cons.
Material: RV owners should also pay close attention to the jack's build quality. Some choices may have hard plastic constructions, but this type of material might not be as durable as its metal counterparts. On the other hand, plastic jacks might be useful for temporary setups instead of on permanently parked vehicles.
Convenience: It is also vital for an RV stabilizer jack to provide ease of installation and use. Many RVers would not want to spend an entire afternoon trying to set up their jacks.
After considering these factors, you should continue reading to know some of the top-notch RV stabilizers on the market. In this guide, you will know different selections from ideal brands like Camco and Valterra. By the end of this post, you should have a better idea of which stabilizer jack for camper, motorhome, or travel trailer to buy.
Top 12 RV Stabilizer Jack Reviews
1. Camco 44561 Olympian Aluminum RV Stack Jacks
I find this particular RV stabilizer jack hard to miss, simply because of the price tag. Each pack contains two jacks at an affordable price. Besides, it presents many RVers with various beneficial features.
For instance, each jack has a reasonably sturdy aluminum build. This material has a natural resistance against corrosion, allowing vehicle owners to enjoy a fairly long product shelf life. Plus, aluminum is about 1/3rd lighter than steel, making installation and storage sufficiently easy to manage.
As for the maximum load-bearing capacity, each jack can support automobiles up to 6,000 lbs. Thus, I can lift different RVs with only two of the jacks in the package. Some of the vehicles I experimented on with these jacks include a Winnebago Revel (9,050 lbs), Hymer Aktiv (8,600 lbs), and the Airstream Flying Cloud (6,000 lbs).
Moreover, when I need to lift heavier vehicles, I just add more jacks. I am even confident to purchase extra units if necessary since these products are not as expensive as many of its competitors.
Plus, this model is relatively easy to use. If used at the same time, I can reach heights of up to 17 inches from 11 inches above the ground. Also, it only took a few tweaks to fine-tune the level when needed.
On the downside, if I used the maximum allowable height for the jacks, they would start to wobble. In turn, I suggest interested users not use the maximum height when trying to level or stabilize reasonably heavy vehicles.
What We Like
Sufficiently inexpensive without sacrificing significant quality
Durable corrosion-resistant aluminum construction.
Fairly decent maximum load-bearing capacity of 6,000 lbs per jack
Reasonably easy to install and use
Adjsutable height: 11 to 17 inches
What We Don't Like
The jack might sway if lengthened at its maximum height.
I recommend this RV stabilizer jack for budget-conscious vehicle owners looking to align and balance their automobiles.
2. Camco 48855 Eaz-Lift Tripod 5th Wheel Stabilizer
I searched the market for a stabilizer jack that fits well with different 5th wheels and found this product. Luckily, I came across this well-made stabilizer.
First, I marveled at its premium metal construction. It feels solid as a rock, particularly when installed. It was even able to stabilize an 18,000-lb 5th wheel quite well. Most of the rocking and swaying disappeared; I feel that the materials used to make this product result in its long lifespan.
Although, I should mention that this 5th wheel stabilizer jack is not compatible with the Anderson Hitch. It is still possible to use this variant with that hitch, but users need to do some DIY customizations for their setups.
Moving forward, this product is pretty easy to assemble and install with the instructional video offered by the brand. Also, we can adjust it from 39 to 53 inches.
Additionally, once it was underneath the vehicle, it stayed until the time came when I had to stow it away. In my experience, it should not take an entire day to install this product underneath a compatible vehicle.
Compatibility is also top-notch, provided that the vehicle is a 5th wheel camper or toy hauler. Still, I used this device on automobiles like the 2019 Fuzon and another 42-foot toy hauler from a nearby camper.
What We Like
First-rate metal build quality
Can effectively stabilize different 5th wheel vehicles
Reasonably easy to assemble and install with an instructional video
Adjustable from 39 – 53 inches
Top-notch compatibility as it is usable with different 5th wheels and toy haulers
What We Don't Like
Might not work with the Anderson hitch
5th wheel and toy hauler users should not miss out on this product. Perhaps the best advantage that we will get from this device is its optimal stability.
3. LIBRA 26060 Heavy-Duty RV Scissor Jacks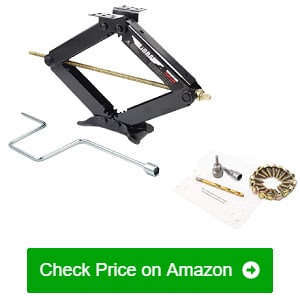 I have seen many RV stabilizer scissor jacks, but I still found this particular product distinct-looking. It is because its design is reminiscent of a bow-tie, which does more than just make it fancier than others. With this design choice, the scissor jack enhanced the stability of different vehicles.
Aside from delivering optimal stability, this scissor jack was also able to provide ideal balance on vehicles above uneven or soft terrain. I tested it on my RV as I parked on spots like rocky or muddy ground. This scissor jack did wonders in providing first-rate immovability on those surfaces.
I also liked the powder-coated steel construction. It screams high-quality construction as each jack in the package has a maximum load-bearing capacity of 7,500 lbs. The variant I got had four scissor jacks, allowing me to lift 30,000-lb vehicles with relative ease.
Once lifted with these jacks, the automobiles stay in place. It was even fairly easy to raise and lower each jack, thanks to the ¾-inch hex magnetic socket. I used a drill to adjust the jacks if needed, and it only took me a few moments for each device to fine-tune. RV owners without a drill can also use the included crank handle for manual operations.
Although I can say many nice things about these jacks, I am not too keen on their price tag. It is quite expensive. However, the many first-rate features these jacks provide should be enough to make up for its reasonably high costs.
What We Like
Bow-tie design provides optimal stability to compatible vehicles
Works well in uneven or soft terrain
Powder-coated steel construction allows the jacks to carry up to 30,000 lbs
Reasonably easy to raise and lower with a drill or the included crank handle
What We Don't Like
Expensive costs might turn off some interested buyers.
With the extra cash to spend, campers should consider buying this product. The four RV scissor jacks can help us level and stabilize our vehicle on different flat and uneven terrains.
4. Valterra 020106 RV Stabilizer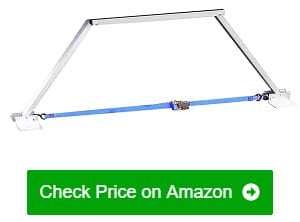 I have seen many uniquely designed RV stabilizers, but this particular model still managed to surprise me. At first glance, I thought it looked like a hand saw. I bought this RV stabilizing device, tested it with my vehicle, and enjoyed excellent results.
For instance, it has a first-rate adjustable range. I was able to extend this device to 28 inches from its 14-inch original length with ease. With this ability, this stabilizer is compatible with different rigs, including RVs, campers, and travel trailers.
I am also quite fond of this product's installation process. It did not require any special tool to set up. Moreover, the instructions are reasonably clear, allowing me to install this product in only a few minutes.
The removal process is also as easy, and I attribute this benefit to this device's foldable nature. Once done, I only need to bend some parts, and the entire stabilizer becomes a compact device that does not take a significant amount of storage space.
Durability is also one of this product's strongest points. In my experience, the metal components have a top-notch resistance against rust and corrosion. I left it under my vehicle for days, and the device managed to maintain its relatively pristine appearance.
However, I would prefer that the package of this stabilizer came with two units instead of one. In my tests, relatively large vehicles would still sway with this stabilizer jack underneath. The balance would be slightly off, which means I had to buy another unit to steady my rig properly.
What We Like
Unique design promotes excellent compatibility with different rigs
Only takes a few minutes to install
Extends to 28 inches from its 14-inch original length
Can fold into a compact frame for easy storage
Top-notch durability is resistant against rust and corrosion
What We Don't Like
Package only contains one unit
Do not disregard this product's unique looks. It provides excellent features, such as first-rate durability and quick installation, making many rig owners happy.
5. EAZ LIFT 48860 RV Telescopic Jack
I am quite fond of telescopic jacks because of their simplicity and straightforward operations. Those qualities exist in this particular product, allowing me to use it without significant effort.
These telescopic jacks are great to ensure excellent stability for connected vehicles. My rig did not shake or sway, which would otherwise awaken guests in the middle of the night. Now, my RV does not wobble as I walk to my kitchen to grab a glass of water at 3 AM.
However, I should mention that this jack is not for lifting. It can extend a rig's height by a few inches up to 14 inches (from 16 to 30 inches). But it cannot extend up to its maximum height. Otherwise, it can wobble a little, but such an extendable length already suffices.
But if used at its recommended height, this telescopic jack for trailers and other rigs should provide optimal services for extended periods. I noticed that it has a durable steel construction. Plus, its exterior has a powder coating, providing maximum rust protection.
In my experience, each package comes with two of these telescoping jacks. Furthermore, each jack has a certified weight rating of 6,000 lbs. I can use as few or as many as I want to stabilize different rigs. So I can use four of these units to help carry and steady vehicles up to 24,000 lbs.
What We Like
Easy to use and does not require significant effort to install
Ensures excellent stability to compatible rigs
Extends 16 to nearly 30 inches
Durable steel construction with powder coating offers maximum rust protection
Flexible usage allows single- or multiple-use
A certified weight rating of 6,000 lbs
What We Don't Like
May not be ideal for lifting heavy rigs.
Do not neglect these relatively miniature-looking jacks, as these units can extend to help stabilize different rigs. Buy these models to help us experience optimal stabilization for our vehicle.
6. BAL 24002D Deluxe Leveling Scissor Jack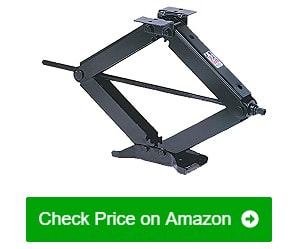 I enjoyed using these BAL stabilizer jacks for different reasons. One of the things I liked about these units was the relatively simple installation process. Setting up these models took me little time and effort.
Making fine adjustments is a reasonably straightforward procedure as well. I only used the crank handles attached to the double lead screw on each of the two leveling scissor jacks for altering the product's height. Due to the roller-bearing, operating this stabilizer is a breeze.
Another stand-out feature is the steel base plate. I am satisfied to see that these jacks promote top-notch stability for my rig, courtesy of the base plates. Its coating resists rust well, ensuring a nice look and prolonged use.
Each jack also has a maximum load rating of 7,500 pounds. Additionally, one package comes with two of these jacks. In turn, I can balance and stabilizer rigs of up to 15,000 lbs in one purchase.
I should mention that the maximum height delivered by these jacks is slightly smaller than other models. Therefore, some rig owners might not like this trait, especially if the parking site is fairly deep.
What We Like
Easy to install and use due to the roller-bearing set-up
Fine-tuning is a relatively straightforward process, thanks to the crank handles
Durable and stable steel base plate on each of the jacks
Rust-resistant coat ensures a nice look and prolonged use
Top-notch maximum load rating of 7,500 lbs per jack
What We Don't Like
Slightly smaller maximum height than many other similar models.
RV owners looking for RV leveling scissor jacks that can bring excellent value should not sleep on these units. Both jacks promote different top-notch features, including sturdy base plates and reasonably high maximum load-bearing capacities.
7. Stromberg Carlson JSC24IND Scissor Jack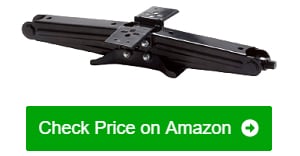 Perhaps one of the best aspects of using this scissor jack is its convenience. It only took me about 10 minutes to install it after replacing a worn unit from my RV.
Thankfully, I do not have to install and remove it often. It is also safe to say that even infrequent campers should not encounter significant challenges while setting up or using this stabilizer jack.
Plus, the jack has a 5,000-lb capacity, which can lift and stabilize different trailers. In my tests, this model carried and stabilized trailers, including travel trailers and horse trailers.
Due to the bowtie base constructed for this stabilizer, it can grip firmly on soft, muddy, and hard surfaces well. We should no longer worry about stabilizing our camper if we cannot find a flat and hard terrain to pack.
Once the jack is in place, it will stay there. Both the product and my rig are sufficiently stable. I am pleased that this device reduced the trailer's excess movements while it is parked.
Finally, the scissor jack folds neatly upon removal. Therefore, storage is not a dire issue with this unit.
On the downside, I am not too keen on its use. This scissor jack for motorhomes and trailers does not come with a handle. Although I was able to use this jack with the help of a drill, some RVers without that handheld power tool might have difficulty in adjusting this product's height.
What We Like
Only takes about 10 minutes to install this jack
Decent 5,000-lb load rating
Bowtie base to grip firmly on soft, muddy, and hard surfaces well.
Stays in place and significantly reduces unwanted sways
Folds neatly for easy storage
What We Don't Like
Some users might find the initial setup challenging as it does not have a handle.
Those who do not wish to spend an entire day installing their trailer jacks should consider purchasing this product. Aside from its excellent convenience, you can take advantage of its first-rate stability.
8. LIBRA 26044 RV Trailer Stabilizer Leveling Scissor Jacks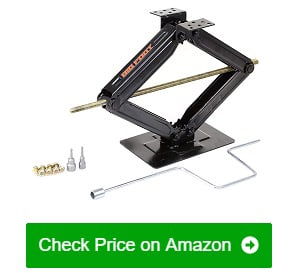 At first glance, I was slightly shocked by these leveling scissor jacks' size. These models are quite large, particularly its 12 x 7.5-inch base plate.
Both jacks were reasonably easy to install, despite the lack of an instruction manual. But these devices took the sway out of my travel trailer. Now, walking in my trailer feels like I am strolling on a dense surface.
As mentioned previously, the package does not come with a guide. Therefore, RV owners that are new to using these devices might find the installation more challenging than intended.
But once the jacks were set on the ground, they stayed put even under some degree of force. The large base plate serves its purpose well, as my vehicle remained stable when parked on either hard or soft surfaces.
I also adore the build quality on these jacks. Make no mistake, as these units are heavy-duty products. The steel construction on both jacks is top-notch. Each one can handle 5000 lbs, which is the standard strength for quality jacks.
I like the fairly lightweight build on each jack. Each unit weighs about 15 lbs, which is not too heavy or too light. In turn, installation and removal did not require me to exert more effort than necessary.
What We Like
Large base plate (12 x 7.5-inch) offers top-notch stability.
Stays in place when parked in either hard or soft ground
Excellent steel construction with rigid parts
Each jack handles 5000 lbs
Reasonably lightweight (15 lbs) to make carry and storage relatively easy
What We Don't Like
The lack of a guide may make installation challenging.
I found this pair of leveling stabilizer jacks to be better than many other options on the market. If you find this in a store, it might be difficult not to purchase these models.
9. SteadyFast Stabilizer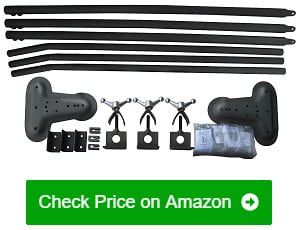 Unlike the conventional RV stabilizer design, this product uses bars to help bring proper alignment and balance to rigs.
In my experience, many owner guides from other RV stabilizers do not have a sufficient amount of information in them, leaving DIY beginners scratching their heads. Yet, Upon taking this RV slide stabilizer out of its packaging, the first thing I noticed was its instruction manual. The detailed guide helped reduce the installation time.
Additionally, these RV stabilizer bars work well on many different rigs. I was able to test it on different vehicles. The bars worked like a charm as they minimized the rocking and swaying in the rigs that I tested. These bars do not even need blocks, chocks, or tripods for them to work properly.
This item is compatible with many types of vehicles. Travelers who own a trailer or 5th wheels can rely on this product for prolonged and reliable stabilization.
But this product is quite an expensive beast. Its myriad of likable features sits behind a large paywall. RVers following strict budgets might decide to walk away from this deal after seeing the price tag.
What We Like
Steadfastly stays in place when installed
Detailed instruction manual
Easy and quick to install as the initial setup should only take about a minute.
Compatible with different rigs: 5th wheels and camper trailer
Does not need blocks, chocks, or tripods
What We Don't Like
A high price might throw off some RVers on tight budgets.
These RV stabilizer bars are ideal for eliminating many issues concerning rigs of different sizes. For campers with extra cash to spend on reliable stabilizers, I recommend getting this kit.
10. BAL 23025 Tent Trailer Stabilizer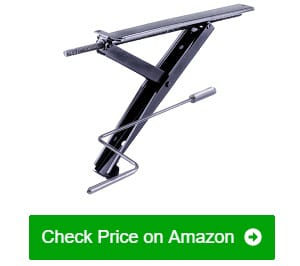 This trailer stabilizer can be an ideal choice for any RV user who owners a fairly light rig. It only has a maximum load-bearing capacity of 1,000 lbs, which means compatibility is reasonably limited. Still, it does its job well.
For instance, the stabilizer has rust-resistant black E-coating, allowing it to withstand the different elements. Moreover, this extra layer to the stabilizer's design promotes excellent durability against wear and tear.
Installation and usage are also easy. This product only comes with two major components: the crank handle and the jack's main body. Assembling the two parts does not require significant DIY knowledge to accomplish.
In my experience, it only took about 15 minutes to complete the initial setup. The package also came with reasonably detailed instructions for those who need them.
I was also able to install this trailer stabilizer in different compatible rigs. Some of these vehicles include a 1998 Coleman pop-up trailer and a 2019 Winnebago Micro Minnie.
On the downside, I noticed that the product uses a carbon steel construction. This material requires more care than other metals. Failure to maintain it properly can produce early signs of corrosion and rust.
What We Like
Ideal for small travel trailers bearing 1,000 lbs or less
Rust-resistant black E-coating offers weather resistance and extra durability
Installation only takes about 15 minutes to complete
The package comes with a reasonably detailed guide
Compatible with trailers like the 1998 Coleman trailer
What We Don't Like
Carbon steel material might rust easily if left unmaintained
RVs less than 1,000 lbs will use this stabilizer jack for years, as long as we take proper care of the carbon steel construction.
11. Lippert 298707 Stabilizer Jack Kit
I have heard of the Lippert brand bearing many advantages to its customers through high-quality products. So, I am glad to be able to experience this stabilizer jack kit first-hand.
First, I would like to mention that this is an electronic model. It does not require a manual operation to function, thanks to its motor. This feature allows me to standby while the jack makes the adjustments. Moreover, the changes complete in a matter of minutes.
At first, I became concerned about the electronics on this jack kit since it will stay outdoors. But the product comes with a waterproof switch, allowing the system to remain functional even under the rain. Additionally, this waterproofing gives me peace of mind, knowing that this product will last a reasonably long time.
Plus, the kit comes with a PSX1 integrated breaker. Therefore, if the RV incurs a power surge, this system protects itself from being broken. The given stability is also top-notch; no excess swaying or rocking occurred while my rig remained parked.
Also, This device is extendable as its legs can be as long as 19 inches to 30 inches. The design with ideal dimensions ensures no cranking when leveling the camper.
But perhaps the most apparent and surprising trait of this electronic stabilizer jack kit is its price. The attached bells and whistles come with a steep price tag. I would even go as far as to say that this model is one of the most expensive RV stabilizer jacks on the market.
What We Like
Electronic motor does not require manual intervention for it to function well
Waterproof switch prevents water damage and increases longevity
Integrated breaker protects the device from power surges
Top-notch stability significantly reduces swaying and rocking
Extends to 30 inches, ensuring no cranking with great design
What We Don't Like
Steep price tag might shock interested customers with tight budgets.
This high-quality electronic stabilizer jack is a must-buy. It presents convenient features that can make RVing better than before.
12. Pacific Rim 82948 Telescoping Trailer Stabilizer Jacks
My experience with this pair of telescoping trailer stabilizer jacks is incredibly pleasant. It brings many great features, making my camping life easier.
In this set of two, each stabilizer jack has a powder-coated finish. This extra layer does a reasonably good job of preventing damages from corrosion and rust. Thus, this product is ideal for use outdoors despite the changing weather conditions. But it is still essential to keep the parts lubricated well, so proper care is still advised.
The height adjustment is also fairly reasonable. Each jack extends from 11-1/2 to 17-3/4 inches. These units can also support up to 1,000 lbs per jack. Although these models cannot carry heavy rigs, such as Class A RVs, I can purchase more pairs if needed.
As for the product's costs, this pair is in the midrange market. The price is not too high or too cheap. Therefore, buying another pair to support heavier vehicles should not hurt many wallets and bank accounts.
Installation is also suitably easy to complete. However, I should note that I had to do some DIY work to secure these jacks. In detail, I had to bend the bar slightly to insert it at a proper angle.
What We Like
Powder-coated finish enhances the product's durability
Fairly reasonable height adjustment feature: 11-1/2 to 17-3/4 inches
Ideal for trailers and rigs less than 1,000 lbs
Mid Range price point that should cater to many spending allowances
Fairly easy installation process
What We Don't Like
Might need more jacks to carry heavy rigs
Might need some DIY work to fit certain setups properly
This is a pair of telescoping trailer stabilizer jacks for small motorhomes and trailers. It has features that do not disappoint.
RV Stabilizer Jacks Buying Guide
Understanding your options while shopping for the best RV stabilizer jacks will help you gain value from the purchase. In this section, you will learn about the factors that you need to consider. In turn, you can buy the ideal RV and travel trailer stabilizer jacks.
Types RV Stabilizer Jacks
Different jacks for campers, motorhomes, and other RVs offer varying features and traits. However, these differences can be grouped into different stabilizer jack categories, which are:
Touted as the simplest among the different RV and camper stabilizer jacks, variants that fall under this class usually have fairly low prices. Additionally, these units are fairly easy to install and use.
Screw stabilizers for trailers often have a base that will sit on the ground. Then, users will position the device under their vehicle's frame, which should be close to the rear corners. Usage is also reasonably straightforward, considering that you may only need to turn the jack assembly up or down as you would do with using a screwdriver to drive a screw.
Also called drop-down travel trailer stabilizer jacks, these models attach to the vehicle's frame. If unused, these units can fold to save space.
Like screw jacks, using drop-leg jacks is sufficiently easy. In most cases, you only need to release a lock pin, so the jack unfolds and drops down to the ground. Then, use the product's lever or foot pedal to secure the device against the ground.
Scissor camper trailer stabilizer jacks generally have threaded rods in the middle of their designs. Turning the rod will pull the jack's hinged ends, allowing users to secure and provide proper levels to their vehicles.
Some RV scissor jacks are also permanent models. Using these long-lasting units requires you to secure them to your vehicle by either welding or by using bolts and nuts.
Full-Width Double Stabilizers
Camper stabilizers that fall under this category provide the ultimate convenience. Although, many of these models often have fairly high prices.
These RV stabilizer jacks will either require manual or electric operations. Moreover, certain models will work together. In other words, if you have two full-width double stabilizers attached to your vehicle, using a single remote or control panel will raise or lower the units simultaneously.
Material
Aside from the type of trailer stabilizer, you should also consider the materials used to construct the jack. Note that some substances, such as metal and stainless steel, are generally more durable than hard plastic.
Additionally, the materials used in RV stabilizing jacks can affect these products' longevity. Some materials can even be resistant to rust and corrosion. You may even opt for replacement RV stabilizer jacks with excellent builds and optimal weather resistance.
Convenience
Installing and using RV stabilizer jacks should not require more time and effort than necessary. Therefore, take the time to read different reviews on stabilizer jacks for travel trailer. That way, you can gauge if a particular model is sufficiently easy to use without spending money right away.
Price
Keep in mind that heavy duty RV stabilizer jacks will often have reasonably expensive price tags. However, these choices tend to promote excellent value for money.
On the other hand, some RV owners might be following strict budgets. Therefore, purchasing high-quality and costly jacks for motorhomes may not be an ideal choice at this time.
Remember to follow your allocated spending allowance while shopping for good stabilizer jacks for your vehicle. Some models might help you save some cash, but these low-quality units may not last as long as their more expensive counterparts.
FAQs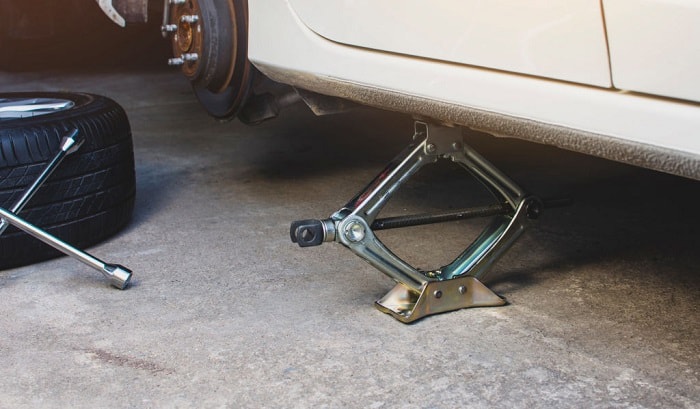 Can I Level My Camper With Stabilizer Jacks?
It depends on the model. Take note that a stabilizer jack is a piece of equipment designed for stability. Many manufacturers warn customers that jacks may not be used for leveling. Before deploying them, make sure to check the product's description or owner's guide to see if the stabilizer jack you purchase is also usable for leveling.
How Many Stabilizers Do I Need?
The number of stabilizers you need depends on the vehicle you use. However, four units should suffice for most applications.
Consider knowing your RV's Gross Vehicle Weight rating before you purchase any number of stabilizer jacks from the market. Then, check the capacity of the jacks. Ensure that your rig's weight does not exceed the maximum load rating of the jack to ensure proper stability and safety during use.
For example, you may need to use multiple RV stabilizer jacks harbor freight models for steadying relatively heavy rigs. On the other hand, a fairly small travel trailer may only need one stabilizer jack.
How To Install RV Stabilizers?
Before anything else, make sure to check the instructions on your particular set of RV stabilizers. Some models may have unique setup procedures that require you to make fine adjustments with your rig.
However, many stabilizers for RVs often follow these installation steps:
Step 1: Disconnect the RV from the tow vehicle.
Step 2: Level your RV, if it is not yet aligned with the parking area.
Step 3: Install the wheel chocks and place the stabilizer in the correct location.
Step 4: Use a handheld drill or the built-in hand crank (if your model has it) to adjust the jack.
Step 5: Repeat steps 3 and 4 for the other jacks.
Take note that you should not attempt to extend stabilizer jacks beyond their maximum allowable height range. Otherwise, you may experience different dangers, including risking the safety of the people and appliances in the vehicle as the rig becomes imbalanced.
What Is The Difference Between Stabilizing Jacks And Leveling Jacks?
Stabilizing jacks help minimize the rocking or swaying. On the other hand, leveling jacks promote better alignment for compatible vehicles.
Additionally, many trailers have built-in stabilizing jacks. However, these built-in units may not be safe for leveling. If so, it is best to use a product that can act as a stabilizer and a leveler at the same time.
Do You Need Blocks Under Stabilizer Jacks?
Use leveling blocks under your camper's stabilizers to help stiffen things up. Still, blocks are not always a requirement. Some stabilizer jacks promote excellent stability that you will not have any use for a block.
But an RV leveling block can provide rig owners with peace of mind, especially those who do not have a permanent parking spot. That way, you can use the block when you need extra stability for your vehicle, such as when you are boondocking.
Conclusion
Now that you are at the end of this guide, you should have a good idea of which of the best RV stabilizer jacks to buy and use. Remember, think about the different factors first before making your purchasing decision.
However, if you want to proceed with my suggestion, consider buying the LIBRA 26044 RV Trailer Stabilizer Leveling Scissor Jacks. The large base plate on these units offers top-notch stability for different rigs, regardless of their sizes and weight ranges. Plus, you can use these jacks on both hard and soft surfaces.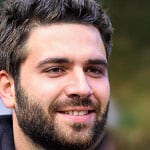 Hi, I am Joseph. Carpe diem! Seize the day! That's always been my life motto. If you haven't seen some of the most beautiful places in the country, you are missing out on incredible adventures.