If you're looking for the best RV vacuum, clicking on this article was a smart move. You'll learn everything a person might need to know about these devices. I'll break down the entire process into an easy-to-follow buying guide, which will make your decision effortless.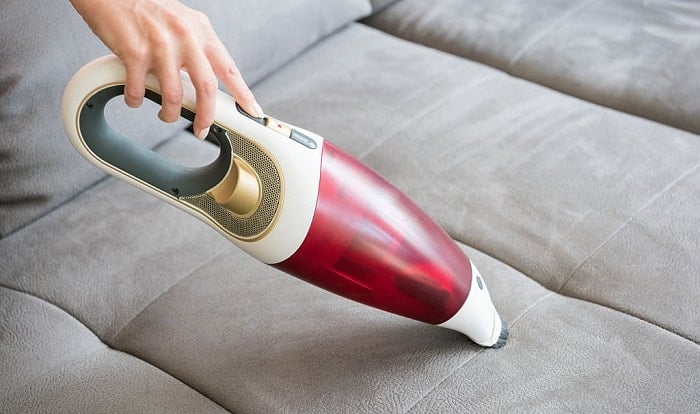 You'll even get a head start with an early look at 16 high-quality RV vacuum cleaners. These discussions will offer an idea of what's available on today's market. You'll soon understand what a top-tier RV vacuum cleaner will feature and provide an RV owner.
Let's begin with these reviews to jumpstart this buying process. Honestly, I wouldn't be surprised if one of these 16 vacuums ends up being your perfect choice.
Best RV Vacuum Reviews
1. Bissell Lightweight Bagless RV Vacuum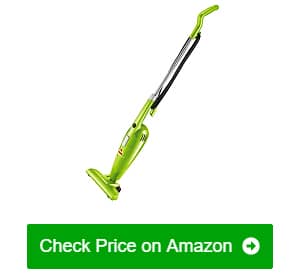 If you want the best lightweight vacuum for travel trailer usage, Bissell Lightweight Bagless RV Vacuum could be an excellent fit. This device has a 2.6-pound, compact design that any RVer should move around with ease.
The product's a bit more adaptable than most other options, as well. It comes with a hand vacuum attachment, which makes reaching those problematic areas easy. Getting those dust bunnies from on top of shelves will no longer be a stressful chore.
I was also impressed by its effectiveness on multiple surfaces. The vacuum had no issues working on my motorhome's stairs, carpets, couches, or even hard floors. I couldn't ask for much more when it comes to overall effectiveness from an RV vacuum cleaner.
As for its convenience, I adore how easy this model is to store. Its compact design shouldn't even be hard to fit into cramped places on smaller rigs. This benefit was massive because I barely had room for my necessities.
I was thrilled to see it in four different colors for style purposes, too. It never hurts to bring a bit more style onto a rig, even when it's for a vacuum cleaner.
But this vacuum's power cord could be annoying to use in larger RVs. It's only 15 feet long, which means you'd have to replug multiple times in Class A motorhomes. It could bring some frustration when trying to clean an entire large travel trailer.
However, its lightweight construction and handheld attachment make this minor annoyance worth it. Anyone with a smaller camper should be jumping at the chance to purchase it. It'd be a perfect fit for someone who doesn't have a large area to clean.
2. BLACK+DECKER Dustbuster Handheld RV Vacuum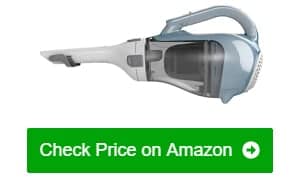 Affordable handheld vacuums don't get much more effective than BLACK+DECKER's Dustbuster Handheld RV Vacuum. This model boasts lithium-ion technology that provides it with high-quality performance and long-lasting charge life.
For instance, buyers can expect this vacuum to hold its charge for up to 18 months. This length would cover many cleaning sessions without needing a recharge. Of course, this product's easy to recharge in its included charging base, so I doubt you'll have a problem using it.
I was also pleased with this vacuum's suction power. Its 15.2 AW (air watts) suction rating is more than enough to get the dust out from those hard-to-reach places. Honestly, I couldn't have been happier with its ability to pick up dirt and other substances with ease.
The translucent dirt bowl is another exciting attribute offered by this vacuum. It allows you to see the dirt and when the device needs emptying easily. As a result, the vacuum cleaner becomes a lot more user-friendly than most handheld vacuums on today's market.
It's essential to note that this small RV vacuum comes with a 2-year warranty, as well. These policies are never a bad thing to have with this type of product. I can't forget to mention this product's rotating nozzle, making the cleaning process much more effective.
But even with these impressive features, the noise level does stand out a bit. It was mentioned a few times within this RV vacuum reviews as being louder than expected. You'll have to determine whether its numerous convenient aspects are worth this nuisance.
Overall, I wouldn't mind dealing with this issue considering its other outstanding aspects. Its lithium-ion battery and high-quality suction power are more than worth having around a motorhome.
3. VonHaus EPT2 Corded Upright RV Vacuum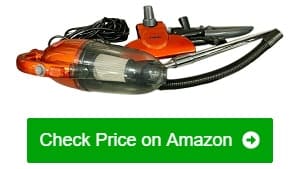 VonHaus's EPT2 Corded Upright RV Vacuum is an affordable option which doesn't lack when it comes to quality. The vacuum's ability to switch back and forth from upright to handheld is a must-have for most RVers.
It's an essential aspect because it allows you to clean any area onboard an RV. Honestly, it's just a user-friendly feature everyone could benefit from when cleaning their rig. You'll no longer have to try and force your upright vacuum into an area where it has no chance at fitting.
RVers should find the dust container simple to remove, as well. Some subpar options, on the other hand, make it needlessly difficult to eliminate the collected waste. Thankfully, VonHaus put some thought into this process and made our lives hassle-free.
The product's usage of an advanced HEPA filter system was another obvious highlight. It allows the vacuum to lock in small particles that other vacuums wouldn't. Therefore, these particles won't re-enter your RV's air supply, which is vital for those who suffer from allergies.
But it's main attraction remains the affordable price tag. You don't often find high-quality vacuums for a price this low, which could make it a steal.
Its versatility does leave a little to be desired as it isn't the best when used on carpeting. The vacuum still works okay, but it does much better on hardwood floors. I wasn't the only person to realize this issue, as it's mentioned more than once in this RV vacuum's reviews.
Anyone who does need a vacuum for hardwood flooring shouldn't hesitate to buy this model, though. It'll provide good performance while saving you a bit of money.
4. HP Products 9880 Dirt Devil RV Central Vacuum System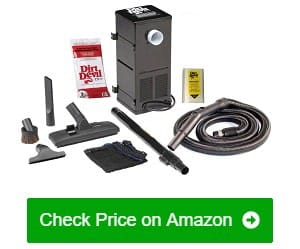 One of the most durable choices available would be HP Products' 9880 Dirt Devil RV Central Vacuum System. It earns this distinction because of its all-metal construction that has no trouble dealing with wear and tear. After all, HP Products designed it specifically with RVing in mind.
You also benefit from its space-saving design, which every RVer will adore. You shouldn't have any issues installing it right into your travel trailers. Some customers even mentioned setting it up under seats, storage compartments, and closets for ultimate convenience.
The product's expandable hose is another aspect worth mentioning. It should make those difficult-to-reach areas much easier to clean. After all, this hose should reach every part of your camper with ease, given its 7-foot to 35-foot range.
I found myself loving this product's incredible suction power, as well. It was mentioned several times as a positive in this RV central vacuum reviews. Most of the buyers were shocked by how much better it was than their previous RV center vacuum systems.
Some other notable features include a 1-gallon capacity, an upholstery tool, a 5-year warranty, and lightweight construction. Each of these aspects will only make this central vacuum system more convenient when installed within your RV.
But a few customers did mention shipping issues with this central vacuum system. In these cases, the product arrived missing pieces within the packaging. These complaints weren't widespread, though, which makes me think they're isolated incidents. I have to say this device is among our most expensive choices, as well.
Neither of these issues should prevent anyone from considering this central vacuum system, though. It's perfectly crafted for RV life and won't provide anything but top-notch performance.
5. BLACK+DECKER 20V Max Handheld RV Vacuum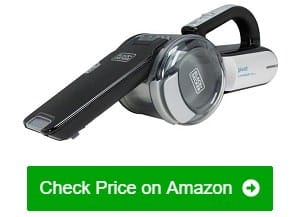 The BLACK+DECKER 20V Max Handheld RV Vacuum is another battery-operated masterpiece from this high-quality brand. This particular device uses a long-lasting 20V MAX lithium-ion battery to offer powerful suction within a small design.
It's a construction which allows the vacuum to be lightweight and portable. You won't have any issues carrying this small vacuum for RV usage from area to area. Moreover, it comes with a charging base that's compact to ensure convenient storage.
Users could store it in compartment areas, cabinets or tuck it away in a closet. It should have no problem blending into wherever an RVer might want to place it. As a result, it doesn't need to be an eyesore within your motorhome's interior.
The product's pivoting nozzle was another trait that caught my eye. It would be best if you didn't overlook it, either, as it allows users to adjust the vacuum into an ideal position for cleaning tough spots. It'll make sure the vacuum cleaner extends its full power even under furniture or on top of shelves.
You'll also love its 15-ounce, translucent dirt bowl. This bowl isn't difficult to clean and comes with a side door function to make emptying dirt a breeze. Plus, this upgraded vacuum has 42% more capacity than its previous version.
I was disappointed to see BLACK+DECKER doesn't offer a replacement battery for this vacuum. Therefore, this vacuum becomes useless when its initial battery does die out. It seems like a misstep for a company known for excellent customer service.
But this product's function makes it the best small vacuum cleaner for RV when capable of being used. Due to this, its initial performance and long battery life do make the investment worth it.
6. Dirt Devil Vibe 3-in-1 Corded Vacuum Cleaner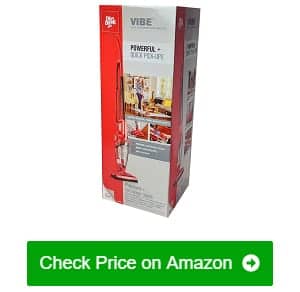 Dirt Devil's Vibe 3-in-1 Corded Vacuum Cleaner is one of my favorite options because of its versatility, which comes from its on/off brushroll function. A user would turn this feature on when using the vacuum for carpeted floors and off for hardwood.
In either situation, this vacuum has shown effective results, with people praising its abilities on both. It gives this corded vacuum a much broader customer base than some other choices on our list. You should find multiple uses for it outside your rig without much issue.
The detachable handle is beneficial for stair or furniture cleaning, as well. It's an effortless detachment process, which ensures cleaning up crumbs in the cushions is a breeze. You couldn't make this aspect much more convenient than this Dirt Devil model does.
This product's affordable price and 1-year warranty don't hurt its case, either. Both these aspects show this brand seems to care about its customer satisfaction. Multiple customers back this belief up in their reviews, reporting positive experiences.
Its color scheme also stands out as its red coloring is a welcome sight. I'm always going to prefer a little flair with these products rather than the same mundane gray or black models.
I wasn't a massive fan of the two hook design to wrap up this device's cord, though. The bottom hook happens to be right above where the cable comes out of the vacuum. As a result, it can be a little awkward when trying to wrap it around the bottom one.
Aside from this minor issue, there isn't another reason not to buy this vacuum. It'll have no problems making sure your RV stays tidy regardless of the interior surface.
7. MOOSOO 4 in 1 Wireless Vacuum Cleaner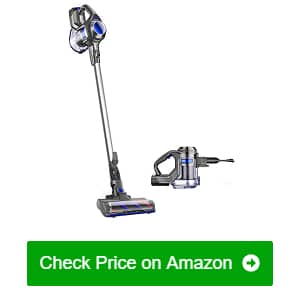 Buyers who want a multiple purpose vacuum need to look at MOOSOO's 4 in 1 Wireless Vacuum Cleaner. This wireless option has endless applications as its 100-watt suction power will meet every cleaning situation without a problem.
More importantly, this vacuum will work on every type of surface, ranging from area rugs to hardwood floors. I have no doubt RVers will find more than one way to use this beast of a machine to help meet their cleaning needs.
Users will also benefit significantly from its HEPA filter system. This aspect will move the smallest dust particles that other vacuum cleaners might miss. It'll make the air within your camper a lot more purified to ensure a comfortable road trip for everyone.
I found myself intrigued by this vacuum cleaner's LED dust searchlight, as well. This aspect will allow you to find dust even in the darkest corners of your travel trailers. It'll help ensure you never miss one of those elusive dust bunnies ever again.
The product doesn't take long to charge, either, as it gets fully charged in 5.5 hours. You then get 20 to 28 minutes of entirely wireless cleaning around your motorhome. As someone who hates power cords, I can't tell you how happy this aspect made me.
But this vacuum cleaner is another one troubled by a loud noise level. It's something to think about before making your final decision because it does make a difference. If you have sensitive ears, this device isn't anywhere near a perfect fit.
However, buyers who only care about performance will be overjoyed by its wireless construction and results. I would just recommend investing in some earplugs for anyone who intends to use it regularly.
8. Shark Rocket Ultra-Light Corded RV Hand Vacuum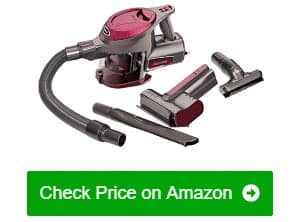 Pet owners will adore the Shark's Rocket Ultra-Light Corded RV Hand Vacuum. The product seems ideally suited for dealing with dog/cat hair and all-related pet stains. Trust me; I more than needed it for my camper with my zoo of animals.
The main feature to provide this excellent pet usage is the TruePet Motorized brush. Shark designed this aspect to handle dog hair and awful pet-related stains with ease. As a result, my furniture will no longer be suffocated by these issues.
But this Shark vacuum isn't only for pet owners. Everyone can benefit from its practicality and cleaning prowess within a motorhome. In fact, one of my favorite aspects about this handheld vacuum would be its 4-pound construction.
Operating most handheld vacuums can be quite taxing on a user's arms. But this lightweight design will ensure you can use it for long periods without any hassle. I was also pleased with its ability to empty at the press of a single button due to its convenient dust cup.
The included 12-inch crevice tool certainly doesn't hurt its appeal, either. It's another practical addition that'll help out in tight spots and around corners. Plus, this Shark rocket corded handheld vacuum has reusable and washable filters to make your life even easier.
But there were a few complaints about the cord getting tangled easily during use. I would recommend being careful about this problem to achieve maximum performance. Otherwise, using this handheld vacuum could end up being a little stressful.
All in all, the tangling problem shouldn't be a deal-breaker for anyone needing a high-powered handheld vacuum. Shark did an excellent job building a user-friendly vacuum that'll more than meet most RV owners' expectations.
9. Eureka Blaze 3-in-1 Stick Vacuum Cleaner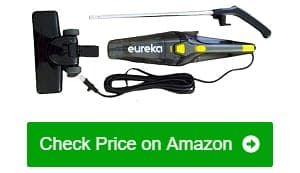 Our next option, Eureka's Blaze 3-in-1 Stick Vacuum Cleaner, uses a unique swivel steering process to separate itself from its competitors. This attribute improves the vacuum's flexibility and cleaning efficiency when compared to standard vacuums.
Aside from its top-tier maneuverability, users will love its 2-amp motor. It's proven to pick up substances like dust and pollen on low pile carpets, area rugs, and hardwood floors. This motor will then work together with this vacuum's washable filtration system, which captures debris.
It's a process that makes a massive difference in air quality onboard an RV. You can also count on this vacuum's nozzle to deal with larger debris without issue. I've had problems with these large particles with other stick vacuums in the past, but this one made it effortless.
This product comes with an 18-feet cord, which was another nice touch. It's a bit longer than the 15-ft power cords on most stick vacuums that I find too short. The 3 feet difference could have a significant effect on the number of times a replug is necessary.
I was also pleased to see this vacuum has rubber wheels, which don't scuff hardwood flooring. Several customers pointed this aspect out in their reviews as a positive. As someone who has hardwood in their rig, I can't say anything but agree with their findings.
Buyers will have to be careful when storing this vacuum because it does have a habit of falling. I'd recommend placing it in an area where other items support it. It should help prevent it from falling or suffering damage when those situations arise. If you do keep it supported, there shouldn't be much of an issue with this vacuum.
10. ThisWorx High Power Corded Handheld Vacuum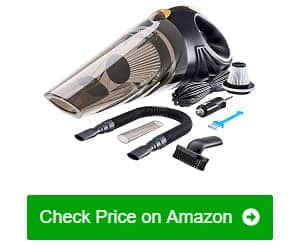 The ThisWorx High Power Corded Handheld Vacuum is known for being an excellent vacuum for van or truck usage, but it can do wonders in an RV. Its ergonomic design ensures an easy using process that's comfortable and flexible.
You can then rely on its 106W/8.8 amp motor to offer an effective cleaning process. It should take care of any dust, crumbs, or dirt piles lying around your RV. Liquid messes or pet stains don't stand a chance against this vacuum, either.
Users will also have access to a flathead hose tube, crevice tool, and brush head for specific cleaning purposes. Each will be massively helpful in keeping your motorhome free of potential issues with your upholstery and furniture.
ThisWorx added in a storage bag for good measure to make this vacuum even more appealing. It'll protect the device wherever you intend on storing it from a variety of issues. It might not seem like a massive deal, but it does make your life easier, especially on a crowded camper.
Aside from these features, the affordable price and 16-foot power cord are other standouts. These aspects are icing on the cake of this handheld masterpiece. I didn't even mention there are two color scheme choices (white and black), which are always welcome.
Wrapping up the cord was a bit more complicated than I wanted. I wasn't the only one to experience this issue, as customers noted the problem a few times in their reviews. It's a small nuisance that could push a buyer or two away from being completely satisfied with this option.
But I could learn to live with it, considering the vacuum's excellent accessories and affordable price.
11. BLACK+DECKER 3-in1 Handheld/Stick Vacuum Cleaner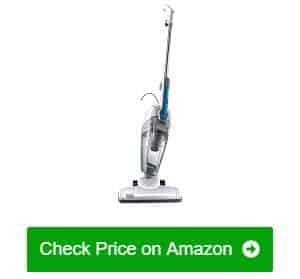 Are you looking to use your new vacuum cleaner for multiple cleaning applications? BLACK+DECKER Handheld/Stick Vacuum Cleaner will fit nicely into that role with its 3-in-1 design. You can use this model as a handheld, a stick, or add on a crevice tool to reach those tougher areas.
It also doesn't take much effort to move it, as the vacuum weighs 3 pounds. This construction makes the product perfect for everyday cleaning needs. There's no reason to believe it can't help out at your home, RV, or even the office.
Once you're done using it, storing the vacuum doesn't take any thought. It stands up by itself and has hooks to wrap the 16.5-foot cord around for organizational purposes. Finding a spot even inside a cramped motorhome will be simple with this practical design.
Buyers will also find its assembly relatively simple. I had no trouble putting it together out of its packaging, which should give you total confidence. It shouldn't take longer than two minutes, and most customers reported not even needing the instructions.
This corded vacuum's suction isn't top-tier, but it's adequate to get most jobs done. It shouldn't have any problems dealing with dust bunnies and loose particles around your RV. Moreover, it has smooth glide wheels and swivel steering to make the process even easier.
I was not too fond of the product not having a place to store the crevice tool. This issue could become a massive problem for me as I tend to lose things quickly. It seems odd that this high-quality brand wouldn't account for it within the design. Otherwise, it's an effective cord vacuum that'll get the job done in a pinch.
12. Eureka RapidClean RV Cordless Stick Vacuum Cleaner
This next option, Eureka's RapidClean RV Cordless Stick Vacuum Cleaner, might drop a jaw or two because of its awe-inspiring features. For instance, it's pretty incredible that this vacuum can run for 40 minutes fade-free on maximum power.
Thanks to this attribute, it could allow you to clean most of your RV without needing a recharge. But this 40 minutes of high-quality performance isn't the only staggering feature. I was equally intrigued by its easy rest feature, which is truly useful.
This feature might seem insignificant, but it allows you to safely prop the vacuum on furniture or countertops. You won't need to worry anymore about it falling over when taking a phone call while cleaning. It's instead designed to ensure it remains standing without any trouble.
Eureka's choice to move the dust cup up front was another ingenious move. This aspect will make cleaning under furniture much easier as you can lay the device flat. As a result, it'll slide right under couches and beds without hesitation.
It'll then blast the area with the full force of its upgraded, powerful motor. The provided suction power will thoroughly clean the site and make it completely spotless. Honestly, I can't imagine anyone will be disappointed by this product's overall performance.
I do wish it was a little easier to tell the product's charge level, though. This vacuum only comes with a light for half charged and fully charged. It would benefit greatly from having an entire charge level indicator that keeps you updated constantly.
I wouldn't stop recommending the vacuum to people because of this issue, though. Anyone can see this product's positives outweigh its one negative by a significant margin.
13. Makita XLC02RB1W Lithium-Ion Cordless Vacuum Kit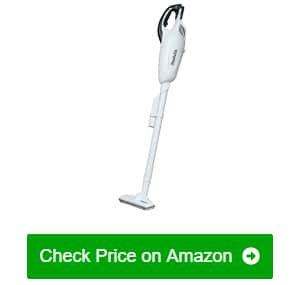 One of our most user-friendly options would be Makita's XLC02RB1W Lithium-Ion Cordless Vacuum Kit. It runs off an 18V lithium-ion, fast-charging battery that ensures this purchase won't be one you regret. In fact, this battery provides 20 minutes of run time when it's fully charged.
Users will get 20 minutes of cleaning without any annoying cords or any other hassle. It sounds like a dream to someone like myself who despises these tasks. Moreover, the product has an ergonomic grip to offer a more comfortable and controllable using experience.
The performance isn't anything to overlook, either. It utilizes a 2-stage cloth filtration system to ensure easy cleaning and effortless debris disposal. You won't break a sweat when cleaning multiple surfaces within your motorhome.
You should also focus on its impressive 1.3 pints of waste storage capacity. This aspect will limit the amount of emptying a user needs to do. It's another user-friendly feature made to guarantee buyers feel satisfied with their purchase.
This vacuum's included battery charger has more than a few fans, as well. It'll recharge this vacuum in less than 25 minutes to a full charge. It's a rather staggering ability considering what you can generally expect from similar cordless vacuums.
As for its flaws, my only issue is the color scheme. It might seem a little ridiculous, but the vacuum is a little too bland for my preferences. I'd much rather choose something with a little more brightness or boldness.
Of course, this issue is more preference-based than anything substantial. I would take this vacuum cleaner in a heartbeat considering this is the only problem with it. There isn't a single other box left unchecked by this high-quality option.
14. Shark ZS351 Rocket Corded RV Vacuum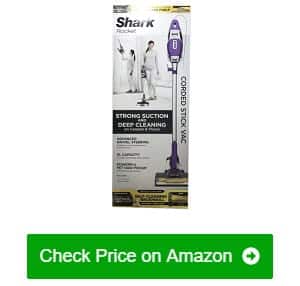 If you're looking for an advanced corded option, Shark's ZS351 Rocket Corded Vacuum is an excellent choice. This product offers several high-quality features that outpace or match the other vacuum cleaners on our list.
An excellent example would be its outstanding maneuverability, which provides superior user control. This ability comes from its advanced swivel steering to ensure getting around corners and furniture is effortless.
The vacuum's overall construction was another massive highlight for me. It's built from durable PP/ABS plastics, metal, and rubber for extra durability. If this vacuum falls over in storage, I don't think a single dent or surface issue will present itself.
Pet owners should be jumping at the chance to purchase this model, as well. It has a known reputation for dealing with stubborn pet hairs on any surface with ease without any hair wrap. This vacuum cleaner was even able to deal with my Golden Retriever's constant shedding, which is a miracle.
You also benefit from its handheld component having LED lights. As I mentioned earlier, these lights will be a godsend at revealing hidden dust or other substances. It's an easy way to make sure your RV becomes as spotless as it's ever been.
Aside from its expensive price tag, this product does have another issue. It's a bit heavier than our other choices at 8.8 pounds because of its durable construction. This aspect can make using the vacuum a bit more taxing than you expect.
But the effort does come with some excellent benefits when it comes to performance. You'll have to decide whether this workout merits the final results. Most people seem to find it does, given the overwhelmingly positive customer reviews.
15. Eureka 2-in-1 Upright RV Vacuum Cleaner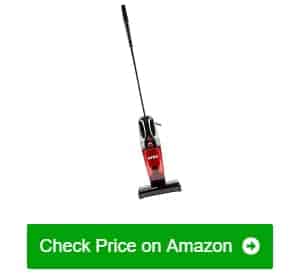 Eureka's 2-in-1 Upright RV Vacuum Cleaner isn't the most advanced vacuum on the market, but it does its job effectively without any hassle. Its simplistic nature could make it an ideal choice for someone looking to get a quick but helpful fix.
One of the most convenient things about this simple vacuum is its 2-in-1 design. As with some other options, this vacuum can convert from a stick to a handheld with ease. It provides a quick way to personalize the tool to meet your needs.
The vacuum comes with a crevice tool for even more customization. It provides the users with a great deal of control over how they want to go about their cleaning tasks. In other words, it gives enough versatility, but not an endless amount where it becomes complicated.
I was also thrilled to see this vacuum doesn't have many restrictions on where you can use it. It comes with a brushroll feature to offer usage on hardwood and rug areas. More importantly, the suction it provides is more than adequate to pick unwanted substances.
This vacuum's detachable handle was another excellent touch by Eureka. It allows for a more comfortable using experience while making storage simpler. All in all, there's nothing overly exciting about it, but that's its charm as an appealing RV vacuum.
It does suffer from having a habit of falling over, though, which could present a problem. Any buyer should make sure to prop it up to stop this issue. Otherwise, the plastic body could end up getting damaged, and a buyer will need to use the product's warranty. If you do prop it, the vacuum should be an excellent addition to any motorhome.
16. Dyson V6 Car + Boat Cordless Handheld Vacuum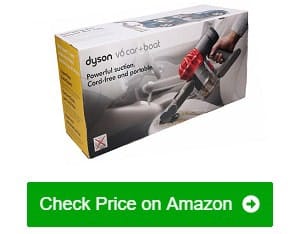 Our final vacuum, Dyson V6 Car + Boat Cordless Handheld Vacuum, is the most powerful handheld option available. It runs off a V6 digital motor to offer a suction level that will blow away your expectations.
As a result, this Dyson vacuum is a perfect fit for more demanding tasks. It shouldn't have any trouble picking up deeply embedded pet hair or stubborn debris from surfaces. This RV hand vacuum's customer reviews are filled with people shocked by its overall performance.
You also have a completely cordless operation for ultimate convenience. It'll provide 20 minutes of powerful suction without needing a recharge. Plus, it has a run-time enhancing trigger to ensure its power is only used when you're vacuuming.
I didn't find the process of using this Dyson RV vacuum complicated, either. The vacuum's construction was designed with the center of gravity at the handle's grip. In other words, it becomes much easier to maneuver and hold than you might expect with powerful handheld vacuums.
Buyers will also receive several additional features, including an extension hose, stiff bristle brush, crevice tool, and a mini-motorized pet tool. Dyson had a goal of covering all the bases with this vacuum, which they certainly achieved.
However, the price of this vacuum is a small fortune. It's easily the most expensive choice on our entire list. But sometimes, the best products are worth a mountain of cash when their performance can match what this one offers.
Any RVer looking for the best vacuum cleaner for RV handheld cleaning shouldn't hesitate to purchase this model. If it fits into your budget, I don't see a single other reason why it wouldn't already be in your shopping cart.
Best RV Vacuums Buying Guide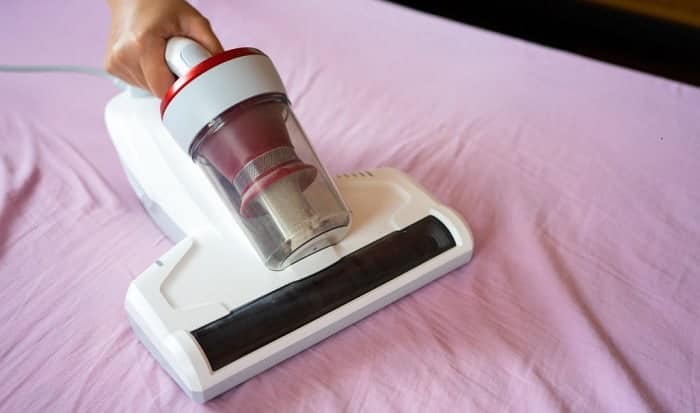 Choosing the best vacuum for RV usage is a bit more involved than people realize. This section will break it down into a much easier process by discussing the crucial factors. As a result, your final decision will be a walk in the park!
A vacuum cleaner's or central vacuum system's suction power will determine its overall value. In other words, buyers need to search for a vacuum with a high suction rating for practical usage. Otherwise, it won't collect the dirt and substances that have piled up inside your RV.
I'd also take a look at each vacuum's customer reviews to get a better handle on this aspect. If a vacuum isn't effective in this attribute, buyers will mention it frequently. Use their negative or positive experiences to help make your final decision.
An occupational hazard of using most vacuums is a high noise level. But some vacuums make less sound than others. For instance, a central RV vacuum system will produce much more noise than a handheld vacuum for van life.
The general rule of thumb is a vacuum's motor will determine its operation sound level: the more powerful a motor is, the louder its noise operation. Thus, buyers will need to decide what they value more, a quieter vacuum or a more potent motor?
Every RVer needs to consider a vacuum's dust bin capacity before choosing one. More minor capacity levels mean you'll have to empty it more regularly. If you're anything like me, this aspect sounds like a hassle.
It's also worth noting that some vacuums will lose suction when their dust bins are full. This outcome makes them unusable for cleaning. Given this information, I'd recommend always choosing an RV vacuum or central vacuum system with the highest dust bin capacity possible.
As any RVer knows, motorhomes don't offer a lot of storage space. It's why an RV vacuum's size is such a vital part of this process. You're going to want a model that can be stored inside closets or unused compartments with ease.
I'd suggest comparing sizes and seeing what one works best onboard your RV. In other words, a canister vacuum for an airstream or Class A RV owners would be a smart choice. Campervan RVers will need a smaller one, such as a hand vacuum.
Are you interested in a washer dryer? Please read our reviews of the most RV washer dryer. Also, the article about the RV ac gasket may help you.
FAQs
Our FAQ section will cover any essential topics left unanswered by the previous discussions. It should function as the final piece of information needed to make an intelligent buying decision.
Who is this for?
If you're looking to keep your RV clean and tidy, these vacuums are a necessity. RV vacuums are specifically built to function in motorhome settings. Their designs will maneuver around those cramped spaces, which residential vacuums have no chance of reaching.
What are the different types of RV vacuums?
As with most products, RV vacuums come in various types. Most of them will fall into one of five categories: central vacuum systems, handheld vacuums, steam vacuums, wet and dry vacuums, or upright/canister vacuums.
RV Central Vacuum Systems
An RV central vacuum system isn't overly complex or advanced. In fact, these models are often the ones that first come with your RV. A central vacuum system will also need a power source to operate but are easily storable and relatively inexpensive.
Motorhome owners with smaller or compact campers should think about a handheld vacuum. As you might imagine, these vacuums are handheld-operated devices that make them endlessly portable and storable. Most will also be heavier (battery) and have more power than the average RV vacuum.
If you travel around the country with pets or have mold issues, RV steam vacuums are an absolute must. These devices excel in both roles because they're designed to deodorize and disinfect stains. You can imagine how helpful both these traits would be for pet owners.
Anyone who plans to clean up wet spots inside their RV needs an RV wet and dry vacuum. It's a pivotal device for this work because it comes with two buckets: one for wet waste and one for dry. This design ensures cleaning up wet areas like bathrooms is a breeze.
RV Upright/Canister Vacuums
RV upright/canister vacuums can be a convenient choice, depending on your RV's layout. In the right situation, it becomes a significantly larger version of handheld vacuums. This ability comes from the attachments, such as a crevice tool, that usually come with these models.
A crevice tool will allow an RV canister vacuum to extend and reach those difficult places, which only handhelds can clean. But these vacuums become inconvenient in smaller rigs because they take up a lot more space than any other type.
How do RV vacuums work?
RV vacuums won't work much differently than a residential model. But there are a few slight differences, which center around their designs. These RV options are built to favor motorhome settings, as they're smaller and a lot more portable than a traditional vacuum.
You can expect these smaller vacuums to work using batteries or onboard power sources. Cordless options won't require sockets or have long cords dragging across your RV. But of course, other models will need plugging into a power source before the cleaning begins.
Advantages and disadvantages of using RV vacuums
Several benefits come from using an RV vacuum. For instance, it offers the ability to clean your motorhome quickly and easily. A high-quality camper vacuum should clean your entire rig without causing any hassles or frustration.
It's an essential ability because this device will suck up all the pet hair, dirt, and pollen within your rig. As a result, it becomes beneficial to people with allergies or prone to asthma attacks. It ensures their safety onboard your RV.
You should also realize the best RV vacuum will be lightweight and portable. Due to this, the cleaner will become much easier to transport from room to room. It ends up making the entire process more user-friendly and effortless.
This portability allows these devices to work in various situations, as well. I don't see why any high-quality option won't be usable in your car or home. These devices are built with a certain flexibility in mind, which gives them application versatility.
Of course, these vacuums aren't without their flaws. Your RV vacuum will take up valuable storage space and likely cost more than you'd imagine. It's one of the more annoying things about useful RV-related devices.
Who makes the best RV vacuums?
Manufacturers who make high-quality RV vacuums excel in two areas: product quality and customer service. Finding a brand that offers both can be difficult because of the high number of RV vacuum companies.
However, I've provided a decent start with our product review section. Each of these brands has proven to be excellent at making RV vacuums. If you stick with them, there's no reason to believe this buying experience won't be successful.
What is the best suction power for a vacuum cleaner?
The answer will depend on what type of vacuum cleaner you're buying. For instance, a suitable vacuum cleaner should offer anywhere between 100-200 air watts. A cordless vacuum between 80-100 air watts would be an excellent purchase.
Can I vacuum my RV with a regular vacuum?
You can vacuum your RV with regular vacuums, but it would be inconvenient. The traditional models tend to be bulkier and less flexible. Therefore, a tighter area like an RV could be a nightmare to clean with one.
Any care and maintenance tips?
Each RV vacuum will come with specific directions about how to maintain and store it. If you stick to these directions, keeping a vacuum in good shape wouldn't be difficult. It's one of the main reasons why manuals are such an essential piece of every RV vacuum or vacuum system.
Conclusion
After reading our article, finding the best RV vacuum shouldn't be much of an issue. You just now need to use what you've learned during the search. The right choice should become clear in a relatively short period.
But if you still have a question or two, don't hesitate to use the comment section. I'll make sure to answer each post as soon as possible. Thanks for reading!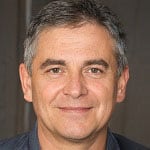 Hi, I am Tom Hank, an RV-er since 2014. Back then, I started without much help. As you can imagine, the struggles are endless. But now, you do not have to begin your adventures knowing next to nothing about RV lives.