One of the best things about traveling in an RV is that you can be comfortable regardless of the outside temperature. Just your HVAC and furnace alone are not enough to keep your RV at a comfortable temperature. You will need the best RV thermostat to achieve that.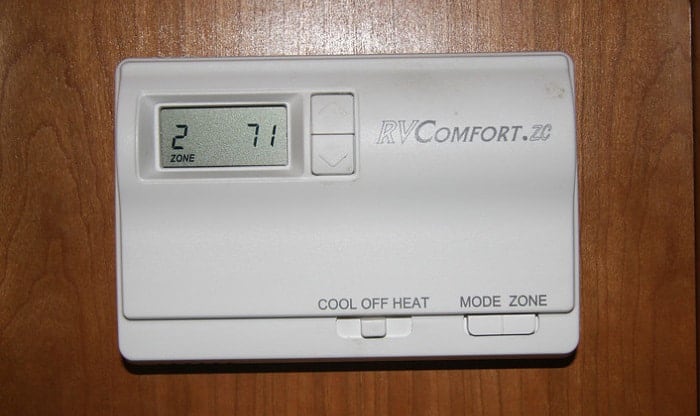 A good quality camper thermostat will allow you to set the air conditioning or furnace to just the right setting, thereby making your camping trip all the more enjoyable. Regardless of where you park your RV, be it a freezing lakeside, a humid beach, or a dry and hot desert, you will always be comfortable once inside.
Best RV Thermostat Reviews
1. Dometic 3106995.032 RV Thermostat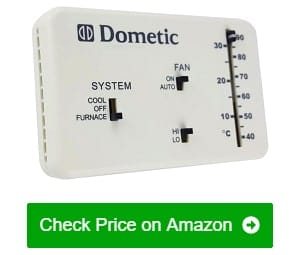 Dometic has always been one of the most trusted names when it comes to RV accessories. Some of the best products you can buy from this brand are their RV thermostats. Case in point, the Dometic D3106995 032 heat analog thermostat is one of the most durable thermostats that you can buy right now. It might even outlast your RV.
One of the best features of this RV AC thermostat is that you can use it to control either the air conditioning system or the furnace of your recreational vehicle. It is not like other analog thermostats where you will need to use a separate thermostat for the air conditioning and the heating. With this thermostat, you only need to flip a switch.
You can also use this RV thermostat to control the blower of the A/C unit. You can also turn on the fan whenever the temperature gets too hot or cold. It is also possible to set the fan speed from low to high using one switch.
Another highlight of this RV thermostat is an easy installation with color-coded wires. I am not an electrician, but I was able to replace the old travel trailer thermostat with this one. The even better news is that it only took me 30 minutes or so.
Beyond that, it is tricky to get the temperature to the exact value you want. For instance, if you want to set the thermostat to 77 degrees F, you have to set the slider in between 70 and 80 markers.
What We Like
A highly durable unit lasts for years with minimal maintenance.
Can control both the furnace and air conditioner
Capable of controlling the blower fan
Easy to install with color-coded wires
What We Don't Like
Tricky to get an exact temperature setting
Although it is not the most precise thermostat out there, you will be hard-pressed to find a dual controller that has almost effortless installation and is as durable as this one.
2. Honeywell TH1100DV1000 Thermostat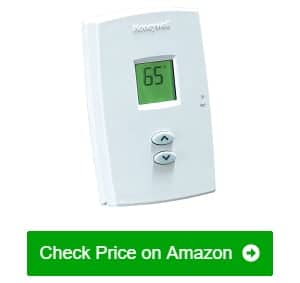 This Honeywell thermostat is one of the most reliable units in the market. If you need an accurate and durable RV digital thermostat upgrade, then you should give this one a try.
If you are the type who just wants simple-to-use gadgets, then you will love this RV furnace thermostat. You will also enjoy it if you are more about the basics and not that interested in all the bells and whistles featured by other more sophisticated thermostats.
This Honeywell RV thermostat is also one of those straightforward products with basic controls. There is an on/off switch at the side, which will also turn on the backlit LED screen. Below the screen, you will find the up and down buttons. You can use such buttons to adjust the temperature up or down.
Speaking of the LED screen, it has a green backlight so you can see it clearly in the dark. For your information, the backlight will turn off after a couple of seconds of non-use, but it will turn on again when someone touches the thermostat. The numbers are also large, so even if you need glasses to read, you will not have any problems reading this display.
Another nice feature about this RV thermostat replacement is that it always displays the ambient temperature. When you press the arrow buttons to adjust the temperature, the display will revert to the ambient temperature a couple of seconds afterwards.
This neat feature will tell you if there is something wrong with the heating as in case there is no change in temperature after you already set it up. Hence, the quick fixing can be done for use again.
The only problem that I have with this 12-volt thermostat RV is that you can only use it for the heating system. In other words, I will still need to install a separate controller for the air conditioning system.
What We Like
Highly reliable and durable thermostat
Easy to operate with only a couple of buttons
Features a brightly-lit LED screen with large numbers
Constantly displays the ambient temperature of the RV
Allows users to notice issues due to the display
What We Don't Like
Can only control the furnace – not usable for the A/C.
This product from Honeywell is one of the most basic yet easy to use RV thermostats you can buy right now. If you want something simple and straightforward, it is the right choice.
3. Suburban 161154 Wall Thermostat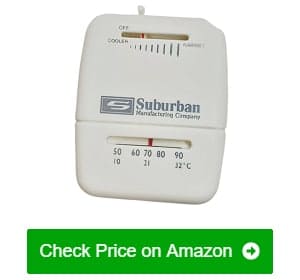 This Suburban Wall product is another no-frills and basic analog thermostat. It is the best choice for those who are not big fans of complicated programmable gizmos. Furthermore, it is lightweight and compact, taking little space in your RV. In truth, the thermostat only measures 0.2 pounds.
The installation process is also very easy. It is a mechanical, analog RV thermostat so you will only be connecting a couple of wires to the unit to get it going. The instructions that come with the packaging are as straightforward as they can be. You do not need to be an experienced electrician to figure it out.
Because it is a mechanical and analog thermostat, it can last for a very long time. There are no circuit issues, battery replacement or worn-down buttons that you need to worry about. It comes with just a single lever on top of the thermostat. You just have to adjust it to get your desired temperature.
Another nice thing about it that I genuinely like is its built-in thermometer that measures the ambient temperature inside my recreational vehicle. If you start noticing the mercury dropping, you can adjust the control lever to a higher setting.
The only problem that I have is that it only has a slider setting lever. You will need to judge the temperature setting using the temperature scale printed on the cover.
What We Like
Lightweight and compact design for small RVs
Requires only some wires to install this mechanical thermostat
Has an analog thermometer to measure the ambient temperature inside the RV
No worry about circuit issues, battery replacement or worn-down buttons
One slider to put the desired temperature
What We Don't Like
Hard to set an exact temperature setting
Although the Suburban 161154 Wall Thermostat is not the most precise RV thermostat out there, its unmatched reliability is still unquestionable. If you are looking for a no-frills, easy-to-use thermostat that can last for many years, then I think this unit is the one for you.
4. Emerson 1E78-140 Thermostat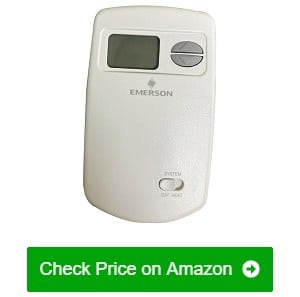 The Emerson 1E78-140 is a simple yet very precise electronic thermostat for RV furnace. Unlike other thermostats, you will only have the on/off switch, as well as the up and down buttons for controlling the temper nature settings. It does not come with confusing buttons or sliders.
This unit also comes with a substantial-sized and brightly-lit LCD display. It is where you can see the temperature setting and the ambient temperature reading of the recreational vehicle. The great thing about this thermostat is that it is accurate to within +1 or -1 degrees Fahrenheit.
Installation is also quite quick and hassle-free as the included manuals are straightforward and detailed. It even has a diagram that even non-electricians can understand and follow. I am by no means an experienced electrician, but I was able to install this thermostat in under 30 minutes without a hitch.
Moreover, because there is no complicated circuitry, this mechanical RV heater thermostat will be able to last for many years without any major malfunction. The only task to do is to replace the batteries when they start to get low on juice.
Yet, this thermostat is only for heating systems. You will need to get a separate one for your air conditioning unit.
What We Like
Promotes effortless operation with on/off switch and up and down buttons
Highly accurate for an analog thermostat
Comes with a brightly-lit LCD screen for precise settings
Installation is effortless with an easy-to-understand installation guide
Low-maintenance – change the batteries occasionally
What We Don't Like
Only meant for use on heating systems
This thermostat is for those who want something minimalist, but at the same time highly accurate. It is a simple yet very useful unit.
5. TycoonWon RV Thermostat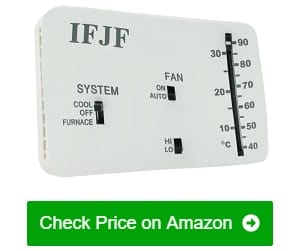 If you are looking for a duo therm RV thermostat replacement, something that does not cost as much yet works the same, then this product might cater to your needs. It looks identical to the Dometic, but with different branding. You will notice that even the controls are quite the same. If you need to replace your thermostat but can't find the exact one, this unit will do fine.
I like how easy and effortless it is to install this unit. You don't need to have any experience with electronics at all. The package comes with a simple to understand, color-coded, instruction manual. If you follow the directions as shown exactly, you will not get lost in the process.
More importantly, it is also simple to use. There are only a couple of switches that you need to flip. It also features just one temperature setting slider. The slider has a Celsius scale on the left and Fahrenheit scale on the right, so you do not need to use a calculator when figuring out where to set the temperature slide.
You can even control the fan of the HVAC system from this thermostat. In detail, the fan can be set to turn on automatically when the furnace or the A/C starts up. Alternatively, users can set it to be on constantly, and at high or low speed.
The only problem that I have with this thermostat is that it cannot set an exact temperature value on the slider.
What We Like
User-friendly product with switches and a slider temperature setting
Installs effortlessly to fit well on any Dometic thermostat housing
Capable of controlling both the furnace and air conditioner
Can control the auxiliary fans of the HVAC system
What We Don't Like
Hard to set the temperature to an exact value
This product is the best choice of thermostat for RV owners who want to keep their vehicles as uncluttered as possible. With this thermostat, there is no need for you to separate controllers.
6. Coleman 8330-3862 Digital Thermostat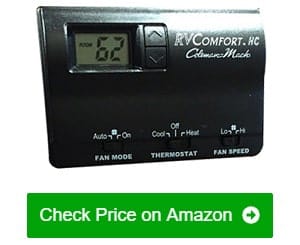 The Coleman 8330-3862 Digital RV thermostat is the one that you need to get if you want the reliability and durability of a high-quality analog thermostat. Best of all, the device allows you to set the temperature to an exact value of your liking. You are getting an RV thermostat upgrade from the usual analog model.
One reason why many people like using digital thermostats is that they can set the temperature of their homes to an efficient level. Many people say that setting the thermostat to 25 degrees C (77-78 degrees F) and getting that exact value on a digital thermostat is no problem at all. It is not like a slider where you need to do a bit of guesswork.
Even though this heat cool analog thermostat is digital, you still install it as if it were an analog thermostat, so the wirings will not be difficult at all. The device requires no wiring to its LCD screen, and it runs on two AA batteries. Hence, you just need to connect this thermostat like you would with any analog mechanical type.
You can switch between the A/C and the furnace with just a flick of a switch, eliminating the need for separate controllers. This thermostat also allows you to control the fans. You can set it for the fans to turn on along with the A/C and furnace, or have it on all the time to circulate the air inside your RV.
Although I genuinely like this product, there is one detail that I wish could have been made better, and that is the LCD screen. It is a bit small, and it does not have a backlight. If only Coleman upgraded this unit and gave it a bigger backlit screen, then I think it would be almost perfect.
What We Like
Allows exact temperature settings
Easy to install as it only requires minimal wiring
Easy to use with only a couple of switches
Can control both the A/C and the furnace
Optimal control over the fan
What We Don't Like
The screen is small and does not have a backlight
Despite its shortcomings, the Coleman digital RV thermostat is still one of the most reliable options for Coleman RV thermostat replacement that you can get today. If you want something simple yet precise, consider getting this thermostat for your RV.
7. Emerson M30 Thermostat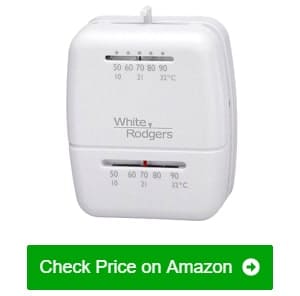 The feature that I like the most about the Emerson M30 White Heat-Only RV thermostat is its simple and straightforward structure. If you are looking for something minimalist, you need to look no further than this thermostat. You only need to manipulate one lever to set the temperature.
Aside from being high-quality and user-friendly, this thermostat also boasts of its durability and reliability. Because there is no sophisticated and fragile circuitry to worry about, this thermostat is very low-maintenance. At most, you just need to give it a bit of cleaning now and then.
You will not also encounter problems with the installation. First-time owners can follow the straightforward instructions and colored diagrams included in the package. It also only needs a couple of basic tools and around half an hour of your time to get this thermostat installed.
Another great thing about this RV thermostat is that even though it is a mechanical and analog unit, it still has an ambient temperature thermometer. It is great because you can monitor if the A/C is not working as it should (the set temperature is significantly higher or lower than the ambient) and have it fixed before it worsens.
Since the on/off switch is also used to control the temperature, when you turn off the thermostat, you have to reset the temperature. It might be a slight con in exchange for a simple design.
What We Like
Highly durable and reliable
Comes with only one lever to operate, promoting ease of use and operation
Minimal wiring work needed for the installation
Features a separate thermometer for the ambient temperature reading
Compact and minimalist design
What We Don't Like
Resets the temperature after turn off the thermostat
This unit is the perfect choice of thermostat for those who are looking for something simple yet effective. If you are not into sophisticated controllers, then this unit is ideal for you.
8. Dometic 3109228.001 Control Center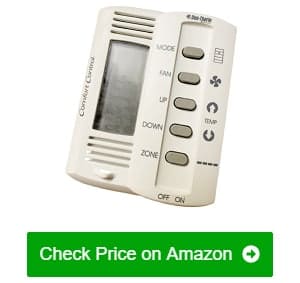 This product from Dometic is not just a simple thermostat. It is designed to handle all of the climate control capabilities of your recreational vehicle.
In detail, this digital climate control system can create up to four zones in your vehicle. A zone is a place in your RV where you can assign a different temperature setting. For instance, if your bedroom area has a different A/C unit, then that is one zone.
For something so sophisticated, this Dometic RV thermostat can afford a surprisingly breezy operation. There are only five control buttons and an on/off switch at the bottom. Each button also has clear labels, so you can easily figure out how to use this thermostat even without consulting the user manual, though I still suggest that you read it first.
This RV thermostat also has a large, backlit LCD screen that shows your climate control system's status. You can see the temperature setting, but you will also see the fan status, the zone you are controlling, and other essential information. The screen is large enough that you can see the display clearly from a distance. I can do so even if I do not wear spectacles.
The best feature of this thermostat model is that it is compatible with all Dometic climate control products. In other words, if you are a big fan of this brand, you can freely control all of them using this one panel. It can make the interior of your recreational vehicle free of clutter.
The only problem with the Dometic Comfort Control Center is that it requires you to program it after installation. Also, the instructions are available online. Once I finished doing that one simple operation, the unit worked flawlessly ever since.
What We Like
Can create up to 4 different climate zones in your RV
Easy to use with only five buttons for operation
Has a large and clear LCD screen
Compatible for use in controlling all Dometic appliances
What We Don't Like
Does not come with initial programming instructions
Although this unit might look like a complicated thermostat, you will discover that it is indeed one of the best and easiest-to-use products in the market today once you start using it.
9. Coleman Manual Thermostat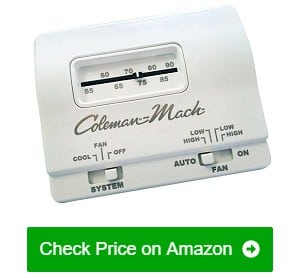 Another straightforward unit that first-time users will love is the Coleman Mach RV Camper Manual Thermostat. Its switches have clear labels, making them easy to understand. You have one that turns on the thermostat and allows you to pick between the A/C or the furnace. There is also a switch that lets you control the fan.
Another feature that I like about this Coleman Mach thermostat replacement is the time and effort-saving installation task. You do not need to hire an electrician or HVAC expert to install this thermostat for you. There are only a couple of wires that you have to clamp into the thermostat and color-coded instructions to make the process even easier. Just make sure that you turn off the circuit breaker of your RV beforehand.
One major reason why I love analog thermostats is that they are tough as nails. There are no sensitive electronics and only a few moving parts (most of which you will rarely move at all), so the likelihood of anything going wrong is minimal.
Of course, this camper mach manual thermostat is not as fancy as the other devices, but you can be sure that this one will still be working well after twenty years have passed.
As mentioned earlier, you can use this one RV thermostat to control both the A/C and the furnace. Unlike other thermostats that are only for furnaces or A/C systems, you can hook up both the heating and the air conditioning in this one housing. There is a switch on the panel that will allow you to switch between the furnace and the A/C.
For me, this RV camper mach manual unit's simple design scores big time as it matches my RV interior. Such a minimalist thermostat does not interfere with your RV decoration style, be it modern, classic, or simple.
The only issue with this Coleman rv camper mach device is that there is only a Fahrenheit scale on the temperature slider.
What We Like
Simple and easy operation with clear label switches
Easy to install, not much wiring work needed
Can control the A/C and the furnace
Durable and does not require a lot of maintenance
Boasts of a minimalist design complimenting RV interior
What We Don't Like
Does not have a Celsius scale on the temperature
Although it does not have a metric scale for the temperature slider, it would only be a minor and temporary inconvenience anyway. This thermostat unit is still quite a good thermostat that you can use on your RV.
10. Honeywell TH5110D1006 Thermostat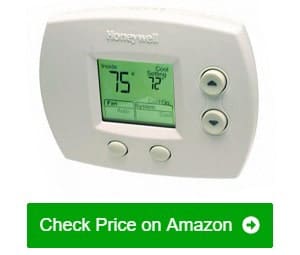 One thing that truly impressed me about the Honeywell thermostat is that it can run both on batteries and hardwired into the RV electrical circuit.
Some people like having their thermostat hardwired because it eliminates the need to replace the batteries every couple of months. Other users do not mind using batteries as they do not spend that much time in recreational vehicles. In that case, they turn off the thermostat when not needed.
Speaking of the battery, unlike other non-programmable RV thermostats where you need to remove this non-programmable unit faceplate to gain access to the battery compartment, the Honeywell thermostat has an accessible battery door at the side that makes replacing batteries easier.
Another neat feature of this RV thermostat is the substantially-sized screen. It is by no means large, but it is big enough for you to see the ambient temperature reading and the temperature setting easily. It works great for people who want a simple to use thermostat while still allowing them to set the temperature to an exact value.
Another nice thing about the product is that you can use it to control both the A/C and the furnace. You do not need a separate thermostat for each. It makes the interior of your RV less cluttered. You do not need to deal with a wall that is full of control panels.
Yet, it is a bit complicated to install, especially if you will be hardwiring it to your RV. It might be a piece of cake for those who have some electrical knowledge. However, someone with little to no experience with wiring may have to spend more time. It is best to have a professional install it for you in such a case.
What We Like
Features an easy to read backlit display
Comes with an easy to access battery replacement door
Can run on batteries or hardwired into the RV circuit
Can control the A/C and the RV's heat pumps
Has a large display size for the ambient temperature
This product is one of the nicer-looking thermostats that I have had the pleasure to use. The screen might not be as big as most people would want, but it is big enough for someone who just wants a basic, yet precise thermostat.
11. Dometic 3314082.000 Comfort Control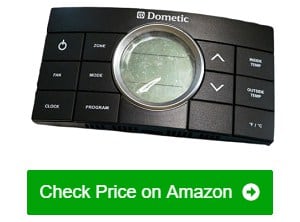 What appeals to most RV-owners, including me, is a large screen for optimal control. Notably, this Domestic thermostat comes with a large screen that uses large fonts and a bright backlit, ensuring all operations are breezy in daylight or at night.
Just like the original Dometic Comfort Control, this one can also control up to four different climate areas. It means that if your RV uses two different A/C units or furnaces, you can use this thermostat to control them separately. This way, you can create different temperature zones within your RV. For instance, you can make the living area a bit cooler than the rest of the RV.
You can also use it to control several different Dometic HVAC products. You do not need a separate controller for your A/Cs, furnaces, vent fans, and others. It would also be unnecessary to deal with an entire wall panel covered with different controllers. You only need an RV thermostat like this one.
I also particularly like the clicky buttons on the control panel. I prefer having that tactile feel that tells me that I adjusted the settings. I feel it is much better than touch-screen panels. The buttons also make it easier to set the settings for a particular function.
The only problem that I think potential customers may encounter is that it is a somewhat complicated RV thermostat. You will need to go through several button presses to get to a particular set menu.
What We Like
Features a large and easy-to-read display size
Can control up to four different climate zones
Can hook up to several different Dometic HVAC systems
Features clicky and responsive buttons that provide tactile feedback
Useful in controlling the air conditioner and furnace
What We Don't Like
Has a somewhat steep learning curve
Having the ability to control the temperature all over your recreational vehicle will require a bit of learning on your end, but don't worry, as this Dometic comfort control center device will be a worthwhile investment.
12. Coleman 83303362 Thermostat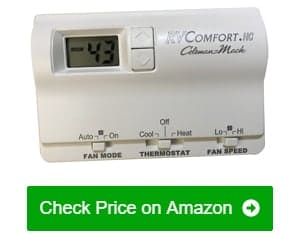 One amazing thing about this Coleman thermostat is that you can operate it without consulting the instruction manual once. As long as you can read the switches' labels, you will not have any problem using this RV thermostat.
Installation is also a breeze. You will only need to do minor wiring. It has a color-coded installation guide to make it even easier, so you will know which wire goes where. Unlike the traditional RV owner, I have no real experience with electricity, and I could still install my thermostat in under 30 minutes.
Another neat feature of this non-programmable thermostat is that it can control both the air conditioner and the furnace of your recreational vehicle. Just position the thermostat switch to what you want it to control. You even have switches for controlling the ventilation fans.
Because it is a digital-analog thermostat (alkaline batteries power the LCD screen), you can bet that it will last for quite a long time. The lack of sensitive electronic circuits and processors means that there are fewer things that can potentially break.
I want to give this Coleman RV camper thermostat a perfect grade, but it does have a couple of flaws. The biggest issue with this thermostat is that the LCD screen is quite small, and the backlight is not as strong as I would have liked it to be.
What We Like
Effortless to operate and use with few control buttons
Easy installation, thanks to its color-coded instructions
Can control both the A/C and the furnace
Highly durable – easily lasts more than five years at least.
What We Don't Like
The screen is a bit too small.
If you can get past the small screen issue, this tough little RV thermostat can be a great investment for your RV. You can accurately set the temperature the way you want with it. Plus, you do not have to deal with a lot of confusing buttons.
Best RV Thermostats Buying Guide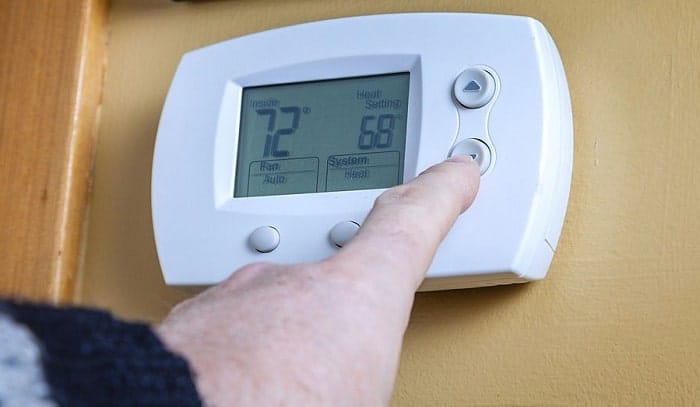 Here is what you need to remember when you are shopping for the right RV thermostats – it will probably be the last one that you will ever buy if you are lucky. To make sure that you will not be wasting your time, energy, and money on a subpar RV thermostat to your expectations, here are some of the factors you have to consider.
Built-in features – In the past, RV thermostats were only capable of only the basic functions, including setting the temperature up or down. Nowadays, these best RV thermostats can do so much more.
Before you go shopping for a new thermostat, it is best to make a list of the features you would like to have. Would you like Bluetooth connectivity so you can control the thermostat using your phone? Or would you like the one that automatically adjusts, depending on the outside temperature and the number of people?
Are you looking for a programmable RV thermostat, or maybe you want something simple? If you prefer a simple one, you can just go with an analog thermostat. It is the most basic RV thermostat that you can get. It also usually just comes with a slider that lets you adjust the temperature up or down.
Types – Speaking of analog, it is one of several different types of RV thermostats that you can choose from. Analog thermostats are the oldest and most basic types. It would be beneficial to get these units if you are only looking for superior reliability and simplicity. However, aside from adjusting the heat or cooling of the A/C, you can't expect these types of thermostats to do anything else.
If you want your unit to be a bit more sophisticated, you can choose the electronic RV thermostats. These models have the same function as analog thermostats, but instead of a slider, you have a digital LED screen that allows you to set the temperature to the exact value.
You can also go for the communicating type of thermostat. These units are the newest ones to come into the market. You can control this type of thermostat from anywhere using an app that you can open on your phone. You can do all sorts of things with this type of thermostat. You can even set what time the A/C comes on and what temperature it is set to.
If you want something lower-priced than a smart RV thermostat, but with similar features, you can get the programmable thermostats. These items work almost the same way, but instead of using an app, you tweak the settings right on the thermostat control panel.
There is no such thing as the top-rated RV thermostat as this term is subjective. Each one has its sets of pros and cons, so just choose the type that fits your needs and wants.
Durability – This factor can be quite hard to discern as it is almost impossible to figure out durability when talking about electronic devices. However, there is a consensus that analog thermostats are longer-lasting compared to the other types. The main reason is its simplicity. There are fewer components in analog devices so there are only fewer chances of them failing.
However, if you want to gauge the true durability and overall performance of a particular RV thermostat, you will need to check out as many RV thermostat reviews as possible. You can also hit up YouTube for video reviews. If most customer reviews say that the thermostat is quite durable, then it is safe to assume that it will be a good buy.
Warranty – You need to learn one thing here. If a company does not offer any warranty or return policy, then you should look for another thermostat, preferably from another company.
Look for a thermostat that provides at least a one-year return and exchange policy. The longer the warranty period is, the better the product is usually. You should have enough time to test and abuse the thermostat. The warranty should cover customer error and other serious failures that might happen during normal working hours.
It is safe to assume that the longer a product warranty period is, the more confident the company is with their product. It means that you are getting a good deal.
Customer Service – This factor is in conjunction with the warranty. Even if a certain brand of RV thermostat comes with an impressive warranty, then the warranty means squat if it is difficult to make a claim.
Good customer service will also come into play when you need help with setting up the device or getting a defective item. It should be easy to get in touch with the customer service department, either by phone, e-mail, or live chat.
It would be great to get a thermostat that works perfectly out of the box, but there will always be a setback feature. The best place to find out how good the customer service is in a particular brand is the list of RV thermostat reviews. If a certain company's customer service is bad, you will undoubtedly read a lot of complaints about them.
How Many Types of Thermostats for RV Are There?
Ranked from the least to the most sophisticated, the different types of RV thermostats include the following:
Analog thermostat – This type is the most basic and the oldest unit of thermostat available on the market. If you are the type of person who is not a big fan of overly-sophisticated thermostats that come with a lot of bells and whistles, you will love the analog ones.
These units usually just come with sliders to control the A/C, so you will need to estimate the temperature based on the markings. Moreover, you cannot get an exact temperature setting.
Electronic thermostat – This unit is a step up from the humble analog RV thermostat. The great thing about this thermostat is that you will have a digital screen and set of controls that will allow you to set the temperature to an exact value, even down to the decimal values. However, other than that, electronic thermostats don't do anything different from analogs.
Programmable thermostat – An RV programmable thermostat is an electronic device that comes with a couple of other features and settings. For instance, it has a feature that you can use to set it to turn on at a specific setting at any time that you want. You can also program the thermostat to change the temperature settings at certain times of the day.
Communicating thermostat – This unit is the most sophisticated RV thermostat that an RV owner can buy. It can do all the things that the other thermostats can, and probably more. These units got the name communicating because you can control and program your RV Wi-Fi thermostat from your smartphone.
How Does an RV Thermostat Work?
Most RV thermostats use the phenomenon of thermal expansion to help control the setting of your air conditioner. Thermostats usually use bimetallic strips or gas-filled bellows.
A bimetallic RV thermostat uses two strips of different metals fastened together; hence, the name. You will also usually see this unit using iron and brass as temperature sensors. Because iron does not expand as much as brass, the bimetal sensor will curve outward when the temperature gets higher. It can cut off the circuit that turns on the compressor of the air conditioner.
However, the problem with bimetallic temperature sensors in most heating and cooling systems is that they take a long time to react to temperature changes. An alternative to it is the gas-filled bellows temperature sensor. As the name suggests, this system uses two metal discs with a gas-filled bellow in between.
When the room warms up, the gas in the bellows expands and forces the two metal discs apart, turning on the compressor. However, when the room cools down to your desired temperature, the gas will contract, and the metal discs will get in contact with each other again.
Who Makes the Best Thermostat for RV?
Several brands sell RV thermostats, but as always, some of them are not as great as the others. I have used and reviewed quite many RV thermostats, and I can honestly say that the best ones come from Dometic, Honeywell, Suburban, Emerson, TycoonWon, and Coleman.
If you happen to spot these brands while you are out shopping for a new thermostat, you should at least check them out. I can guarantee you that these brands can leave a good impression.
How to Tell If an RV Thermostat is Bad?
If you feel that your RV thermostat is almost ready to check out, but you are still not convinced enough to bother replacing it, note that the RV thermostat troubleshooting.
If you see any of these problems, you should replace your thermostat immediately; otherwise, you will be spending your next RV trip without your A/C system, and that would not be any fun at all.
Sign #1 – The thermostat has no power/unresponsive
If you turn the thermostat significantly up or down, and you don't feel any change in the temperature inside the RV, then the thermostat might be on the fritz. If you have an electronic thermostat and the screen does not turn on even if you just replaced its battery recently, then it may be broken.
Sign #2 – The heater or A/C won't turn on
If you turn up the A/C and do not hear the compressor's humming, then the problem could be either with the wiring or the thermostat itself. The thermostat turns on the A/C compressor and/or the furnace, so if it does not, it is likely broken.
Sign #3 – The A/C or heater does not unload and is running constantly
The thermostat is responsible for turning off the A/C and/or furnace when the RV interior reaches the desired temperature. However, if you notice that the A/C or the furnace is constantly running and does not unload, then it is a sign of a busted temperature sensor in the thermostat.
Sign #4 – The actual temperature and the thermostat setting do not match
This sign is a bit more subtle than the other RV thermostat problems, and you may need to bring a thermometer around your RV to check. If the temperature in the different parts of the RV fluctuates, you may need to change the thermostat for something a bit more accurate.
Can a House Thermostat Be Used in an RV?
It will depend on what kind of thermostat you will be using. If you will be using a thermostat that will require wiring it to draw power from the RV, it will not work. Household thermostats run on 24 volts AC, but the power source of RVs only produces 12 volts DC.
If the thermostat runs on its battery power, it might work on your RV. However, not all battery-powered thermostats will work on RVs, so you will be taking a chance right there. You should use a thermostat made specifically for RVs rather than risk wasting money on something that may or may not work.
How Do I reset My RV Thermostat?
Unless you are an RV owner using an analog thermostat, you will need to occasionally reset the settings. The thermostat settings can get all over the place, like when your kids played with it. Or, if you have reset it in a while, whatever the reason, you need to reset your thermostat regularly. Now, here is the problem; not all thermostats can be reset the same way.
If you are lucky to have a thermostat with an actual reset button, all you have to do is press and hold it for around five seconds or so, and the unit will restart with all of its factory settings. With other thermostats, you will need to press several buttons at the same time. You can see the exact combination written in the instruction manual.
If your thermostat does not have a reset button and misplaced the instruction manual, you can try several things. First, if your thermostat uses batteries, you can take them out for around ten seconds and then put them back in the sled. If it does not work, you can also try reversing the battery direction for a couple of seconds and placing them back in the correct position.
If you have a hard-wired thermostat, there is no other choice except to turn off the main circuit breaker of the RV for a couple of seconds then turn it back on. In case any of the tips mentioned above did not work, the only thing you can do is find the instruction manual of your thermostat.
However, it does not mean you will need the actual physical pamphlet. You can easily find instruction manuals nowadays online. You need to do a quick search for your thermostat model + instruction manual, and you will most likely find it on the first page of the results.
Care and Maintenance
You may think that your RV thermostat is nothing more than a switch that controls the A/C, but it is a very sophisticated technology piece. With that said, you need to take good care of it. Fortunately, thermostat maintenance is not that hard at all.
The most important thing that you need to do is clean the inside of the thermostat to work efficiently. First, turn off the A/C, and then remove the front plate of the thermostat. You can then use a soft brush or a can of compressed air to remove any dust accumulated inside the thermostat. While the cover is already off, you can use this chance to replace the thermostat batteries (if it is battery-powered).
You can do other things to make sure that your thermostat is working properly is to avoid placing any sources of heat beside or near it. For instance, you should not place lamps or televisions beside the thermostat as they can trip the temperature sensors.
Conclusion
Whether your existing RV thermostat is nearing the end of its service lifespan, or you want to replace it with something fancier, do not settle for anything less than the best RV thermostat.
Since you have made it to the end of this buying guide for RV thermostats, it is safe to say that you already know what you need to look for. You will not be wasting your time and money on something that you will not be happy with later.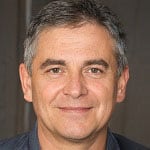 Hi, I am Tom Hank, an RV-er since 2014. Back then, I started without much help. As you can imagine, the struggles are endless. But now, you do not have to begin your adventures knowing next to nothing about RV lives.