Did you know that there are more pros when it comes to converting a trailer into a camper on your own than just purchasing a fully furnished one? Sometimes, fully-furnished camper trailers are quite costly because you are also paying for the convenience of not building them on scratch. You get to save your energy and time as well.
To convert your cargo trailer into a camper, you will need a well-thought floor layout as well as a design plan, as these two will be your guide on how to convert a cargo trailer into a camper.
And to make it cozier, you can choose from multiple resources the types of furniture and finishes you would want to include, and some other features that fit your needs and lifestyle.
Things You Will Need to Convert Cargo Trailer Into a Camper
1. Cargo Trailer
There are various cargo trailer sizes, and the most commonly used one is the 7 feet by 14 feet one. You also have the option to purchase a new one or an older one for conversion, but take into consideration that the new ones always cost more.
We would suggest you buy a used one but make sure to do diligence that it is rust-free. You can use the funds you can save for the conversion of your camper trailer.
2. Handy-manny tools
These construction tools are essential for your cargo trailer camper conversion journey. This is all hard work, tiresome but amusing, especially when you can finally see the fruits of your labor.
It is better to invest in tools: saw, measuring leveling tools, clamps, and headlamps that you can still use for future renovation or maintenance.
3. Suffocating? Ventilation is essential!
From anywhere you go, ventilation is necessary, especially to a cargo trailer frequently used for shipping and not for everyday and long-term use.
Since we are talking about an enclosed trailer camper conversion, it is best to consider ample windows for ventilation, considering that it has showering and cooking features.
4. Power Up with Gas
The two options that you can reconsider to power up your cargo trailer apart from gas, are a DIY solar power system or a portable power system deemed to be environmentally aware.
This is useful mainly because you will need sufficient energy to power up your gadgets' cooking and washing facilities, lights, and other charging docks.
5. Light it up!
Considering that a cargo trailer is enclosed, you do not have enough openings or windows for the natural light to get in.
Hence, to sustain your lighting needs during the nighttime, you can opt to use either fairy lights to set up the mood or an led lighting which is reasonably practical to begin with.
6. Insulation is a must!
It is worth investing in insulation to keep yourself warm and safe during cold days. There is diverse insulation recommended in the market that you can use that is perfect depending on the cargo trailer camper you will use. Options may vary from wool insulation, spray foam, fiberglass to foam insulation.
7. Floor, walls and everything nice
This is a lot of interior designing to do, in a way, assuming that a cargo trailer camper is the same as your bedroom. The only difference between the two is that your bedroom stays in one place while your camper van can take you to places you have never been before.
Like any room in an interior space, a camper trailer is considered livable as it will require an opening for sleeping, eating, cooking, washing, and a lot more. Hence, you will need to plan it out carefully to maximize the space and the potential of your cargo trailer camper.
Starting from the ground, a carpet can be an alternative for insulation as its function is not just on the aesthetic side but can also give you the relaxation and warmth you need.
However, this is considered high maintenance, so it is up to you if you intend to use it. Or use a rug instead as an alternative.
Another floor finish that you can consider is the wood; though it can be pretty pricey, the maintenance is not as tricky as the carpet. You can opt to use reclaimed timbers for that rustic look.
8. Wet Areas: Kitchen and Toilet
Again, a camper trailer is considered to be moving home. It is convenient whenever you plan to go on a road trip. Hence, you will need essential daily life activities such as washing up and cooking.
Although, this is not as easy as you have imagined it to be. Installing a water facility for your camper trailer is relatively complicated due to plumbing.
Although a toilet is not a requirement because there are available shower areas at campsites, it is still best to have your own just if you decide to go to some remote areas.
A portable shower is another option if the space does not permit the installation of a shower instead. However, this can be time-consuming and has privacy concerns.
Steps to Convert a Cargo Trailer Into a Camper
Step 1: Specify your budget
Budgeting your way to achieve your desired design for your camper is a pain in the neck, yet this is an essential part of the process. Once you can finally establish your budget for this project, it is now time to tick those tools and finish off the checklist.
Regardless of whether you want to save or spend tremendously on something you have always wanted and prepared for, setting up a budget plan is still practical in any circumstances. It will also be your tracker about the tools, systems, and other finishes you have been considering for your camper.
It is always fun to challenge yourself with the amount of budget you have intended to spend yet still pull off a feasible, functional, and flamboyant camper.
Step 2: Assess your camp style
We all differ from one another as we have preferences of each of our own. And as travelers and campers, we have different practices. Hence, it is always better to take into consideration your camp style.
Once you have come to terms with yourself and the people who will be using the same camper with you, start with specifying your needs and wants as a camper. Meaning, the overall design and function of all furniture and finishes will depend on where you want to come, how you want to camp, and what kind of a camper you are.
Assessing your camp style will affect your furniture layout. The quantity and design of your furniture usually depend on the number of people using the camper.
The kitchen design and layout depend on how often and how you intend to cook. It also included the size of the kitchen area. Moreover, it will also help you realize the activities you plan to do and how long your trips will be.
Step 3: Plan and Design
The next step is to do the layout. Now that you can determine everything from your wants, needs, and preferences, now is the perfect time to plot those plans.
Create a furniture layout and design concept with at least two to three options for you to choose the best and well-thought layout. Start plotting and even looking for design pegs online.
Again, do not be afraid of several revisions because as long as you can see any error, that is when you can improve and come up with the best layout you would appreciate.
Although, what you have drawn and sketched on paper inspired by your thoughts will not turn out the way you assumed it to be because it may be disregarded during the process due to conflicts or will improve as you go along.
However, you can hire a professional to do it for you, but you can still try your best and have fun.
Step 4: Let's get to work
Now that everything is in place, let us turn what once was in your beautiful mind into reality. Although, for DIY people, be reminded that the construction process is tedious and energy-consuming in a way that you will appreciate the outcome of something that you worked hard on.
Want some inspiration? Watch this video to enjoy the fun process of this conversion.
7×14 Cargo Trailer Camper Conversion Finished (Tiny house?)
What is a Cargo Trailer Camper?
Making a camper out of a cargo trailer by yourself also has its pros. In the 7×14 cargo trailer conversion process, let us learn more about a cargo trailer camper.
A cargo trailer camper is an enclosed cargo with various sizes, but the commonly used ones have 7 feet width and 14 feet length in dimension. As the name implies, a cargo trailer is frequently used for shipment or loading goods.
Another use for a cargo trailer is reconstructing it into a camper van. It is the perfect alternative for RV culture without draining much of your bank.
Reasons that Can Convince You that It is Time to Turn a Cargo Trailer Into a Camper
1. Cost-effective
Are you aware that you can acquire an entirely new 7′ x 14′ cargo trailer for less than 7,000 dollars? That is already a lot of savings because, for starters, commercial travel trailers usually amount to a bare minimum of $10,000 and can even go beyond $60,000.
Take note that purchasing this can save you a lot that you can use in remodeling or customizing your cargo trailer.
2. Perfect insulation without going substandard
We are not generalizing, but unfortunately, this practice happens in real life. There are some manufacturers of travel trailers that use substandard materials or incomplete features.
The best thing that you can do to your camper trailer is to provide durable and high-quality specifications. With customization, you have the power and freedom to specify the extremity of insulation that you want.
3. Durable, forever?
Just kidding, we are exaggerating when we said that it would last for a lifetime. Still, in comparison to other alternatives, an aluminum camper or cargo trailer can quite last a century. It is so simple that maintenance will never be a pain in the neck; repair could be as easy as one, two, and three.
Though cargo trailer conversion by yourself can be tedious but is still something beneficial as you learn along the process, this will help you save much for future repairs because hiring a maintenance man is unnecessary.
4. Roadtrip? Ain't a problem
With a camper trailer, everything is possible. This vehicle can surely and safely take you to places with a cheap yet cheerful camping experience.
5. Blank Canvas
Compared to commercially produced travel trailers where manufacturers provide worthless features, a cargo trailer is a lot more flexible because it can be considered a blank canvas. You can search for inspirations about interior design or camper trailer design ideas online.
You can specify the materials you want to use and choose the design of your furniture pieces. You also have the freedom to do the layout.
However, you may still consider seeking help from professionals when it comes to construction and designing because you are guided or led to the right path with them, just in case you are not confident to do it by yourself.
Basically, in cargo trailer conversion, you can imagine it as a blank canvas, and you are the artist.
Conclusion
Are you excited to change into your work clothes and finally convert your cargo trailer into a camper? Given that you know the things you will need and consider prior, now is the time to prepare yourself to be amazed as you transform it into a design you had imagined it to be.
Remember, you have the power to decide whether you have a professional do it for you or do it by yourself. We prefer the latter because you will appreciate and treasure the beauty and fruits of your labor—May these tips on how to convert a cargo trailer into a camper help you in your journey.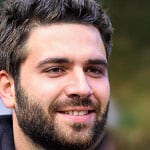 Hi, I am Joseph. Carpe diem! Seize the day! That's always been my life motto. If you haven't seen some of the most beautiful places in the country, you are missing out on incredible adventures.