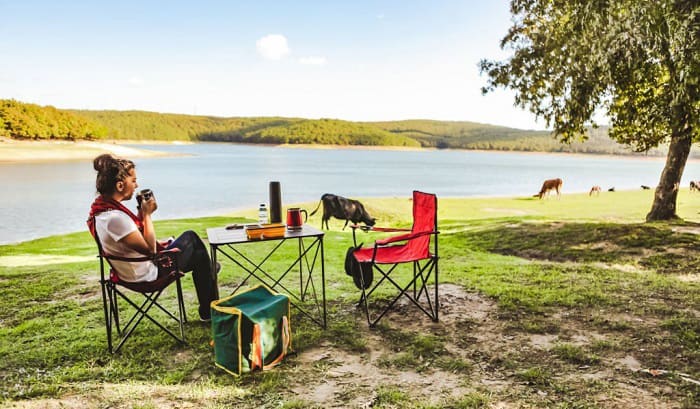 Outdoor trips can seem lacking without the best folding camping table. Some campers might like picnicking on a blanket. However, a piece of fabric on the ground might still put food and beverages at risk of enticing nearby insects.
The table for camping will provide the ideal experience for many outdoor enthusiasts. But the myriad of options on the market might make it tough for many buyers to choose the right camping tables for their preferences.
Shoppers need to ponder different factors in choosing a suitable camping table to ensure they gain the best value from their hard-earned cash. Some of the elements to think about are:
Material: Choose between different camping table materials while thinking about each component's available properties. For instance, a metal camping table can possess superior strength to resist a blunt force, but it might be susceptible to weather damage.
Type: Buyers should select the folding table for camping that goes well with their outdoor trips' needs. For example, choose a camping cooking table with a grill on top for a convenient way to prepare and eat meals.
Legs: Although the surface of a portable camping table is important to consider, it is advisable not to forget about the furniture's legs. Customers can select a model with legs that can extend and retract to promote ease of assembly and removal.
Buyers that are not in a hurry should take the time in examining viable choices from the market. An outdoor camping trip can become more enjoyable than intended with the right folding camp table. For more tips, check out our buying guide below. In the meantime, see the best tables we have tested.
Top 11 Folding Table for Camping Reviews
1. Coleman Outdoor Folding Table
This aluminum folding camping table is one of the top-tier outdoor furniture I found on the market. I can safely say this statement because of its reasonable price with top-notch features. Take note that I found many camping tables out there with more than double the price tag of this Coleman table.
The aluminum construction is also sturdier than I anticipated. In my tests, it has a weight capacity of about 100 pounds. Its durability and strength are quite surprising, considering that the table weighs only 9 pounds.
I also liked that the storage bag that comes with the set is reasonably big. It is even bigger than I initially imagined. It was also possible to fit some small objects in the bag with the square table, which helps to free up space in my vehicle's trunk when I travel to and from camping sites.
Moreover, I admire that the manufacturer sewed the assembly instructions on the convenient carry bag. It is a unique take on the typical paper guide. That also means that I do not have to worry about losing the instructional manual. Plus, the setup is fairly easy to accomplish as it only took about 2 minutes to complete.
On the downside, I wished that the table height was higher than its current offering. It is a little low for cooking purposes. However, it is still usable for things like adding an extra surface to put stuff on during outdoor vacations.
What We Like
Reasonably-priced option that also comes with top-notch features
Durable aluminum camping table that can handle up to 100 pounds of weight
Lightweight 9-pound construction
Included carrying bag is sufficiently large
Instructions are sewn in the bag's fabric to prevent losing it
Only takes about 2 minutes to set up
What We Don't Like
The table's height might need to be higher to make it into a cooking table
For its price and first-rate features, this aluminum table can become a must-buy for many camping enthusiasts.
2. Lifetime 4428 Camping and Utility Folding Table
I needed a foldable table for a fairly large camping group and came across this model. This Lifetime camping table exceeded my expectations, serving my outdoor enthusiast group with excellent features, such as its solid build quality.
One of its endearing durability-focused features is its steel legs. These appendages have powder-coated finishes, allowing them to remain as sturdy as possible on different surfaces. In our tests, this table excels in carrying about 150 pounds of weight, which is more than the typical folding table I use for outdoor trips.
I can also safely say that the injection-molded tabletop has one of the top constructions for a product of its class. I asked other people who own this folding table, and some of them said that they have had this particular piece of furniture for over 10 years.
Setup for this folding table is one of the easiest and fastest as compared to its competitors. Despite having the requirement of extending the legs, setting the table up does not demand significant time and effort.
Despite being a quality portable folding table, its dimensions when folded are still fairly large as compared to other options. Make no mistake because this option is larger than the average picnic table. But it is still a good if not a great option as a portable kitchen or food prep table for indoor or outdoor use.
What We Like
Steel legs help the table carry up to about 150 pounds of weight
Powder-coated, can remain stable on many surfaces
Injection-molded tabletop is highly durable and long-lasting
Easy and fast to set up
Ideal for fairly large camping groups
What We Don't Like
The large dimensions might cause some storage issues
Thanks to its excellent versatility and top-of-the-line durability, this product is not an ordinary camping table. It is good for purposes like car camping and preparing meals for a large group.
3. GCI 39126 Compact Outdoor Camping Table
Weighing only 4 pounds, this outdoor table for camping is tough to beat in the weight department. With that weight, it is easy to transport to and from camping sites without straining my muscles.
I discovered that this lightweight build is possible thanks in part to its aluminum frame. This material made it possible to keep the table's construction fairly light without sacrificing its durability significantly. I am also quite confident that this table will last a sufficiently long time, thanks to aluminum's rust-resistant trait.
Next, I immediately observed that this table is more spacious than its competitors. Its space may not fit an entire buffet, but it can still fit various fairly small objects on its tabletop. Plus, the maximum weight limit of 60 pounds is more than enough to support relatively tiny things or for playing games like a quick round of cards with mates.
Also, the 18 x 2 x 17.9-inch dimensions enable me to enjoy an easy storage experience. It also opened up extra space in my camping vehicle. If extended, the dimensions increase to 18 x 19.9 x 23.8 inches, which still captures very little space, as opposed to other models that demand large areas for assembly and storage.
Perhaps my only gripe is that the tabletop does not have a locking mechanism. Although the legs are quite secure, it would give me better peace of mind if a top lock existed to further prohibit all components from sliding.
What We Like
Very lightweight 4-pound construction
The aluminum frame is durable and rust-resistant
60 pounds of weight limit
Compact dimensions offer extra storage space
Takes up very little space in small camping setups even when extended
What We Don't Like
The table might be more secure if the top had locks
This product is ideal for reasonably small camping setups. It is a table that can fit relatively any vehicle and camping scenario, thanks to its compact and lightweight design.
4. Trekology TALU Portable Camping Table
At first, I was quite wary about this camping table's 2-pound weight. However, most of my doubts about its carrying capacity disappeared after seeing its performance first-hand. Despite its lightweight build, this table can comfortably carry up to 50 pounds of weight.
I should also mention that this table for camping is perhaps one of the lowest I bought and tested. This small table has compact dimensions that can make it act as a portable coffee table when needed.
Still, some tall campers might find it challenging to sit in front of it. I have a 6-foot 1-inch friend, and this table's height barely scrapes his knee. On the bright side, its compact size still enables me to place fairly large objects on top. Moreover, this table's dimensions are decent for various camping activities with table seats surrounding it.
I also like that the hardtop surface is waterproof. In turn, it is fairly easy to clean and maintain. Not only is the tabletop waterproof but it also has a water-resistant aluminum frame. Furthermore, the entire set can be stored within a convenient carrying bag.
Finally, the installation and removal are both easy-to-accomplish jobs. I even let my child set it up and put it away. Both jobs only took about a minute to complete.
What We Like
Lightweight 2-pound construction
Reasonable maximum carrying capacity of 50 pounds
Usable as an emergency coffee table on camping sites
Waterproof hardtop surface with water-resistant aluminum frame
Easy to use carrying bag
Easy to complete setup and removal
What We Don't Like
Short height might be an inconvenience to tall users
This folding table for camping is great for many outdoor trips. Users can take advantage of it as a backup table for holding things like coffee mugs. Its durable construction also ensures users that this table will last for quite a while.
5. Portal Outdoor Portable Folding Camping Table
This outdoor folding table may not have features that stand out significantly among the crowd. I would even go as far as to say that this piece of furniture is a 'Jack' or 'Jill' of all trades but a master of none. However, therein lies the beauty of this product, because it offers great serviceability from its features without any significant defects.
For starters, I like the collapsible design. All it takes is a few moves, and the entire table becomes a compact package, which makes it perfect for increasing storage space. The accordion-style legs are also fairly easy to extend when needed. These appendages also lock in place, thanks to their clips.
However, I need to mention that the clips are made of plastic. Users may need to treat them with care so they last long.
Speaking of the legs, the manufacturer made them have a continuous system. It means that I can affix the legs at any height within its given range. Therefore, it is possible to fine-tune the table's height for specific situations. For example, I can lower its height if my camping mates and I need a low table near a campfire.
A mesh storage net is also visible underneath the tabletop. As its name implies, it acts as an extra shelf for small objects, such as a mobile device or some pens. I can also detach and put it away if I do not want to use it.
Finally, if I want to store this outdoor table, I simply collapse it and put it away in the included carry bag. It fits the main pieces of the furniture snuggly.
What We Like
Collapsible design enhances used storage space
Accordion-style legs are fairly easy to extend and will lock in place
The legs have a continuous design for a versatile height adjustment
Mesh storage net that acts as an extra shelf
Carry bag to store the table and its main components neatly
What We Don't Like
The locking clips are plastic
Overall, I recommend this product for campers that may have limited storage space in their camping vehicles.
6. KingCamp Heavy-Duty Bamboo Camping Table
My favorite trait of this outdoor table for camping is its design. Its bamboo aesthetic feels as if I took one of my prized pieces from the kitchen at home and brought it with me for the trip.
Its tabletop has a natural bamboo construction, which I would say is easy on the eyes. It garners a minimalist approach that goes well with many different outdoor aesthetics that I want to design in my camping space. Moreover, the bamboo material is both easy to clean and maintain, thanks to its UV- and water-resistant properties.
Next, this fairly lengthy table weighs approximately 30 pounds. It is not as light as other 4- or 2-pound options, but it is still reasonably easy to carry to and from the camping site. Moreover, the furniture folds up to a fairly neat package to help minimize issues during transport.
As for the table's legs, these components possess telescopic designs. The legs can go from 16.5 to 25.6 inches, which is reasonably high for some tall people to rest their elbows on the tabletop without the need to slouch significantly.
Furthermore, the legs can move independently. It means that I can adjust each leg without moving the others. This feature is quite useful to promote stability to the table when I am camping on uneven terrain.
On the downside, I find this product to be quite tough to recommend for interested buyers following strict budgets. This outdoor table is one of the most expensive variants I found on the market. Still, it is difficult to complain after experiencing its high-quality features first-hand.
What We Like
The bamboo tabletop is pleasing to the eyes
The natural material has UV- and water-resistant traits
Reasonably lightweight 30-pound frame
Folding design makes for fairly convenient product transportations
Fairly tall legs that can move independently
What We Don't Like
The expensive price tag might put off some buyers with tight budgets
Ultimately, interested purchasers that have the extra budget to spare for a great camping table may not want to miss out on this product.
7. Camco 51896 Aluminum Campsite Table
Durable, portable, and functional – these are the traits that I found to be the most pleasing presented by this campsite table. It is a multi-purpose piece of furniture that will not have trouble seating about 4 to 6 people comfortably.
Although I had to set up this table before I could use it, the installation process could not be any faster than I intended. It only took me about a minute or two to put and fasten each piece. The removal is also as fast and easy as the setup procedure.
At first, I was quite alarmed to see some rattling from some of the parts. However, this issue went away after some adjustments to the table's locking system. Plus, adding the tabletop eliminated most of the unwanted motions from it.
The aluminum build is another desirable characteristic. It is quite sturdy and holds up well when I place many cooking items on top of it. At first, I thought it would be heavy, but the 13-pound material is decent for me since it did not demand significant muscle power to lift and carry when needed.
Last, the legs are adjustable. The table does not demand a person to be highly skilled in DIY practices to move each leg to the desired position.
I should mention that I had to make some minor adjustments to secure this table. I placed a bungee cord between two sides to ensure the tabletop doesn't wobble slightly during use. It is not a big deal, but I still wished that this issue did not exist.
What We Like
Sits 4 to 6 people
The installation process only takes about a minute or two
Aluminum material is reasonably sturdy and will hold many heavy items
The 13-pound frame is reasonably easy to lift and carry
Adjustable legs that can move for making fine height alterations
What We Don't Like
The tabletop may move slightly without some minor adjustments
This outdoor campsite table can be a good buy for shoppers looking for an easy-to-carry surface for camping purposes.
8. Camping Table for Outdoor Picnic
This outdoor campsite table struck me as a surprise in a niche filled with aluminum and bamboo variants. Instead of using those relatively dense materials, the makers of this product opted to use a 600-denier canvas secured by a metal frame.
Perhaps the manufacturer decided to use this material to keep the price of this product as low as possible. Its cost is within the budget-friendly range, which can make it an appealing choice for interested buyers on tight budgets.
Still, the 600-denier canvas is reasonably strong. Although bending might occur when placing fairly heavy objects on the tabletop, the fabric does not rip or show signs of significant wear and tear.
I also like that the fabric is easy to maneuver, unlike the likes of steel or wood. In turn, the setup process is fairly quick to complete. It only took about a minute or less to start using the table. Also, no special tools are required for the assembly procedure.
Additionally, I liked that the tabletop comes with four mesh cup holders. It is a nice touch, considering that placing beverage containers on the canvas surface may put them at risk of falls and spills.
If I wished for the manufacturers to change something about this product, it would be the clamps. These components often require some twisting and turning to make them sit correctly.
What We Like
600-denier canvas and metal frame help keep the price reasonably low
Fairly strong fabric does not rip or show signs of wear and tear during use
Easy to assemble and no special tools are required for this process
Four mesh cup holders to keep beverages stable and spill-free
What We Don't Like
The clamps to secure the table might need some maneuvering
Overall, this piece of outside furniture is an excellent side table for different camping scenarios.
9. FiveJoy Folding Camping Table
While other camping tables demand a significant amount of time and effort to set up, this model only takes mere seconds to assemble. The removal process is also as fast as its setup procedure. Once folded, the table turns into a briefcase-like structure with a handle for convenient transport to and from the campsite.
Aside from its easy-to-set-up nature, I also like that this model has three adjustable height options. The choices are 22, 24, and 28 inches. Adjusting the legs' height is also a sufficiently hassle-free ordeal, and they will lock in place without unwanted movements.
Furthermore, the entire table is quite lightweight. At 10 pounds, it is not the heaviest foldable outside table to lift and carry when needed. However, it's not strong enough to be sat on.
Moving forward, I also like that the table's feet come with rubber grips. These components provide optimal traction that helps prevent the furniture from slipping and sliding on damp surfaces.
Finally, the heavy-duty aluminum does fairly well in resisting damage that might otherwise happen because of accidental bumps. Slight nudges to the material do not create dents or scratch the surface easily. Plus, the MDF tabletop surface is waterproof, allowing for reasonably convenient cleaning operations.
What We Like
Only takes seconds to assemble or remove
Easy to transport, thanks to the briefcase-like structure
Three adjustable height options for that extra versatility
10-pound reasonably lightweight construction
Rubber feet provide sufficient grip on damp surfaces
Heavy-duty aluminum frame; tabletop has waterproof characteristics
This product can be the ideal camping table for many outdoor enthusiasts. But it is still wise to pay attention to the overall weight placed on the tabletop to avoid issues.
10. Camp Field Adjustable Camping Table
This adjustable table for camping possesses a unique design that is not commonly present in other outdoor furniture. It has a large storage area underneath the tabletop made from canvas. This extra storage space can hold up to a maximum of 66 pounds, and it adds to the overall weight limit of the entire table.
Additionally, the canvas storage area is also detachable. Therefore, I can remove and store it when I do not need it. Each storage space in this accessory also has a foldable opening that I can close with an included Velcro sealing system.
The installation procedure also does not demand a significant amount of time and effort to complete. It takes roughly three steps to accomplish this undertaking. First, I open the legs. Then, I adjust the height of the legs. Finally, I lock the assembly in place with the built-in lock catch. I can add the canvas bag if I need the extra storage space.
Plus, the tabletop is a waterproof surface. Cleaning spills on it is reasonably easy. Plus, this surface stays fairly flat to prevent unwanted spills from beverages on top of it.
The aluminum alloy construction is also sufficiently sturdy. However, I wish that the other components shared the same or a higher level of ruggedness. In particular, the attachment holding the clip and the storage part is only a piece of fabric, which I am afraid may tear after frequent use.
What We Like
Detachable extra storage space with foldable opening that's sealed with Velcro
The canvas storage area can add an extra 66 pounds to the weight limit
Installation procedure only requires about three steps to complete
The waterproof tabletop surface is easy to clean
Heavy-duty aluminum alloy construction
What We Don't Like
The fabric holding the clip and storage part may tear over time
Ultimately, this table for outdoor camping is ideal for many outside get-together events. It has features and traits that can be pleasing for many interested buyers.
11. Sportneer Folding Camping Table
Unlike other camping tables with foldable features I found, this model surprised me. It is a camping table with storage underneath the tabletop's surface. This functionality allows me to store objects fairly easily without rummaging through my other camping gear for a carry bag.
Installation is also a reasonably easy affair, despite the instructions looking like it would take a long time to complete. The beauty is in the construction because each part snaps securely. The setup also has reinforced locks to ensure the table does not fall apart while being used.
I also like that this table uses a premium and durable aluminum alloy material for most of its parts. This material makes it possible for the components to resist corrosion and rust greatly.
As mentioned above, at the middle of the setup is a mesh layer that acts as a small shelf to hold additional items. It contributes to the table's 70-pounds capacity, which is more than what I need. So, when my activities require fewer items, I leave out the mesh component for a quicker setup.
However, I should mention that the tabletop is not entirely flat. Users should pay attention to the middle section, which is higher than the rest.
What We Like
Built-in storage underneath the tabletop
Reasonably easy installation process, with instructions
Fairly secure setup with reinforced locks
High-quality and durable aluminum alloy construction is resistant to rust
Users can choose whether to use the mesh layer
The mesh shelf adds extra functionality to this folding camping table. This feature, along with its durable construction, makes this piece of outdoor furniture tough to miss for those that want a reliable table for camping.
Folding Camping Tables Buying Guide
Shopping for the ideal foldable camping table requires careful consideration of different factors. Buyers should take the time in scrutinizing their choices to gain excellent value from their purchases. Some of the elements to think about are:
Material
An adjustable camping table may use different materials. A manufacturer may use components like steel, bamboo, or wood. Each material will have its unique advantages and shortcomings.
For instance, small folding camping tables with steel legs can be quite durable. Some steel variants might even be more resistant to damage caused by blunt force. However, this material is generally vulnerable to weather damage, leading to issues like corrosion and rust.
Another material to take note of is bamboo, which is another fairly sturdy component. With bamboo, manufacturers of folding camping table and chairs can make their products as tough as possible without adding significant weight. On the other hand, bamboo camp tables are relatively expensive, which might not be ideal for buyers with tight budgets.
Type
Fold up camping table manufacturers also often make different variations of their products for different purposes. Some types of camping tables on the market are:
Cooking station: There are dining tables for camping trips with multi-functional designs. Some options also come with tabletop grills for convenient cooking and eating experiences.
Dining table: Not to be confused with a cooking station, the dining camp table does not often have a cooking station on top of it. Also, many folding camping tables with this design have large dimensions for feeding large groups.
Accessory table: Often comes with small dimensions, an accessory camping table foldable can also possess different designs and sizes. Some choices may come as side tables while others may be usable as picnic tables.
Legs
Interested customers of folding tables for camping should also pay attention to the furniture's legs. It is an advisable choice to buy a sturdy table with adjustable legs. With this feature, users can easily set up and put away the folding camp table when necessary.
Easy to Install
Many campers might agree that ease of assembly is one of the most important traits of a folding camping table. After all, spending a significant amount of time trying to assemble an outdoor camping table would take away time from enjoyable trips.
Portability
The folding table for camping should also possess a reasonably compact construction. It should be able to fit different vehicles without causing significant issues while in storage.
Take note that a lightweight folding camping table does not immediately possess a portable construction. Potential customers should read reviews about the portable camping table they wish to buy to ensure that the product they want to purchase has the appropriate dimensions for their specific needs.
Price
The price of a camping folding table is often one of the primary determinants if a customer will proceed with the purchase of a specific unit. However, it is worth mentioning that the cost to buy a compact camping table does not always coincide with its value.
In other words, it does not mean that an expensive roll up camping table has a top-notch build quality with first-rate features. Additionally, a fairly inexpensive folding camping table with seats may help some buyers save some money from the transaction and still offer top-of-the-line value for its users.
FAQs
What Folding Camping Table Brand Is The Best?
Oftentimes, choosing the right small camping table might be easy if shoppers consider the product's manufacturer. Some brands established their names within the outdoor adventure niche by putting different products for camping with first-rate qualities on the market.
Three of the many known brands that offer high-quality camping tables are Coleman, Lifetime, and Alps. Coleman has existed for several decades. It is a company offering many products for outdoor use, including coolers, water containers, and folding tables for camping. One fairly famous choice from the brand is the Coleman Pack-Away 4-in-1 adjustable height folding camping table.
As for Lifetime, it started in 1986 with the registered name of Lifetime Products. This manufacturer and its staff have a strong passion for bringing different innovations to different sectors, such as camping, gardening, sports, and other outdoor gear.
Finally, Alps is a fairly new camping and mountaineering company, particularly when compared to Coleman and Lifetime. However, Alps is already quite popular for many outdoor adventure enthusiasts because of its dedication to developing and offering camping gear, such as the Alps mountaineering dining table.
Why Do I Need A Folding Camping Table?
Different benefits are in store for a camping enthusiast that uses a quality foldable camping table. Some of these advantages are:
Light weight: A lightweight camping table reduces or perhaps even eliminates the need to exert significant effort to set up and remove the furniture to and from outdoor sites.
Versatility: Despite having a primary use for outdoor environments, a small camping table with noteworthy features and traits may also be usable indoors. It may also be possible to use one as a side table or home dining table.
Durability: With the right build and materials used, a camp table can last for a long time. Take note that owners should still use proper maintenance practices to help extend the life of the furniture.
Extra features: Certain portable tables come with extra features to help enhance outdoor living experiences. Some of these additional options may include (but are not limited to) a paper towel holder, extra storage space, and cup holders.
How Do You Build A Folding Camping Table?
DIY enthusiasts may create a compact package of a camping table for their outdoor adventures. But before proceeding with this project, individuals need to ensure they have sufficient confidence and knowledge for this undertaking. Otherwise, the resulting furniture may possess subpar properties that make it prone to issues.
For those who want to proceed with this job, here is a short guide to make a DIY portable table for camping:
What You'll Need
Saw
Power drill (with appropriate drill bits)
Wooden boards and planks
Wood glue
Foam brush
Speed square
Bolts and nuts
Step-by-Step Guide
Cut the lumber to size using the saw.
Measure and saw the rails and legs to size.
Drill holes on the legs and mark them for the screws or wooden braces.
Cut and attach the slats to the ends of the table rails.
Attach the table legs to the table. At this point, you can make it into a foldable table or opt for a static build.
If you choose to build a folding table for easy setup and storage, install a cross-brace system using dowels.
Add a finish or stain on the wooden camping table. Then, let it dry and cure before taking it on outdoor trips.
You can also choose to build a camp chair to go with the table. However, ensure that this piece of furniture has sufficient stability to hold the weight of its user on uneven terrain.
Where I Can Buy A Folding Camping Table?
Interested purchasers of folding camping tables can generally choose to buy these pieces of furniture from either online or offline retailers. Take note that each option has its distinct pros and cons.
Pros of Online Shopping
Immediately view the possible look and finish of the product without leaving home.
Shop anytime and anywhere, provided that the device used for online shopping has a decent Internet connection.
Secure payment transactions from trustworthy suppliers.
Compare and contrast different tables before finalizing the purchasing decision.
Cons of Online Shopping
It can be tough to verify the quality of the product.
The need to wait for the table to arrive at the property.
Folded dimensions might not be exact.
Conclusion
Finding the best folding camping table can be easier than expected after reading this post. It is important to take note of the different factors to consider to ensure great value from the purchased product.
However, I recommend shoppers purchase the Portal PR-TA-581 Outdoor Portable Folding Camping Table. It presents users with many benefits, including a collapsible and easy-to-store design and secure locking clips.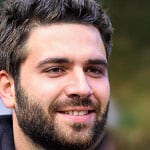 Hi, I am Joseph. Carpe diem! Seize the day! That's always been my life motto. If you haven't seen some of the most beautiful places in the country, you are missing out on incredible adventures.