Summer camping should always be a fun, delightful experience for the whole family. But if you don't have the best RV air conditioner, these trips can turn ugly quickly. It's the only thing capable of keeping those hot temperatures from entering the RV.
But how does a person find the perfect RV AC unit for their rig? Our buying guide will offer a detailed answer with several extensive discussions about these products.
I'll begin this process with 16 reviews of my favorite RV AC units. These reviews will offer a picture of the available options and their respective features. Each discussion should help create a baseline of what your particular choice might look like and offer.
Best RV Air Conditioner Reviews
1. Dometic B57915.XX1C0 Brisk II Rooftop RV Air Conditioner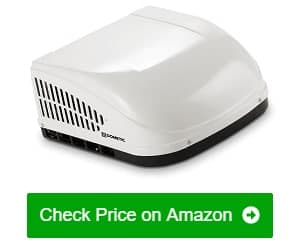 Dometic's B57915.XX1C0 Brisk II RV Rooftop Air Conditioner is an excellent way to start these reviews because it's genuinely one of the best options available. After all, it's commonly known as among the most efficient and reliable choices for RVers.
One primary reason for this excellent performance would be its high-quality, durable design. Dometic has designed this air conditioning unit with improved materials over their previous models. It has allowed the appliance to increase its air flow by 15%.
This attribute might not seem like a massive deal, but it makes a huge difference. I was deeply impressed by the quickness of this AC unit's ability to cool down my RV. It's on another level compared to other small RV air conditioning units.
I also loved this product's lightweight construction, considering it won't add much weight to the ur rig. It'll make the installation easier as it won't be overly taxing to get onto the roof. In fact, Dometic reports this AC unit to be 19% lighter than their previous options.
Buyers will have a choice about the AC unit's number of BTUs (13,500 BTUs or 15,000 BTUs) and color scheme (black or polar white). I would find myself going with the 15,000 BTU RV air conditioner and the black coloring. Both these qualities mesh with my Class A motorhome perfectly.
However, even with these excellent features, this unit struggles with the noise level. It's not an overly burdensome sound, but it was noted a few times in this product's reviews. You'll have to find a way to drown out the sound, or a headache might rear its ugly head.
But honestly, I can deal with it by doing something like playing loud music. In any case, this noise pollution shouldn't stop anyone from considering this highly efficient Dometic RV air conditioning unit.
2. MaxxAir 00-325001 TuffMaxx RV AC Shroud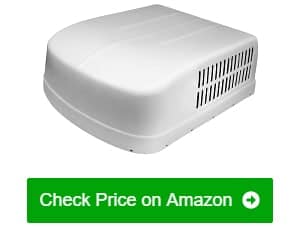 For people who are looking for an AC shroud replacement rather than an entire AC unit, MaxxAir's 00-325001 TuffMaxx RV AC Shroud is a good fit. It won't have any issues replacing covers for Coleman Mach 11,000, 13,500, and 15,000 BTU air conditioner covers.
Users will then benefit from its high-quality plastic construction. This material provides the product with a thickness made for dealing with the RVing lifestyle. This product offers UV-resistance to stop sun rays from breaking it down.
As a result, it becomes a perfect fit for someone who loves traveling in humid climates like myself. It should help prevent an RVer from having to buy a new AC shroud for a long time. Plus, its construction was made to stop lid fluttering by stopping wind drag when encountering high winds or driving.
Installing this shroud couldn't be easier, either. Most customers end up feeling the task was much simpler than expected. I don't blame them, as the entire process consists of removing the old cover, lining the bolt holes, dropping it into place, bolting it back onto the unit.
The product comes with included foam pads, too, which are endlessly helpful. We can expect these pads to seal our cover's rear and allow for better air flow through the fins. In other words, it'll ensure a more optimal user experience than with an old shroud provided.
I only wish it didn't have those ugly stickers on its construction. It takes away from the shroud's low profile design, which a few customers noted in their reviews. These same buyers also reported the stickers being tough to peel off.
But if stickers are an AC shroud's only issue, it points to the product being high-quality. Its durability and UV resistance alone more than make it worth the time. It shouldn't have a single issue remaining usable for several years without any signs of wear or tear.
3. ICON-1544 Dometic Duo Therm RV Air Conditioner Shroud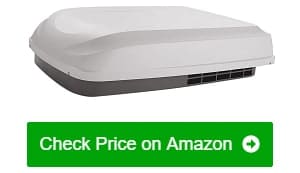 The ICON-1544 Dometic Duo Therm RV Air Conditioner Shroud is another solution to replacing a broken AC roof unit cover. It contains a durable, top-tier construction that'll fit seamlessly on any Dometic Brisk air conditioner.
Once it's installed, buyers can rely on high-quality performance. I was delighted to see it was made from high-impact UV-resistant material, as it'll make sun damage a non-threat. There's no reason to believe this product won't last several years without any signs of breaking down.
The cover also has a lightweight design to ensure the install process isn't stressful. It only weighs 5 pounds, which should be easy for one person to bring on their roof.We can then replace our used RV air conditioner cover in a matter of minutes.
It comes with a lifetime warranty to ensure we'll never be without a high-quality cover. We don't often see policies with this number of years when it comes to AC shrouds. I'm not going to complain, though, as it'll ensure I never have to worry about not having access to one.
This product's polar white construction is another highlighting trait. I can't imagine a situation where it wouldn't mesh perfectly with a motorhome's exterior. Plus, it won't be an ugly eyesore on the rig's roof as it's relatively low profile compared to other available options.
However, buyers will have to pay a bit more for this AC shroud than others on our list. It's actually among the most expensive shrouds on the market. It also took me a while to decide whether its excellent performance and durability are worth the asking price.
I'd find myself more than willing to pay the extra cost. Its lifetime warranty, durability, and easy installation process mesh perfectly with what I'm looking for in any RV AC shroud. ICON did an impressive job designing a high-quality option that most RVers seem to love.
4. Dometic 640315C Penguin II Rooftop RV Air Conditioner
Anyone who wants a low-profile option should consider the Dometic's 640315C Penguin II Rooftop RV Air Conditioner. It contains an aerodynamic, unobtrusive design that will keep it from being too much of a visible burden.
RVers will also love that this aerodynamic design offers top-level fuel efficiency and reduces wind drag. As a result, this Dometic low profile RV air conditioner becomes rather convenient. I'm always looking to save money in any possible way, and its fuel-saving construction certainly helps.
I was thrilled that this rooftop unit has a low operation level, as well. Multiple customers reported it being a lot quieter than their previous experiences with RV units. This ability seems to come from it being capable of optimizing air flow balance that reduces noise pollution.
Users should be pleased to hear it has a reputation for being easy to install. It's not overall shocking because Dometic made the device to fit both non-ducted and ducted cooling systems. It's another convenient feature that provides a little more versatility than other models.
I found myself loving this Dometic Penguin II model's 2-year warranty, too, which offers some solid protection. I'm always going to recommend buying AC units with these policies. It's a simple way to ensure I'm not left out in the heat without a working AC unit.
Buyers will enjoy the product's 13,500 BTUs, which should cover most rigs with ease. If the vehicle has 100 sq ft to 550 sq ft of interior space, this number of BTUs will be more than efficient.
Some customers did report shipping issues with this option, though. In these cases, the air conditioning unit's shroud arrived cracked or in damaged packaging. But these reports weren't overly common and shouldn't cause a buyer too much worry.
Overall, this product's aerodynamic design and performance quality are top-tier. It's easily among the best 13500 BTU RV air conditioner units available.
5. Coleman Mach 3 Plus 48203C966 RV AC Unit
One of the most effective options would be Coleman's Mach 3 Plus 48203C966 RV AC Unit. Its 13,500 BTU cooling capacity will have no issues sending air wherever it's needed. More importantly, its ability to dissipate heat is second-to-none in this marketplace.
You can attribute this aspect to its impressive construction. Coleman fitted this air conditioner with raised lance fins, a massive evaporator, and high-quality condenser coils. These aspects have proven to get rid of heat within a vehicle without any issue.
As a result, users can sit back and enjoy their time onboard an RV in the summer. I no longer have to wake up and be dripping sweat like I would without a top-level AC unit. Multiple customers even made a point to note how cold the air was compared with their previous air conditioners.
I found myself intrigued by this AC unit's durability, as well. This appliance's construction comes with brazed joints and copper tubing to ensure longevity. Due to this, there's no reason an RV user should expect this air conditioner to check out after only a year or two.
The included AC shroud was another aspect to catch my attention. It's made from high-grade plastic that'll protect the air conditioner from any would-be dangers. In other words, it'll help keep the product's condenser coil and other components in excellent condition.
But anyone who buys this air conditioner will require the help of a second person to install it. It weighs 90 pounds, which can make moving it a massive burden. Ensure a family member/friend is around when the product arrives or calls in an HVAC/electrician professional.
Aside from its heavy construction, there isn't else that I dislike about this RV air conditioner. It makes sure that my rig becomes cool even on the hottest days without breaking a sweat. What more could an RVer want in these appliances?
6. ASA Electronics ACM135 13,500 BTU Rooftop AC Unit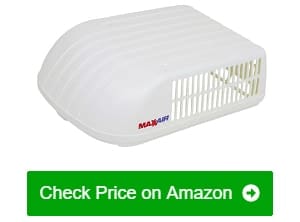 RVers will want to take a long look at ASA Electronics's ACM135 13,500 BTU Rooftop AC Unit. It was designed mainly to deal with the wear and tear of RVing. Therefore, there shouldn't be too many surprises when it comes to its overall durability.
Several design aspects point to this increased durability, such as metal base pan and watertight vent gasket. Both these components shouldn't have any trouble keeping my AC unit protected from external elements like debris or weather conditions.
This air conditioner's three fan speed system was another appealing attribute. It provides a great deal of control over the product's overall user experience. Due to this, buyers won't have much trouble finding a cooling output that fits their particular situation.
I overlook it being fitted for optional plug-in heat strip installation, but I was wrong. This add-on feature helps me get some much-needed heat when the weather gets unexpectedly cool. In fact, I could see it being a helpful feature on those spring nights when temperatures drop to 40 or 50 degrees.
Some other notable features include 13,500 BTUs, 50-pound construction, an affordable price tag, and six foam support pads. As you might imagine, each of these inclusions will make a buyer's life easier when purchasing this unit.
I was a little disappointed to read some customers had issues with the control knobs. In these cases, the knobs come off relatively easily, which isn't ideal for an RV AC unit. Users will need to be careful when using the device as a way to avoid this potential problem.
Aside from the need for some extra care, this small RV rooftop air conditioner more than meets my expectations. Its impressive cooling power and affordable price are a hard combo to beat within this marketplace of RV products.
7. Furrion Chill FACR14SA-PS RV Rooftop Air Conditioner
Our next option, Furrion Chill FACR14SA-PS RV Rooftop Air Conditioner, is known for its outstanding energy efficiency. It's a reputation that stems from its 2-fan construction considered 25% more efficient than the best single fan options.
In simpler terms, this RV air conditioner will offer a cooling effect that cools down the rig much faster than most available products. I was also impressed with this air conditioner's usage of VibratationSmart Technology as it reduces vibrations by a significant margin.
The limited vibrations will help ensure this Furrion Chill roof unit runs a lot quieter than expected. As someone who gets headaches from almost anything loud and abrasive, I can't stress how much this aspect would benefit my life.
I didn't have to call in a professional when installing this 14,500 BTU unit. It offers a simple bolt-on installation and a detailed, well-received instruction manual. Both these accessories will make setting up this product a breeze.
Moreover, Furrion Chill designed this product to be lightweight to prevent moving it from being too taxing. It's another attribute that ensures the installation won't be a nuisance. The product's design is also aerodynamic, which will offer excellent resistance against wind drag and improve the vehicle's performance.
Buyers will benefit from its 2-year warranty and Furrion Chill's ClimateSmart technology, as well. Both these accessories should ensure the air conditioner remains in use for a long time. I doubt anyone who buys it will be replacing the unit any time soon.
A few customers did note packaging issues with this option, though. Some fellow buyers received their air conditioning unit with a damaged cover and broken screw attachments. Thankfully, a 2-year warranty is in place to fix these issues.
More importantly, it was only a small number of people who encountered these issues. It seems like isolated incidents rather than a grave trend. Honestly, I'd have complete confidence in purchasing this unit even with this slight risk.
8. Coleman Mach 3 48203c866 Plus Air Conditioner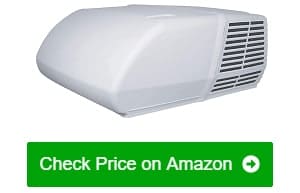 Coleman's Mach 3 48203c866 Plus Air Conditioner is one of the most reliable 13,500 BTU AC units available. Its 13,500 BTU cooling output can cover a great deal of space within a travel trailer that should dissipate a fair amount of heat.
Given this information, the RV's interior space will become a relaxing and comfortable space for everyone onboard. We will no longer have to experience those awful sweaty, sleepless nights with this AC unit doing its job.
The 2-fan construction will deliver an impressive 320 CFM (cubic feet per minute) air flow rating, as well. It's a vital aspect because this attribute helps cool a motorhome in record time. The rig will become habitable again rather quickly when this AC unit is working the case.
As with our previous Coleman option, this model comes with an opportunity to add a heat strip to deal with those cold spring mornings or nights. It's a rather impressive 5,600 BTU one, too, which should provide a decent amount of heat when required.
I did not have much trouble with installation, either. Coleman designed this product to work the standard 14″ roof vent. As a result, the entire process becomes effortless and shouldn't take much time for even a newbie RVer.
A few other beneficial features worth mentioning include all-copper tubing, brazed joints, a nice white color scheme, and a low profile design. Honestly, there aren't many bases that Coleman failed to cover with this best RV air conditioner.
The only slight downside was its noise level, which some customers pointed to as an issue. But every AC unit ever made will make a little bit of noise. I don't think a buyer has anything to worry about, considering after a week or two, it'll become unnoticed background noise.
Overall, it's another solid AC unit from Coleman that could benefit any RVer.
9. Advent ACM150 RV Rooftop Air Conditioner
The Advent ACM150 RV Rooftop Air Conditioner can make an RVers life much easier with its insanely easy installation process. It comes with every piece of hardware and accessory needed to get the job done. If these attributes weren't enough, the included instructions have received rave reviews.
Instruction manuals are rarely praised within customer review sections. Most people use those sections to discuss them as being frustrating. But Advent clearly took their time and provided an actual usable and helpful manual.
RVers should be thrilled by this product being made from 14.25″ x 14.225 vent opening, as well. These measurements tend to the standard of what you'll find on RV rooftops. It's another critical contribution to what makes this air conditioner easy to install.
Aside from the simple installation, this product's performance isn't anything to overlook. It offers 15,000 BTUs of cooling power, which explains why my rig becomes comfortable so quickly. I was also fond of the three fan speeds that provide the user with a bit of control.
I have no worries about this AC unit breaking down anytime soon, either. It was constructed from heavy-duty materials that can withstand RVing with ease. After all, it was built and tested against the worst weather conditions to ensure its durability.
There were one or two concerns about the product's included knobs. Some customers reported these knobs didn't fit into their respective holes. In these cases, a buyer might need to drill cover holes to assure these knobs can work properly.
But honestly, most people were delighted with this AC unit's performance and convenience. I'd expect these knob issues are isolated problems rather than widespread ones. Buyers of this product should expect it to meet their needs without much trouble.
10. Coleman Mach 15 48204C869 RV Air Conditioner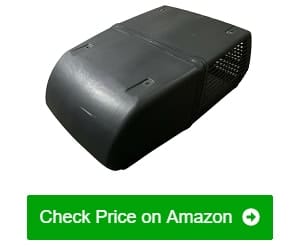 Coleman managed to land another RV air conditioner on our list. In particular, Coleman's Mach 15 48204C869 RV Air Conditioner earns its way onto our list with several notable features like its ⅓ fan motor.
This aspect is an essential one because it happens to be the largest used in RV ACs. Due to this, it'll deliver its impressive 15,000 BTUs of cooling power at an incredible rate, making it an excellent fit for ducted systems. It should cool down even the stuffiest, most humid RVs in a short period.
I think its exceptional performance is attributed to the design shape. It uses the same construction that increases the cooling power of every Coleman Mach RV air conditioner. The customer reviews back these claims up as multiple people praised its overall effectiveness.
I found myself intrigued by its Eco-friendly R-410A based system. Its usage won't harm the planet or cause any hazard issues like the old R-22 models. As an environmentally conscious person, I'm always looking for products and brands that take the earth into account.
The product's stylish, black color scheme was another thing to catch my attention. It would look great sitting on top of my RV's roof and won't take away from its appearance. All in all, it ticks off almost every box an RV could want in an AC unit.
Although, this Coleman Mach product was another option hampered by shipping issues. A few customers made the point to report their product arriving damaged or in a lousy package. It's not a great look for a company with an excellent reputation like Coleman.
In any case, it still wouldn't stop me from considering this option. It's easily in the running for the coldest RV air conditioner with its impressive cooling power.
11. RecPro RP-AC3800 Non-Ducted RV Air Conditioner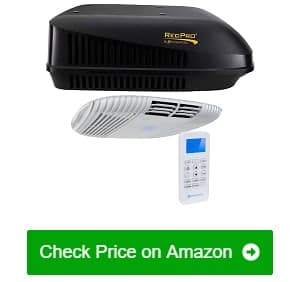 RVers looking for an impressive non-ducted AC unit must take a gander at RecPro's RP-AC3800 Non-Ducted RV Air Conditioner. It's known for running at a much lower noise level than its competing air conditioners.
After all, the indoor sound level doesn't even go over 60 decibels at high speed. This is lower than what I expect from most normal conversations. It's certainly much better than what most other 15,000 BTU air conditioners can offer.
I was also thrilled to see this model draws a lot less electricity than other units. It'll end up saving both money and power for use on other RV appliances. Therefore, this product ends up being relatively user-friendly for the person lucky enough to buy it.
This user-friendliness only increased when accounting for its remote control. Users won't even need to leave a sitting position to control their AC unit. As a lazy person myself, this attribute could be any more suited for my preferences.
I like that I get a little bit of choice regarding its color like some of our other reviewed products. In this case, it's a selection between white or black. This small choice gives the air conditioner a bit wider of an audience base than similar models.
But I do have to admit that this non-ducted AC unit is a little more expensive than expected. It's actually among the most expensive options on our entire list. We will need to think about whether its provided features are worth a good chunk of our savings.
Overall, most people end up thinking the price tag was worth the product's performance. They seem to enjoy the convenience and low power consumption provided by it. I can't say that I would feel any different as this model does look to be perfect for my needs.
12. Dometic B59516.XX1CO Brisk Air II RV AC Complete ND System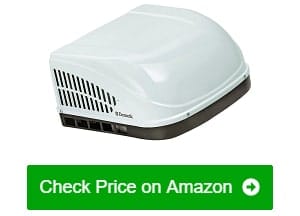 Dometic's B59516.XX1CO Brisk Air II RV AC Complete ND System is another non-ducted option that comes with everything needed to install it. In other words, I won't have to order any additional seals or gaskets when installing this air conditioner.
The entire installing process doesn't take much effort, either. Most buyers find the task takes a little less than an hour based on the customer reviews. It's not too shocking as it fits directly into a 14″ x 14″ vent opening for optimal convenience purposes.
More importantly, this Dometic 15,000 BTU air conditioner has a known reputation for providing extremely cold air. It would be an ideal fit for RV who intend on traveling to more humid or tropical climates like Florida or any other southern state.
I find this Dometic Brisk II RV air conditioner to be a little more lightweight than expected. It only weighs 79 pounds, which is considered not too outrageous for AC units. I could see a single person getting it onto their RV's roof without needing help.
The product comes with a built-in heat strip, which is another nice touch. Some of the previous options offered space for adding on this aspect down the road. But Dometic beat them all to the punch and put it into their initial design for a more functional air conditioner unit.
However, I was disappointed to see there wasn't any mention of a warranty. It seems like an oversight by Dometic as it would provide the device with another appealing attribute. It's always a nice feeling to have one of these policies in my back pocket.
But this model's performance quality and impressive features make this warranty issue not matter as much. The product seems almost hilariously capable of making the RVs a more comfortable and relaxing place while traveling.
13. Coleman Mach 3 Plus 48203C969 RV Air Conditioner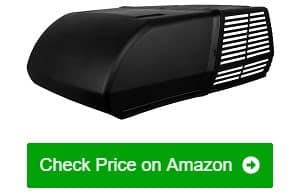 Buyers would be doing themselves a disservice if they didn't consider Coleman's Mach 3 Plus 48203C969 RV Air Conditioner. It's not the flashiest Coleman air conditioner, but it does its job effectively without providing any hassles.
It happens to be the second most potent AC unit provided by this brand. The product's cooling power will meet most RV's expectations without much trouble. Its massive evaporator, raised lance fins, and condenser will remove heat from even the largest RVs.
We can also expect excellent customer service and shipping from Coleman. These attributes were mentioned more than once in this RV air conditioner review. Some buyers even noted the product arrived much earlier than expected, over ten days in one case.
Aside from these features, it has several that have become synonymous with this brand's product. Some of them include a durable AC shroud, copper tubing, 320 CFM flow rate, room for a heat strip add-on, and a low noise operation.
The Coleman Mach 3 Plus might not have any outlandish or advanced features. But its reliability and performance quality still has no trouble matching the best options available. I haven't seen many buyers with a negative thing to say about it after it's installed.
But the installation process does get a bad rep because the AC unit weighs 95 pounds. As you can imagine, it's not an easy thing to carry up onto an RV's roof. It ends up being a mild inconvenience that shouldn't take away from its other impressive qualities.
After all, this inconvenience is a one-time deal. I also avoid it entirely by hiring a professional to do the install. Therefore, it's not an issue that should prevent buyers from seriously considering this Coleman Mach air conditioner.
14. RecPro RP-AC3400 Non-Ducted RV Air Conditioner
The RecPro RP-AC3400 RV Air Conditioner has become a favorite among RV users for several reasons. An advantage would be its ability to use fewer amps than you expect from a 13,500 BTU model.
It is a pivotal aspect because it helps RVers save their money and energy. Therefore, it's not too shocking RV owners have grown a liking for this air conditioner. But the lovefest doesn't stop with this product's energy-efficient design.
RV users will benefit significantly from its flow rate of 318 cubic feet per minute. It'll ensure cool air gets spread out throughout my RV and keep those summer days tolerable. I can't imagine many RVs, which would be cooled down almost immediately by this unit.
RecPro did an excellent job keeping the using process straightforward, as well. It comes with an included remote control that allows users to set their AC unit settings without much effort. Other available units make this challenging as I had to climb my rig and adjust the knobs.
Moreover, this option follows the same path as our previous RecPro AC unit when it comes to noise operation level. It's among the quietest air conditioners around for RVs while remaining ultra-effective. This configuration sounds like a perfect combination to me as an RV owner.
The option does have one downside worth considering for each buyer. It's our most expensive option by a relatively wide margin. It shouldn't be too shocking, considering its many outstanding aspects, but still worth noting for potential buyers.
RecPro certainly made it an attractive enough option to warrant this price tag, though. This non-ducted RV air conditioner is well-crafted and effective in every aspect. Most buyers end up more than happy with their decision when purchasing this RV AC unit.
15. Dometic 640310CXX1J0 Penguin II RV Air Conditioner
For campers who need small camper air conditioners, Dometic's 640310CXX1J0 Penguin II RV Air Conditioner is an ideal fit. This option offers an acceptable 11,000 BTUs that should efficiently cool a smaller rig.
Rig owners with Class B RVs or camper vans would benefit significantly from its usage. It has several attributes that make it one of the best small camper air conditioning units available. One high-quality example would be its universal fit construction.
This attribute allows it to fit into most RV roofs without much issue. Honestly, the Dometic Penguin II seems to value simplistic over everything else. Its straightforward controls are another aspect, which showcases its user-friendliness.
I also noticed the low-profile construction of this Dometic Penguin II model. It'll be located on an RV roof, but nobody will ever see it or consider it a blemish on my RV's appearance. The product will instead blend into its surroundings and remain unnoticed.
As with most Dometic air conditioners, this model comes with an aerodynamic design. This aspect helps RVers save fuel and make their rigs drive more efficiently. I'm always going to appreciate a company that takes time to figure out ways to reduce fuel costs. Dometic certainly excels in this area with their Penguin II air conditioner.
Some customers were a bit confused about whether this model came with a heat pump. It seems like the air conditioner doesn't, based on Dometic RV air conditioner reviews. Due to this, it becomes a rather annoying blemish on an otherwise excellent product.
If I wanted an air conditioner with a heat pump, I'd need to look elsewhere. But anyone looking for small camper air conditioners should find this one acceptable. It shouldn't have much issue making the life onboard an RV more bearable.
16. RecPro RP-AC3800-D Ducted RV Air Conditioner
Our final product, RecPro RV Air Conditioner, is one of my favorite options because it doesn't hold back in any area. It outpaces or matches most RV air conditioners concerning its features without any issues.
For instance, this 15,000 BTU model comes equipped with both cooling power and a heat pump. It provides the best of both worlds, which allows me to control the RVs interior temperature easily. It's a suitable applicant for almost any weather conditions.
RV owners can even get up to an impressive 875 square feet of temperature control with this product. As a result, controlling the conditions on an RV will be a piece of cake. It'll make sure the climate inside the RVs is perfect and relaxing.
This air conditioner's 2-year warranty was another massive highlight. RecPro has a known reputation for being a top-tier RV product company, as well. There's no reason to believe that the brand won't honor this agreement.
It also has several other RecPro air conditioner staple features like a remote control, low operation level, and a small amp draw. Honestly, if there's a feature any RVer wants in an AC unit, the brand thought of it and put it into this fully decked-out air conditioner.
Users will need to use this product's thermostat rather than one already in their RVs, though. It's the only way the air conditioner will work to its full effectiveness. As a result, it could be a nuisance for some RVers who aren't too keen on replacing their thermostats.
But I don't mind dealing with this slight issue. Its long list of excellent features and outstanding product quality more than makeup for it. I had a hard time finding a more equipped 15000 BTU RV air conditioner ducted unit available.
Best RV Air Conditioner Buyer's Guide
Finding the best RV AC unit will come down to several different factors. I'll provide context to each of them below, which will make choosing an option easier. You'll soon become an expert on everything about RV air conditioners.
BTUs or British Thermal Units
An RVers starting point should be BTUs (British Thermal Units) when choosing a camper AC unit. These measurements refer to an RV AC unit's power consumption per hour. It's a key component in someone trying to find a suitable choice for their RV.
Honestly, an RVer who doesn't know the required BTUs for their rig will have difficulty finding the perfect option. Buyers who choose a higher BTU amount than needed will spend more on something they don't need.
It's not a wise move to choose the biggest RV air conditioner available unless it's required for your RV. It'll just hurt your bank account in the long run. After all, the device will suck up more energy than needed and be a wasteful device onboard your RV.
It's just not the desired situation for anyone who's looking to purchase AC units for RV usage. Buyers who choose an air conditioner with too few BTUs aren't doing their bank account favors, either.
These AC units would have to run longer than usual and might not cover your entire rig with much-needed cold air. Given this information, I'd recommend putting some serious thought into your ideal BTU amount.
It's also advisable to use the 13,500 BTU guideline when choosing an RV unit. This amount is the standard for these products. If you intend on traveling to hotter climates, get an air conditioner with more than 13,500 BTUs.
But RVers who don't use their AC units a lot could get away with buying a unit with a small RV air conditioner that offers less than 13,500 BTUs, such as a 11,000 BTU or 5000 BTU RV roof air conditioner.
Every RV air conditioner will produce noise when being used. It's an occupational hazard to wanting cold air inside your vehicles during those hot summer days. But some AC units will be much quieter than others available for purchase.
As a result, buyers should do extensive research into this area when choosing one. I'd recommend trying to locate a practical option with a low noise operation level. It'll make everyone's life onboard your RV more comfortable and less stressful.
You can check on this area by checking each model's decibel rating. These measurements represent the amount of sound an RV air conditioner makes during usage. As you imagine, each unit will have a slightly different numbered rating to indicate whether it's louder or quieter.
Most RV air conditioners will produce a noise level between 35 and 80 decibels. In comparison, a conversation among two people usually falls around anywhere from 40 to 60 decibels. I'd recommend choosing a model that keeps the number under 65 decibels to ensure a user-friendly experience.
You should also look into the upgrades that can help reduce the noise made by AC units for travel trailers. For instance, some RVers place noise-absorbing material like rubber around the device to keep the sound level down.
RVers won't want to buy an air conditioner with a complicated installation process. It'll only make your life a nightmare and require you to fork over money for a professional. If possible, you'll want to choose a unit that's installable all by yourself.
Look for units with a reputation for having an easy-to-follow manual while coming with all essential hardware. These two attributes will play a massive role in whether an RVer can install an AC unit by themselves.
Each motorhome air conditioner reviews will provide some insight, as well. These resources will offer a detailed account of how other people felt about the installation. You can quickly determine whether it's possible to do with your particular talents.
You'll want to find the most efficient RV air conditioner possible. After all, AC units tend to consume a lot of energy onboard RV vehicles. It can be an issue for off-the-grid campers who utilize small power sources like portable generators.
More importantly, an efficient AC unit will help save you money by reducing its power consumption. I'd also suggest ensuring your chosen model is Eco-friendly as we never want to hurt our planet. If you intend on traveling to a different country, make sure your AC unit works with their particular power sources.
Your RV's air quality is a key component in a comfortable traveling experience. In fact, poor air quality can be a dangerous health hazard, especially for allergy-ridden individuals. Some AC units will offer built-in air purifying systems to help with these issues.
Buyers can also expect them to do a much better job at removing odors than other units. As a result, these air purifiers will help keep your RV's air fresh and clean. But these models will cost a bit more than a standard model. You'll have to determine whether their benefits are worth the higher price tag.
Some AC units will provide the capabilities of offering heat and cool air. It comes from their inclusion of a built-in heat pump. Due to this, these units can be endlessly helpful during those nights when it gets a little too nippy outside.
These heat pumps shouldn't be seen as a solution for winter conditions. However, they do a great job keeping things comfortable when it drops down to 40 or 45 degrees on a summer or spring night. It's just another feature to help keep your RVing life more bearable.
But like with an air purifier, built-in heat pumps do raise the costs of AC units. You'll have to think about whether their ability to offer heat is worth the higher investment.
As with any product, the price tag of each model will be an essential consideration. You'll need to build a budget based on your wanted features to ensure a smooth buying process. For instance, if you want an AC unit with a heat pump, your budget will need to be higher.
Accounting for these features in a budget helps keep it realistic. This resource will then help reduce the number of choices down to a more manageable number. Due to this, the entire buying experience becomes a lot less stressful.
FAQs
In our FAQ section, I'll try to answer any remaining topics that might have a role in your final buying decision. These discussions should be vital resources in ensuring you're capable of making a smart, responsible final choice.
Who is this for?
RV air conditioning units are for anyone who is looking to keep their RV vehicles cool. In other words, warm weather or summer time RVers will need to obtain a top-tier option. It's the only effective way to keep living on RVs from being torture during hotter temperatures.
What are the different types of RV air conditioners?
Most RV air conditioners can fit into one of two categories, either they're a non-ducted RV air conditioner unit or a ducted RV air conditioner unit. You'll need a handle on the benefits for both options to help determine what one best suits your needs,
Non-Ducted RV Air Conditioners
A non-ducted RV air conditioner is the simplest type available. These models are installed through a hole that's cut into your rig's roof. In most cases, non-ducted will often be built to fit into pre-existing vents on an RV roof.
These units will feature a condenser, blower, and compressor within their design. Each of these parts is packaged together in an aerodynamic construction, which will sit on your RV's roof. It'll then work by blowing air out of the device itself.
The air will then get sent through opened or closed vents, which will send it wherever it's needed within your vehicle. Most RVers find non-ducted units to work best in smaller RVs that don't require air distribution over large spaces.
Ducted RV Air Conditioners
Ducted RV air conditioner units are a bit more involved than your standard non-ducted options. These appliances will have the same component that gets bolted onto your roof like non-ducted options. But there isn't a control unit located inside your vehicle.
These units control onboard temperature by passing cool air via a duct cooling system that pipes through your walls, floor, or ceiling. You can also have multiple ducted units set up throughout your RV for more cooling capacity.
As a result, these ducted units can control the temperature in multiple locations at once. You'll be able to manage these areas using a control panel inside your RV.
How do RV air conditioners work?
RV air systems haven't changed much since their initial inceptions. Your AC unit will run on AC power provided by a 120-volt socket that you plug into shore power or a generator.
In most cases, your RV will have air conditioner vents on its roof. Your AC unit utilizes these vents to provide excellent cooling capacity, even when you're driving. The actual cooling effect works a lot like you'd expect a fridge to function.
Air conditioners don't necessarily cool down the room but remove heat and displace it outside. It's a simple method of keeping your vehicle from being a confined sweatbox. There are a lot more details about how each collective part works together to produce this cooling effect.
But this general breakdown is all an RVer needs to know when choosing their AC unit. The main idea is these appliances work to keep those summer days bearable onboard rigs. And the best RV air conditioner units will have no issues meeting that goal.
Advantages and disadvantages of using air conditioners
RV air conditioners come with a unique set of benefits and downsides. This section will tell both sides of the story to provide insight into what makes them an essential purchase. You can then determine whether buying one represents an intelligent move for your needs.
Advantages
Offers a More Convenient and Comfortable Camping Experience: The weather conditions around your RV won't always be cooperative. These units will make your life a lot less burdensome when temperatures reach those intolerable levels. It's why RV AC units are a necessity onboard any rig.
Helps Get the Most From Your RV: A high-quality air conditioner will make spending time inside your RV a lot more pleasant. After all, its cooling effect will help ensure your sleep sessions are more productive and provide a homey feeling when traveling.
Provides Fresh and Clean Indoor Air: Air quality is an integral part of living in an RV. These units will help ensure it's as clean and fresh as possible. As a result, dust and allergens won't have a significant impact on people within your vehicle.
Disadvantages
Expensive: Air conditioners aren't cheap appliances by any means. Even small RV AC units will require spending a sizable chunk of your savings.
Who makes the best RV air conditioners?
The top RV air conditioner brands will provide excellent customer service and product quality. RVers should do everything in their power to find a company that can offer both. I provided a solid list of potential examples in our product review section.
Each one of those brands has proven to be a trustable one for RV owners. If you purchase an AC unit from them, I'm confident that this process will end with a smile on your face.
How many BTUs do I need for my RV?
The required BTUs for an air conditioner will depend on your RV's square footage. Here's a quick rundown of general guidelines concerning these factors:
100 sq ft to 300 sq ft RVs: requires a 5,000 BTU to 7,000 BTU RV air conditioner
300 sq ft to 550 sq ft RVs: requires a 8,000 BTU to 12,000 BTU RV air conditioner
550 sq ft to 1,000 sq ft RVs: requires a 14,000 BTU to 18,000 BTU RV air conditioner
If you stick to these guidelines, picking the right BTUs shouldn't be difficult. You'll then have a reliable AC unit that's capable of keeping you cool during the summer.
Can I run my RV air conditioner on battery power?
An RVer can run their AC unit using only a battery, but they'll need to make several preparations. In other words, you'll need generators, solar panels, extra batteries, and other materials to make it work properly. It's a bit of a burdensome task that doesn't make sense for anyone but full-time RV users.
How much does it cost to install an RV air conditioner?
The installation of an RV air conditioner will vary significantly from model to model. But paying a professional to set up the standard RV rooftop AC unit will usually cost between $200 and $600. It's a steep asking price, which is why I recommend trying to find one you can install yourself.
How long do RV air conditioners last?
The longevity of an RV air conditioner unit will depend on three factors: its durability, how often you use it, and the weather conditions when it's used. But if maintained properly, a high-quality unit should last several years or even a decade without much issue.
Any care and maintenance tips?
If you're looking to get the most from an RV air conditioning unit, keeping up-to-date with maintenance and care procedures is essential. It'll help prevent the device from breaking down when it's needed during travel.
A broken RV AC unit is a massive bummer for an RV owner. You'll want to avoid this situation at all costs by testing the device before leaving and providing regular maintenance. It should then be able to handle the wear and tear of RV life.
I should also note that rust and corrosion tend to be the main issues for RV AC units. These problems can often cause your air conditioner to be ineffective or not work at all. But before doing any maintenance to help avoid rusting or corrosion, ensure the AC's disconnected and turned off.
You should wear gloves for these tasks to avoid getting cut by potentially sharp parts inside the unit, as well. Here's a small list of maintenance and care tips to get you started:
Oil the Fan Motor: RV AC units with bearings will have oil ports, which will make this task much easier as users will simply refill them. But some air conditioning units use sleeves and require oiling the shaft located between its housing and sleeves.
Straighten Your AC's fins: Air conditioners suffering from bent fins will restrict air, causing them to be much less effective. You can use a coil fin comb and straighten them out to help prevent this issue.
Cover Up Your RV: Many of these issues can be dealt with by covering your RV when you aren't using it. It'll help contain dust, debris, or dirt from endangering your AC unit and restricting its air flow. You'll also benefit from its ability to protect the unit from demanding weather conditions, insects, and moisture.
Wipe the Evaporator's Coils: This process will begin by removing your RV AC unit's metal cover, unplugging the control unit, and pulling out the freeze sensor. You'll then have access to evaporator coils, which can be maintained using household cleaners or specialized cleaning products.
If you're looking for more specific tips, read through your AC's manual. It should provide several guidelines about care and maintenance procedures that'll help keep the unit in good shape. Users who follow our tips and read their instruction manuals should have no issue extending their AC's lifespan.
Conclusion
Our article should've provided a good idea of the best RV air conditioner for your needs. It's just a simple exercise of trusting what you've learned. From there, the right choice will become clear and apparent for every RV owner.
But if you still have a concern or two, let us know in our comment section. I'll make sure to answer each post as soon as possible. Thanks for reading!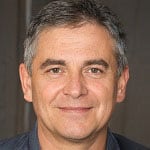 Hi, I am Tom Hank, an RV-er since 2014. Back then, I started without much help. As you can imagine, the struggles are endless. But now, you do not have to begin your adventures knowing next to nothing about RV lives.