When using RV refrigerators, a problem you may encounter is that they do not get enough air circulation inside. This seemingly minor issue could result in the cold air dropping to the bottom, causing food on the upper shelves to spoil more quickly than those at the bottom.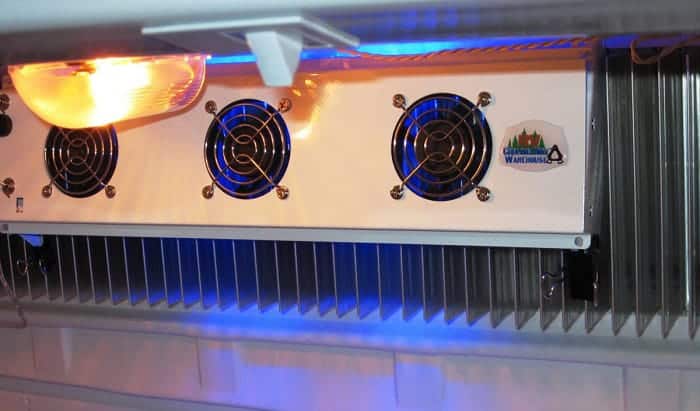 Hence, you will need to place a refrigerator fan to circulate the cold air. The good news is that refrigerator fans come in different types, giving you several choices. Among them, let's find out which one is the best RV refrigerator fan to install.
You will also get a couple of recommendations and helpful tips. So you can shop confidently without wasting your money and time on subpar products.
Best RV Refrigerator Fan Reviews
1. Beech Lane High Power Fridge Fan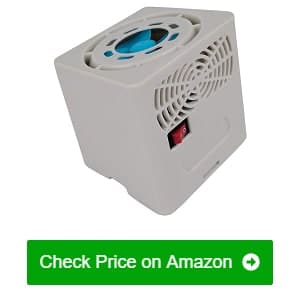 If you thought that battery-powered refrigerator fans were weak, you better think again. The Beech Lane Fridge Fann may not be as strong as the ones with two to three fan blades. But for its size, this fan can suffice.
I appreciate the durable plastic shell used in making this fan. Unlike other refrigerator fans, the outer casing of the Beech Lane RV refrigerator cooling fan is quite thick. You can feel how substantial it is just by holding it in your hands. It is a good sign since it will spend most of its service life inside a cold refrigerator. You wouldn't want it to become brittle and cracked after just a couple of months, would you?
Another nice touch is the accessible on/off switch. Other battery-operated fridge fans have buttons underneath the unit, which can be inconvenient because it requires pulling out the fan to turn it on and off. With the Beech Lane fan, you can reach in and push the switch, making it hassle-free.
Due to its functional fan motor running at 3,000 RPM, the Beech Lane fridge ventilator effectively distributes the cold air inside my small RV refrigerator. This fan helps keep the temperature inside the fridge uniform and consistent.
The only problem that I have is that this RV refrigerator circulating fan does not have a speed controller. It would have been nice to dial down the fan speed to reduce the consumed energy. It would have been a big help in making me use the fan longer without changing batteries.
What We Like
Durably built, thanks to the thick, high-quality plastic
Accessible on/off switch for hassle-free control
Equipped with a powerful 3,000 rpm motor
Effectively circulates the cold air inside the refrigerator
What We Don't Like
Lacking in fan speed control
You can use this fan both in your RV and kitchen refrigerator, making it a good investment and a good energy-saving device.
2. TITAN Ventilation Cooling Fan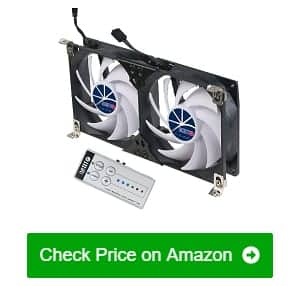 Titan specifically made this RV refrigerator evaporator fan for mounting on the exit vent of the fridge.
In detail, clamp it onto the vent cover's fins and then connect the wires to the control box, which you then have to connect to the RV DC circuit. Unlike interior fans, it allows the evaporator coils to expend the heat absorbed from inside the fridge. Such a system makes cooling down the interior more efficient.
The control box allows you to turn the fans on and off manually, and it also has a thermostat that will automatically turn on the fans once the temperature where you can locate the fans hits a specific range. Not only is it more convenient, but it also saves a lot of energy because the fans only turn on when needed.
The fan is more or less outside of the RV, exposed to rain and dust. So, users will love that this RV refrigerator fan kit is dust-resistant, sparing them much time cleaning off the piece frequently. Moreover, this product is rared as an IP55 rating waterproof device.
Another advantage is that it is also straightforward to install. You do not have to do any drilling. You only need to clamp the fan onto the vent cover and connect the wires to the control box, which you will then connect to the RV's 12v system. You need to place the control box near the refrigerator to make it more accessible.
Best of all, you can replace the fan when detected any manufacturing defects or shipping damages.
The only thing that I do not like about this fridge cool fan is that the instructions included are not detailed and helpful enough.
What We Like
Designed explicitly for vent mounting
Features an automatic temperature control
IP55 rating, making it resistant to not only water but also dust
Easy to install as it does not require any drilling
Quick and free unit replacement for defective fans
What We Don't Like
Instructions are not detailed enough
You can quickly figure out the right connections without damaging the item or your RV circuit despite not helpful instructions. Once you get it running, your refrigerator will be working better than ever.
3. Camco Fridge Airator
With its small size, the Camco Fridge Airatoras is surprisingly efficient in moving a substantial amount of air inside the fridge.
It is advisable to set this refrigerator fan for RV on its side so that the output vent points upwards instead of to the side. This way, the air will blow upward from the bottom shelf. However, if you have a somewhat packed fridge, you can set it right-side up and place it on the middle shelf. There are multiple ways to install the model, depending on your requirements and space.
Notably, this fridge aerator comes with an activated charcoal filter, removing the unpleasant smells coming from the fridge. If you like going on fishing trips, you no longer need to cook all of your catch on that day. You can store it in your freezer, and this fan will take care of the smell.
I am pleased with the power switch location. Unlike the other fridge fans, the switch on this brand is on the side. You can turn off the fan without needing to pull it out of the fridge. It becomes more convenient when you have a fridge full of food.
In my opinion, the best thing about this RV fridge cooling fan is its compact size. This fan can fit in the palm of your hand, but even so, it can accommodate two D-cell batteries. It means that it can last for a couple of months, depending on how often you use it.
The only problem with this battery-operated refrigerator fan is the tab that holds the battery door closed. The reason is that I find it quite flimsy.
What We Like
Circulates a large volume of air
Comes with an activated charcoal filter
Boasts of a convenient switch location
Small and compact for easy installation anywhere
Energy-efficient with its batteries capable of lasting for quite a long time
What We Don't Like
The tabs that hold the battery cover are quite flimsy
For such a small fan for rv refrigerator, this item truly makes a huge difference in how efficient your refrigerator works.
4. DurchAire RV Refrigerator Fan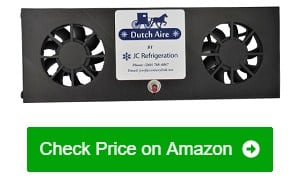 I like the positioning of the DurchAire RV Refrigerator Fin Fan in the fridge as I find it helpful in preventing ice from forming on the evaporator fins.
It makes the fridge work more efficiently as the evaporator can absorb more heat from inside the fridge. The ice acts like insulation inside the refrigerator, keeping the inside from getting substantially cold. If left to build up too much, the interior can even reach room temperature.
Aside from drawing air away from the fins, this fan also provides proper circulation of cold air inside the fridge. Without this fan, the cold air inside the fridge would settle at the bottom, causing food at the upper shelves not to get cold enough and spoil. This item is also a huge help in distributing the cold air inside of the fridge.
Another nice thing I love about this RV refrigerator condenser fan is that it helped improve the functionality and effectiveness of my RV refrigerator. After installing the fan, I noticed that the fridge got cold a lot faster than it used to. I am happy that my drinks got nice and cold almost half the time that it used to take without the fan.
At first glance, you may think that you will need to hire an electrician to install this RV refrigerator vent fan kit in your fridge. But if you watch the YouTube instruction video that came with the product, you will discover that you just need a pair of pliers. When I installed this fan in my RV, it took me a little over twenty minutes to finish.
Now, speaking of the air circulation, I have a bit of an issue about the fans' strength. Although this fridge fan has two blades, I noticed that it is not as strong as I wanted it to be. It would have been perfect if the fan motors were a bit stronger.
What We Like
Prevents frost from forming on the evaporator fins
Circulates air inside the fridge to make it even more efficient
The fridge cools down almost twice as fast.
Easy and quick to install with a pair of pliers
What We Don't Like
The fans are not quite as strong compared to other two-blade brands
Although I would have wanted this fridge fan to be a bit stronger, it still performs a good job keeping my fridge cool and working efficiently.
5. RV Cooling Unit Warehouse Triple Fan
The RV Cooling Unit Warehouse 13″ Triple Fan is, by far, one of the strongest fridge fans that I have used. It comes with powder coating for a long-lasting sleek look and use.
This kit comes with three efficient fans that you mount on the evaporator using clips, thus preventing ice from forming and making the refrigerator work twice as efficiently as it did before the fan installation.
The good news is that it operates silently. I notice that even though the fans are quite efficient at circulating the cold air, they are still quite silent.
With its three fans, it excels at keeping the internal temperature cold and uniform. It is not like other refrigerators without fans where the cold air tends to settle on the bottom.
This fan fits perfectly in my RV fridge and with a bit more space to spare. The fridge on my RV is the standard size, I would think, but this refrigerator fan is strong enough that it can work on bigger-model refrigerators.
Besides, it comes with white LED lights to inform the operation. So you can check if the fan is working when the light is on.
I do have one minor issue with this refrigerator kit, though, because the crimp ends are a bit hard to work with. You would think that you can just insert the wires' clipped ends into the crimp, but you may need to pry it open a bit using a screwdriver. Other than that, I cannot think of anything else to fault this fridge fan kit.
What We Like
Comes with powder coating
Quiet operation, making it truly convenient to use
Provides good air circulation in the fridge
Made to fit all standard RV refrigerators
Features LED lights to notify smooth operation
What We Don't Like
The crimp ends are a bit hard to work with.
This unit is an almost perfect RV refrigerator fan. It has three fans that truly helped circulate the cold air inside the fridge, making it work a lot better than it was before.
6. UTUO Radial Blower Centrifugal Fan
The UTUO Centrifugal Fan is so compact that it can fit in the palm of your hand. Yet, I can still say that it is one powerful blower for any RV fridges.
In truth, the device can efficiently operate at 42.45 CFM at standard capacity. In other words, if you install it externally, the evaporator coil will always be at its optimum operating temperature. Notably, it comes with reverse polarity protection for safe use.
Now, even though this fan is powerful, it operates silently. Unless you are a light sleeper, it will not even rouse you from your sleep. That is possible due to its brushless motor and ball bearings.
I also discover that this blower has other applications, such as keeping my inflatable Christmas decorations full of air. This little thing is strong enough to keep a 7-foot Santa from toppling over.
If you can manage to attach this fan to your refrigerator outdoor vent, it can draw out quite a lot of the hot air to help the evaporator coils cool faster. When I strap it on my RV and set it to work, my RV fridge could get colder much faster than before. It genuinely helped cut my electric costs too.
The problem with this unit is that it is just a blower. You do not get anything else in the package. You will need to buy additional wires and your control board, or just a switch if you want. You will also have to fabricate your mounting point as this blower only has a couple of screw holes.
What We Like
A compact yet powerful device, operating at 42.45CFM
Comes with reverse polarity protection
Can effectively cool the evaporator coils of your RV fridge
Features a brushless motor and ball bearings for quiet operation
Useful for other purposes, like for putting up inflatables
What We Don't Like
Does not come with a switch
If you like tinkering around in your RV and you fancy yourself an amateur electrician, then you will like this brushless radial fan. This 12 volt RV refrigerator fans can move a considerable volume of air, which means it can make your RV fridge run twice as efficiently as before.
7. Valterra A10-2618VP Fridge Vent Fan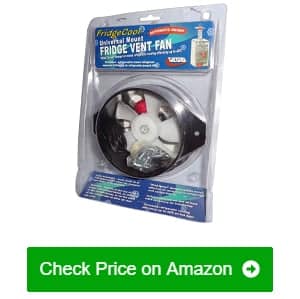 The best thing about installing this Valterra Exhaust Fan on my RV is that it later improves the efficiency of my onboard fridge by up to 40%. I live where it is hot almost all year round, so getting my RV fridge to cool down to an acceptable temperature is quite challenging. Hence, installing this fan-made it much faster.
The neat thing about this exhaust fan is that it is universal. In other words, you can mount it any way you want to. You can mount it on the side vent or the roof vent. Since hot air rises, it is best to install the fan on the roof vent. Don't worry about the fan when the rainy season comes since it is waterproof, so a bit of rain will not hurt it.
The product also comes with flexible mounting brackets so you can point the fan in any direction you choose.
Regarding its installation, the wiring is quick and easy. You just need to install the thermostat switch on the burner tube, then attach the color-coded wires to the 12v circuit. You can also find lots of video tutorials on how to install this specific product. Seeing the process makes it a whole lot easier.
This smart RV refrigerator fan kit comes with a thermostat switch that you strap onto the burner tube. When the tube reaches a certain temperature, it will turn on the fan to draw out as much of the hot air behind the fridge, making it work a lot more efficiently.
The quicker the evaporator coils get rid of the heat, the more effective it is in making the inside of the fridge cold quickly.
The thing that I do not like, though, is that it does not come with a manual override switch. It would have been better if you could choose when to turn the fan on or off whenever you feel like it.
What We Like
Can improve the efficiency of the fridge by up to 40%
Provides several different ways of mounting the unit
Quick and easy installation guaranteed
Automatically turns when you use the thermostat
Comes with color-coded wires for breezy installation
What We Don't Like
No manual switch included in the package
Although you do not have total control over when the fan turns on or off, it is undeniable that installing this unit made a considerable improvement in the fridge's performance.
8. Titan- 12V DC Ventilation Cooling Fan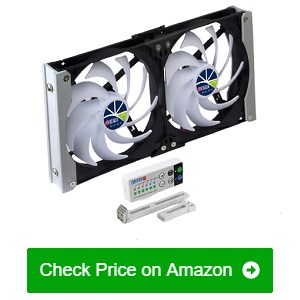 I like the Titan RV refrigerator fan because this device comes with automatic control and manual adjustments.
You can switch among six levels of temperatures for suitable needs. There are times when the thermostat does not detect the right temperature and would not trip the switch. Although these instances are rare and far in between, having the option to override the fans is a useful feature.
The fan itself is IP55 rated, meaning it is water and dust-resistant. With that, you do not have to worry about it shorting out in the rain. Unless you submerge the fans in water, you will not be able to damage it in the least. However, it does not mean that the fans are maintenance-free. It will help if you clean up the fans occasionally.
Installation is pretty easy. I am happy to say that you have all of the brackets and screws you will ever need to install the fans wherever you want and in any configuration. You can install this fan on the side vent or the roof vent.
Another fantastic thing about this product is that it comes from Titan, a brand with one of the best customer services you can hope for. Regardless of whether your product got damaged during shipping or if it has factory defects, you just need to make one call to their customer service number to receive a replacement fan in no time at all.
However, this product is sold at a higher price than most RV refrigerator fans you can find in the market.
What We Like
Comes with automatic and manual temperature controls
Can work in all weather conditions due to IP55 rating for water and dustproof
Has all the brackets and materials needed for installation
Excellent customer service from the brand
What We Don't Like
A high-priced fan for RV fridge
All in all, this RV refrigerator fan is among the best products money can buy, as long as you are willing to make the investment.
9. Professional EZ Travel Collection Fan
If you have a later model RV, you can use the Professional EZ Travel Collection RV Fridge Fan to eliminate hotspots from occurring.
By doing that, you will no longer have to worry about your food going bad because certain parts of the fridge do not get cold enough.
Despite its small size, the fan allows the cold air to reach all corners of the fridge. Without a fan, the cold air coming from the evaporator will settle at the bottom. If you install one, it will let the cold air circulate the inside of the fridge and keep the temperature uniform. It also prevents frost from forming in the freezer compartment.
Moreover, circulating the cold air inside the fridge speeds up the initial cooling time of the refrigerator. If it gets at the ideal temperature, you can start loading it with food and drinks for your trip. Placing a fan inside the fridge during the initial cooling process will drastically shorten the time to finish the process.
This RV refrigerator fan is also very energy-efficient. When allowed to run continuously, other fans would need battery replacements after a week or so, but it is not the case for this one.
It comes with a fan motor geared in such a way that it can move a lot of air but still run continuously for a month before you will need to replace the two D-cell batteries.
Now, it would have been almost perfect if not for the lack of 2-D batteries in the package. You should purchase them beforehand to install and use the fan right away.
What We Like
Prevents hot spots in your fridge
Can run for 30 days on just a pair of D-cell batteries
Circulates air inside the refrigerator to keep the temperature uniform
Decreases the initial cooling time of the fridge
Keeps food fresh and drinks cold for longer
What We Don't Like
Does not include batteries in the package
This fan is an energy-effective and compact device that RV-owners would love to have for their fridge.
10. PANO-MOUNTS 12025 Fan
These fans from PANO-MOUNTS are designed to keep desktop computers from overheating. It is the reason why it is so powerful despite its compact size. However, you can turn it into an RV refrigerator exhaust fan easily as well.
This package comes with two 120mm case fans, with each one capable of spinning at 1600 rpm, resulting in a draw of 73 CFM. If you are running both simultaneously, the fans can draw 146 CFM of hot air out from behind the RV refrigerator, allowing it to run more efficiently.
Even though each fan is quite powerful, it does not use that much energy. Each fan only draws 0.25A from the RV's power, which is quite a negligible amount. You do not have to worry about these fans draining the batteries of your RV. Using them correctly can even lead to huge energy savings in the long run because your RV refrigerator will be running more efficiently.
Another thing about these fans that I like is how silent they are. At full tilt, each fan will produce only 30 decibels of noise, which is equivalent to the sound of people whispering in a library setting. You will barely even hear them working, especially if you will be mounting this ultra-quiet RV fridge fan on the vents outside of your RV.
These fans are so powerful while remaining quiet because they use heavy-duty, silent fan bearings. These bearings are so efficient that it will only take a bit of energy to get the motor shaft spinning.
Aside from that, the bearings are also heavy-duty that even months of continuous use will not be enough to wear them down. It is likely that if you choose to use these fans, they will be the last pair to invest in.
Still, this product comes in two case fans without a housing, power switch, and speed controller. You will need to fabricate or just figure out how you will be mounting the fans for your needs.
What We Like
A compact design fan that works efficiently
Can move a huge volume of air in a short amount of time (73 CFM each)
Has a low amperage draw at 0.25A each
Operates silently without disturbing RV lives
Features heavy-duty bearings for long-lasting use
What We Don't Like
These are just fans without additional features
If you are the type of RV owner who likes to fabricate your own vehicle modifications, then this set of cooling fans will be perfect for you.
11. Wathai 12V Industrial Cooling Fan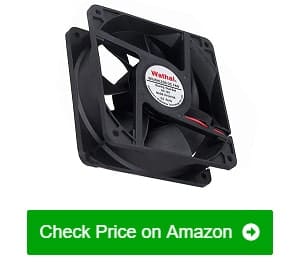 The thing that impressed me the most about this Wathai cooling fan is its fan speed. This 120mm fan can spin at a rate of 3000 rpm at full tilt, which means that it can move quite a lot of air.
Furthermore, the fridge fan has an impressive airflow at 125 CFM, displacing all the hot and humid air in the fridge compartment. Hence, its evaporator coil can also efficiently disperse the heat from the fridge. This means that the fridge can get cool much faster.
This fan has such a high fan speed and airflow because it has dual heavy-duty bearings that can last for a long time. Factory testing shows that these fan bearings can last for up to 50,000 working hours. It can likely outlast your RV at that rate.
Originally, you can use this fan to keep a desktop PC's CPU from overheating, but its versatile design made this applicable for other uses as well. It includes being used to make the refrigerator more energy-efficient. You do have to provide a makeshift mount using materials that you have handy, or you can fabricate brackets yourself using sheet metal.
If you like to tinker around in your RV, you will surely love the myriad of options you can use this fan with. The two-pin power connector makes it easier for you to connect the fan to a power source and maybe even route it through a thermostat so it can switch on automatically when needed. Even if you are a novice at electrical stuff, you can find plenty of online tutorials on the many ways that you can make use of this cooling fan.
Now, the issue here is that if you are looking for an RV refrigerator cooling fan, you would want something that is already complete and you need to install. This product is just a cooling fan, so you need to rein in your expectations. Thus, you may have to fabricate the rest of the things you will need to turn it into a true fridge ventilation fan.
What We Like
120mm fan can spin at 3000 rpm at full tilt
Provides impressive airflow at 125 CFM
Equipped with dual ball bearings
Multi-use: Avoid desktop CPU overheating, make the refrigerator energy-efficient
Can last for up to 50,000 hours of operation
Comes with a two-pin power connector to connect to a power source
What We Don't Like
You will only be receiving a case fan
This fan is more suitable for people who know how to fabricate and mount their own RV refrigerator fan mods. Once installed, though, you can expect these items to contribute a lot to increase the efficiency of your refrigerator.
12. RV Cooling Unit Warehouse RV Fridge Fan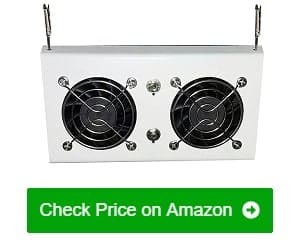 Even though I am not adept in anything electrical, I still managed to install this Deluxe RV Refrigerator Evaporator Fan with hardly any problems whatsoever.
You need to deal with only two wires, and you can connect them to the power supply of the RV using convenient two-pin clips. This fan mounts on the evaporator blades using just an alligator clip. If you want more support, you can add more alligator clips to keep the fan from vibrating too much.
The fridge in my RV is relatively small, so I am glad that this fridge fan kit is compact enough that it still fits with a bit more room to spare.
Another nice feature I like is that each fan has its power switch. If you want your fridge to get cold in a hurry (like preparing for your trip), you can turn both fans on. However, if you just want to keep the temperature steady throughout and you can find too many items in the fridge anyway, then you can just use one fan.
You will also surely enjoy the added convenience of having the switches mounted on the front plate.
The two fans of this product make the fridge more efficient by allowing the cold air to circulate evenly through all the fridge corners. Without these fans' help, the cold air will just settle at the bottom of the fridge, thus creating hot spots inside. These hot spots are places that are almost room temperature and can cause food to spoil.
Moreover, these fans can also help prevent the formation of frost on the evaporator fins. It means you do not need to defrost your refrigerator quite as often as before.
Besides, the fan comes with white LED lights that are detached at the backside.
However, it is recommendable to use two of these products to achieve optimal airflow through the evaporator.
What We Like
Installation with two wires, using convenient two-pin clips & an alligator clip
Compact size for easy mounting even in smaller refrigerators
Each fan comes with its own switch
Effectively circulates the cold air inside the fridge
Makes the defrost cycle much quicker
Comes with white led lights at the back
What We Don't Like
Should use two fans for excellent airflow
Once installed, the fan can improve the cooling capacity of the fridge by a considerable amount.
Best RV Refrigerator Fans Buying Guide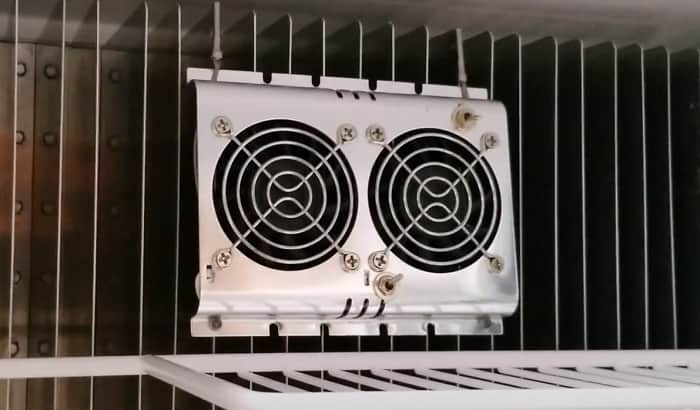 As mentioned before, you can find several brands offering their refrigerator fan. To ensure that you do not waste any of your time and money, here are some factors you should consider:
Size – The first thing to consider is the size of the fan you are thinking of getting, and it usually depends on the size of your refrigerator. You may think that getting a larger fan than what you need is better, but that is not the case as it can damage your refrigerator. On the other hand, a fan that is too small may help make your fridge work better. If your fridge can accommodate it, get a fan that has two or three blades.
Power Source – RV refrigerator fans can run on several different power types, like batteries, 12v DC. You can even find some units that can run on solar power. If you want to use the most powerful ones, you will need to get those 12-volt RV refrigerator fans. However, these fans will require a bit of electrical knowledge, and you have to mount them in place.
On the other hand, a battery-operated RV refrigerator fan does not need any installation at all. It also uses the least amount of electricity. The problem with this type is that it uses up space inside the fridge. Also, you need to replace the batteries every couple of weeks, depending on how often you use it. Moreover, battery-operated fans are quite weak compared to 12v-powered kits that come with two or three fans each.
You can also go for solar-powered refrigerator fans. These units are more eco-friendly compared to the other two. You will also discover that they are simpler to install. However, the problem is that these fans function inconsistently since they rely on solar power. If the sky is overcast, then the fan may not even turn on.
Durability – Of course, you would want to choose a product guaranteed to last for a long time. You need to pick a refrigerator fan made of high-quality materials. It should also come with additional protective parts including fan blade covers and others.
The best sources of information are online customer reviews to figure out which brands provide durable fridge fans. You will find a lot of reviews from retail websites. Do not focus on just the positive reviews. You should read the negative ones as well.
Ease of installation – You need to get a refrigerator fan kit that already comes with all the screws and wires that you will need to install it properly. Ideally, the fan that you buy should require little to no drilling at all.
Most of the 12v refrigerator fans already come with two-pin connectors. It means that you do not have to cut wires at all. If you need to tap onto wires, the kit comes with clips that you just need to clamp into place.
If you are not a fan of installing, you should just get a battery-operated refrigerator fan instead. However, you need to make room for it in your fridge, which means you will not be able to utilize the space for food and drinks fully.
On/off switch – The on/off switch that is easily accessible should be high on your priority list as it will allow you to control how much power your fans will consume. It will let you turn on the fan whenever you want to, and you can also keep it off. It is more important in battery-powered fridge fans. The on/off switch should be easy to reach without taking the unit out of the fridge.
Noiseless blades – Most refrigerator fans are quite noisy, especially when they are just starting, though some brands use noiseless blades and more efficient bearings to keep the noise levels down. If you are particularly picky when it comes to noise levels in your RV, then get the ones that use noiseless fan blades.
It should not be an issue if you will be buying fans meant for the exterior vents. You can see these units often clamped onto the exterior vent grills, so you would not hear any fans' noise when you are inside the RV.
Thermostat – If you will be getting an externally mounted refrigerator fan, get one that comes with a thermostat. The thermostat will allow the fan to turn on when the evaporator coil reaches a certain temperature range. It can provide a certain convenience level, which means you do not have to turn the fans on and off manually.
How Many Types of Refrigerator Fans for RV Are There?
RV refrigerator fans are put in different categories due to their power sources. It could get power from either D-cell batteries or the RV's 12-volt DC circuit. In detail, battery-powered refrigerator fans running on D-batteries can last between a couple of weeks to a month.
The downside to this type of refrigerator fan is that you will need to monitor it closely. If you leave it on for too long, you will be replacing batteries quite often, and D-cell batteries are not cheap. You can't also easily find them nowadays.
Meanwhile, the 12-volt DC-powered refrigerator fans are often those you have to mount permanently. Such a model often features a thermostat. Its purpose is to monitor the internal temperature inside the refrigerator. Then, the fan will turn on when it gets below its set point. In most cases, there is an added override switch to turn on the fans manually.
Battery-operated fans usually have a single fan rack. Meanwhile, DC-powered units have two or three because they need to draw more power.
How Does an RV Refrigerator Fan Work?
You can install a refrigerator fan either inside or outside the appliance. Fans inside the refrigerator greatly improve efficiency by circulating the cold air inside the fridge. If you mount the fan on the evaporator coil, it will help cool the gas absorption unit.
The gas absorption unit works by heating an ammonia container, which then turns from gas to liquid. The process will absorb heat from inside the refrigerator. The absorbed heat is then released through the evaporator coil. To speed up the heat releasing process, you can attach a fan to help draw out the heat from the coils faster.
Usually, externally-mounted fans use a thermostat, which will turn on the fans when the temperature of the evaporator coils reaches 80 degrees F. For increased efficiency and energy savings, installing fans both inside and outside the refrigerator is advisable. For instance, you can install a 12v fan on the roof vent and then place a battery-powered fan inside the fridge to circulate the air.
Who Makes the Best Refrigerator Fan for RV?
You can choose from many different refrigerator fans brands, but not all of them perform at the same level. I think among those brands that are on top of their class are Beech Lane, TITAN, Camco, DurchAire, RV Cooling Unit Warehouse, UTUO, Valterra, EZ Travel Collection, PANO-MOUNTS, and Wathai.
If you are shopping for new refrigerator fans for your RV and you happen to run into these brands, you might want to give them a try to see for yourself just how great they are.
How Can We Make Our RV Refrigerators Cooler?
You can do several things to make your RV refrigerator more efficient at keeping its contents cool. You can park your RV so the fridge side is constantly in the shade or making sure that your house power is always at 12V. Besides, it is advisable to restock your fridge with frozen food and check the door gasket if it is still in good condition. And of course, you should install functional refrigerator fans.
The most reliable of these is the installation of refrigerator fans both inside and outside the unit. The right fans will greatly improve your RV refrigerator's efficiency and, at the same time, help you save a lot of money on electricity.
How Do You Install A Ventilation Fan on an RV Refrigerator?
If you purchase a battery-operated refrigerator fan, the installation is straightforward and often quick. You just need to put batteries into the unit and then place the fan at the bottom of the fridge.
Now, if you will be using a 12v refrigerator fan, the installation will be a bit more challenging. Despite that, you will be happy to know that even someone without any prior electrical experience may be able to do it.
The instructions for installing these fans are always in the packaging. Generally, installing a 12v refrigerator fan requires wiring the fans from the control box to where you mount the fan and then attaching them properly.
If you use a fan featuring a thermostat, you will also need to wire the part from the controller box to the fan. You then need to position the thermostat cable between or somewhere near the cooking fridge fins. To finish, it would be helpful to locate the 12volt power source and connect the controller box to it properly.
Care and Maintenance
For the RV refrigerator fans to last for years based on what most users expect, you will need to care for them properly. You need to consult the instruction manual that came with your fans for specific instructions on cleaning and maintaining them.
If you are using a battery-operated fan, it is best that you only run it a couple of hours at a time. You can just leave the fan off for most of the day, but turn it on during the hottest times to prevent the fridge from working too hard and keep the inside cool.
Conclusion
Your RV fridge is not like the one that is in your kitchen. It is especially true if you are rocking an older model RV, so you will need to give it all the help you can to work more efficiently.
Therefore, you need to get a refrigerator fan. This tiny addition to your refrigerator helps a lot in making it work more efficiently. You will no longer need to worry about food spoiling even though it is inside your refrigerator the whole time. The best RV refrigerator fan will guarantee that all the foods you brought on your RV trip will always be fresh and cool whenever you need them.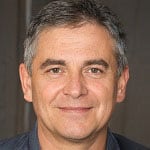 Hi, I am Tom Hank, an RV-er since 2014. Back then, I started without much help. As you can imagine, the struggles are endless. But now, you do not have to begin your adventures knowing next to nothing about RV lives.