An RV trip across the country will not be the same if you do not have the best 12 volt refrigerator in your travel trailer. To preserve your food and drink without consuming too much power, you need the best 12v refrigerator that your money can buy.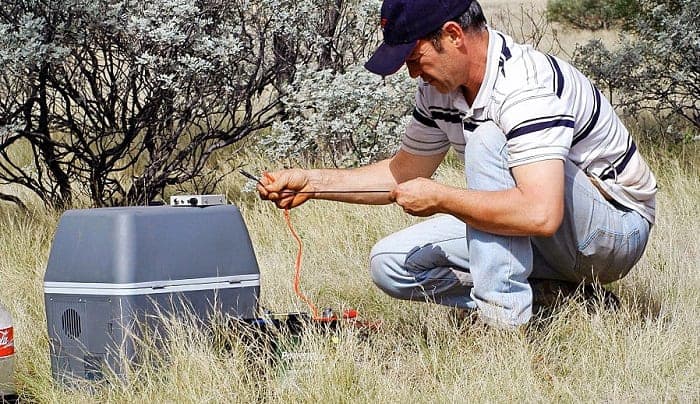 The problem with shopping for RV fridges is that you have many choices with various brands having different offerings. You also have to know how these travel refrigerators work and decide what you need from a fridge to make the best choice.
This article will teach you all you have to know to make shopping for a brand new 12-volt portable refrigerator a lot easier. You no longer have to worry about wasting your money on something that you will regret later.
Best 12 Volt Refrigerator Reviews
1. Alpicool C20 12-volt Refrigerator
The best thing about the Alpicool C20 is that it works as a simple refrigerator and a freezer.
Since it already has a built-in freezer without ice, you can bring fresh meat with you on your trips. The temperature can reach -4°F, so you do not need to cook meat within 48 hours since it will not spoil quickly.
The Alpicool C20 is very compact at less than two feet long and half a foot wide. Thus, this model can fit any corner where there is access to the 12V or 24V RV system.
This unit only has 20 liters of storage space, but it can still hold quite many food and drinks, provided you utilize the space properly. If you are only using it as a freezer, then it can keep enough frozen foods capable of feeding an average-sized family for at least five days or so.
I am also pleased with its eco-mode feature. In truth, the fridge comes with three battery levels: low, medium, and high. It re-calibrates the settings to maintain the coolness of the contents while not consuming too much power.
The only issue I have with this 12-volt refrigerator for RV is that it has no internal thermometer. It features a thermometer reading on the lid, but unless well-calibrated, it will not display the accurate temperature inside.
What We Like
Works as a cooler and a freezer, reaching -4℉
Compact design fits in a small corner
Comes with 20-liter storage for many food and drink
Has an eco-mode feature, which saves electricity
What We Don't Like
Lacks an interior thermometer
This 12-volt cooler is one of the best investments for your RV or van. Apart from being compact, allowing it not to take up so much space, it is also useful and energy-efficient.
2. F40C4TMP Refrigerator Freezer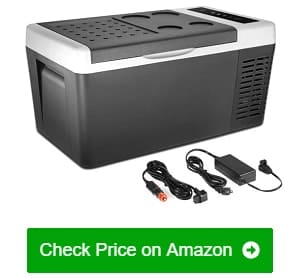 The F40C4TMP 12-volt DC refrigerator is also a good investment. Its 18-liter capacity can hold uncooked meat and vegetables and your preferred beverages.
Another great thing about this portable mini refrigerator is that it can reach negative degree temperatures fast. The lowest that it can go down to is -7.6 Fahrenheit degrees. Moreover, it does not take that long for this refrigerator to reach negative numbers. In my case, it only took around an hour for it to get cold.
I also consider it as the best 12-volt fridge freezer model with its quiet operation at 45dB. You would think that something so powerful would be noisy, but it is silent, even when working at full tilt.
Another great benefit is that it does not consume too much power/electricity. The eco-mode of this 12-volt RV refrigerator is quite nice. Once it gets cold enough, you can turn on the eco-mode. Doing so will save you a lot of electricity in the long run.
Its sleek and smart design is another feature that appeals to many RV-ers. The product comes with a LED control panel that allows ease in operating.
However, this refrigerator cannot freeze food that is not already frozen. So you might need to chill the meat in your household freeze before putting it in this one.
What We Like
Comes with an 18-liter capacity for food storage
Can reach -7.6 Fahrenheit degrees in a short time
Promotes a quiet operation at 45dB
Eco-mode saving energy
Sleek and smart LED control panel
Although this Portable Refrigerator Freezer is not from a high-end brand, it still suffices with incredible functions and features.
3. Coleman Cooler 40-quart Cooler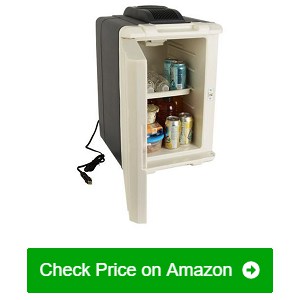 This portable 12-volt cooler from Coleman stands out with its capacity, which is twice as large as the standard fridges.
While measuring nearly 38 liters, it just weighs 18 pounds when empty. Thus, this product is both lightweight and compact, thus ideal for RV use.
This item is a heat-exchanger cooler, meaning its cooling capacity depends on the ambient temperature. It can keep the interior 40 degrees F cooler than the outside temperature. It helps keep your favorite beverages cool during your trips. This cooler can't freeze its contents but can keep frozen foods ice solid for up to two days.
The Coleman Powerchill is not a true refrigerator but a thermoelectric cooler. The low-voltage heat exchanger it has draws out the heat from its interior. The actual size of the heat exchanger is not bigger than a matchbox, and it consumes little power. You don't need to worry about draining batteries even if you will be using the unit on a truck or SUV.
Another neat detail that I like about this 12-volt refrigerator for trucks is that you can use it upright or position it like a chest cooler. Moreover, you can change the side where the door hinges from, making it easy to set in position and save on floor space.
According to several portable refrigerator freezer reviews, this fridge would blow fuses due to the long power cord. To avoid this issue, you can shorten its 8-feet power cord to reduce resistance.
What We Like
Lightweight and portable construction for RV use
Impressive capacity at 38 liters
Keep frozen content from melting
Performs as a thermoelectric cooler, keeps interior temp 40°F colder than outside
Ideal for use as a chest or upright cooler
What We Don't Like
Requires shortening the long power cord
This mini fridge with a large capacity is an excellent addition to your RV if you want to keep all your foods chilled during your trips.
4. Igloo Iceless Thermoelectric Cooler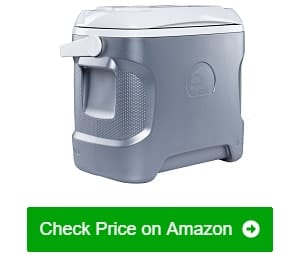 Igloo thermoelectric cooler is among the portable thermoelectric coolers that are ideal for RV lives. This unit is the size of a standard cooler with a nice contoured handle, making it convenient for frequent traveling.
This product offers a 26-liter capacity for storing food and drink. You do not have to allocate space for the ice. It means you can carry more food and drink compared to a traditional cooler.
The insulation of this cooler is also top-notch, very much worthy of the Igloo brand. It works well in keeping the interior a 36 degrees F cooler than the temperature outside. Although it might not work quite well in hot climates, you will love using it when you live somewhere up north where the ambient temperature never gets too high.
I do have a slight issue with the plastic material used in constructing the lid, though. I noticed that it is quite flimsy, especially the part where
the fans vent outward
. So, avoid putting heavy things on top of the cooler.
Although it comes with a rather hefty price tag, the mini-fridge price is worth our investment in the long run.
What We Like
Compact design with a handle for easy carrying
Offers a 26-liter capacity for storing food and drink
Incredible insulation and efficient heat transfer capabilities
Ideal for use on a 12v system
What We Don't Like
Plastic lid cannot handle much pressure
Suppose you are only looking into keeping drinks and ready to eat foods cool, and you are not packing fresh meat and fish (which needs refrigeration). Then, this highly efficient thermoelectric cooler is a great choice.
5. AstroAI 12-volt Refrigerator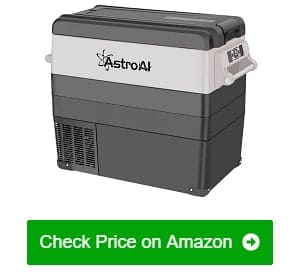 The AstroAI 55L refrigerator is a portable refrigerator for camping featuring a powerful compressor. Although the model is smaller than many household compressor refrigerators, it can keep our food and drink fresh for a long time.
Another great thing about this product is its impressive storage capacity. This little fridge has a capacity of 55L, which can carry up to 24 cans of your favorite beverages. It is a lot considering the compact size of the unit itself. If you have a large family who loves long RV trips, this fridge can offer the utmost convenience.
More importantly, this one can reach around -4 degrees F, roughly the same as what most household compressor refrigerators can do. The smaller size of this fridge also makes it even better as it can get cold quickly.
Moreover, there is an easy-to-read illuminated LCD screen on the lid. It has a control panel that allows you to change the temperature and other settings. The settings are also self-explanatory and readable.
You can easily move this fridge after packing it with many foods and drinks due to its convenient handle design.
To deliver ultimate safety for RV-owners, the manufacturer adds an extension cord with a ceramic fuse. With that, it protects from overloaded or short circuits.
The only complaint that I have with this portable refrigerator for truck is that after some time, the compressor starts making some little noise.
What We Like
Has a small yet powerful compressor
Provides a capacity of 55 liters
Can reach negative temperatures at -4°F
Features an easy-to-understand control panel
Comes with a convenient handle
Adds extension cord to avoid overloaded or short circuits
What We Don't Like
Produces a little noise after a while
Despite its compact size, this fridge is quite impressive when you think about its overall quality and functionality.
6. COSTWAY Car Refrigerator
Another portable device that works well with the 12V system on your RV is the Costway refrigerator. As expected, it can reach a temperature as low as -4 degrees F. So, if you will be taking fresh meat and fish with you on your trips, then this functional freezer will help you out.
The Costway mini fridge with freezer also scored a lot of points in the energy consumption department. This 12v compressor fridge draws less amperage than some thermoelectric coolers out there, drawing around 45 watts of power. If you plan to run a portable refrigerator on solar power, this unit is the best choice.
The storage capacity of this 12v compressor fridge is also impressive. You can easily fit more than 70 12-oz cans of your favorite beverage inside the cooler without any problem. There are also circular indents on the floor and lid of the cooler, so you can easily fit bottles of wine or champagne inside without having to tilt them.
Also, its convenience is offered in its design of separate fridge and freezing compartments. Thus, you can store your drink and food at different temperatures for specific purposes.
Beyond that, this Costway fridge comes with a plastic shell that can bend under significant pressure. So do not put heavy stuff on this fridge.
What We Like
Can reach a temperature as low as -4 degrees F
Energy-efficient even on standard operation setting, drawing 45 watts only
Huge storage capacity loading 70 12-oz cans
Convenient design of separate fridge and freezing compartments
What We Don't Like
Brittle plastic lid that might bend under heavy objects
Although you have to forgive its less than impressive plastic housing, its other features and benefits are more than enough to make you change your mind about using this refrigerator.
7. Dometic CFX28 12-volt Cooler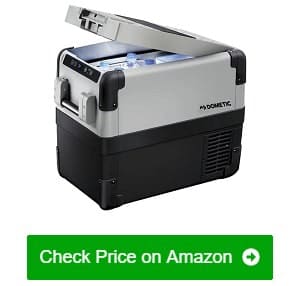 This Dometic fridge is an excellent replacement for traditional ice chest coolers, especially for small-sized RVs. It is truly a game-changer when it comes to functional and portable freezers for far-away trips. The compact design can maintain a cold temperature of -7 °F, lower than most standard mini-fridges available.
I am also delighted that this Dometic 12-volt refrigerator can run on both AC and DC power sources. With that, I do not have to worry about running wires through the walls as I can use the 12v lighter outlet. It means no need to burden the AC inverter of the RV and drain its batteries in the process.
This Dometic fridge also comes with a low voltage cutoff switch. This feature will monitor the amount of charge your battery still has left. It will automatically turn off the 12-volt portable freezer and leave you with more than enough juice to start the engine. It keeps your batteries in top shape as you will not constantly be draining them.
I also like how this mini car refrigerator has separate compartments for refrigerating and freezing. It is great if you will be storing vegetables and meats without worrying about them getting freezer burn. Moreover, you can set it so that both compartments would be freezers or both refrigerators, increasing the utility for such a small appliance.
The only issue I ran into with this best car refrigerator is not with the unit itself, but with the 12V connector that came with the Dometic CFX 28. I noticed that the plug does not play well with some outlets.
What We Like
A compact yet functional design to replace traditional ice chest coolers
Can get as cold as -7 degrees F
Runs on both AC and DC power source
Comes with a low voltage battery protection
Separate compartments for freezing and cooling
What We Don't Like
The lighter plug is not compatible with some outlets
In my opinion, this unit's overall quality makes it a must-have for people who are all about outdoor life.
8. Whynter FM-45G Refrigerator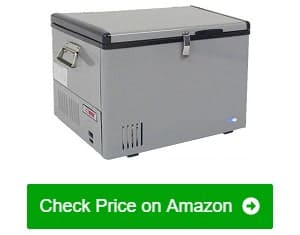 The first thing I notice about the Whynter FM-45G portable refrigerator is its wall thickness. Such incredible insulation allows the fridge to preserve the coldness of its contents for many hours, even when unplugged.
This fridge comes with powder-coated steel construction that ensures long-lasting use. It has a lid and hinges that feel solid, preventing them from wiggling even when forced. The front latch is robust, allowing it to stay closed even during a bumpy ride.
I am also impressed with the rubber feet integrated into this fridge. I find them nice touches as they prevent the cooler from slipping and sliding all over the RV floor.
Another benefit of this unit is the presence of two wire baskets. These baskets are like dividers that keep specific kinds of foods separate from each other.
It also has excellent energy-efficiency. Operating the refrigerator on the low mode will cause it to draw just a little over 35 watts of power. It is quite a small power draw, especially for a cooler that is this size.
Now, the issue I have with this portable fridge is portability. If you are putting this refrigerator inside an SUV or truck, you will need to retract one seat back for it to fit. Moreover, for a portable fridge, this one's quite heavy at almost 50 pounds empty.
What We Like
Excellently insulated for retaining coolness when power is off
Boasts of a low energy draw at only 35 watts
Coated steel construction featuring a solid lid, hinges, and front latch
Features rubber feet that prevent the unit from slipping on the floor
Two baskets as dividers to keep separate food kinds
What We Don't Like
Heavier than standard portable fridges
If you are using this refrigerator in an RV, then the overall weight and size will not faze you. However, even if you will be using it in your SUV for long road trips, you will realize that it is an excellent investment.
9. Arb Portable Fridge Freezer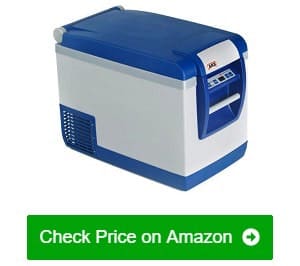 This combination fridge/freezer/cooler with a storage space of 47 liters, one of the largest coolers for RV uses. Since it is a 12-volt cooler refrigerator, you can utilize its large capacity, which is not the case for traditional coolers.
The overall build quality of ARB fridges is robust enough to withstand break and crack. It consists of quite sturdy handles that are still comfortable to use. The hinges are also quite strong, making sure to stay in their place no matter how many times you open and close the lid.
I am also happy with its plastic body as it is quite thick and well-insulated. It can receive a couple of good smacks and still end up unscathed.
Speaking of insulation, it is one of the best insulated portable fridges. Even when left unplugged, it can keep its contents nice and cold, making it a great fridge that saves energy.
This portable refrigerator also runs quietly. At maximum settings, the compressor and the refrigerator fan will only register 50 decibels. The humming will still be slightly audible, but you would not even know if it runs without the indicator lights.
Moreover, there is an easy-to-use drain. Paired with basket dividers, you can easily organize foods and clean up the interiors.
However, the biggest issue with it is that it is not that easy to carry around. The reason is that it weighs a little over 50 pounds when empty.
What We Like
Has a large storage capacity at 47 liters
Well-insulated as it keeps contents cold even when unplugged
Quiet operation at 50 decibels
Durably built with sturdy handles and hinges
Easy-to-use drain for cleaning purpose
Features basket dividers to separate food and drink
What We Don't Like
Quite heavy and needs the mounting plate to prevent it from moving
If you have a space that can accommodate it, the ARB portable refrigerator will not disappoint.
10. Aspenora Portable Freezer Fridge
With its compact design, this portable fridge has a 35-liter capacity. Its storage interior has two sections – a large freezer section and a smaller one just to keep your food chilled and fresh. You can, therefore, use this fridge for more than your favorite drinks.
I like the control panel, which is highly intuitive. Aside from being extremely useful when setting the internal temperature, you can also adjust other settings. For instance, the Aspenora 37-quart portable 12-volt cooler and freezer allows you to choose between three levels: low, medium, and high. The highest level will turn off the fridge when the battery voltage drops below the upper limit.
Another nice feature I like is the lock button. This specific feature prevents you from accidentally adjusting the thermostat settings, or worse, turning off the unit. Plus, the added USB outlet allows you to charge your smartphones or tablets with ease.
It is impressive how this portable fridge can quickly cool down, starting from room temperature. When totally empty, it will take less than an hour for the fridge to get to the freezing point of water.
The walls and lid are also efficiently insulated. When unplugged, it retains its internal temperature for at least 10 hours and will go down incrementally for each day it is without power.
I do have a slight issue with this product, though, and it is with the external temperature display not being as accurate as I hoped it would be. The displayed temperature is usually two to three degrees off from the actual internal temperature.
What We Like
Large capacity at 35 liters, yet compact
Adjusts among low, medium, and high levels
Features an intuitive backlit, LED touchscreen console
Cools down to freezing temperatures in less than an hour
Maintain cold temperatures for 10 hours after unplugged
Has an USB outlet to charge your smartphones or tablets
What We Don't Like
Slightly inaccurate external temperature display
Overall, this fridge is an excellent choice if you are looking for a portable unit with large capacity and safe use.
11. JOYTUTUS Portable Refrigerator
The Joytutus 26-quart 12v electric-powered portable refrigerator offers a rapid-cooling capability. Thanks to its heavy-duty aluminum evaporator, it only takes fifteen minutes for this fridge to drop from 77 to 32°F.
An excellent detail that I truly appreciate in this portable refrigerator is the non-slip mat. This small detail keeps the fridge from slipping and sliding on the RV floor.
I am also glad that it works on both AC and DC power sources with its own adapter. I find it useful not only during road trips but also in keeping my beverages cold while working in the garage or grilling in the backyard.
Another remarkable benefit is that it is small and compact enough to fit on the front passenger seat, behind the driver's seat, and on the trunk of any sedan.
Despite being compact, it still has a relatively large storage compartment with a 25-liter capacity. It can even hold 25-30 regular-sized beverage cans. Such capaciry is more than enough for a rip-roaring time with your friends or entire-weekend garage projects.
I find the insulation of this portable camping refrigerator less efficient, though. The wall insulation and the door seals may not be doing an excellent job retaining the coldness when the power is off.
What We Like
Heavy-duty aluminum evaporator to quickly cool to freezing temperatures
Features a non-slip mat to stay put on bumpy rides
A small and compact design
Can work on DC or AC power source with available adaptor
Provides 25-liter capacity for drink and food
What We Don't Like
Not that efficient insulation
Even though the insulation can use a bit of improvement, it is not a deal-breaker. It is still a very worthwhile investment both for the RV and the home.
12. Colzer Portable Refrigerator
This Colzer portable freezer can work both on 12V and 24V DC systems, making it the best for tailgate parties.
This model's compressor is efficient as it can reach negative temperatures, reaching -4°F.Paired up with the Quick Cool mode, it only takes less than an hour to go from room temperature to negative degrees. What I usually do is turn on the Quick Cool for an hour and then switch it to eco-mode to save a lot of electricity.
I am also pleased to receive a 110V AC adapter in this package, allowing me to plug it into any regular home power outlet. It is an excellent companion, making everything you will need to be within easy reach.
Furthermore, it has a voltage protection structure with three levels of adjustment. As a result, we can avoid draining our RV batteries while driving on the road.
Regarding its capacity, the 40-liter fridge is ideal for storing various stuff, from food, drinks to necessary cosmetic products or medicine. Thus, you can rely on its high-tech compressor and large storage space to travel on your RV.
However, its only drawback is the non-space-saving handle, which is made without a foldable design.
What We Like
Has a quick cool function, reaching negative temperatures
Features an eco mode for saving energy
Works on both 12V and 24V DC power source
Has a voltage protection structure with three levels of adjustment
40-liter fridge for storing food, drinks, cosmetic products, or medicine
What We Don't Like
The handle is not foldable
Good things come in small packages, and in terms of the Colzer Portable Refrigerator Freezer, you will be getting a highly efficient and portable refrigerator/freezer.
Best 12 Volt Refrigerators Buying Guide
There is nothing better than cracking open a cold drink after a long day on the road and setting up camp at your destination. However, things will go downhill real fast when your refrigerator no longer works the way it used to, and it chose the most inopportune time to decide that it no longer works.
If you are new when it comes to shopping for the right 12-volt refrigerator for RVs, here are some factors you need to consider:
Price – RV refrigerators can be expensive. There are even high-end brands that can run you up a couple of thousand dollars each. If you do not have the budget for the high-end models, you do not have to settle for a cheap cooler to tithe you over until you save enough money. There are excellent mid-range to lower-end models that work well.
The trick here is to avoid setting a too-low budget that you have no choice other than to get the cheapest refrigerators you can find. Doing so will only lead to regrets later as they usually do not last quite as long. You should check as many 12-volt refrigerator reviews as you can to get an idea of the product's value.
Set a budget that will at least let you take your pick from the mid-range and maybe even some of the more affordable high-end brands of refrigerators. This way, you will get the best 12-volt fridge freezer that will work well and not break the bank.
Capacity – How much refrigerator space do you need? Buying a fridge wastes your money on something that will not run at near its capabilities. But, you may also be getting something that is too big for your RV.
If your old refrigerator provided enough space, then you should get a replacement that is the same size as that. Now, if you have a rather large family and need something bigger, make sure that you have enough space in your RV kitchen.
Also, ensure that the provided space is big enough for the fridge you plan to buy. If you need to make space for the new appliance, you need to factor in the cost for that.
Energy-efficiency and compressor model – Suppose you will be living in your RV for the better part of the year. Then, your appliances, including the refrigerator, should be energy-efficient; otherwise, you will be spending much money on fuel for your generator.
The best indicator of a refrigerator's energy-efficiency is the kind of compressor that it uses. Check if the 12-volt refrigerator compressor refrigerator you are interested in is using a highly-efficient, variable-speed compressor, like the Secop/Danfoss BD35F.
However, the ones used by Dometic, Edgestar, and Engel are also quite formidable when it comes to energy-efficiency.
Size and weight – As mentioned earlier, you need to make sure that you will be getting a new one that is the same size as the one you will be replacing, especially if you intend to replace the 12-volt refrigerator full size in your RV. If you don't, you will need to do a bit of carpentry work to accommodate the new refrigerator.
As much as possible, the refrigerator that you get should not be that heavy. You should avoid a heavy one, especially if you like to move your furniture around or try to keep your RV's total weight low.
Chest or front-loading? – Your choice between the two will depend on the amount of space available in your RV. For instance, if you do not have that much floor space but have enough overhead clearance, then you will do well to get a chest-type travel refrigerator as they open upward.
Now, front-opening refrigerators have the advantage of allowing you to see all of the contents at a glance, and everything seems more accessible.
On the other hand, the best 12-volt chest refrigerators are more energy-efficient due to the simple fact that the cold air will not spill out when you open the lid. It is not like front-door fridges where you can sometimes see the cold air dump out when you open them.
Additional Features – If you are the type who is not satisfied with the base model of anything, then shop for a new refrigerator that has tons of bells and whistles. If you like to have a fancy RV 12-volt refrigerator, get one with all or most of the following features, like digital controls and interior camera accessible via smartphone apps, among many others.
Now, if you just want something simple, here are the basic features that should be present:
The fridge should be able to work even at a 30-degree incline.
Bright LED interior lighting
Easy-to-access drain plug
Low-voltage cutoff switch
Lots of dividers and compartments
Has a separate compartment for vegetables and dairy
How Many Types of the 12-Volt Refrigerator Are There?
There are two types of RV refrigerators in terms of design – the chest type and the upright or front-loading refrigerators. Here is an overview of each one:
Chest type – If you do not have that much space in your vehicle like, for instance, if you travel in a large van, then you can get by with a regular-sized chest-type fridge. This type is usually small enough to wedge it between the two front seats of a van. It is the top-rated 12-volt refrigerator for RVs with limited space.
Front-loading – This type is similar to those you find in homes but scaled down to fit into smaller spaces like the interior of a recreational vehicle. If you have enough overhead space and floor space so that the door could open completely, then you should get this type.
Another advantage of this type of refrigerator is that it allows you to see all the contents immediately. You can also categorize 12-volt refrigerators depending on how they operate. In this case, your choices include the following:
Compressor refrigerators – These units are the most common ones that you will see in most RVs. The reason why these refrigerators are so popular is that they are durable and highly efficient.
Standard coolers – These coolers are not technically 12-volt refrigerators as they do not use power. Instead, they make use of highly insulated walls and a lid to keep the cold air inside. If you are on a tight budget, you can use a regular cooler. The high-end ones can even keep the contents ice solid for up to 10 days.
3-way absorption refrigerators – These fridges can run on 12v, 110v AC, or on propane. These units are the best in keeping food cold and frozen, but they use up a lot of energy, especially when used on 110v AC. On propane, it would mean that you have to route new fuel lines to make it work (if you do not have it already).
How Does a 12-volt Refrigerator Work?
The way the best 12-volt portable cooler refrigerators work is similar to those that work on AC power. They usually use a compressor to circulate coolant through the condenser coils outside the refrigerator's housing. When the hot gas in the coils of the condenser is exposed to the cooler air temperature, it turns into a liquid.
The liquid refrigerant cools down rapidly as it flows through evaporator coils that are inside the fridge. The refrigerant absorbs all of the heat inside the fridge, thus making the air inside cold. As the refrigerant evaporates, it flows back into the compressor, and the whole cycle starts again.
Who Makes the Best 12-Volt Refrigerator?
I have seen and used several 12-volt fridge freezer brands, but only a few of them stand heads and shoulders among the rest. Some of them are Alpicool, Coleman, Igloo, AstroAI, Costway, Dometic, Whynter, ARB, Aspenora, Joytutus, and Holzer.
You can settle for the cheaper fridge freezer brands. However, if you want quality and lasting durability, then the ones offered by the mentioned brands are what you need.
Why Are 12v Fridges So Expensive?
RV 12-volt refrigerators are so expensive because they are built to work as well as full-sized refrigerators despite being less than half the size. For one thing, most of these appliances must be able to accommodate different power sources – 12v automotive power and 110v AC.
Would it be better to get a small household refrigerator and just plug it into the RV's inverter power instead of getting true portable refrigerators? Yes, it is possible, but it will be inefficient and would only place a massive load on the vehicle's batteries.
With that said, 12v fridges use a more complicated electrical system than one that uses 110v AC. It makes the units more expensive based on the complexity and materials used alone.
Another reason why the trusted 12-volt refrigerators are so expensive is that you can't find that many brands offering 12v fridges, so the law of supply-and-demand dictates that they will be more expensive.
What Size 12v Fridge Do I Need?
You have to consider a couple of things when choosing the size of a camping fridge to buy for your recreational vehicle. One is the number of people who usually go on RV trips with you. If you have around five to six people in your family, you will need a rather large fridge to hold enough food for all of you.
Also, consider the amount of space available inside your RV for this new addition. The provision for the refrigerator should not just be for the external dimensions of the appliance. There should be enough space around for venting excess heat.
How Many Solar Panels Does It Take to Run a Dometic Fridge?
If you made the right power requirement calculations and the right solar power configuration, it is possible to run a portable refrigerator using solar panels exclusively. You will also need to use an inverter and enough batteries so you can still run your refrigerator at night.
To ensure that you are using the right size solar panels, keep in mind their power rating. It refers to the rate that they can charge the batteries in the system. The number of solar panels you need depends on how much electrical charge you will be using throughout the day. In this case, calculate how much electricity your refrigerator uses daily.
Once you figure out the power consumption of your refrigerator, you should add 20% more just for good measure. You cannot tell when there will be overcast skies, so having extra energy will come in handy.
Here is a sample energy calculation that you can base yours on. If you consume around 100-ampere-hours of electricity and you get around 6 hours of sunlight on average, then you will need:
100 Ah x 12V / 6 hours = 200 watts worth of solar panels
Also, since you need to overrate your system by at least 20%, that will bring your total to 240 watts.
Care and Maintenance
Maintenance requirements vary between the 12-volt refrigerator models, so consult the user's manual that came with the fridge for better instructions. Regarding cleaning, you just have to clean your fridge around once a month using just clean water and cloth. Use glass and surface cleaners occasionally, too, if you want to give it a good cleaning.
Conclusion
A refrigerator is a definite must-have for any recreational vehicle. Not only will you need a fridge to keep your drinks cold, but it is also necessary to keep your food fresh for as long as possible. Although you can survive on dry foods alone, that kind of camping trip would not be that much fun.
Whether you are getting your first or thinking of replacing the old one in your RV, you need to find the best 12 volt refrigerator that your budget allows. This way, you will always have cold drinks. You would not also have to worry about your food going bad while in the middle of your trip.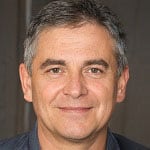 Hi, I am Tom Hank, an RV-er since 2014. Back then, I started without much help. As you can imagine, the struggles are endless. But now, you do not have to begin your adventures knowing next to nothing about RV lives.