One of the most essential accessories that you need to make sure of is inside your RV is a propane detector. As useful as propane is, it can also be dangerous when inhaled. There have been many incidents of accidental deaths due to inhalation of propane. Many of them happened in RVs because of their small and enclosed interior space.
It is vital to have the best RV propane detector if you do not want to be added to that statistic. This little electronic device will scan the air inside your RV for dangerous levels of propane, and alert you if the condition inside is hazardous. Most new RVs already have an RV LV gas detector installed.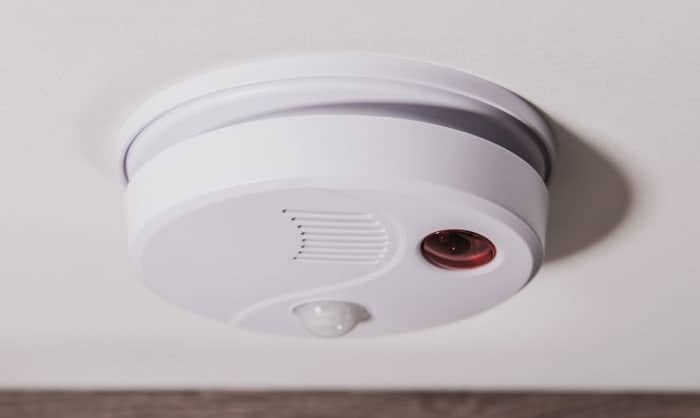 However, if you own an older model, then it is probably time that you replace it with a new one. If this is the first time that you will be shopping for an RV propane gas alarm, then I suggest that you continue reading this article.
Here, you will find some product suggestions, a brief buying guide, and answers to some of the most common questions regarding propane alarms. Hopefully, by the end of this, you would have learned all that you need to know and can make a wise purchase.
Best RV Propane Detector Reviews
1. MTI Industries 20-441-P-WT Safe T Alert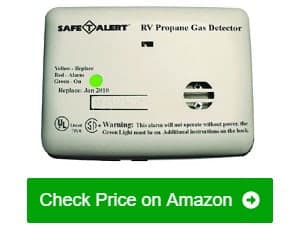 One of the things that I like about this propane/LP gas alarm is that it does not run on batteries. It is hooked up to the electrical system of the RV. In other words, I do not need to continually remind myself about checking the alarm's batteries, of which I am very guilty of forgetting all the time.
With this alarm in place, I do not have to put myself and my family in danger. They will not get in danger just because of my forgetfulness. Another thing that I liked about this RV propane gas detector is that it only takes very minimal knowledge about electronics to install and get running.
It is very likely that your RV's old propane alarm already has the necessary wires that you need to connect the new alarm. However, if you are not that confident with your skills, just call a licensed electrician to install this for you. It will take them no longer than five or ten minutes to have it installed.
I am quite impressed with the alarm mute function of this RV LP detector. The alarm will immediately reset itself when the propane levels in the immediate surroundings have been drastically lowered. Other alarms will continue wailing even when the air is already safe to breathe, and only turn off when you push a button to reset the alarm.
Aside from the alarm mute, this propane detector also has a rapid recovery sensor. The alarm mute will activate immediately if the inside of the RV gets ventilated. However, if, after a couple of minutes, the propane level is still at a dangerous level, the alarm will turn on once again.
Such a scenario is pretty crucial because people will still believe that the propane levels in a particular place are already safe due to the alarm being turned off. That is a pretty dangerous misconception.
The only thing that bothers me with this LP gas leak detector for RV is that it will not work correctly when the battery of the RV is running low. Although this no longer needs fresh batteries placed into the alarm every couple of weeks, you need to check the battery level of your ride.
What We Like
Runs on the RVs power source without the need to replace batteries
Easy to install, requires minimal electrical knowledge
Comes with a handy mute alarm function
Automatically resets alarm when dangerous levels of propane are still present
Compatible with many RV brands and models
What We Don't Like
The alarm would malfunction when RV batteries are a low on charge
Despite its minor flaws, this RV propane leak detector is still a worthwhile investment that could save your life one day, so consider getting one today.
2. MTI Industries 40-442-P-WT Safe T Alert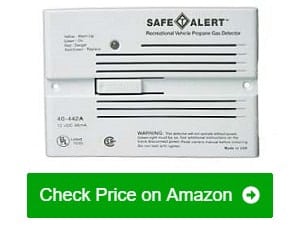 I am genuinely pleased that this propane sensor is compatible with older model RVs. Even the installation bracket on my ten-year-old RV can accommodate this alarm. This way, I do not need to figure out where exactly to place the propane alarm so that it will be more effective at detecting leaks.
When we talk about installation, you will be pleased to know that this 12-volt propane detector is easy to install as you just need to screw it into the existing bracket of the older and expired propane alarm and connect it to the 12v electrical system of the camper. This part is quite easy as there are wires that are already in place.
Because this RV propane alarm draws power from the camper's electrical system, you do not need to hassle yourself with replacing alarm batteries every month or so. Once you have this alarm installed, you can just forget about it until the day that its expiration date comes.
This RV gas detector also has an Alarm mute function that immediately shuts off the alarm when the RV gets ventilated. It is pretty convenient because you do not have to scramble looking for the alarm to turn it off after opening all the doors and windows to air out the RV.
It is also handy that the alarm resets itself if, after a few minutes, there is still a dangerous amount of propane in the immediate environment. The only problem that I have with this alarm is that there is no manufacturing date stamped on the product.
The alarm comes with a five-year usable period, so it does pay to know when it was made. You would not want to buy an alarm that is already a year old.
What We Like
Easy to install, as minimal electronics knowledge is needed when doing so
Fits into most older RVs, even ones that came with other brands of alarms
No need to figure out the best placement
Comes equipped with an alarm mute function; the alarm turns off when the RV is ventilated
Has automatic alarm reset when there is still a high level of propane in the air
What We Don't Like
Does not come with a manufacturing date printed anywhere on the body
Although knowing the expiration date beforehand would have been great, the other features of this RV propane detector still make it a great buy.
3. Atwood 36720 Hydro LPG Leak Detector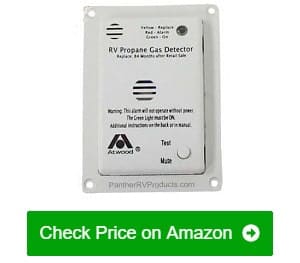 This product is yet another propane leak detector that does not need batteries to operate because it is directly connected to the 12v electrical system of the RV. I am happy that I do not have to take it off to replace batteries. I just had to install it and forget about it until the day that it needs to be replaced.
I also like that there are color-coded lights that are in this propane detector. Of course, there is the green indicator light that tells you if the detector is running, and then there is the red light, which blinks when the detector finds a significant amount of propane in the air.
Although this propane detector requires that you connect it to the 12v system of the RV, it is not that hard at all. For instance, you just need to plug the power supply and screw in the unit to the baseplate. There is no wiring required.
The thing that I find problematic is that Atwood said that this propane alarm was a direct replacement for the older Model 2001 series of alarms, but I discovered that it is not.
If you used the older model Atwood alarms, then you will need to do a bit of modification to make this one fit properly. However, instead of making do, I messaged the manufacturer, and they sent me the correct baseplate for free.
What We Like
Runs on the RV's 12v electrical system
No need for batteries as it runs on the RV's battery
Has color-coded LED lights
Easy to install, just plug the power supply and screw the unit in place
Accessible mute button when the propane issue is quickly sorted
What We Don't Like
Does not fit on the older Series 2000 Atwood
Although the problem with the baseplate is somewhat a bit annoying, it is not so severe that it affects how well this propane detector alarm performs. You should consider getting this brand and model propane detector since the many things that it can do prove that you will not regret your decision.
4. MTI Industries 20441PWT Propane/Gas Detector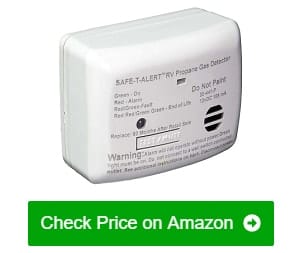 The first thing that I noticed about this device is how small and compact it is. I had no trouble finding an excellent place to install it because it did not take up a lot of space, as other alarms do. As long as it is near the appliances that use propane and there is someplace that you can plug it into, then you are set.
Because this is reliant on the 12v system of your RV, I do not have to continually monitor the alarm to check if I need to replace the batteries. The propane detector will continue to run as long as the RV is running as well.
There have been many times when I have completely forgotten to change batteries of smoke detectors and the like. It will no longer be an issue with this device. As mentioned earlier, this device is pretty easy to install even if your previous propane detector's mounting bracket does not match with this one's.
I just removed the old mounting bracket and installed the one that came with this propane detector. It took just a couple of minutes, and I managed to install the new alarm in less than fifteen minutes, testing phase included.
I truly liked the convenience offered by the Alarm Mute button that can stop the wailing of the alarm while I ventilate the RV. It is much better than the previous alarm that I had that would only stop blaring when the propane levels are already down. Don't worry, though, as this also has a fail-safe.
If, after a couple of minutes have passed and the propane level is still pretty high, the alarm will reset and go off again. I honestly could not find any serious fault with this product. However, I do have one piece of advice.
According to MTI's user manuals, the usable lifespan of propane detectors and alarms is around five years from the manufacturing date. Check the manufacturing date of the alarm before you buy it, as you might have already lost a year or so of its usable life.
What We Like
Very small and compact, thereby ensuring that it does not get in the way and is very discreet when not triggered
Easy to install; you just need to plug it in
Runs on the 12v system of the RV, there is no need for batteries
No need to remind yourself to check the alarm
Has an alarm mute button that also resets when there is still too much propane in the air
What We Don't Like
Many of these products being sold have been manufactured a year or two ago.
Checking the manufacturing date should be done on all propane detectors regardless of the brand. You need to know if your alarm already has a year or two of usable life knocked off.
5. MTI Industries Safe-T-Alert 30-442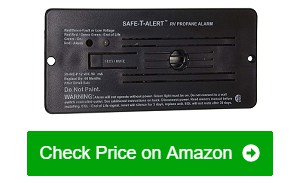 Just like with most of the other alarms that come from MTI Industries, this alarm also comes with an Alarm Mute button. It is a pretty nifty feature because it allows me to turn off the alarm while I let the inside of my RV get ventilated.
It also has a fail-safe. If the air is safe, the alarm will reset, but if there is still a dangerous amount of propane, then it will go off.
Unlike other brands of propane detectors, the MTI 30-442 is designed to save battery power. You do not have to worry about this propane detector draining your RV's battery. It also means that you will not be tempted to place a switch on this detector, which ensures that you will be getting the proper amount of protection.
Speaking of the alarm, this one has a very audible 85-decibel sound output. It is loud enough to rouse people from sleep, but not so loud that it makes your head ache. It means that you will be notified if there is a leak, but not so much that you would panic.
Also, since this is directly connected to your RV's 12v circuitry, there is no need to continually check the detector if it needs new batteries. I cannot even remember the number of times that I forgot to check the batteries of my old propane detector. I was lucky enough not to have any leaks happen.
With this product, I no longer have to worry about it happening again. The only problem I have with it is that it is not the same size as my older propane detector. These kinds of products usually are the same size and use the same mounting brackets.
It has the same size, but the mounting bracket does not fit, I had to make a couple of modifications to make it work.
What We Like
Comes with an alarm mute button
The alarm will reset or set off again, depending on the amount of propane left in the air.
Has an 85-decibel alarm
No need for batteries
Designed to be power-efficient
What We Don't Like
Does not fit into older alarms' mounting brackets
The issue with this product is not that big of a deal, although it should not have been a problem at all. Besides, all the benefits and advantages this propane detector provides more than makes up for its shortcomings.
6. MTI Industries 30-441-P-WT Safe T Alert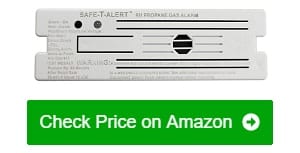 You should not gamble with yours and your family's safety, which is why I like this safe alert RV propane gas detector. This product passed all of the restrictions set by the RVIA/NFPA and fulfilled all their requirements. You could not get more trustworthy than this.
Just like the other products made by MTI, this propane detector gets its power directly from the RV's electric system. It means that you do not need to replace any batteries every couple of months, which is something that I am guilty of neglecting, and I am sure that many people are, too.
Even though this propane alarm draws power from the RV's electric system, it is specifically designed to be as power-efficient as possible. You do not need to worry about this detector draining your batteries. The consumption is so minimal that it is negligible.
Another reason why I like this product so much is the fact that it is the same size and has the same mount as older brands and models of propane leak detectors. My RV is almost ten years old, and when it came time to replace the included propane detector, I was pleasantly surprised to find that this perfectly fit the old one's mounting bracket.
The only trouble that I ran into when I purchased my propane detector is that it had a manufacturing date of 2018. I bought mine at around mid-2019, so I mainly bought an alarm that already has one year taken away from its usable lifespan.
What We Like
Easy to install; you just need to connect two color-coded wires
Can fit in most mounting brackets of older brands and models
Passed all the requirements of the RVIA/NFPA
Very energy-efficient, does not drain the RV's batteries
Has a clear and audible 85-decibel alarm
What We Don't Like
You might be getting an alarm that is a year old or older
If you are careful when buying this propane leak detector (i.e., check the manufacturing date), then you will be getting a full-featured, accurate, and energy-efficient product. With that, you can expect it to last all of the five years of its useful functioning lifespan.
7. Oaksay Propane|Natural Gas Detector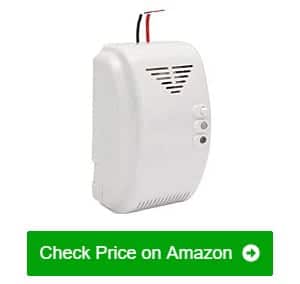 This gas detector is an impressive little device. It is not just your ordinary propane leak detector because it can do other things as well. One is that you can hook it onto an automated propane delivery system so that it shuts off the gas when it detects dangerously high levels of propane in the air.
Another function that this detector has is that you can wire it to the central automated security system of the RV. This way, it can send an alarm to the main control panel if it detects propane leaks. You will be getting two alarms at once to make sure that you are aware of what just happened.
Although this is primarily a propane gas detector, you can also use it to detect other gases. Some of the other fuel vapors that this device can detect include, but are not limited to, liquefied petroleum gas, coal gas, natural gas, petrol, and more.
I also like that this does not require advanced electronics knowledge to install, the basic installation at the least. The wiring diagram is pretty easy to understand, even for someone who has limited knowledge of electrical systems. However, if you want to be sure, have a certified automotive electrician handle the installation for you.
The only concern of mine is that there is no indication of the RV propane detector lifespan. Most gas detectors have a set number of months before they need to be replaced. You can't find anything like that indicated on the product, the packaging, or in any of the documentation that came with it.
What We Like
Can be used in many different applications
Has an alarm mute function that will silence the alarm while you are airing out the RV
Features a loud but not overly startling alarm
The alarm resets when the propane level drops to safe levels, but when there is no change after a couple of minutes, the alarm will sound again
Very easy to install
What We Don't Like
There is no saying when the detector is still useful.
Although the lack of expiration date is concerning, this propane leak detector does have so many different other features and benefits that they make this a good investment for your safety.
8. DEEPLITE Gas Leak Monitor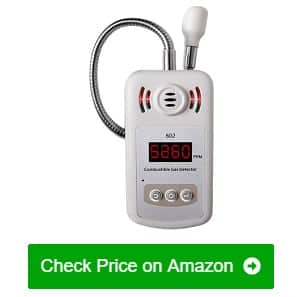 This gas leak monitor from DEEPLITE does not only serve as an RV propane detector. It is a handheld battery-operated RV propane detector. It is the same tool that people working in mining and petroleum industry use. The thing that I truly liked about this device is that it can detect many other dangerous fumes other than just propane.
This gas leak monitor is so sensitive that it can detect particles as small as one part per million, which is exponentially more sensitive than the human nose. It will tell you if it is safe to stay in a particular area.
Because you can read in real-time how much dangerous fumes are in the immediate environment, you can use this tool to determine where the leak is coming from. If, for instance, you have aired out the inside of your RV, you can use this to find out the source of the leak.
With that, you can patch it up temporarily until you can take your RV for professional repairs. Another neat thing about this tool is that the user gets an audible alarm and a blinking screen when it detects higher than the normal gas concentration in the area. You will not miss the alarms that this device uses.
The only issue I have with this detector is that it needs good batteries for it to work correctly. I also noticed that this device uses up batteries real fast.
What We Like
Small and compact, can be clipped onto a belt (belt-clip not included)
Has a flexible probe for checking leaks in hard-to-reach areas
Highly sensitive as it can detect trace particles in the air
Has dual alert functions
Can detect other gases other than propane
What We Don't Like
Needs extremely good batteries for it to work as you expected
Paying for deluxe batteries is not that big of an issue if it means keeping you and your family safe during your outdoor excursions. Get this gas monitor and continuously monitor your propane lines.
9. RecPro RV LP Detector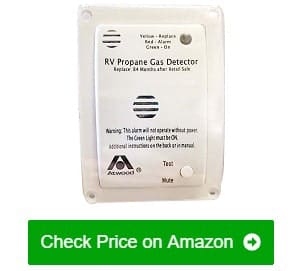 The thing that I liked the most about this liquid propane leak detector is that it has a usable lifespan of seven years. To make it better, the countdown starts the moment you first power it on. It is not like the other propane detectors wherein you need to start counting from the manufacturing date.
I also like the single LED indicator light. The light should be steady blinking green. It indicates that the unit is functioning correctly. If the light starts flashing bright red, then the propane fuel concentration is at a dangerous level already. What it means is that you need to air out the RV immediately.
When the light turns yellow, it means that the unit needs to be replaced. Aside from the LED, this propane detector can also sound an audible beeping alarm. The sound is not so loud that it will scare you into a panic, but it is enough to rouse you from sleep and into action.
Also, there is a test/mute button that you can press to turn off the alarm temporarily as you air out the inside of your RV. Another neat thing about this propane detector that I love is the very generous two-year warranty. Other similar products have, at most, a one-year warranty against factory defects.
There isn't any real negative thing that I could say about this propane detector. However, if I have to be nitpicky, I would say that the test/mute button could be a bit bigger.
What We Like
Has a seven-year lifespan, which starts upon the first use
Comes with a very nice two-year warranty
Easy to install as it can fit into the holes that older propane detectors used
Comes equipped with a color-changing LED indicator light
Has a clear and audible alarm
What We Don't Like
The pause/test button for the alarm could be bigger.
This product is one of the best propane leak detectors that one can buy. There is nothing serious to complain about it, making it one of the best investments you can get for your RV.
10. KOABBIT CO Alarm Detector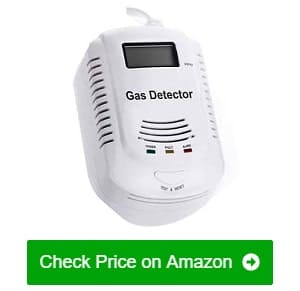 Although technically not a propane detector for RVs, you can still use it provided that it is plugged into a 240v inverter, or if you purchase the separate rechargeable battery. If you can spare a 240v outlet in your RV, then you should get one of these gas detectors.
Another feature I liked about this gas detector is that it does not only detect leaks but is also a very sensitive carbon monoxide alarm. I love it because I do not need to buy a separate detector for different dangerous gases. This one detector is enough to protect the RV from all dangers.
Unlike other dangerous gas detectors, this RV carbon monoxide & propane gas alarm has an LCD screen that provides a real-time display of the concentration of deadly fumes in the RV. It is convenient because you can tell if there is a leak well before the alarm even sounds. It helped me by tipping me off about a minor leak in my propane lines, so I managed to remedy it before it got worse.
The best thing about this gas detector is that it is very easy to install. There are no wires to connect at all. You can just plug it into any 240v outlet. Mounting is also easy. It already comes with two screws and dowels for mounting on the wall.
The only issue I have with this is that I have to free up a 240v outlet in my RV. That is so I can use this product. Also, if you have been RVing for as long as I have, then you know how important each one of those electrical outlets is.
What We Like
Very easy to install, no wiring work needed
Has a digital LCD with real-time data
Comes with a loud but not deafening voice alarm, which you can pause and reset by pressing a button
Helps by detecting weak leaks early
Can also be used at home
What We Don't Like
Needs a 240v inverter or the rechargeable battery pack to work
You will do well if you purchase this gas detector because you will be getting an advanced warning before the propane gas concentration in your RV gets dangerously high. Also, this detector can sniff out other dangerous fumes, so you do not need separate devices.
11. MTI Industries 35-742-BR Safe T Alert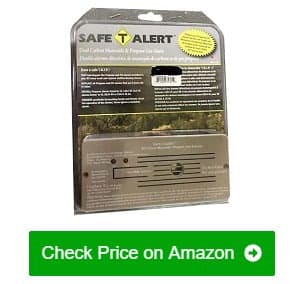 This device is more than just a propane gas detector. It can also find trace amounts of carbon monoxide, which is equally as dangerous if not more so. It is essential as carbon monoxide is odorless, unlike propane, that is artificially given a smell so that it is easier to detect.
Because this is a two-in-one device, there is no need for a separate carbon monoxide detector that will be using the battery of your RV. Moreover, you no longer have to allocate any more of the limited space that you have in your RV,
The neat thing about this is even though it functions as two gas detectors in one, the size remains the same. If you will be replacing the old detector in your RV, the odds are that this one will fit precisely in the hole left by the old detector.
Another thing about this detector that I liked is that it has a 60-month service lifetime, and it does not start until after the device is first used. It is unlike other detectors where you have to consider the manufacturing date of the item, which usually comes to store shelves with a year already spent.
There is nothing to complain about with this product. However, if I have to pick a flaw, it would be how the instructions on the faceplate do not contrast that well with the color of the faceplate, making it very hard to read.
What We Like
Can detect both propane and carbon monoxide
No need to buy a separate detector for carbon monoxide
Has a service life of 60 months, which starts as soon as you use the device
Compatible in size with older model detectors
Easy to install, requires minimal electrical wiring
What We Don't Like
Hard to read print on the front of the device
Maybe, some people got detectors that had factory defects because I could not find anything wrong with the one that I got. It works perfectly, is easy to install, and can keep you safe.
12. EG Air Propane/Natural Gas Detector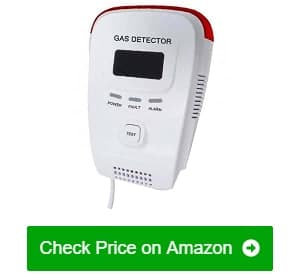 If this gas leak detector could not get your attention, then nothing will. Aside from a loud 80-decibel audible alarm, this detector also has a brightly flashing red LED light that will surely deliver a message of warning to those occupying the home or RV.
Unlike other gas detectors, this device can accurately measure how much dangerous gas is concentrated in the air inside the room, and it displays the amount in a large, easy-to-read LCD. I am happy that I can find out the percentage of gas accumulated inside the room (from 0% to 20% of the lower explosive limit or LEL).
With that, I can turn off the gas immediately before it can climb any higher. However, the alarm will also sound when the LEL reaches just 5% concentration. It is a very energy-efficient detector and alarm. This device uses less than 3 watts of electricity, which makes it suitable for RVs and camper vans.
It will also help reduce propane wastage because it will send out an alarm when someone forgets to turn off the stove. It is very durable and made of thick ABS, so even if you hit it accidentally, it would not chip nor crack. Aside from that, this casing is very resistant against mildew and pests. It does not corrode, too.
What I do not like about this product is that if you were to use it in an RV, you need to allocate an open 240v socket (you would need an inverter for this). In any recreational vehicle, this is not always viable.
What We Like
Has a loud 80-decibel audible alarm
Features a bright flashing red light to signal gas leaks
Accurately measures the amount of dangerous carbon monoxide and propane
Has a bright LCD to monitor the number of hazardous gases in the area
Uses very minimal amounts of electricity
What We Don't Like
Uses a 240v socket, cannot directly use the 12v electric circuit of RVs
This gas detector is an excellent addition to any home and especially for RVs. The interior is much smaller and thus fills up faster when there are gas leaks. Even though this has its flaws, it is still a good buy.
Best RV Propane Detectors Buying Guide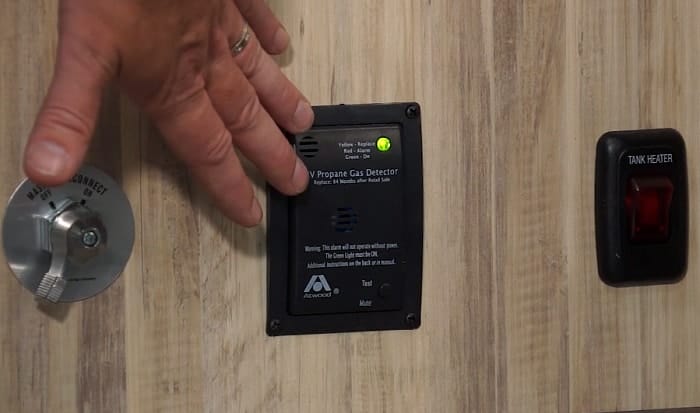 One of the most important things that you should have in your RV without skimping out on is the indoor propane detector. A good or bad propane detector can make the difference between life and death, so get the best one that you can find
To make sure that you are making the right decision, here are some of the details that you have to consider:
Gas Type – If you are using propane in your RV, then make sure that the detector you get is calibrated for propane. Although many detectors can be used to detect several different gases, you can still find those specifically designed for a more comprehensive detection.
There is nothing wrong about covering all your bases. However, if you are only using propane in your RV and nothing else, then it is best to stick to detectors calibrated solely for propane.
Level of Sensitivity – Yet another essential factor to consider when purchasing a gas detector is how sensitive it is when it comes to detecting dangerous gases in the air. Most of the commercial detectors can detect gases suspended in the air that are as few as 50-70 parts per million. It is not even enough for the human nose to smell.
Having a sensitive propane detector in your RV will allow you time to get the people out and open all the doors and windows. With that, the RV will have enough ventilation to get the gas out.
Additional Features – It is also vital to consider the style when buying a detector if you want it to be barely visible against the wall where you will be installing it. What it means is that if you are mounting the detector on a dark wall, then getting a bright white color should not be the best move.
If you would just like a simple device that will send out a loud alarm when it detects a leak, then get one of those basic alarms. However, if you want to see in real-time if you are having a leak issue, get one of those alarms with an illuminated LCD screen that shows how much gas is in the air (in PPM).
Besides, you can refer our list of best RV propane tank gauge to make sure that the propane in the tank is sufficient to cover the oven and stove during your entire camping trip.
How Does an RV Propane Detector Work?
A propane gas detector is a device that measures and alarms the people nearby if there is a dangerous concentration of propane in the vicinity. These detectors are usually used to prevent exposure and fires. The devices are either portable (as used by gas linesmen to detect leaks) or stationary (like the ones used at homes or in RVs).
When these detectors are triggered, they will let out a loud, audible alarm. Some models also come with bright blinking lights. While older gas detectors can only detect one specific type of dangerous gas, plenty of modern ones nowadays can be used to check for multiple types of gases.
How do these devices work? Most detectors these days use catalytic sensors. They make use of a platinum-treated coil of wire, which, when it comes into contact with a combustible gas like propane, tends to oxidize. The resistance will also change due to the heat released by the reaction.
A bridge circuit will notice this change in resistance and trigger the alarm. Another way that some sensors work is through infrared detectors. These gadgets make use of a system of IR transmitters and receivers for detecting combustible gases in the air. The way it works is the transmitter fires a beam of IR light towards the receiver.
If a combustible gas gets in the way of the IR beam, then the receiver will notice the decrease of the beam's intensity and trigger the alarm. The neat thing about this type of gas detector is that it can determine different kinds of combustible gases.
Infrared sensors or IR detectors work via a system of transmitters and receivers to detect combustible gases, specifically hydrocarbon vapors. Typically, the transmitters are light sources and receivers are light detectors.
If gas is present in the optical path, it will interfere with the power of the light transmission between the transmitter and receiver. The altered state of light determines if and what type of gas is present.
Do I Need a Propane Detector for my RV?
Yes, it is a requirement that your RV has a working propane detector. Otherwise, you will not be able to get it registered with the DMV. Aside from legal reasons, you should get the best propane detector for RV because of the small space inside the vehicle. It can fill up with propane quite quickly due to such a small space.
Although propane is artificially odorized to make it easier to detect by the human nose, the concentration will already be hazardous by the time a person notices the smell. It would be the case, especially if it is in an enclosed space like an RV.
Propane detectors will set off an alarm while the concentration of the gas is still within safe limits but is bordering on dangerous levels. It can, therefore, give the person inside enough time to react.
How to Replace an RV Propane Detector?
It is quite easy to replace an outdated propane detector in an RV. First, you need to turn off the RV's engine and turn off the electrical circuit of the vehicle. After that, remove the old detector from its mounting place, which is quite easy because it is usually just mounted on a hole in the wall using simple screws.
Where Do You Mount a Propane Detector in an RV?
Different gas detectors need to be mounted in various ways to ensure that they are effective. Propane gas is more than one and a half times heavier than air, so when a leak occurs in your RV, the gas will first settle on the floor. Now, where to mount propane detector in RV?
Because of this property of propane, it is best to install a propane detector at least six inches above the floor line. Also, because the stove is the most common propane appliance that will suffer from leaks, it is highly recommended that the detector be installed beside it.
Why Does My RV Propane Detector Keep Going Off?
If your RV propane detector keeps going off, even if you have made doubly sure that there are no leaks anywhere in the propane lines, then there might be other reasons why it keeps on getting triggered. Some of these reasons include:
Other chemical fumes in the RV – Propane detectors are very sensitive pieces of equipment, and there is a lot of other chemical fumes that can trigger them. Some of these chemicals include paint, paint thinners, acetone, cleaning solutions, hairspray, and many others.
To avoid triggering the alarm, store and use these chemicals as far away from the propane detector as possible.
The voltage flowing through the device – Many brands of propane detectors nowadays have a failsafe feature that triggers the alarm when there is not enough voltage flowing through the device.
Depending on the brand, the alarm emitted when the detector is not getting enough electricity is very much different from the sound it makes when it detects a propane leak. It is the reason why you should test the alarm from time to time to familiarize yourself with the sound.
One of the main reasons why the propane alarm is not getting enough electricity is that the battery level of the RV is getting low. If this is the case, then you need to recharge the batteries as soon as you can.
How to Turn Off Propane Detector in a Camper?
The Recreational Vehicle Industry Association (RVIA) and the National Fire Prevention Association (NFPA) are firmly against wiring an on/off switch to a propane detector in RVs. It is mainly because it is a safety risk.
What will happen if you forgot to turn the alarm off? It is the reason why these detectors/alarms are either battery-powered or directly wired to the RV's 12v electrical system. The only legal way for you to turn off the propane detector in your RV is to turn off the entire electrical system of the vehicle.
How Do You Test/ Reset a Propane Gas Detector?
If it is your first time to install a propane gas leak detector, it is advisable to test the alarm to make sure that it is functioning. However, the wrong way to go about it is to open your propane stove and blow out the flames. It is just plain irresponsible and dangerous.
Fortunately, there is an easy way to test the alarm. Just look at the front panel of the detector, you will most likely find a "test/mute" button. You just need to press this button, and it will immediately trigger the alarm, and then press it again to stop the beeping.
Now, if a minor gas leak triggered the alarm, for instance, you forgot to turn off the propane stove. After you turned off the propane and opened all of the windows and doors of the RV to ventilate the interior, you can turn off the alarm by pushing the "test/mute" button.
It will temporarily mute the alarm so that you do not have to deal with the noise while waiting for the RV to get appropriately ventilated. Now, if, for instance, the propane level inside the RV still did not lessen, the alarm will trigger again. If the propane level drops significantly below the dangerous limit, then the alarm will reset itself automatically.
How Do I Find a Propane Leak in my RV?
The most effective way to fix a leak in your RV is to have a professional do it for you, especially if you have not departed for your camping trip yet. However, if you are thinking of cobbling together a quick, then you can find the leak on your own using a couple of ways.
If you have a handheld propane detector, then you can use it to take readings along the propane lines – from the tank to the appliances that use the gas. Take note of where the reading is the highest, that general area is where you will find the leak.
On the other hand, if you do not have a handheld monitor, you can do it the old-fashioned way. Mix a couple of drops of liquid soap in some water and put it in a plastic spray bottle.
Starting from the regulator, spray a bit of the soapy water on the surface and continue spraying down the hose. Look for bubbles forming on the surface; that is where the leak is coming from.
How Long Do RV Propane Detectors Last?
The service life of a propane detector will depend on how the manufacturer made it. Some of the older gas leak detectors have an average of five years' service lifespan, and the countdown starts right at the manufacturing date.
Say, for instance, you bought this kind of propane detector this year (2020), and you find that the manufacturing date of the detector was around the same time last year (2019). That instantly means you can only use the detector for around four years or so before you need to replace it.
On the other hand, many brands of detectors also have a service life of about six to eight years, and you begin the countdown the very first time that you power it on.
You no longer need to consider the manufacturing date of the unit. Just take note of the first time it was used, or observe if the "replace" led light starts flashing (if the product has this feature).
Care and Maintenance
You do not have to do much care and maintenance when it comes to propane gas detectors, aside from wiping them clean from time to time. If you do clean your detector, just use a rag dampened with some clean water. You do not need soap nor alcohol.
The only real maintenance that you can do is replace the detector as soon as their expiration date comes or before it expires just to be on the safe side.
Other RV Propane Detectors We Reviewed
MTI Industries 30-442-P-WT Propane Gas Alarm
This product is a basic yet reliable propane leak detector that will not burn a hole in your pocket.
Key Features:
Draws power directly from the RV
Has a loud, 85-decibel alarm
Will start alarming when 25% LEL of propane is detected
MTI Industries 35-742-WT Safe T Alert 35 Series Dual LP/CO Alarm
Propane is not the only invisible and odorless gas that you should be wary of. This alarm will also detect carbon monoxide, which adds another layer of protection.
Key Features:
Detects both propane and carbon monoxide
Has a low voltage LED alarm
Automatically resets when silenced if there are low volumes of gas remaining
MTI INDUSTRIES 20-441-P-BL Detector Propane
Unlike battery-powered alarms, this one connects directly to the RV's power system, eliminating the need to replace the batteries.
Key Features:
Has a handy test/reset button
Still operational even when muted
Has an End Life LED signal
MTI Industries 30-442-P-BR Safe T Alert 30 Series Propane/LP Gas Alarm
If you use both LPG and propane in your kitchen or your RV, then it is the best choice of detector.
Key Features:
Alarms when 24% LEL of propane is reached
Has a very audible 85-decibel alarm
Works on the 12V system of the RV
GasKnight Natural Gas Detector and Propane Detector
The great thing about this particular detector is that it is plug-and-play. It does not require any installation or wiring.
Key Features:
Plugs into any power outlet
Can be used in the home or RV
No drilling and wiring needed
HSTMYFS Digital Gas Detector
Aside from giving you a warning when the gas level is getting dangerous, this gas detector will also provide advanced warning, thanks to the digital display.
Key Features:
Can be used for detecting different gases
Plug-and-play convenience
Ideal for use at home or in the RV, or wherever it is needed
Y201 Propane and Natural Gas Leak Detector
If you suspect that the leak is not coming from the stove, then the little detector will help you pinpoint the source.
Key Features:
Flexible neck for those hard-to-reach places
Easy to read gauge
Runs on just 3 AAA batteries
MTI INDUSTRIES 40442PBR 12V Propane/Gas Detector
This RV gas leak detector can tell if there is a dangerous concentration of propane or natural gas in the RV. It is easy to install and can last up to 60 months.
Key Features:
Easy installation, just requires two wires to connect
Has a test/mute button
Mounts flush into the wall
Kidde AC Plug-in Gas Detector Alarm
Protect your family from the odorless, but otherwise hazardous fumes using this convenient gas detector.
Key Features:
Can detect explosive gases and carbon monoxide
Comes equipped with an 85-decibel alarm
Has a digital display that shows the level of dangerous gas in the air
Pangaea Propane and Natural Gas Leak Detector
Although this is made specifically for gas line techs, you will benefit from having it in your RV to pinpoint the exact source of the leak.
Key Features:
Bendable neck for tight spots
Runs on three AAA batteries, included
Adjustable sensitivity
GEARDON Plug-in Home Leak Sensor Detector
This product is a multi-gas detector, including methane and carbon monoxide. It is convenient for home and RV kitchens.
Key Features:
Can be mounted on any wall using a couple of screws
Plug and play, no additional wiring needed
Has a bright LCD display and voice prompt
DEEPLITE Combustible Gas Leak Sniffer Detector
This highly sensitive portable gas leak detector is just the ticket for finding the exact location of the gas leak for immediate repairs.
Key Features:
Highly sensitive; can detect up to 1PPM
High accuracy digital display
Visual and audio signals when a leak is detected
Kidde Carbon Monoxide Detector Alarm
This sleek-looking item is something that might just save yours and your family's life someday, get one today.
Key Features:
Runs on 2 AA batteries
Has a very audible 85-decibel alarm
Low battery signal, can be muted
Conclusion
Because RVs are much smaller and more enclosed compared to a home, it will take no time at all before the fumes get to a dangerously high concentration when a propane leak happens. It is the reason why you must get the best RV propane detector that you can find.
Accidents happen. It does not matter if you take good care of your RV. There will be times when propane will leak inside your camper. Keep yourself and your family safe. Install a dependable RV propane detector as soon as you can.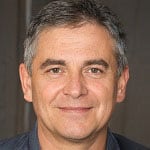 Hi, I am Tom Hank, an RV-er since 2014. Back then, I started without much help. As you can imagine, the struggles are endless. But now, you do not have to begin your adventures knowing next to nothing about RV lives.