Why would you want to have the best induction cooktop for RV? Well, first of all, induction cookers heat pans and pots faster than regular propane stoves. Also, because they heat up more quickly, they can cut the cooking time considerably, making induction stoves more energy-efficient.
Furthermore, you can now use any kind of cookware on induction stoves, thanks to helpful accessories, like diffusion plates. Another reason why you should at least give an RV induction cooktop a try is that it is small and compact.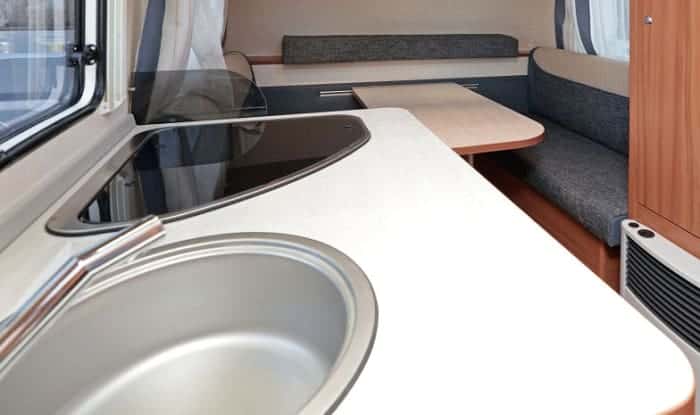 You can do away with the propane stove altogether and just use your propane tanks for other things, like refrigeration. You will also find it valuable if you want to use something as your outdoor grill. If you are just cooking different dishes, you can use the induction cooker instead.
Many different brands of induction cookers are available right now, making it very difficult to choose just one. If you are unsure of what you need to look for when shopping for an induction cooker, then this article will help you figure out what features make up a perfect one.
Not only will you learn more about induction cookers, but you will also gain some suggestions on what brands you should check out. After you finish reading this article, you can increase your chance of making an informed choice.
Best Induction Cooktop for RV Reviews
1. Duxtop Portable Induction Cooktop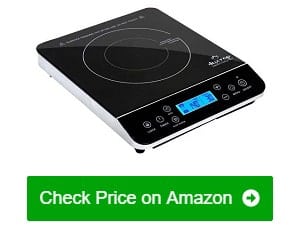 What I liked the most about this Duxtop induction cooker is that it is very energy-efficient. I am glad that I can get to choose from 20 power presets (from 100 watts to 1800 watts) or select temperature presets (from 100°F to 460°F) when cooking.
Compared to propane and regular stoves, RV induction cooktop power consumption is 83% more efficient. Take boiling water, for instance. It will take less than a minute to boil a pot of water.
I also like the child lock feature of the Duxtop induction cooker. It helps prevent children from operating the induction cooktop without supervision. Also, engaging the lock will prevent other people from accidentally turning off the stove.
This induction cooker is tiny and compact. At less than a foot wide and 14 inches deep, this induction cooker will fit comfortably on any countertop. Alternatively, you can create a makeshift platform for it on your old propane stove, as long as the power cord can reach a power outlet.
I also like how easy it is to clean this RV electric cooktop. The cooktop is made of non-stick tempered glass, so it will be easy to wipe away any food spills and oil splatters. If the grease is a bit too thick for regular paper towels, you can use a bit of soapy water and an ordinary kitchen sponge.
Just make sure that you unplug the stove first before you do. The only thing that I can complain about is that the induction ring is quite small – less than five inches in diameter.
Although it can heat pots and pans quickly, the power needs to be dialled down quite a bit if the pan is not that thick. If you don't do that, the part on top of the induction coil will most likely burn.
What We Like
Very small and compact, letting it fit any countertop
Easy to clean, thanks to the non-stick tempered glass cooktop
Comes equipped with a child-lock feature
Proven to be energy-efficient
Can choose between preset power settings or preset temperature settings
What We Don't Like
The induction ring is quite small.
The issue with the small induction ring will only affect very thin cookware. However, if you are using high-quality pots and pans, it would not be much of an issue at all, thus making this cooktop a good buy for any RVers.
2. True Induction Mini Duo MD-2B Double Burner Induction Cooktop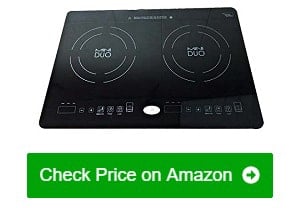 The thing that I liked the most about this particular 12v induction cooktop is that it has two separate cooktops. It is very nice because most induction cookers only have one induction ring. I love the way it is designed because I can cook two different dishes at the same time.
The entire surface of this induction cooker is made of durable ceramic glass. Even if you accidentally drop your pots on the surface, it will not even get a scratch. The sleek surface also makes this cooktop easy to clean.
Another neat benefit of this cooktop is that you can also use it as a portable stove. Alternatively, you can install it on the countertop. The rubber feet can be removed so that it will be easier to mount this built-in induction cooktop for RV flush into the countertop.
It means you can remove your old propane burners and just install this instead. Other nice features that grabbed my attention are the touch controls. Not having physical switches means that there will not be anything that will wear down after time.
You just need to keep the surface relatively clean so that your touches will register. In other induction stoves, the buttons are the first components to deteriorate, which means the True Induction Mini Duo can last much longer.
The only thing that I did not like is the spacing between the two induction coils. If you were to use two large pans, or even one medium and one large pan, they would not fit. One will always be off-center from the induction coil.
What We Like
Comes with two separate induction cooktops
Very powerful at 1800 watts
Has a durable and easy to clean surface
Equipped with durable touch controls
Has a child-lock system that prevents unauthorized use
What We Don't Like
The spacing between the two cooking surfaces is too narrow.
Although the space between the two cooktops is not as big as I wanted them to be, it is still one worthwhile induction cooktop that is both portable and can be installed into the countertop. You can do whatever you feel like with it.
3. Cuisinart ICT-60P1 ICT-60 Double Induction Cooktop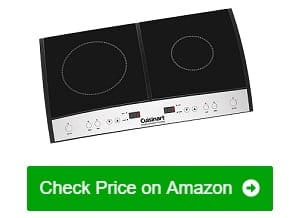 Among the features that I loved about this 2-burner induction cooktop for RV are the different-sized induction coils – one for larger cookware and another for smaller pots and pans. It helps to know which burner is for which type of cookware.
The sizes of the induction surfaces are not the only things that are different. The larger of the two cooktops have a higher maximum temperature. It is the surface that I usually use when I need higher temperatures, like when I need to sear steaks.
It is essentially two true induction cooktop sharing one case and a single plug. There are separate switches for the burners, and both of them have separate cooking timers as well. It means that you can place two different pots, set their temperatures and timers, and then leave them alone and do other things.
Once the timer runs out, the burner will turn off as well. The best thing about this induction cooker, and other similar products, is that these do not throw out as much radiant heat as propane and electric stoves. It means that your small RV kitchen will not get quite as hot.
You can now cook great meals without necessarily slaving on a hot stove. If there is anything that I think can be improved in this 12-volt induction cooktop, it would be to make the fans a little less noisy. Now, you would not even notice the fans when you are cooking. However, once you turn off the heat, you will start to notice the noise.
What We Like
Has two separate induction burners of different sizes
Comes with individual temperature and timer controls for the burners
The burners automatically shut off after eight seconds when no pans are detected.
Does not throw off a lot of radiant heat
Features an easy to clean tempered glass surface
What We Don't Like
The fans are a bit too noisy
The fans do get a bit noisy, but when the RV electric stovetop has cooled enough, they will shut off automatically. Also, you should not let the noisy fans dissuade you from trying it out. This unit is a pretty good induction stove for both your home and your RV.
4. Furrion RV Electric Induction Cooktop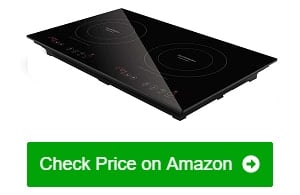 Rarely do I see an electric stove for the camper that has as many smart features as this appliance offered by Furrion. For instance, it has a ClimateSmart technology, which automatically makes the process of setting adjustments easier depending on the climate where you are cooking.
If it is a bit too cold, it will automatically increase the power to reach the desired temperature faster. It also has a VibrationSmart technology that will allow it to function even while the RV is rolling down particularly bumpy roads.
Aside from the Smart Features, this RV induction stove also has ample safety features. I greatly appreciate these features as I have a toddler who is quite an explorer. This stove has an auto shut-off feature that turns off the stove when there are no pots on the burner. It also has a child-lock feature that prevents unauthorized operation.
Another thing about this 12v dc induction cooktop that I like is how simple it is to operate. Each cooktop has its own set of easy to press button controls. Just turn on the cooktop and set the temperature to your desired level. The neat thing about it is that you have absolute control of the heat, unlike propane, where you have to go by feel.
The black, tempered glass cooking surface also looks quite nice. Regardless of what kind of décor you have in your RV kitchen, it will fit in quite nicely. Speaking of fit, although it has two induction burners, it can still fit on any standard countertop.
If you wish, you can install it directly on the counter. It even comes with instructions on how you can do so. If there is anything that I can point out as a problem in this stove, it would be the uneven heating of the induction burners.
There is a significantly hotter part of the burner, and you can tell where it is when you are frying anything. However, it is not that much of an issue, especially since you can just move around the food in the pan if it gets a bit too browned.
What We Like
Very energy-efficient as it heats up in just seconds
Easy to operate since it only requires a couple of button presses to use
Has several useful Smart functions
Plenty of safety features
Can be used as a portable cooktop, or installed into the counter
What We Don't Like
There are hotspots in the induction burners.
It is not the perfect induction stove cooktop, but it does come pretty close. It is effortless to use, and yet you have almost absolute control of how it heats your pans and cooks your foods.
5. AmazonBasics 1800W Induction Cooktop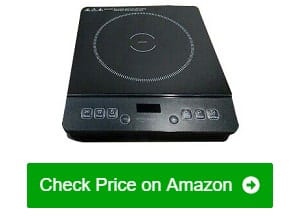 This appliance is a pretty small and compact induction cooktop. This structure makes it the perfect choice if you do not have that much room in your RV kitchen, or if you live alone in a small apartment or a college dorm. Because of its size, it can easily fit on top of any countertop, effectively turning any surface into a cooktop.
The neat thing about this cooktop that I like that is not in many other induction cookers is the start button. Other induction cookers immediately start heating when you turn them on. This Amazon Basics induction stove lets you set the temperature (and timer if you so need) first before it starts cooking.
I am glad that I do not have to scramble to lower the temperature as soon as the cooker turns on. This cooker is pretty simple to operate overall. It is easier to use than most microwave ovens. You just need to do a couple of button presses, and you are already cooking.
There are so many different induction cookers out there that have many different cooking settings, but in truth, the few buttons that this induction stove has are more than enough. The glass cooktop also makes this stove very easy to clean.
If you are sick and tired of having to repeatedly brush and scrub off all of the spilt food bits on the burners of your propane stove, you will not have the same problem here. You can effectively clean this cooktop just by using a couple of paper towels.
The only problem I have is that the induction ring of this electric stove for a travel trailer is just around four inches in diameter. It means if you are using a rather large pan that does not have an efficient heat distribution, then the edges will be cold, but the center will be too hot. It is the reason why you need to use high-quality cookware for it.
What We Like
Very small and compact, making it ideal for RVs
Has a handy start button
Easy to use because it only has a couple of buttons
Has a lot of basic safety features
Easy to clean and maintain
What We Don't Like
Small induction ring, requiring high-quality cookware for even heat distribution
Overall, this appliance serves as the perfect choice if you have an RV. Even if you will not be using it full time, it still works well as a backup cooktop or as a portable stove.
6. Duxtop 1800W Induction Cooktop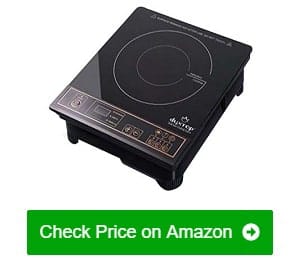 This unit is probably one of the most durable options for the Dometic RV induction cooktop I have ever had the pleasure of using. I have been using it as my daily driver for the past couple of months. I am glad to say that it still works as well as it did when it first came out of the box.
Based on how much I have been using and abusing this stove, I do not doubt that it can last for years. Although it has a couple more buttons than the most simple induction cookers, it is still pretty easy to use. It is a bit more intuitive, as it gives a choice between power and temperature settings.
This appliance is great for those who are not familiar with temperature settings, making it ideal for all kinds of cooks. One of the advantages of using induction cooktops is that they heat up more rapidly compared to regular stovetops. It means cooking time is significantly shortened, making this type of cooktop several times more efficient.
However, even though this stove heats up quickly, it also cools down rapidly, which happens right away when you lift the pan. It will only take a couple of minutes before the cooktop becomes cool to the touch again. It is the reason why this particular induction cooker lasts a long time without the glass cracking.
This stove also has a compact design, making it the ideal cooking appliance for RVs. It does not matter if you do not have a large counter. This stove will surely fit on it. Even if you are not using this induction stove as your daily cooktop, it will still make a good backup stove in case you run low on propane.
It would have been perfect if the induction ring is a bit bigger. If the pan used on it is a bit on the large size, the center would be smoking hot, but the edges will not be nearly as hot. I noticed this issue when I am making omelets. The center would be cooked, but the edges would still be a bit soggy.
What We Like
Highly durable, tempered glass surface does not scratch easily
Gives users the chance to choose between power and temperature settings
Heats up and cools down rapidly
Has all the necessary safety features
Comes with a compact design that fits on all countertops
What We Don't Like
Quite small induction ring that makes it difficult to cook with large pans
Although this induction cooker has its flaws, it is still one of the best choices if you want to replace your old propane stove in your RV with something a bit more efficient.
7. Inducto Dual Induction Cooktop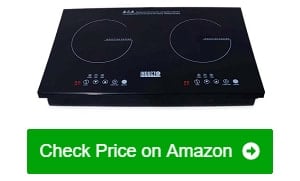 Although this appliance has a very wide cooking surface (26 inches), this induction cooktop is still just a little over 15 inches deep. It is what makes this unit compatible with most countertops, even the smaller ones in RVs. If you want, you can take out your old propane cooktop and install this induction cooker in its place.
Unlike most of the other options for RV induction cooktop with oven out there, especially most of the ones from the earlier generations of induction stoves, this one has only a couple of touch controls. You just turn on the induction "burner" and set the temperature. You no longer have to choose cooking modes and other meaningless steps.
Because this stove makes use of touch controls, it can last longer. In other induction cookers, especially the ones that have physical switches for the controls, the buttons are the first parts to deteriorate and malfunction. Since there are no moving parts in the controls of this stove, it means it can last much longer.
Do not be fooled by the sleek glass surface. It is even a lot tougher than most people think. I have been using cast iron pots and pans on my stove for the past couple of months, and the only way that you can see the scratches is if you look closely at the surface.
The tempered glass cooking surface is highly resistant to scratches, cracks, and chips. Just try your best to not drop your cast iron skillets on it. The only problem I have is that you cannot run both induction burners on maximum power. It is even one of the safety features of this stove.
It limits the total wattage used by both burners. When both burners are on, only one can be on max. The other, on the other hand, can only go a little bit above its original median power band.
What We Like
Very wide and yet narrow footprint, allowing it to fit almost all countertops
Easy to operate, only requires a couple of key presses
Uses touch controls that are more durable than physical switches
Easy to clean tempered glass surface
Highly resistant to scratches
What We Don't Like
When food accidentally spills on the controls, their sensitivity drops considerably.
This appliance is one of the best dual-burner induction cookers that I had the pleasure of using. It has its flaws, but it is still a solid choice if you have an RV and you plan on replacing your propane stove.
8. Duxtop 9620LS LCD Double Induction Cooktop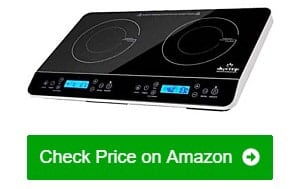 One of the things that I truly love about this induction cooker is how efficient it is when it comes to energy consumption; this brand especially. Unlike older electric stoves that use heating elements, induction cookers use electromagnetic energy to heat the cookware itself. It does not waste power when trying to heat heating elements first.
Unlike other induction cookers, you no longer need to pick a cooking mode. You just plop your pan on the cooker, turn it on and then choose from any one of the twenty preset levels. You can place it on a high setting if you are searing meats, or down to the lower levels if you need to poach fish gently.
You have almost absolute control over your cooking. The thing that many people misunderstand about induction cookers is that they can only use the thin, cheap, stainless cookers that came with the appliance when cooking with it. I discovered that you could use anything that has a magnetic bottom.
If the bottom of the pan or pot lets a magnet stick to it, you can use them on an induction cooktop. I use cast iron cookware on my Duxtop induction stove, and I love it. Also, unlike propane stoves, this induction cooker has safeguards in place against improper use.
There is a child-lock function to protect your young toddlers from burning themselves. You can also find an auto-shutoff function, which turns off the stove if there is no cookware on it.
I am satisfied with this cooktop. However, I also discovered that it has its limitations. For instance, it can only draw so much power from the RV's power outlet, so it can't operate both burners at high power. If you need to use the other burner for deep fat frying, you can only use the other for low heat cooking, like sautéing or simmering.
What We Like
Proven to be energy-efficient
Heats the cookware very rapidly
Can accommodate lots of different cookware as long as they are magnetic
Easy to operate
Comes with a lot of safety features
What We Don't Like
Can only run one burner on high at a time
Although this induction cooker does have obvious limitations, I can still say that when it comes to benefits, this induction cooker does provide a lot more. If you are looking for a new cooktop for your RV, then this one is worth checking out.
9. ISILER Portable Induction Cooktop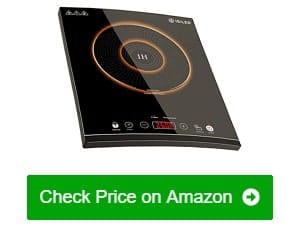 Although the Isiler induction stove is marketed as a portable cooktop, it is very durable that you can use it as a daily driver stove. I have been using mine for cooking meals every day for almost half a year. I noticed that it still works as efficiently as it did the first day it came out of the box.
One of the reasons why this induction cooker can last for as long as it could is that it has touch controls instead of physical push-buttons. Because there are no moving parts, there is no wear and tear involved. In other induction cookers, the first part to show excessive wear and tear is the power switch.
It usually fades, and the plastic covering tends to tear up due to abrasion. This stove also has a host of different safety features. One of the features that I appreciate having is overheat protection. If your pan gets a bit too hot, the sensors in the stove will pause the induction coils, and the LED display will flash an error message.
It helps protect the stove from getting damaged. Just let your pan cool down a bit and then turn the stove back on again. Many people are apprehensive about getting induction cookers like this one because they are afraid of getting the glass surface damaged.
However, the glass used for the Isiler's cooking surface is made of high-quality tempered material. Unless you try extremely hard or accidentally drop your cast iron skillet on it, you will not be even capable of cracking the surface.
If only the temperature presets were set a bit closer together instead of 20 degrees apart, (better if it was in 10-degree increments), it would have been perfect. It is because I could have better control of the cooktop if that is the case.
What We Like
Very tough and durable, a real workhorse of a stove
Guaranteed to be energy-efficient
Small and compact enough for all RV countertops
Easy to use since it only has a couple of basic controls
Comes equipped with plenty of safety features
What We Don't Like
The increments between temperature preset are too big.
To conclude, this little induction cooker works quite well as a daily use stove for RVs or people who live alone or with a partner in a small apartment. It is also useful for anyone staying in a college dorm room. Undoubtedly, it has nice and cool features that make it worth checking out.
10. Max Burton #6450 1800-watt Induction Cooktop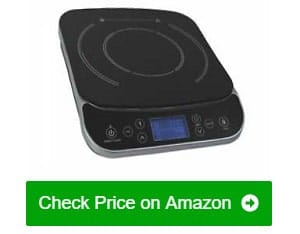 If anything, this induction cooker is one of the most stylish choices that I have ever seen in all my years of cooking. It seems as if Max Burton did put a lot of effort into designing this stove, making me not mind displaying it on my kitchen countertop at all.
One of the best features of this induction cooker, in my honest opinion, is the large LCD screen. Unlike the other induction cookers in this list, you can see quite a lot of information on the screen of the Max Burton induction stove. I can even see the timer and the temperature settings at the same time with this stove.
I also appreciate that there are two express cooking buttons on this stove. For instance, if you just want to boil some water for coffee or something, just put the pot on the cooktop, and then press the "boil" function. The stove will automatically set the temperature and timer setting, so you do not have to.
I also appreciate the numerous safety features. There is an auto-shutdown function in case of over and under-voltage situations. The stove also shuts off automatically when the pot or pan gets too hot. It is something that I appreciate as it might have saved my RV from going up in flames (I forgot to turn off the stove).
Even though I have a lot of praise for this induction cooker, I do accept that it has a couple of flaws as well. For instance, if you live in a humid area as I do, condensation tends to build up in the LCD screen, and it can be hard to remove.
What We Like
Nice stylish design
Small and portable, allowing it to fit on all countertops with ease
Has a large and very detailed LCD screen
Features a large cooktop and induction ring, making it perfect for large pots
Boasts of plenty of safety features
What We Don't Like
The LCD screen often fogs up.
Even though this stove is not perfect, it does come close to being one. I genuinely recommend that you get this one if you are playing with the idea of replacing your old propane stove with an induction cooker. I guarantee that you will not go back.
11. SUNAVO Portable Induction Cooktop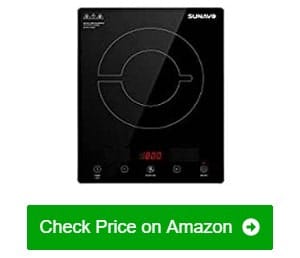 I genuinely like how this induction cooktop looks. At first glance, it seems like it is made from one slab of solid obsidian glass. If you want minimalist designs, then this induction stove will fit right in with your other décor.
In my experience using the Sunavo induction cooker, I do believe that it can last for many years. It is a good workhorse of a stove. As the manufacturer, Sunavo also thinks highly of this product, and they are willing to back up their claims by providing a 24-month warranty.
If your stove breaks for any apparent reason during the first two years of use, Sunavo will replace it with a brand new stove free of charge. This stove has more than ample power to cook anything. With 1800 watts of power at its disposal, you can use this induction cooker for deep frying.
You can also use it for cooking with an induction-compatible wok and performing other tasks that require a lot of heat. Also, because this stove directly heats the cookware, you will not feel the intense heat coming from flames at all. Your kitchen will remain relatively cool compared to when you are cooking with gas.
Instead of physical buttons, this induction cooker has large touch control panels. It means that you do not have to deal with wear and tear issues like you would with tactile physical buttons. In other words, this induction cooker will last for many years to come with minimal care and maintenance.
I have to be a bit nit-picky just to find something to complain about, and so far, the only thing that I can say I did not like so much is that the cooling fan of the stove is quite noisy. It is especially true when you turn off the stove, and it starts on its cool-down process.
What We Like
Remarkably low-maintenance and easy to clean
Heats up quite rapidly
Does not heat the entire kitchen even after hours of use
Has durable touch button controls
Features a large cooking surface, making it suitable for large pans
What We Don't Like
The cooling fan can get a bit too noisy.
There is very little that I can say that I did not like about this induction stove. It is as near to perfect as you can get when you need a portable cooktop that you can use in small RV kitchens.
12. Megachef MC1800 Induction Cooktop
Although it is quite wide, this dual burner induction stove from Megachef is not that deep. With that, it can fit perfectly on any RV kitchen counter. You just need to place this stove on your counter, plug it in, and you are ready for cooking.
This stove also has enough power for everyday usual cooking tasks. The Megachef can pump around 1400 watts of power. It is enough for deep frying, searing steaks, and other cooking tasks that require a lot of heat. On the other hand, you can also use it for gentle cooking, like slowly poaching fish, slow-cooking meats, and others.
It also has a lot of useful safety features, like the auto-shut-off feature when the stove is left on for more than three hours. This feature also operates if the pot or pan on top of it gets too hot. It is a useful safety feature for absent-minded cooks like me.
There have been many times when I left the pan on the stove. In those situations, I noticed that the use of propane stoves almost burnt through the bottom of the cookware. It had not happened at all when I started using this induction cooker.
Although it is a high-power induction cooker, you do not need to plug it into any exclusive power outlet. It can draw more than enough electricity from just any regular power outlet in your RV or home. There is no risk of this induction stove blowing a fuse.
The only problem that I have with this particular stove is that I need to choose the power-sharing mode, so I can use both burners at once. Furthermore, because the stove can only draw out so much electricity from the outlet, I noticed that the burners could not be set on high at the same time.
What We Like
Has a very compact design that fits all countertops
Features more than ample power for everyday use
Comes equipped with auto-shutoff safety features
Can be plugged into any regular power outlets
Has a durable and easy to clean tempered glass cooking surface
What We Don't Like
Needs to manually set the power-sharing mode to use both burners at the same time
Although this stove is marketed as a portable induction stove, you can also use it as a daily cooking station for all meals. It is a versatile appliance, making it a truly fantastic addition for your RV kitchen.
Best Induction Cooktop for RV Buying Guide
How Many Types of Induction Cooktops for RV are there?
There are two common types of induction cooktops today based on the number of induction burners they have. The first one is the single cooktop induction stove. This type is the smaller of the two and is the most appropriate choice for small RV kitchens or studio apartments.
This type of induction cooker rarely exceeds 15 inches in width and depth, thus allowing it to fit on any size of the countertop. The other type of induction cooktop is the one with dual cooktops. Usually, the induction burners on both cooktops are identical in size, but others come with one larger and another smaller cooktop.
What it means is that you can use the different burners for simultaneous cooking. The apparent advantage of the dual cooktop induction stove is that you can cook two dishes at the same time. However, it does come with a caveat. Induction stoves can only draw so much power from the power outlet.
In other words, if you will be using two burners at the same time, they need to share the power that the whole stove gets from the power outlet. It also means that you cannot use both burners at full power at the same time. It is necessary to lower one of them, so the other can draw more power.
How Does an RV Induction Cooktop Work?
Induction cookers look like traditional ceramic cooktops, but instead of the traditional heating elements, there are tightly wound metal coils. When the power is turned on, and electricity passes through the coils, they produce high-frequency magnetic fields. If there is no proper cookware placed on top of the coils, no heat will be produced.
You can even touch the top of the cooktop, and it will not also be warm. Why do you need a high-frequency magnetic field? The typical house's power supply provides around 50-60Hz. An induction cooker boosts it by 500 to 1000 times faster.
Because this frequency is way beyond the limits of what the human ear can hear, you will not even hear any annoying buzzing noises when your induction cooker turns on. Another reason why the magnetic field needs to be such a high frequency is to prevent your cookware from moving all over the cooktop.
When you place magnetic cookware on top of the charged induction coil, the magnetic field around it will penetrate inside into the iron. The magnetic field will then induce swirling eddies of electric current within the pan. This movement is responsible for producing heat.
Unlike traditional electric stoves where the heat comes from heating elements and then transferred to the pan, an induction stove makes the pan the actual heat source. There is no heat whatsoever that comes from the stove itself.
It is the reason why, if you place a thin, empty pan on an induction cooker set on high, the bottom will glow orange hot in just a couple of seconds.
Which Brand of Induction Cooktop for RV is the Best?
I have used a rather large number of induction cookers for RVs in the past couple of years or so. With that, I noticed that there are some reliable brands that I can confidently recommend to my fellow RVers.
If you are thinking of getting a new induction cooker, then some of the brands that I have tried and tested that I highly recommend are Duxtop, True Induction, Cuisinart, Furrion, Amazon Basics, Inducto, ISILER, Max Burton, SUNAVO, and Megachef.
In my opinion, those are just some of the top brands of induction cooktops, and I urge you to check out as many of them as you can. I am sure that you will find the perfect induction cooker for your needs among these brands.
How to Choose the Right Size?
How will you know that the induction stove that you are thinking of getting is the right size? First of all, do not instantly believe that the outline on the cooktop means that the induction coil underneath is the same size. Most of the time, the induction coil underneath is half the size of the outline.
The best way to know the actual size of the induction cooktop is to check the package. If you make the wrong choice, what will happen is that the center of your pan will be very hot. On the other hand, the surface near the edges will still be relatively cold.
Ideally, the size of the induction coil should at least be half the diameter of your biggest pot and pan. It is essential if you do not own any proper heat distributing cookware.
How to Set It Up?
The neat thing about induction cookers is that they do not need any sort of setup at all. You just plug it into any regular power outlet and turn it on. It is not like propane gas stoves wherein you have to connect them to the appropriate propane tanks using the right pipe fittings and regulators.
You do not even need to set up a particular power outlet with its fuse like you would with older electric stoves and air conditioners. Induction cooktops will draw no more than what available power there is.
Most induction stoves can only ever go up to 1800 watts maximum, and you can find some home entertainment systems that draw even more power than that.
How Do I Use My Induction Cooktop in My RV?
The induction cooktop in an RV is so versatile that you can use it in several ways. If you have a portable, single burner induction cooker, you can just place it on your RV's countertop and plug it into the nearest power outlet. You can even do it with the dual burner stoves – that is if you have enough free space on your counters.
On the other hand, you can also install the dual burner induction stoves straight into your counter. It is much like you would with a built-in propane stove. You can find many dual burner induction cooktops that do double duty as a portable cooktop and a built-in one.
In most cases, these units come with instructions for proper installation and measurements. Using the cooktop is just like using any other kind of stove, but the important thing that you need to know is that not all cookware will work on induction stoves.
Understand that the way induction cookers work is that there is a powerful electromagnet underneath the ceramic glass surface. It is the one that emits an electromagnetic field that causes the pans to heat up. With that in mind, you need to use magnetic cookware.
It is also advisable to use pots and pans that feature bottoms that let the magnets stick onto them. It means you cannot use aluminum, glass, copper, and some stainless steel cookware. Do not worry, though. You can find plenty of stainless steel cookware that you can use.
Also, you can find copper cookware items that have magnetic cladding on the bottom. Most of all, you can also use cast iron and ceramic-coated cast iron cookware on induction cooktops.
How Long Do Induction Cooktops Last?
A good quality induction cooker, if adequately cared for and maintained, can last for many years. Many people think that because of the glass surfaces and electronic components integrated into the induction cooktops, they are incapable of lasting quite as long as propane stoves.
However, it is essential to correct that misconception as these items are pretty tough. If you get one from a reliable brand, you can be sure that the induction cooker you have will be usable for many years to come. The thing about the glass surface is that it is not truly made of regular glass.
It is a glass-ceramic compound that is many times stronger and more durable. Even if you use cast iron pots and pans, they will not leave any noticeable scratches on the surface. You have to look closely to see any signs of damage at all.
The ceramic glass is also very heat-resistant. Even if you are deep frying, the heat from the pan will not make the glass crack at all. The only way you can make it crack is if you accidentally drop your cast iron cookware directly on the surface.
An adequately maintained induction cooktop will usually last for at least five years of continuous regular use. As long as you treat it right, your induction cooktop will be more than happy to return the favor. However, when you do not take good care of it, you will be left with an expensive doorstop.
Care and Store
What I liked the most about induction cooktops is that they are very much low-maintenance. The only thing that you have to do to make sure that your induction cooker works for as long as it possibly can is to keep the cooking surface clean, which is unsurprisingly very easy.
Thanks to the very slick and smooth non-stick surface that is indicative of most induction cooktops, keeping them clean is quite easy. Most of the time, you only need a couple of sheets of paper towels to wipe away any food spills or grease splatters on the surface.
However, if you want it to become genuinely clean, then here are some simple steps that will help you do it:
First, let the stove cool down completely after using it.
Use paper towels to get out most of the food and grease splatters.
Then apply a bit of ceramic surface cleaning paste on a clean rag and proceed to rub it into the cooking surface.
If there are any caked-on food on the surface, you can scrape them off gently using the appropriate ceramic surface scraper. Be very gentle to not leave any visible scratches on the surface
If there are hard watermarks, you can dab a bit of white vinegar on a folded up piece of paper towel and continue to scrub at the stains until they are gone completely
Following these steps will ensure that your induction cooker will look and work as if it was still brand new. If you will be stowing away your portable induction cooktop like if it is the end of the camping season, you first need to clean it thoroughly. You should then place it in a plastic bag.
It will prevent dust from settling down on top of the cooktop. Make sure that you store it somewhere cool and dry. Excessive humidity might cause the electrical components inside them to short out.
Also, make sure that you place your induction cooker somewhere that your kids cannot find it. It is because they might drop it on the floor and cause it to shatter.
Buying Guide
Induction cookers are indeed famous nowadays for several good reasons. They heat fast (actually the cookware does), allowing food to cook faster. However, if you are on the hunt for the best induction cooktop that you can use for your RV, and you do not know where to start looking, then here are some factors and tips that will help you make the right choice.
Size – Consider what size of induction cooktop you intend to buy. It is because the appliance will need to fit in the exact space available in your RV. If you do not have that much space in your RV kitchen, then you can only get one or two cooking zone induction cooktop.
On the other hand, if you will be replacing an old propane cooktop, you should carefully measure it and look for an induction cooktop that has roughly the same dimensions.
The number of induction zones – If you are only usually cooking for yourself, and sometimes for another person, you can probably get by with just a single induction zone stove, maybe one with two cooking zones if you want to.
However, if your kitchen is continuously busy preparing food for a large family, like maybe five or more members, then an induction cooktop with around four cooking zones is the ultimate choice. It will provide you with more than enough space for your needs.
Safety features – Just because these induction cookers do not use gas to function, it does not mean that they are entirely safe. Because of the way they heat cookware fast, the chances of getting badly burned is real.
Some of the handy safety features that you need to look for include, but are not limited to, child safety locks, auto shutoff, and overheat protection, among many others.
Power – The amount of power that the induction cooktop can draw from your power socket will determine the maximum temperature that it can get. It is essential if you will need a high temperature for most of your cooking. For instance, if you will be using it for deep frying, flash frying, or stir-frying.
Mentioned are the significant factors that you have to consider when you are thinking of buying a new induction stovetop for your RV.
Other RV Induction Cooktops We Reviewed
True Induction TI-2B Double Burner Cooktop
This gorgeous induction cooktop blends into your countertop almost seamlessly, turning your ordinary kitchen into something sophisticated and classy.
Key Features:
Ideal for use as a countertop or drop-in cooktop
Space-saving design
Energy-efficient – shares power between cooking zones
NutriChef PKSTIND48 Double Induction Cooktop
Enjoy the convenience of one-touch cooking with the help of this cooktop. You no longer have to do more fiddling with temperature settings when you are using the NutriChef PKSTIND48.
Key Features:
Can use any magnetic cookware (cast-iron and stainless steel included)
Energy-efficient (no energy wasted in heating elements)
Comes with cooking presets
True induction TI-2C Double Burner Cooktop
This appliance is a true cooktop that can go wherever you go, provided there is an available power socket nearby. It is also compact and energy-efficient. What more can you ask for?
Key Features:
Equipped with tons of safety features
Uses an efficient, power-sharing technology
Can fit in most, if not all, countertops
Trighteach Portable Induction Cooktop
This appliance is as powerful as an induction cooker can get. It is a versatile induction cooker that fits well, even in small kitchens.
Key Features:
Intuitive touch controls
Comes with individual timers for each burner
The cooking surface cools down quickly, thereby preventing accidental burns.
Deik Portable Induction Cooktop
Don't be fooled by how small this induction cooktop is as it truly packs a punch.
Key Features:
Bright LED screen
No-frills controls – you can operate it by just using a few button presses.
Slim and space-saving, making it perfect for RVs
True Induction TI-1B Induction Cooktop
Even if you do not have that much counter space, you can make room for this one. It is because it hardly takes any space at all.
Key Features:
Can be inset into the counter
Has 1600 watts of power
Highly durable and easy to clean ceramic glass surface
EurKitchen Portable Induction Cooktop
This cooktop boasts of a sleek design coupled with ease of use. It is the perfect cooking companion in RV kitchens.
Key Features:
Precise temperature/power control dial
Quiet cooling fan
Comes with a cloth storage bag for easier transport
GASLAND Chef IH30BF Electric Induction Cooker
This unorthodox-looking induction cooker is perfect for those who can only afford to spare depth, not width, in terms of counter space.
Key Features:
Drop-in stovetop; nearly flush installation
Only 12 inches wide, but has two burners
Comes with overheating protection and other safety features
hOmeLabs Portable Induction Cooktop
Whether you use this cooktop as a backup stove or your daily driver, it is so compact, yet very powerful, that it will not let you down.
Key Features:
Ten heating levels
Six cooking modes
Comes with a child safety lock
NutriChef PKSTIND52 Induction Cooktop
This induction cooktop boasts of its two, vertically-aligned cooking zones for more efficient use of space.
Key Features:
Has two independent, power-sharing, cooking zones
Two digital LCD screens for monitoring both burners
Only uses a maximum of 1800 watts for enhanced energy savings
NUWAVE 30242 Induction Cooktop
Although this cooktop does not look like the others, such does not mean it cannot perform at par. It might even be one of the best.
Key Features:
Comes with a multi-stage cooking timer
Features a small footprint
Has tactile switches that are easier to use
SUNAVO Portable Induction Cooktop
This unit is probably one of the most energy-efficient induction cooktops available at present. It is a welcome addition to any kitchen.
Key Features:
Can boil water in just three minutes
Has 15 temperature presets
Boasts of "fry" and "boil" functions
Aicok Portable Induction Cooktop
Although this induction cooker shines as a portable cooker, it can also be a welcome addition to anyone's kitchens.
Key Features:
15 temperature and power presets
Has a 180-minute timer for slow cooking needs
Comes with a glass-ceramic surface that is nearly indestructible and easy to clean
Conclusion
Whether you want to use an induction cooker as a daily cooktop, or looking for something that you can use if you suddenly run low on propane during your RV trips, having a good and reliable one will be the best option.
Not only are induction cookers very energy-efficient, but they also do not take up a lot of space. With that, the best induction cooktop for RV is undoubtedly the perfect choice for tight spaces, especially in your recreational vehicle.
The mere fact that you have made it this far means that you now know all that you need to learn about choosing the best induction cooktop that you can set up inside your vehicle. Follow the tips that you learned here, and you will surely be able to get your hands on the perfect cooktop.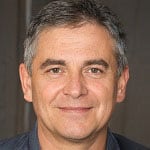 Hi, I am Tom Hank, an RV-er since 2014. Back then, I started without much help. As you can imagine, the struggles are endless. But now, you do not have to begin your adventures knowing next to nothing about RV lives.